​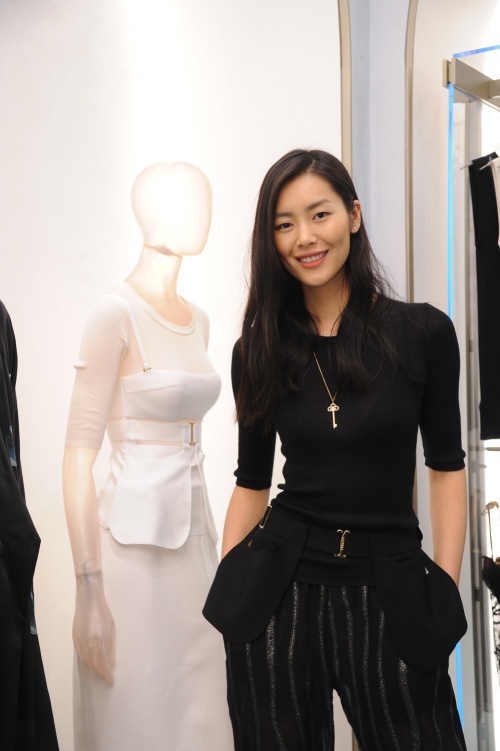 In Hong Kong for La Perla, charming and down-to-earth supermodel Liu Wen speaks to Vivienne Tang about fashion icons, the luxury of time and the responsibility of being an only child.
#: You're China's leading supermodel. Do you see yourself as a role model, especially for Chinese women?
L: I do love my job, and I work really hard, but I don't know if I'm a role model. I just love my job. When I'm working I'm very professional. In real life, I'm just Liu Wen, a real person. I really appreciate everyone who supports me.
#: What did you want to be when you were young?
L: Actually, when I was little, I had a lot of dreams. I wanted to be a teacher, a designer, an actress, but as I was growing up I was planning to be a tour guide, travelling the world. And I suppose modelling is a little bit like that, it takes me to so many places around the world.
#: You've been in numerous fashion shows. Do you have a favourite designer?
L: All the designers are very talented, but I really love Jean Paul Gaultier. He's really nice. Sometimes when I work with him, I don't feel like I'm working with a designer, it feels like we're friends.
#: Out of the four fashion capitals in the world – New York, London, Paris, Milan – which is your favourite and why?
L: I love them all. It's very hard to choose one, but at the moment I live in New York. When I came to New York for the first time, I couldn't speak English. I've learnt so many things from this city. I love New York, but of course China is always in my heart.
#: What's the coolest fashion item you own?
L: A leather jacket. My personal style is really tomboyish. A leather jacket is a good piece for any season.​
#: The last music you downloaded?
L: "Hello" from Adele.
#: You're also on Instagram. Who do you follow?
L: I follow a lot of different people, also some fashion designers, photographers and artists. Fashion is always about sharing. Which artist's work would you collect if you could? A lot! Maybe Andy Warhol, he's very important in the fashion industry. I love his Marilyn painting.
#: What's luxury beyond product?
L: Luxury to me is time. People always ask me how many years I've been modelling for, and I actually can't believe it – it's been 10 years already. Time passes really fast. Time is really important. Therefore, I try to enjoy every moment.
#: How do you unwind?
L: If I have a day off, I like to hang out with friends and have a cup of tea with them. Sometimes we go to museums or we go see a movie. Modelling is so busy, so I also like to stay home sometimes and relax. Sometimes I'll have a massage or a facial, or I'll read a nice book.
#: Do you keep a diary?
L: Of course...not [laughs]. I like books, but because I work so much I hardly have time to read. I also do a lot of exercise. I love ice cream and French fries. But because I've been working so hard, I really appreciate time that I have to myself. Health is more important than anything else.
#: Where would you most like to live?
L: I really like to live in New York. To me, New York means freedom. I can have so many experiences there and learn so many new things. That's where I'm based at the moment, but I also work a lot in China and mainly Europe. When I get older I would like to live in the countryside and have my own house and farm. It's very hard to plan for the future. My family is still in China and I'm an only child. So family is very important to me.
#: Who's your legend?
L: There are a lot of people I look up to, not just one person. In the fashion industry many people are able to teach you something. They have a lot of experience. So many designers and stylists are my fashion icons. But at the end of the day, I'd say it's my mum. I've learnt so many things from her. She has a great heart. My mum, my sweet mum.