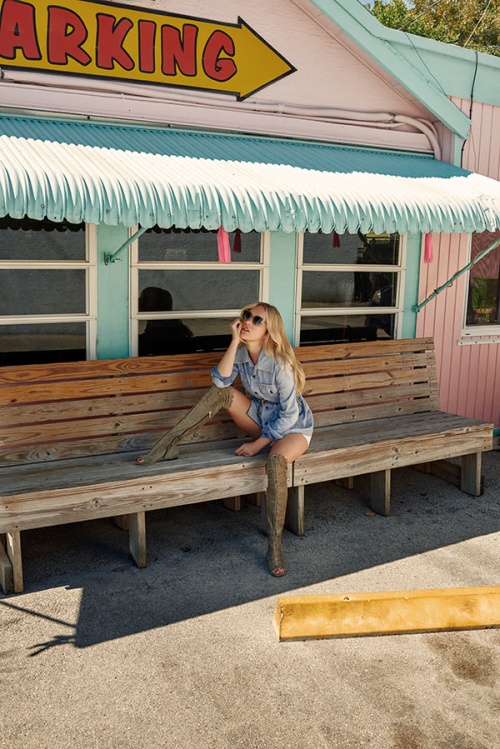 "Queen of the Indies" Chloë Sevigny's career spans from modelling, fashion design, acting to more recently, directing. On location in the Florida Keys to film the second season of Netflix drama, Bloodline, Sevigny shows off her eclectic and vintage cool style with Jimmy Choo, and in an interview, talks about style essentials and her latest films.
This shoot was inspired by a road trip – have you been on a memorable road trip?
One of my favorite road trips I took with my friend Tara Subkoff, her parents had given her their old car and we were driving it from Connecticut to Los Angeles. We had to rush because I was nominated for an Oscar and we had to make it in time. It was my first time seeing the South West of America and I was awe struck by the scope and beauty.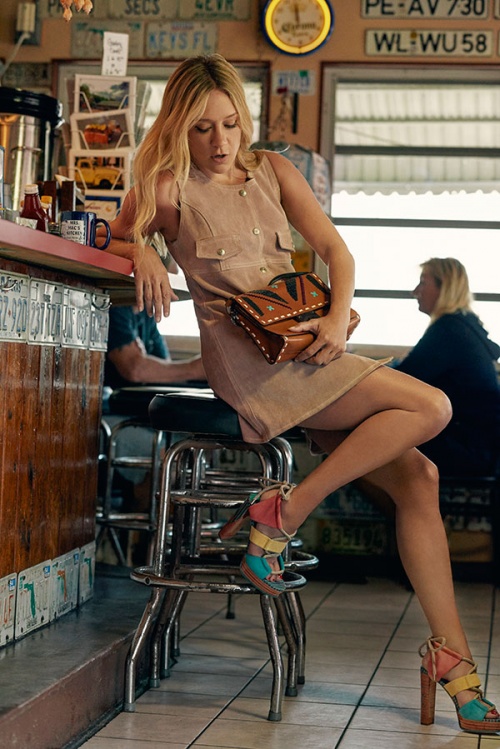 The Jimmy Choo Spring/Summer 2016 collection takes inspiration from the laid back louche style of LA. Since you've lived in LA and NY, do you find a difference in the style? Are you team LA or team NYC?
I'm a New Yorker through and through, at this point I've lived there longer than anywhere else, it's in my blood and always on the brain. I can't imagine ever settling down anywhere else. LA is a place I go to work, it's an industry town which has its perks, and the art and music scenes are always thriving.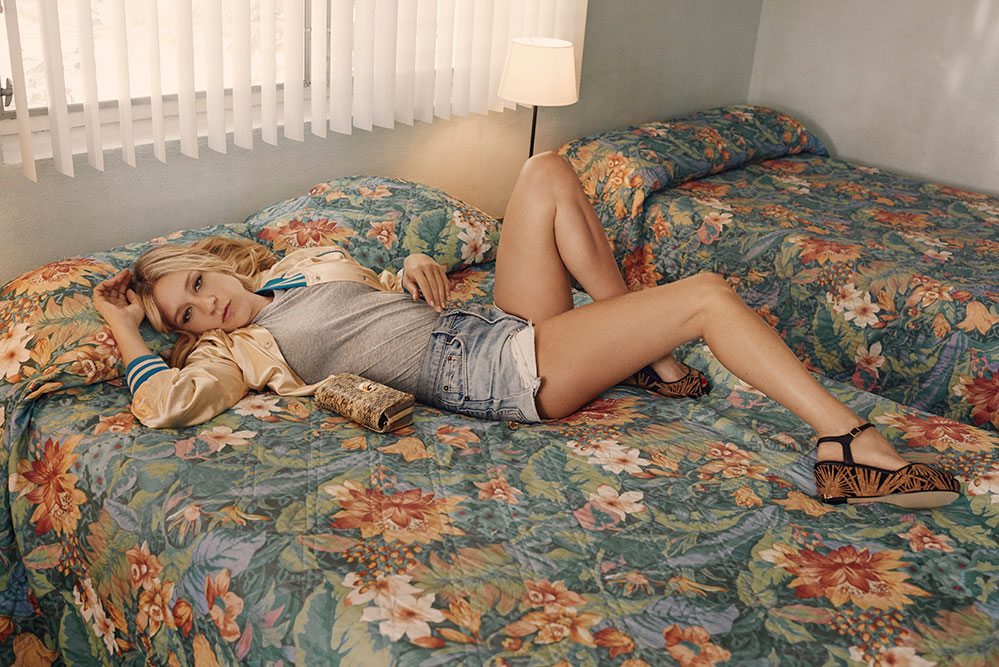 Jimmy Choo celebrates its 20th anniversary this year and is remembering its most iconic moments. What would be your most memorable moment of the last 20 years?
Choosing a select memory from the past 20 years is so difficult. So many swirling around my head, it's a long time. I think my fondest are dancing with my friends at a club we used to go to every Sunday. It was like our living room. A safe place to lose yourself in wild abandon to the music and cry and laugh.
Have you had any pieces in your wardrobe for 20 years or more – what is it and why have you not parted with it?
I have an extensive archive in Connecticut and have held on to most of my wardrobe from high school on. I sometimes unearth things like a pair of jeans, or a sweater, T-shirt or boots and cycle them back into my everyday wardrobe. Or find an old designer piece I wore to an event and then wear it to a wedding or a party.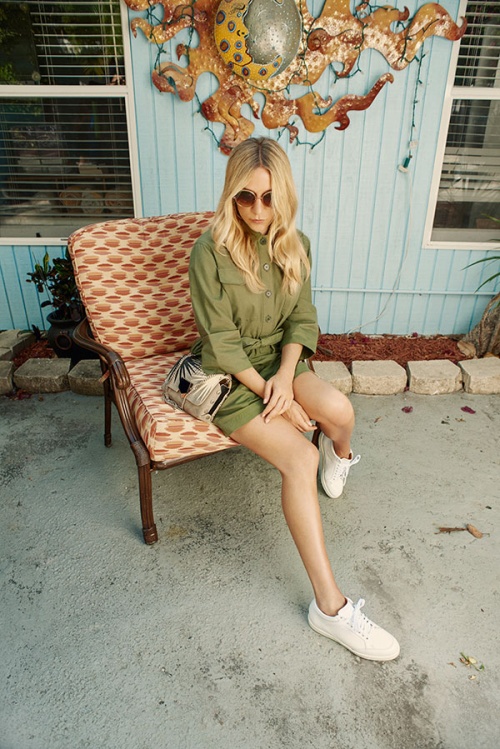 You are well known for favouring vintage clothes – what is it about vintage that you love?
As I said before I'm a vintage freak, I think it has something to do with the thrill of the hunt and the idea that you'll be the only one with the garment.
Sunglasses feature regularly in your outfits – what do you look for when selecting a new pair?
Sunglasses are an everyday must for me. My eyes are sensitive to the light and once I find a pair I love I wear them till they fall apart. I'm really looking forward to wearing the bejewelled ones from the shoot, so fun and they'd elevate any outfit.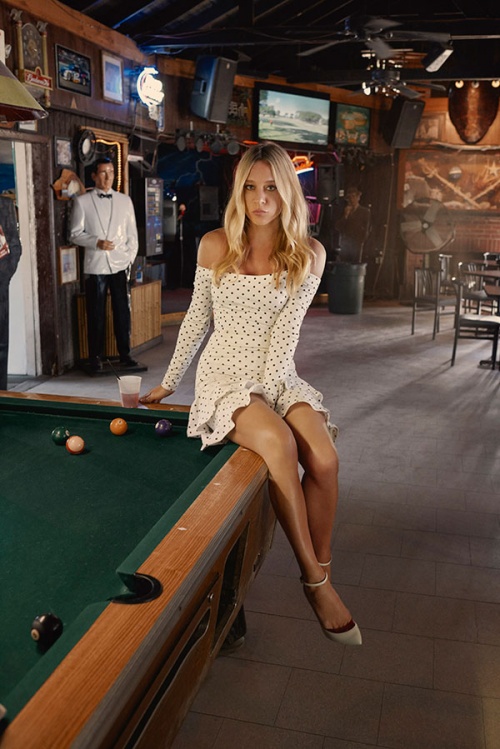 What projects do you have coming up?
I've been very busy this last year with 2 films set for release, Love and Friendship directed by Whit Stillman, and Antibirth co-starring Natasha Lyonne. I just wrapped the second season of a Netflix series I do called Bloodline. I also shot my directorial debut called Kitty which I'm hoping to show at festivals. At present I'm in Norway shooting a thriller with Michael Fassbender called The Snowman. I feel so lucky to still be in the biz and getting interesting parts in great projects.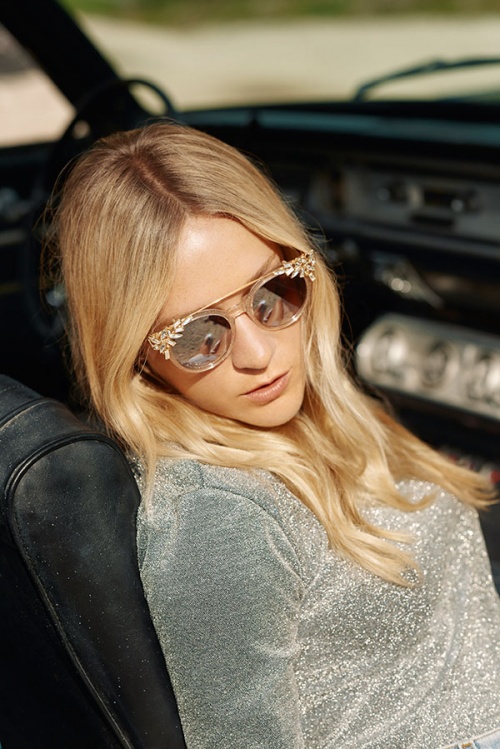 Any career aspirations you have yet to fulfil?
I'd love to have more opportunities to direct, I hope people respond to my short and see something in it they haven't seen before. I'll always love acting and hope to maintain along the path I've always been on, striving for good parts in good films.