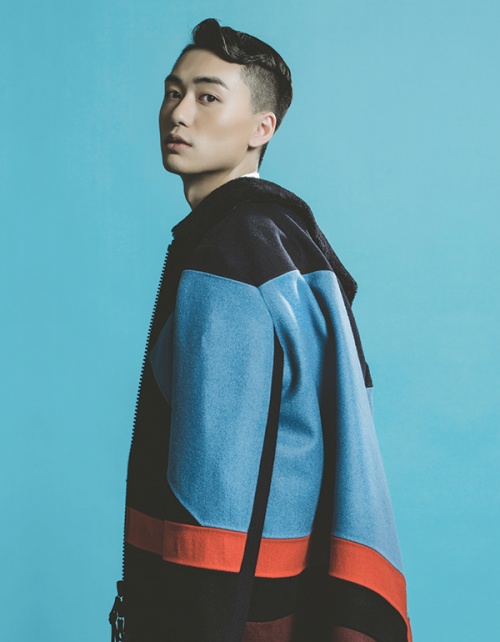 As a child, Charles Lam wanted to be an artist. He would often pretend to be a fashion designer and draw dresses and other clothes, and has been drawn to fashion ever since. Lam stopped obsessing over his drawings and painting to focus on his academic career. He earned a diploma in design at Hong Kong Polytechnic University, but his desire to study fashion further was thwarted when the fashion design department closed. So he pursued his alternative preference, which was advertising. He spent almost two years with McCann Erickson before deciding to focus on the world of fashion as a blogger and model.
Do you enjoy modelling?
It's a 50-50 thing. I always get excited seeing myself out in the world on television, print, bus stops and magazines, but I do not enjoy sitting and waiting passively for opportunities assigned by model agencies.
How do you feel about being nominated by an online publication as one of the top 10 male influencers to follow?
It's an honour to be recognised by it, as I have been a fan for a long while. I am so glad that the content I've created in my blogs and columns was appreciated by one of the most reliably run groups of experienced professionals that focus on luxury living, travel and fashion. It's a strong motivation and message for me to work even harder to continue to deliver high-quality work.
Do you consider Hong Kong to be a fashion hotspot? 
There is no doubt that Hong Kong was once a leading fashion hotspot. However, I feel Seoul has taken over. Foreign fashion houses continue to open new stores in Seoul and the city has a very strong talent pool, with their own brands coming out of Korea. The new generation in Hong Kong is mostly averse to risk and are generally willing to accept a guaranteed salary, even if it has a lower payout, instead of following their dreams.
Which city do you think is the most stylish in the world?
It has to be Paris. Most Parisians I know have solid backgrounds in fashion and their own unique style.
What is your creative philosophy?
Stay true to yourself and keep things simple.
How would you describe your own personal style?
Classic gentleman with a creative twist: as I grow older, I start to enjoy seeing myself in suits and letting people see the side of me that is more mature than others at this age. I disagree when people say men's fashion is not diverse, and boring. All you need to do is put in effort to mix and match, such as with different ties, watches, scarves, suspenders, shoes and so on, to create thousands of possibilities.
Who is your style icon?
I have had a few, but Hedi Slimane is always on the list. I admire his style and creativity.
Who or what is your source of inspiration?
Social media platforms such as Instagram: a 24/7 friend who never rests has been continuously giving me up-to-date news about the world, fashion, beauty, gossip and, of course, happenings from friends. It never disappoints me.
Who are three of the most stylish Instagrammers you follow?
@nickwooster, @marcgoehring and @yoyokulala.
What has been the proudest moment for you so far in your career?
Pulling off the Loewe oversized backpack look at Paris Fashion Week got me hundreds of street style photos, which were featured on Vogue, The New York Times, GQ, WWD and so on. People are still tagging photos of me with the backpack.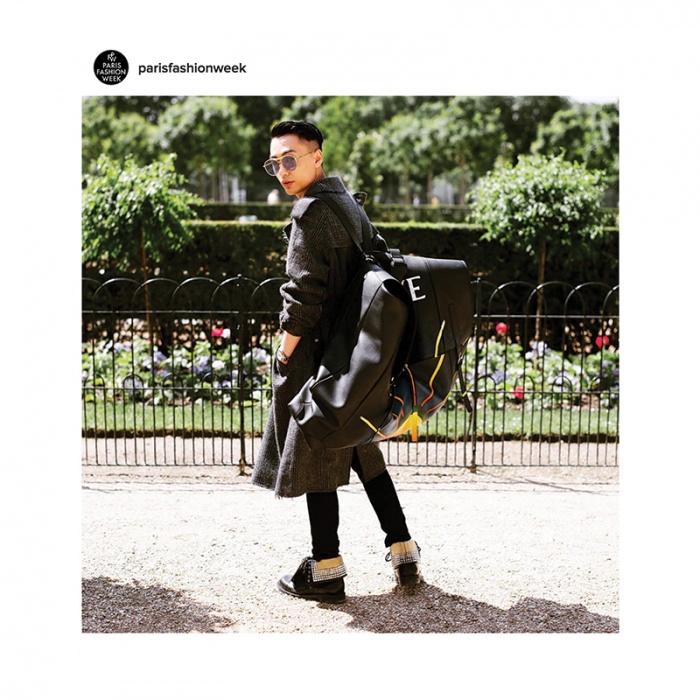 Who are some famous people you have worked with or are close friends with?
I am fortunate to have had the opportunity to work with a lot of famous people so far, such as Hollywood star Rosamund Pike and international supermodel Karolina Kurkova, in different campaigns and creative projects; all absolutely gorgeous and talented people. Anjaylia Chan, who is an up-and-coming actress in Hong Kong, is my closest female friend in recent years. We both started with modelling before moving on to other things, and we share a lot of common interests and thoughts.
How does travelling affect your work?
A blogger's job heavily involves business travel. Travel has broadened my mind and helped me expand my perspective towards everything. It is important for me to be able to bring new elements and content to share with my audience during and after my trip, every time.
Where is your favourite destination?
I love London. It is a place full of heritage yet modern and vibrant. I wish I could move there.
What are three basic items you recommend for anyone to have in their wardrobes?
A plain white T-shirt, a tailored suit and tinted sunglasses.
How often do you edit your own wardrobe?
Quite randomly, although on average every two to three months. The fun part of editing is I can always dig something interesting out of the wardrobe that was overlooked from previous seasons.
What do you think is the most underrated fashion item?
A plain white T-shirt, which is the simplest and easiest piece of clothing to wear. It is actually the best base layer to take an outfit from casual to formal.
What's next for you?
All this time I have been locking myself up to write. Finally I am going to publish my book at the end of this year, and it is a project co-written by Chan to reveal the behind-the-scenes moments of an actress's and blogger's life. We flew to a desert to get the cover shoot done, and it's all worth it. It will be released in the coming weeks. Stay tuned.
What's the best advice anyone has given you?
Go big or go home.