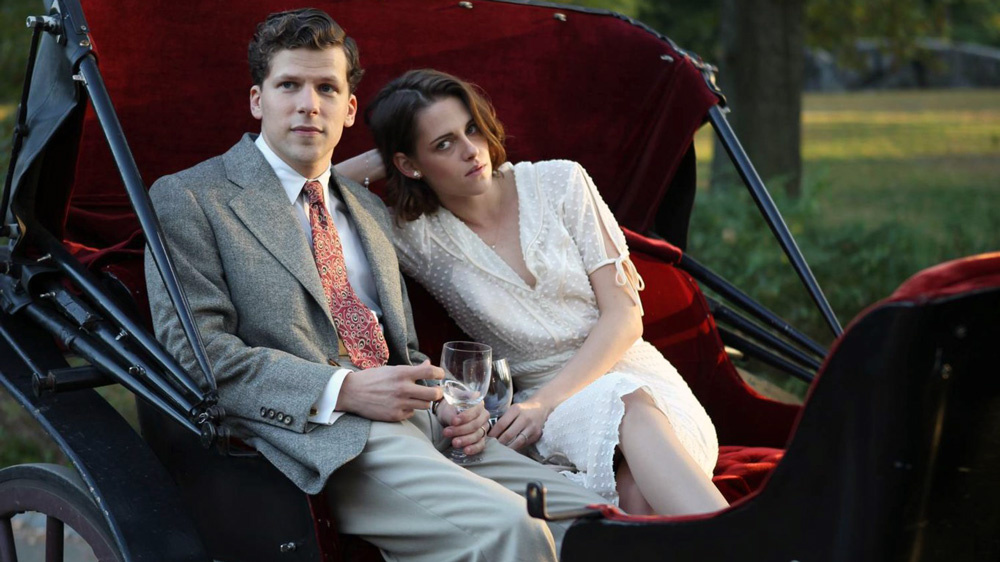 Summer season isn't all just about Michael Bay blockbusters. We have narrowed down five must-watch movies from HK Cine Fan Summer International Film Festival's incredibly diverse and intriguing program. Whether you have been to the cinema just once this year or have a master's in film studies, you're bound to appreciate the line-up. Make sure to check out the full programme.
Café Society (2016)
Directed by Woody Allen
Starring Jesse Eisenberg and Kristen Stewart
The 1930s L.A. romantic comedy-drama is beautiful. Although this isn't the next Annie Hall (d. Allen, 1977), its beautiful cinematography by legend Vittorio Storaro — who also shot Apocalypse Now (d. Coppola, 1979), the stellar cast and the light Woody-esque comic-romance writing makes the picture delightful to watch. For Woody fans, this will feel familiar but charming nonetheless.
Hunt for the Wilderpeople (2016)
Directed by Taika Waititi
Starring Sam Neill and Julian Dennison
Delinquent city boy Ricky (Dennison) is sent to the New Zealand countryside in the foster care of the argumentative and rural Uncle Hec (Neill). In discontent, Ricky runs away into the forest and is pursued by Uncle Hec. Child services arrives at Hec's empty house and assumes Hec has kidnapped Ricky — the double act will have to overcome their differences to survive. The straight man/funny man dynamic works fluidly and the urban/rural juxtaposition leads to an interesting conversation of the two cultures.
Une Femme Est Une Femme (A Woman Is a Woman) (1961)
Directed by Jean-Luc Godard
Starring Anna Karina, Jean-Claude Brialy and Jean-Paul Belmondo
Directed by the French New Wave pioneer, A Woman Is a Woman is a romantic musical about exotic dancer Angéla (Karina), her lover Émile (Brialy) and their love triangle. Its neorealist themes are interesting in the way gender roles and the conflicts of heterosexual romances are discussed. The writing is witty, clever and perceptive. Although lesser-known, it is perhaps one of the more accessible works of Godard, so do not miss it.
Cabaret (1972)
Directed by Bob Fosse
Starring Liza Minnelli, Michael York and Helmut Griem
Centralized on a love triangle that takes place the in Kit Kat Klub, the adaptation of the Broadway musical is fantastic in its own right. Despite its light-hearted tone and catchy songs, its themes of politics, survival and racism come through. It depicts the escapism from the dark realities in Nazi Berlin, and its conversation on political fanaticism is still relevant today. Cabaret is a sweet candy with a very bitter albeit relevant core.
Rashomon (1950)
Directed by Akira Kurosawa
Starring Toshiro Mifune, Machiko Kyo, Masayuki Mori and Takashi Shimura
A movie about a murder mystery, the classic jidaigeki film by the legendary Kurosawa is best known for its pioneering frame narrative. Utilizing the flashbacks, the film explores the nature of truthfulness and the notion of justice. The film was so influential, philosophers named the notion of contradiction in human recounts as the "Rashomon Effect." Watch this piece of film history if you haven't already.