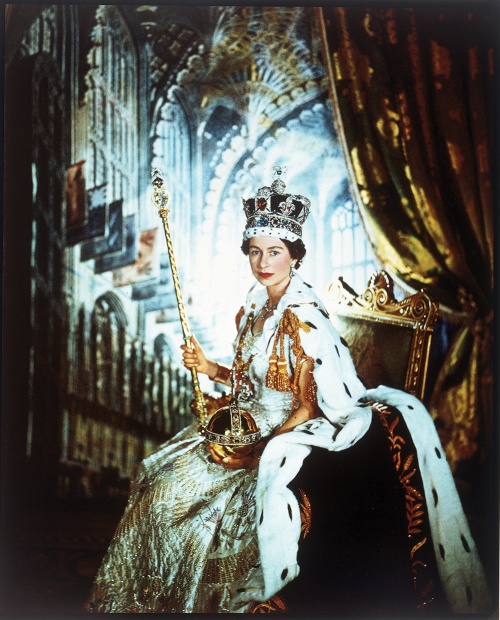 If you've ever wanted to dress like a queen, now's your chance to learn how to get it right. Three exhibitions will mark the 90th birthday this year of Her Majesty Queen Elizabeth of Great Britain, by showing the thought that goes into how she is dressed. Take, for instance, her meeting with Pope John Paul II in Rome in 1980. Ian Thomas designed a black silk-velvet and taffeta dress which she wore with a traditional black silk-tulle veil or mantilla. The ensemble respects the tradition of wearing black when in audience with the pope at the Vatican, showing how diplomatic considerations must be taken into account in preparing the queen's wardrobe.
No catwalk can be as unforgiving and fraught with pitfalls as the red carpet unrolled wherever Queen Elizabeth sets foot, wearing the only kind of couture more elevated than haute couture – royal couture. How she has managed to glide regally yet graciously through this minefield for so many years without once succumbing to a wind-tossed hat, a wayward crease, a sagging hemline or a broken heel is worthy of examination – the kind of examination allowed by the three exhibitions, each of which will be held in one of the sovereign's official residences.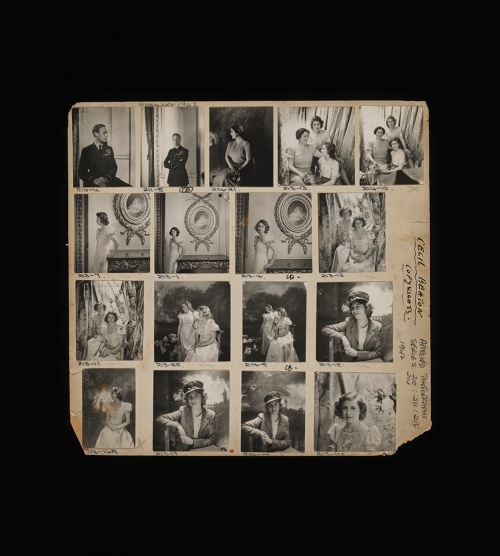 The exhibitions, collectively entitled Fashioning a Reign: 90 Years of Style from The Queen's Wardrobe, will chart significant events in her life and the history of her realms by bringing together the outfits she wore on each occasion. More than 150 will be displayed, each exhibition showing outfits associated with the royal residence where it is being held.
No story can do justice to royal fashion without mentioning Cecil Beaton, the photographer. An entry in Beaton's diary in July 1939 says: "The telephone rang – 'This is the lady-in-waiting speaking. The Queen wants to know if you will photograph her tomorrow afternoon'…In choosing me to take her photographs, The Queen made a daring innovation. It is inconceivable that her predecessor would have summoned me – my work was still considered revolutionary and unconventional."
Beaton, the darling of Vogue, was one of the leading photographers and portraitists of his generation. The visitors book in Ashcombe House in Wiltshire, where he lived, contains the signatures of Greta Garbo; Henri Cartier-Bresson; Salvador Dalí; Her Majesty Queen Elizabeth the Queen Mother; Deborah, Dowager Duchess of Devonshire; Diana Vreeland and Sir John Betjeman. Beaton first photographed Elizabeth in 1942, a decade before her accession to the throne. His reputation for heavily retouching (he had a team of retouchers), slimming the waistlines of sitters and removing double chins, was what had caught the attention of Queen Elizabeth's mother, who first recommended that members of the royal family engage his services.
The pictures Beaton shot of the coronation in Westminster Abbey on June 2, 1953, and the events around it, became indelible legend. He brought theatricality and, above all, glamour to his work by photographing the young queen against a painted backdrop of Henry VII's Lady Chapel in Westminster Abbey. The queen is shown holding the orb and sceptre, wearing the Imperial State Crown, the coronation robes and her coronation gown.
Beaton's official portraits, all taken in the Green Drawing Room in Buckingham Palace, are among the most enduring photographs ever taken of Elizabeth. He eschewed the firing-squad composition so typical of pictures of the royal family until then, preferring to capture the drama and mood in much the same way that a Vogue shoot would. "Everywhere were sparkling possibilities," he said of the Green Drawing Room shoot.
As times changed, so did Beaton's work. He focused more attention on the sitters, stark white backgrounds replacing the elaborate Rococo-inspired backdrops of earlier years. In 1968 he produced another masterpiece. It was an innovative portrait of Elizabeth which showed her wrapped in a simple dark admiral's boat cloak. Photographed against a plain blue background, and sans jewellery, tiara or obvious ballgown, the familiar figure was presented by Beaton in a simple, bold and newly stylish manner. It was one of the last pictures the photographer took of her.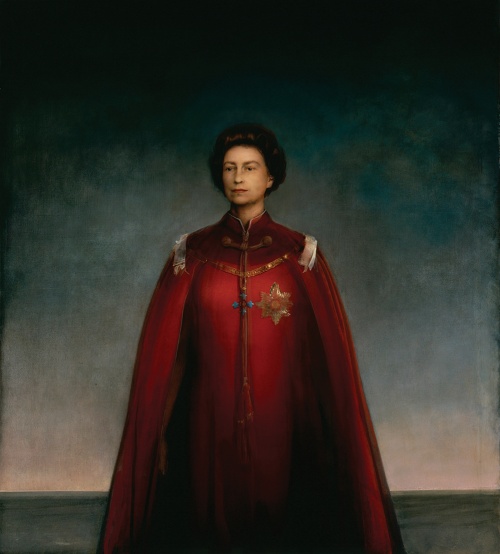 Queen Elizabeth's support of British couture and millinery contrasts with the way her ancestor, Elizabeth I, filled her wardrobe. In the late 1500s, Good Queen Bess had patterns and bodices sent to France, Italy, Spain and Germany so gowns could be made to fit her. She even imported the best tailors from Europe so she could wear French gowns of russet satin and robes of Venetian crimson velvet. Her fondness for foreign dress percolated through the English royal court, making her what we might now call a regal style icon.
The present queen's more parochial tastes are clear in important outfits created for her to wear on the world stage by her renowned designers, including Sir Norman Hartnell, Sir Hardy Amies and Ian Thomas. Sir Norman first designed for Queen Elizabeth in the 1940s, when she was Princess Elizabeth, making many of the finest evening dresses in her wardrobe. In 1957, she visited the United States as a guest of President Dwight Eisenhower. For a dinner at the British Embassy during her visit, she wore an elegant, pale-green Hartnell gown of silk chiffon and lace embroidered with sequins, pearls, beads and diamante.
Sir Hardy began designing for her royal highness in the 1950s, and established his reputation with the deceptive simplicity of his accomplished tailoring. The portraits of her taken by Cecil Beaton to mark her birthday in 1969 show some of the most memorable Amies designs.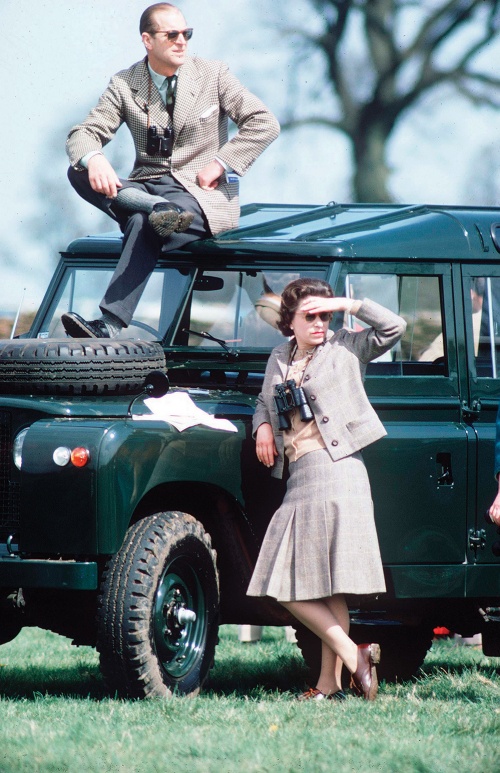 In the 1970s, Elizabeth patronised Ian Thomas, who was an assistant designer to Sir Norman before setting up on his own. Thomas's flowing chiffon dresses from the 1970s reflect the relaxed style of the decade. After Thomas died, Maureen Rose, who worked for him, kept designing for Elizabeth until the late 1980s.
Between 1988 and 1996, her dresses were designed by John Anderson. His business partner, Karl Ludwig Rehse, took over the baton after Anderson's death in 1988, and she still wears Rehse's designs today. Stewart Parvin, the youngest of the designers for the roysl household, trained at Edinburgh College of Art. He began to design for her in 2000 and continues to do so.
Then there is Angela Kelly, the personal assistant and senior dresser to Elizabeth. Kelly's duties include some designing, which she has been doing since 2002. Kelly and her team try to use old and new fabrics alike for their creations. Some of the material they use was given to the queen many years before – some when she was still Princess Elizabeth.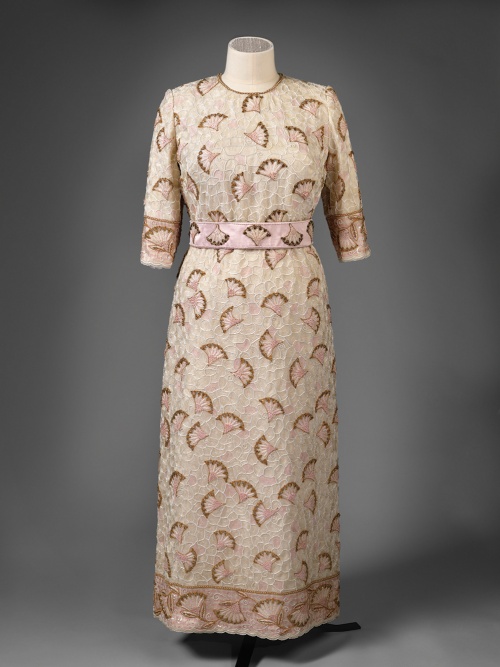 Kelly has said of her employer: "The queen is frugal and very aware of costs, so I'm keen to use fabrics from our stockroom, some of which date back to 1961 and before."
In performing her duty as senior dresser, Kelly waits for the queen to choose the jewellery she would like to wear on any given occasion before deciding on important details of the dress that will be worn with it: the fabric, the pattern and the print. It's the design equivalent of simultaneously walking backwards and bowing.