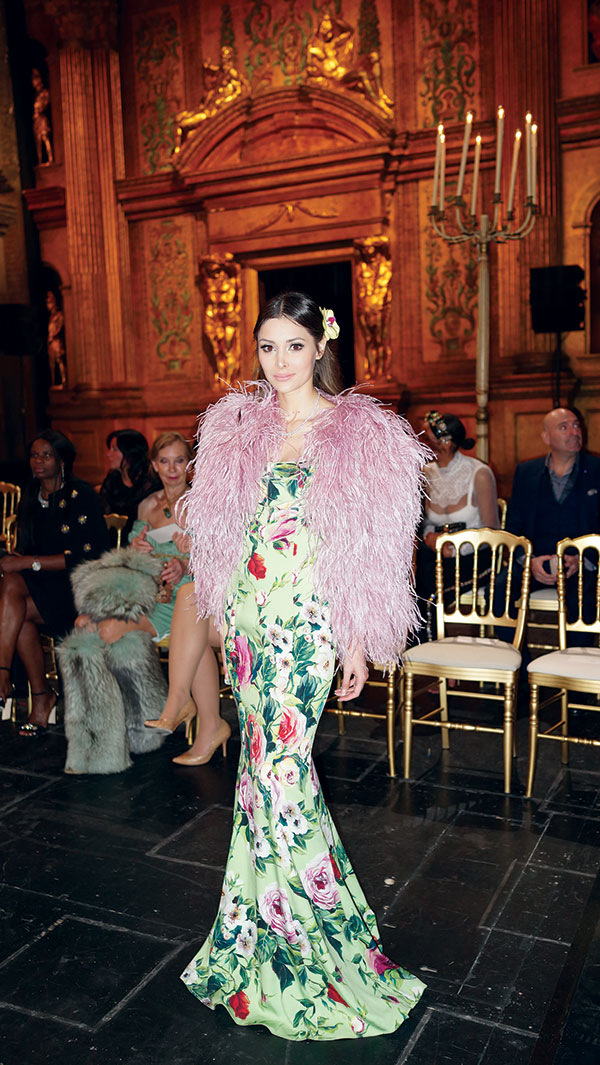 There are two reasons that my husband and I go to fashion week. First, we love fashion and we focus more on haute couture because the pieces showcased are extraordinary. As everyone knows, I do so many things at once. The other purpose of going to Paris is to do business. I want to create the most luxurious atelier in Macau at my husband Stephen Hung's hotel, The 13. It is the first time in history that all these top fashion designers will come under one roof and they will all have their collections there. If you go to Paris, you have to make separate appointments and go to each atelier separately.
I am in charge of collaborating with the designers, and this atelier will not just be for fashion, but also jewellery and cars and so on.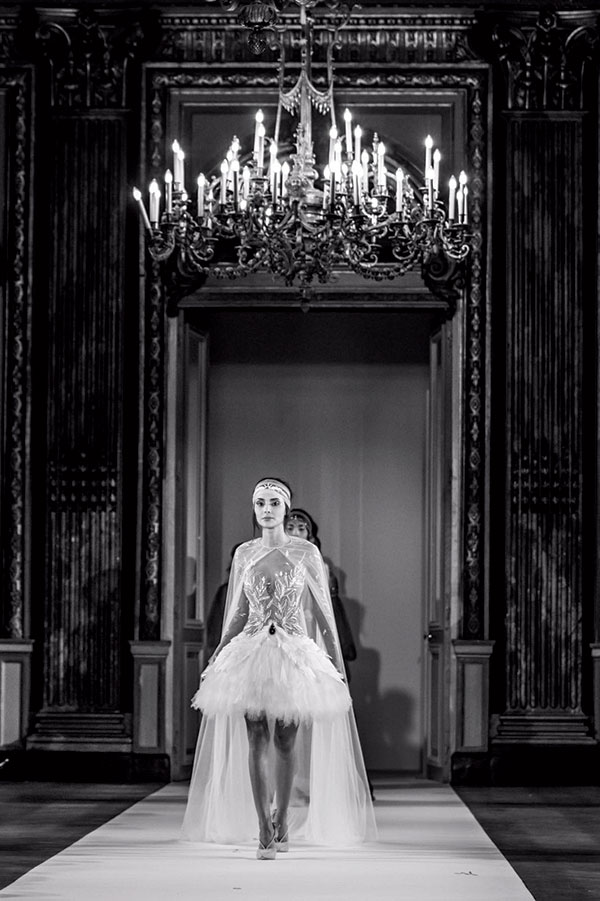 January 24, 9pm /
Atelier Versace
The first stop of the week was Atelier Versace. We are very close to Donatella and took a photo with her when we went backstage to have a chat. I saw her again the next day and we talked about her collection and why she created the pieces.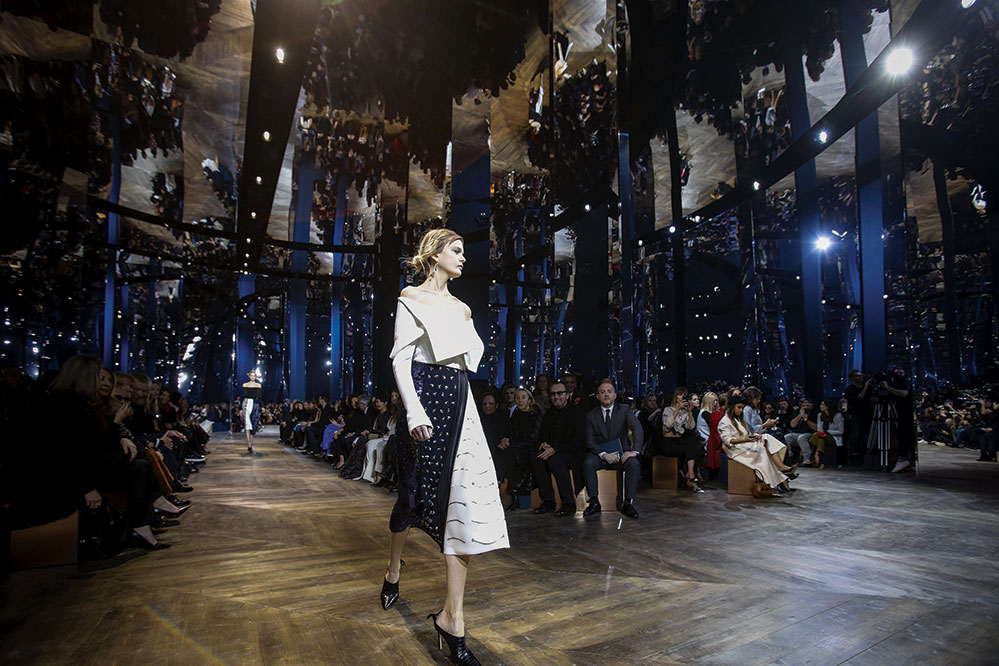 January 25, 5pm / 
Christian Dior
Christian Dior always hold their shows at the same venue, the Musée Rodin. Everyone had many thoughts in their minds because the previous designer, Raf Simons, left and two other designers who had previously worked for Simons took over. No one knew what to expect. I heard a mixture of views but Dior always has nice shows. It is one of the top shows.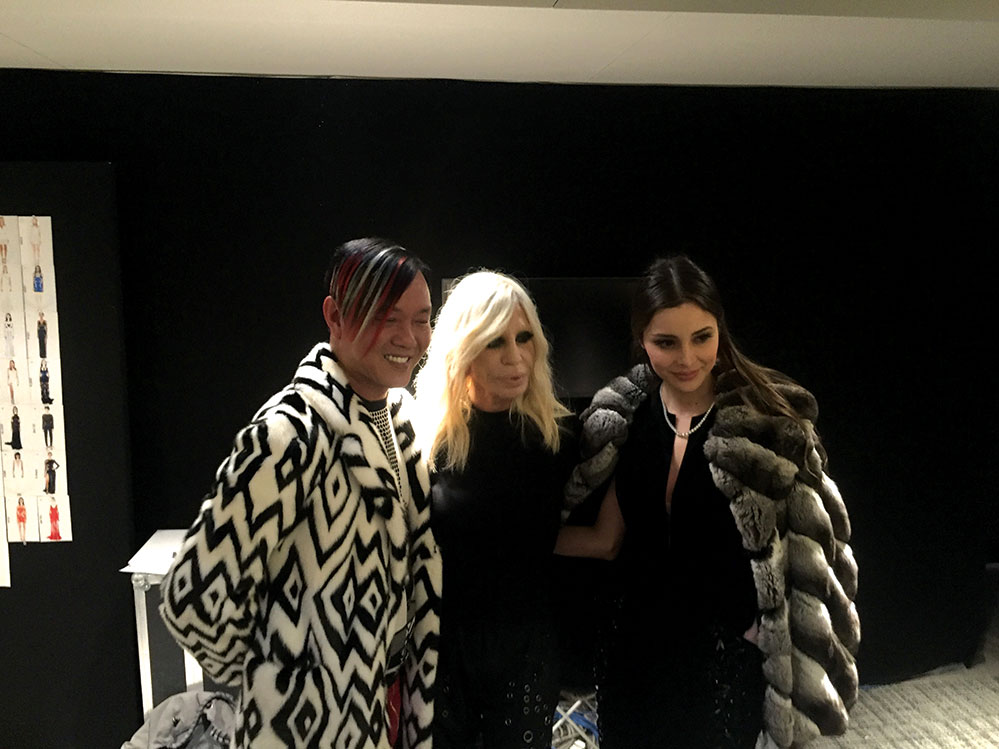 January 25, 6.30pm /
Ralph & Russo
This husband-and-wife team from Australia are very young and sweet. In fact, they are a very down-to-earth and glamorous couple. They do excellent embroidery, modern and subtle, using things like tiny pearls that aren't "loud". Tamara, who does the design, has developed her own style in terms of how she structures her clothing. I think she has a modern signature look.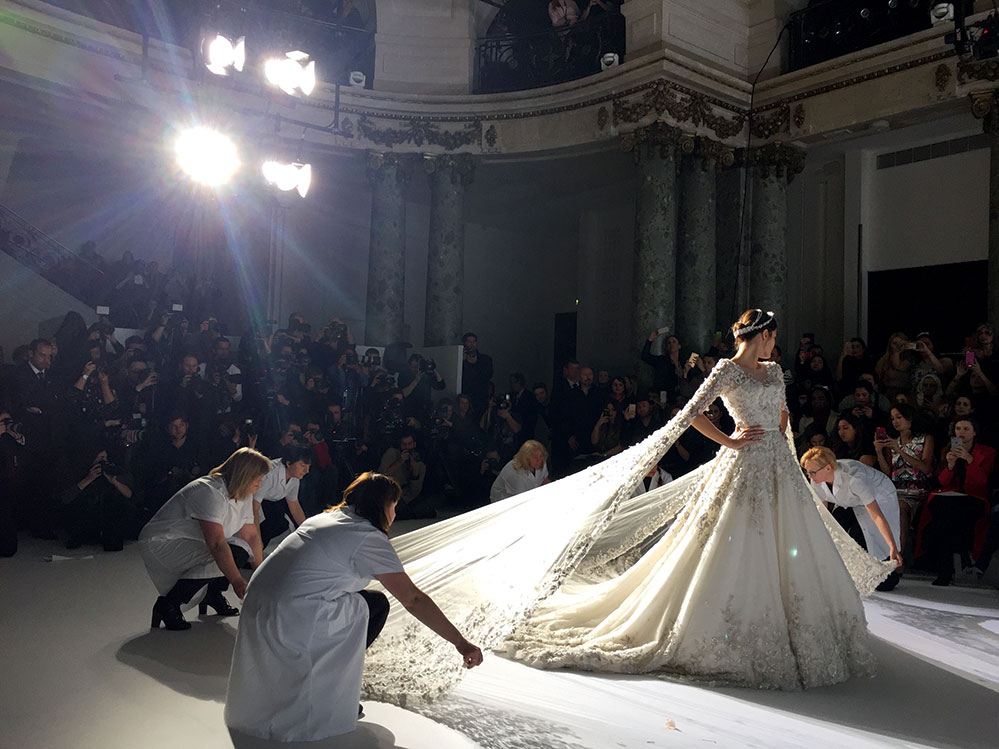 January 25, 7.30pm /
Giambattista Valli
Giambattista Valli is wonderful. We met the day after his show and our personalities click. I admire the way he works because he is very haute couture and respects the rules. These days there are many designers who don't. The standards of haute couture used to be that the pieces produced had to be one-offs and made using high-end materials only. Also, everything has to be made in Paris. These are the rules of haute couture.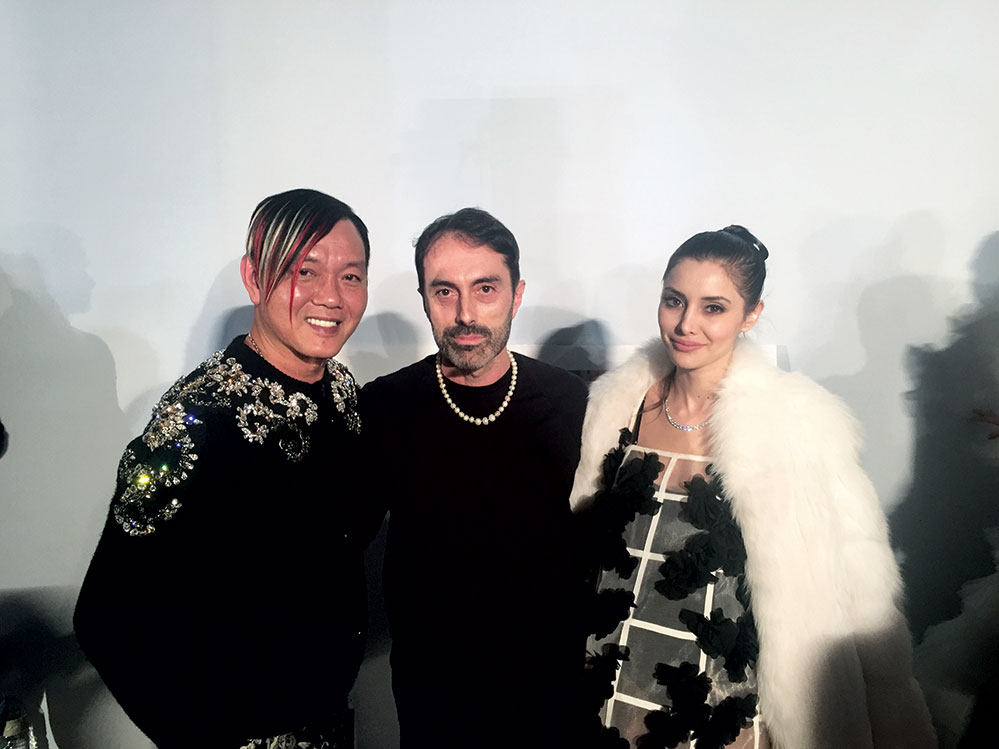 January 26, 10am /
Yanina
Yulia Yanina is a designer from Russia and I opened her show. It is not often that a socialite gets to participate in the shows, so it was quite a privilege. She has been working in haute couture for almost 20 years but she is new in Paris and not many people know about her. What I like about her is that she is not a big corporation, and doesn't accept all requests and likes to take her time. She creates on her own. Her designs are very feminine. I did the fitting of the outfit two days before and was completely surprised by what I was going to model on the day, which was a ballerina-inspired outfit.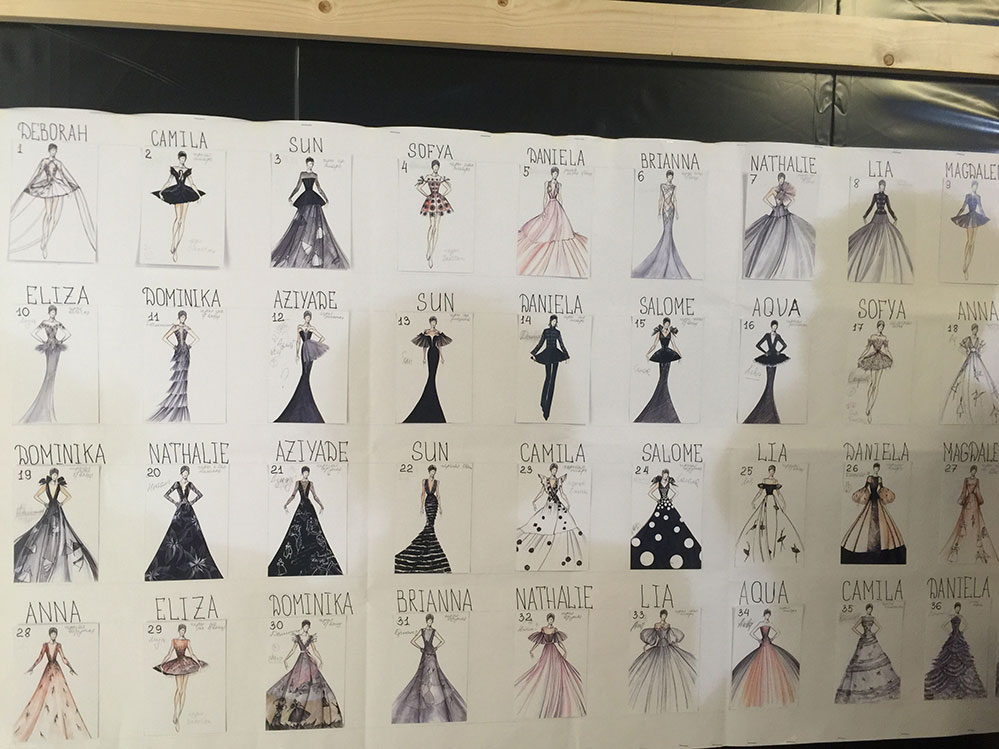 January 26, 2.30pm /
Stéphane Rolland
I was very impressed. He plays a lot with the architecture of the clothing. He had this gown which was beautiful. It was red at the bottom with a nude coloured top. The structure is so unique and beautiful. He also did a stunning bridal dress which everyone was talking about. It was a very modern bridal outfit.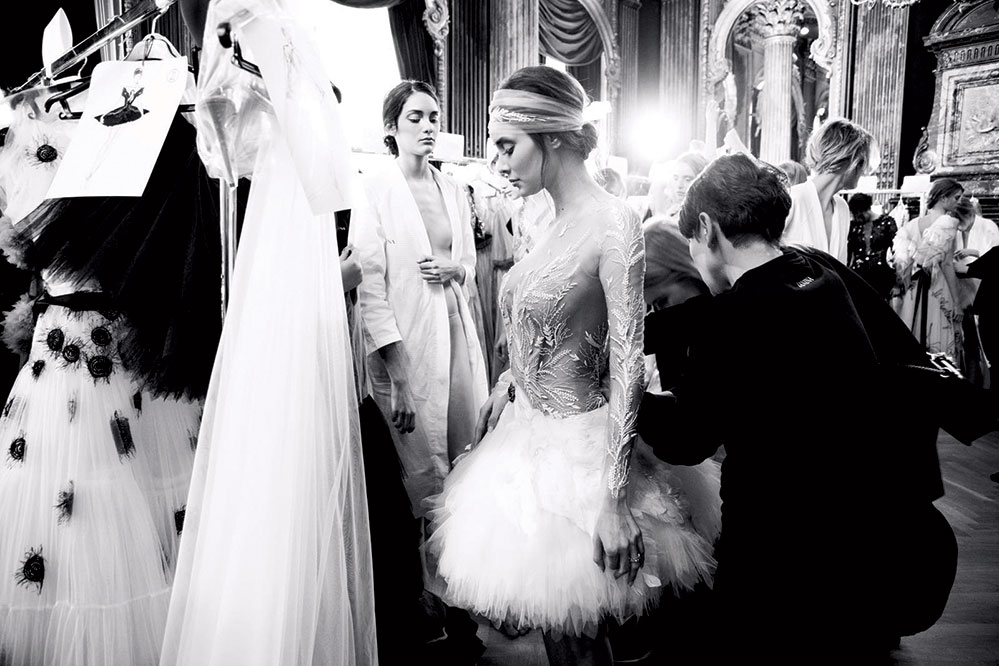 January 27, 8am /
Rami Kadi
It wasn't a show, but I did a fitting for Rami Kadi, who is Lebanese. He had his presentation at a suite and was checking the clothing. He has many beautiful pieces, a lot of them bridal, although you don't only need to use them for bridal, they can be for any occasion.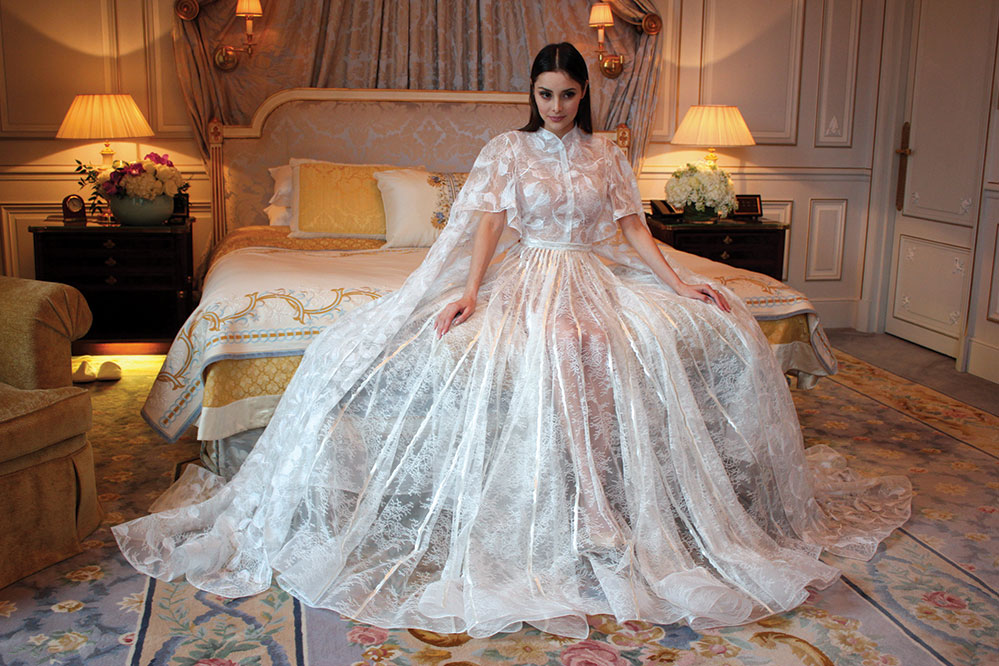 January 27, 12.30pm /
Elie Saab
Elie Saab is always spectacular. The inspiration was India but many people thought it was American cowboy for some strange reason. As always, there was a lot of embroidery and he's one of the best in the business when it comes to that.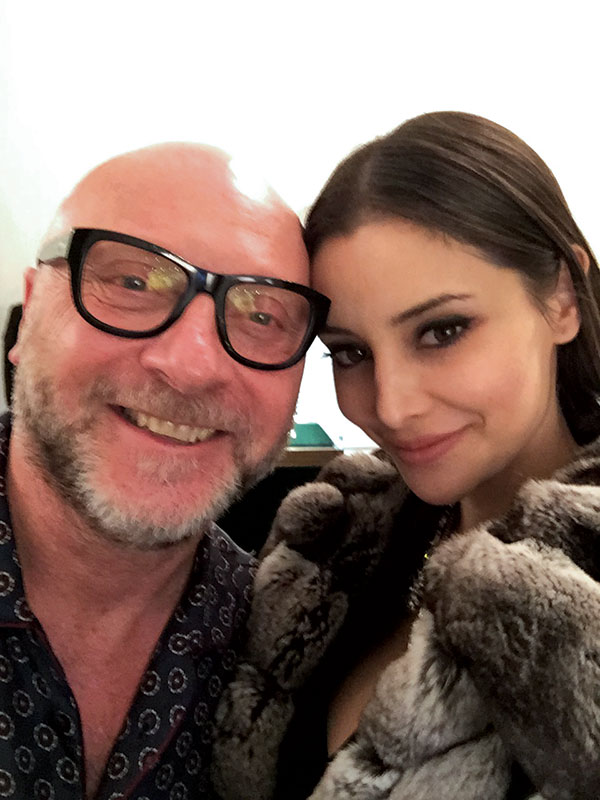 January 27, 2.30pm /
Jean Paul Gaultier
Jean Paul Gaultier had a disco theme for his show inspired by Studio 54. It was super fun. We like him a lot. I got to try all the pieces and I have to say that they are really cool. At first look, they may not be pieces that you are looking for but when you try them on, you really think, why not? He thinks so differently. You may not think of his designs as timeless but when I tried on a jacket, I thought, I could wear this any time. He did a lot of oversized pieces that I didn't expect I would like but they are super-comfortable. He is a designer who can really surprise you.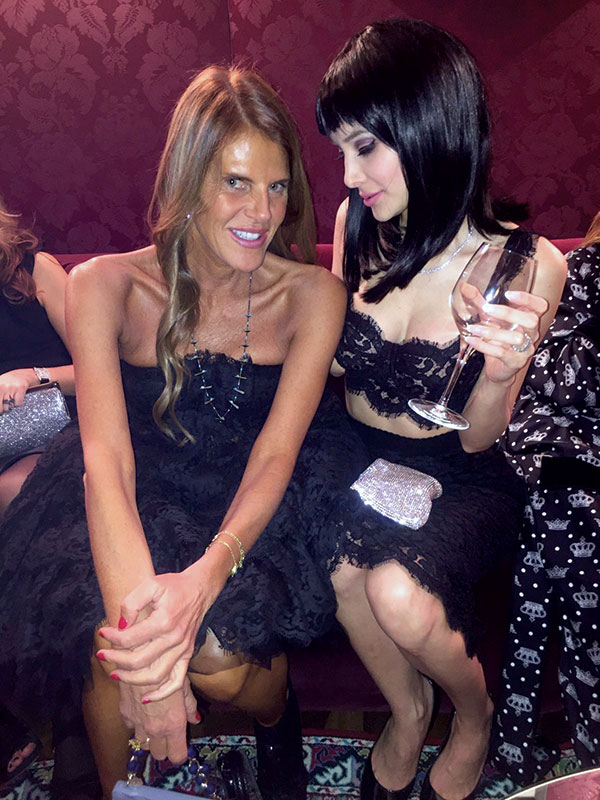 January 31, 11am /
Dolce & Gabbana
Everybody follows fashion week, but they do it their own way and it just seems to work. At Dolce & Gabbana, Stefano Gabbana and Domenico Dolce do a three-day event where they present jewellery and menswear. During this time you can really get to know the designers because they are around during the presentations. They presented the women's collection at the Teatro alla Scala and the pieces, from suits to dresses and jackets, were amazing. Just the day before, I had bought a Dolce & Gabbana dress. I was the only person in the store and they opened it for me. I didn't have a dress because I had been travelling for so long. I loved the outfit because it was so spring, with so many colours.