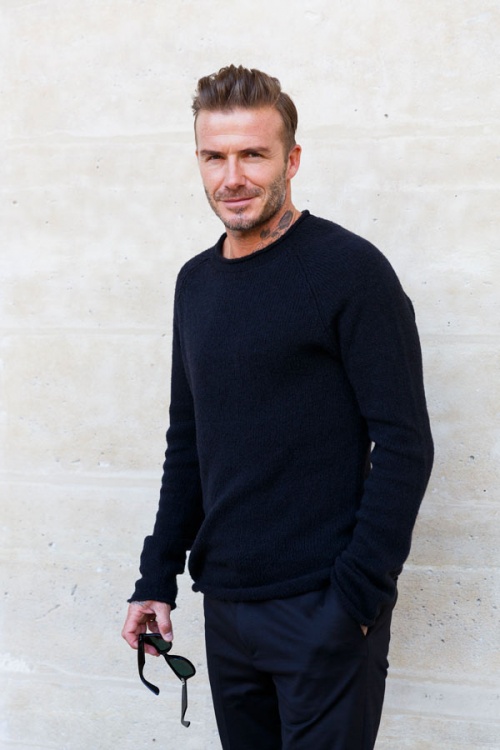 ​The moment he walked in, the room fell silent. We've all heard David Beckham is down-to-earth, but there's a palpable tension, and no one dares sit before he does. He's dressed impeccably in a navy blue suit and a matching skinny tie, with a Rolex Submariner on a NATO strap peeking out from under a crisp white cuff. Beckham has a ready smile and perfectly coiffed hair, so it's hard to believe he has just hopped off a long-haul flight to meet us in Hong Kong. Moments earlier, faced with the prospect of meeting Beckham face to face, small talk quickly circled back to the same question: "Have you ever met him? Have you seen David Beckham in person?" Regardless of the answer, everyone looked momentarily starstruck when the legendary former footballer arrives.
It's not only women that feel the Beckham effect. The person that asks the question everybody is busting to ask is a man: "What is it about your attractiveness that really appeals to people all around the world?" Beckham gives an embarrassed laugh. "I don't know," he says. "I think I've been lucky in my career that I've lived in different countries and experienced different cultures, but I think people always see me as a very British man. And I think that's what appeals to people." He falters a little. "I don't like talking about myself, ever. I can feel myself heating up."
Beckham has been many things. He was first a professional footballer. Having started his career at Manchester United at the age of 17, he went on to play for Real Madrid, LA Galaxy, Milan, Paris Saint-Germain and England. He is the first English player to win league titles in four countries: England, Spain, the United States and France. After 20 years on the football pitch, he announced his retirement in 2013, when he was 38.
Beckham is a dedicated husband, having recently celebrated 17 years of marriage to Victoria "Posh Spice" Beckham, and a loving father, the couple having four children together: Brooklyn, Romeo James, Cruz David and Harper Seven. He's a philanthropist. He became a UNICEF goodwill ambassador in 2005. Last year he set up 7: The David Beckham UNICEF Fund, to protect children in danger around the world. And he is a brand endorser, counting Adidas, Samsung, Breitling and H&M among his collaborations.
Recently Beckham has been doing more than just lending his face to brands. For H&M he helped design a range of clothing that includes jeans, T-shirts, jackets and underwear. Last year he, Global Brands and Simon Fuller jointly formed Seven Global to create products for brands such as Kent & Curwen. He is already the global ambassador for L'Oréal-owned Biotherm Homme and will next year launch a range of men's skincare and grooming products with the brand. "When people ask me to be partners, or be involved in a brand, people very quickly understand that I want to be involved in every detail," he says.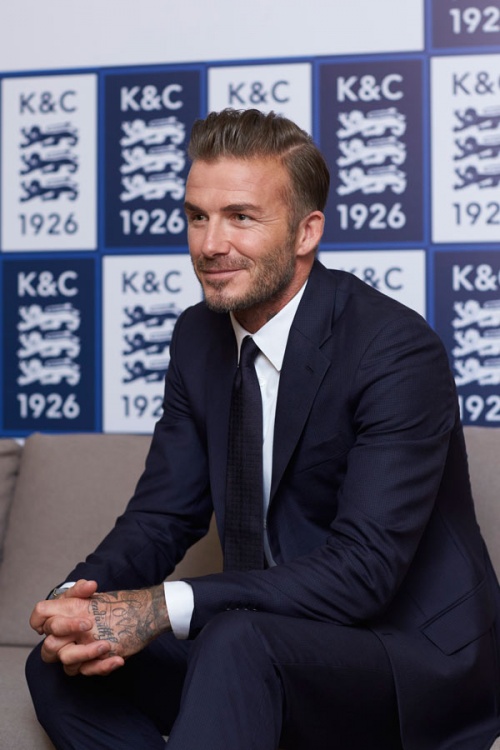 Beckham came to Hong Kong to celebrate the 90th anniversary of Kent & Curwen. He and the company formed a five-year partnership last year. In its heyday, in the 1930s and 1940s, the brand was renowned for its cricket pullovers, rugby jerseys and university colours. Kent & Curwen was the pioneer of fashionable sportswear between the world wars – an age when wearing sporting kit for anything other than playing games was not quite the done thing. Edward, Prince of Wales, later to become the Duke of Windsor, gave the habit a degree of respectability in Britain, and it spread to Hollywood, when actor and cricketer C. Aubrey Smith commissioned Kent & Curwen to make colours for the Hollywood Cricket Club. Actor Cary Grant was photographed wearing his cricket pullover, and all of a sudden, sportswear was all the rage.
Kent & Curwen has set out to recapture its original essence, yet bring its cricket pullovers and rugby jerseys up to date. Beckham enlisted the help of designer Daniel Kearns, who has worked for Emanuel Ungaro, John Galliano, Alexander McQueen, Louis Vuitton, Saint Laurent and Façonnable. Kent & Curwen's new collection will be unveiled in September.
Beckham takes no credit for the designs in the collection, "I don't want to be a designer," he says. "I don't have the talent Daniel has. That's not what I do, and that's not what I'm going to do because we have experts that do that." Part of his job is to inspire. "We have a brand that's been here for 90 years, since 1926, and that's something we really want to grab hold of and keep, and make it more special than it actually is already. Daniel understands my style and I think there's a lot of my style that goes into the clothes, into the design."
Says Kearns: "David absolutely knows what he likes and what he wants. It's fantastic to work with him. When he puts something on, it immediately starts a dialogue in terms of what's right and what's wrong with it."
The other part of Beckham's job is to connect with the younger generation, to make Kent & Curwen appealing to millennials. "I think I'm very lucky I still appeal to young people with certain things I wear – and if it's not me that appeals to young people, it's my son, Brooklyn," he says.
Beckham's metamorphosis from football star to UNICEF ambassador to helmsman of fashion seems to be driven by passion and firm beliefs. He is not content to be the face on display. He likes to contribute, to take charge just as he did on the football pitch.
"That's what we're doing with Kent & Curwen, with my licensing company, with other initiatives I'm part of, and with my work with UNICEF," he says. "People ask me what replaces the buzz I get from walking out at Old Trafford or Wembley and it's the stuff I do with UNICEF. It's what I care about, it's what gives me that excitement."