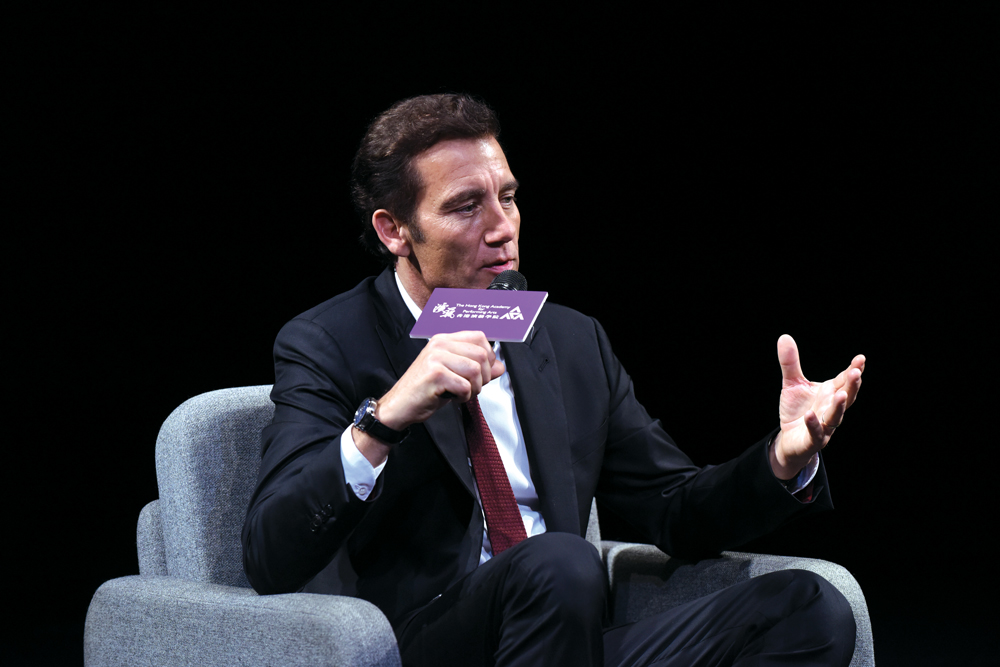 Clive Owen in the flesh is a little like the Clive Owen you see in movies. He's a serious sort, business-like in the interview, and fixes you with an intense, green-eyed stare that reminds you why he was so good in Croupier and Closer. He speaks with zeal about his television and theatre roles but ask him for advice and he's instantly self-deprecating.
In Hong Kong with Jaeger-LeCoultre to give a masterclass to theatre students at the Hong Kong Academy of Performing Arts, Owen, who is set to star in the Broadway revival of M Butterfly, talks about his first love and his current infatuations.
What made you fall in love with the theatre?
It was a school play around the age of 13. I fell in love with it and I was lucky in that my local theatre had a youth theatre attached for kids to come and do plays. I joined and ended up doing a lot of plays. Amazingly, the guy who ran the youth theatre went on to run the Shakespeare Company. I went to drama school, joined The Royal Academy of Arts and, when I left, all I wanted to do was theatre. Over time, the film and television thing opened up.
You've done a lot of Shakespeare. Will you do more?
I would definitely consider doing more Shakespeare. I did my first play in 13 years last year in New York and that was quite scary because it's been so long. I've been asked to do a couple of things but they didn't feel right.
Your return to the stage was in Harold Pinter's Old Times. What was the attraction?
I really loved that play. I didn't know it, I hadn't seen it, I hadn't read it, and then I saw it, liked it and was taken by it. It was directed by Douglas Hodge, he has worked with a lot of Pinter works and interpreted Pinter brilliantly.
Do you have an interpretation of what the play meant?
I'm still trying to figure it out.
Do you prefer theatre, or television and film?
I think the truth is probably film. But I don't separate television and film. Having just done two seasons of The Knick with Steven Soderberg, he directed it like it was a movie and I don't think of it as a different thing. It's healthy to do theatre, it's a different discipline, but my love now is for film.
What do you like about acting for film and the stage?
There's something about the collaboration in film that I love. I love being around lots of people who are all good at what they do. In some ways you are more powerful as an actor in theatre because you hold the stage, whereas for film you're at the disposal of everyone around you. For sure the director, but also a good film depends on all departments working well together. Stage acting is gruelling with such long runs. I had this silly idea because you've got your days free, that it's time off, but it's not. The moment you wake up it's coming at you like a train. You need to be on your game and you're gearing everything towards being ready to do the play. It's gruelling, eight shows a week.
Do you suffer from stage fright?
Oh god, yeah. If you think I didn't do a play for 13 years, I don't know until I step out in front of an audience quite how I'm going to react. You really don't know. You have that little voice in your head that's questioning all the time. Most actors do. You know, whatever you're doing, you're always questioning yourself. The fear is a genuine thing.
Your next play will be M Butterfly. How did you get involved?
I literally got sent it. Julie Taymore contacted me and told me she was doing this play. I met her and it was the first proper big revival since the original production 30 years ago. It's an extraordinary piece of writing. Julie's a brilliant director and visually very special. I thought about it and I think it feels like a good time to be doing this play again. David Hwang, who wrote it, is coming in to do some rewrites because a lot of things have come to light about the real people involved. It's hugely exciting.
When do rehearsals start?
We start proper rehearsals in August. I think we're going to do a workshop soon in April. Hopefully they'll have cast everybody by then and we'll work through the play and the writer will be there and Julie will be there.
Have you ever considered working on the other side of the camera?
Yeah a few times, but I've just got to find the right thing. I've got to find the thing that will inspire me to stop acting and actually get on with it. Because I think about it a lot, I talk about it, but I haven't done anything about it.
You're known for your range. What advice would you give to new actors?
I'm loathe to give advice on anything, who am I to give anybody advice, but you've got to be resilient, you've got to believe in yourself because ultimately that's what an actor does, he puts himself into another character and you have to believe it. In terms of being type cast, I never wanted to just hone something and protect it and keep playing the same thing. I find that boring. I'm always looking to try and change what it is I do. That's the joy for me. That's why I want to do it.
You played a lot of tough guy roles in Sin City (2005) and The International (2009).
Even in my earlier days. I was in a hit called Chancer in Britain and I got offered a lot of mainstream television roles but stopped to do small films and theatre because I felt I was getting into something where I was following a pattern. I thought, 'No, I want to do more varied things.' I've always had that instinct. I don't do a character and deliberately choose another project to be different.
A lot of people look up to you but when you were first starting out, was there somebody you looked up to?
Not really. No. I fell in love with acting and doing plays. There wasn't ever an idol I saw or anything. I mean I've seen lots of people I've been impressed with, I love movies, but I've never had that one person I've gone nuts over.
Outside of acting, what do you like to do?
Watch a lot of football.
American football?
No, real football. I hang a lot with my family, that's what I like to do. I like to be home and be quiet and out of the way.
You live in London but work elsewhere?
I've spend a lot of time working in the United States in the past few years; New York especially. I go wherever the work is but I like to get home and spend some time with the family.
Do your daughters have an interest in acting?
My eldest daughter, yeah. She did a foundation course at the Royal Academy, where I went a lifetime ago, which is really sweet. She's in the process of auditioning for drama school. The younger one no, she's got no interest. She's much more musically minded. She likes to write music and sing.
Let's talk style.
I'm quite classic. I've had a relationship with Giorgio Armani for many years and there's something about the timelessness that I like.
You're here with Jaeger-LeCoultre as their ambassador. Is the collaboration organic?
It happened in a very natural way. I was a big fan of their Amvox range, a sporty range of watches. I started to wear them and they approached me. It was perfect because I was already a fan. At the time I remember other watch brands were coming to talk to me and I was like, 'No, I wanted to go with the brand that I already loved'.
When was the first time you saw the Amvox?
It was when it was first released. I noticed them and I got one. I was wearing it and I remember meeting somebody in Venice and they saw it. It sort of went from there.
Do you collect watches?
I've got lots. The current favourite is the Master Grande Tradition.