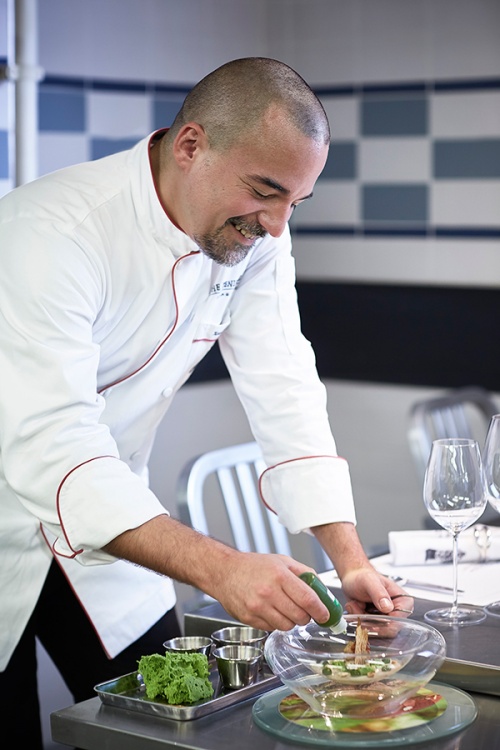 The dedicated elevator to Gaddi's at The Peninsula Hong Kong is slow, but a personal favourite. I always thought it helped build up anticipation to one of the city's earliest French fine-dining establishments, opening up to reveal a grand foyer that leads down to the restaurant's main dining room with high, coffered ceilings, majestic decorative mirrors and exquisite cut-crystal chandeliers.
But today, we weren't dining in the main restaurant. We were thrust right into the hustle and bustle of the kitchen and dining at Gaddi's Chef's Table. First introduced in 2000, the Chef's Table gives guests a one-of-a-kind front row view of the chefs at work while being served a personalised lunch or dinner menu.
The Peninsula Hong Kong appointed Chef Xavier Boyer and new Manager Nikolaos Skarkalis in July, and since then have brought back the unique dining experience, taking guests on a superlative gastronomic journey at Gaddi's.
Chef Boyer has previously held senior roles at the L'Atelier de Joël Robuchon restaurants in Paris, London, New York and Taipei, as well as the three-Michelin-starred Le Cinq at Four Seasons Georges V in Paris.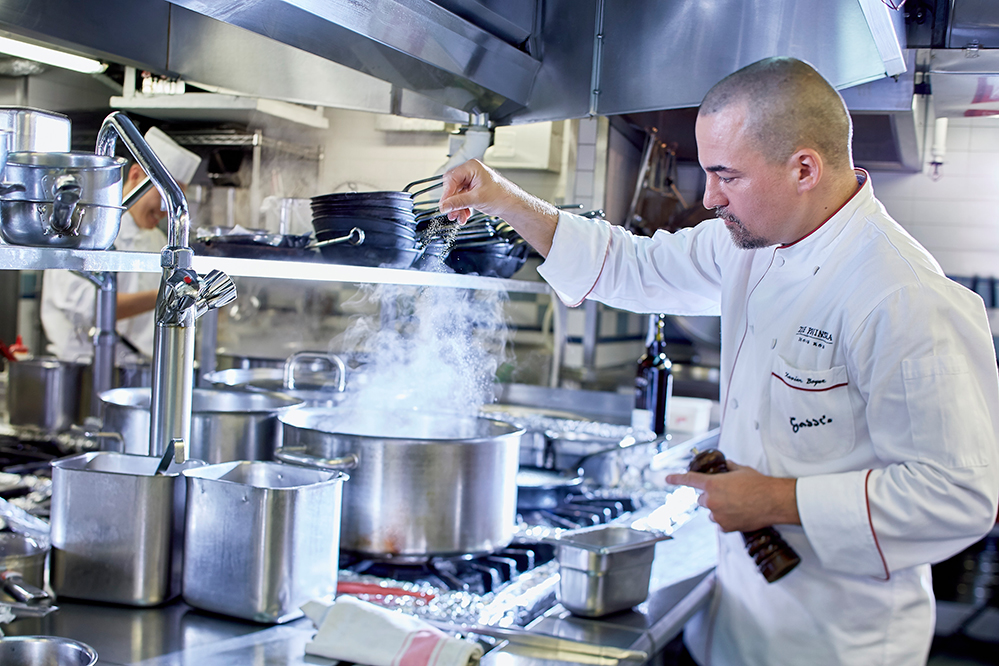 Gaddi's new menu now includes Austrlian Black Market beef fillet with black truffle, poached Boston lobster in a delicate citrus broth with pan-fried artichokes, fresh coriander and avocado, Pyrenean lamb prepared three ways: shoulder confit, pan-fried rack and slow-cooked saddle; and the playful yet sophisticated Pen Egg, a breakfast classic with a twist that was especially created to be paired with Krug Grande Cuvée Champagne.
Dining at the Chef's Table gives us a full view of Chef Boyer and his team at work at the pristine kitchen. His approach to classic French cooking is deceptively simple, and he is an advocate of the less-is-more school of thought, taking great pains to use seasonal ingredients and to allow delicate flavours shine through in each dish with minimal distraction.
The Chef's Table at Gaddi's is available for a maximum of four people at HK$828 per person for a three-course lunch, while dinner is priced at HK$1,988 per person for five courses or HK$2,688 per person for 10 courses. All prices are subject to a service charge of 10 per cent and advance booking is required.