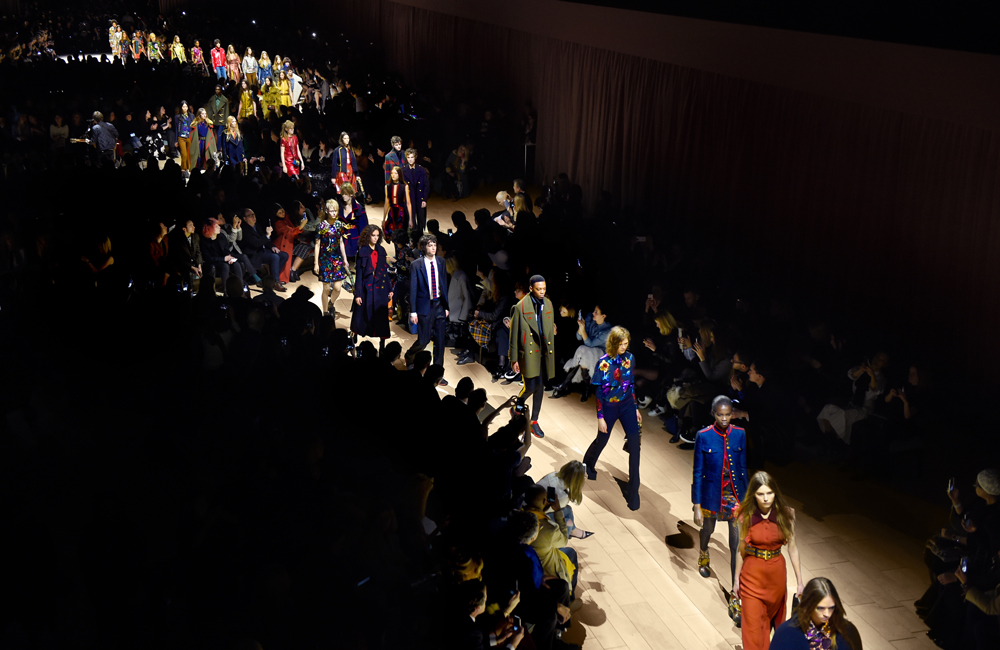 Theatrical extravagance has become the defining feature of major fashion shows. Furnished with generous budgets and vivid imaginations, designers showing in Paris have created full-size steam trains that have disgorged models from their carriages, dressed women in clanking medieval armour and created a faux supermarket for modern-day mannequins to strut around. Attention is guaranteed, with images of the shows flashed instantly around the world, accompanied by the first-take views of fashion bloggers and fashion editors. And then – bizarrely, some may think, in the age of Internet-led instantaneousness – there is a six-month void until the clothes appear in the shops.

Fabulous though the garments undoubtedly are, and keen though viewers may be to purchase the dresses, skirts and blouses created by Karl, Miuccia, Stella, Giorgio and company, they are simply unavailable. The grandly orchestrated shows are staged partly for feedback purposes, allowing the designers to drop the styles that were panned, adjust the ones that received milder criticism and ramp up the factory orders for the items that were subject to lavish praise from the experts. 
It has been this way, more or less, since the birth of the fashion industry 100 years ago. Customers have to sit and wait patiently, even though their interest has been piqued and their credit cards readied. Traditionally, the spring/summer and autumn/winter collections are shown twice a year in a back-to-back fashion week schedule that starts in New York and heads to London and Milan before the grand finale in Paris. Then comes the hiatus until the collections appear in shops worldwide.
That is all about to change, thanks to a decision by Burberry boss Christopher Bailey that has sent seismic tremors through the industry. Instead of sticking to the time-honoured tradition of showing the clothes and making customers wait for half a year, Bailey has pledged that all the togs will be available straight from the catwalk. See it on the models – either in person or live streamed – and you can hotfoot it to Burberry, flouncing around that very evening in absolutely the latest clobber. If that didn't cause enough of a kerfuffle in an industry that tosses around the word creative with blithe abandon but has proved deeply unimaginative when it comes to catering to customer needs and demands, Bailey went a stage further, deciding to merge womenswear and menswear in a combined show.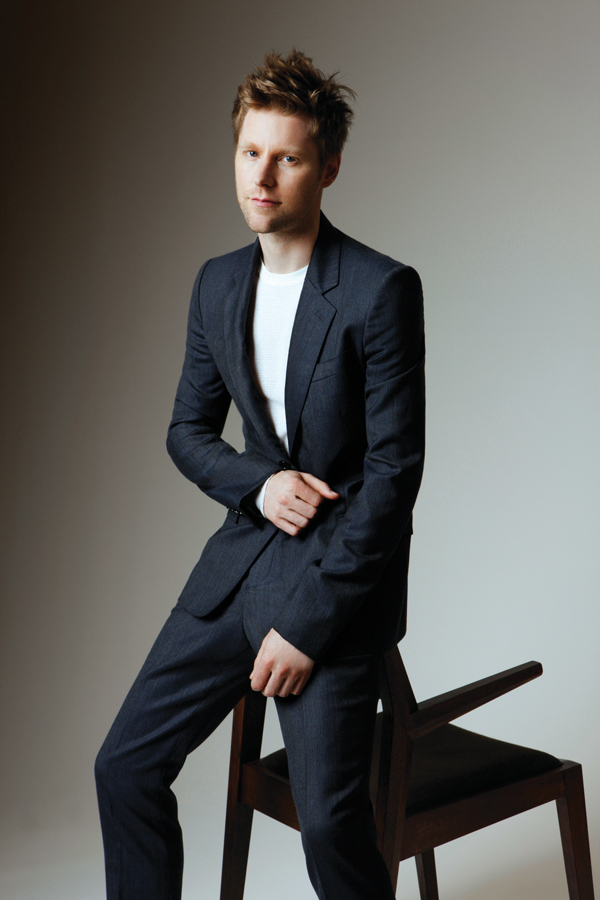 The traditional pattern has been not so much blitzed as nuked. It is no surprise that the more conservative end of the fashion-industry spectrum has been mildly scornful of the decision, subtly hinting that Bailey is something of an arriviste, introducing change for change's sake and likely to stumble when it comes to the reality of production deadlines and supply chains. The more staid of the houses thought much the same about the arrival of Internet shopping – to this day some of the European labels have a lame presence online – and were shown to be out of touch. That lack of Internet savvy proved to be a money-spinner for YOOX, one of the e-tail pioneers, which now builds online platforms for late-to-the-Internet Italian brands.
Dismissing Bailey's visionary decision arbitrarily is to ignore the recent history of his brand, which shows the decision to be right in tune with the zeitgeist. The designer and former chief executive, Angela Ahrendts, turned a brand with sluggish sales into a global behemoth, using technology as much as possible. Burberry reinvigorated shows by live streaming them, using original music as accompaniment instead of plundering the 1960s and 1970s rock catalogue. It used whole walls, inside and outside shops, for video displays of catwalk re-runs and live performances. It equipped shop assistants with iPads to store the measurements and buying history of customers. 
The brand built a strong in-house digital team to make catchy videos and continually update the numerous social media platforms where Burberry has a presence. It enlisted the help of the world's top fashion snapper, Mario Testino, to shoot visuals. It signed up Brooklyn Beckham, son of power couple David and Victoria, as a model. It hauled in a smorgasbord of young British celebrities for its Christmas video. The Burberry trench coat – designed originally to keep British officers warm and dry on the battlefront, as worn by Humphrey Bogart in Casablanca – was given makeovers so that it is now available in every colour, style and fabric.
So, all in all, it is fair to assume that Bailey has thought every element through, realising the potential pitfalls of such a realignment. The most important is the supply chain adjustment. Factories will have to work to tight deadlines, particularly at the beginning. Buyers and editors will have to be shown the clothes during the production process. Exactly how that will work has not been revealed. Keeping rivals guessing is a sensible tactic.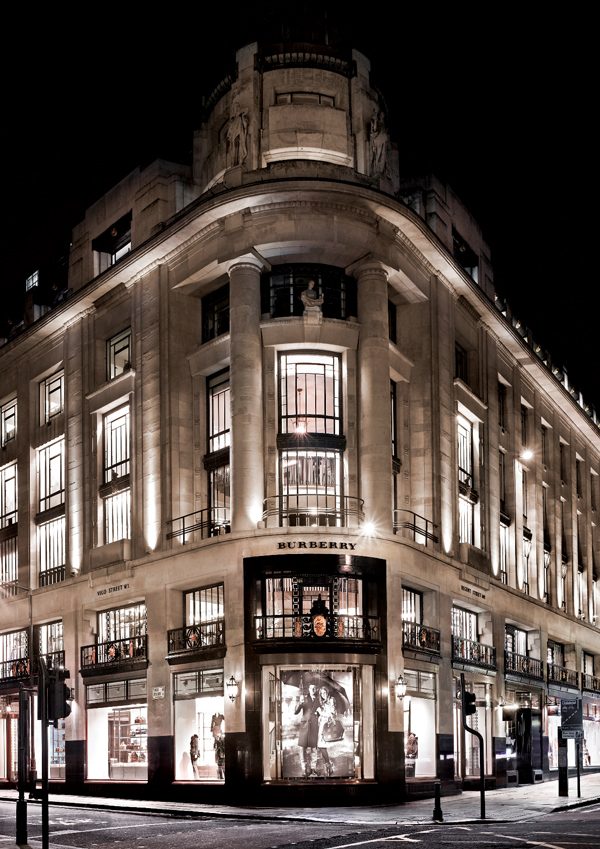 Bailey's stratagem was certainly one of the major talking points during the series of fashion weeks that culminated recently in Paris. The question was asked, "Would this be one of the last gatherings in the six-months-ahead format?" The usual answer was probably not or, at least, not just yet. But authoritative figures in the industry acknowledge that the Burberry decision will have earth-shaking effects.
Angelica Cheung, editor-in-chief of Vogue China, appreciates the rationale. "They think if they do a huge show that attracts international global attention that attention may not be there when the products are in the shops six months later. That reasoning makes sense. [The question] is whether you can do that seamlessly without damaging the quality of the brand and the shows," she says. 
"It is already changing. The brands with substantial businesses are already doing six shows a year: they have two ready-to-wear, two couture and two pre-collections. And then you have another layer of pre-collections. It is a matter of how you call it. They are naming it in a traditional way but, in essence, it is about having a show every month," Cheung says.
"The brands put out six to eight collections a year officially but unofficially they have new pieces coming out all the time because the consumers' attention span has become shorter and shorter. A lot of brands have to put out new products every month or even every week, so monthly magazines need to react to be more efficient, more flexible. We need to cope with changes quickly."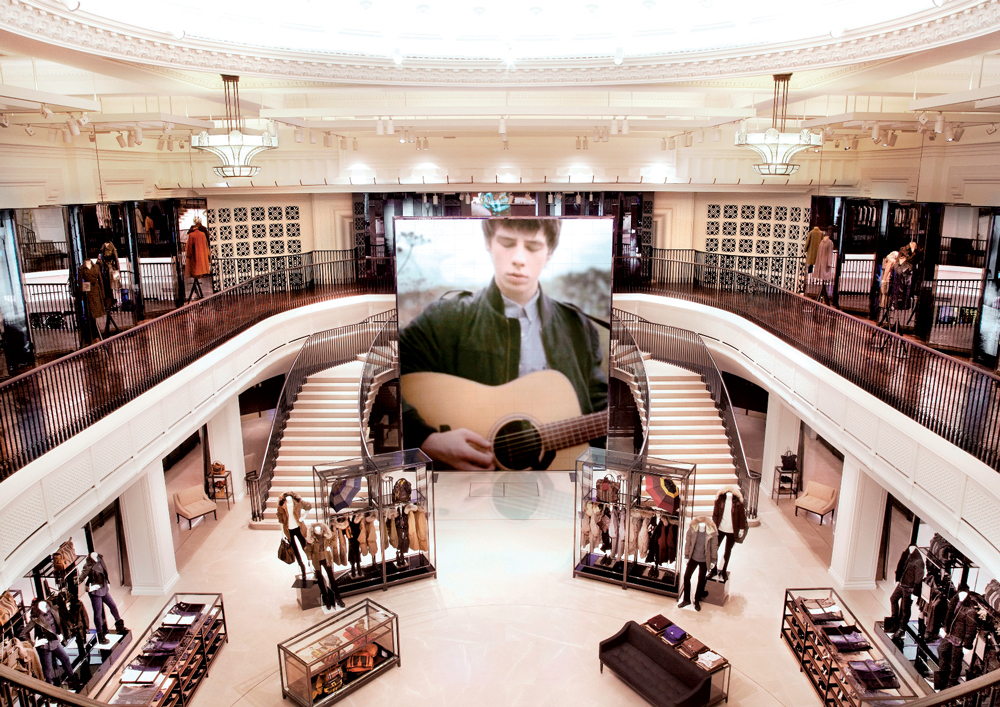 Major brands are already exploring different approaches to showing their wares, although these approaches entail no changes in the production cycle. There has been a trend in recent years of putting on one-off shows in exotic places. This year, Blenheim Palace in England, the stately home where Winston Churchill was born, is due to hold a Christian Dior event. Gucci designer Alessandro Michele has pulled off a coup by gaining permission to use Westminster Abbey in London for a show, and Burberry and other British brands will no doubt be asking how an Italian outmanoeuvred them on their home turf. Chanel has a show scheduled to take place in Cuba, which had been off-limits until the United States lifted its embargo on commerce with the communist country.
It may be argued that the trend began in China. When the mainland opened up to the world, a new set of opportunities could be taken if the logistical hurdles could be cleared. There have been shows on the Great Wall, on Beijing's Ming Dynasty watchtowers and on the Bund in Shanghai. Foreign brands putting on shows in the mainland is no longer new. What is new is Chinese designers heading the other way. Masha Ma, for instance, now has bases in Shanghai and Paris. She and others like her will be among the beneficiaries if the twice-yearly pattern is abandoned. Beijing-born Ma, who trained at Central Saint Martins, has close ties with mainland factories, speaks the language, can handle fast turn-around times and is not in the least fazed by rapid change. 
Ma has a team, distinct from her main operation, devoted solely to keeping an eye on trends, particularly on what is selling and why. The team also looks at the clothes that are failing to fly off the shelves and suggests ways to give them a shove. "Their responsibility is not to design the collection, but to target what is likely to happen in two weeks' time in the retail market. For example, last autumn/winter there was this navy jumper and nobody wanted it," Ma says. "So we thought, Christmas is coming – and put some decoration on the jumper, a bit of sparkle, and it started selling like crazy. That kind of reaction cannot be done by the main office because they have seasonal targets and focus. That kind of idea has to be executed on the spot."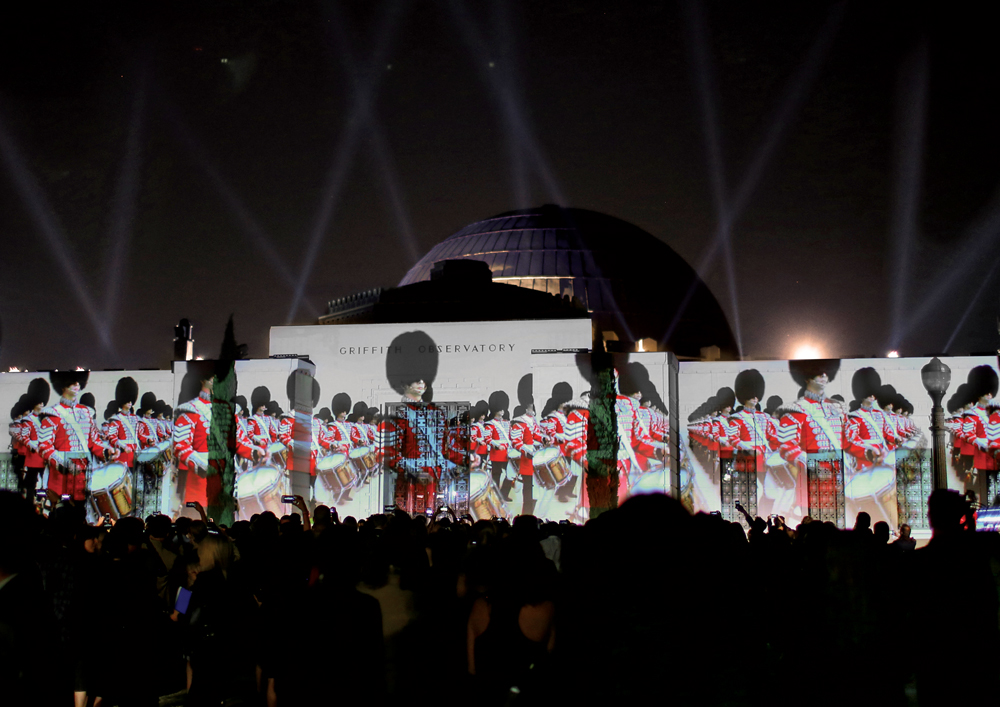 Ma says the twice-yearly show cycle, with no chance to buy the clothes on the spot, is outmoded. She is moving toward doing business seamlessly, all year round. "I think the Burberry decision is brilliant," Ma says. "I am not sure how much pressure it will give to the designers. They must have a very strong team, who can follow on from the decision. When you do 11 collections a year and stress out, it is hard to keep quality and creativity. And the feedback is so slow. By the time you are doing the second season, the first one is already in the store.
"I think it has to change. I don't believe that the traditional retail way will stay. Before, anything would sell. But now people don't go to department stores anymore. They have grown up with the Internet, so if you buy online it is affordably priced and delivered to your door." Even so, the rapidly-expanding Masha Ma brand is opening shops throughout China while maintaining a vigorous online presence and making plans for a menswear line. It is an exceptionally thriving business for a designer-entrepreneur that has yet to turn 30.
Youthful is the adjective most commonly applied to Bailey, even though he is well into his forties. He is keenly aware of the wants and needs of the younger generation of consumers – the millennials, to use the buzzword. Their demand for instant gratification was a big consideration when he decided to change the schedule. 
The announcement of the change was rather muted, going by Burberry's usual razzle-dazzle standards. But Bailey was more exuberant when he outlined his thinking to The Business of Fashion. "This is certainly a big step for us, because it is absolutely shifting the way that we work," he says. "I hope that what we'll be able to do is create a moment that feels relevant when the customer actually sees it, rather than telling him or her they've got to wait until five or six months after we've excited them."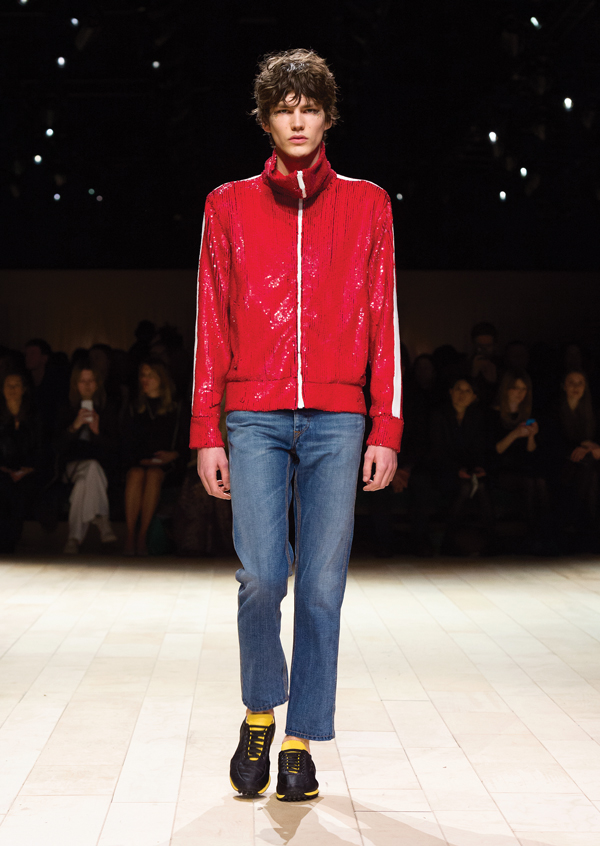 One side-effect of the change will be to wrong-foot counterfeiters, who will no longer have the luxury of six months to produce knock-offs. The change will also put a spoke in the wheels of brands such as Zara and H&M, which sell clothes inspired by what is shown on the catwalks of Paris, Milan, London and New York. "It really is a brave decision," says Tim Coughlan, a consultant who helps major fashion brands find appropriate places for their boutiques in China. "Burberry are not waiting for the crowd but making decisions to change the fashion industry. They are an independent brand, which gives them more autonomy to make decisions, but fashion is supposed to offer ideas that challenge. If there is a general change it will take three to five years. These big established houses don't move quickly."
It is because of that sluggishness that online retailers such as Shangpin.com have flourished, offering genuine designer goods at affordable prices. The site sells 800 brands, including Lanvin and Dolce & Gabanna. Shangpin.com founder David Zhao admires Bailey's convention-defying approach, and predicts that his change will rock the industry to its foundations. "It is absurd that people look at fashion shows and they can't buy," Zhao says. "The new policy will dramatically improve the customer experience, which is very attractive. What you see is what you get. It will change the whole industry. It will revolutionise fashion retail. In the past, when they have had a show, it is seen as a branding thing, but if they can't actually sell, they have lost the momentum already."
E-tailers such as Shangpin will demonstrate the difference between the two approaches. The clothes sold by Burberry and brands that imitate the Burberry stratagem will be, literally, the latest fashions. The labels that take the conventional approach run the risk of trying to sell clothes that look dated – at best, a season behind – by the time they reach the shops.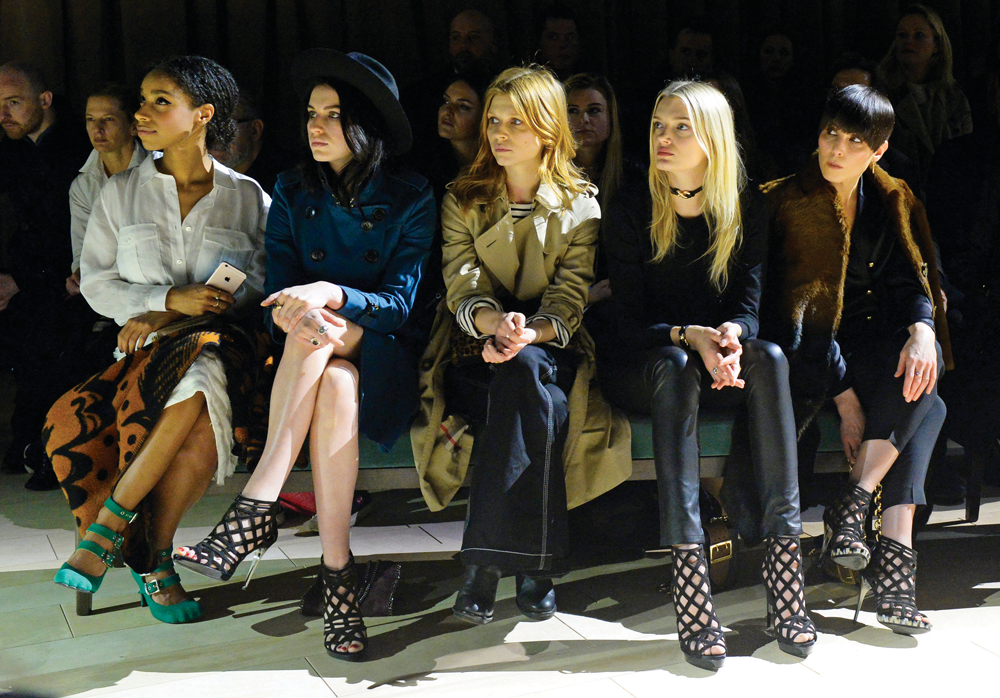 One fashion industry heavyweight, Francois-Henri Pinault, has indicated that his Kering group, which includes Stella McCartney, Alexander McQueen and Puma, will remain in the conventional camp. He has said the rush-to-market approach negates the dream of luxury. Other veterans, such as Giorgio Armani, have acknowledged that it is time for a different approach.
Tom Ford will follow the Burberry example, making the next collection he shows on the runway available for purchase immediately. He has already made good use of video to show his collections.
The main question might be, "Why did it take so long for the change to happen?" Given the way shopping online and Instagram browsing has revolutionised the fashion industry, it does seem anachronistic that its calendar is much the same as it was when Coco Chanel and Christian Dior were still taking runway bows. "At Vogue China, we embrace the changes. I would not use the word disruptive," says editor Cheung. "I think everything is moving along because people's lifestyle and behaviour is changing and it all comes with a reason. The reason we are coping with it is because we have built a very comprehensive, good-quality and powerful digital platform," she says.
"It doesn't help to complain about disruption and changes. I think the changes make professional life more exciting, and you can do more things and experiment with new ideas rather than just keeping the same thing, the status quo, for ever. Vogue is known for doing great-quality creative work but a lot of that work requires careful planning and organisation. With the cycle coming fast and furious, we need to be also moving in that direction without losing our essence of quality."