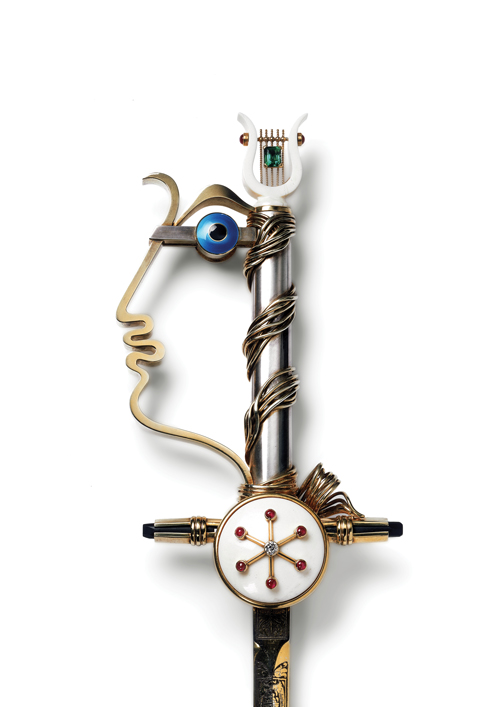 ​The Cartier man may be back on the radar courtesy of the brand's Driver watch, newly released at the Salon International de la Haute Horlogerie in January, but the house has long been crafting accoutrements for which it is less well-known but which similarly denote refinement, masculinity and chivalry on the part of the wearer.
Cartier is also a sword maker. France has an institution known as the Académie Française, to which individuals are nominated as immortels – their status comes with a natty costume of a green jacket, bicorne hat, cape and sword. So when French poet and artist Jean Cocteau joined the Académie in 1955, his friends commissioned a Cartier sword.
The Rue de la Paix jeweller had already crafted 15 such accessories, each an intimate dialogue between the future académicien and the artist-jeweller, but none came within a swish of Cocteau's extraordinary blade. Made in accordance with drawings done by Cocteau himself, the sword is a veritable encapsulation of his work and the legends that inhabit it.
Orpheus is there, shown in profile with his lyre; a twisted robe symbolises a theatre curtain; a stick of charcoal the artist; and the poet's initials appear on the sword with the star that always accompanied them. Another motif is taken from the gates of his Palais Royal home. While at the tip of the weapon a hand clasps an ivory ball in reference to the snow-covered stone in Les Enfants Terribles.
The blade came from a Toledo armoury, a gift from Cocteau's Spanish friends. Coco Chanel gifted a 2.84-carat emerald, showing there's nothing like friends in haute places. The other gems were a gift from Cocteau's friend Francine Weisweiller. This sword is a poet's dream made real by a sculptor of the extraordinary. En garde.