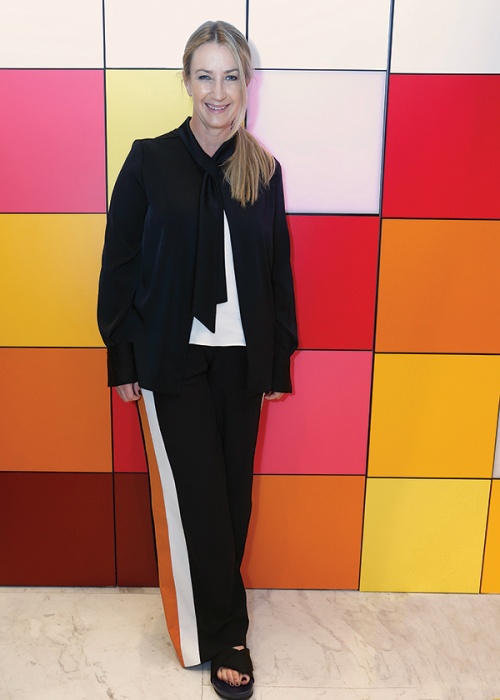 Few fashion titans can command a global business empire, yet at the same time remain approachable and warm, like a friend. But accessories designer Anya Hindmarch is one of a kind. She is the embodiment of quintessentially British characteristics: fervent courtesy, charming self-deprecation and a sparkling sense of humour.
Hindmarch was brought up in Essex, just to the northeast of London, where her love affair with accessories began. She remembers being interested at an early age in choosing things. She would go out with her mother and look for fun items, such as bracelets. "I think I was always pretty aware of fashion," she says. "My mother was a stylish dresser, so my early memories were about how she would dress. It just naturally appealed to me. I also used to love making things. I remember, as a child, making things out of paper such as little purses. I think girls tend to make things to put things in. I see my daughter doing the same. It's quite a girly thing. I was surrounded by that and excited by it."
When the designer-to-be was 16 she was given her mother's cast-off Gucci bag. The gift turned out to be a massive influence on Hindmarch's life. "I remember it was a bit of a moment for me," she says with a laugh. When she was 17 and at boarding school, somebody came to give a talk about the fashion industry. "I remember going back to my room feeling adamant about being a designer," she says.
In 1987, Hindmarch was inspired to create her own range of accessories and shortly after, at the age of 19, she started her business. She began by placing an advertisement in Harpers & Queen, now called Harper's Bazaar. She ploughed her first £7,000 in sales back into the business. In 1993, Hindmarch opened her first shop in Walton Street, Chelsea.
Combining English elegance, mischievous humour and passionately applied craftsmanship, the Anya Hindmarch label quickly became an established luxury brand. Hindmarch's handbags are renowned for their quirkiness and quality. Her creations have been redefining cool for more than two decades, raising her status from cult favourite to acclaimed visionary.
Hindmarch's first runway show, in 2012, featured the unforgettable Quality Street collection, with bags designed to look like old-fashioned sweets and chocolates. The autumn/winter 2014 line drew inspiration from the mundane but had a twist of luxury.
It included a clutch shaped like a Kellogg's Coco Pops packet, another like a Swan Vestas matchbox and a chain bag like a crisp packet. It was this last bag that Solange Knowles famously swung at Jay Z while in an elevator at the Met Ball.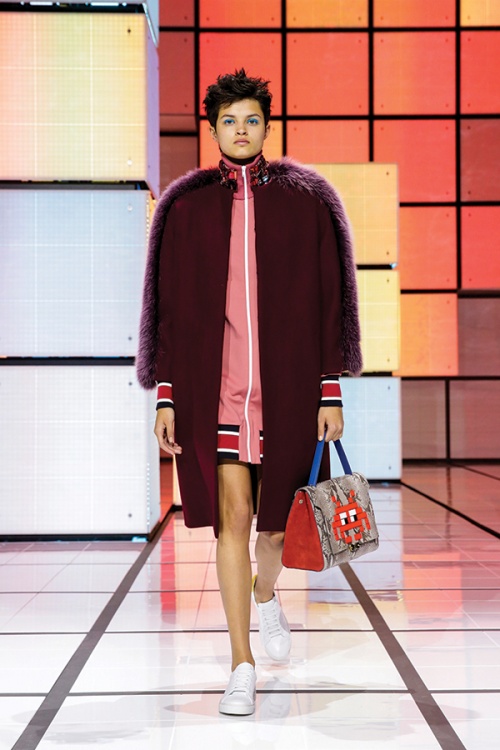 Hindmarch has always refused to conform and play by the rules, using fashion not just as a creative outlet but also for pure enjoyment. That she has remained playful with her craft over the years has cemented the popularity of her label. The level of creativity is demonstrated at London Fashion Week shows – the first ever by an accessories brand – which have included models floating as if weightless above the audience and a supermarket-inspired show with models on conveyor belts and dancing cashiers.
Hindmarch recently held a prelaunch in Hong Kong of the autumn/winter collection which has a pixel theme. She did the event in partnership with Lane Crawford's Blitz, a pop-up concept within the Lane Crawford footwear and accessories department that is dedicated to collaborative projects. Perennial favourites such as the Ebury shoulder bag have been recreated with pixellated graphics in a palette of colours, each inspired by the early days of digital design. The products tap nostalgia for popular computer games and innovative methods are used to make them.
"The collection examines pixellation and colour, the building blocks of digital design," says Hindmarch. "I am fascinated with the debate surrounding digital design as art, so I have started at the beginning with early 8-bit graphics and pioneering arcade games. We have explored each design using innovative leatherwork techniques such as heat-fusing and leather marquetry."
Hindmarch designs four main collections a year. They are sold in more than 50 stores around the world by retailers such as Colette and Net-A-Porter, and the Anya Hindmarch label has become a global brand. Its most famous customers include the Duchess of Cambridge, Kate Moss and Cara Delevingne. The owner works with her husband, James Seymour, who is the company's finance director.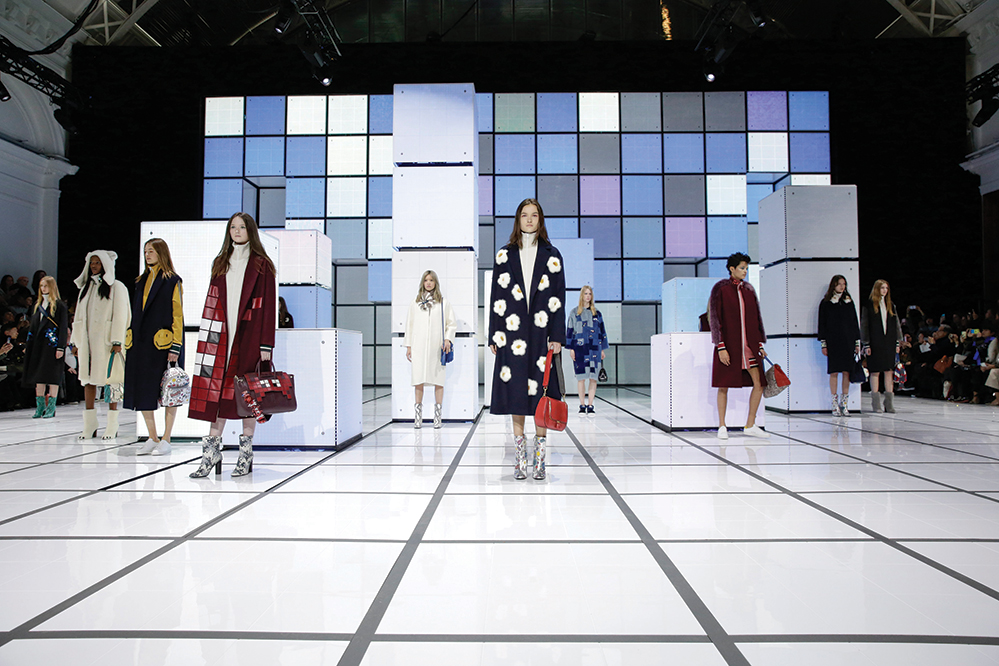 Hindmarch won the British Fashion Council award for the accessory designer of the year in 2001. In 2009, Queen Elizabeth decorated her with an MBE. Three years later, the designer was Veuve Clicquot's businesswoman of the year. Success, however, did not always come easily. Hindmarch says she learned the nitty-gritty of her business as she went along. By trial and error she came to understand the workings of the fashion industry, to gain access to craftsmen and to pass on to them what she knew. It was a struggle to get the label off the ground. "When you first start it is very hard because you have to do something spectacular to get noticed," she says. "But, of course, it is not always the most spectacular things that sell when you are not known. So you are torn between the visibility and having to build up a track record with the top stores. You have to be tenacious in all areas. But it's exciting and I feel like I have learned every aspect of this business since I first started."
Hindmarch owns up to having difficulty in balancing running a business and being creative, because she has always loved both aspects of her work. "I wanted to be free to do what I wanted. Creating was at my heart. That was the reason I do what I do. Growing your own business is very exciting because you can pick the people you want to work with and choose where you want to be distributed. You are completely in control, which is nice," she says.
About four years ago Hindmarch began to realise that it was too much to run the business and be creative at the same time. She chose to give priority to creativity. "For me, it was obvious that I wanted to do the creative. It is why I do what I do," she says. "Ultimately I am not an expert at growing a business and the creative role is not as easy to fill. So I brought in a wonderful chief executive, who looks after all the other bits so I can use the time to focus on the creative side."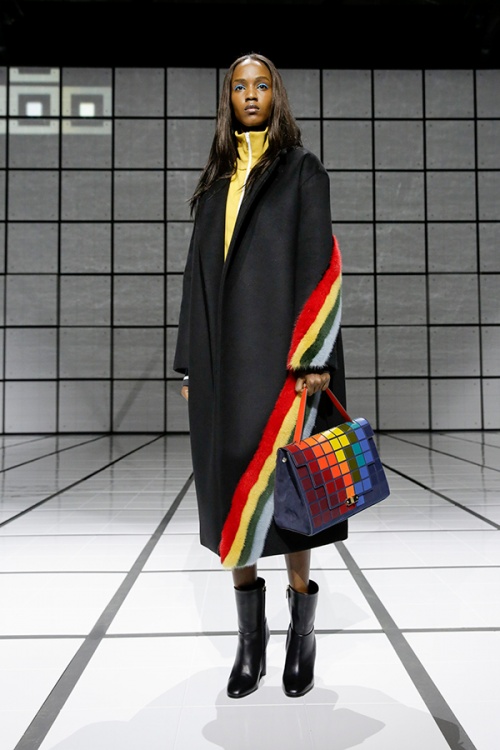 Now as creative chief and chairman, Hindmarch can focus on bringing ideas to life. Her inspiration comes from living in London. "It's an incredibly exciting hub of creativity that translates globally," she says. "London designers take risks. And, actually, it's this risk-taking and sense of adventure that probably contributes to success. So many of our talented designers either set up their own label very young or work for some of the most prestigious houses globally, so our exports are something we are incredibly proud of."
Hindmarch says she has given little consideration to what drives her. "It is just about doing something that makes me excited. Leather goods, to me, are a thing of joy. The things I realise we revisit again and again are how they are made. I am obsessed by modern craftsmanship and I talk about it all the time with a sort of sepia tone and romanticism. But the truth is the business of craftsmanship is quite industrial and technical. When you are making things like this it is very complex engineering and I am always interested in that sort of craftsmanship. I have always liked the element of irreverence and always liked this play on things," she says.
It is important for women to have fun with fashion, Hindmarch says, because fashion should be able to transform one's mood and make one smile. She thinks that one can dress conservatively and still have fun toting a playful piece. "That is why I think that handbags, in particular, are appealing to women because one does not have to be a size 10 to wear a great handbag."