For the longest time, Amanda Strang has stayed true to her twin passions of modelling and cooking. Her latest move into the realm of celebrity chef combines both. In a series of web-based episodes to be screened at hashtaglegend.com starting next month, she brings her ample talents to fore and shows her love of cooking.
"I come from a background where my family got together over meals," Strang says. "My father is French and my mother Taiwanese. Their diverse cultures greatly influenced my cooking style."
Her French propensity to be meticulous meant studying at Le Cordon Bleu was a natural calling. In learning about the culinary arts, her wish was to create wonderful tasting but easy-to-make dishes. She was impelled to combine the flavours and essence of French cooking with fundamental Taiwanese cooking techniques in tweaked traditional recipes with simplicity at their heart.
On her way to a diploma in pastry-making, Strang was a commis at Caprice in the Four Seasons Hotel Hong Kong. On one occasion, judges from the Michelin Guide dined and requested a dessert be finished with what one called "a woman's touch". In what was a nerve- shredding moment, the responsibility fell upon the intern, the only woman on the team. "I remember I was shaking so bad, trying desperately to get the gold foil to stick and wrap nicely around the dessert in under 10 minutes," she says.
Working in the kitchen certainly puts immense pressure on a cook and presents challenge after challenge, but Strang's craving for the culinary remains constant. It shines through in the first of the fortnightly instalments of her show.
"I have always looked up to Nigella Lawson and now that I am starting my own show, I cannot express how excited I am for this," she says. "This has always been a part of my dream."
Strang will demonstrate how to make two starters, two main courses and two desserts. The ingredients include poultry, game and seafood. Some dishes will be light and some a little more indulgent, but the meal as a whole will be balanced. Most important of all, the preparation will be straightforward.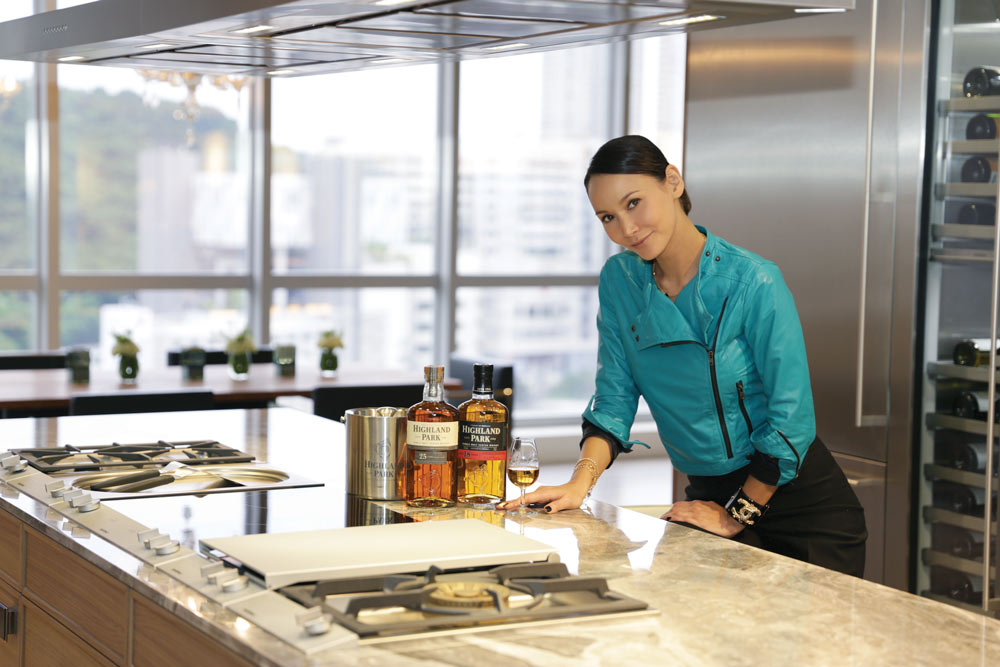 "As a self-taught savoury chef, I realise that cooking is not only about the techniques. I created these dishes to be manageable and presentable," she says. "You don't have to have gone to culinary school to be able to cook a nice meal. Anyone can follow my recipes and do the same." Each of the dishes will be traditional and quintessentially French but viewers need have no qualms. "We're not talking about Michelin-starred dishes but rather a homely yet well-plated meal, prepared in an easy and convenient manner," she says.
As a clue to the type of ingredients Strang will work with, her favourites are lemons and spices, especially saffron. She thinks it is best used with seafood. "I love saffron," she says. "Too bad it doesn't go with a lot of things, but it gives such a delicate sweet taste." Strang considers lemon a versatile ingredient and uses a curl of zest here, a splash of juice there – just enough to bring added life to a dish. She will use both ingredients in the show, demonstrating in particular how lemon juice makes one of her main courses less oily.
Be prepared too, for some unconventional thinking. Strang ignores the covenant that red wine goes with red meat and heavier dishes, while white goes with white meat, seafood and lighter dishes. "There are no rules in cooking. It's all about experimenting and knowing your food," she says.
Strang loves the smokiness that whisky lends a dish, bringing out the flavours of other ingredients. "I don't have tremendous experience pairing wine or alcohol with food, but we're going to invite a few friends and a mixologist onto the show to teach me more about pairing different kinds of alcohol with food. With the rising consumption of whisky over the past few years, I'm happy that Highland Park has given me a great opportunity to learn more about the spirit."
Imbued with her enthusiasm and fired by her passion, Strang's show will be a feast of good food and drink, all enjoyed with lively guests.
The host will share with us the know-how she has accumulated and refined, tickling our taste buds and getting our creative juices running time after time, and episode after episode.