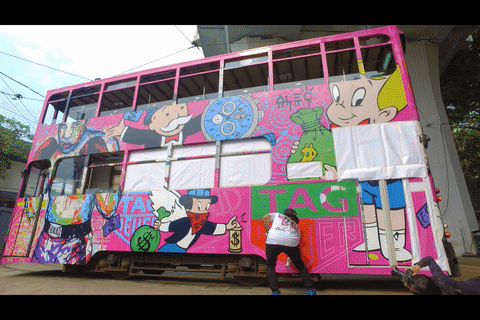 Last week, street artist Alec Monopoly made his mark on one of Hong Kong's most treasured icons, the Hong Kong tram, as part of his latest collaboration with Tag Heuer. Starting out on the streets of New York City in the midst of the 2008 financial crisis, Alec quickly made a name for himself street tagging, using Mr. Monopoly as the centerpiece for his work as a response to today's consumer-driven world.
Watch: Alec Monopoly graffitis Hong Kong Tram
With several museum exhibitions under his belt and his recent appointment as Tag Heuer's Art Provocateur, Alec Monopoly has evolved both as an artist and an individual. We caught up with him during his visit to Hong Kong to talk graffiti, vandalism, and his plans for the future:
How does it feel to be able to put your mark on such an iconic part of the city?
I think it was an amazing opportunity. It was one of those things when it was presented to me, I almost jumped for joy. I was like, 'wow this is so cool.' The first time I visited Hong Kong in 2015, I had a gallery show here and I rode the tram and I was thinking it would be so cool to do a graffiti piece on it and now it's happening.
Were you thinking of doing it illegally before?
I was! I was like, should we break in there and do it? I'm glad it happened this way because I don't want to piss anyone off here in Hong Kong. I like this city and I'd love to be able to come back.
Some guys have street tagged the Chanel buildings and whatnot. What's your stance on this?
It all takes a lot of judgment. For me, I like to do graffiti to make beautiful things out of things that aren't so beautiful. Like an ugly grey wall in an abandoned building or a place that gives me permission. For me, that's more positive than hurting somebody, vandalizing their store or hurting them financially and causing problems.
Your style is a lot happier compared to some other graffiti artists. Is that what you want people to take from your work?
It's my vibe. As an artist you convey who you are through your work and I'm generally a happy person. I like bright colours and I like bringing happiness into people's lives. I think that's important, especially for graffiti in the streets. It's usually such dark scribbles, and stuff you can barely read. But me putting bright iconic imagery that people can associate with is different.
What qualities about Tag Heuer resonate with you the most?
Well for me, the most important thing about being an artist is being original and coming up with new things. And this kind of collaboration between a street artist and Tag Heuer has never been done before, especially with a Swiss watch brand. We both see eye to eye because we're both innovative and we're not afraid to try new things that are disruptive in the market and it couldn't be better.
You started in 2008 with the financial crisis. Does it feel weird that you're now working with a luxury brand?
If you notice, in my work. The whole meaning has evolved. With myself, we're always changing, we're always growing as people and the meaning behind my work has evolved to more of a symbol of affluence, prosperity, wealth and happiness. As opposed to the darker Alec, a few years ago, who was pissed off at the system. So now, I'm happy and I love watches as most people know. I'm a big watch collector and stuff like that. It was a dream come true to work with Tag Heuer.
Now you've reached a certain level of success, would you be open to working with assistants?
For me, I like to limit my work. So if I limit to myself only working, then there's less work out there and my work is more rare and valuable. And I shy away from making large amount of prints. I like for people to cherish my work and be unique.
In that sense, how do you feel about the instantaneous nature of social media?
I think it's very important. I mean with social media, it's been amazing for graffiti artists because you can do a work that's in a back alleyway that not many people can see. But with social media the whole world can see it. But getting back to things that are lasting forever, which is why I'm really focusing on sculptures right now. The bronze nature of them, they feel like they're something that lasts forever.
Favourite HK food?
I love the dim sum. The soup in a dumpling. It's an amazing taste. It feels like you had a great bite of soup in a dumpling. Two of my favourite things!
Did you hear about Greg Escalante, the co-founder of Juxtapoz, passing away?
I didn't know him personally but my first feature in any art publication was in Juxtapoz. So that saddens me. That has created the avenue for artists like myself to be justified as real artists. Before, street art was just looked at and frowned upon. But his magazine has created a movement for all of us.
What is your ultimate dream?
For me, I'm still learning and figuring out things in my life. I'm really living my dream. I always wanted to exhibit in a museum. I had one and I have another one coming up [and] I'm working on sculptures. For me, now it's kind of figuring out a way to touch everyone's life in some way and make my mark on art history.
Check out Alec's exclusive exhibition with Tag Heuer at their concept store in Lan Kwai Fong from September 11-25, 2017.
Tag Heuer, LG/F, Century Square, 1-13 D'Aguilar Street, Hong Kong, +852 2528 3968, tagheuer.com