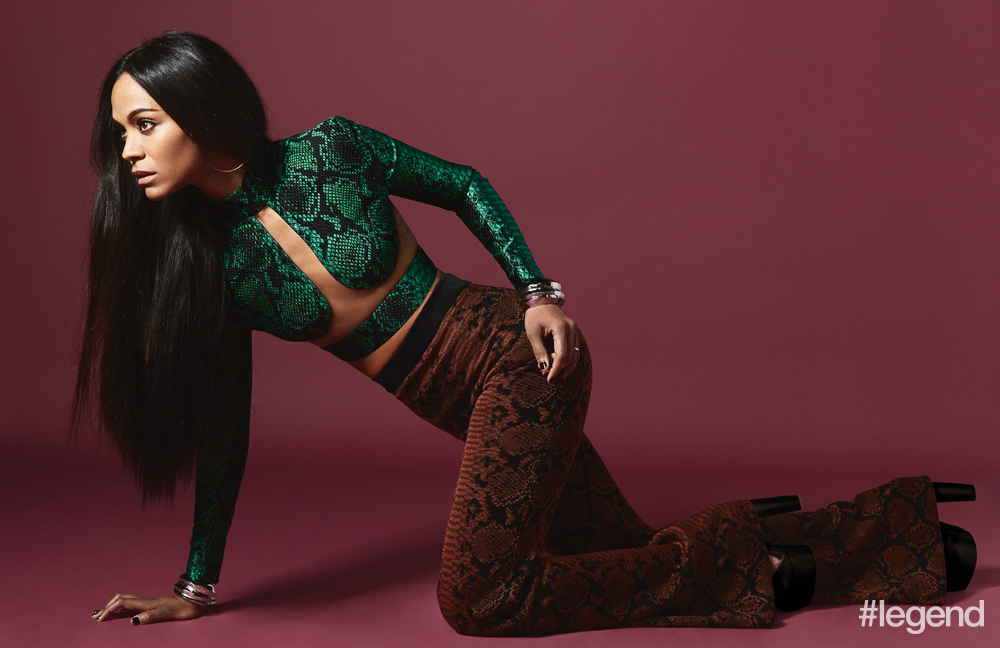 ​Zoe Saldana has a soulful warmth that can be felt 11,674 kilometres away through the detachment of a Skype call and the gloom of a rainy Los Angeles morning. There's a steady, throaty chuckle streaming through the Internet to Hong Kong and the verbal pauses she litters through her emotional answers – honey this, sweetie that – make it easy to see why filmmaker James Cameron chose her to embody Neytiri, the limber warrior with a heart of gold that pumps love, protection and wisdom towards the male protagonist in Avatar. It's a role she will reprise in a stream of Avatar sequels due for release from December next year.
In Saldana's eloquent and deeply personal responses it's also easy to see why J.J. Abrams would cast her as Lieutenant Nyota Uhura for the Star Trek remakes. The symbolism of Uhura guiding people – mostly men – to seek peace across galaxies is remarkable.
In conversation with #legend, she is thoughtful and reveals an introspective side of her personality that few people have the privilege of encountering. Catch Saldana on another day and it's clear she has a colourful turn of phrase, taking cursing by the reins to add emphasis to her argument that she is one of the few artists that transcends race and gender stereotypes. It's this energy moviegoers see in her portrayal of Gamora, the no-nonsense, all-action assassin in Guardians of the Galaxy.
Saldana began her film career not in science fiction blockbusters but in the homespun emotion of the teen movie genre. She debuted in Centre Stage (2000), appeared with a young Britney Spears in Crossroads and then had a role in Drumline. Saldana tells #legend that she was a rambunctious child that wanted to see females in the lead, acting as role models. "My roles have changed everything, knowing that I am filling a gap, a very big gap, that I was the negative recipient of while growing up," she says.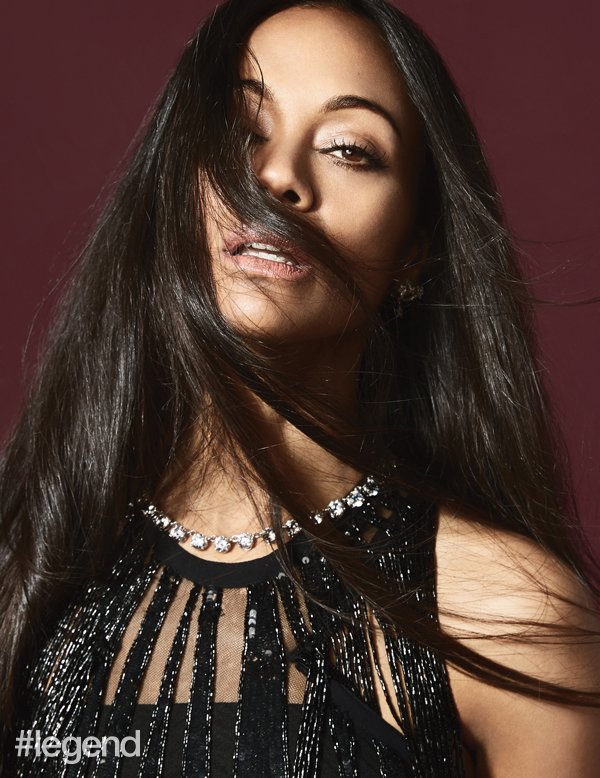 The actress has used her acting and the fame it affords her to become an activist for women, using both her words and actions to inspire. A mother of three – the birth of her third child was announced just days ago on Instagram – Saldana has been pleasantly surprised by the support from the women that have befriended her. Although the actress has always been close to her two sisters, she is more aware than ever before of the power in female camaraderie. It has helped her become a better mother, parent and actor, influencing her craft and taking her to new creative heights. She has started a YouTube channel for mums and busies her days with Step Up, an organisation that helps young women from underprivileged communities reach their potential.
However, the screen is the constant. Later this year, Saldana will star in the thriller I Kill Giants, based on the popular graphic novel of the same name. She is to reprise her role as Gamora in Guardians of the Galaxy Vol. 2 and Saldana's Gamora will also join Thor, Doctor Strange and Iron Man in Avengers: Infinity War. Meanwhile, filming and pre-production for four Avatar sequels is underway.
Her creative output, raising her young family with husband Marco Perego and contributions to women's groups show that Saldana is more than an action movie actor in a fancy suit, she's a real-life superhero.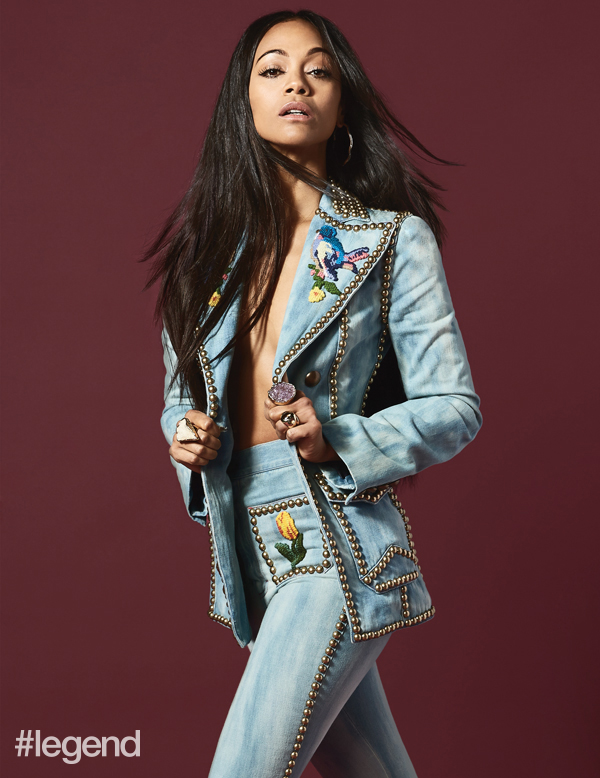 Hi Zoe. How are you?
I'm good. [Laughs] I'm really good. Mondays tend to be the craziest days for our family because it's the first day after a weekend of diaper changing and running around with the kids. Mondays should actually be our Fridays. I'm kind of exhausted.
How do you manage?
By leaning in. I have an amazing support group and they are what my husband and I like to call our village. They're super people that come in every day and help us raise our family, organise our home and keep us sane. I wouldn't be able to do what I do without that support. I have two sisters and I call them every day, and there's also mommy groups that, ever since I became a mom, all these women have reached out and invited me into their groups. I've been able to use them and feed myself with their guidance, their knowledge and their experiences. Since becoming a mom, having all these people that make you feel better, less alone, is important because sometimes it can be overwhelming to try to tackle everything and give 100 per cent to your work, your family and your personal life. It can get to you.
It's good to hear you're surrounded by positive female support. You have mentioned that when you were younger, that wasn't always the case.
I don't know if it's the fact that you turn 30 and that so many of the experiences that we've gone through and the trajectories of everybody's life ends up being parallel, so you surrender to so many things. Or if it's just the times that we're living in that are dictating this kind of camaraderie that is being borne out of each and every one of the females that I've come across. I think it's the latter because I've met packs of women starting their adulthood – they're 19 years old – and there's so much love, trust and eagerness to collaborate with other women. It's pretty magical what I'm encountering outside of my family of women and I'm humbled every day. It paves the way for more women in the workforce to be collaborating. We're also understanding that in the sisterhood, we can thrive better, we can all win. And that's quite beautiful.
I also find myself feeling very tolerant and very patient when I do come across a female who isn't at that place in her life yet and is causing a negative reaction in the women around her. In my earlier years, I would have met her right where she was and that would have left me distraught. Now, I continuously give the benefit of the doubt and sometimes that encounter may not have a positive ending but I don't run out of love for that woman. I don't run out of that need to accomplish a positive connection.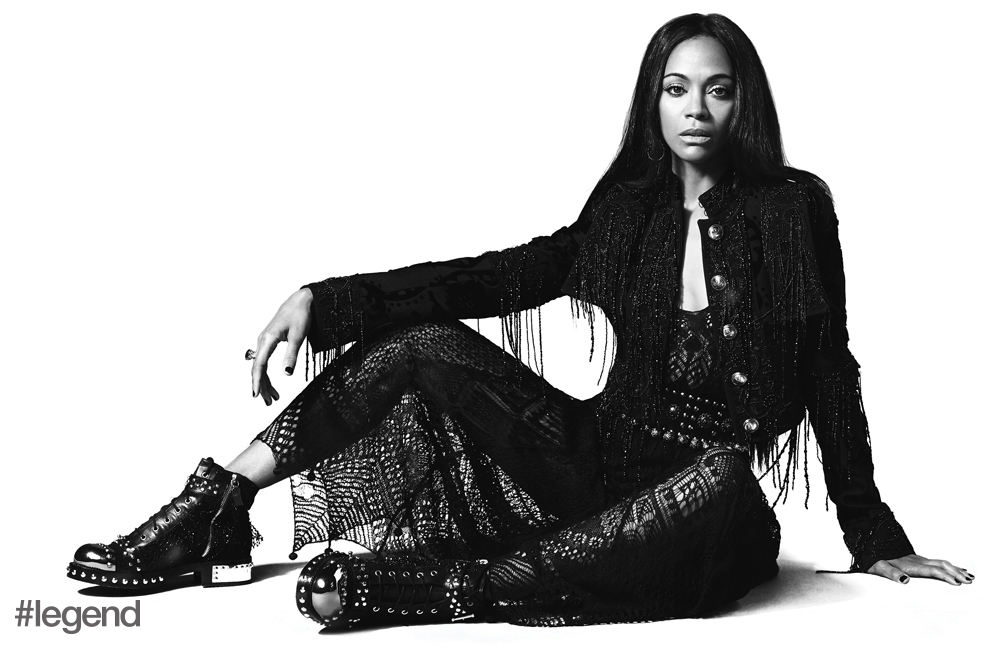 Another way that you've been reaching out to women has been through Cinestar Pictures, the YouTube channel you started with your sisters in a deal with AwesomenessTV.
There is this void of content for women that is unapologetically entertaining and informative, and that targets and portrays us accurately. We want to become a part of that group of women that are paving the way. Once we knew the kind of content that we wanted to be known for creating, it was about finding that entity to create this for my sisters and I. What we found out about AwesomenessTV really quickly is we've been on this journey to just get to know the digital world and analysing statistics to see what the numbers are saying about how people of all generations and races and migratory phases are digesting information. It's a whole new world and it got us thinking, "Gosh, this is perfect for us". It's a cheaper way to create content and to put it out there and it's a much more direct way to connect with people. We're having a blast and learning everyday. Our followers are our teachers and our platform is very young and very small but we respect each and every one of them. We read each and every one of their comments and we ask ourselves the questions that they ask of us. We allow their opinions to curve us and to shape us. It's a learning experience every day and we're enjoying every part of it.
Do you feel celebrities have a responsibility to the public in how they use the Internet and social media?
I think that a person who lives in the public eye has to own at least part of a responsibility to set an example; a positive example. Fortunately or unfortunately, the moment you become a figure of fandom, a figure that creates a village of fans, those followers look to you to find healing, and guidance to find a challenge. When a person who lives in the public eye embraces that responsibility, they understand what kind of responsibility they can own, and then that celebrity really succeeds. Not just physically but also spiritually.
You've spoken before about your two different personalities, "chill Zoe" and "rigid Zoe". Which personality comes out at what time?
I hope they come out when one of them has lost control. I do have issues with control. I feel I have to control my environment so much that I end up ruining things or making it unpleasant for people around me. Maybe it's paranoia. For a person that has thrived on being an extroverted individual, I'm just as introverted [as the next person] and I think too much. Sometimes my head won't leave me alone. It's unsettling and you just have to let go, but sometimes letting go too much can be chaotic because there's no order, and so the control freak comes out. It's back and forth. My husband, my family and my group of friends are great for me. Someone once said, it's in one's best interests to surround yourself with people who are better than you because it frees you from having to give too much of yourself every day.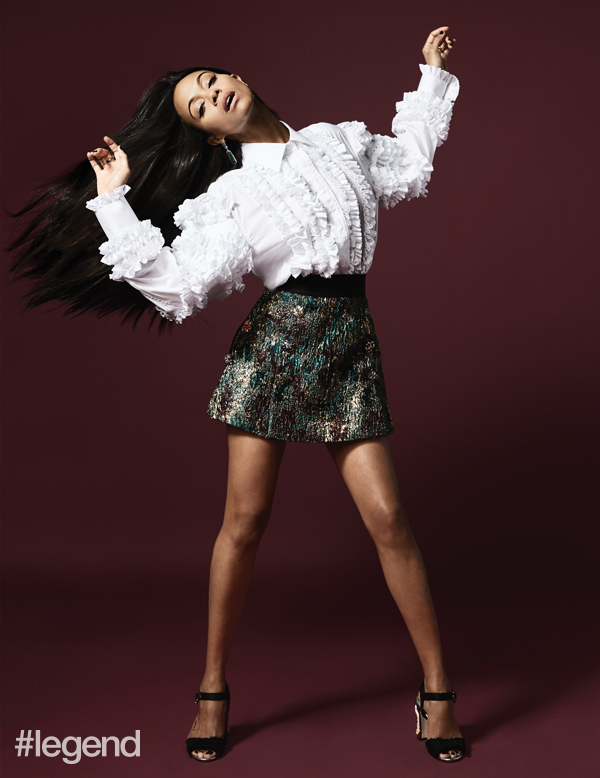 You have a passion for being a role model to younger girls, especially through action movies. Tell us about that journey?
My roles have changed everything, knowing that I am filling a gap, a very big gap, that I was the negative recipient of while growing up. I was the kind of little girl that didn't only play with dolls and when I did play with my dolls, it wasn't the standard scenario for women; family, cooking, dressing up and being with other girls. It was about adventure, discovery, physically challenging myself, climbing trees, putting myself in danger half the time and giving mom a headache. That was the kind of little girl I was. But every time I turned to media or entertainment in movies or television, the males were the ones I looked up to. I wanted to see other girls and women doing that so I would have someone to aspire to and say, "I can be just like her". I only had Sigourney Weaver, Linda Hamilton and, at times, Rae Dawn Chong to look up too. I didn't have an abundance of female action heroes paving the way for me.
Growing up and becoming an artist, I'm a person that has always wanted to do what makes me happy. My first reaction in life hasn't really been to ask someone what they think I should do. It's always been what I want to do and where I want to go. When I get lost, it's when I go, "Shit, let me ask for advice". I live in my own world and I'm a bit too independent at times. That was what led me to film more action movies and to roles that were more action-driven.
Could you describe the response to those choices?
The response I've been getting from young girls has been paramount to my life and that's what keeps me confident. Sometimes Hollywood can have an elitist approach to content – it's all about doing films that will get you nominated and doing films that will get you on the covers of those prestigious magazines – and they disregard the audience that loves action movies. And that audience is mainly children. When children are lost, they don't look to sophisticated intellectual movies for guidance. Some do, but most look to superheroes so they have the imagination to dream. I take a lot of pride in filling those faces for those kids.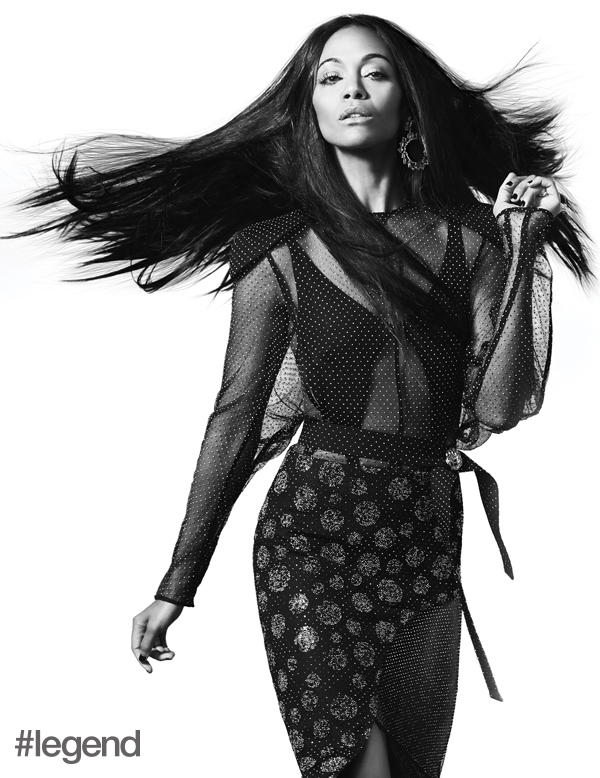 Describe some of your iconic roles and how they have shaped you.
I try to find grace in every character that I play. With Neytiri, she's the kind of human I would like to be, she doesn't know how to lie and she's the kind of creature that has great consideration not just for others but of her environment. That sets such a great example for us today when we face all these challenges on how to preserve our environment and how to live in harmony with the planet. For Uhura, she is part of a legacy that gave hope to so many people. She was a leader and part of a group of leaders sending peace throughout the galaxy. That was at a time when people weren't given dreams and their world was limited because that's the way life was in the 1960s. Uhura is greatly important, especially to women like my mother when she was watching Star Trek. Star Trek gave her ideas on these great things that she could become and those dreams to have. As for Gamora, Gamora is a badass. [Laughs] She loves this group of friends that are crazy and not so great, and she accepts them for who they are and they accept her for who she is. That sends a positive message to kids. I can find great characteristics in all the characters that I've played, I have to in order to say yes to a project, even if I had to audition and fight for it. I need to know the character will be relevant not just to me but to other people as well.
CREDITS
Photography / John Russo
Creative Direction and Styling / Paris Libby
Make-up / Vera Steimberg for Criterion Group
Hair / Aviva Perea for Starworks Artists
Manicurist / Tina Au
Stylist / Claudia Perez Kowalski
Styling Assistant / Danielle McElroy
Photography Assistants / Jackie Brutchey, Jason Bush and Tas Limur
Set Producer / Justin Miller
Shot at Quixote West Hollywood Studios