Cover story: Lionel and Nicole offer a glimpse into the Richie household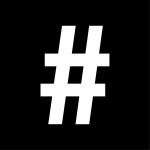 By: #legend
January 15, 2016
Lionel Richie was close to tears. His daughter, Nicole, was by his side, talking about some of the things she has learned from her famous father: to be kind, to be gracious, to retain a sense of modesty and humility in all things. Then she stood up to leave, and they hugged a little longer.
Richie may be one of the world's most acclaimed entertainers, a man whose stuffed repertoire includes such enduring classics as "All Night Long", "Endless Love", "Say You, Say Me" and dozens of others. His fame has eclipsed that of many others in the music industry, granting him the status of a "living legend" at a time when that description is all too glibly bandied about. But get him at home, and he's all about family: a beneficent patriarchal figure to children Nicole, 34, Miles, 21, and 16-year-old Sofia, grandchildren Harlow and Sparrow, son-in-law Joel Madden and his co-musician brother, Benji. At 66, he looks virtually unchanged from his days with his band The Commodores, back in 1968: his face is unlined, his physique trim and lean in his dark Givenchy suit.
On this particular Monday afternoon, Richie's Italian-style mansion at the end of a quiet cul-de-sac off Sunset Boulevard in Beverly Hills was a hive of activity, anchored by the presence of Richie's glamorous girlfriend, Lisa Parigi, who welcomed all with a warm smile, glittering solitaire diamonds in her ears. At various times, his family was in and out – both the lavishly tattooed Madden boys (Benji recently married Cameron Diaz), Joel and Nicole's children scooted in, and son Sparrow made a beeline for a crystal jar of Hershey almond kisses, before checking with his mother if he could actually eat one.
The Richie home is as stately as it is showy – antique Persian rugs, stuffed armchairs, a pretty Lalique vase of fresh flowers on the hefty coffee table, adjacent to shelves of awards and framed photos of Richie with the Obamas, Céline Dion, Sidney Poitier and co-living-legend Paul McCartney. In the background, the sort of music you'd expect to hear at the Richie residence (no, not his own) was playing. Instead, his son-in-law had introduced him to internet radio site Pandora and, on this day, his playlist included Anita Baker, Sade and Marvin Gaye.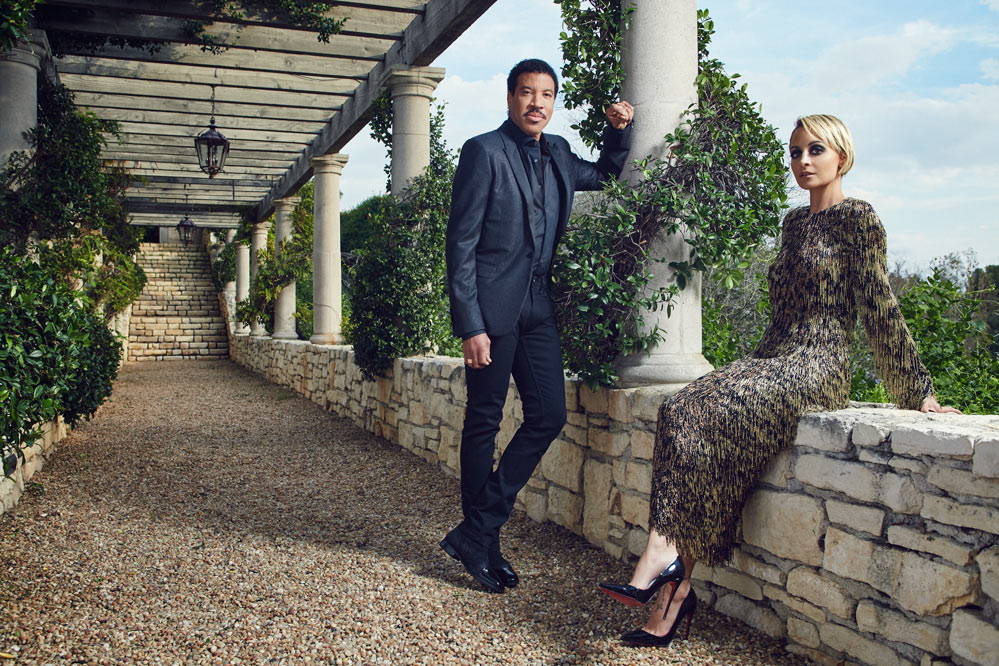 The elder Richie shows no sign of slowing down: in April, he begins one of those sought-after residencies in Las Vegas, prior to which he's doing a tour in South Africa. This past summer he played in front of 135,000 people at the acclaimed Glastonbury Festival. Nicole has clearly inherited both her father's ambition and his charisma: she's come off two seasons of her hit reality show Candidly Nicole and has a successful clothing line, House of Harlow – pretty fitting given that she's widely considered one of the most strikingly dressed celebrities of her generation.Father and daughter sat down for a rare chat in the reception room of his home – the same one that his children have been jokingly pestering him to convert into a games room.
You both have so much going on with all your various ventures. How does that affect the father-daughter dynamic and the sort of time you get to spend together?
NR: My dad's touring is really all I know. For me, that's how I was raised. My dad would go off and work, come back and have home time. Oddly enough, that's how my own family works now. Joel's on tour all the time. We have our own calendar. We don't take summer vacations when everyone else does, and we do it whenever it works out for us.
LR: And when we do get together, it's a hilarious moment of catching up with everybody. The kids now have their own friends. Where it used to be that [I] had to be the entertainer, they sometimes don't even play with us. They have their own posse of friends. We can just sit back and relax. Father's Day is probably the greatest phone call you're going to get. I'm somewhere, or Nicole is somewhere, and when I come over to the house it's Father's Day no matter what day it is because I'm kind of celebrated.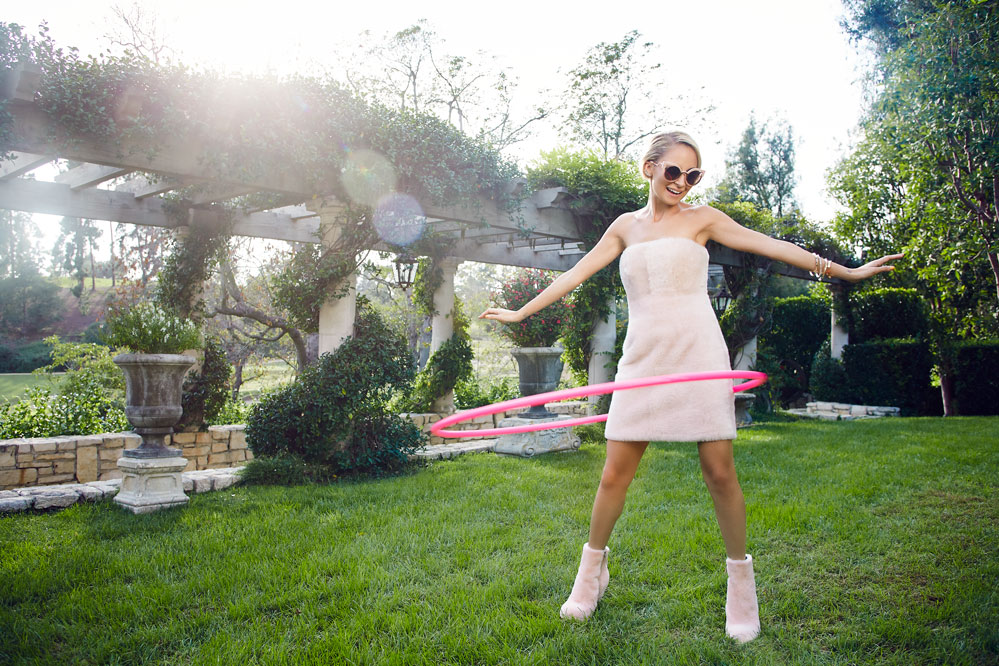 My little girl has created another family and I walk in with the proud papa look on my face. As my own papa used to say, "I think I had something to do with all this." And all of a sudden, Nicole is the strict parent. Go figure. I hear her say to the kids, "What did I tell you? Turn the TV off and go upstairs right now!" and I'm going, "Excuse me?"
Nicole, your fashion brand is really taking off. When did you know you wanted to be a designer?
NR: I was born into a family that happens to be creative. I was a figure skater my whole life. My dad's costume designer, Edna, would make my figure skating outfits when I would compete, and she urged me one day to go to her studio downtown, and she showed me how everything worked.
It was when Nancy Kerrigan won an Olympic medal wearing Vera Wang that I was introduced to the designer world. Edna said to me, "You have all these ideas, why don't you come in and design everything yourself ?" I was nine or 10. I went to stores and bought charms with strips of velvet to make chokers. I thought that design would always be something that I would do. When I was on tour with Joel, I'd go to little kiosks where I was inspired by something – a colour or a lampshade – that could be something else. And when I was 25, I decided to turn it into an actual business, and it's been something I've loved.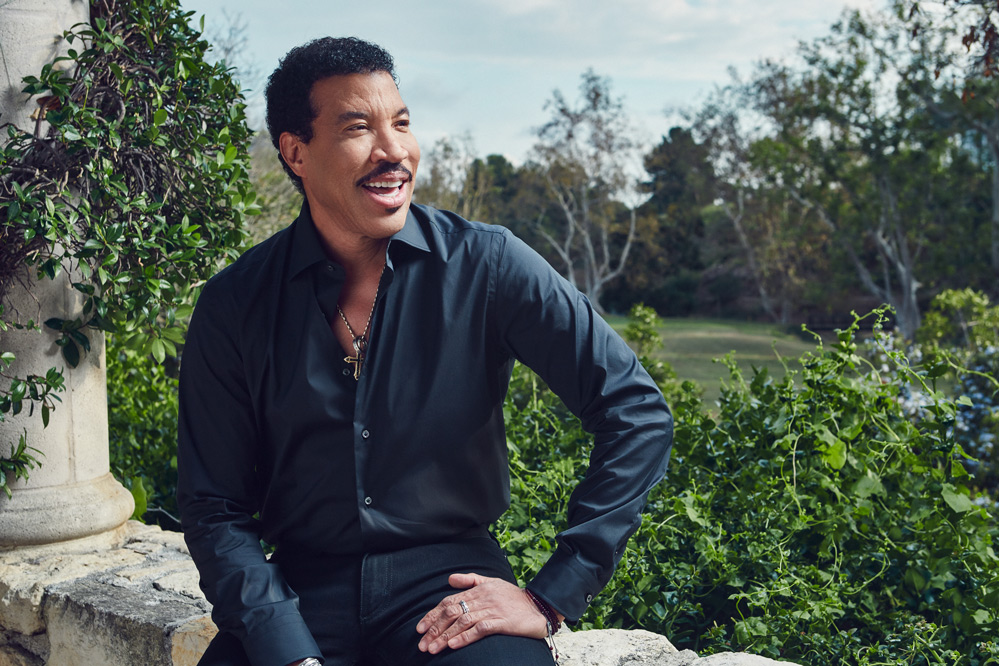 Nicole, you grew up in the limelight. But you also have a legitimate business. How do you reconcile the two?
NR: There are two sides to me. On TV, I'm very comfortable. I can be in front of the camera and I'm totally in that space and being the front person. But when I'm designing, I tend to go into a more introverted, quieter side. There are two different parts of my life.
LR: We all have to deal with the business side of things and the entertainment side of things. When Nicole goes into business form, she's laser-focused. With Nicole, if it's something she doesn't want to do, there is no focus. But the things she's passionate about, she's going to kill it. She'll wear it out till it works. My advice to her has always been to follow her passion, to go for what she loves as opposed to the money. She's a comedienne. She's got the sense of humour of Carol Burnett. But she can hold her own in press conferences and on camera. Not only can she create something, but she can sell it. That's a hard thing to do. A lot of designers are very shy. But she has the showmanship behind it. Give her a camera and she'll explain in seven seconds how everything works. It's come from watching me all these years. The camera is no big deal.
Nicole, when you are faced with a new opportunity is your father your first call?
LR: I actually call Nicole when I have to make a decision. There was a point in time when I wanted to be the philosopher behind her. Then I realised one day that all the misfits I thought were the most undesirable people in the world became the number one agents, managers and photographers, and they're all her group. They took over. So instead of me giving her sound advice, I go to her and say, "Who do I need for this?"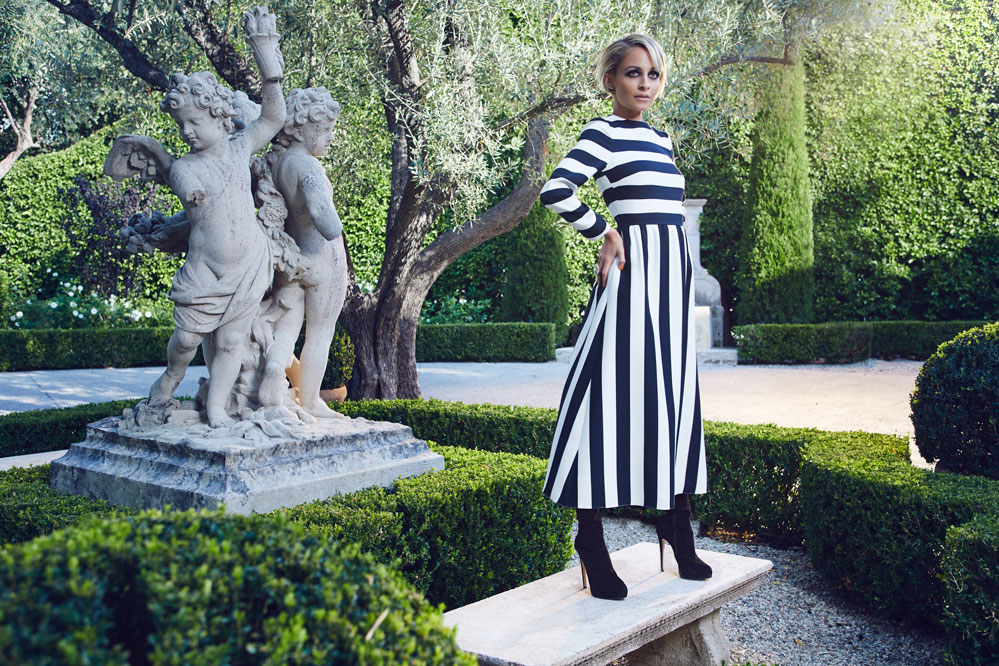 NR: He and Joel and Benji – everyone sits around and talks about what they're doing. Joel and Benji will have an idea for my dad about a new producer he should work with, somebody he should do an album with, and they'll all come up with ideas. It's all very casual. We all come together and talk about what we're doing and nobody is shy asking those questions. We're a family – so one person's success is the success of all of us.
So when you get together as a family, is there a concerted effort to not talk shop?
NR: I'm better at it. When I'm at home, I'm in sweats and in mom mode. My dad is zoom-zoom-zoom, all day long. He's a born entertainer. It's who he is. We're all very different. I'm very good at shutting it off.
LR: Yeah, and meanwhile Joel and Benji and I, we're creating the next Taj Mahal somewhere, while Nicole is mommy. By the way, when she goes in that house, she owns mommy.
Lionel, what about your other children? Where do they fit in with all this?
LR: Nicole and I are having an issue as to when is too soon. Miles and Sofia, they want everything to happen tomorrow. Sofia has grown up with Jaden Smith. He's her classmate. So when he has four movies out that have made $200 million, and her other friends are the Jenner sisters, she's thinking, "Why not me?" Nicole and I are trying – but it's difficult – to hold onto the reins of something that's the norm in that world. In our family, Miles is the only one who's shy. He loves being behind the scenes. Turn a camera on and he'll find a crack in the wall.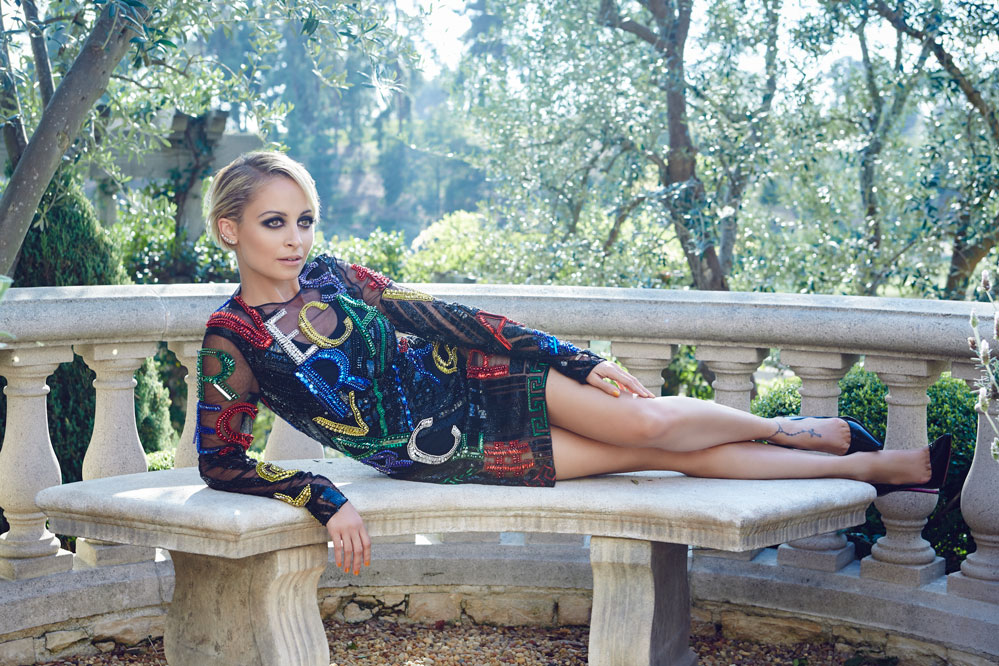 Nicole, if your own kids wanted to break into this world would you encourage them?
NR: They are actually musical. I've been playing piano since I was four. So if my kids wanted to follow in any sort of world where they wanted to do music or act, there are plenty of ways of doing that at this age without it being a career. That's the time to build your craft.
LR: Yes, but they'll be famous by the time they're 12. They know too much.
Nicole, what's the most important life lesson you've learned from your dad?
NR: I always make a joke that I'm the most popular person at the airport. I can get away with anything. People say, "I just saw your dad! He's so nice!" I get that all the time. I'm a nice person, but I think people think I'm nicer than I am because my father is so nice. He's always been so incredibly gracious and kind to people and it's a lovely quality. It's also very important because you always meet people back in life. The guy who was trying to make it 10 years ago – you meet him again and he's made it, and he's that person. It's important to not only build relationships and be gracious and kind but to realise that people want to support you. Your customers want to spend their money on you. You're asking people to invest in you and it's important to me to be appreciative of that. My father, he does that all the time.
LR: I'm about to break out into tears. I've never heard her say that before. I'm the proud papa. That's what happens when everyone starts giving attention to my kids. This business is so difficult – to raise a family, to put things together…It was a worry and a struggle to get there. So when someone speaks highly of your kid and you see your kids actually turning a corner and coming back and liking their own interests…What you end up doing as a parent is you want your kids to upstage you. I know exactly what it feels like, because I saw my mom and dad when they heard, "The winner is Lionel Richie". They had to build another street for my dad to ride down, there wasn't enough room on that road. I'm Lionel Richie Junior, so you can imagine what my dad was like on Lionel Richie day in the state of Alabama, riding around and waving. That's what parents will do.
Your music, all these decades on, still seems to invigorate you. How does it not get old?
LR: First of all, stuff is not important. The stuff called passion is. In other words, "Do you have something to do in the morning? Am I passionate about my family, my music, about going out on the road and meeting the fans?" Those are the three things that are the summation of who I am. If there's no passion, I won't do it. Someone will say to me, "Don't you want to be a producer?" No, because I have to like everybody I produce a song for. It's got to be something that's enjoyable. In my lifetime, I like to spend my time on things that matter. I've never had a job. The thing that I got kicked out of school for – music, and talking too much – is what makes the money. It's all fun. That's what's happening now. My friends reflect exactly what I'm doing every day. My passion is I'm still the kid who wants to learn something.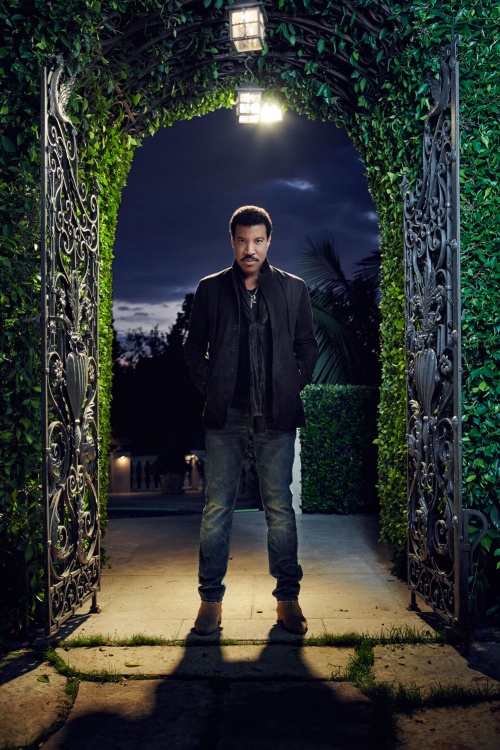 What can you tell us about the upcoming stint in Las Vegas?
LR: I'll be at Planet Hollywood. I've been circling that field for the last eight years. [Vegas] wanted me to come there for the longest time. But the old model of Vegas was it's the place you go to to die, it's where you go when your career is over. But then we went through the death of Vegas – we lost Frank [Sinatra], Dean [Martin], Sammy [Davis Jnr]. Then this other thing started happening, and all of a sudden, it became the new destination place. All the DJs started going there. I went and asked my chief adviser on Vegas, which is my 21-year-old son, for whom it's just legal to go to Vegas. I said, "Miles, what do you think about doing this thing in Vegas?" And his answer was profound: "We are going to have the best time ever!" He's planning on his own residency there with me! I'm saying, "No! You have to go back to school!"
But that tells you what that excitement is. Vegas is a young town again, and it's an exciting town. So we put the feelers out, put some tests on, it came back that we were sold out. We'll go in April and May, then September and October, and then see if we want to do more. It's so close. We go in, play the show, come home, putz around the house. I mean, come on, what kind of suffering is that?
So is it incumbent upon you to create a whole new repertoire for your time there?
LR: We can do there what we can't do on a massive tour. On a massive tour, you have to take everything down, pack it up, and travel to the next place. In Vegas, we leave it up. So if I want to fly from the back of the room, I can do that. We're going to take all the shows we've done around the world over the years and make this the best of the best. People who come to my shows are in three groups: those who began with me when I was with The Commodores; the people who joined me in the '80s; and the third group is, "My mom and dad played your music when I was growing up". I get that every day.
At Glastonbury, there were people standing out there for three-and-a-half hours in the rain, waiting for me to come out, and then standing for two more hours. You've got to be either young or out of your mind. There were seven- and 12-year-olds with "Lionel Richie" and "Hello" written on their faces. That's what's happened now. The music has translated into the next generation. I would love to tell you that I had the formula for that. But someone played those songs in the house every day and kids grew up and they saw Christmas and anniversaries and weddings with those songs.
My friend, his father and mother got married to "Endless Love" and now he's getting married to "Endless Love". Somewhere along the line, the music stuck to where it's a part of the growing up thing. When I wrote those lyrics, I didn't know what I was doing. But I'll tell you this: love is the only subject that doesn't go out of style. People can write about big collars and small hats, but "I love you, I need you, I want you, forever, don't leave, where did you go?" – it all falls into one thing: love.
How do you feel when people describe you as a legend?
LR: Let's first put the word "living" in front of it. Jimi Hendrix and Janis Joplin and Michael Jackson – they were legends. Being a legend means you put the work in. It means you have a body of work that will stick around long after you're gone. That's legendary stuff. You've affected the world and people. You've created history. The part I love the most is when I can look at my legacy, and when I can ask myself, "How many people did I make happy?"
And finally, who is your legend?
LR: Nelson Mandela.
NR: My parents, Stevie Nicks and Mariah [Carey].
CREDITS
Photography / Smallz + Raskind
Creative Direction and Styling (Nicole Richie) / Paris Libby
Styling Assistant / Shab Mohammad
Make-up (Nicole Richie) / Beau Nelson for The Wall Group, LA
Hair (Nicole Richie) / Gregory Russell for The Wall Group, LA
Styling (Lionel Richie) / David Thomas and Myke Ortiz
Grooming (Lionel Richie) / Albert Elizondo for The Only Agency / NYC
Location / Lionel Richie's home, Los Angeles