Cover story: Liam Hemsworth and Brother Luke talk 'Hunger Games,' Thor and keeping it real in Hollywood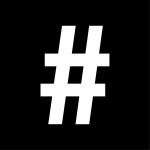 By: #legend
March 1, 2016
He's the latest in a line of hardworking actors blessed with rugged miens who have left Australia for the gleaming lights of Hollywood and struck gold. Back home he followed a tried-and-tested route for aspiring actors, signing on for brief spells in long-running soap operas Home and Away and Neighbours. Chris, the middle Hemsworth and Thor actor, Heath Ledger and Guy Pearce each used the same vehicles to launch their careers.
Liam swung into Hollywood after scoring a casting call from Chris' agent for Thor. He obviously lost the part but won fans in the industry, eventually landing a breakout role in The Last Song. The movie was released in 2010 and his career was on the rise.
With his 190-cm frame, baby blues and boyish looks, he could've moonlighted as a Hollywood heartbreaker, dating, dining and Instagramming through the rest of his career. Instead, Liam kept on working, becoming a household name with a lead role in The Hunger Games franchise, starring as Jennifer Lawrence's on-screen love interest. Next up, it's the reboot of Independence Day.
There's no room for swollen egos in Liam's life; he's got two big brothers to keep him in check. And, as our exclusive with Liam and Luke shows, they remain unaffected and unpretentious.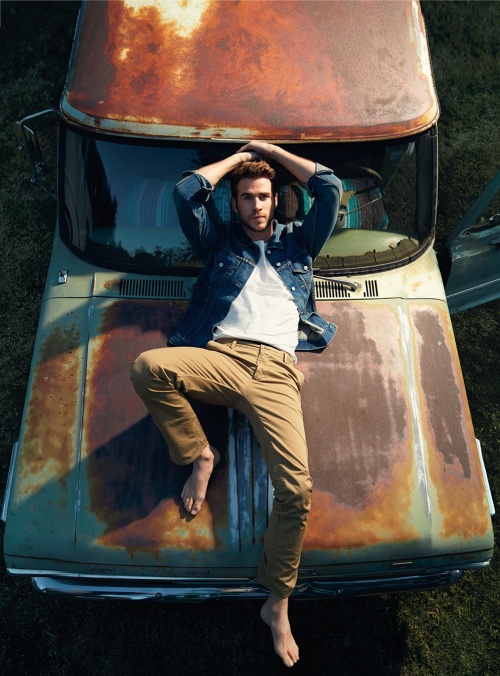 Luke: Liam. Hi.
Liam: G'day, Luke.
Luke: Thanks for talking to us. You grew up on a small island, Phillip Island, in Australia. What's the big attraction with Hollywood?
Liam: Well, I got into acting because of yourself and our other brother, Chris, and that was why I first started doing what I am doing. The attraction of Hollywood came from just watching American movies early on and that's always been the goal, to one day move over to America and do American films. Then I think that once Chris had lived there for a couple of years, he had a manager Will, Will Ward, and I spoke with Will over the phone and he started sending me scripts and things to audition for from Australia. Once I got flown over to do the screen test for Thor I just ended up staying.
Luke: That's great. You missed out on Thor, obviously.
Liam: Yeah. I did miss out on Thor.
Luke: It went to the other Hemsworth.
Liam: Probably a good thing though, isn't it, in the end? It would've been a bit weird if I'd gotten it.
Luke: The Hunger Games has been a big part of your existence here in Hollywood, how have things changed since then? What has been hardest to adjust to?
Liam: Initially the hardest part to adjust to is just the way people approach you now and react to you. You lose a lot of your anonymity. And I think that's obviously something, if you are going to be successful in this business, that you are going to have to deal with one day.
This was, I think, a little more extreme because The Hunger Games already had a huge fan base. So, as soon as the movies came out, even before people saw the films, they already started knowing my name or knowing my face, so you can't really prepare for that.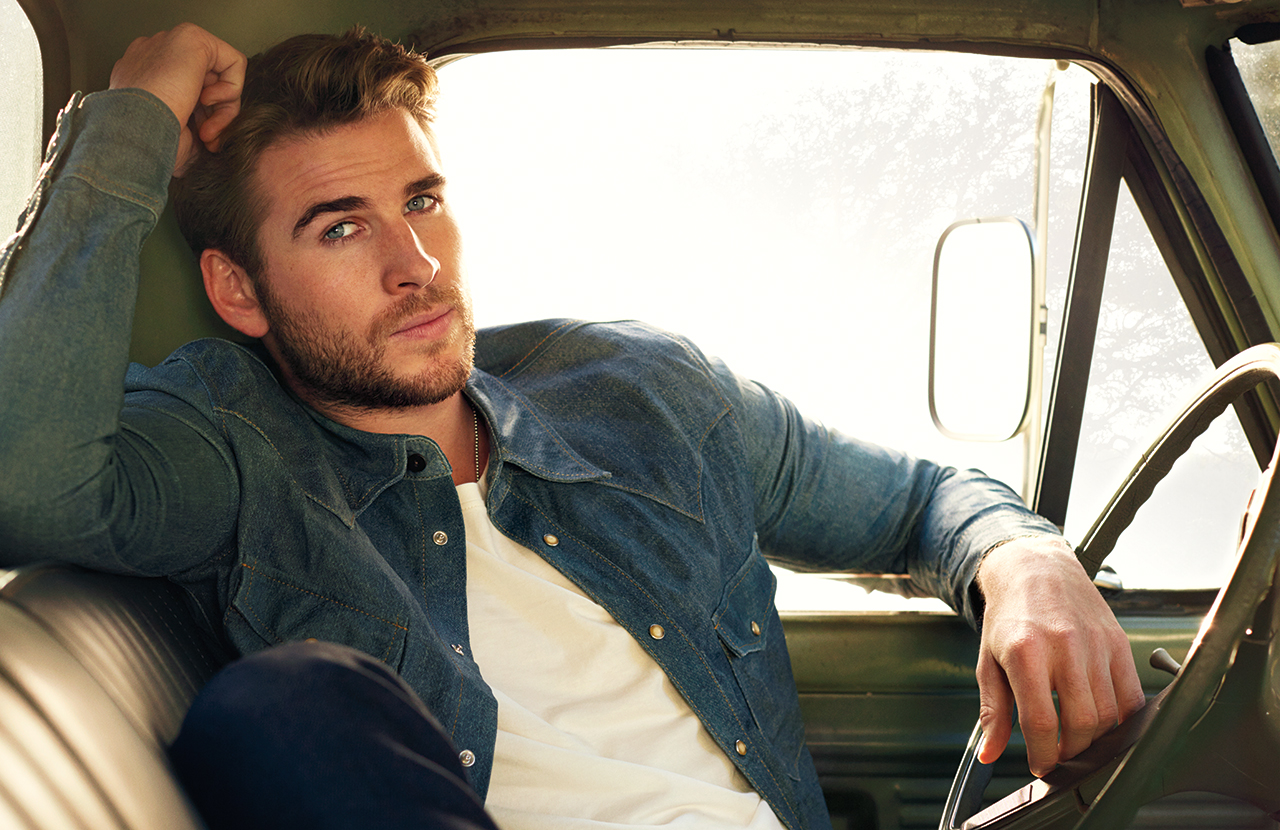 Luke: Do you think it is harder to lead a normal life?
Liam: It is just a different normal now. I still consider my life normal – it is normal to me. I guess, to some people weird shit happens in my life that would be considered not normal. But so many great things have happened since The Hunger Games and it has allowed me to be a lot more financially secure and help out people that I care about. And it has also opened up a lot of doors for this business. I am known more within Hollywood and I am able to have access to meet directors and actors that I would like to meet
Luke: Do you think having your friends around you a lot is what helps keep you grounded, and that's your normality?
Liam: Yeah, I would think that plays a huge part in it. My family and my friends. I think that has always stayed the same and I still am really good friends with a lot of people I went to high school with.
Luke: On that note, you mentioned that you're really close to your brothers. Can you describe the bond between us?
Liam: Oh yeah [laughs]. A really close bond. I think that our whole family…that we have such great parents who brought us up with such good values. I have always looked up to my older brothers. Yeah, we are really close friends.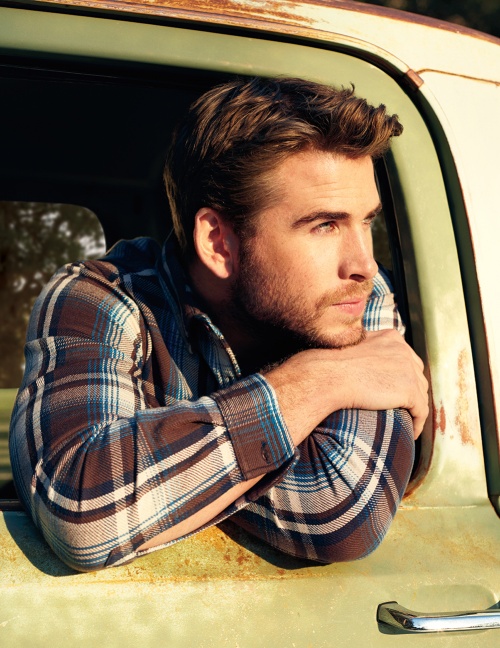 Luke: Generally speaking, and this is always a tough question because you want to do roles that are good, but what attracts you to roles? What sort of roles would interest you?
Liam: Anything that has layers to a character and it's not just one tone throughout the story. I like the chance to show two different sides of someone. And when you get a story that allows you to do that, I am definitely attracted to that. Working with a good director that you trust, I feel, is one of the key elements that I look for more and more these days and I am more conscious about. You don't want to get to the middle of the shoot and lose trust in the director. You want to have that from start to finish, and I think that is what allows actors to be more comfortable, more relaxed and able to work their best.
Luke: Who are some of the directors that you admire and would like to work with in the future?
Liam: Directors? I can't think of one off the top of my head.
[Luke leans across and whispers]
Luke: Scorsese.
Liam: Scorsese, obviously. Scorsese is an obvious choice because he's one of the best directors of all time, but has also made some of my favourite films of all time. If I got the opportunity to work with him, I definitely wouldn't pass it up. I would love to work with Ben Stiller and I think he is a really great director, an amazing director, and he would be great to work with because he's good with actors. Mel Gibson, as well, is an incredible director.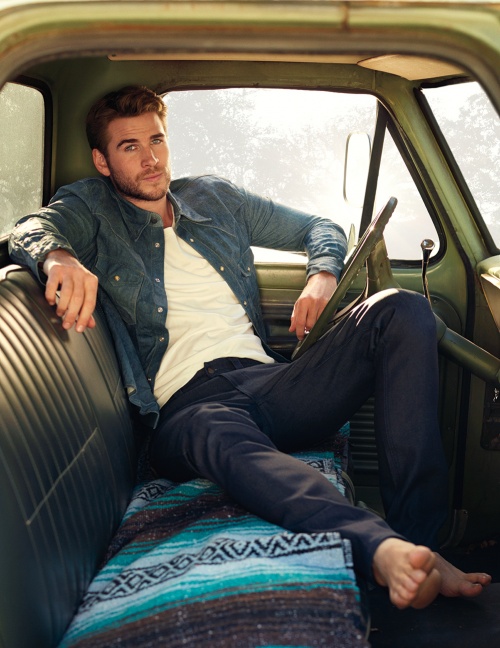 Luke: So, a lot of good films have come out of Asia. Are there any Asian actors or directors that you would like to work with?
Liam: Another obvious one would be Ang Lee.
Luke: Yup.
Liam: He has made some incredible films. Brokeback Mountain was amazing.
Luke: What about The Hulk?
Liam: The Hulk. That was a while ago wasn't it?
Luke: I actually liked that.
Liam: You liked it? I can't really remember that one. That was the one with Eric Bana?
Luke: A little technical thing, you do an American accent most of the time. How do you go? Do you still find it a challenge or are you getting more specific and regionalised?
Liam: I do still find it a challenge and it is something that I still have to think about. It is definitely easier than it was. I think the more you do it the more your mouth becomes used to certain words. Just the muscle memory in your mouth.
Luke: You find you don't have to think about it as much?
Liam: I definitely don't think about it as much, but then sometimes when I start not thinking about it, it slips or I'll get lazy with it. I'll always hear it. I have a very good ear for it and as soon as someone tries to pull me up on it on set I am always able to hear what is wrong with it and will correct it. But it is something that I still continually work on.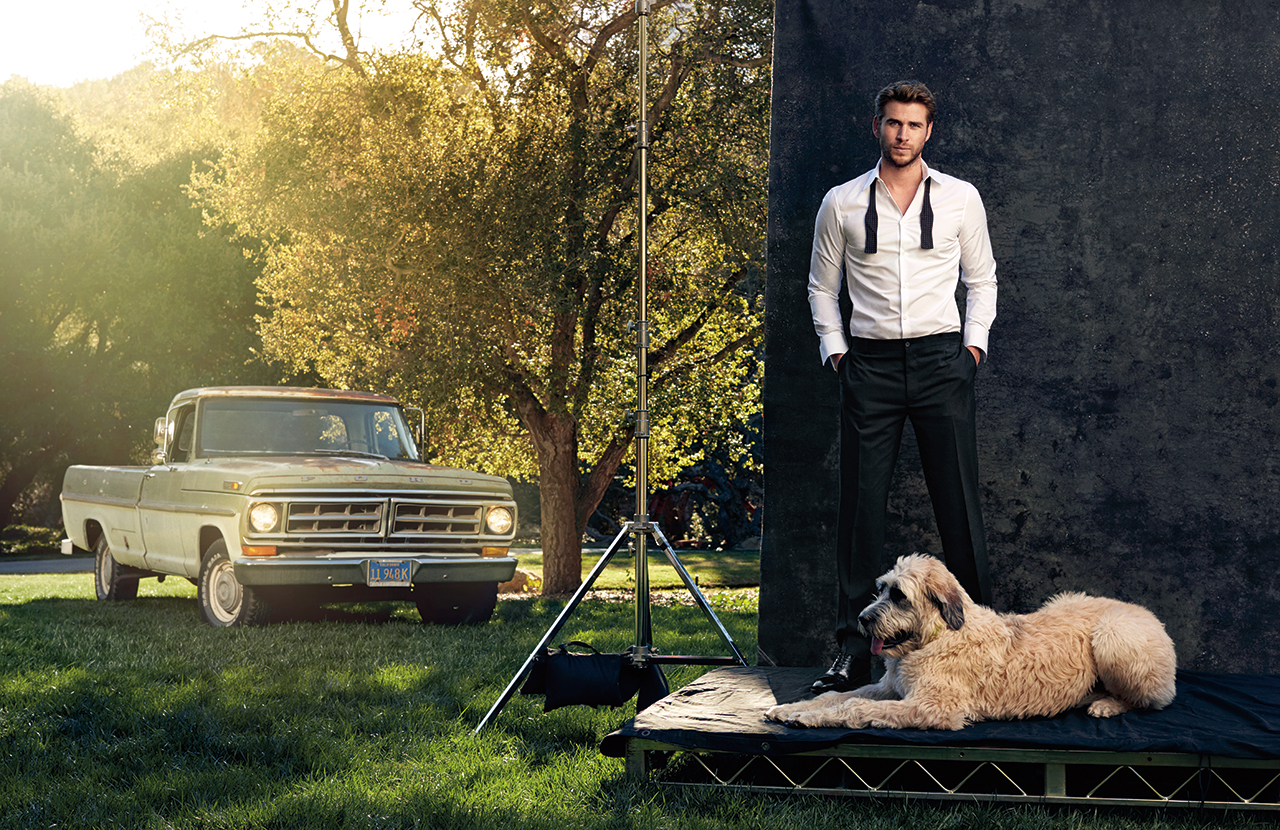 Luke: You will be in the new Independence Day Resurgence movie, which is out in July, I think. I assume they will put it out on July 4?
Liam: No, actually a couple of weeks before. They release it on the 24th of June.
Luke: Right. Well, that makes sense. Were you a fan of the original?
Liam: Yeah, I was a fan of the original. Thanks, "Lucas". Great question, thanks for asking [laughs].
Luke: No worries. I just realised there's a part two to that question as well. Part A: Were you a fan of the original and, Part B: Do you think it was a challenge taking on a new franchise, well, an instalment of possibly a franchise?
Liam: I was a fan. I was only six or seven years old when the first one came out. It first came out in 1996. But, by the time I watched it, well, I didn't see it in the cinema, I watched it on VHS. Remember that hologram copy we had?
Luke: I do remember that one.
Liam: I think either you or Chris bought it.
Luke: Yeah, I think I bought it.
Liam: I wasn't technically allowed to watch it. Mum and dad didn't want me to watch it.
Luke: I really liked Will Smith as a kid. I still like him.
Liam: Yeah, absolutely. He was great in that. I remember watching it on VHS for the first time, and I loved it. I didn't know what was going on as a kid but I absolutely loved it.
Luke: It's got everything, doesn't it?
Liam: And it was the first of its kind, in a way. At that time there hadn't been that many huge, epic, world-ending films.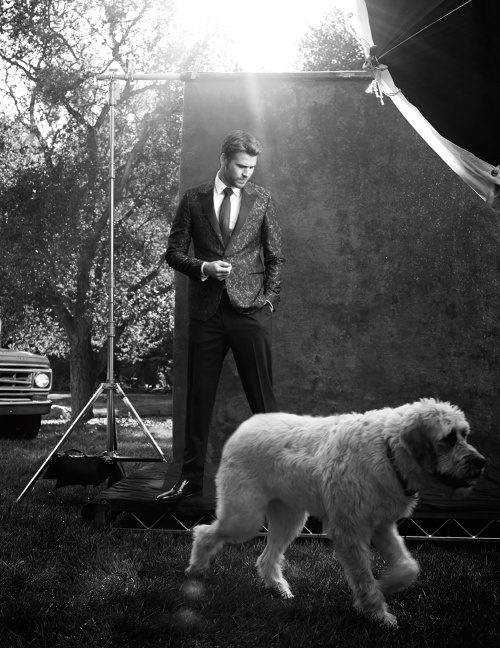 Luke: So do you think this one ups the ante and is the first of its kind in the next instalment?
Liam: Absolutely. You remember when the aliens came the first time and they were pretty big and it was extraordinary? They're about 100 times bigger this time, scarier and more dangerous.
Luke: Tell me about the cast. There are some big names such as Jeff Goldblum, Bill Pullman and Vivica Fox.
Liam: I was very excited to work with all of these people. I had a lot of stuff to do with Jeff Goldblum. We had many scenes together and our characters have a bit of a backstory with each other. Jeff Goldblum is one of the most interesting, generous, kind, funny, eccentric people that I have ever met. He is amazing. So much fun to just be around with on set.
Everything comes from a loving place, and he makes no decision out of hatred or anger, he is very mindful of that sort of thing. It was just a lot of fun working with him.
I didn't have a lot of scenes with Bill Pullman but spent a lot of time with him and, the same, he is just one of the most generous people I have met and very intelligent. He can talk to you for hours about any subject, and he has very strong opinions about things.
Luke: And you can't understand what Bill is saying.
Liam: Yes, most of the time he says words that I just don't know what they mean, and I get a little lost in it, but I am still interested to listen to him talk.
Luke: I know that feeling.
Liam: He's President Thomas Whitmore and he did one of the most iconic speeches ever. Just hearing that voice.
Luke: Hong Kong actress Angelababy is also in the film. Did you work with her?
Liam: Yes. For starters, I love the name. It's a great name, Angelababy.
Luke: I thought it was a typo.
Liam: Nope. It's her real name. She is very sweet. I had a few scenes with her.
Luke: Have you spent much time in Asia?
Liam: I have spent a little time in different parts of Asia. I was in Hong Kong briefly and I went to Beijing.
Luke: And you did a little surfing in Bali.
Liam: Yes, I have been to Indonesia a few times. It's one of my favourite places on the planet, I think. Beautiful. Amazing surf. I quite like Asian food.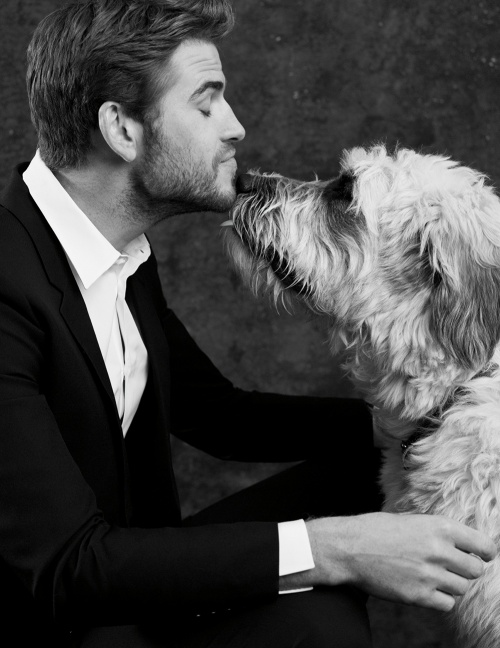 Luke: Now, you just went back to work in Australia to do The Dressmaker. How was it to go back to Australia and use your own accent?
Liam: I had been looking for a while to do something back there. I really wanted to do something in Australia and in my own accent, just to see for myself what the difference was on set in terms of just speaking in my own voice, not having to think about that and have that come into my mind.
Luke: And how was it, do you think?
Liam: I felt a lot freer, in a way, and I was able to sort of throw in different things here and there, and you're just able to draw from your own experiences and things that are familiar to you because it sounds more natural. I really enjoyed that, and I enjoyed working with Kate Winslet. She is an incredible, amazing actress.
Luke: And also Hugo Weaving.
Luke: What is the best advice anyone has ever given you?
Liam: Best advice? Just be thankful, I think.
Luke: Be thankful?
Liam: Be humble. Be grateful, be humble, be thankful.
Luke: Do you think you are grateful and humble and thankful?
Liam: I'd say most of the time I'm pretty humble about it all. I make jokes about things. It's good to have a good joke with your mates, isn't it?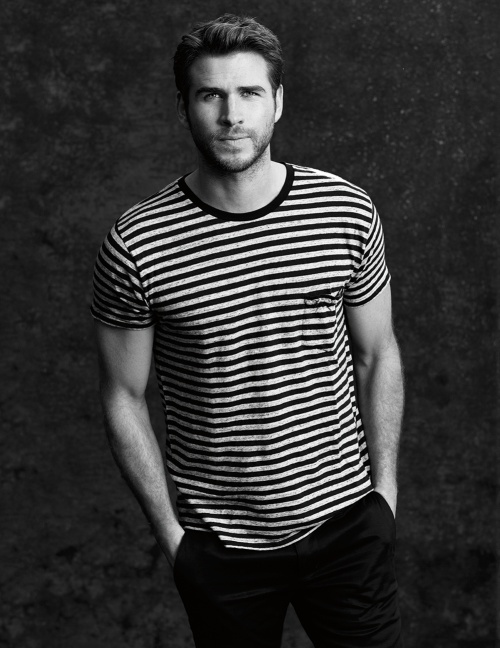 Luke: Who is your legend? Don't say it's me, OK?
Liam: I wasn't going to. Probably our dad, Craig.
Luke: What about Mum?
Liam: Mum and dad.
Luke: That's a better answer.
Liam: Mum and dad. They're my legends. Two legends. And my brothers, Luke and Chris. I have a legendary family.
Luke: Well, Liam Hemsworth, thank you for talking to us.
Liam: Hey, thank you. I really appreciate you doing this.
Luke: It's been a pleasure and a lot of fun.
Liam: Thanks.
Luke: See you in the car.
CREDITS
Photography / Eric Michael Roy
Creative direction and styling / Paris Libby
Grooming / Chantal Moore for Cloutier Remix LA
Styling Assistant / Denise Valdez
Location / Malibu, California