Cover story: Hollywood's Jake Picking on 'Top Gun: Maverick' and working with Tom Cruise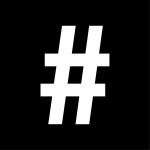 By: Zaneta Cheng
December 2, 2020
Jake Picking is your quintessential Tinseltown success story. Having left everything behind in the pursuit of his metier, the actor has now found success portraying the legendary Rock Hudson in the new Netflix series Hollywood. He tells Zaneta Cheng about coping with loneliness, the gravitas of playing an industry great and what it means to be working alongside acting royalty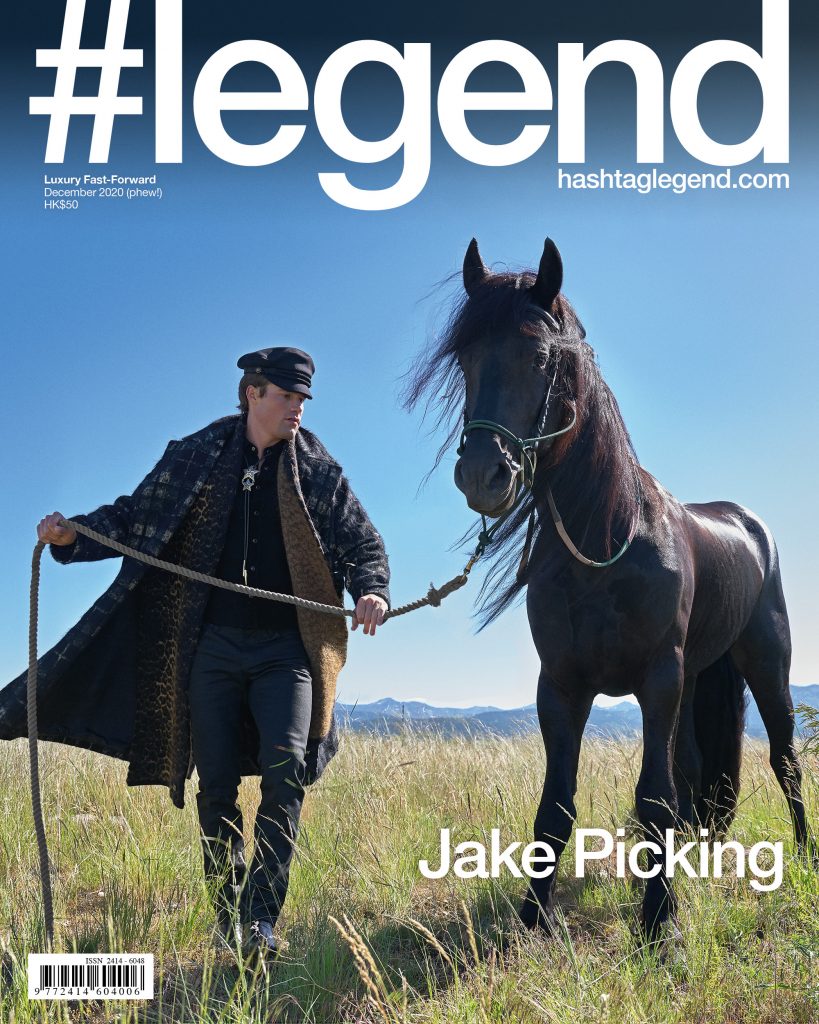 Jake Picking caught the acting bug in high school when a maths teacher suggested he try his hand at the craft. A few years later, as a freshman at New York University, he would skip his business classes to sit in on the acting programme. But it only was when he realised that he wouldn't be able to secure the funds needed to transfer to the Tisch School of Arts that Picking, in the grand tradition of all aspiring actors, packed his bags and headed off to Los Angeles.
At first, Picking spent his days alone listening to music and watching black-and-white classics from Hollywood's Golden Age — blissfully unaware that by May 2020 he'd be starring in Hollywood, director Ryan Murphy's (of American Horror Story and Pose fame) revisionist retelling of one of Tinseltown's most famous leading men of his time, Rock Hudson, a closeted gay man who rose through the ranks of the studio system epitomising masculinity as a heartthrob in movies opposite Elizabeth Taylor and Doris Day.
Picking since has gone from strength to strength, with a role in Top Gun: Maverick alongside Tom Cruise among other upcoming projects with movie greats such as Diane Keaton. Nevertheless, the 29-year-old remains decidedly grounded, reflecting on what it's taken him to get here and what he aims to bring to each role to make an impact.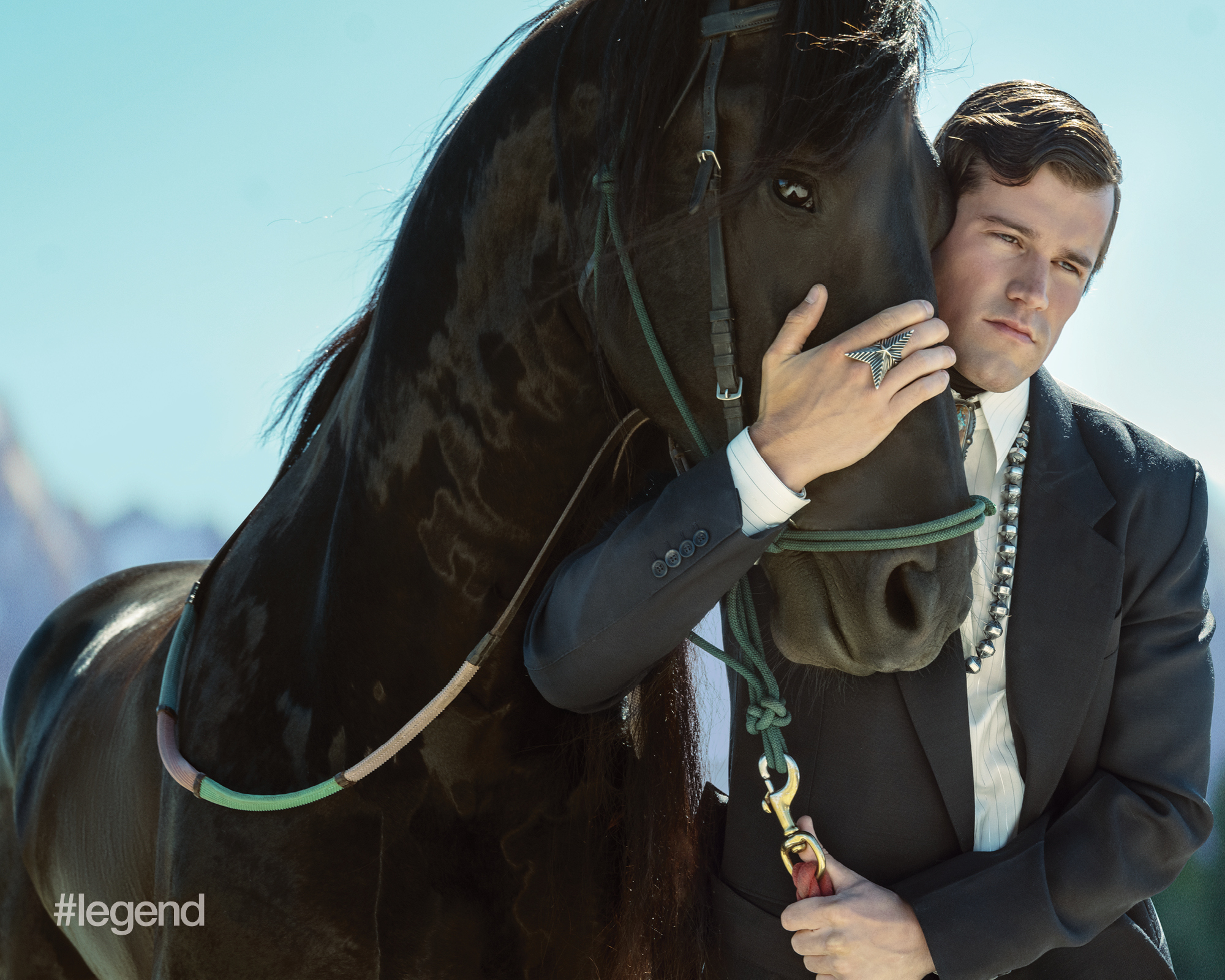 Can you tell us what went into that initial decision to leave university and your life on the East Coast to head to Los Angeles to pursue acting?
I got involved in acting early on with a certain hunger. I was curious. At the time, I was auditioning in Boston and New York and got lucky enough to book a few guest parts on TV, a part in the film The Way Way Back, and actually a hockey commercial – I grew up playing hockey and was playing on the team there at NYU. The following year I didn't have the funds to transfer to the acting school at NYU so I decided to move out to LA. I was inspired by the James Dean biopic starring James Franco, which I guess you could say was the tipping point that initiated the move. I didn't really know many people in LA but I just knew — not to be cheesy — that I was willing to sleep on the beach for it.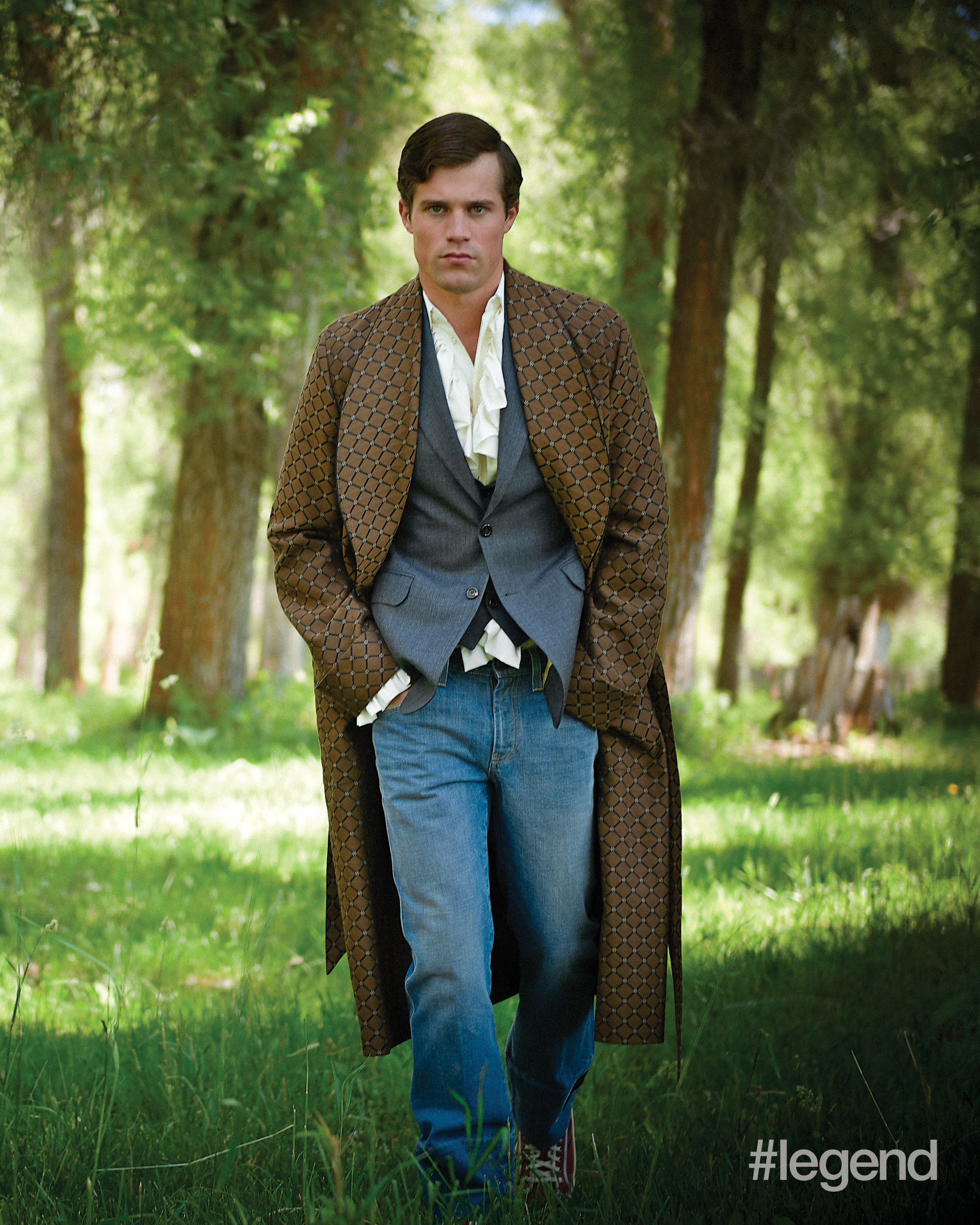 In other interviews, you mention feeling a sense of existential angst and loneliness that you felt was similar to that experienced by Rock Hudson, the character you play in Hollywood. This was also a year of loneliness for a lot of people during the pandemic. How did you deal with it?
I think it's about finding a healthy form of escapism, you know? I listen to a lot of albums from start to finish. When I first moved to LA, I would listen to vinyl incessantly. I'd go to Amoeba Music on Hollywood Boulevard to look for certain records and then in my one-room apartment I would set the mood with these LED lights I had put on the ceiling around the room. I think they had 26 different options! I would match the mood of the song to the light colours.
I remember going through a nocturnal stage where I watched a lot of black-and-white movies from the Golden Age of Hollywood. I tried to do the same thing with the lighting and match the mood to the movie – sometimes scene to scene. It was probably madness looking back, but I think my healthy form of escapism was ultimately in the music I was listening to and the films I watched.
Growing up on the East Coast, I associated seasonal changes with social atmosphere or even a state of mind, so when I moved to LA I lost that sort of grounded feeling. I also didn't know many people in the industry initially. When Rock first moved to LA after operating as an airplane mechanic in the Philippines during WWII, he drove a truck full of frozen peas and carrots and would often wait outside studio gates with hopes of breaking into the industry. I think I can relate to him in that I understand that feeling of loneliness – that level of zeal or interest in the pursuit of an ambition.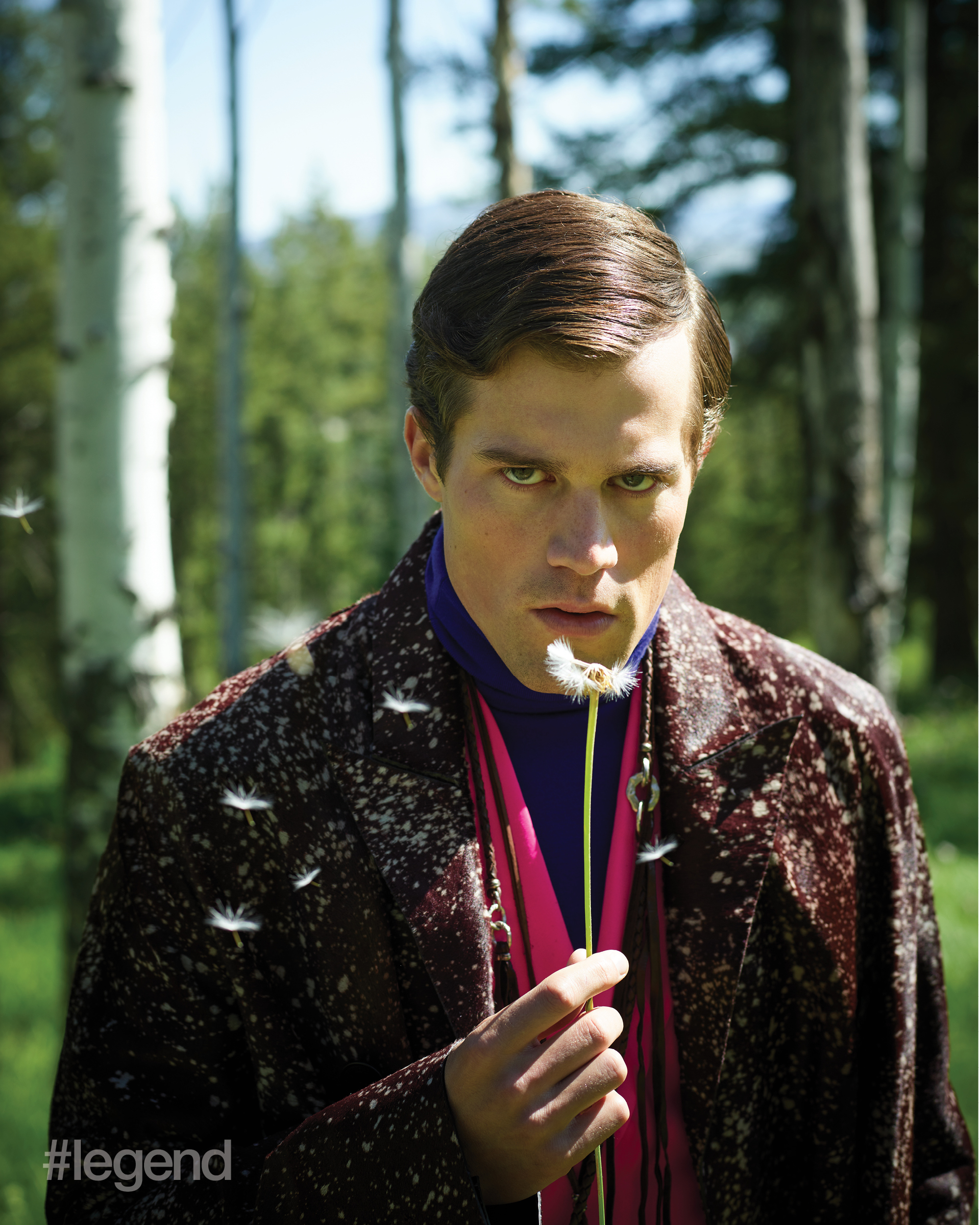 You know a lot about Rock Hudson now, but when you auditioned for the role and Ryan Murphy asked you to tell him everything you know about the actor, what was your reaction? How much did you know and how much have you learnt since playing him?
Haha, that's right. After the audition there was a sit-down with Ryan and he got down to brass tacks almost immediately, which was refreshing. I remember having had an instant feeling of claustrophobia, followed by a sense of great desire to play Rock.
I was cognisant of who Rock was having watched his movie Pillow Talk with Doris Day at NYU. However, the term Ryan has coined with this series is "faction" – so some stories included are true or amalgamations of various stories from that time, but creative liberties were taken to weave them into a fictional narrative. Ryan wanted to stay true to capturing the essence of who Rock was on his rise to stardom while also unapologetically exposing the social undertones of that era. What would Hollywood be today if, six decades ago, the powers that looked like us and the people onscreen were given an opportunity to be seen in their totality?
The most significant lesson I learned from Rock is what it takes to stay truthful to oneself under pressure and the consistency of resilience it takes to be great within a craft. Rock worked for his successes with an unwavering fervency. Although he had good looks, he was often viewed as the underdog – especially at the start of his career. He led by example for any aspiring actor. Rock showed me that usually what you put in, you get out and that sometimes the regrets or the "no's" in life become a lesson, not a loss.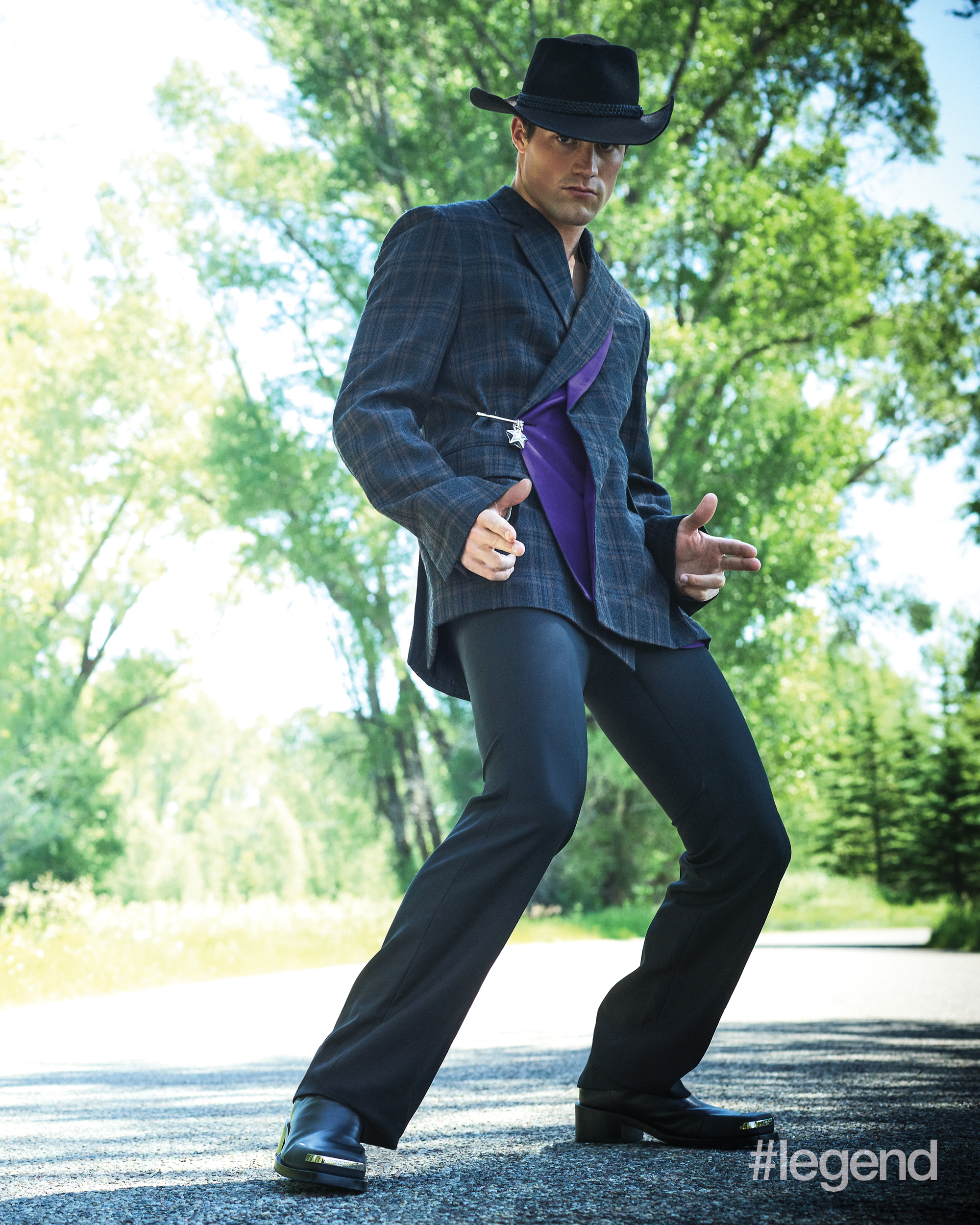 Hudson was such an iconic figure in Hollywood. How did you approach this role? What were the techniques and stories you used to capture him?
I approached Rock with caution and vigour – but his are certainly giant shoes to fill. It was daunting. Rock Hudson is an icon, if not the pure definition of one. It was difficult not to feel something of is presence, especially on the first few days of filming, as though he was watching. I tried to remind myself that in order to honour Rock, I first had to be present in the scene – and I had incredible scene partners, which made it easier. The facial prosthetics, used on my ears, eyelids and eventually teeth, added a subtle and useful tempo, which made me feel different.
In terms of pure preparation or background research, it was anything I could get my hands on, really. I had seen Pillow Talk but my other two favourites became Magnificent Obsession and All That Heaven Allows with Jane Wyman. I watched these films on mute to understand body language and listened to his interviews while driving. Then, to delve into his personal life, I read The Man Who Invented Rock Hudson about Henry Willson and A Biography of Rock Hudson by Mark Griffin and Full Service by Scotty Bowers. I think from these works I got a better, or at least more in-depth, understanding of his relationships within his family life.
One tragically poignant moment that stood out was Rock's mother's efforts to bring his first father back home. His father had left the family for the West Coast when Rock was young. One day, Rock's mother took a bus to California with her son, found Rock's father in a public setting and asked him to return home with them. He declined on the spot. All I could think of after imagining that moment was Rock's bus ride home. There must have been a feeling of utter rejection he was experiencing. Unfortunately, he didn't have any luck with his second father either and found himself not feeling welcome in his own home. I knew that Rock was someone who longed for a sense of belonging… much like us all.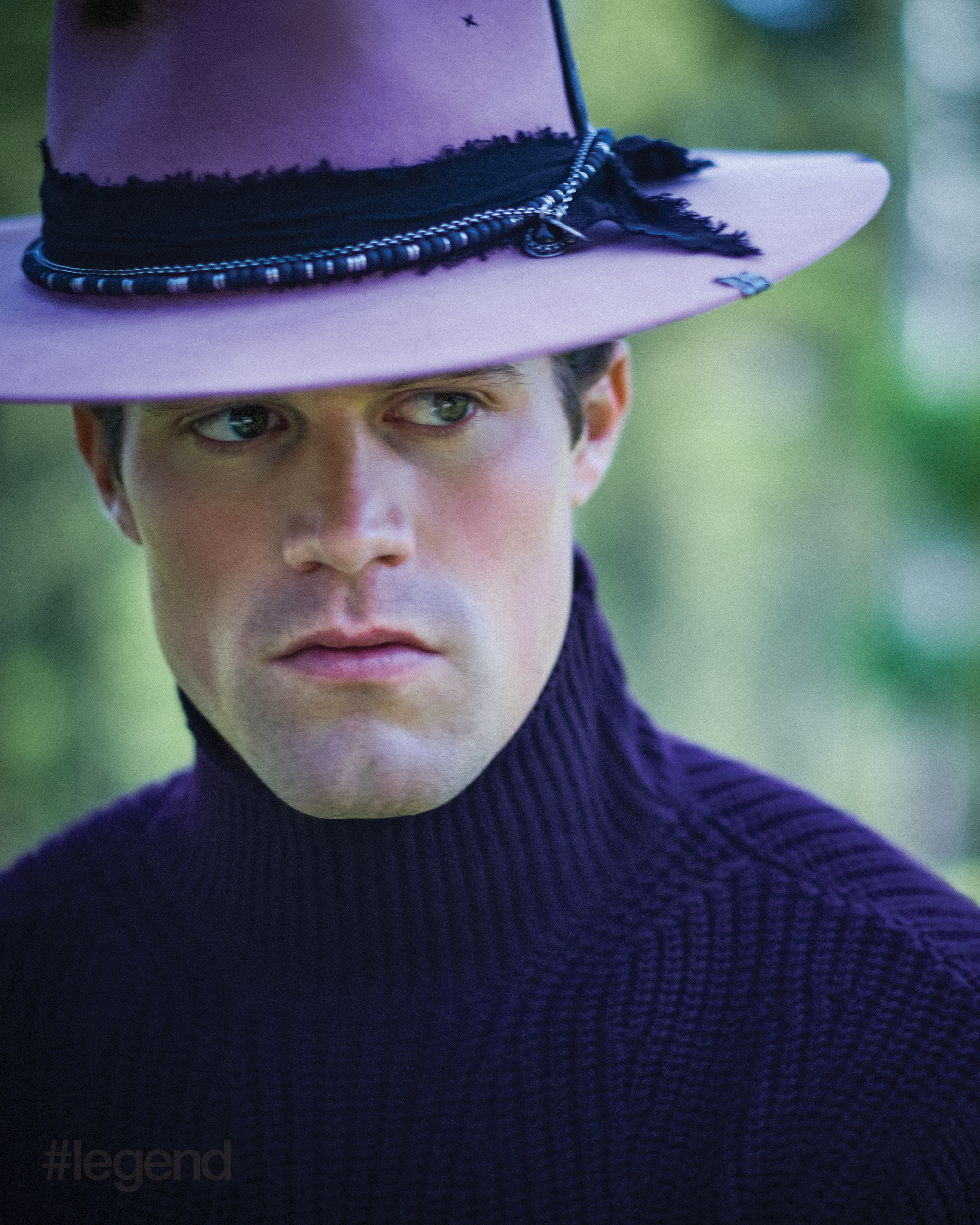 On the topic of belonging, Rock Hudson was one of the first Hollywood celebrities to shed light on AIDS and certainly among the first to disclose his diagnosis. Ryan Murphy's revisionist writing of this period shows women, people of colour, LGBTQ+ actors and filmmakers being given representation, which is in stark contrast to the reality of the time. Did this script give you pause as to what the industry might have been and what the industry could be if it had been as inclusive as Murphy has written it? And does this resonate with what's going on in America?
Absolutely. I'm proud to be part of a show that feels triumphant and holds gumption in the face of change. The power of abuse, the power of hate and prejudice will unfortunately always be relevant in all industries. The battle for equal representation and opportunities for people of colour, women (especially women over the age of 40), and members of the LGBTQ+ community is being waged as we speak.
To me, there are so many qualities that make up a human being and I think to judge a person on who they are, their chemical composition or whom they choose to love is extremely close-minded and toxic. I can only remain hopeful that a show like Hollywood can invoke change for the better, encourage the notion that not everything needs a label and that being true to oneself is essential. Denzel Washington once said that you can't legislate love. That resonated with me. It's our job to address change together person to person, peacefully.
I read somewhere that a secret isn't real unless it's painful to hold onto and I feel like that's what Rock was doing. He felt he needed to hide a part of his being – or face social ostracism. I wish he was alive and well today to see the gradual social progress that's been made or at least some of the open-mindedness we have adapted.
This has been a great year for you with Hollywood and Horse Girl coming out on Netflix and Top Gun: Maverick this Christmas. Is there anything you can tell us about Horse Girl or Top Gun? How were these experiences different from Hollywood and your other work thus far?
Top Gun: Maverick is now scheduled to premiere in July of 2021! I can't reveal too much but I can say that the flying sequences are completely unprecedented. The way in which it was filmed has simply never been attempted before technologically, which should translate to an incredibly authentic viewing experience. The actors also received real flight training on military bases with cutting-edge technologies — that was the highlight for me. The most challenging part was the first few flight lessons and taking off with no hands-on help. Besides the training, the camaraderie on set was incredible and the director, Joe Kosinski, is an amazing visual guy as well as a generous actor's director. I know this one will be special.
Horse Girl is a fun but rogue story. I play a character who works at Enterprise Rent-A-Car and has a side rap hustle. After I first met with director Jeff Baena he became increasingly interested in the GarageBand music I had recorded over the years. Jeff, originally inspired by David Lynch's work for this film – a style of experimenting with surreal, darkly humorous elements that falter with the passage of time – was masterful in the sense that he curated a sort of rhythm to the improv style of way it was shot. There was limited rehearsal time and off-the-cuff antics mid-scene which made the experience very enjoyable. Alison Brie is immensely talented as a socially isolated young woman who begins experiencing a series of surreal, lucid dreams and although her character was detached from reality, she was grounded, kind and a blast to work with. The main difference between these experiences and Hollywood was the length of time spent with the character. Hollywood was a television series and I spent more time with Rock, but each experience was unique in its own way and flourished in its own ways – apples to oranges to watermelons, really.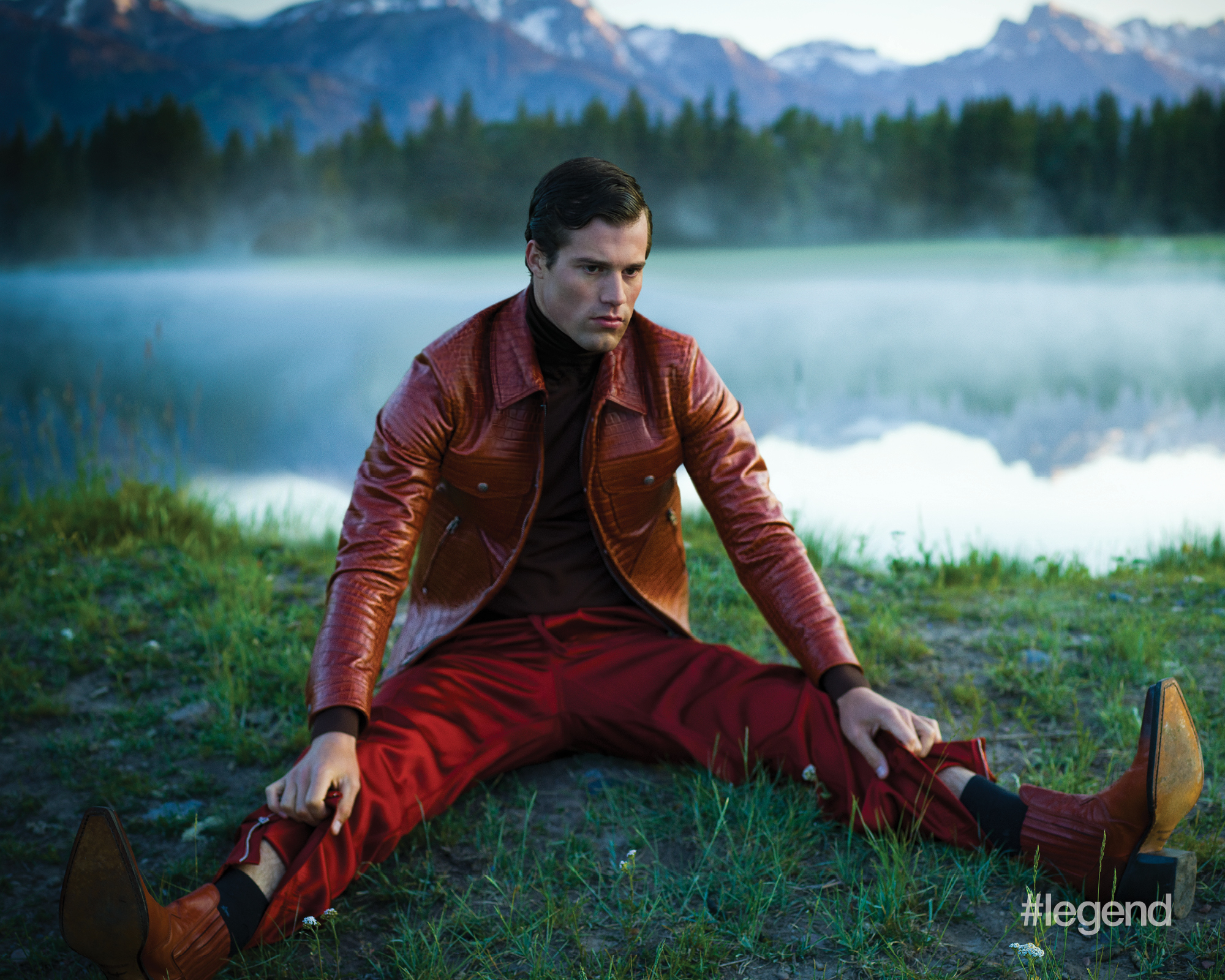 Also, gotta ask, what's it like to work with Tom Cruise?
Tom Cruise is an all-time, no-BS hard worker and carefully calculated risk taker. He is a consummate professional, never afraid to go the extra mile and has a passion that is very personable. When I met him, I mentioned that in 1983 he filmed All the Right Moves in my parents' hometown of Johnstown, Pennsylvania. He was instantly curious of my upbringing and asked me questions until a few minutes later the director, Joe Kosinski, was calling me into action.
You've also got music coming out. I read that you used to listen to Kid Cudi and play around with GarageBand as a student. What place does music hold in your life and how is it different to acting for you?
Haha, I'm working on it. I use music to relax or to become inspired – and everything in between. Freestyle rapping was something that happened in high-school dorms and it translated to a love for recording solo. Kid Cudi's Man on the Moon album was something that was on constant repeat in my headphones during high school. His recent stuff is on point too; he's an artist that will always be relevant to me. I grew up on counter-culture rock too and have an affinity for The Doors, The Stones, The Dead… I think it'd be pretty cool to play Jim Morrison.
Music differs from acting because it's an active way to decompress with other people in a non-professional setting. I can't really go over to a friend's and act, you know, but we can record or listen to an album.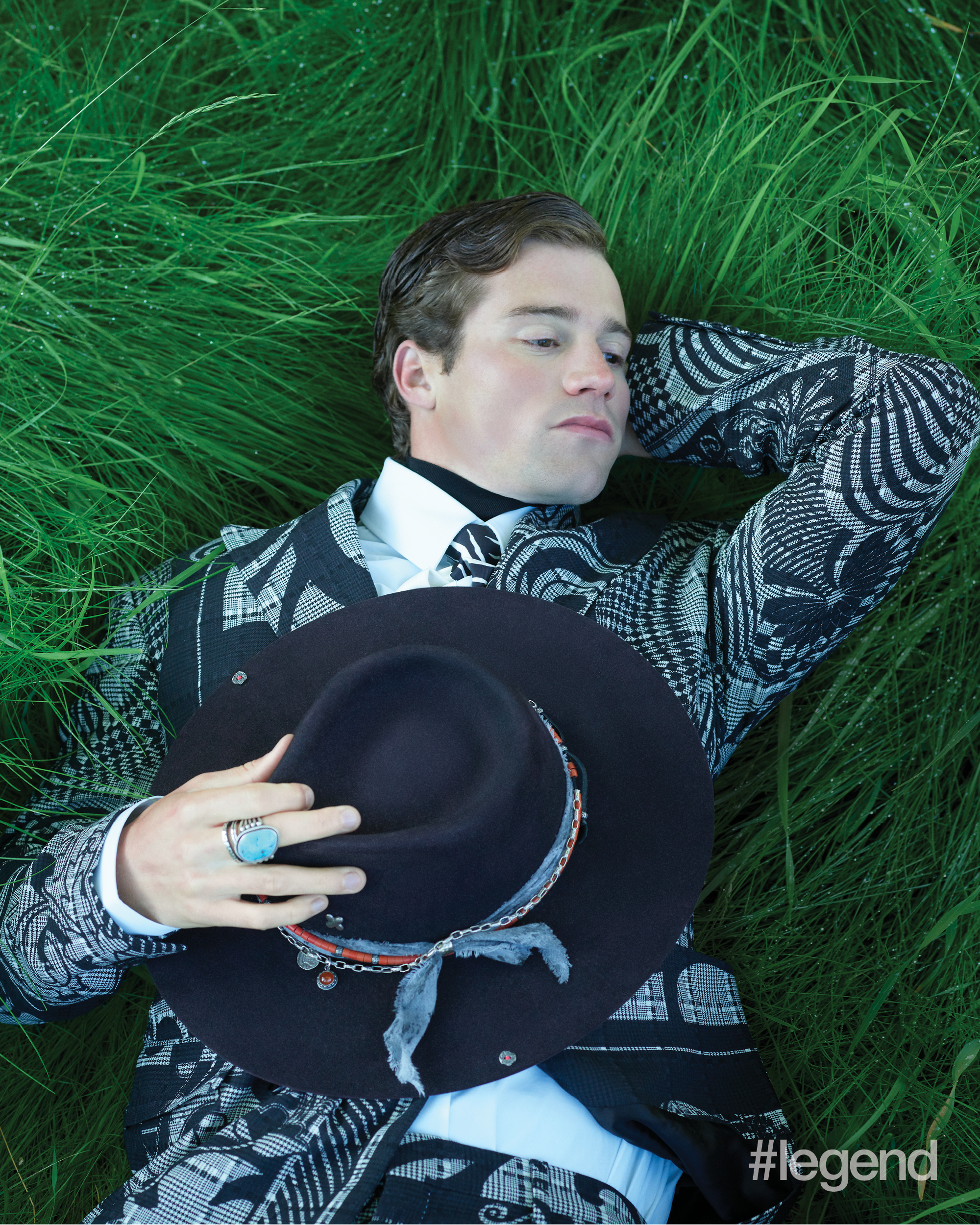 You're also due to leave for New Zealand in March for The Greatest Beer Run Ever. How do you choose your roles and which films to participate in?
Well, The Greatest Beer Run Ever was a standard auditioning process and is in the earlier stages of development but I'm excited to work with juggernaut director Peter Farrelly. In terms of key elements within a role, I look first at the power of the story or how it affects me directly after I've read it, and then at how high or low the ceiling is as to where I think I can go with that character emotionally, physically or personally.
I'm about to start an indie in Big Bear, California, and that first read was a wild one. I don't believe I can say much about it at this time but it some fantastic people are involved including Sean Price Williams, who worked as director of photography on the movie Good Time, which I was a huge fan of.
Who is your #legend?
I liked what Matthew McConaughey said when he won his Oscar for Dallas Buyers Club in the sense that his "hero" is always 10 years away from his current self. He will never attain his own hero, but the drive and enjoyment of that journey is always present. I would like to copy that answer because it inspired me, but it doesn't feel authentic to answering this question earnestly, so… any director reading this now is my legend.
In all seriousness, though, it has to be Robert De Niro. When I watch his work it's almost spiritual, you know? Especially Taxi Driver and Raging Bull. I had the opportunity to work with him on Dirty Grandpa as one of my first gigs, which was groundbreaking for me. He stayed off-camera at 2am during our first scene together and I will never forget that. It was supposed to be an ice-breaking sort of scene but it changed to a scene where my character yells at him. The next day, I had to punch him in the chest and before [the director said] "Action," he goes, "Don't be afraid… Hit me!"
CREDITS
Photography / Michael Muller
Creative Direction & Styling / Paris Libby
Grooming / Nathaniel Dezan for Opus Beauty
Styling Assistant / Claudia Perez-Kowalski
Post Production / Christophe Deluy/Pixretouch
Horse / Pablo
Location / Jackson, Wyoming