Everything you need to know about all the SS21 Couture shows – consider this your couture cheat sheet!
Alexandre Vauthier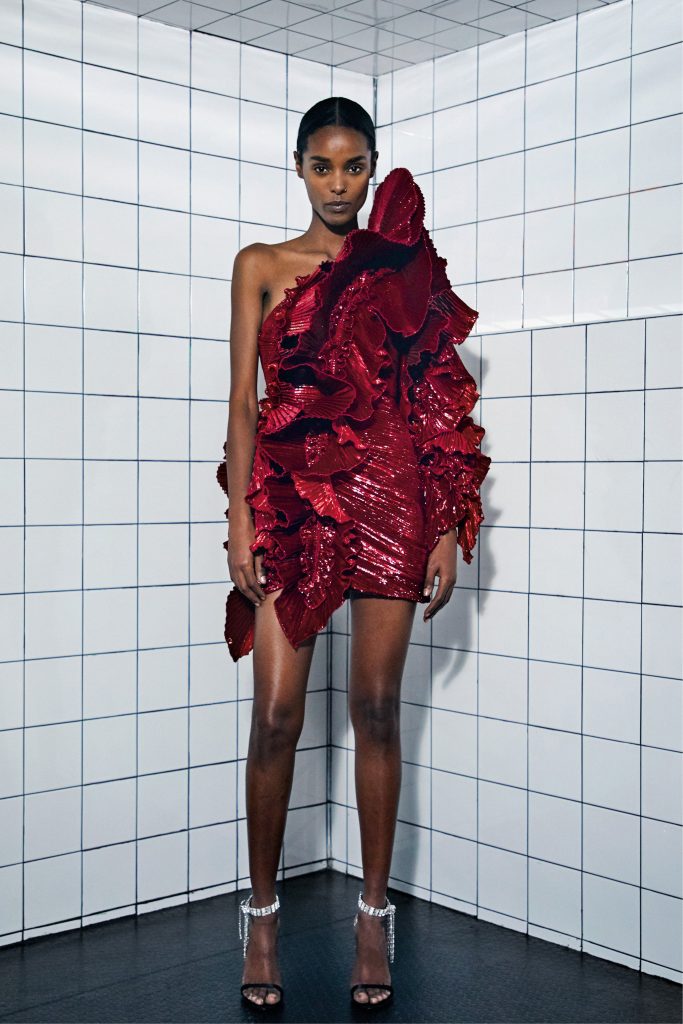 Alexandre Vauthier wanted to design the kind of collection clients could go dancing in, so naturally he was inspired by the 1980s. That being said, few of these pieces are likely to see the inside of a nightclub: there's one swingy silver fringed dress and matching boots that took 1,500 hours to produce. Nevertheless, it's impossible not to think of dancing when you look at Vauthier's creations in crystallized stretch jersey, his silver lamé jumpsuit, feather fringed flares and ruffled dress in red lurex velvet. Turn up the music!
Area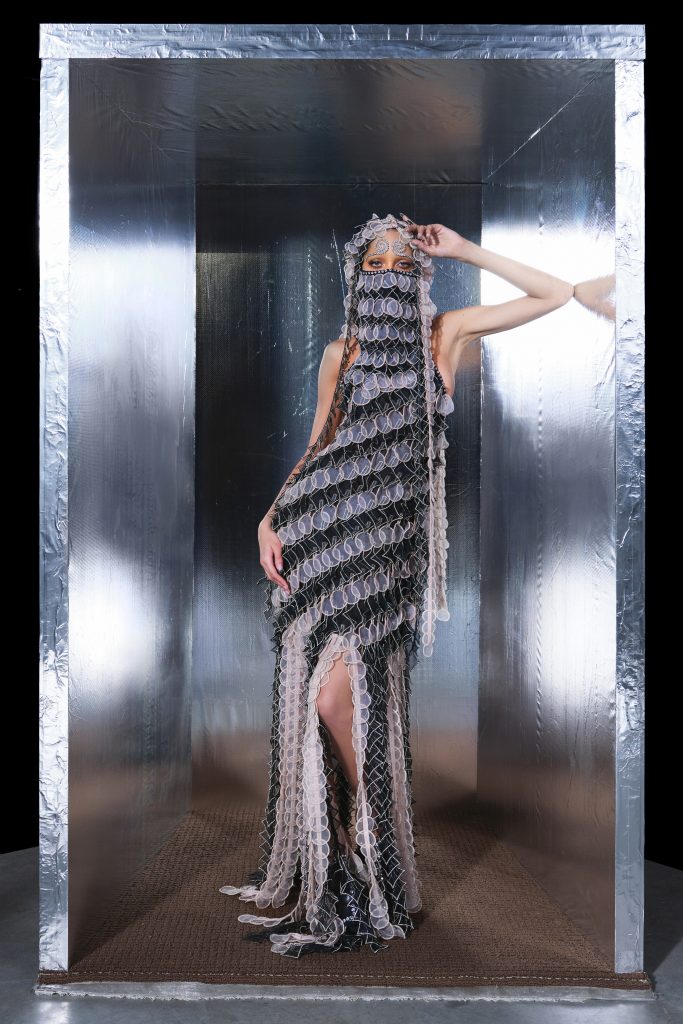 Think couture and you tend to think of refined pieces and hushed, moneyed environments. Area's Beckett Fogg and Piotrek Panszczyk shook off this stereotype with a bold, dramatic show featuring black smoking jackets with extravagant metalwork trimming the cuffs, Berber-inspired jacket embellishments and ethereal dresses made from thousands of individually hand-finished circles of organza. Bodices were embroidered with Swarovski crystals in India and every look was more extravagant than the last.
Armani Privé
This is a collection that is sure to inspire clients to book the next flight to Paris or Rome. Why? Because there was something inherently European about the designs, from jackets with taffeta puff sleeves to double-breasted blazers with the sort of heavy gold buttons that belong in a palazzo. The most memorable piece – a royal-blue ball gown crafted from 130m of tulle, then ruffled and ironed to produce the illusion of rippling water – looked designed to be worn at a party on the banks of Lake Como.
Chanel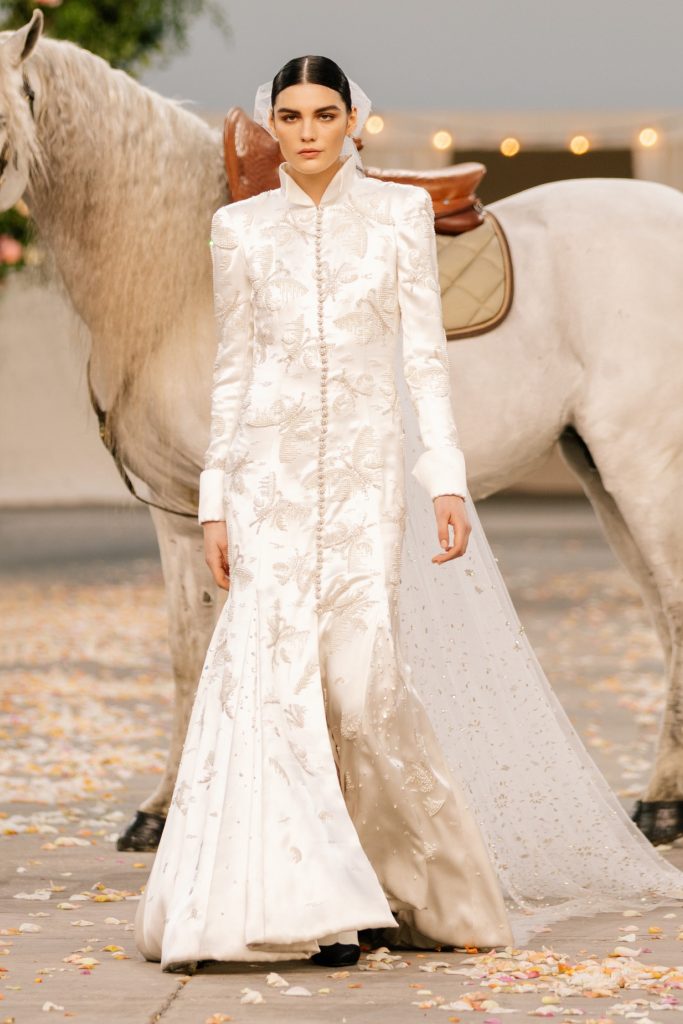 For this collection, Chanel's creative director Virginie Viard was hearing wedding bells – not her own but those of her clients, who had been waiting for a post-lockdown summer to say, "I do". The result was an inherently joyful collection, filled with scarlet flower crowns, lace three-quarter-length tops and big tulle skirts. Penelope Cruz walked the runway in a chic knee-length wedding dress and the Grand Palais was decked out in celebratory flowers.
Dior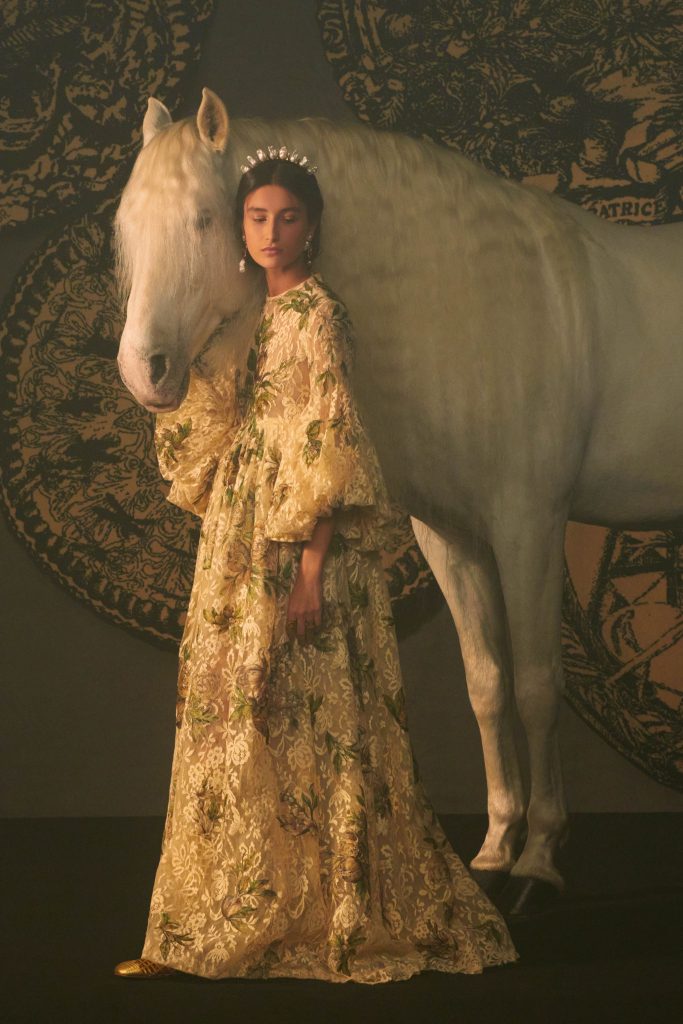 It doesn't get much more romantically ethereal than this collection, which was shot with medieval tapestries and tarot cards, and accessorised with real live white horses. The collection was floral, floaty and feminine, and filled with brocade dresses that could have been borrowed from the court of Henry VIII, and full-skirted Spanish-style embroidered gowns with full sleeves that transported viewers to another era.
Elie Saab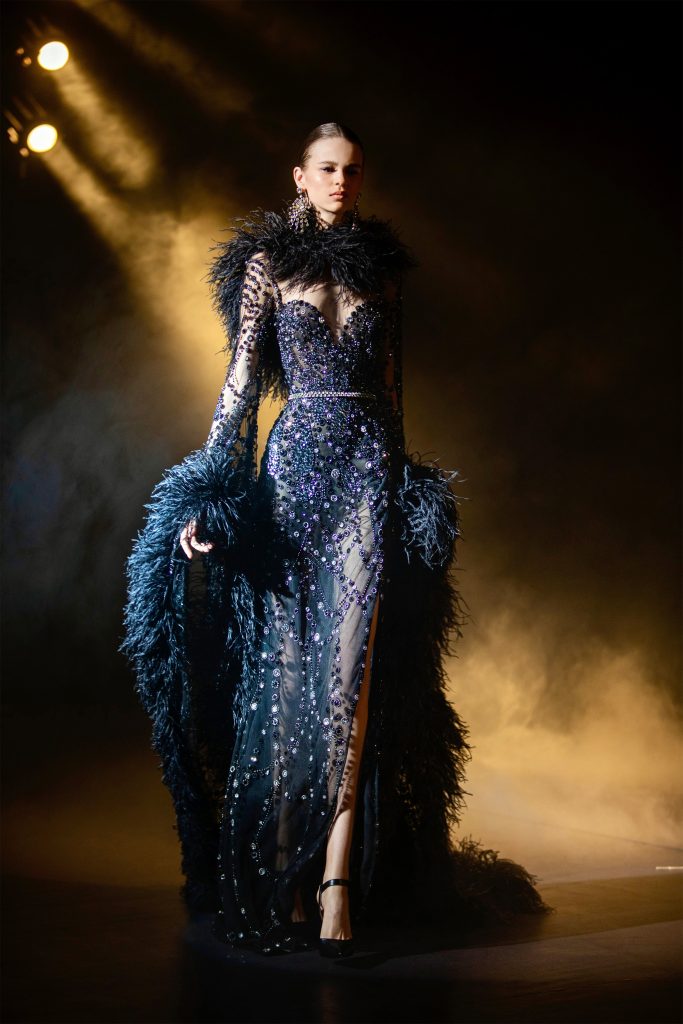 Faced with the pandemic and a deadly explosion in his hometown of Beirut, Saab retreated into the fantastic and created an escapist fantasy called Le Théâtre du Rêve (Theatre of the Dream). Models walked the catwalk in Belle Époque splendour and wore outfits constructed of feathers, beads, tulle and lace. Some looks were particularly memorable and included plumed headdresses that added a touch of Moulin Rouge glamour to the show.
Fendi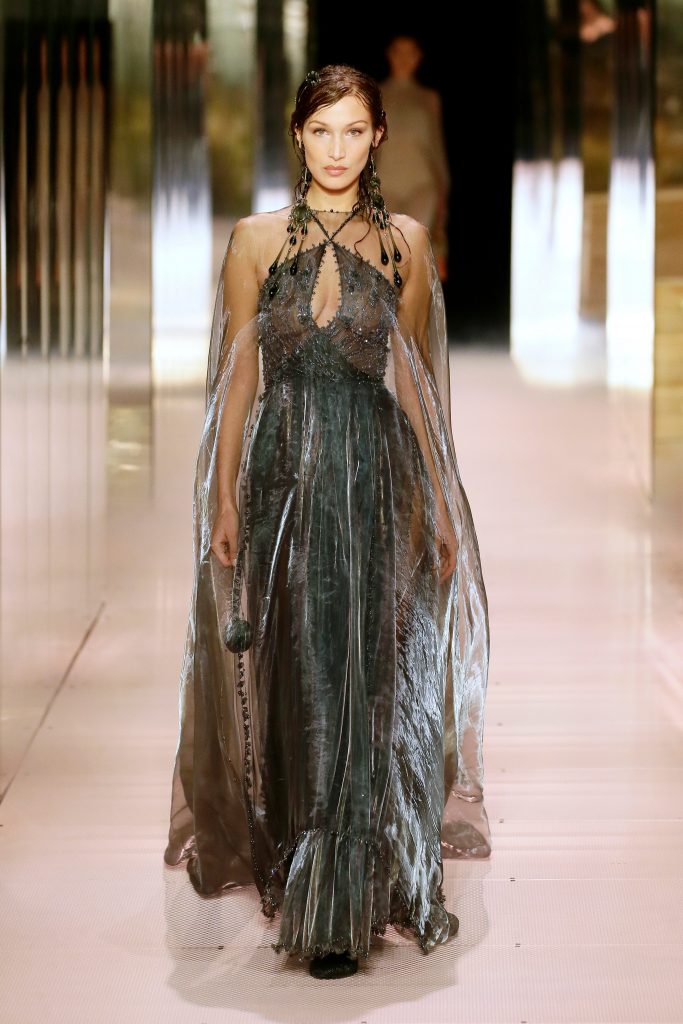 Images of Demi Moore walking for Kim Jones' Fendi debut reverberated around the globe, but despite using an American actress as the face of his collection, the show's inspiration came in the form of a very English writer – Virginia Woolf. The result was lots of off-the-shoulder tops from the era, delicate 1920s beading, sheer capes and shoulder-grazing earrings, and a nod to heritage in the form of Kate Moss and her daughter, Lila Hack, walking the catwalk together for the first time.
Giambattista Valli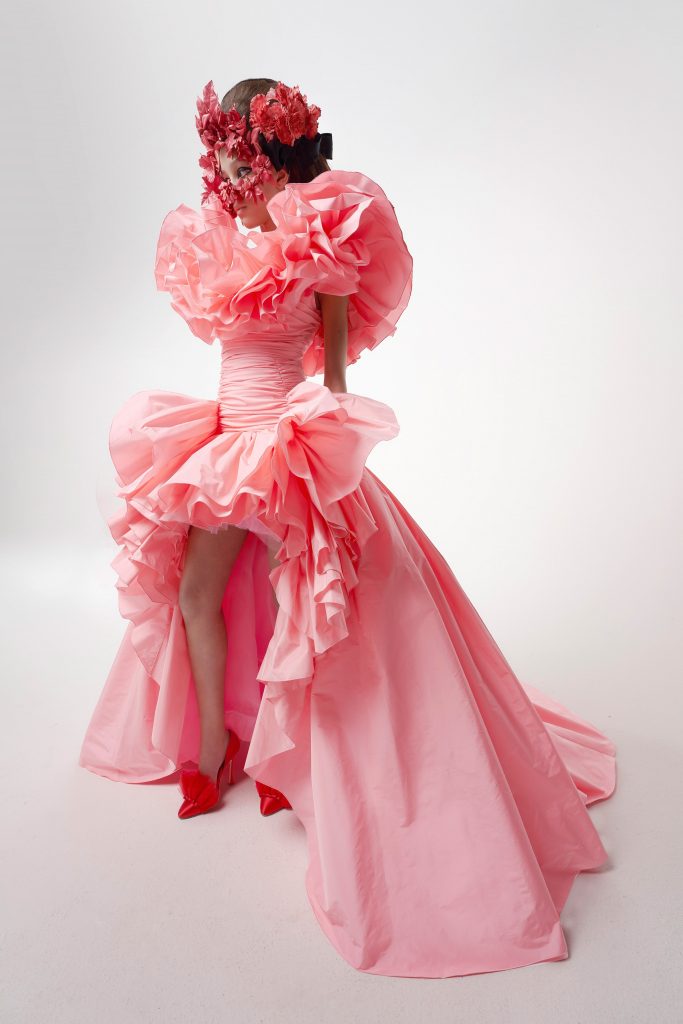 When shows go entirely digital, bright colours and bold silhouettes tend to work better as they fill up a screen and excite an at-home audience. Giambattista Valli accomplished this with aplomb with his primary-coloured, headdress-filled collection that was a treat for the eyes. Highlights included Valli's scarlet ruffled skirts and high, translucent veils that were reminiscent of flamenco dancers in Seville.
Iris van Herpen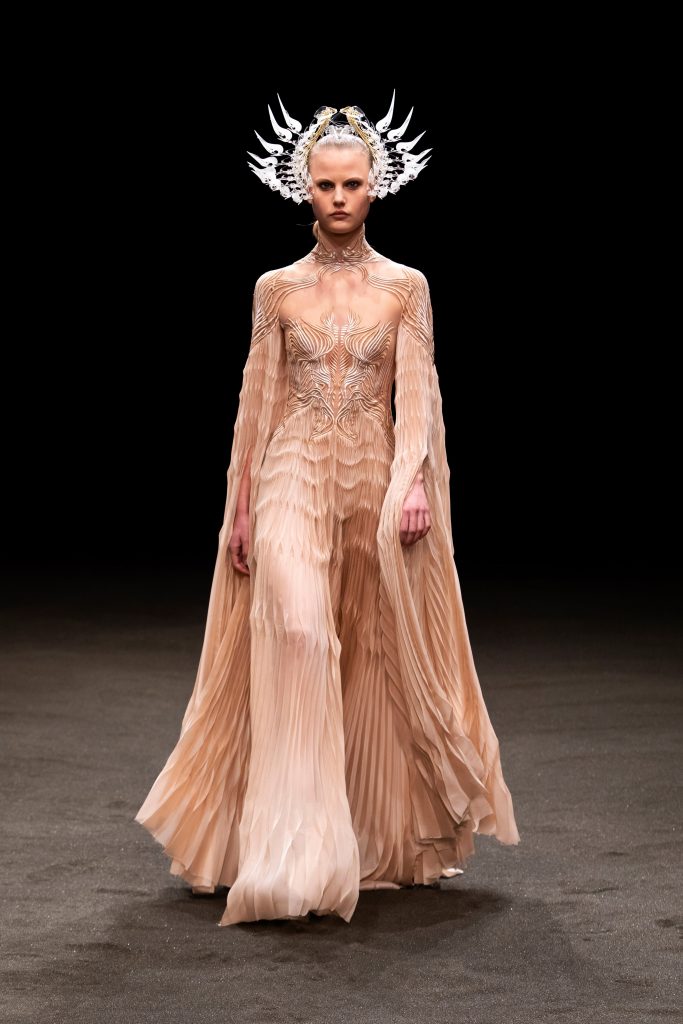 Showing that innovation is as likely to occur in couture as it is in ready-to-wear, Iris van Herpen used 3D printing for much of this beautifully crafted, creative collection. The Dutch couturier collaborated with Parley for the Oceans to use fabric made from upcycled marine debris and the result was highly accomplished, very feminine but also otherworldly in its approach, with flowing bodices and full skirts that felt reminiscent of the underwater world.
Ronald van der Kemp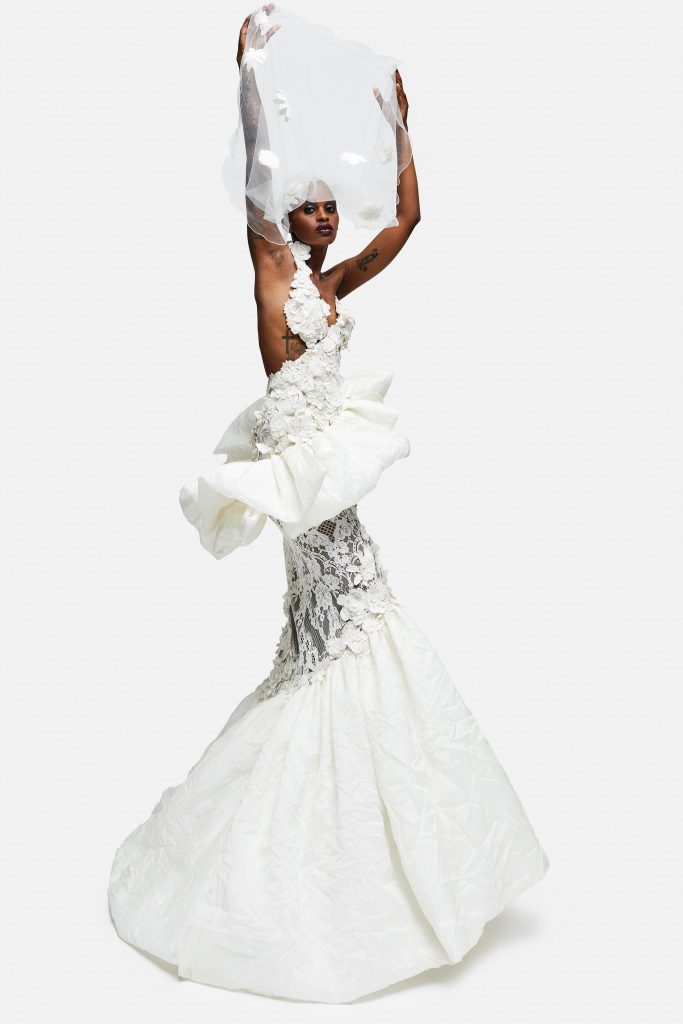 Perhaps the prettiest of all the collections, the dresses in Dutch couturier Ronald van der Kemp's arsenal had an artistic quality but at the same time seemed destined for the red carpet. Although look closer and many of them were actually optical illusions, designed to look different from different angles thanks to the three distinct fabrics used to make them – this was particularly true of opening look's ball skirt, which was patchworked from scraps of many sizes and shapes.
S.R. Studio. La. Ca.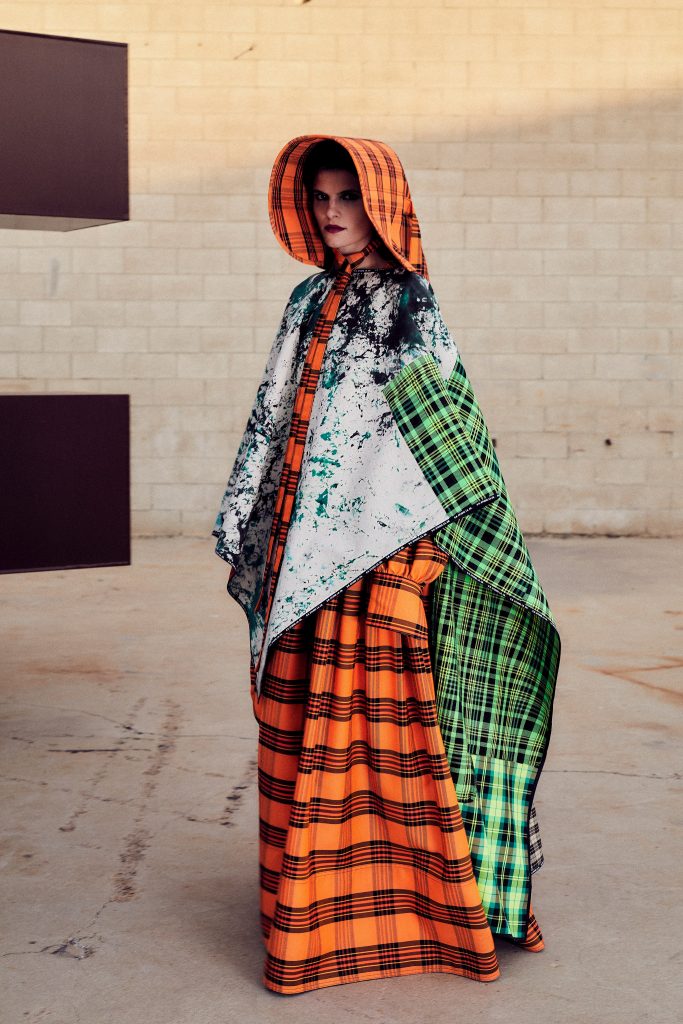 There was a fairy-tale element to Sterling Ruby's collection, which was filled with otherworldly pieces that could have been created with a very fashionable haunted forest in mind: tumbling, folded and cloaked dresses in opaque fabric that was spun with multicoloured thread; winged-arm dresses in ruched and shirred chiffon and plenty of capes and loose dresses that captured the light when they moved, as if by magic.
Schiaparelli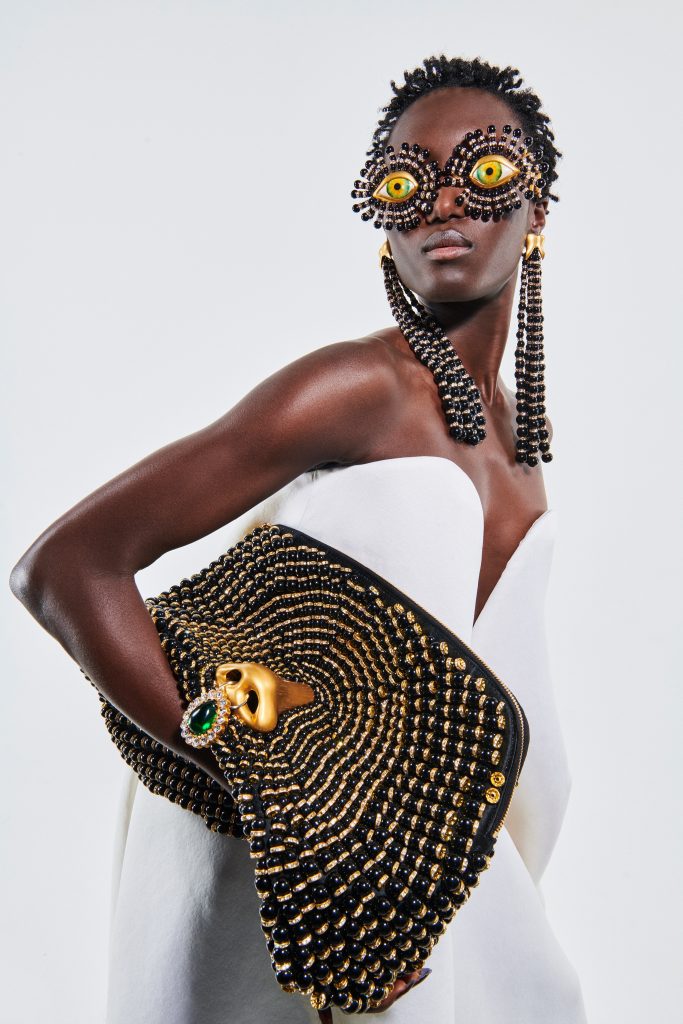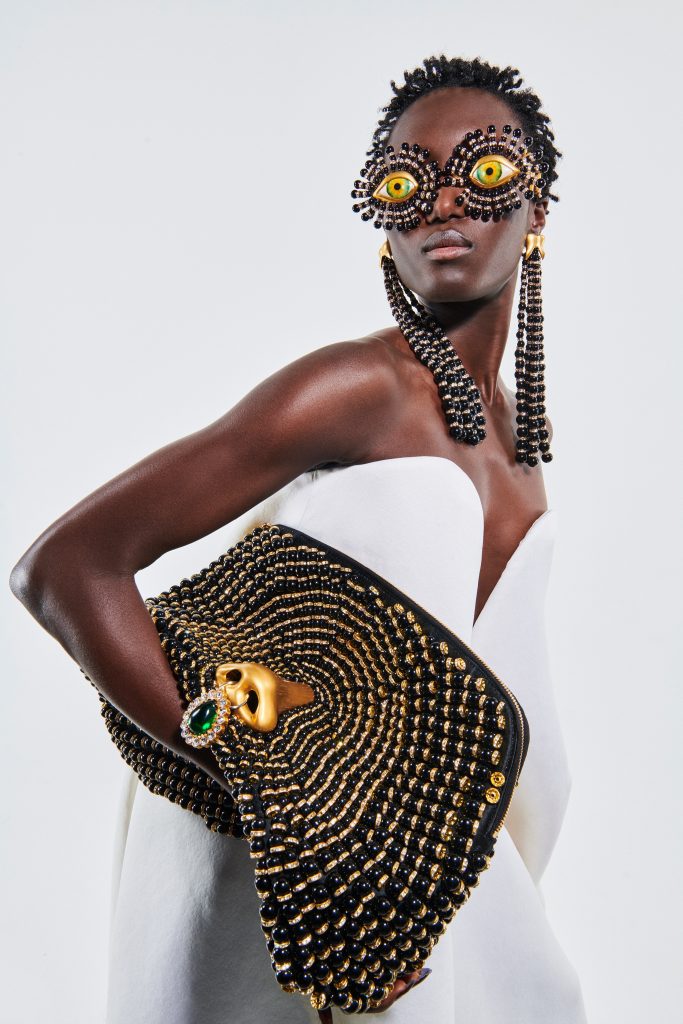 One of the most memorable outfits of couture week had to be the oversized bubblegum-pink bow tied around a model's black PVC corset dress that closed the show at Schiaparelli. Bold, brave and very beautiful, it epitomised fashion's joyful side and was joined by other equally dramatic outfits: notably, a black column dress with heavy folded sleeves and a couture denim jacket with a cape-like hood.
Valentino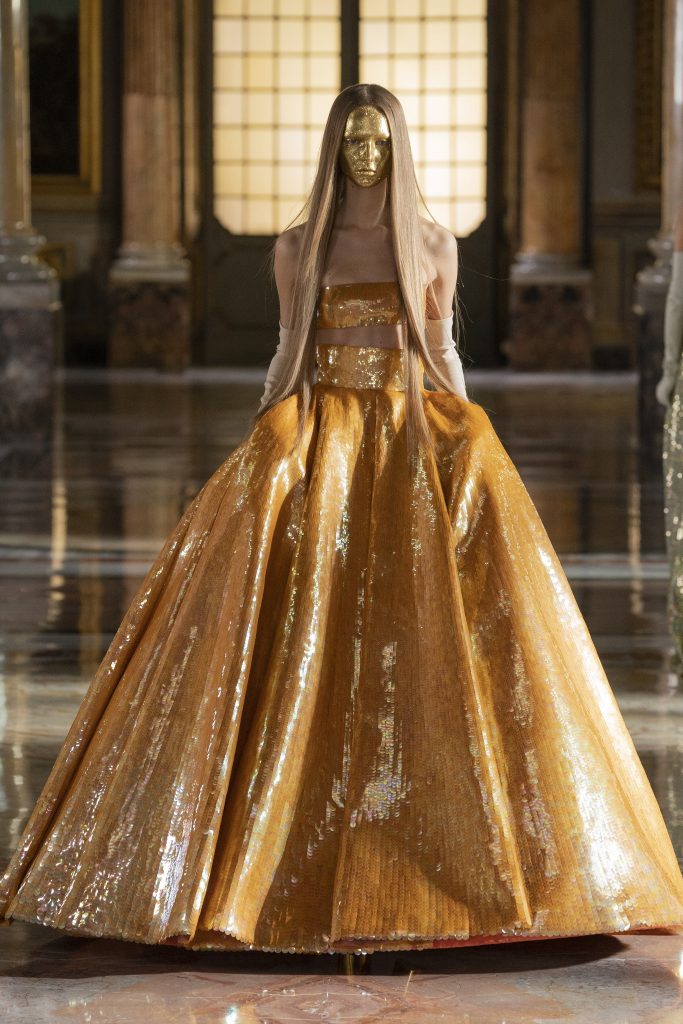 Ultra-high platform heels in glossy gold are back. Or at least according to Pierpaolo Piccioli, who insisted on a return to old-fashioned glamour for his spring collection. And yet the show felt notably modern and different at the same time. Male models walked with their female counterparts, and instead of focusing exclusively on eveningwear, Piccioli sent white poplin shirts and casual tops down the runway, but paired with long iridescent skirts with a train, proving post-pandemic fashion will be all about high-low dressing.
Viktor & Rolf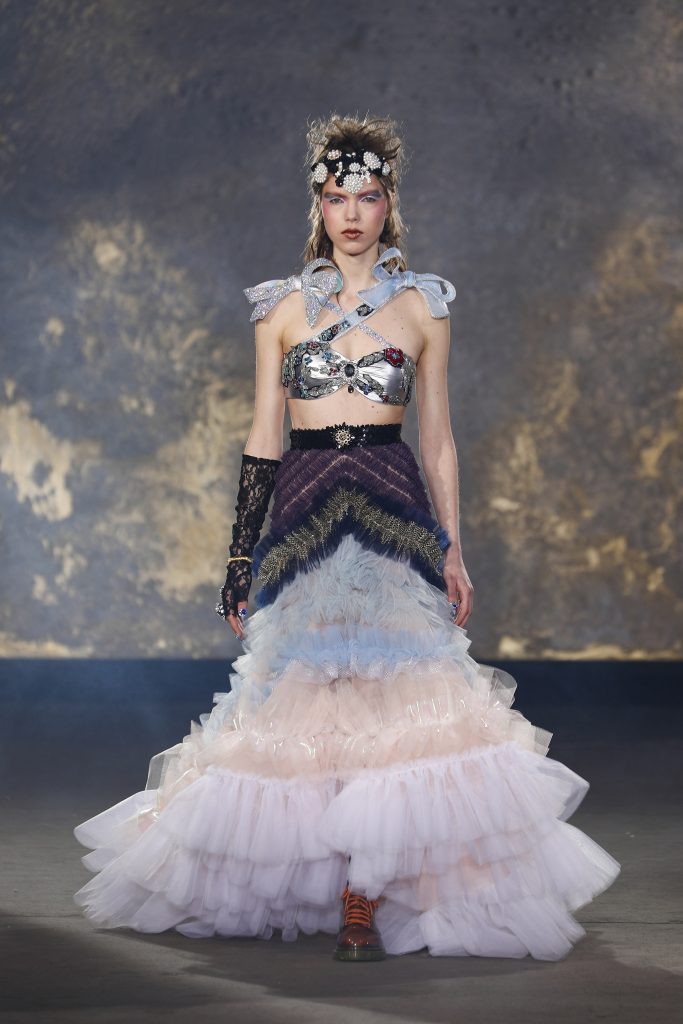 The Dutch duo clearly believes a flash of midriff is going to be the look of summer 2021, as – while the materials and colours changed significantly throughout the show – the silhouettes largely focused on a bra top and skirt. There was an accomplished scrapbook feel to the collection, with elements from the Viktor & Rolf archive – bits of jewellery, sweatshirts and scraps of fabric – woven together with tulle and lace to create something very modern, and on trend for 2021.
See also: Fashion files: Our top picks from Paris Fashion Week FW21