Digital cover: Ansonbean x Rimowa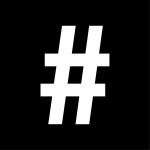 By: Hill Choi Lee
September 28, 2021
From UK student to King Maker to multitalented artist, Ansonbean is Hong Kong's newest entertainment sensation. He tells us how it all started and why he can't stop moving
Ansonbean is over having people associate him with jelly beans. "I still love my name; I really love it," says the 20-year-old Hongkonger formerly known as Anson Chan. "It's just that I don't enjoy eating jelly beans that much [anymore]. They're sugary and I'm trying to cut down my body fat."
The nickname that became Chan's artist handle isn't a moniker he can easily discard even if he wanted to, having built his brand around it. After getting his big break last summer on the ViuTV talent show King Maker III – which also produced boy band sensation Mirror – Ansonbean has slowly but steadily amassed a dedicated fan base (over 45,000 followers on Instagram and growing) and has proven especially popular among teens. He's even been featured in advertising campaigns for major international brands such as Estée Lauder and Nars.
Indeed, Ansonbean has come a long way from York, where he finished his A-Levels. For two years he stayed in the English countryside, frequently sneaking off school grounds to visit the nearby town. "It was boring because my school was situated next to a farm, and it's very far from the city – about an hour. So I snuck out often," he says. On those occasions, he would go catch a film or shop for groceries.
There were few indications that he would end up debuting on the Hong Kong entertainment scene any time soon. After all, Ansonbean dropped out of his chosen Drama elective. But he was quick to find footing in another expressive arts course.
"Studying drama [in the UK] is not very 'practical'. There's a lot of theory involved," he explains. Instead, he joined the LAMDA course offered at his school. "My first year in the UK I took Grade 5 LAMDA, second year I took Grade 8. It was good acting training, English training and character-building training. I loved it." LAMDA stands for London Academy of Music and Dramatic Art, with their exam in speech and drama equivalent to a music grade.
"I'd always wanted to be in the entertainment industry, but I never had the chance," he points out. "Life in the UK was slower and I wasn't in a city, so I chose to come back [to Hong Kong] to get more opportunities."
Ansonbean initially aspired to become a dancer. But a chance to be part of a high school musical while in the UK made him realise he wanted to give acting a go. "I did a few more musicals afterwards. The teachers gave me confidence, telling me I had what it takes to make it." His most memorable role at the time was playing a villain, he says: "It was a part where I get to die – that was fun."
All the while, Ansonbean followed the first two seasons of King Maker with fervour and had long decided he wanted to take part in the show. "It was one of the reasons I came back to Hong Kong. I thought, wow, it would be cool if I could've joined in the first two seasons, but then it wasn't until the third [when I had my chance]."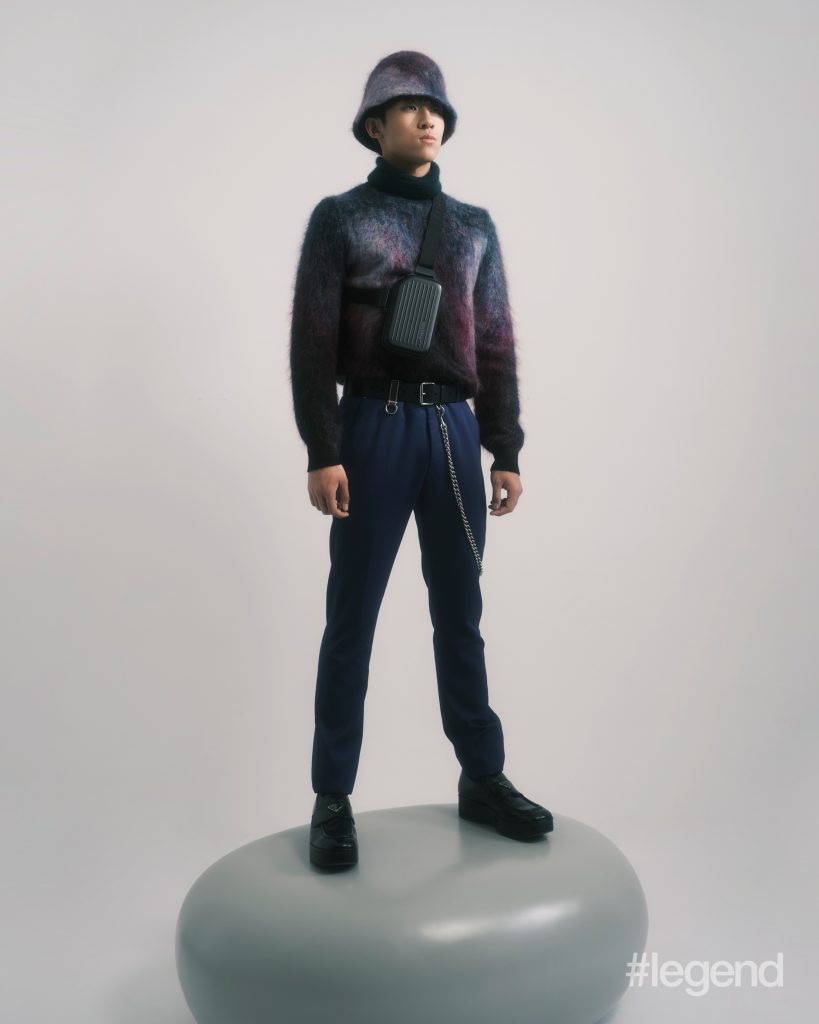 Since King Maker, the artist has starred in both a film and TV show. Earlier this year, he also released his first single CRUSH (oh no!). "When I listen to music, I always love the fact that singers can bring us to a vibe or a place they want us to be in," he says. "For example, when you listen to a love song, you just feel that [emotion] and then when you listen to a sad song or a party song, you feel like you're there [in the moment]. I just want to make songs like that. I want to take people places."
One of the newest trends to transport Hongkongers to new places comes with the rise of the latest pop hype: boy bands. Groups such as Mirror are gaining immense fan traction. Ansonbean sees it as a positive development for the Hong Kong entertainment scene. "This is great because I love how the audience embraces new styles, new songs, new artists. They start to like younger artists and give them more opportunities to perform."
But it wouldn't necessarily be a trajectory the young artist would choose for himself. "I've thought about being in a boy band. Though it would be cool to be part of one (as I would get to learn from teammates), I don't think my personality would suit [it]," he reflects.
There are also plenty of solo projects keeping Ansonbean busy at the moment. He recently finished shooting a film in which he was challenged to play a character whose personality is quite different from his own. He's also slated to star in an upcoming TV series called i.SWIM, where he takes on the mantle of a naturally gifted, "genius" swimmer. There are also plans to launch his first EP next year. "I love R&B and hip-hop songs, so they will [lean] towards that direction," he says, though he has yet to decide what those songs will be about.
It's hard for Ansonbean to sit still – literally. After a full day of shooting with one outfit change after another, he's still ready to burst out of his skin during the interview. "If I don't move, I can't talk. I gotta keep moving," he explains.
Such energy could either be invigorating or exhausting to those around him. His manager – who has probably seen and heard it all – is a monument of calm next to him, a rock to his turbulence. But it's exactly this type of energy that carries Ansonbean from set to set, shoot to shoot, and that has elevated his status in a relatively short time.
Indeed, Ansonbean can't help but stay in motion in mind as well as body. Recently, he has been carrying with him a book by Simon Sinek, Start with Why: How Great Leaders Inspire Everyone to Take Action. "I'm into self-help books," he says. "I use a blue pen to highlight sentences in the book that are helpful. If it's about things I shouldn't do, I highlight them with a pink pen. After a month, I will revisit the book and learn from them."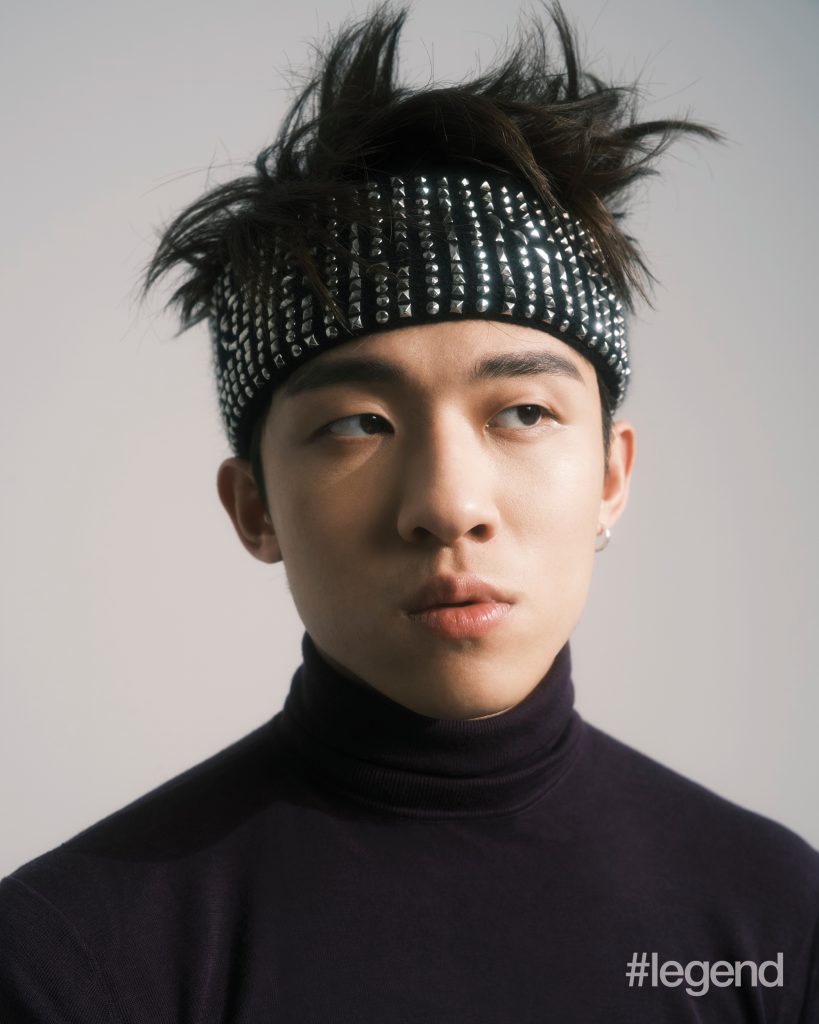 Reading, writing songs, releasing singles, acting in film and TV – Ansonbean is certainly inspiring his many fans to action. And with a full line-up of projects in the works, it's clear he will continue to do so for a long time to come.
Photography: Max Chan
Gaffer: Fei Lung
Assistant: Chow
BTS video: Asia Chow
Props Artist: Asia Chow & Jacqueline Ng
Stylist – Daniel Cheung
Hair – Derek Li
Makeup – Jenny Shih