Smart, stylish, self-driving and packed with high-tech features, the Chinese-made electric vehicle is turning heads and winning hearts. Mathew Scott gets up close and personal with the future of motoring
The buzz around the XPeng P7 began building long before the car made its debut at the 2019 Shanghai Auto Show.
China has for years now been the world's largest automotive market – with cars alone accounting for around a staggering 20 million units sold per year. But the nation's manufacturing industry has also increasingly been at the forefront of new "green" technologies that are being showcased most visibly – across the globe – in the vehicles that take us from Point A to Point B.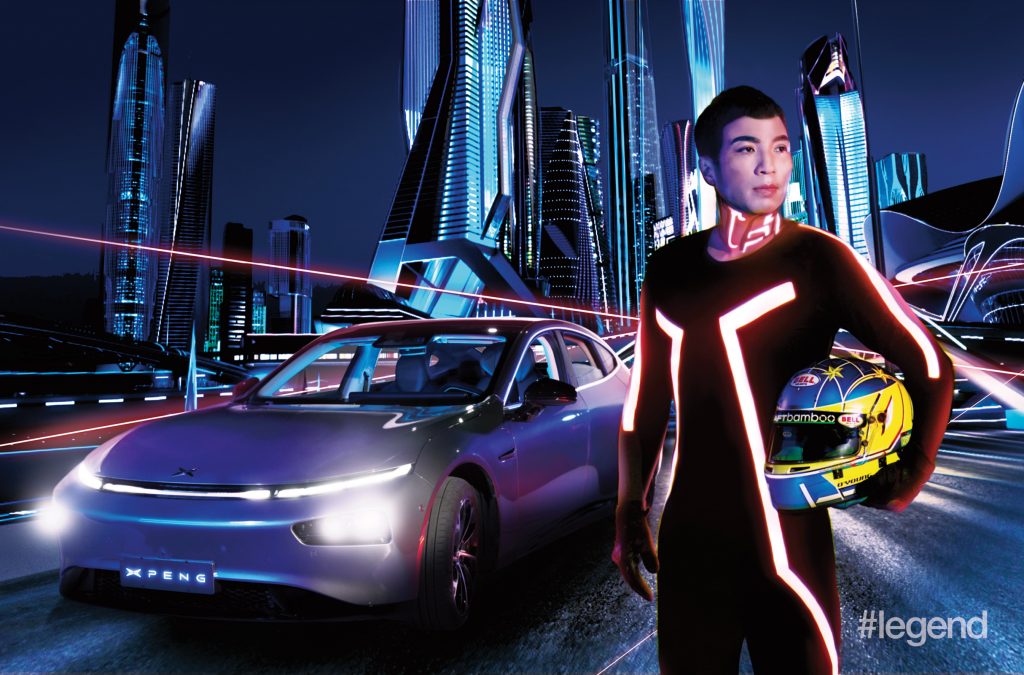 These new vehicles have embraced both electric vehicle (EV) technology and artificial intelligence (AI) and so news had been trickling out since 2014 that the Guangzhou-based XPeng had spent the early days of its existence working on a new model that would help change the way the world looks at motoring. Word was the company was targeting the "middle- to high-price-range segment" and promising to serve the "growing young tech-savvy middle class."
And so the XPeng P7 made its debut – this "super-long range smart sedan" – and the motoring industry press had its collective head turned by "driving dynamics, power and range, but also the on-board technologies," as reported by InsideEVs.com.
Motor heads the world over wondered how long it would be before they could join the queue to buy one. And Hong Kong racer Darryl O'Young was among them. "They are the future of cars," he says. "It's that simple."
The 41-year-old O'Young has been at the forefront of Asian – and Chinese – motorsports for what's now closing in on two decades. Included among his many achievements are multiple wins across the famed Macau Grand Prix weekend and two Porsche Carrera Cup Asia championships. And O'Young has been keeping close watch on the developments at XPeng and how they're trying to change the way the world looks at cars, and the way we drive them.
"Originally it was a bit like when smartphones came on the market and lots of people wanted to hold on to their Nokia," he says. "But the more you find out about what these EVs can offer, the more you want one. These cars are smart in terms of design and in terms of everything they offer. Everything about them – from the design to the performance – is exciting."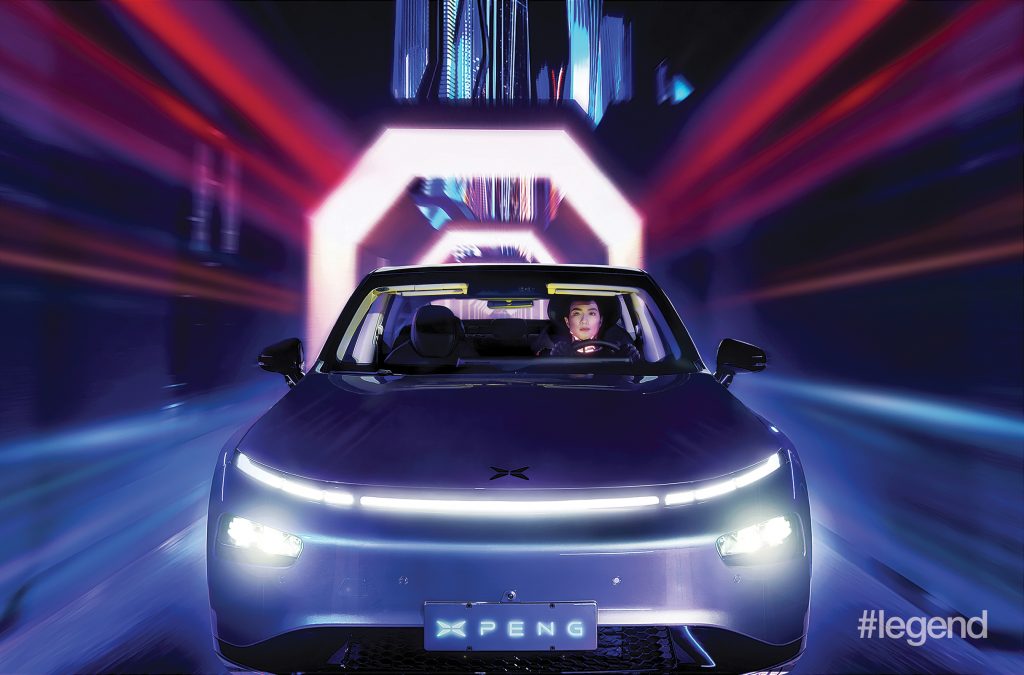 #legend has joined O'Young on the backblocks of the famed Shaw Brothers film studio in Clear Water Bay and we're watching motoring dreams being fulfilled – up to a point. Just behind us – in shimmering metallic black shades – sits a brand-new XPeng P7 that still can't be driven on Hong Kong roads as it's left-hand drive.
But O'Young is still able to fool around a little and to explore the car's many and varied attractions.
"It's all about embracing the future," he says again. And he's smiling.
O'Young has fully embraced those themes for our photo shoot, morphing into his own AI avatar.
"When the #legend team spoke to me about this AI-themed story, I wasn't sure exactly what I was getting myself into," he says. "However, the XPeng P7 is all about AI and future tech, so I agreed to go with this extreme makeover. I haven't done too many creative shoots, so I decided to have some fun as I really trust the stylistic direction of #legend, and ended up feeling like a future me."
Returning to China, the shift in focus from the fuel-guzzling motors of old has been initiated by a government that is pushing the promotion of green vehicles as a means through which the country can cut back on its pollution levels.
XPeng was founded with an intention to explore this EV market, and to develop features such as an autonomous driving option that might expand the driving experience. In the past seven years, the company has grown its workforce to about 6,000 employees – and its online community of followers to about three million across social media.
The estimations are that the market for EVs is looking forward to rapid growth, with London-based industry watchers Ernst & Young predicting that sales in China of EV vehicles are on target to surpass that of traditional vehicles by 2033 – the same year it is predicted they will do the same globally. Ernst & Young has also predicted that by 2045, non-EV vehicles will only account for 1 percent of the world's total vehicle sales.
And that turns our attention back into what's going on here in Clear Water Bay, and how we're about to get up close and personal with the future of motoring. So just how "smart" are these new smart cars? #legend decided to ask the XPeng P7 directly – and we soon found out.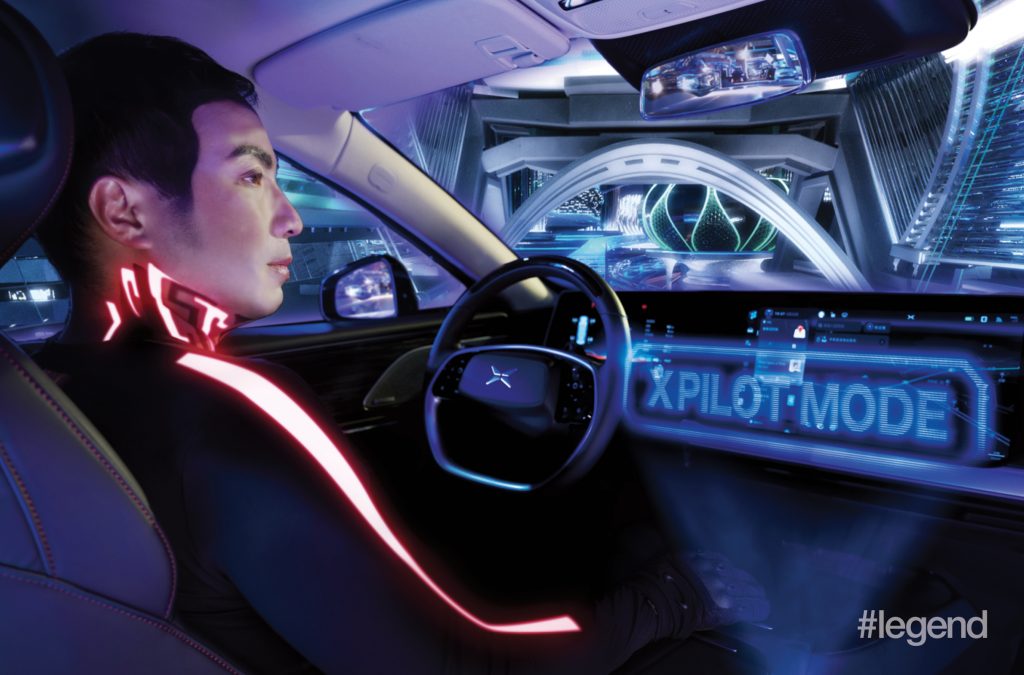 Hello XPeng P7. Can you introduce yourself to #legend's readers and tell us what makes you so special?
Where do we start? I've an in-built neural network, an intelligent cockpit command centre to coordinate both the driving and the in-car experience that includes intuitive interaction, and an advanced driver assistance system to support advanced autonomous driving functions. How's that for starters?
Hang on. You can drive yourself?
You have obviously been reading the news. A bunch of us just finished a 3,000km navigation-assisted autonomous driving expedition which has been heralded as "China's longest real highway autonomous driving challenge by mass-produced vehicles". We took to the road between Guangzhou and Beijing and covered 2,930km of highway under the control of the NGP (Navigation Guided Pilot). There was only an average of 0.71 human driver interventions per 100km – a record for long-distance autonomous driving by mass-produced passenger vehicles. So, yeah, I think that proves I can drive myself. But driver's suspension is required by law.
And parking? Please tell us you can do the parking!
It goes like this. I can remember your usual parking space, and I can go into auto-drive across the last kilometre to get there. That's because I've recently been upgraded with Valet Parking Assist (VPA). This allows me to memorise up to 100 different parking places (but only one for each parking lot) and the routes to get to them.
So how does it work when we hit the road?
There's an anti-cut-in function for urban areas that maintains stable motion. When we're out on the open highway, the XPILOT 3.0 function allows us to tap into autonomous driving. Or I do. You just kick back and relax while I find a cruising speed that's comfortable. I can even slide into the best lane for you – all by myself.
Can you throw us some technical specifics?
Well, my makers tell me my driving range can be as far as 706km – via testing standards laid down under the New European Driving Cycle (NEDC). So that's a decent old trip before you have to recharge. I can also go from zero to 100km/h in 4.3 seconds, which is around the same as any luxury German sports car.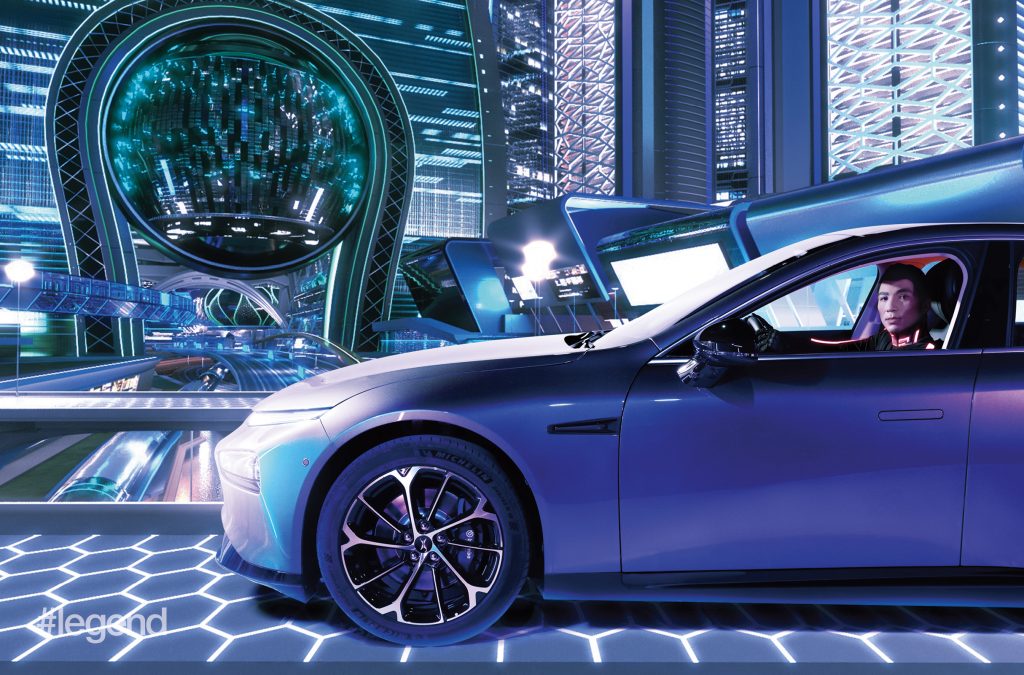 Does anybody understand the electrics?
If you're not a tech-head, just know there's a huge and very efficient battery that does all the grunt work. If you are a tech-head, the powertrain for my P7 High Performance model reads thus: dual electric motors, 80.9kWh lithium-ion battery, all-wheel drive.
We hear there's excitement about the games you can play.
What are you after? I've got access to all kinds of apps, as well as video, gaming, e-commerce and music. All when we're safely parked, of course. There's a built-in racing game for when we're stationary, and it lets you use my steering wheel and controls. I can also give you access to all manner of video streaming services, and rentals for in-car entertainment or infotainment.
How is it even possible that we are communicating?
Yes! Now we're talking. And literally. I'm the first vehicle off the XPeng factory line to be powered by the Nvidia Drive AGX platform. It's all about AI and it features the Xavier system-on-a-chip (SoC). So I come equipped with 12 ultrasonic sensors and five high-precision millimeter-wave radars. You'll also find 13 autonomous driving cameras and one in-car camera with HD map and high-precision positioning. Impressed? It can all be driven by speech (or voice) recognition, natural language processing and text-to-speech functionality.
We felt a bit of a Tron vibe at the shoot today. Who are your cinematic automotive heroes?
Now it's you who's trying to be clever. Tron was more motorbike than motorcar, of course. KITT from TV's Knight Rider was the OG here – as he could also talk, and he could put on a light show. Speed Buggy – for anyone who's old enough – could talk too, but he always played things for laughs, and sometimes that can be dangerous on the road. My real hero was Harrison Ford's custom-designed "Deckard Spinner Sedan" in the immortal sci-fi classic Blade Runner. That motor really could fly.
So what's your official mission statement?
That's easy. My mission is to drive Smart Electric Vehicle transformation with technology and data and to shape the future of the mobility experience.
Nice. Anything else we should know?
Sure is. Don't miss my light and music show. You can pick the tunes (or leave it to me). I've got a strip of LED lights across my front, and I can match them up with my lower driving lights – and together we can make some magic. #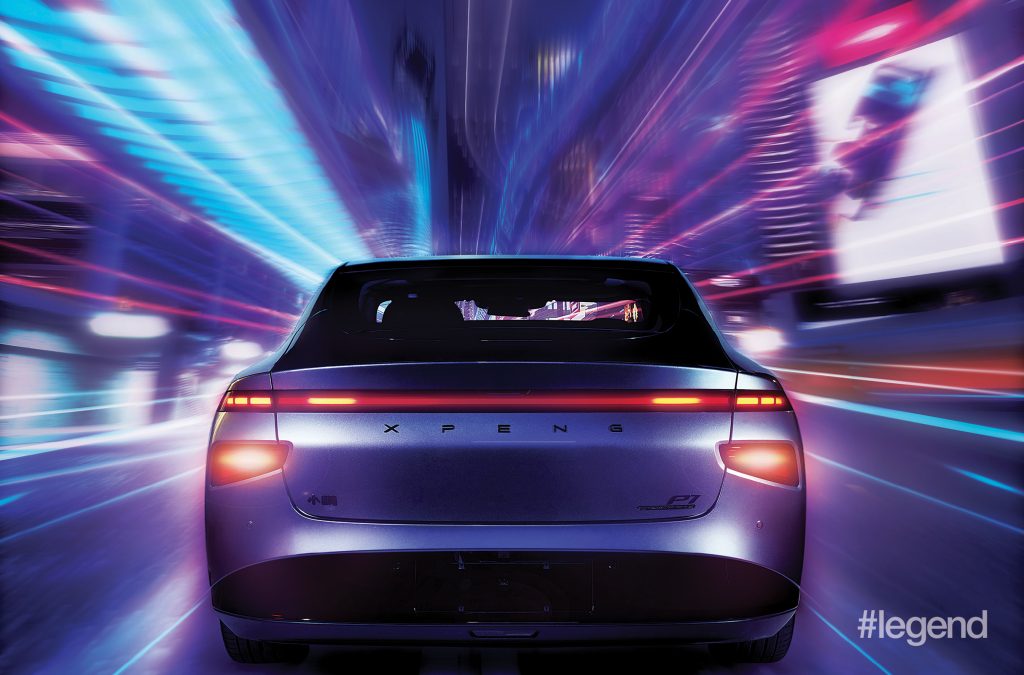 CREDITS
Creative concept and production / #legend
Creative Direction / Gordon Lam
Photography / Gordon Lund
Grooming / Karen Yiu
Grooming Assistants / Cindy Lai and Abbie Cheung
Vehicle Logistics / Eric Chan at CBR Media
CGI / Gusto Labs
Project Management / Ryan Lao and Nicholas Lau
3D Artist / Jimmy Ng
Digital Artists / Li Wai Kit and Cheng Ka Shing
Location / Shaw Studios