Cover story: Taiwanese singer-actress Vivian Hsu on her journey, challenges and inspiration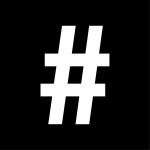 By: Zaneta Cheng
June 1, 2021
With a single set to release this month, a movie to hit the screens in November, after launching an album and a hit Netflix movie last year, the Taiwanese-born star remains a singing and acting force to be reckoned with. She talks to Zaneta Cheng about hard work, overcoming challenges and why she will always be grateful for a career in the entertainment industry
When Vivian Hsu won first place in the 1990 Talented Beautiful Girl contest held by Taiwanese broadcaster China Television company, she knew she would be in it for the long haul. 31 years later, Hsu has worn almost all the hats there are to wear as a performer in the entertainment industry. From idol singer to model, actress, soloist, lyricist, and now movie producer who is as beloved in her homeland Taiwan as she is in Japan and Hong Kong, Hsu is the first to surmise that she was one of the very first iterations of today's multi-hyphenate.
In the beginning, Hsu had no choice but to stretch her time in the entertainment business beyond its 15 minute average. "I have this concept that the one earning money should take care of the family so I entered the entertainment industry when I was 14 in order to support my family," Hsu says. "I was raised in a very poor household with a single mother and was one of three children. My mother showed us how she took care of us all by herself and she never complained about it. She treasured and took whatever opportunities came and she even worked two jobs in a single day in order to earn money so that she could take better care of us. I think that set a very important example for me because I in turn treasure every opportunity I get be it in work or daily life."
And so from 1990 onward, Hsu has been working, taking any chance she was given. First she was part of a girl group "Girls' Team", which disbanded after releasing two albums in 1991 and 1992. Subsequently Hsu went into modelling and produced photobooks of herself in 1995 and 1996 at the height of her modelling career. Leveraging her popularity, Hsu embarked on a solo singing career at the same time, releasing her first album "Tianshi Xian" in 1996, which she sang entirely in Japanese and, after a crash course in Korean, re-released the same album in Korean titled "Cheonsa Misonyeo".
In the following five years she would form a band with Japanese comedians and vocalists Black Biscuits, disband and release three Chinese language albums and one more Japanese one all while working on two to three films per year. In 2001, she appeared in The Accidental Spy with Jackie Chan and starred in three more Hong Kong productions before expanding in 2006 into Chinese-Hong Kong romance The Knot.
"Each professional role I take on represents a new challenge for me and a new opportunity to learn" says Hsu over a WeChat call. "It also represents the possibility of me bravely trying new things again and again."
Today, the much accomplished and respected singer and actress is a breath of fresh air even on the phone. Prior to our call on a 10:30am morning, her greetings come in the form of a slew of cheeky stickers in the group chat. There's one where a man is taking off his sunglasses to say hello only to reveal a pair of sunglasses beneath. There's another with a man slyly skateboarding past and once everyone agrees to start the call, she sends over a sticker of Zach Galifianakis flying past palm trees on either side with arms outstretched Superman style. It certainly doesn't seem as though I'm talking to one of the most revered performers of Hsu's generation and apparently, according to Hsu herself, she doesn't hold her years over anyone, not even herself.
"I actually treasure every work opportunity I have. Although I've been working for such a long time, my heart is still as young as it was 30 years ago when I was still a child. I take every job and every member of staff very seriously.
"To be frank, I entered the entertainment industry when I was 14 years old and I never had the opportunity to try any other type of job. I actually have no idea what other kind of work I might be able to do. This is why I hold my career in the entertainment industry very dear – each job, and each moment. I'm still very serious about every single job I can get because I'm afraid that if there happens to come a day that I'm cast out by the entertainment industry, I won't know what to do for work. I put in lots of effort so that I will not be abandoned by the entertainment industry and can do it forever, until I'm very old."
This is said in equal parts seriousness and jest. Ageing remains a serious obstacle for women in any industry but particularly in Hsu's industry where tides of the next bright young things rush in to the detriment of more established female performers.
"Although I've been working for such a long time, my heart is still as young as it was 30 years ago. I take every job and every member of staff very seriously"

Vivian Hsu
When asked for her #legends, Hsu cites Teresa Teng and Anita Mui, both female performers who had long illustrious careers on the stage. "These two women are irreplaceable to me," she says. "During the eight years I spent working in Tokyo, Teresa Teng was my idol. I wanted to be as unique and successful as her. She was also my senior and treated me so well. Although we didn't meet up very frequently, she would call me for a get together whenever she was back in Taiwan and I really enjoyed spending time with her.
"Anita Mui is another figure I look up to. For me, she was like a really cool older sister. She would almost take care of people like a man and I think I saw her not only as a big sister but also a big brother. She took care of a lot of younger singers as well. I still listen to her song 'Intimate Lovers'. It's one of the songs I play the most on my playlists and I think of her whenever it comes on. I think I just want to be like her – not only to stay in the entertainment industry as long as she did but to take care of younger singers like a big brother or sister the same way she did."
With two movies just out however, a single on the way and plans to stage a solo concert, age is really the least of Hsu's concerns.
"The best solution is to not think about age," Hsu says. "Age is not something I consider restrictive. Attitude is more important. The most important this is that one treats everyone and everything sincerely and seriously. If you spend too much time thinking about the problems of ageing it leads you nowhere. Just go and do it."
Hsu speaks from experience. After all, she's encountered worse. In her own words, "20 years ago, I loved to sing and I was mainly developing my career as a singer. Unfortunately I ran into this problem where I was frozen and so I switched gears and began working as an actress. I told myself that I was made of steel and I had to just make it work on my own. I actually call myself Steel V, and I really am my own cheerleader."
It's very well talking about it with twenty years of success since then but asked to recall what it was like at the time, Hsu admits it was one of her lowest moments. "It was a truly unbearable experience," she says. "These types of experiences make you judge yourself and question your life decisions. They were an inevitable part of the process so I definitely bawled my eyes out at home but I'm the type of person who looks for solutions after letting out my emotions. It's probably a result of the training I had at home. I spent time thinking about why this happened to me – who wouldn't – but I still needed to live and take care of my family so I had to find an answer for this business problem. And I really believe that life never cuts off anybody's path and it's just a matter of finding a different way out.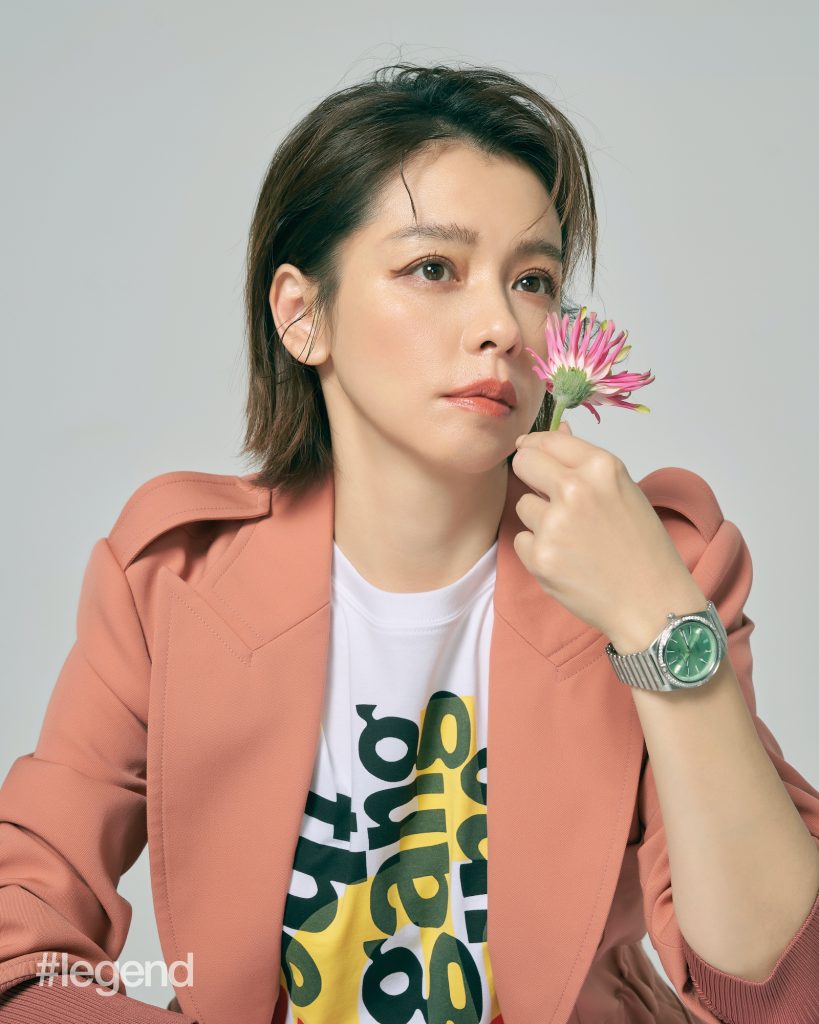 "But that philosophy only applies to those who are willing to look up so that they can see the light and the opportunities and stand up again. It would be hard for those who don't even raise their heads when feeling down. It's hard to save yourself but we have to train ourselves to be strong enough to do so. Strength is like a muscle. You have to exercise it often to protect yourself when life doesn't go smoothly because it's hard for others to save you. Nobody can be there for us every second of every day."
And exercise that muscle she did resulting now in an extensive filmography that spans Asia. Not that Hsu wants reminding of her earlier forays in film. "Don't discuss my earlier work with me," she says with a laugh. "I shot a lot of movies at the same time I was trying to build my career in Japan so I was working with Black Biscuits three days a week and for the other four days I had to fly to Hong Kong to shoot for two days on set before flying back to Tokyo. In addition to the language barrier – I couldn't understand Cantonese– the pace of a Hong Kong crew is very quick so before I knew it, it would be my turn to speak. Looking back now, I had no idea what acting was, I was just reciting my lines."
"If I didn't have this job, I would have no way of taking care of my mum the way I have been able to nor would I have been able to raise my family's quality of life. Entertainment is akin to my best friend"

Vivian Hsu
It wasn't until Hsu participated in The Knot, a Chinese film set in the 1940s, directed and produced by Yin Li who taught Hsu how to prepare for and embody her character who faced separation from her lover possibly never seeing him again. "That was the first time I saw myself behave very differently in acting but I wasn't able to take myself out of the character once I got myself into character," Hsu recalls. "Actors would be able to retract themselves from their roles when work is over. It's very dangerous if they don't stay in that state. I hadn't taken any acting classes at that point and we were shooting from midnight to noon the next day and even though I only had four to five hours rest periods I couldn't fall asleep and would cry and take sleeping pills. It was only when I participated in Sex Appeal in 2014 playing a lawyer, which is not an industry that normal people understand or come in regular contact with, that our director Wang Wei-ming insisted that we all take acting classes that I finally understood how to again, prepare for a role and finally how to take myself out of it."
Since then Hsu has caught the acting bug – "later I got married and gave birth to a child but after five years, my desire to act is back in full force."
In 2018, Hsu returned to the silver screen in The Tag-Along: The Devil Fish, a family tragedy and in 2020 played Chen Wan-yu in Little Big Women, a movie about a family processing the death of an absent father. "I remember when the director came to me for the first time with a script where the character was the second sister in a family whose father had left them in childhood and who was living with an aunt who took care of her growing up. I connected with these similarities so I felt in a way destined for the part and the screenplay is one that's very close to my heart" Hsu says.
Recently, Hsu wrapped up filming Mama Boy where she plays Lele, a single-mother working as an assistant manager at a sex hotel where she meets Xiao Hong, a younger man with whom she falls in love and helps her come to an understanding about romantic relationships as well as the one with her son. Perhaps it's because that she is now mother to Dalton, a five year old boy she had with husband Sean Lee that she is drawn to maternal roles albeit with a twist. "Every time I analyse a character for shooting, I get to absorb and take part in experiences that I wouldn't otherwise in my own life so I think acting can actually play a role in transforming me into a better person because I learn lessons from the actions of others through putting myself in their shoes."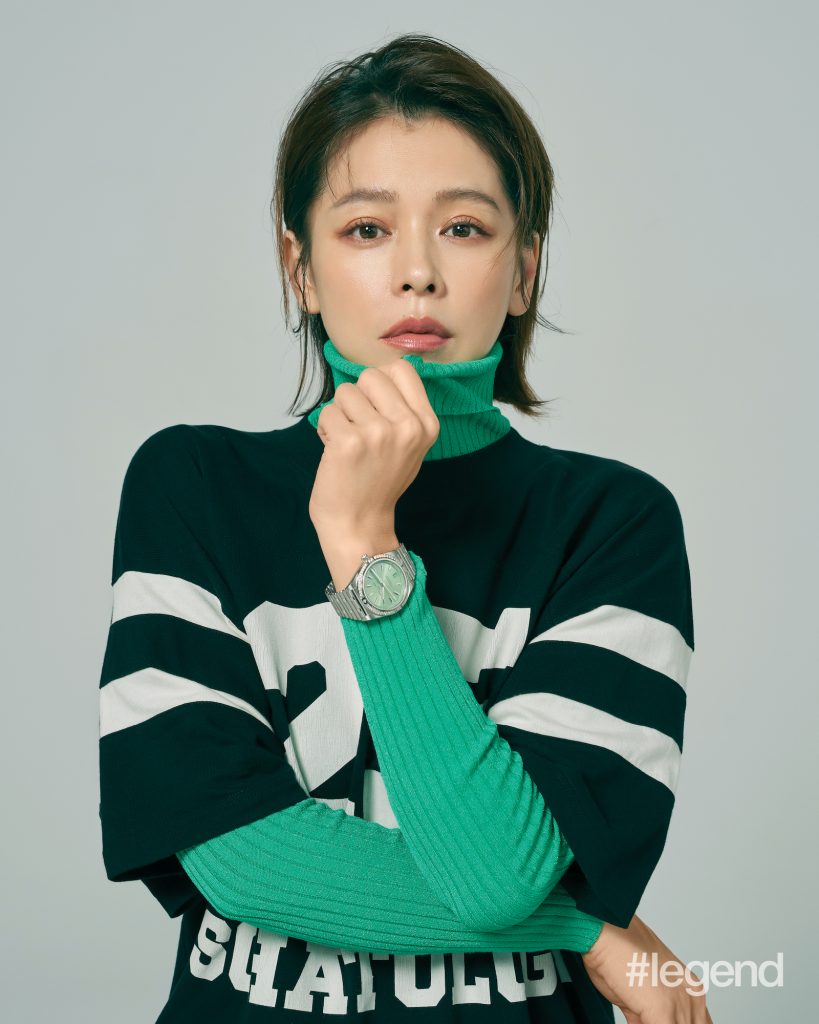 In her own shoes, Hsu released I'm V, an album that marks her return to music which includes 15 of her greatest hits alongside five new songs in September. "I'm V is an abbreviation of 'I am Vivian' and the album links my entire musical journey," says Hsu. "The five new songs are all new attempts for me. Others is my first attempt at a Hokkien song and I've experimented in epic rock, lyrical rock and 80s retro synthesizers alongside singing with aboriginal notes to create a different style, which has been really enjoyable."
With a single due to release this month, an upbeat rock tune, Hsu is not looking to slow down. "I hope to hold a personal concert to thank my fans, old friends and new friends who have supported me for 30 years. I hope that there will be a big stage for them to sing and perform well. This is a new goal I set for myself this year."
Despite setting better boundaries between work and family, the star remains focused on her craft. "I've been such a workaholic that if I wasn't forced to stop I would just keep working. Thanks to the pandemic, I've been able to spend half my time at home and half my time working" she says. "It needs to be fair."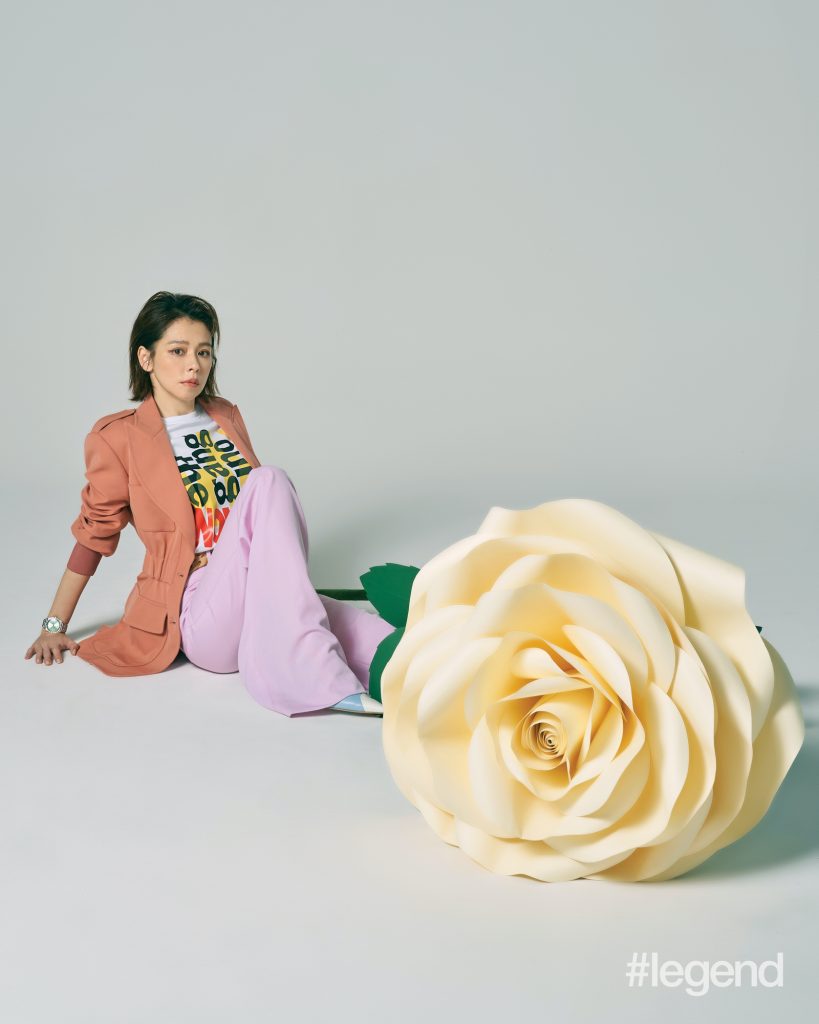 And fair she is. Listening to Hsu speak about the entertainment industry, one can't help but feel moved by the depth of feeling she clearly has for it. "This industry is my benefactor. I will not abandon this benefactor that has given me so much," she says simply. "If I didn't have this job, I would have no way of taking care of my mum the way I have been able to nor would I have been able to raise my family's quality of life. It's been with me for three decades, which is longer than many marriages.
"It has been with me from the time I knew absolutely nothing and has given me the opportunity to learn to sing, dance, write lyrics, learn Japanese, learn to be an emcee. I have always had this friend beside me and it's seen me from the time I was a blank slate and seen me grow so entertainment is akin to my best friend, the friend who understands me the most."
Follow Vivian Hsu on Instagram @vivianhsu.ironv
CREDITS
Photography / Liang Su
Videography / Sid You
Styling / Eddie Yeh
Hair / Sunny Huang
Make-up / Jenny Lin
Styling Assistant / Michelw