Cover story: MINNIE of (G)I-DLE on her musical influence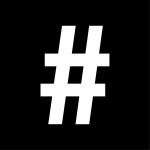 By: Zaneta Cheng
October 8, 2021
After seven years away from home, the K-pop girl group star and up-and-coming actress is spending some quality time in her native Thailand. She talks about how Hallyu has influenced her thriving career and why music is her greatest solace
It's been a while since Hallyu – aka the Korean Wave – first took the world by storm. Over the past two decades during which South Korea has been exporting its cultural offerings, millions of fans have been influenced by the East Asian country's movies, TV shows and music groups – with many aspiring to be just like their favourite idols and singers.
A majority of these fans end up joining clubs or performing to their hearts' content in their showers or karaoke rooms. Some will try their luck auditioning for idol training, but very few end up like MINNIE.
Born Nicha Yontararak in Bangkok, the 23-year-old Thai singer, songwriter and actress who debuted in May 2018 as "MINNIE", a member of Korean girl group (G)I-DLE, comes from a family of musicians. "I grew up with music," she says cheerfully. "My uncle is a very famous pianist and people often noticed my last name and would say, 'Oh! Your family is a musical family.' This includes my mum. My mum learned piano from my uncle and she inspires me a lot. I still will wake up in the morning in Thailand and hear my mum playing the piano, even now.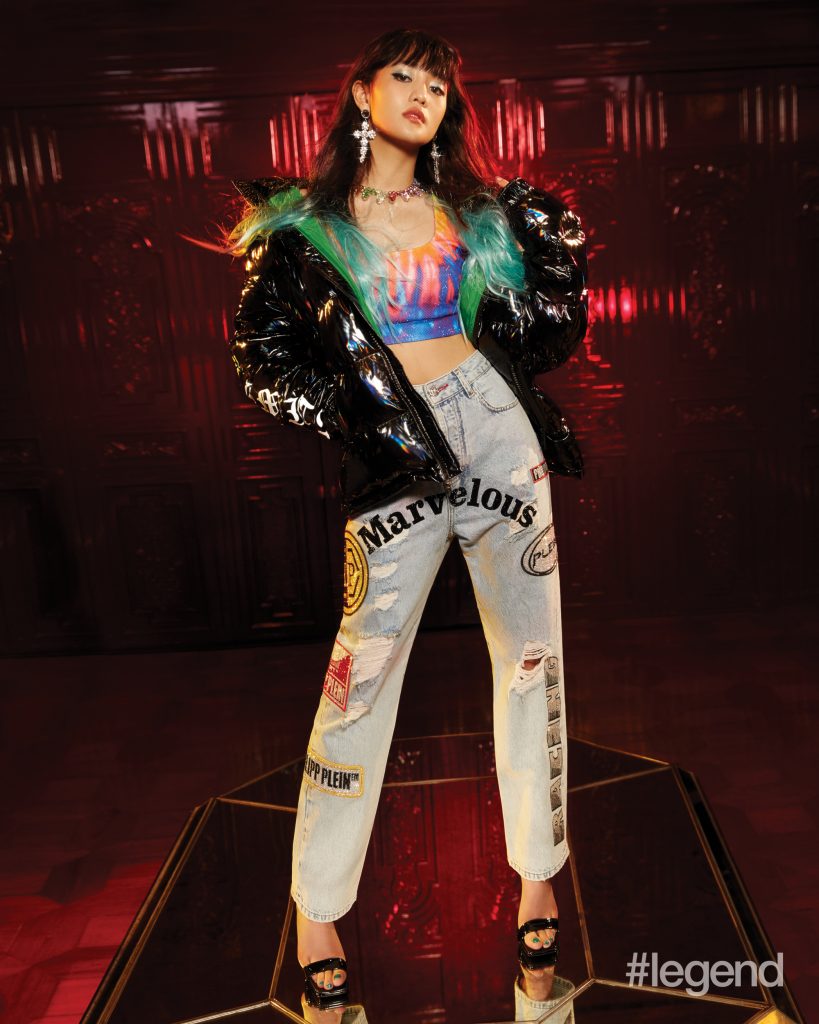 "When I was little, I started playing the piano at four – classical music. But when I turned 11 or 12, my mum was always nagging me to practice. I'm quite a lazy person and didn't want to practice – but you have to practice a lot with classical music – so my mum spoke to my piano teacher and asked for me to play pop and jazz styles. Since then I switched and started learning chords, which works well for me now as I can use this knowledge when I compose."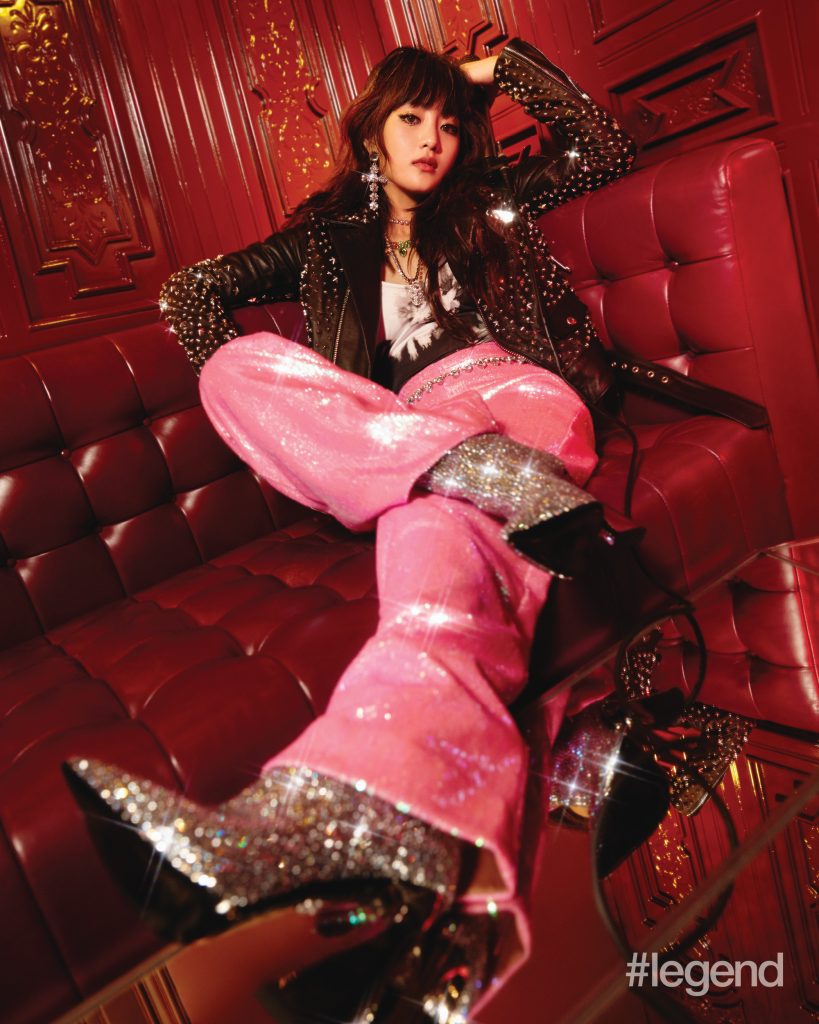 It's 9am in Bangkok when MINNIE speaks to me over Zoom in fluent English. Her hair is in curlers, her make-up is barely on – pre-glam MINNIE is a beautiful fresh-faced young adult, who is so approachable one would have a hard time realising she's been training to sing and dance alongside learning Korean, Mandarin and Japanese since she was 17 and is fresh off of filming her first television series, So Not Worth It, which premiered on Netflix in June.
The series, lauded for its multinational cast, saw enthusiastic reception for MINNIE, who not only captured the hearts of many in her blonde hair and cute, quirky outfits but also won the respect of viewers with her acting skills. "It was actually my first time acting and I was super excited but also very nervous," MINNIE recalls. "I tend to watch a lot of behind-the-scenes clips of movies that I like, to see how they work on it and how the actresses and actors act. I thought it would be nice to have the chance to act myself, so I was really excited to have this opportunity and learn a lot of new things."
The experience, according to MINNIE, was in stark contrast to her idol training. "When I'm singing or performing on stage, I need to be confident and I need to find the camera and look into it. But when I'm on set, acting for a series, I can't look at the camera," she says. "Instead I need to be extra aware of my gestures. For example, if I'm acting a scene where I'm sitting down and taking a bite of tteokbokki (spicy rice cakes), when I have to do another take from another angle, I need to do it exactly the same – which is very hard – like, how can they remember every thing, every movement? But yeah, I learnt to do that."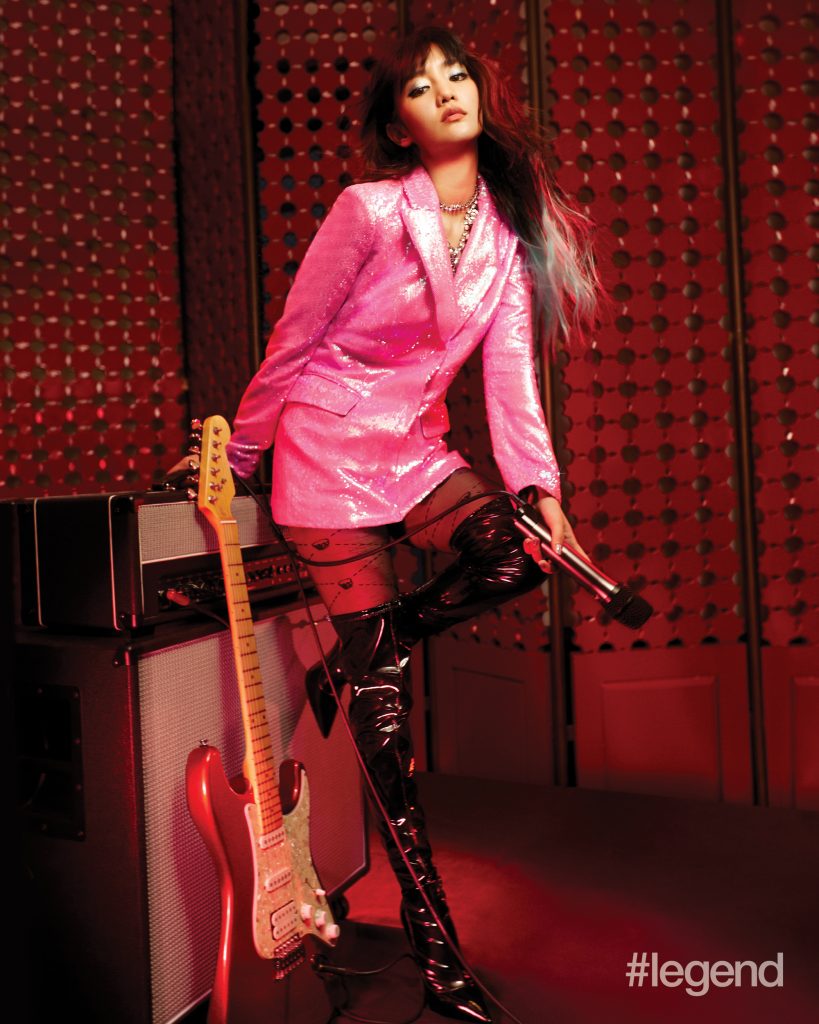 Given only one month to prepare for her first-ever acting project, MINNIE took classes. Portraying a Thai student navigating the foreign Korean culture might be close to MINNIE's own lived experience but the trick was to create a character that was separate from the actor's own personality. To do so, MINNIE and her coach worked on vocals, raising MINNIE's character's voice (also named Minnie) a few notches and working on her Korean pronunciation.
Something MINNIE had to really work on was her cursing skills. "It's kind of hard to be half myself and half someone else. I needed to build up the confidence to be that other character," she says.

"My coach would ask me to look in the mirror at myself and curse very loudly because he needed me to be confident when I did so. I'd look at him and say, 'Can I actually say that loudly?' and he would reply, 'Just do it!'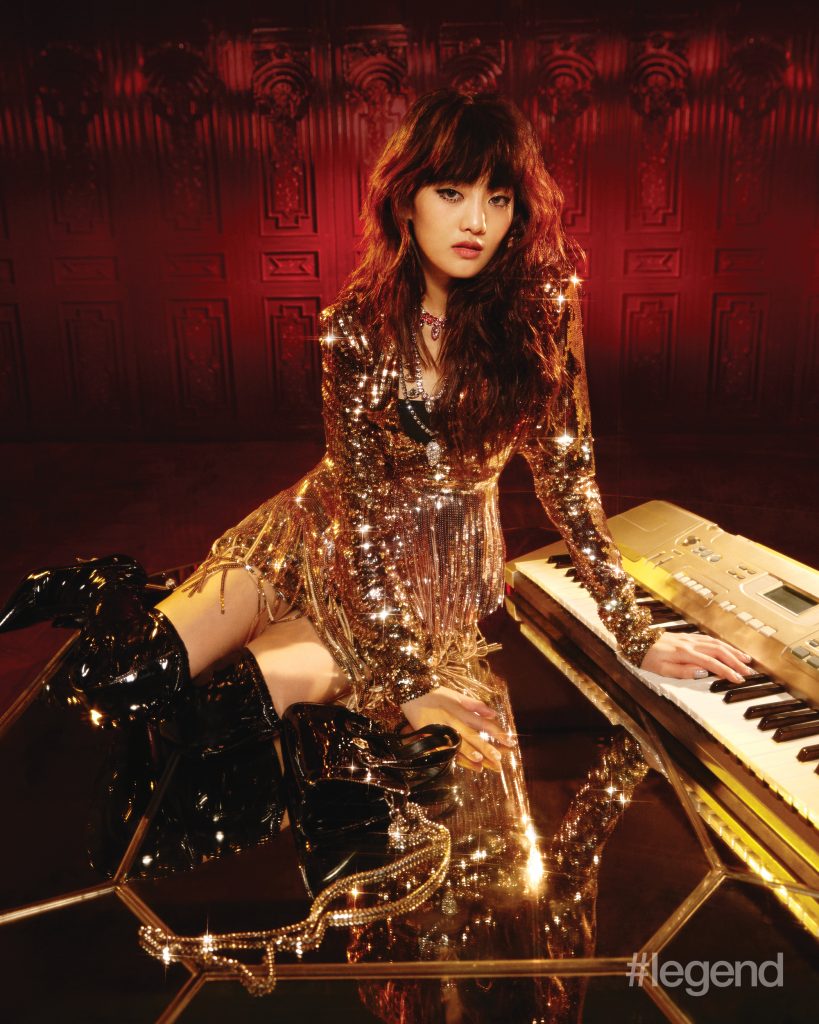 "At first I was uncomfortable cursing all the time but after I worked on it and did it a lot for the show, I kind of got used to it. After I cursed, the staff, the directors and my coach would laugh, which made me think it was quite funny because I'd swear and everyone would smile at me."
It's a long way from the days when MINNIE would sit at home aged 11 watching Korean pop group Super Junior, whom she points to as her #legend. "I've been a very big fan of all of the members of Super Junior since I was young," says MINNIE, lighting up at the very mention of them. "I wanted to be like them and I wondered how they could become such legends in the K-pop industry. So, I went to Korea and I became a K-pop singer like them. They're still working as a team, and I've learnt that it's hard to be successful idols like them. It's not easy at all because there are a lot of K-pop groups that debut every day and it's an achievement to be globally famous and stay on top for such a long time. They've been active and successful for over 10 years and they're still touring. I went to their concert – I think in 2019 – just two years ago."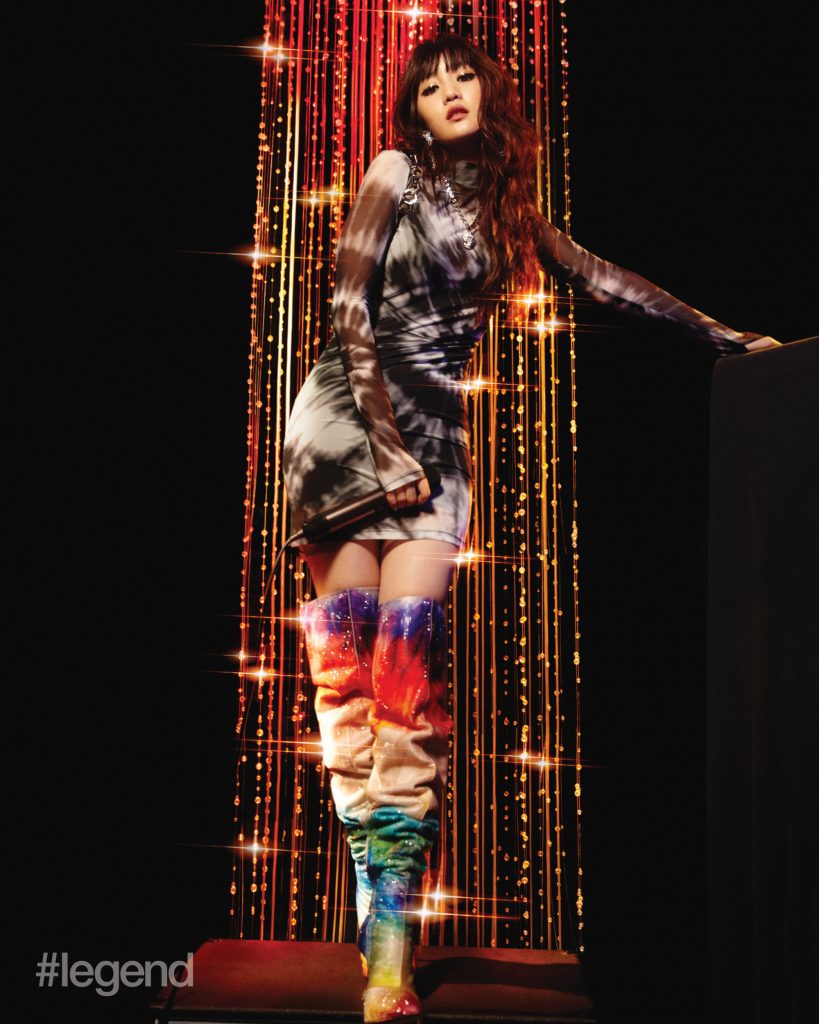 When MINNIE flew over to South Korea in 2015, having participated in the Cube Star World Audition in Thailand the September prior, she had her musical training at Grammy Vocal Studio, a music academy in Bangkok, which she went to after day school. Despite spending hours on musical training, her arrival at the Cube trainee complex plunged her into a programme that taught her singing, dancing and composing full-time. "I had always wondered how idols prepared themselves to perform with such talent and to be so perfect and so I got to learn everything – the whole process. It's definitely not easy; you have to be very detailed and practice."
Six years in, and three years since her debut with (G)I-DLE, MINNIE is well-versed in the rigours of a K-pop star's life. While she carries it sunnily, it wasn't always easy for the Thai musician who came to the city speaking and understanding no Korean. "I think the first year was very tough for me because everything was so new," MINNIE recounts. "It was my first time going to Korea alone without my parents. The culture is new – the food, the language, everything. I only knew 'Kamsamnida' and 'Saranghaeyo'. That's the only thing I knew so I had to really step up my Korean while also learning to cope with the new environment and more."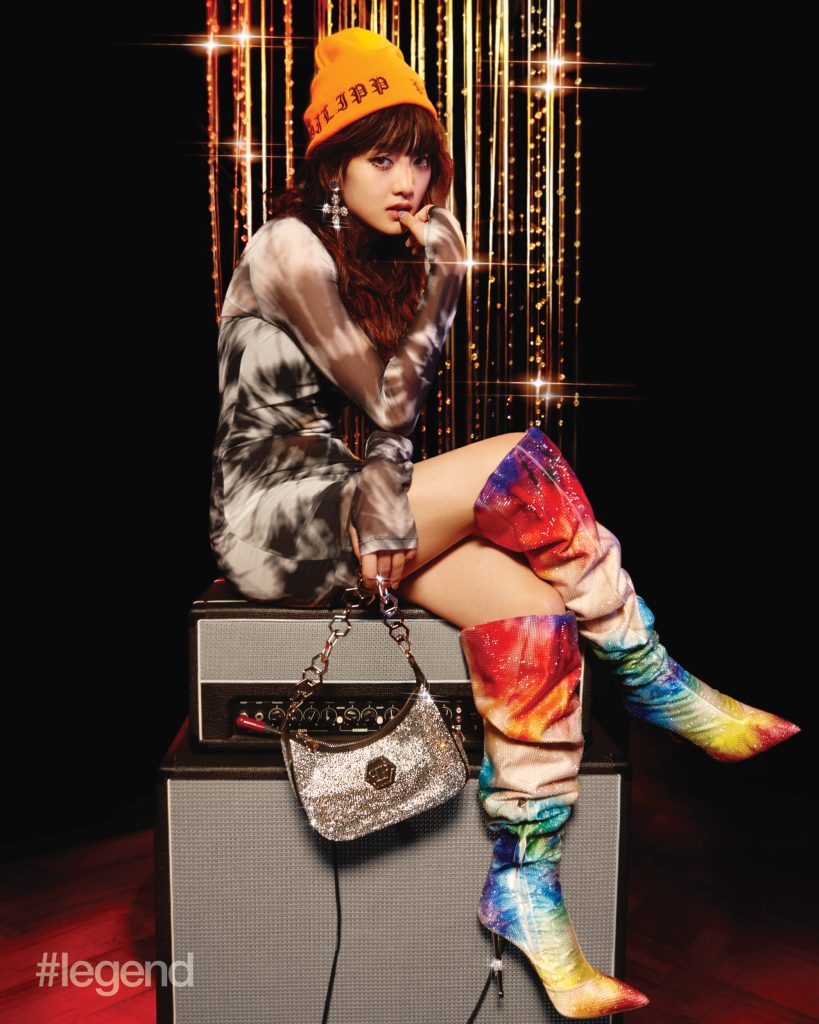 The foreign trainee was also unaccustomed to the many cultural nuances that her new home required of her. "In Thailand, we don't let everyone know we're about to eat or that we've finished but in Korean we must say, 'jal mŏk gessŭm ni da' before eating and 'jal mŏg- ŏssŭm ni da' afterwards," MINNIE explains.
"I think once my Korean improved, and I could speak to other people and made some friends, everything became easier and after that I really enjoyed being a trainee in Korea."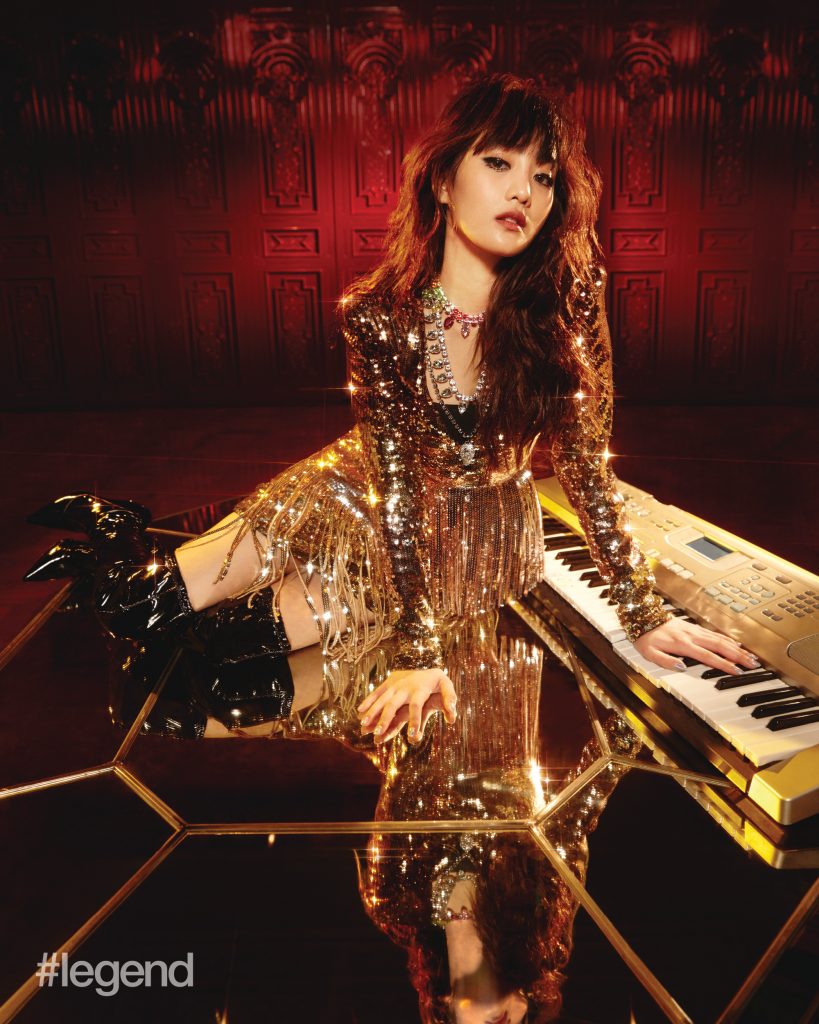 These days MINNIE is thriving. With 1.4 million followers on Instagram, the only thing she is unused to is the inability to interact with fans the way she once did as a result of the pandemic. "I think because we used to meet our fans all the time, after the shows or even during the shows, we got to meet them very often. But since Covid, we haven't been able to meet and I miss them so much," MINNIE says. "I understand that it's very hard to meet in person now but I hope that I can meet them again soon because they give me a lot of energy during a show or when I'm on stage. It's totally different when fans are there or not. We need our performances to be very energetic and very confident in front our fans, but after Covid, we couldn't perform in front of our fans and it felt very empty."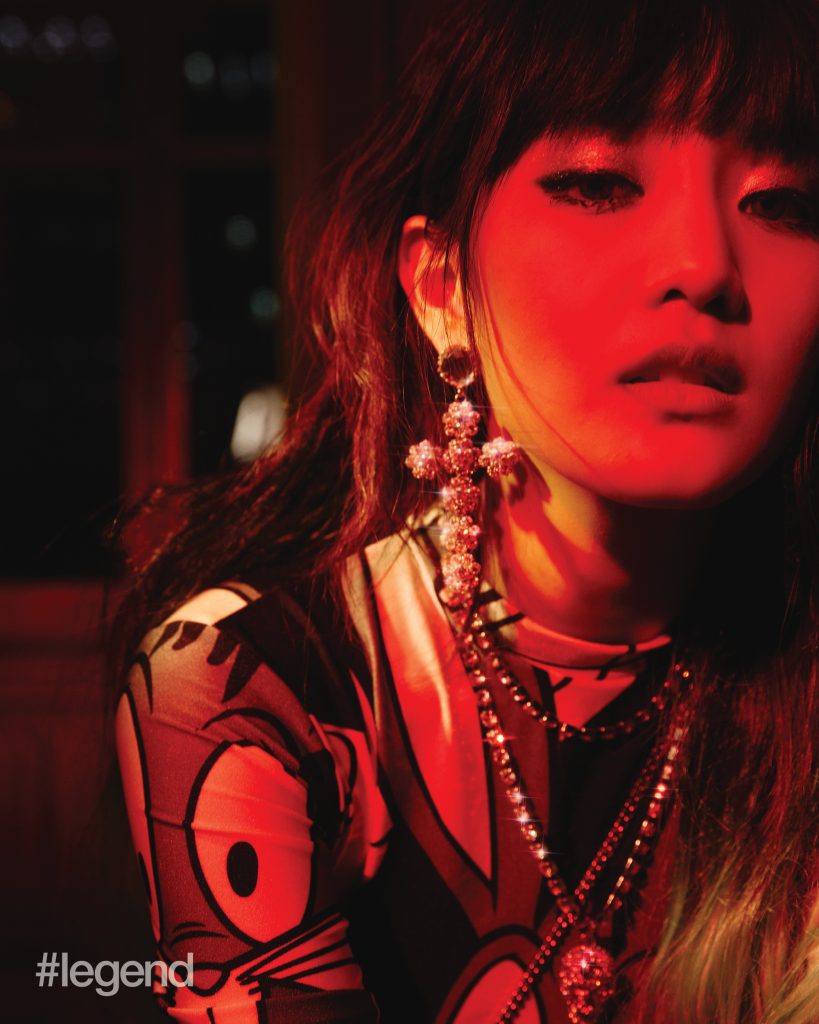 Emptiness is an idea MINNIE has explored through her songwriting, a skill she studied as a trainee. Her song Tung Tung looks into the hollow feeling that she would get after finishing a day of work and performance. "After everything ends, be it an album or a song, I get back home and sit in my room alone, and it feels empty. I think it's a feeling that everyone relates to," says MINNIE. "I think everyone gets this feeling, you know, maybe after being constantly busy and then not, or when I go back to Thailand and spend time with my family and then sit on the plane back to Korea alone – I feel a bit hollow. I hope that everyone can relate to my song and it would be nice if I can create something of my own to express myself and my feelings."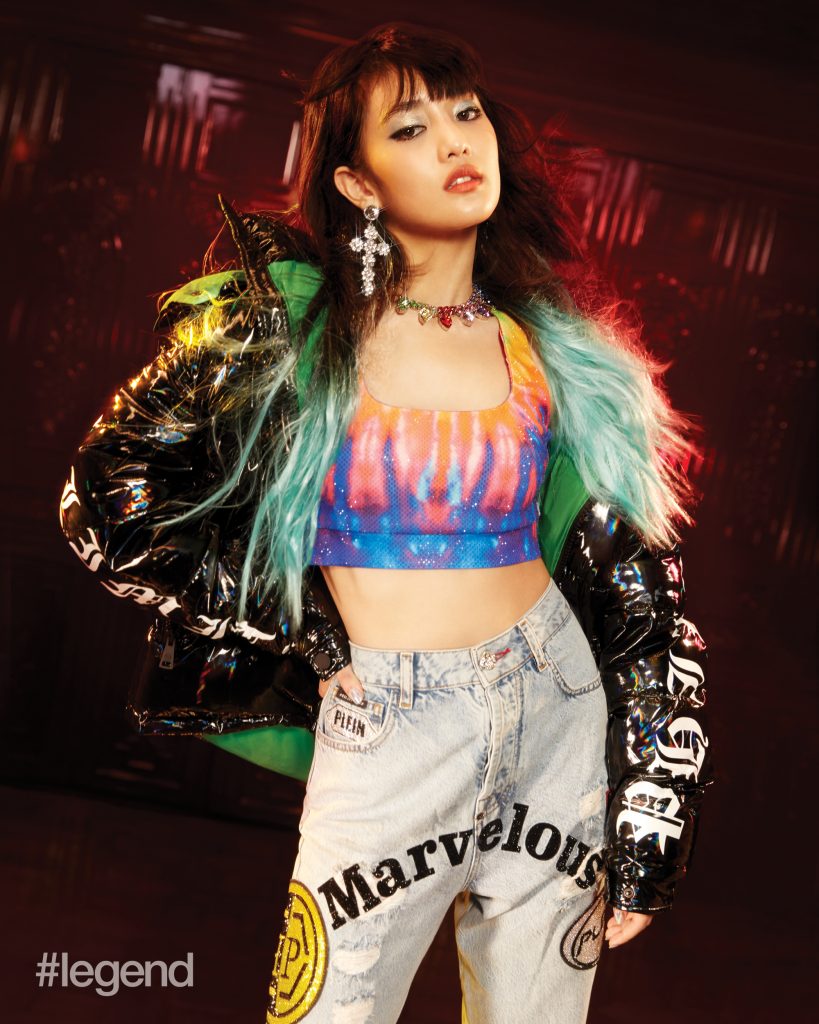 Perhaps a result of her extensive musical ability and background, MINNIE was never just going to be an idol who performed work by others on screen or stage. For the singer-songwriter, music is the way she herself communicates. "I composed even just yesterday. I'm trying to write more songs. I keep writing songs when I have the time or if I'm in the mood to write," she says. "I think it's super cool to create something I really like or something that's just for myself because I don't write in a diary. I listen to a lot of songs and if I'm into a song, I'll listen to it on repeat. For example I listened to Troye Sivan's song Bloom over and over and then I switched to another song. But later when I listen to Bloom again, I'd be able to recall what I was thinking or doing when I was listening to it non-stop. So I think I use songs as a journal in a way."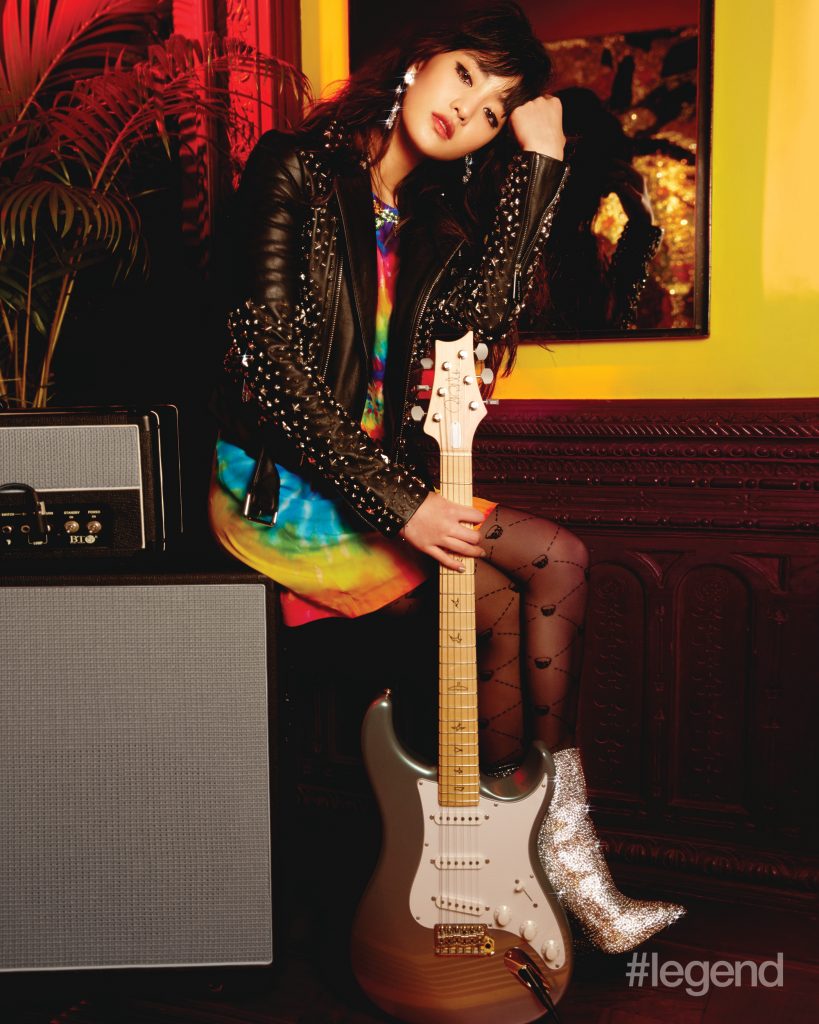 So the pandemic hasn't been all bad. In addition to more time spent with family in Bangkok, being able to compose and posing for cover shoots, MINNIE is, for the first time in seven years since she flew to Seoul to train as an idol, celebrating her birthday with her family. Not that those seven birthdays apart weren't special. They marked milestones in her career and the growth of her roots in the Korean capital.
"I spent those birthdays with my group members and friends in Korea. I was always working on my birthday. Like last year, I performed in a show and after that I went to my friend's house to celebrate my birthday," MINNIE says. "I spent my birthdays with my Thai friends Lisa [Manoban of Blackpink] and Bambam [of GOT7] and last year Shu Hua, our youngest member, made me a cheesecake just because I had mentioned that I'd like one."
But for MINNIE, this October will be her first birthday at home since making it on the K-pop scene. "I'm really looking forward to it. I think I just want a nice dinner with my family," she says. "It might sound very simple and basic but for me it's been a long time since I moved to Korea, so spending time with my family is very special and precious."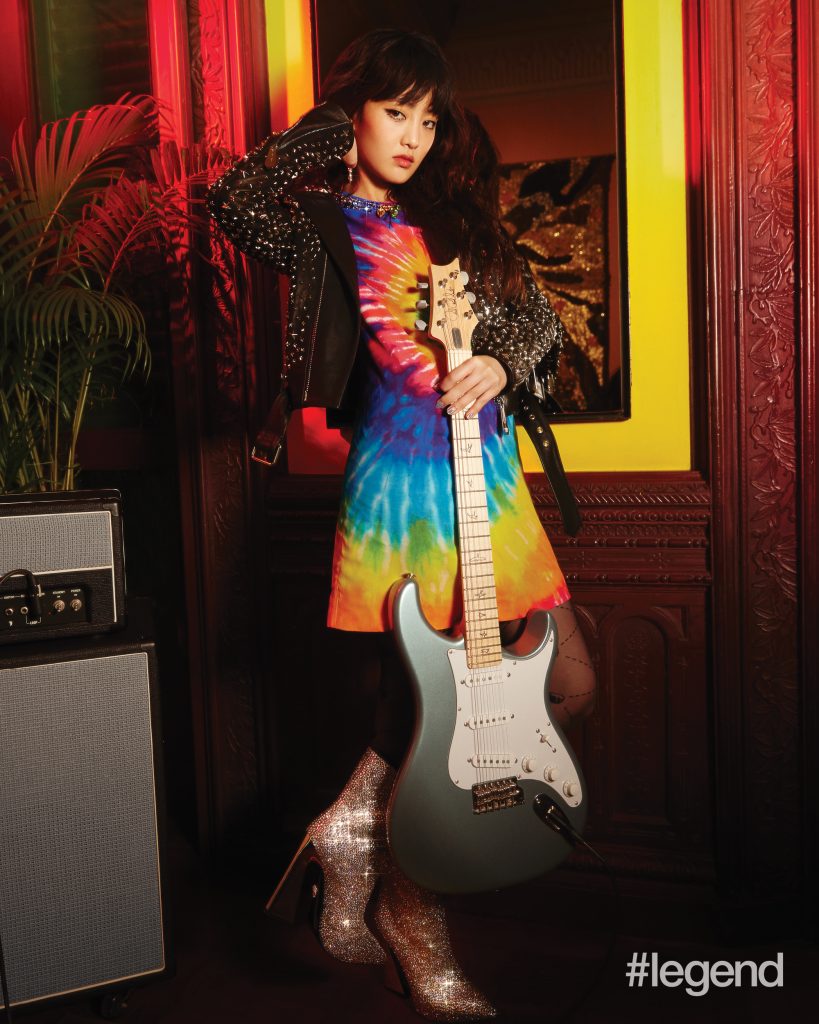 And while she's looking ambitiously into the future – dreaming of world tours, more albums, songs written by herself, drama series and movies – she's cheerfully relaxed. It seems that more than singing or dancing, her seven years of training have taught her that "being yourself is the best thing – don't pretend and try to be someone else," she says. "I think by being yourself, someday, other people will notice you – will notice how much effort you put in, how much you tried hard to get there. I think everyone has their own colour and they're all different. You don't have to try to be like anybody else. It's okay to pick a few good people that you like. Basically you have to be yourself always. Don't give up, just be yourself and try to be the better version of yourself every day, and people will see you for who you are."
With that MINNIE resumes her make-up, which transforms her from what might seem a happy schoolgirl to a songstress, ready to go on stage. Is there anything she cannot do?
CREDITS
Creative Director / Gordon Lam
Photographer / Waroon Kieattisin
Stylist and Production / Jo Heng
Video First camera / Jakrin von Bueren
Video Second camera / Payu von Bueren
Editor / Jakrin von Bueren
Hair / Santiphong Khwanseng
Makeup / Chaidit Somsong
Sound design / Pitichanok Sukumalchantra
Assistant Photographers / Sitthiphon Thittitham & Rachapoom Yeamnet
Styling Assistants / Arrisa Arsannork (Yuri) & Thitigorn homhual (Joe)
Outfits / Philipp Plein
Location / The House on Sathorn at W Bangkok
Also see: Cover story: Blackpink's Lisa on her odyssey to stardom