Ponder.er: The designer duo on redefining masculinity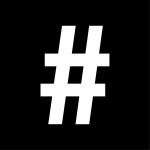 By: Zaneta Cheng
October 29, 2020
Designers Derek Cheng and Alex Po founded their label Ponder.er to challenge the way men dress. They speak to Zaneta Cheng about the challenges they face in balancing the ideal with reality, and why unity and acceptance are more important now than ever before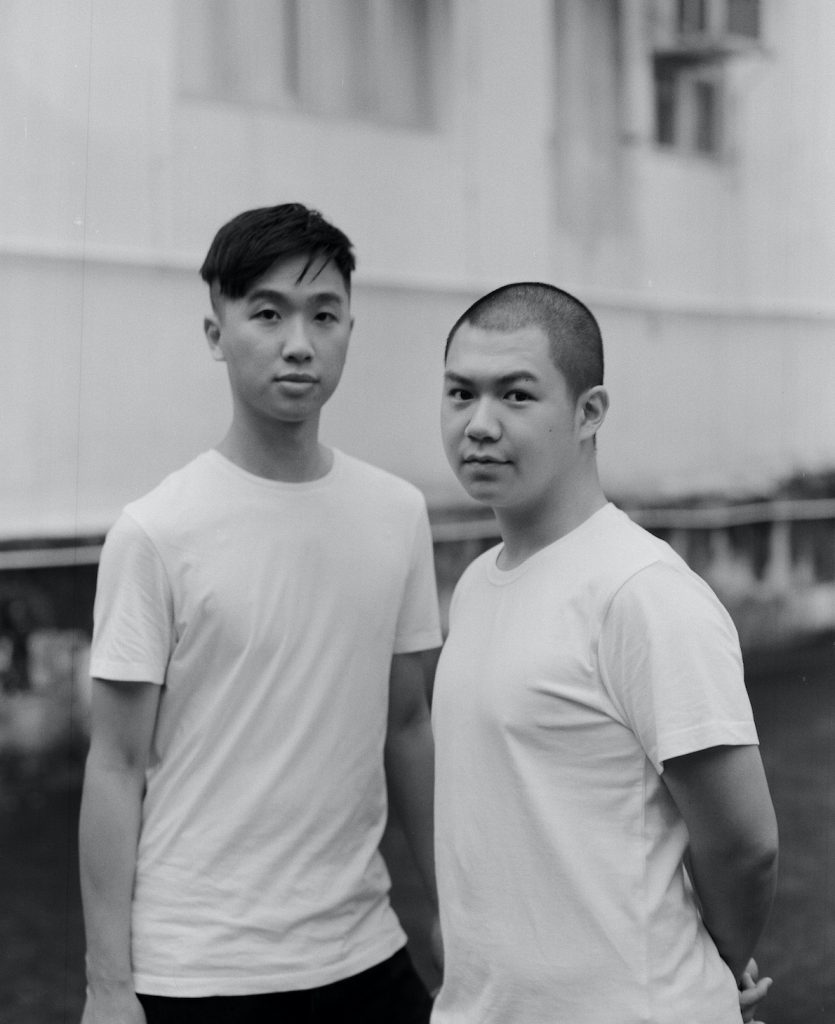 Derek Cheng doesn't like being told he's polite. Alex Po doesn't like being told he is well-behaved. Since they were young, the creative duo behind new menswear brand Ponder.er have heard versions of such remarks made by mostly well-meaning uncles and aunties who meant the boys to take their words a little bit beyond face value. "Growing up, ever since I was a kid, I've heard stuff like 'Oh, your son is so polite!' And I hate the term 'polite', because I feel like when your relatives are telling your mum that about you, in auntie terms, you know there's a hidden meaning behind it," says Cheng.
"You know they don't mean that in a good way," adds Po. "It's like my dad telling me that I'm too 'well-behaved' – it's a softer way of saying that I'm too girly." The two designers met as classmates at Central Saint Martins and became flatmates during their course. In their third and fourth years, both of them decided to focus on menswear – an unsaturated category they found to have ample room to play with. Po focused on knits while Cheng worked with weaving techniques; each came back to Hong Kong after internships abroad to work in different parts of fashion.
It wasn't until a trip together post-graduation to Shanghai Fashion Week that they decided to create their own label. "We saw a lot of rising menswear brands in China, and started talking about building our brand and how we could build it on our own stories," recalls Cheng. "We think there's a niche and a market for softer, more 'polite' men."
The duo are staunch believers in introducing nuance and counterpoint to an often-flattened masculine stereotype. "I feel like men are often portrayed as strong, athletic and good at sports – but I don't think that it's the only way men should look," says Cheng. "Why is it not okay for men to be fragile and vulnerable? This is something we want to explore – what is the right way to behave? Is there only one way to be masculine? Or is there any other space afforded to men to be softer?"
Cheng and Po's spring/summer 2020 collection was titled Liquid Masculinity, with sheer ruched tops and delicate tailoring that brought the pair's training in woven and knitted techniques together to create new fabrications and silhouettes. "We're always inspired by menswear and tailoring, and all these other codes of stereotypical masculine dress," says Cheng. "Then we try to put in other elements to break it down, like changing the fabric, changing details, adding top-stitching and dyeing the pieces to make it less masculine and less structured. That's always the starting point for how we do our designs and approach our inspiration."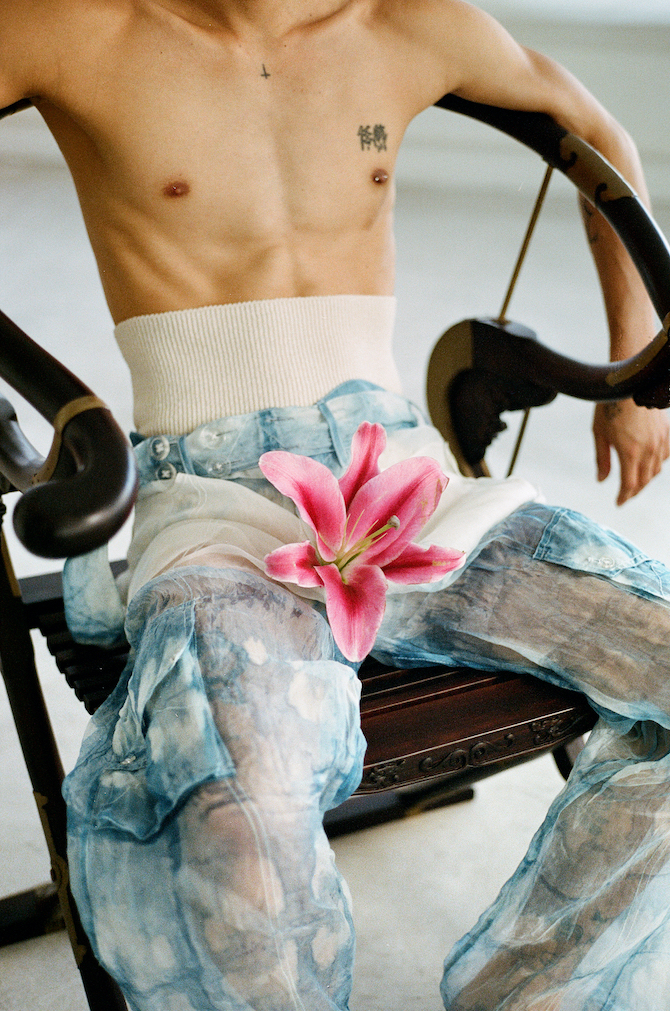 "The goal is that one day, men – even masculine men – can wear our clothes and feel good in them," adds Po. "We feel like there's still space in this market to explore because it hasn't been explored yet – to reflect ourselves and cater to all sorts of personalities."
For autumn/winter 2020, Cheng and Po have turned to photographs of cowboys portrayed in vintage cigarette ads. "This season, we're accessorising a lot of the menswear pieces, like putting chains onto cowboy shirts," says Po. "We'll have our signature top-stitching and a new way of integrating weaving into knitting, which is something we've been doing since last season. We're reinterpreting the classic cowboy denim jacket in mohair and denim with top-stitching. The structure will be different because the shape will be quite soft and sheer, which is also something we're carrying over from last season – the sheerness of our pieces. So, it's a denim jacket but in a way, it's also a cardigan."
"Men are still being restricted on how they show their skin and how they wear clothes as well"

Derek Cheung
The reception has been as interesting as the brand concept. "Editors and stylists have no problem with our clothes at all, and they've been very supportive," says Po. "But in terms of sales and twisting our ideas into something that people will wear, it's still a learning process."
"When buyers look at our clothes on a rack, they immediately ask us if the collection is meant for women – and in practice, right now, many of our customers are women," says Cheng. "For example, we do a lot of transparent pieces, which a lot of girls love. But then, especially for boys, it could be very challenging. So a lot of buyers have been telling us to think about the whole look, like how someone would wear that and what to wear underneath things like our transparent tops. We don't take these as negative comments, though. We're really working to try and adjust ourselves and do something that works, both editorially but also that fits a commercial need."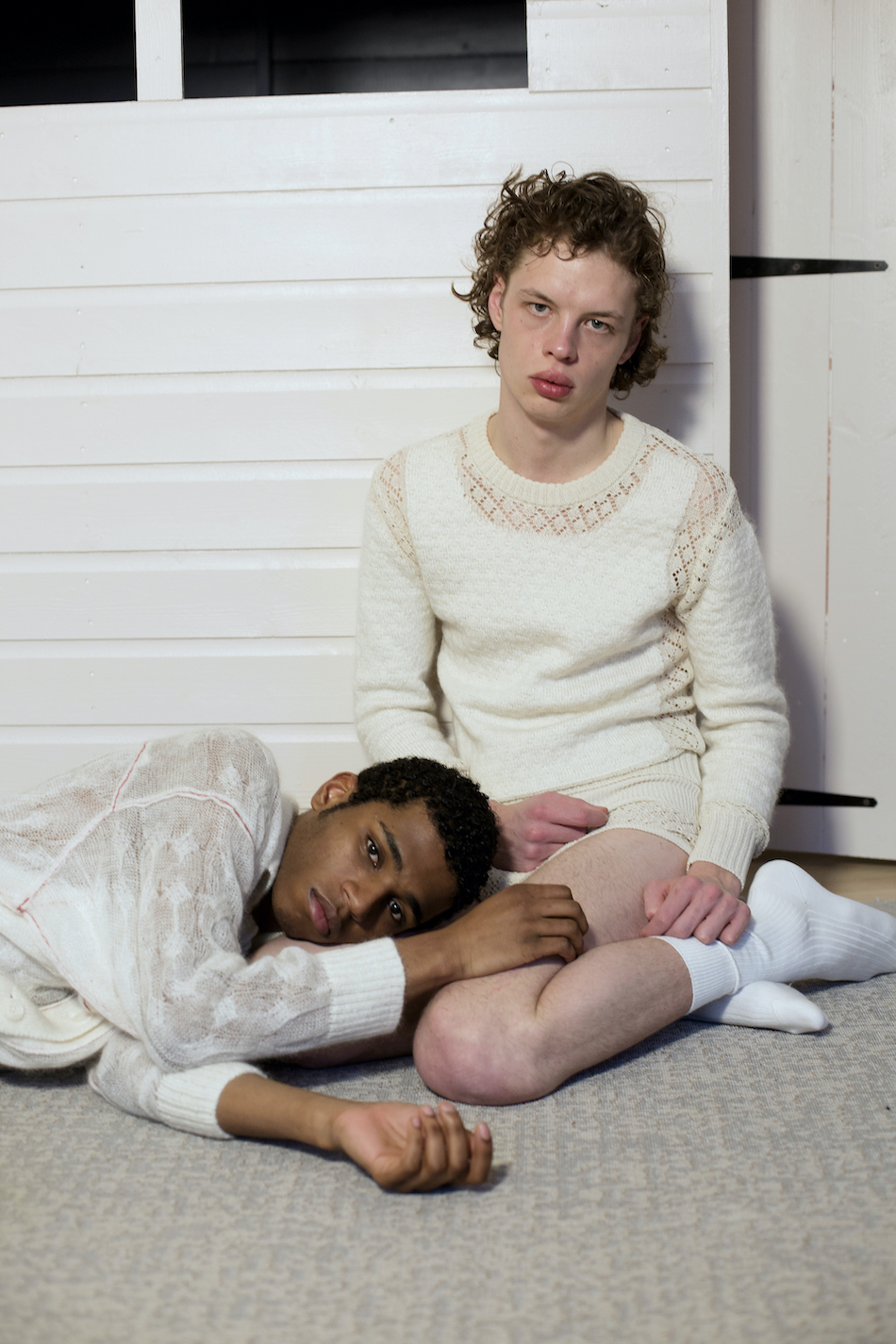 Striking a balance between editorial success and commercial friendliness might be a work in progress, but the pair remain steadfast in their philosophy. "It's really about breaking down the restrictions around menswear," says Cheng. "Girls have so many options in terms of the clothes they can wear. They can wear a men's jacket and won't really get any comments about it. But when a man wears, say, a cut-out that isn't revealing in the least, people will look at it and wonder if he's gay. We feel like any guy can wear those garments and look good in them. Even now, menswear is really categorised into formal, very decent or very street – and that's something we really want to change."
"While women are fighting against being objectified, men are still being restricted on how they show their skin and how they wear clothes as well," says Po. "We were actually reading a book about toxic masculinity that featured various stereotypes of masculine men like cowboys and how men are portrayed when we came across the image of an old cigarette ad that became the starting point for autumn winter 2020."
Without the ability to show their collections in person, the duo have been creating digital showcases, which both say are critical to being able to communicate what they stand for to their audience. "We were taught at school to always have a story and to create a collection that's relevant to our story," says Cheng. "I mean, if we just made pretty clothes, then people would just buy it once – and when they see something new by someone else, they might leave. We want to have an audience that really believes in us and agrees with our fundamental concept so that they keep coming back to us.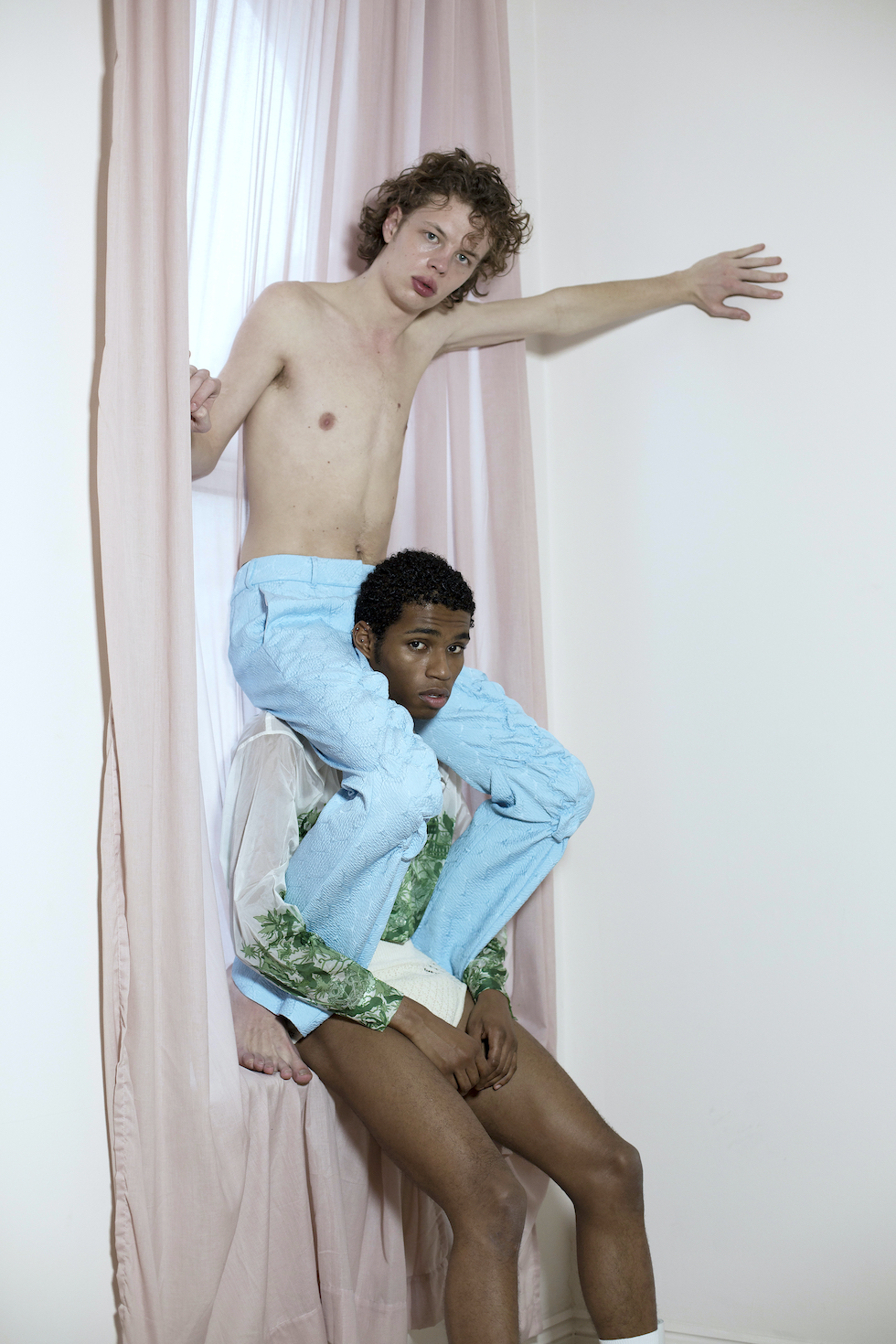 "It's important to build a connection because every technique, I feel, has been done before and can be easily copied," continues Cheng. "But the brand message is a connection that can't be easily broken, and I feel it's very important for emerging brands to build a connection with audiences, especially in the atmosphere we're living in today."
Unity is a quality that the designers embrace and strive for. "The power of the designer has been decreasing," says Cheng. "In the past, designers like [Alexander] McQueen or [John] Galliano had so much power in terms of how they designed. They could control the market and the media supported them. Now it's the opposite. Today, designers are at the bottom of the food chain and there are buyers with spreadsheets telling you things you have to listen to. So for this new generation, we're generally supportive of each other. It's hard out there, so we have to be." #