Purposeful, adaptable, authentic: Andre Fu on his design identity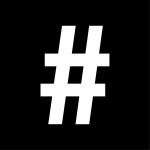 By: Zaneta Cheng
May 26, 2021
Having just finished his namesake suite for The Upper House and launched a homeware brand, André Fu tells Zaneta Cheng how designing the Ribbon Dance chair for Louis Vuitton's Objets Nomades propelled an expansion of his design identity
André Fu is sitting quietly in a colourful alcove of the Louis Vuitton Objets Nomades space in Pedder Building. Visitors walk by and glance surreptitiously in recognition at the award-winning architect who has designed K11 Artus, The St Regis and The Upper House in Hong Kong alone – plus many more properties across Asia and Europe. Each may have its own distinct identity but simultaneously elicit responses from the appreciative as "very André".
Fu has had a busier year than most, having recently refurbished the old Café Gray Deluxe into the updated Mediterranean restaurant Salisterra and unveiled his namesake André Fu Suite on the 48th floor of The Upper House, his very first hotel project. Taking "very André" to the next level, the suite, now replete with an 18-seat dining room and massage beds, is decorated with original sketches of Fu's plans for the hotel back in 2009 as well as over 100 items from his homeware brand André Fu Living, which launched in 2019.
It's fitting that he's returned to the Objets Nomades showcase. Still the only Chinese face in the coterie of designers invited to create a piece for the ever-expanding series of collectible items, Fu created Ribbon Dance back in 2018. As if preempting this era of socially distanced interaction, the chair is designed in the round and to seat two, face to face.
"It's about allowing the object to evolve and become a space for two people, letting it become the backdrop for those people to be engaged in conversation with each other," Fu explains. "In the day and age that we're living in now, the digital age, everybody's looking at their phones and not talking so much. If a piece of furniture can engage the customer or end user, it's such a magical thing that an object could achieve."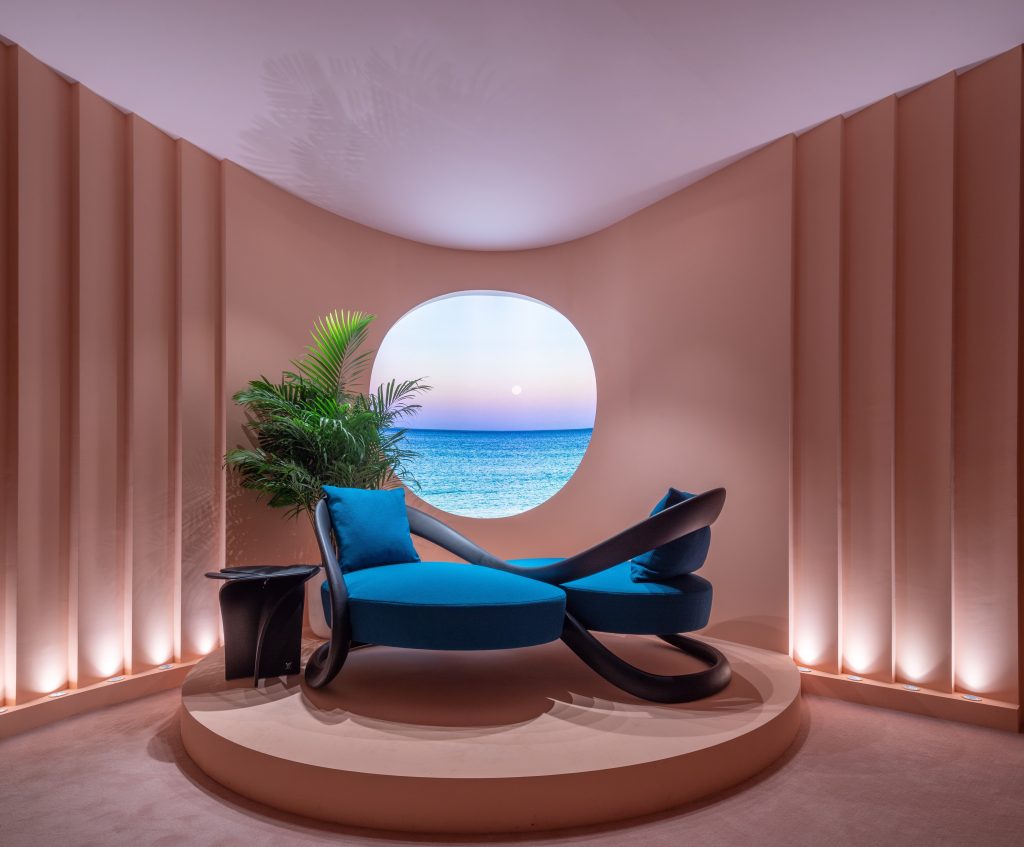 Fu credits creating Ribbon Dance as an impactful experience, not only leaving a lasting impact but an occasion that helped push and hone his own approach to design. "To some extent, the experience with Objets Nomades opened my eyes into the curation or the creation of objects and that's also led to my personal brand," says Fu.
"When it's a hotel, for example, such as [Hotel The Mitsui] in Kyoto, you have to fly there to physically experience it and usually when I approach a hotel project, I start with the overall story, and then it's the space, it's the flow, it's the motion and you build it from out to in. You go from the macro and then go to the micro. Furniture is the last part. Whereas with furniture, it's about the magnitude of what a single item can do to provoke or create the experience, so it's the reverse.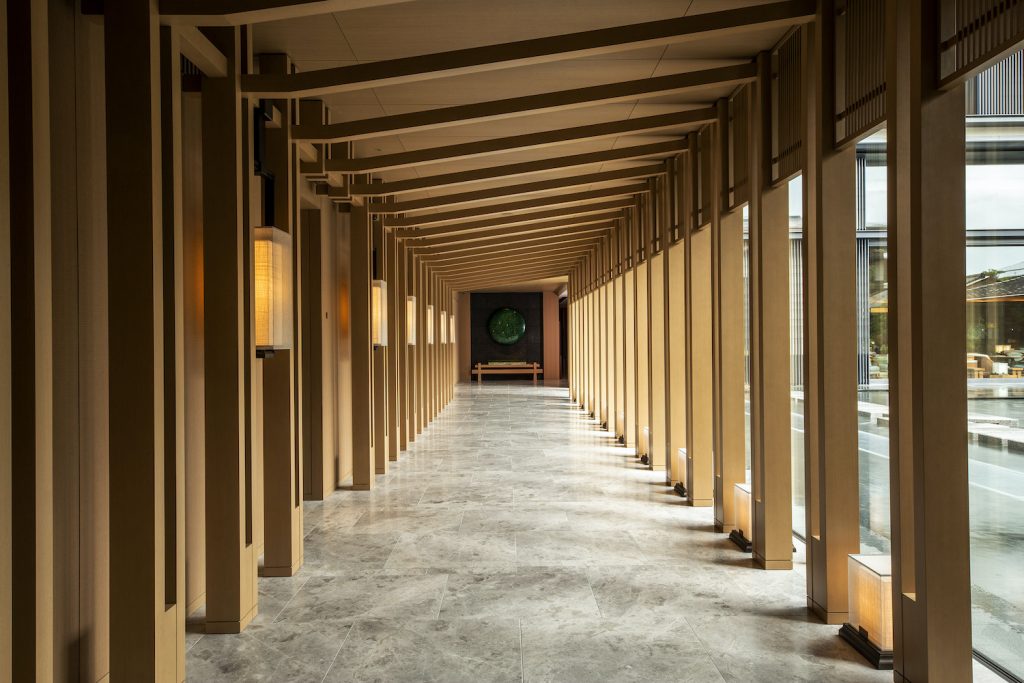 "It's like when you write an article," Fu continues. "It's about 500 words. Those 500 words create the story but if I need you to write a story with five words, it becomes very different. In the world of Objets, the magnitude that the object needs to evoke and provoke is exactly like that. You have to produce something of five words but with the impact of a 500-word article."
The way Fu tailors his explanation of what Objets is into a context with which I am familiar says a lot about the designer's consideration of and laser focus on ensuring the guest is always at utmost ease in any space he creates. Synonymous with "relaxed luxury", Fu is largely attributed with revolutionising the way luxury is interpreted and perceived, particularly in Hong Kong and Asia.
"Increasingly so, I just feel that people are looking for spaces that are authentic. You want to feed good in the space – it's not just that you are the spectator of the space, but you are the reason for the space," he says.
With a customer-centric approach to design, Fu's work, be it the calm comfort of The Upper House or a legacy brand such as the St Regis, emphasises the journey and experience that serves the guest and user. "Purposeful, adaptable and authentic. I think there's no point to design things for the sake of designing. I think what is considered comfortable, what is considered something that responds to personal ergonomics, the desire for comfort will never change – that's the authenticity I was talking about," Fu says.
"Purposeful is when a space needs to do everything, when you're supposed to sit in a space to work, to live, to dine, then you really need to think of – for example, a table should be at the height a table needs to be so as to be comfortable to place your laptop."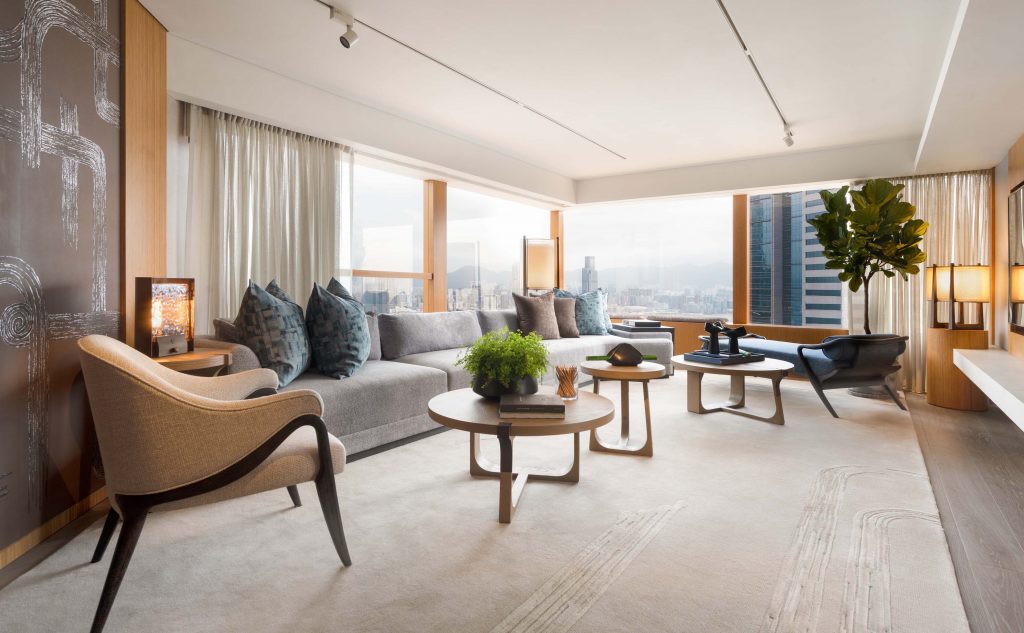 What makes Fu's collaboration with Louis Vuitton's Objets Nomades unique is that Fu was given a kind of freedom that allowed him to express his design identity in a way that built on his existing aesthetic. "I had no idea what I had to design," he says. "It's not like they brief you by saying 'Let's do a candleholder, let's do a chair.' It's not like that at all. It's more about what would you like to do, after seeing all the archives? What would you like to explore? So, I explored a few things.
"One time, we were looking at a seesaw, some baskets, candleholders. My piece took 18 months, which is quite quick, but it's probably gone through 50 iterations. I came up with some ideas and I sent it off to them. They looked at them and sent back multiple images of rattan chairs, baskets, you name it. We would re-look at it and say, 'Okay, what if we twist the direction and do it another way?' – and that was the process without knowing the end."
"You want to feel good in the space – it's not just that you are the spectator of the space, but you are the reason for the space."

Andre Fu
Ultimately, Fu settled on the "duality chair" – a concept he was familiar with in the history of furniture design – and pushed the idea further by trying to create a chair with no legs for the type of fluid interaction he was hoping to achieve. "It has the silhouette of a ribbon. The frame is like a ribbon and the idea is that when two people are so engaged in conversation with each other, if you close your eyes, you can imagine a ribbon dancing around the two people engrossed in conversation with one another," he explains.
"It remains the vision and the dream, so we prototyped. There were a lot of technical difficulties that we had to overcome to achieve this, but I remember when the artist met with me to do a mock-up in Louis Vuitton's head office in Paris, he also pushed to make it happen and it ended up becoming reality.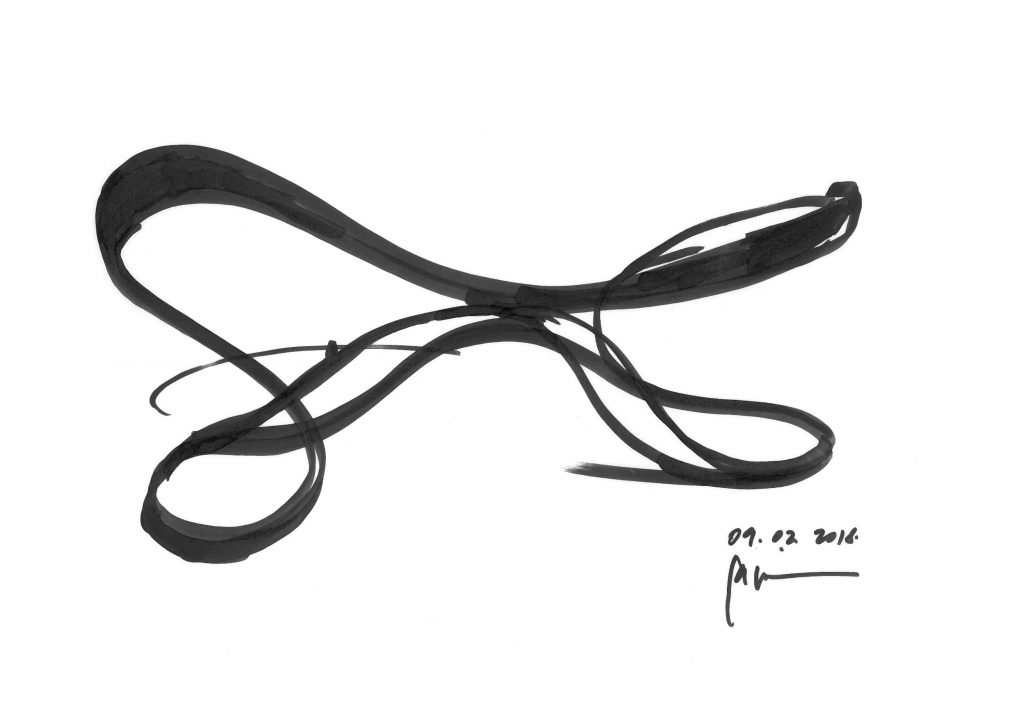 "I guess that was the joy of collaborating with a brand like this because they're so willing to challenge every aspect and in some ways it's also informed my career because at that level of persistence and pursuit, there's nothing really that's holding back the situation. I'm not saying that just because I'm being interviewed, I think in all honesty the world is so much bigger. If you innovate, if you try, they will be there to support it and make it work. They will go to their 3D modellers and have them test it from a digital perspective, to scan the prototype and then evaluate it. There are even engineers to test the structure so it's a true piece of art in a highly informed sense.
Of the process, Fu has this to say: "Exploring the world of homeware through my personal journey with Louis Vuitton's head office, I saw there was a greater underlying vision. It's really about creating objects that inspire while being something that brings joy and imagination to everyday life. And I think that level of vision, it's easier said than done."
Perhaps inspired by the possibility of personal expression, his homeware brand followed shortly after. "[André Fu Living] is more about tapping into all my personal aesthetics and not responding to a client brief or their legacy or heritage," he says. "It's not about St Regis heritage, it's not about The Waldorf's heritage, it's not about Louis Vuitton's heritage. It's about how I see my own aesthetic – not telling a story through the eyes of someone that I'm working with but my own." And what could be more "very André" than that?
See also: French naval architect Marc Lombard on the future of luxury yacht design