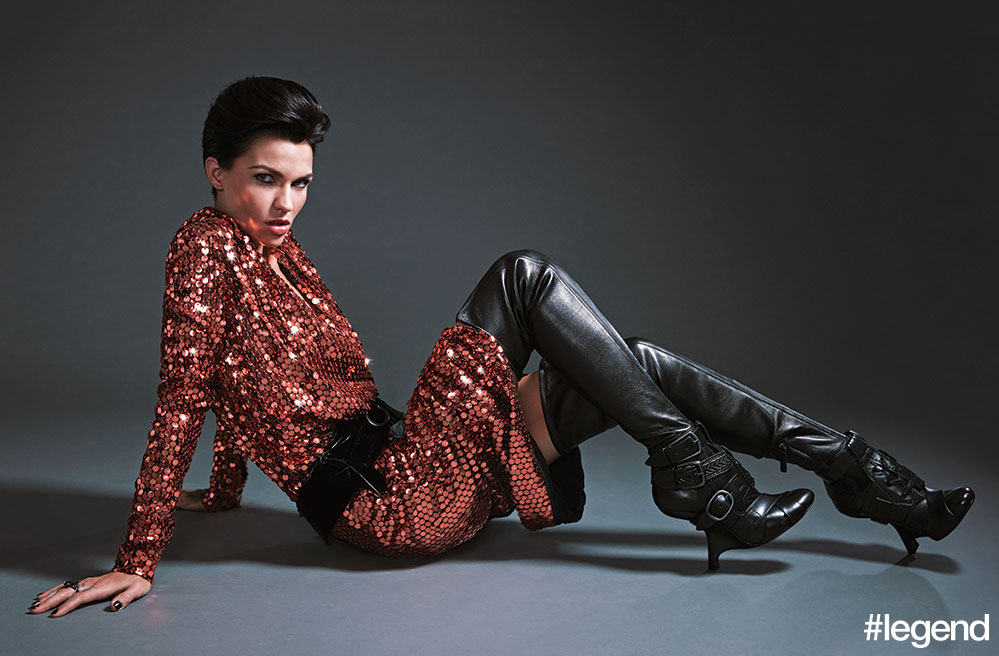 ​Ruby Rose conceptualises her 2014 video project Break Free as an exercise in self-expression. Well, it was to her anyway. After collecting more than 23 million views on YouTube, and countless more on other social media channels, the five-minute video was incredibly poignant, vivid and brash.
Set to It Pulls Me Under by Australian singer-songwriter Butterfly Boucher, the video opens with Rose in a voluminous blonde wig, fitted dress and high heels, smearing on hot pink lipstick, looking at her stunningly sexy self in a mirror. In subsequent scenes, a pair of scissors is taken to the hair, buckets of water slosh over the tattoos previously sequestered under layers of foundation, her breasts are bandaged down, heels kicked off and Rose is transformed from a very feminine woman into, well, a much more androgynous self.
For all its thematic simplicity, the video has resonance. Rose's openness in showcasing what she has since described as something of an exercise in gender fluidity struck a chord.
Fast forward two years and Rose has continued to fascinate. Until recently it was hard to peg her as being from one discipline or another. She doesn't call herself a model, even though with her perfect complexion, pale eyes, pouty smile and symmetrical features she could certainly qualify as supermodel material. She is the face of Urban Decay cosmetics and Ralph Lauren's Denim & Supply campaign for spring 2016, and has been featured in an assortment of glossies, including ELLE, Marie Claire, InStyle and Vogue.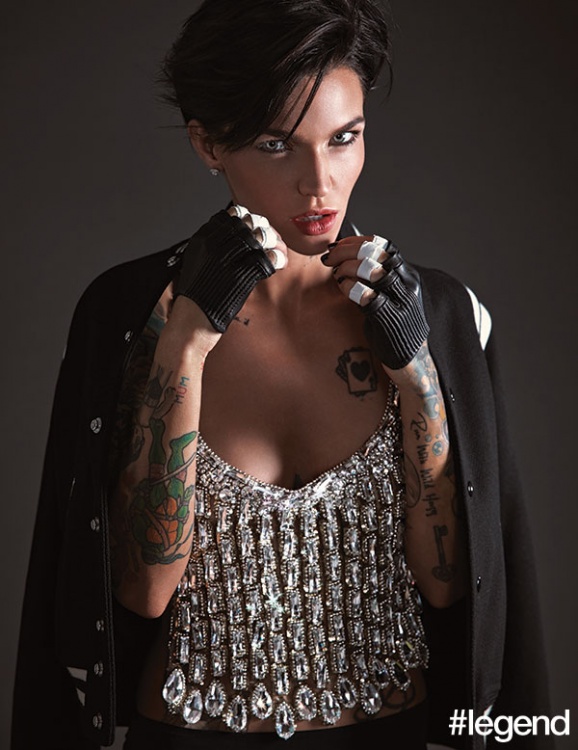 The television personality and VJ-turned-actress who was a household name in Australia long before making it in the United States, now lives in Los Angeles and is in her biggest role to date as a co-star alongside Vin Diesel in xXx: Return of Xander Cage. She plays an emerald-haired sniper, Adele Wolff, one of those badass, butt-kicking characters that complements her edgy vibe.
xXx: Return of Xander Cage is one of three action films audiences will discover her in this year; the others being Resident Evil: Final Chapter and John Wick: Chapter 2 with Keanu Reeves.
In a total change of pace, she is also in the breezy, music-filled Pitch Perfect 3, due to be released at the end of the year. Next year, you'll see her portray a science genius in Meg, a film about an imperilled underwater observation programme in the Mariana Trench.
The roles came to her in rapid succession after her career-making and award-winning turn in season three of Orange is the New Black, which in itself was offered to her on the back of Break Free, leaving Rose with the belief there is almost a divine provenance to these things.
#legend spoke with Rose in Los Angeles about causes close to her heart, including the humanitarian crisis in Aleppo, inadvertently becoming an action star and why her world was turned upside down the first time she met Diesel.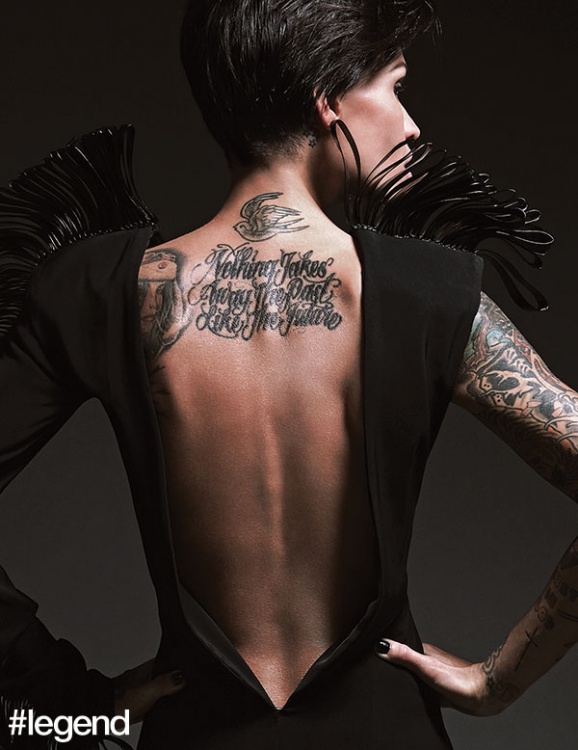 Tell us about your role in the new Triple X and how the opportunity came about.
I'm kind of the right-hand man to Vin's character, Xander Cage. I play an extremely talented sniper who can handle her own, is independent and spends her time saving Xander. The role came about quite early on. Vin and Samuel L. Jackson were attached. Producer Joe Roth discussed with me in what direction to take the character of Adele Wolff. There was a lot of training involved so it was great to be a part of it so early in the process.
What was it like the first time you met Vin Diesel on set?
We met in Toronto. I was hanging upside down for six hours off a contraption with these wires, going through some of the stunts in the film. Vin walked on set and announced, "Hey, everyone, meet Ruby Rose". He proceeded to always be that way. He's really such a fun and loving guy.
It sounds like there was a tonne of special training involved.
Thankfully I was already in good shape but I still had Vin to compete with. We trained together a lot. I saw him lifting massive weights and I loved witnessing his enthusiasm. I had to have training using guns that I'd never used before, some of which were really special and took a lot of practice. Some were so heavy, like 8 kilograms. By the time I'd been training, weightlifting, exercising like mad and getting stronger, I picked up one of those guns and fired a round like it was no big deal.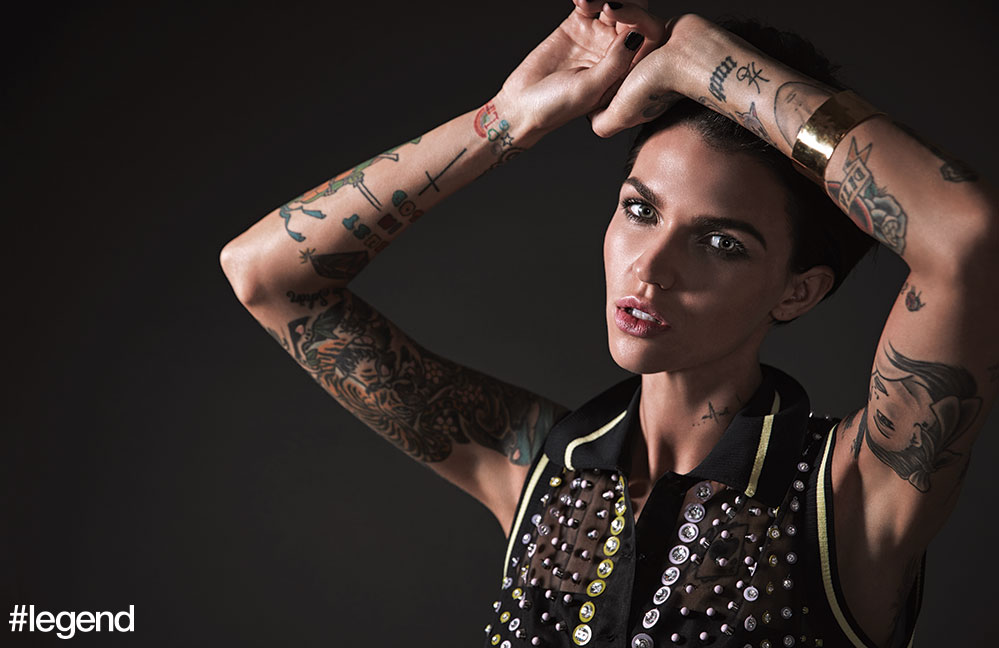 Your role as Stella Carlin in season three of Orange is the New Black introduced you to a global audience. How did they find you?
Before Orange, I had a following in Australia but nowhere else. I made Break Free and it did exceptionally well, which I wasn't expecting. It went viral. I started to get phone calls. One was from Jenji Kohan asking me to audition for Orange. It was a dream come true to be able to audition for my favourite show. It was such a wild journey, opening up all these opportunities. I'll forever be grateful to Jenji. That role totally changed my life and gave me all these platforms.
Three action films back-to-back; did you set out to make that happen or was it just coincidence?
I didn't really plan on choosing a particular genre. I think there's a lot of fun in comedy but I'm also a very physical person and any excuse to work out and train and learn new skills is something I'm very passionate about. There's also something rewarding about doing drama too. Orange has a lot of comedy elements and essentially a lot of these deep and moving moments.
What was it like jumping from one high-octane action film to another?
At the time that I was cast, there seemed to be a lot of that genre of popcorn film being made. Things go in cycles in this business and certain kinds of movies always get made at the same time, and there was a rise in the comic book superhero with the save-the-world mentality and the sequels. Resident Evil was one of the first ones to cast me. I was 15 when I saw the first one and I was mortified and scared and I loved it all at the same time. I loved Milla Jovovich and Michelle Rodriguez; these strong characters who were like women superheroes and who didn't need a guy to protect them. With John Wick, I was halfway through filming Resident Evil and had been speaking to the director Chad Stahelski and told him that I was a fan of the first. I loved watching Keanu Reeves in My Private Idaho and The Matrix films, and when Chad said he wanted me in this film I couldn't resist not being part of the John Wick world. I'm conscious of the fact that I've done three action films and am looking to diversify and to show that there's a lot more to me than just action, but it's just so much fun to do those stunts, to go to places I've never been and do things like jump into oceans.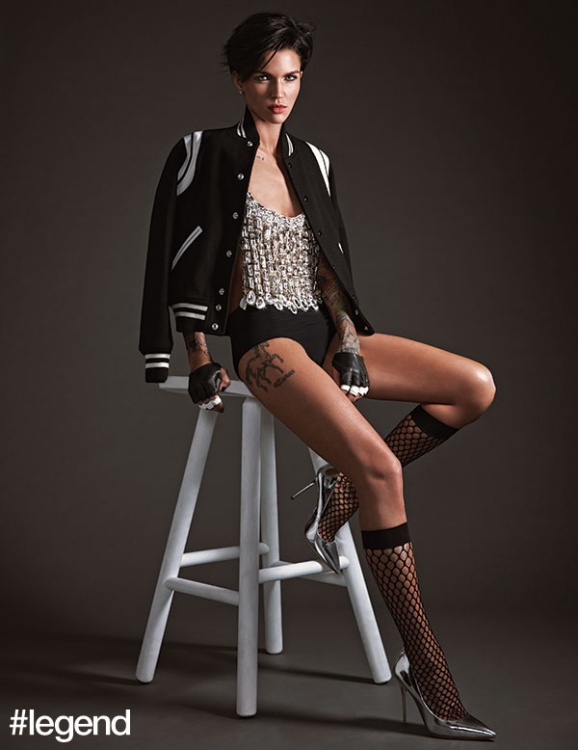 Where have some of these films taken you to that you had never had the opportunity to visit before?
I thought I'd travelled the world until I started doing these films and saw that there were all these places on my list. Resident Evil took us to Cape Town and I was so happy to be there.
For John Wick, we went to Rome. I'd never been there either. Shooting in Rome was incredible, everywhere you turn is another beautiful monument, a building so statuesque that you can't believe it exists. I loved the ruins, the art and history. It was so full of life. And we shot Triple X in Toronto and the Dominican Republic.
You seem to have had a series of career breakthroughs since Australia and these different threads to your career. How did that happen?
I never want to repeat the same year. In fact, I never want to repeat the same day twice. People always call me a model but I don't think I was successful as a model, not like girls like Kendall Jenner and Gigi Hadid are. I was a television personality, a radio host and a fashion designer. I did a lot of things, most of them in front of the camera, but I couldn't seem to break into acting. I decided that the clever thing would be to just focus on what I really wanted to do, which was act. I got to America and everybody wanted me to be a presenter or work in reality television or be a DJ, things that were the low-hanging fruit with the agents I talked to. I went to school for acting but everyone passed. Then I did Break Free and everything changed.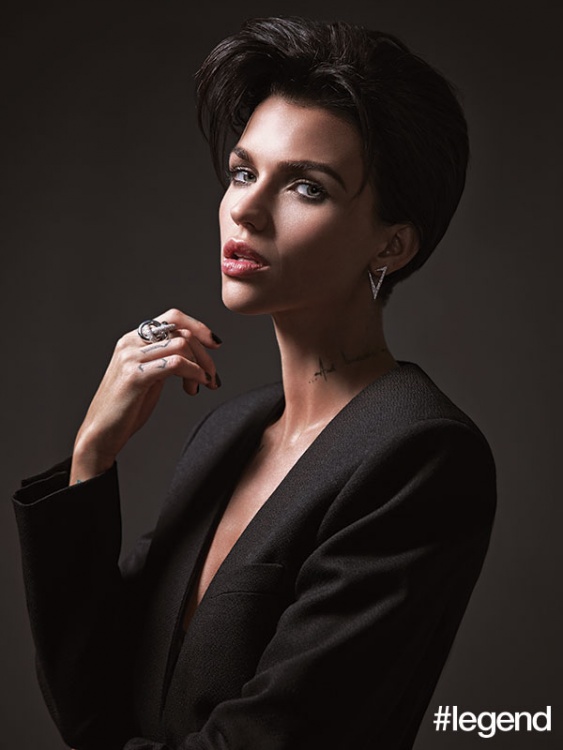 Is creating your own material also important to you?
I have two books that I have options on and which I would love to get made. One is quite dark, so I'm not sure what will happen with that. I'm always writing and thinking of new ideas. There are a lot of projects I love and want to do, some people I really want to work with, and I'm happy to pour as much energy as I can into writing and producing.
How will you deal with the Hollywood limelight?
I'm not really a going-out kind of person. I much prefer being a homebody. I always enjoy listening to music, watching great television and great television shows. I love anything to do with art and the creative process.
What are some of the causes that you use your fame to shine a spotlight on?
I'm vocal about certain things: animal rights, how we treat our planet, the LGBT community, schooling and mental health. I'm aware that I have these platforms at my disposal. More recently, I've been wanting to try and educate people about Syria. I just want to make sure that I'm a really good human being, a fully rounded person that cares about animals, family, friends, my country and the world. I find a great deal of purpose in that, instead of just shutting myself out. It's my duty to know that even though I'm doing all these films, I'm not just living inside the bubble of a Hollywood fantasy life.
Photography / John Russo
Creative Direction and Styling / Paris Libby
Make-up / Toby Fleishman at TMG
Hair / Brant Mayfield at Solo Artists
Styling Assistants / Shab Mohammad and Claudia Perez-Kowalski
Photography Assistants / Tas Limur and Mike Blumberg
Production / Justin Miller