Riverdale's Hart Denton is much more than an actor
November 1, 2018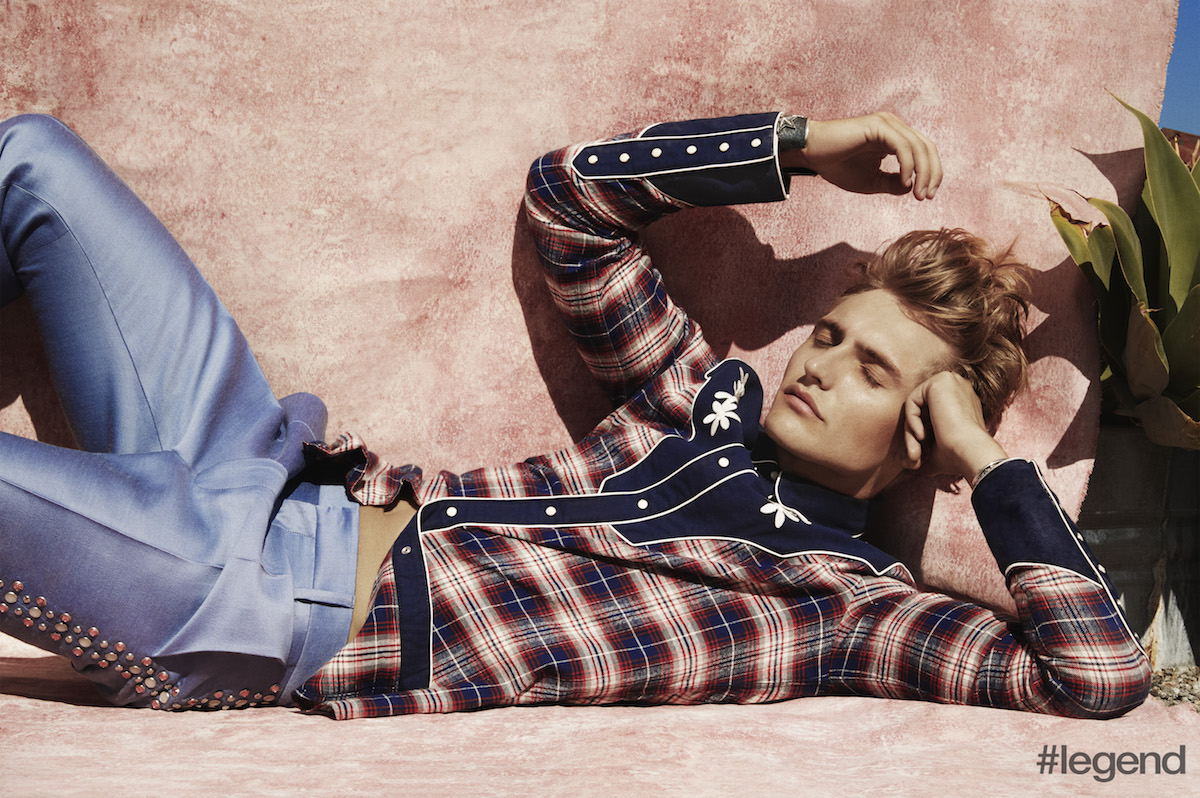 Yes, hart denton is a pretty face, but if you can get past his boyish good looks and his chiselled cheekbones, you'll see an Arkansas-born 25-year-old with a heart of gold and a fierce determination to demonstrate his immense talent, especially to his naysayers. Denton landed his breakout role in the hit show Riverdale playing Chic Cooper, Betty Cooper's long-lost brother with a mysterious past. Paris Libby speaks to Denton about his success, his quickly growing fanbase and his eagerness to also make his mark in the world of music, all while designing a capsule collection with a top fashion brand.
Let's start with the name Hart; it's an unusual name. Is there a story behind it?
My parents wanted to be surprised by my gender on the day of my birth, so they had several names picked out for me. But when my mother looked at me for the first time, my lips were scrunched together in the shape of a heart.
How was it growing up in Arkansas?
I was born in Little Rock, but grew up in Conway – it was lovely. It's the kind of town where you can't go to the grocery store without seeing someone you know, and the only difficult part was the confusion and ridicule I received for wanting to go and find more out in the world. To me, life is all about leaving your comfort zone and collecting new experiences, challenging yourself and growing. I dealt with a lot of resistance in that capacity, but my family is there, so I try to go back as often as I can.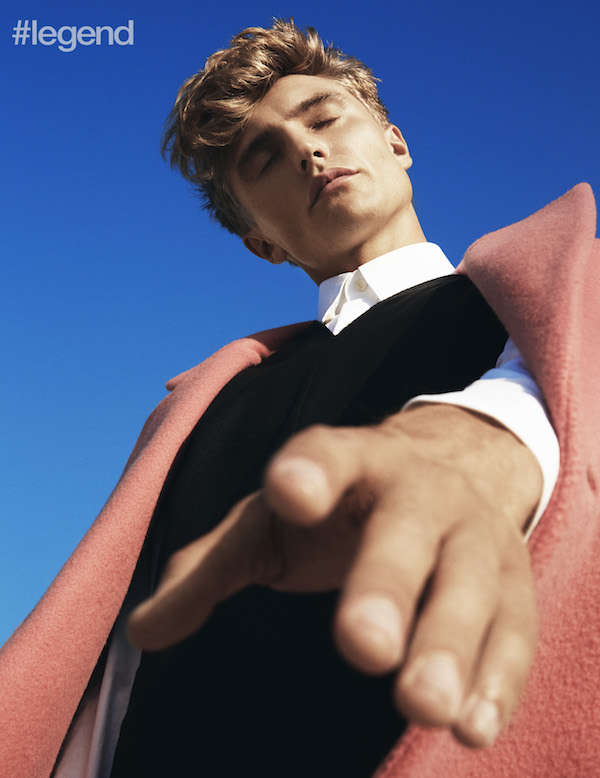 A search on social media reveals videos of you singing and playing music. When did your love of music start?
That started at a very young age. It's something that's always been there, really. The first time I celebrated Halloween, I was four months old and my parents dressed me up as Elvis. So they definitely had something to do with it – they were always very encouraging when it came to me constantly wanting to sing and dance as a little kid. I'm very thankful for music; it's my favourite source of therapy.
Besides acting, what role does music play in your life now?
A massive role. My mind is constantly thinking about music as well as acting. When I first moved to LA, I was told by someone of "importance" that I would absolutely never be able to do both. I have music coming out later this year and can't wait to prove that person wrong. If you're reading this and someone has told you that you "can't do something" – please use that as motivation and prove them wrong. Don't cower to small-minded people.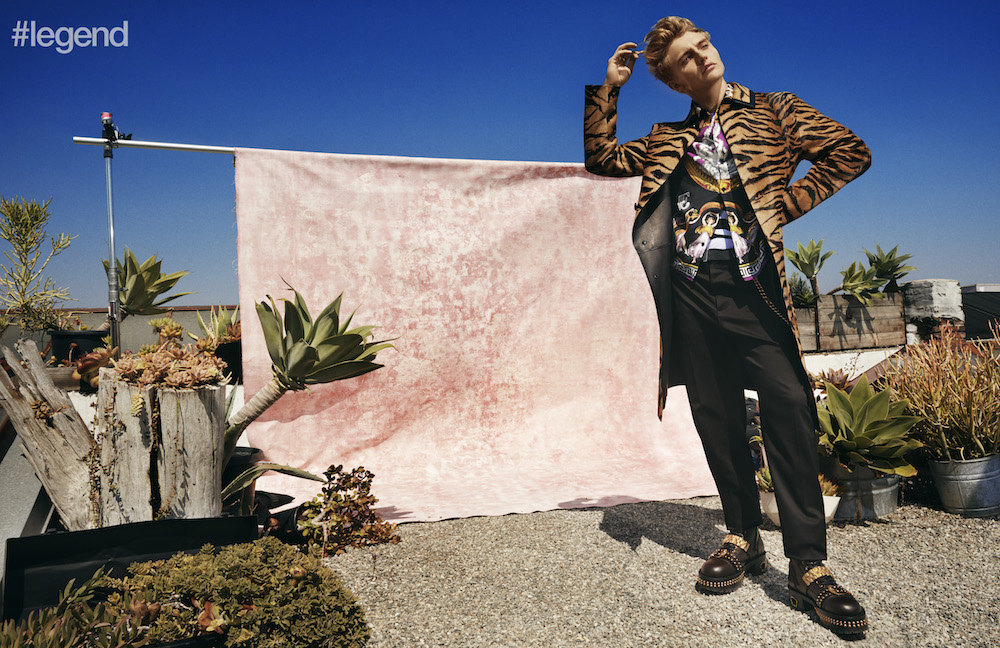 When did you move to LA?
May 1, 2014. One girl I had grown up with in Arkansas had just moved into a new apartment. She had no furniture, but a mattress had just been delivered to her place, so she slept on the mattress and I slept on the floor on top of the cardboard box the mattress came in. I didn't have a car the first year and took the bus everywhere. If you think the traffic is bad in LA, take the bus for a year and get some perspective. It would take me three hours to get from the Valley to Hollywood!
You're signed with Next Models. How did you get discovered as a model?
[laughs] I didn't get discovered. My first week in LA, I googled every agency's address and walked to all the open calls. The only photos I had with me were ones my mom and sister had taken, of me holding a puppy in our garage. Every agency said no except for Click. I signed with them and then they closed down as a company, so I went to Wilhelmina with better photos this time and they signed me. After my time with them, I decided to meet with Next again and they signed me.

Was acting always part of the plan?
I don't know if I would say "plan", because I don't set plans; I just set goals. But yes, I knew I wanted to do it at some point. I did theatre as a kid and all throughout high school, so I was very comfortable on stage and memorising lines.
How did the audition for Riverdale come about?
My acting manager, Brandon Bisig, got me an audition for a show that David Rapaport was putting together. When I met him, he said, "Wait, come back in two days for this show I'm casting called Riverdale" – and that was that. Six days later, I was on my way to Vancouver.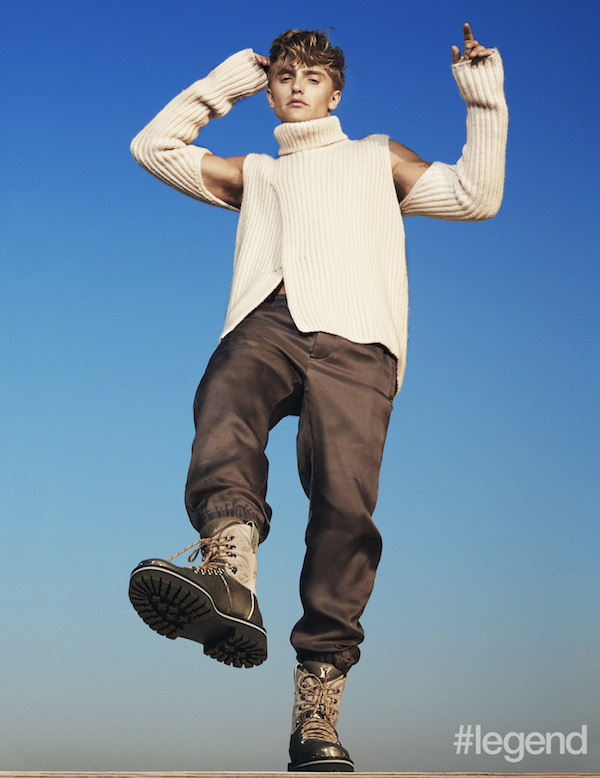 How did you find out you landed the role?
I was in Arkansas with my family – my manager said, "Don't go home; you're on hold for this project," but I went home anyway. I'm very happy I did because my mother took a series of photos of me getting the call. Picture this: I'm standing out in the yard with one hand held high and my girlfriend Sunny is jumping all around me and tackles me to the ground. I'm forever grateful that moment was captured.
You play Chic Cooper, the half-brother of character Betty Cooper, played by Lili Reinhart. How is it to portray a character with so much mystery about him?
It's a dream come true for an actor. To play something opposite of who you really are, it's a blast, getting to exercise sides of you that don't exist in day-to-day life. And Lili is so wonderful to work with. There's so much laughter between takes when we're in scenes together.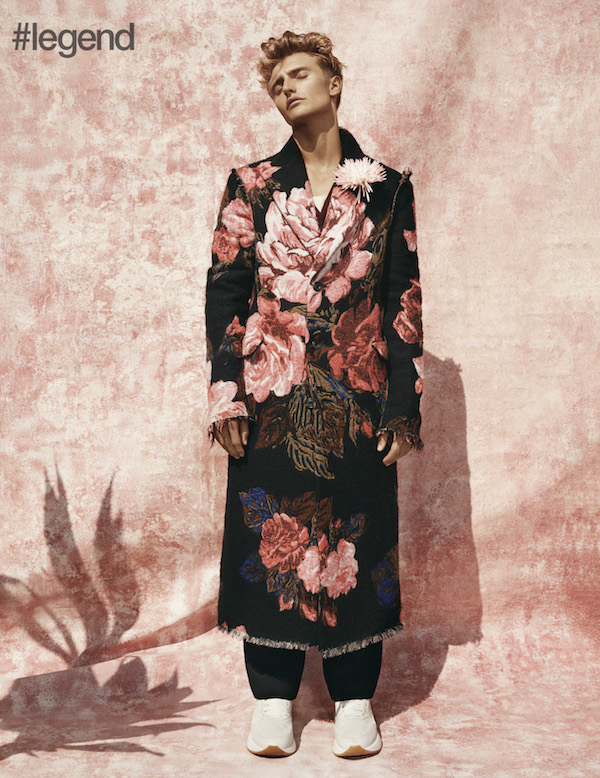 Are you and Chic similar in any way?
Not at all. I'm trying to think of just one trait but no, honestly, not at all.
Riverdale has a huge fanbase. What has it been like being part of such a hit show?
It changed my life – I'm so grateful for it and the fans are so nice. I have friends on other shows and when I see them interact with their fanbase, it's so different from what I know. Our fans are so incredibly sweet and respectful. I've never turned a fan away. Our fanbase is a beautiful thing and it's a huge reason why the show is so successful.
You also ventured into fashion design this year, by way of a collaboration with H&M's affordable luxury line Nyden. How did that come about?
My dear friend Jamie [Schuppert, Nyden's talent relations manager] worked there and I had known her for about two years or so. When they started thinking of people to collaborate with, she immediately brought me up and we started working together. It took about a year from start to finish, and I'm very excited for people to see the designs. I had a sample meeting just last week and the looks are wonderful.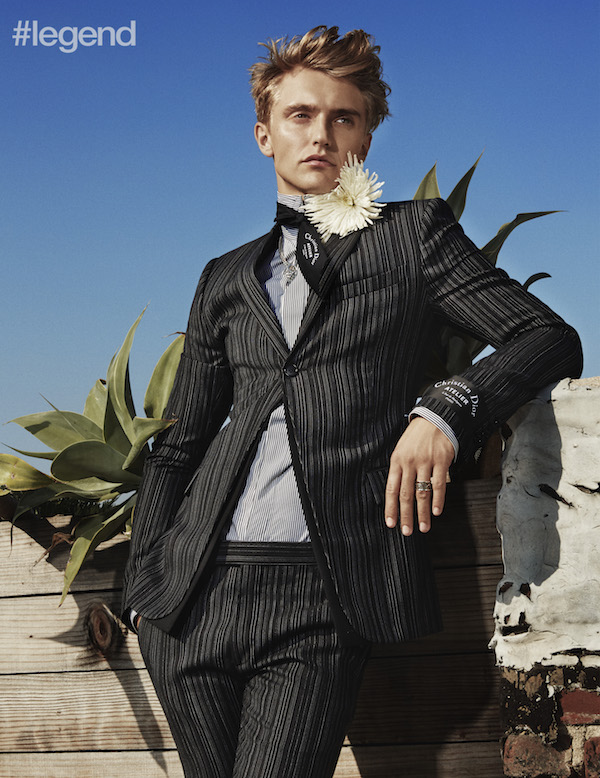 How would you describe your collection?
It's a combination of military surplus and jungle safari attire. It's exactly what I wanted to do. My inspiration comes from the years of struggling and only being able to afford thrift-shop clothes. I had to make my outfits look fresh with no money, which moulded my "designer brain".
How do you view your own style?
I love my style, and I'm completely content and happy with it. I have lots of vintage T-shirts that are on constant rotation with black trousers, with a pair of boots or Converse. And I love jackets. I don't get to wear them that much in LA because it's usually warm, but nothing beats a good jacket.
You recently posted some workout photos on social media. How important is fitness in your life?
Very, very important. My trainer Alex Fine is a monster – and I mean that in the best way. He transformed my body over the summer, and he transformed my mindset, too. Fitness is an everyday thing. It's a lifestyle and I'd be a more anxious person without it.
Who is your legend and why?
I look up to my parents. And I like Elvis a lot. But the me I want to be is my own legend. The person I'm striving to become is my legend. I want my lineage to be honoured to have my name – and that's what I wake up thinking every single day.
Credits

Photography / Eric Michael Roy

Creative Direction & Styling / Paris Libby

Grooming / Michelle Harvey at Opus Beauty using Dior Homme and Kevin Murphy

Photography Assistants / Adam Matijasevic and Ethan Sigmon

Styling Assistant / Claudia Perez-Kowalski

Location / Los Angeles
This feature originally appeared in the November/December 2018 print issue of #legend