Michèle Lamy on the Rick Owens x Birkenstock collab and working with her husband
March 19, 2019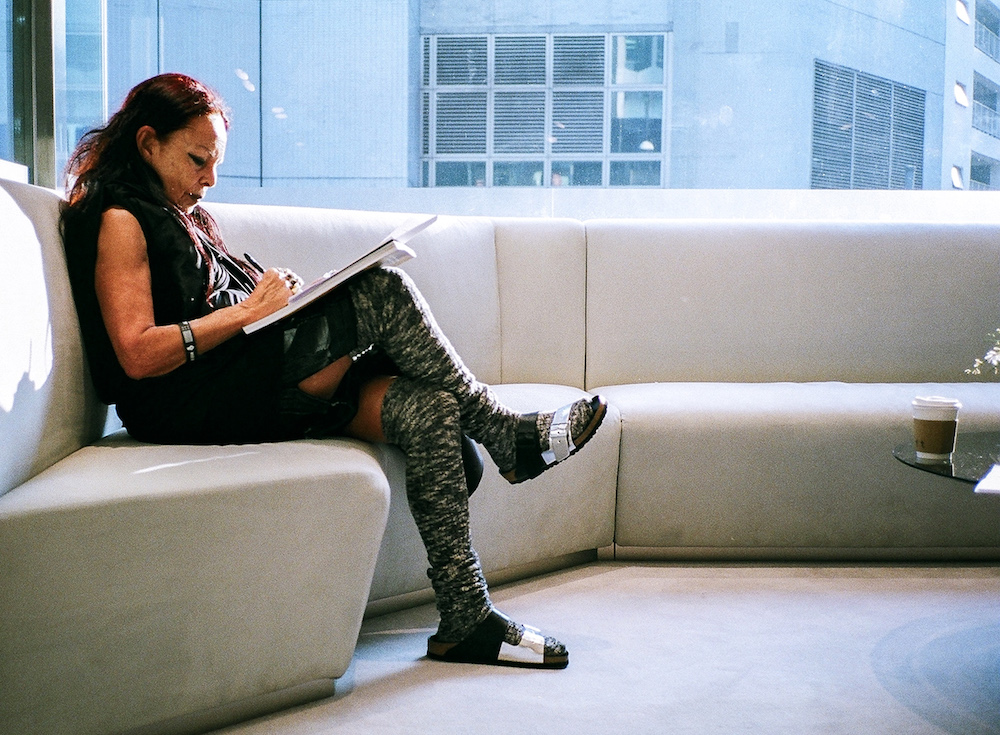 Fashion visionary Michèle Lamy recently travelled to Hong Kong to host the Birkenstock x Rick Owens Season 2 pop-up shop launch at I.T Standout pieces from the latest drop include the updated Rotterdam sandals and Hancock Rotterhiker boots. Even the classic Arizona sandals have been remade using different metallics and colour combinations. (Owens and Birkenstock debuted their first collection for spring/summer 2018.) Those who are eager to get their hands on the new designs before they fly off the shelves completely, can try their luck as a second release of the spring/summer 2019 line will be available this month. As some of you may already know, Lamy is the wife and business partner of designer Rick Owens, however, she also takes on the roles of entrepreneur, producer, special project director and collaborator. Last year, the multifaceted creative partnered with The Corner Shop at Selfridges London to create LAMYLAND, an exclusive space carrying activewear and boxing merchandise. (LAMYLAND is an umbrella term used for her own projects.)
On the day of the Birkenstock X Rick Owens Season 2 launch, Lamy tells us about the best part about hosting the pop-up and much more.
What do you think of Hong Kong?
Oh my God. I wish I was staying a little longer this time. I've come only once before with Rick a few years ago. We spent our time around Victoria Harbour. I found it fascinating. I like the mix of the tall buildings and little alleyways where you can get lost.
What was your impression of Hong Kong before you came?
I travel a lot. Before I came, I'd only knew about Hong Kong by watching movies and reading about its history. I got the feeling that it was an international place. There's something familiar here so you feel like you know the place, in a way. It's so attractive from the moment you land. It's a very welcoming place.
What's your personal relationship with I.T?
None. I'm just here for the Birkenstock x Rick Owens event. However, for Rick's first collaboration with Birkenstock, both parties organised a huge event in Los Angeles, and it was fantastic. It turned out great. There were lots of artists participating. I'm here because I started coming to these events and I was kind of creating my own little world within it.
What's your role in the Rick Owens business?
We've been together for 30 years. The only thing I can say is that there's a planet and around this planet there are different things that turn around, so I just think I'm the main one. Recently, I've been doing stuff that's really me, creating experiences in an art context. I also produce the furniture. In fact, that's our real collaboration.
Do you think the design of the Birkenstock collaboration is in line with the main Rick Owens collection? On the runway, it's shown together. Is it designed during the same time?
That was part of it for Rick – to show the shoes in the collection. Maybe you were expecting chunky boots and so on, but it was in the plan to show it together. I think Rick is really good at this collaboration. Both teams come into play even more in this second collaboration. They understood each other. The first time around the collection was like an homage to Birkenstock and making it cool. It's a good marriage.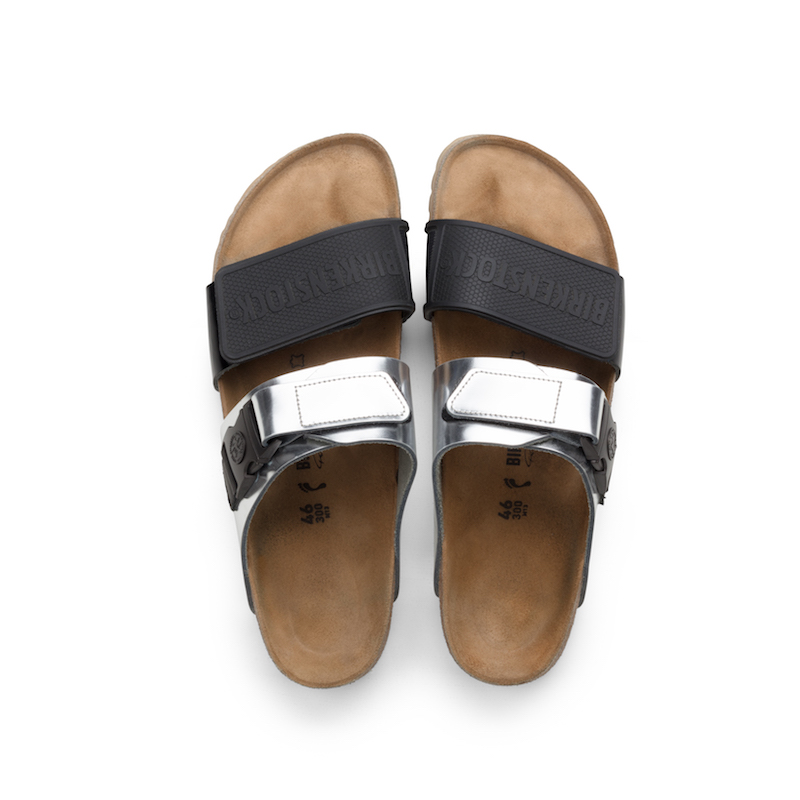 What's your favourite pair and what outfit do you wear it with?
I don't know. I can't say that I wear them a lot. I think I'm going to wear the little boots a lot. I love the long socks though [from the first season]. That was also something interesting because you have this image of people wearing Birkenstocks on the beach with short socks but when you swap them for long socks and change the material then you have something really interesting like this. What's important to Birkenstock is that the shoes should be orthopaedic. I think it's a very interesting accessory for women to have. When you feel good in something then you look good in it. It just goes right now. This is my look.
What's the best part about hosting a pop-up like this?


For me, I was happy to come because of this event at I.T. I was thinking what I could do for it because I don't live here but I'm so happy to be a guest and bring a little story of the project with me.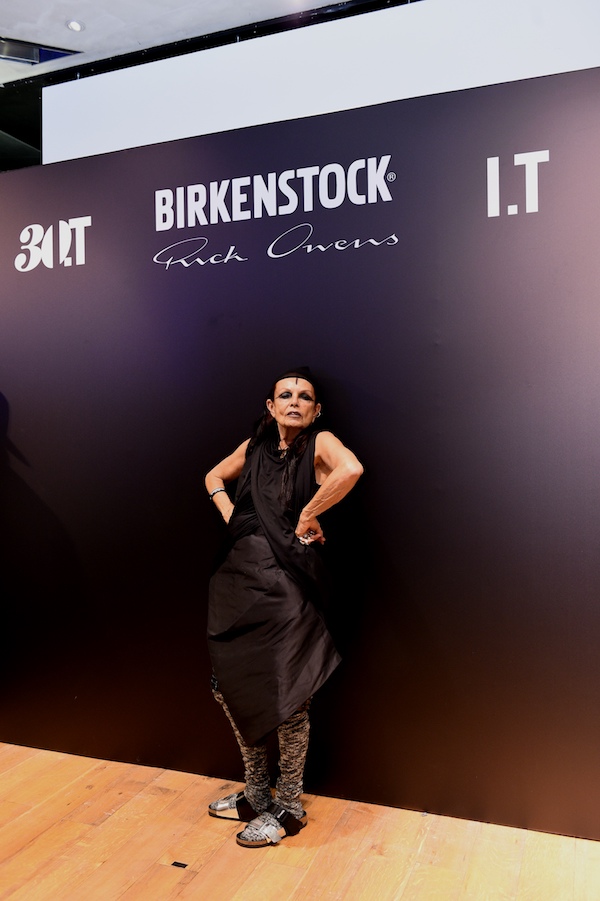 Recently, our favourite photo we've seen of you was taken in Selfridges in front of the boxing ring for LAMYLAND. Can you tell us a little bit more about LAMYLAND?
I was invited by Selfridges for a three month project. We had this space so I said something to them about boxing and then they jumped on me because the theme for the year was Radical Luxury. Out of all the stores, I think that Selfridges is the most happening department store in the world. People were invited to collaborate with me. We were selling merchandise and everyone wanted to participate from Sacai to Versace and obviously Rick Owens. That was before the Birkenstock collaboration so we couldn't have asked them but they would have, of course. We had a ring and a lot of artists were participating. We had a big gym downstairs. Boxing is known as a very male sport but it's become very connected with females, too. It was not about fighting. It was about what are we fighting for? I don't know the answer to that yet. You can invite me to do something here and we can figure it out.
Do you have specific views on feminism?


I don't know how specific they are. It's not like I've been feeling it. I always thought women sort of run the world in their own way.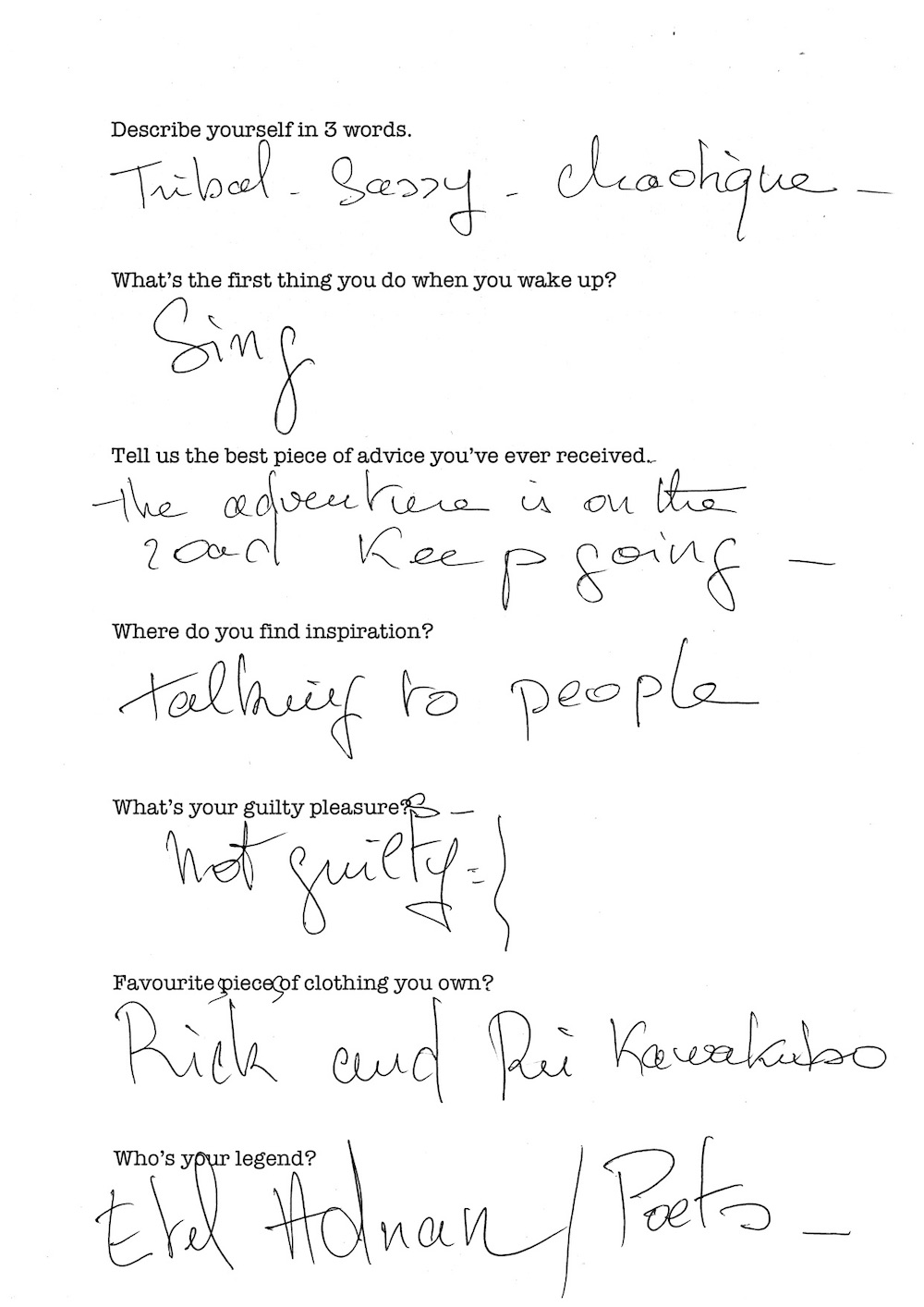 How do you feel about the new fashion designers emerging today? Do you pay attention to any of the young designers?
Yes. I'm quite selective of this and I'm a little overwhelmed about how many designers there are today. Do we call them designers or not?
You and Rick have created this very unique aesthetic. It never existed before. It's not quite gothic, it's not quite ninja and it's not quite military. Now, a lot of designers are struggling to hit a new niche because it almost seems like everything that can be done has been done. Do you think there's still some room for invention or are these designers just repeating history?


Now people are going from one house to the next and a lot of times it's really difficult because it happens so fast. For example, someone who wants to do their own thing eventually gives up because they're given another offer. So yes, I think that there is room for those types of people who want to become independent collaborators and work on their own terms, but I agree with you, also. For many years, Rick has been very consistent in doing his thing and that's really admirable.