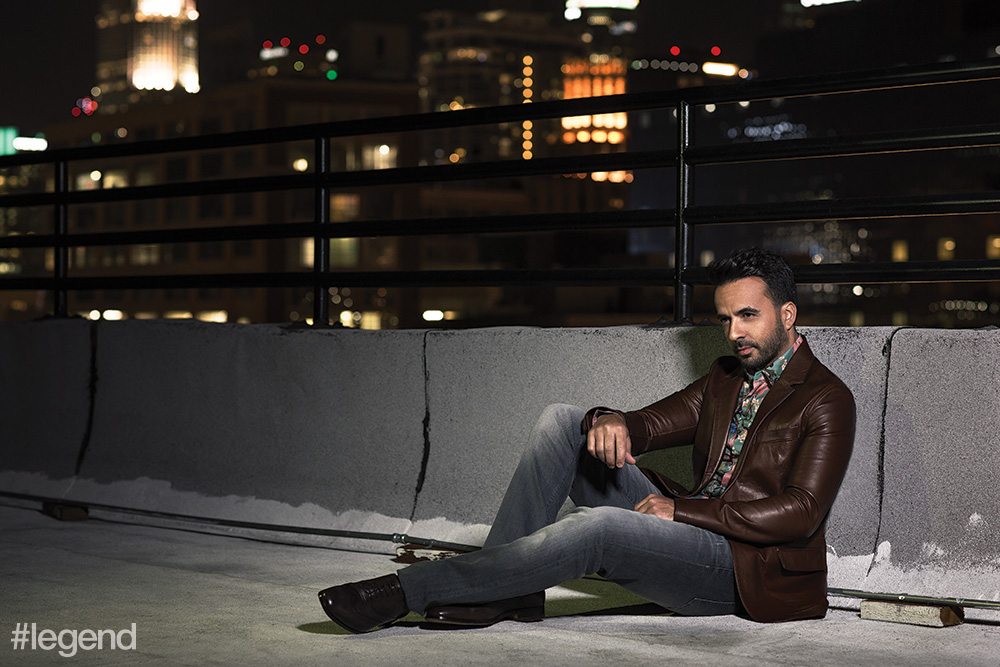 Luis Fonsi. Pop music is changing globally. New players are emerging from every corner of the world, largely because of the technology that gives the masses access to studio equipment of a professional standard. Some of these artists are well-established but have yet to become household names.
The technology also changes the game by allowing listeners to hear new music they would otherwise miss if local radio stations failed to play it. Now we can zero in on new music suggested for us by complex algorithms and expand our musical tastes as never before. Most of the Pop artists that dominate charts around the global are English-speaking and most of those are American. Now an artist that has been touring and charting for almost two decades has smashed the mould by singing – in Spanish, his first language – a song so infectious that we've been humming it for a year without another coming close to dislodging it from our minds.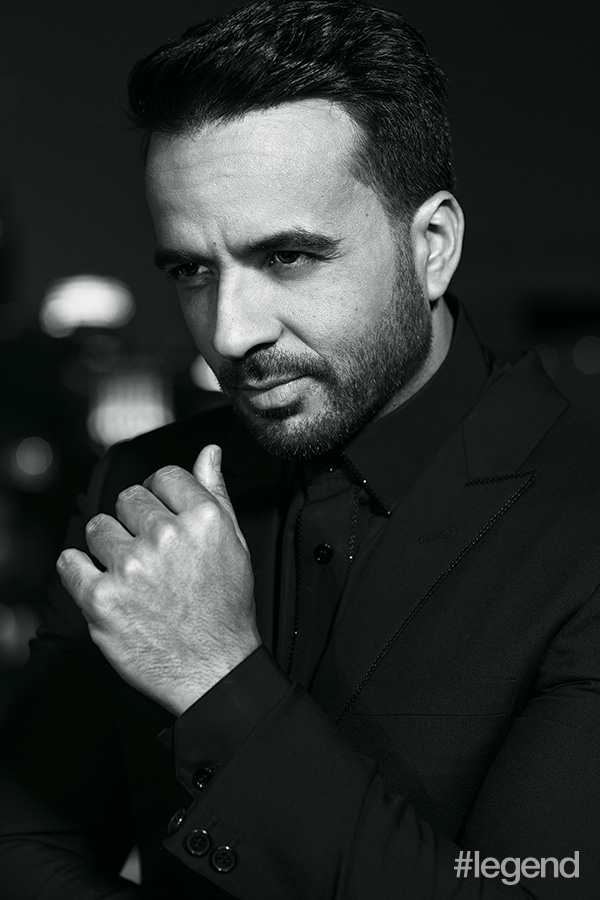 Luis Fonsi's recording of his hugely successful Despacito (the title is Spanish for "slowly") features another heavyweight of the music world, Daddy Yankee, and it has struck platinum. Despacito, with its catchy hook, has swept into every Pop chart around the world, even though many Fonsi fans have little idea of what the words mean. That's the power of music. #legend and Fonsi sat down to chat about the record, the remix, life, Puerto Rico, Hurricane Maria and what it's like to have the most watched YouTube video of all time.
Let's get into Despacito.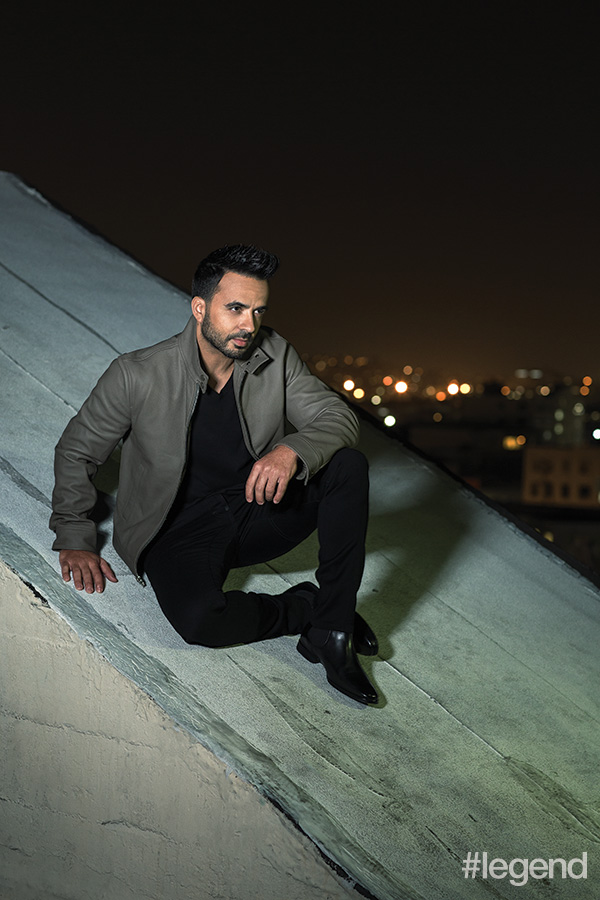 You've been doing this for the better part of two decades, then this song hits. Why is this song different?
It's different in the fact that on its own, without trying to write a crossover record or changing the language or changing my style, the song became a global hit. It connected with people across the world without forcing the music into a mould, but rather let the music stand on its own. Thankfully, people loved it for what it was. It's allowed me to travel to other places outside of my usual Latin-based audiences to [let them] hear new music they may not have heard otherwise. I'm grateful for that.
What does that say to you, as a Latin American artist, that a song in Spanish can enjoy this popularity without changing it at all?
It's amazing, but it's a great responsibility as well. When you have a song that breaks global records like this, it goes beyond just being a Latin song and becomes a record-breaking song in and of itself. It's tying songs by artists such as Mariah Carey and Boyz II Men. To be in that league with a song in Spanish is incredible. This has nothing to do with me or my career. It has and says so much more about Latin music in general, so that's a beautiful thing. That's something I take a lot of pride in and is humbling because I'm very aware of the artists that have paved the way for this song, from the years when Julio Iglesias to Ricky Martin and all the other huge Latin artists [performed]. Now Despacito has kicked that door wide open. I'm hoping that space will stay available now for Latin American artists and Spanish-language music to occupy within music.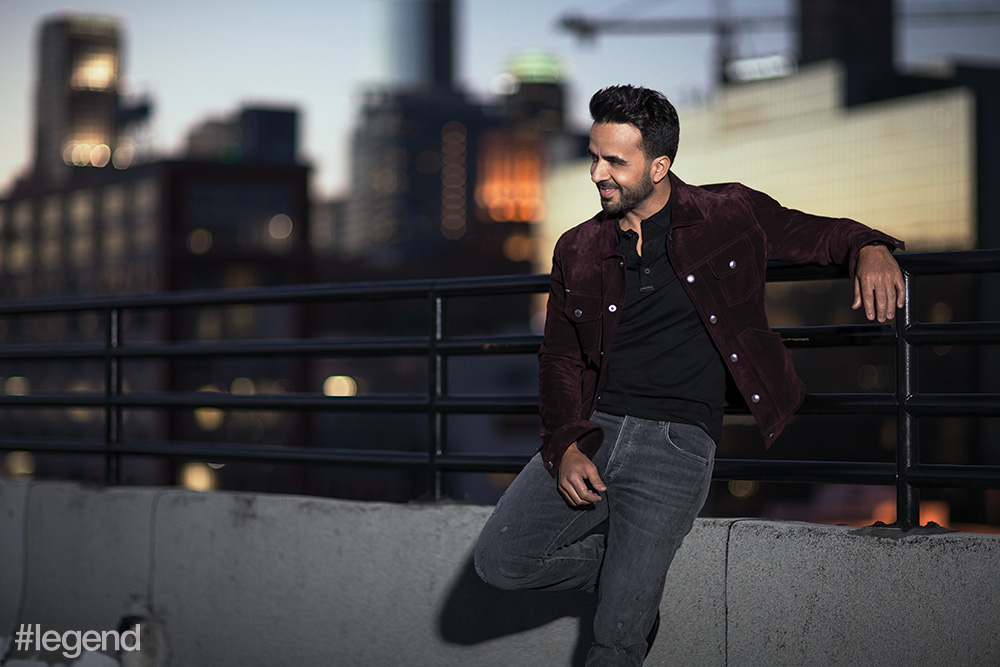 With that in mind, what do you want the success of this track and your career to say to the next generation of Latin American artists?
There are no limits. Music is global and a good song with a good message is something everyone will accept. And, at the end of the day, people will decide whether or not they like the song. But now, we may not have to worry as much if a song is in Spanish and whether or not it will have the chance to be successful. With all the new platforms for people to find music and streaming services, fans are exposed to all kinds of music. I think, with that available, it's all so much more accessible. This is something that's great for every genre, not just Latin music. Now we can pick and choose what we want to hear and make our own playlists. No one is choosing that for us. YouTube and all these services have changed the world in that way and I think that's better for everyone. You can make it on your own and be yourself, and that's an important message for kids to know. There are no more rules about how to be successful and, as long as you're truthfully expressing yourself, you can make it on your own.
Let's talk about the remix that was produced with Justin Bieber. The song was already released and had become a global hit. Then the remix dropped and it became a second hit on its own, as well. What did that mean to you?
Yeah, four months in, the song was already a No.1 hit in Latin America and a few European countries. It cracked the top 10 on the Hot 100. And then I got the call about the remix and they wanted to jump on it. Of course, I wanted Justin to be a part of it and he took a song that was already big and made it even bigger. He added a new layer with a familiar voice for the United States, especially those that didn't necessarily know who either myself or Daddy Yankee is. Now they have this extremely familiar voice singing that first verse in English and it became a new introduction to the song. It meant a lot that he wanted to pretty much leave the song as is and add his layer to it. The funny thing is we actually have a version of the song fully recorded in English, and he knew that. Instead of using that, he decided to use the Spanish version, even though he doesn't speak Spanish and had to make sure he was phonetically pronouncing the words correctly. That says a lot about him as an artist, that he kept it mostly as is and put his mark on that version. It would've been a lot easier and taken a lot less time to do it with the English version but he wanted to honour the song and use that one. It was a powerful decision that he made on his own. No-one told him to do that and I give him all the credit for making it.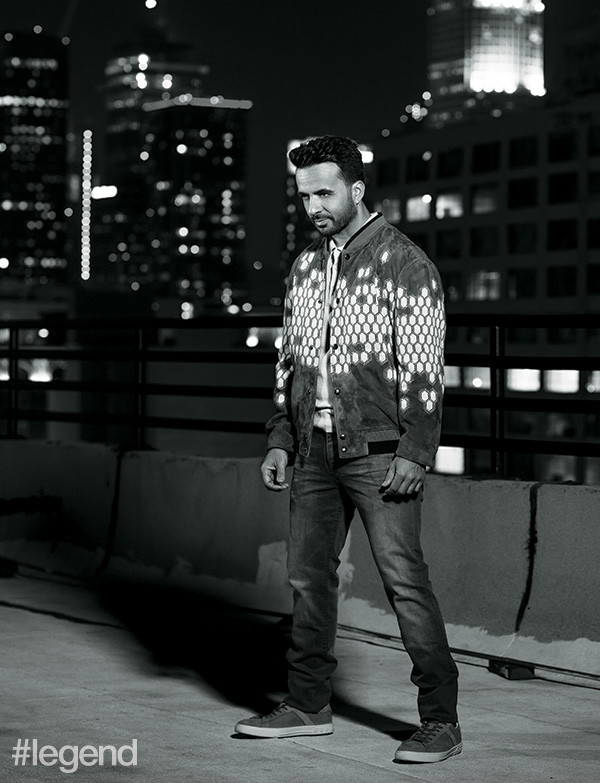 Did that open your music to a new set of fans that perhaps wouldn't have otherwise encountered your music?
One hundred per cent. I have a 20-year career and I'm well known in Latin America. The reality is, I wasn't widely known to the average American listener because most of them weren't listening to Spanish-language music and I get that. But, because of this version of the song, those listeners now know who I am. It's been great for all of us. This song has been Justin's biggest-charting hit and we are talking about a guy that's had a lot of hits. And it's a remix that's sung in Spanish. I think he's benefitted as well, and I'm glad of that.
What is it like having the most-watched video of all time on YouTube, not just for a music video but for any video, ever?
That's crazy. Of all the records and all the videos, to have this be No.1 is absolutely crazy. To this day, it's still flying high. To me, the video had a real homemade feel to it. It's something I sat down with my director [to discuss] from day one and had an idea of what I wanted it to feel like. I knew I wanted it to be filmed in Puerto Rico. I knew I wanted it to be filmed in the streets. I personally called Zuleyka Rivera, who has won Miss Universe. I wanted the choreography to be a fun, happy, steamy, Caribbean environment to jump through the screen. I didn't want it to be white-sandy beaches and a perfect-looking environment. I wanted it to look like the streets that I grew up in. To see people connecting with that is amazing.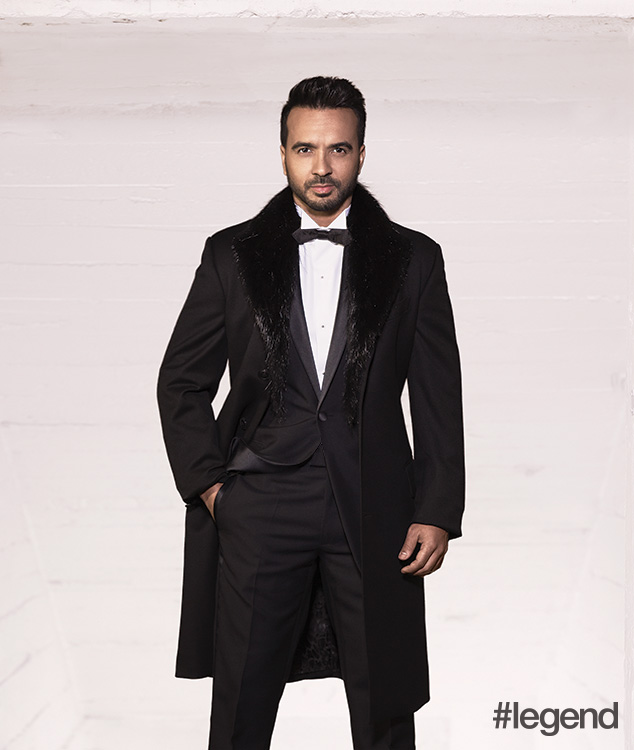 What's going on in Puerto Rico after Hurricane Maria? I understand you're helping?
Obviously, it's been a living hell these last few days. There are a lot of people, including my family, that I've been trying to get in contact with and that's been hard while also trying to be on the road. The positive side is that everyone is coming together and figuring out ways to help. The first way I can think of is going to www.unitedforpuertorico.com and donating. It's an amazing fund that Puerto Rico's first lady Beatriz Rossello has put together. I'm putting together an operation, which was just confirmed this morning, with Jet Blue. They are giving me a jetliner and I'm flying over with it filled with goods that are needed right now. I'm flying with a few other artists and creating not a one-time trip but a continuous series of weekly flights of goods to help the people living on the island. I posted one of the shots from the Despacito video, where we shot walking right near the ocean, with what it looks like now. And the before and after shots brought tears to my eyes. The locations we shot, most of which were pretty poor neighbourhoods, were destroyed and are gone. It's unliveable and it will probably be that way for a long time. This hits home for me and I'm trying my best to use all the connections and resources we have to try and help as best we can. When I say "we", I mean all the artists from Puerto Rico and beyond who have resources and influence that can help the island and those living there.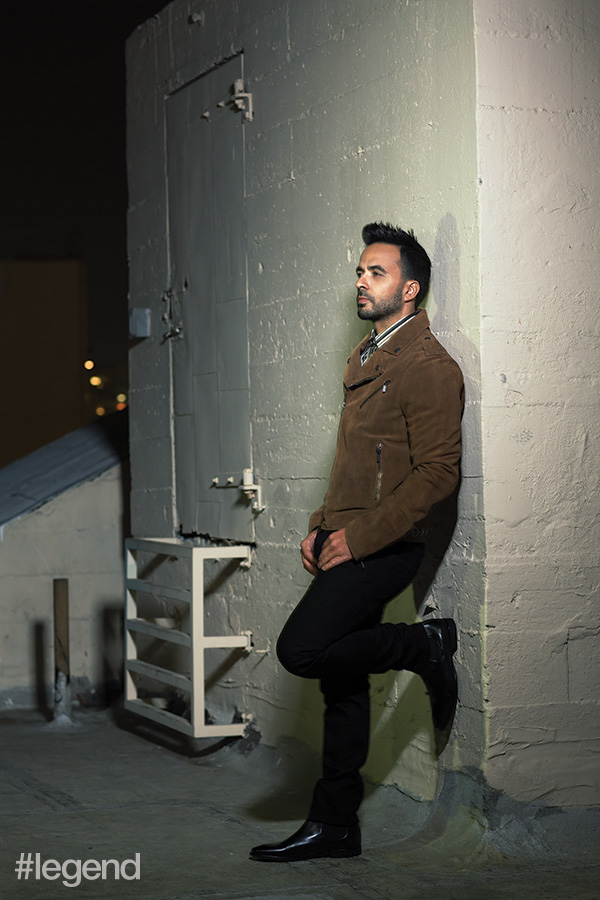 How has it made you feel, watching Puerto Rico come together to start dealing with this, and what does that mean to you?
You know, it's a lot of mixed emotions for me. I'm on this tour, I had a concert yesterday anda concert today and I have one tomorrow. My first day off is October 2 and I'm flying straight to Puerto Rico to see how I can help. I'm so blessed to be able to do this tour and career, but I wish I could put everything on pause and go over there to help start putting the pieces back together. I don't think that's just an aspect of Puerto Rico, though. I think we are all like that, as people. On one hand, it's hard to see this and know what my friends and family are going through right now. On the other hand, it's so inspiring to see how everyone is joining hands to figure this out and how they can play a part in the recovery efforts. It is even more true watching people who aren't necessarily from the island send supplies and planes and money. It's great. I know this will take a long time to fully recover, but it's going to make us stronger, even though it's a painful process. I know that Puerto Rico will bounce back. I have no doubt about that.
How does next year look for you?
This tour has been great and I think we will continue touring on through summer next year. I am going to release a new song that's a collaboration that I can't talk about yet – I believe around November. We released Despacito in January and most of the time a single doesn't last a full year. But, thankfully, this one has. It's an amazing problem to have. It's already recorded, though and I feel people are going to like it. After that single releases, we are going to release another full-length album which is also already recorded. Aside from that, we will keep touring. With this tour, I get to play music in places like Russia, Poland and all these places where I've never been able to sing my music. Going into next year, we will also head to South America and play a huge concert at home in Puerto Rico. Naturally, that's going to be a very special concert for me and I'm looking forward to that. There's so much more music I want to put out, and I'll keep doing that as long as I can.
Photography / John Russo 
Creative Director and Stylist / Paris Libby
Photography Assistants / Jakie Brutchey, Jason Bush and Tas Limur
Styling Assistant / Claudia Perez Kowalski
Grooming / Marcos Carrasquillo
Location / FD Photo Studios, Los Angeles
Production / Justin Miller
Special Thanks / Editorial Televisia