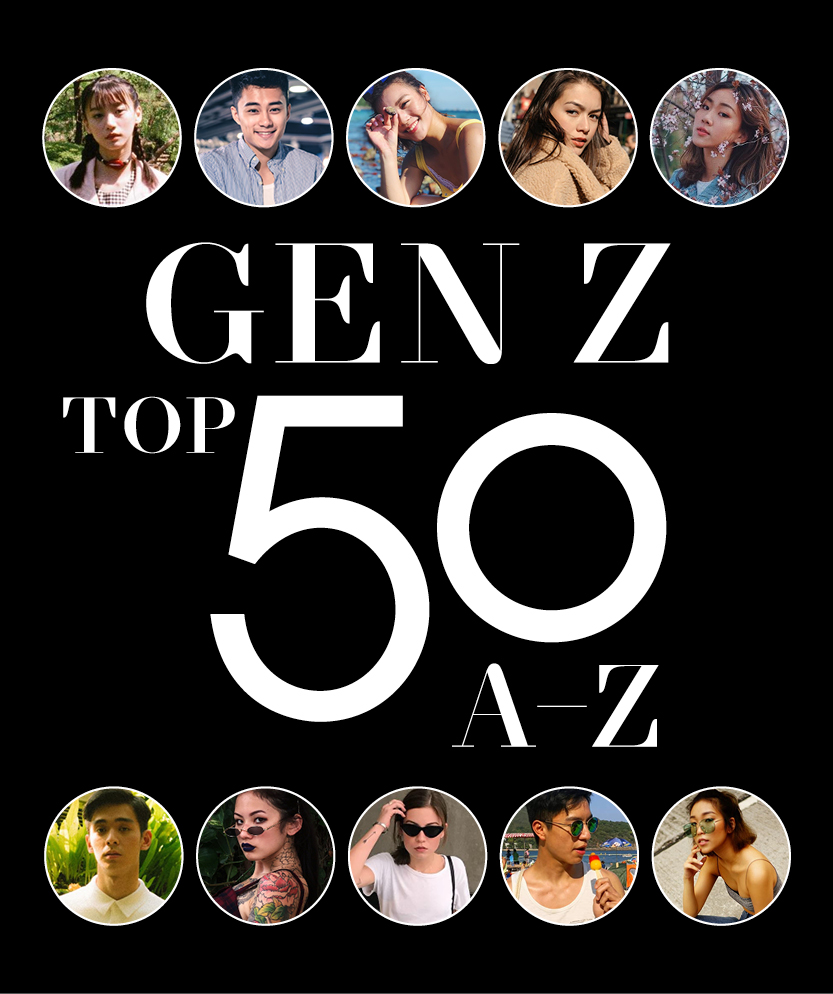 Do you remember a time when fax machines were a common thing, when the only way of sending a message to someone was through the post, and when the only moving images you saw were on TV screens or at the cinema? If you answered no to all three, then you might be a part of Generation Z.
But what exactly is Generation Z, or Gen Z? Is it another one of those gimmicky marketing terms used to describe youth behaviour in an attempt to quantify the unknown? Gen Z is the term used for the generation which comes after the "millennials", or Gen Y. Like its predecessor, the exact definition of Gen Z is much debated, with the year of birth ranging from 1995 to 2001, depending on the source. But one thing we can all agree on is that Gen Z was one of the first generations to have widespread access to the internet from an early age; that's the defining factor between this cohort and any others.
So what does it feel like to grow up with access to the internet as a given? Does it mean that for this generation, being digitally aware is second nature? Definitely that – they were brought up with a phone in one hand and a pacifier in the other.
The smartphone is an extension of their appendage and the internet is, well, quite literally at their fingertips.
This generation has grown up with more exposure to advertisements and product placement than any other, thanks to the internet, a place where you're met with a bombardment of pop-ups, banner ads and spam emails, just to name a few annoyances. If this is true, then advertising shouldn't faze Gen Zers in the slightest – if anything, they should be adept with the art form. Well, at least the world of fashion and beauty certainly seems to think so.
This comes as no surprise, given that this is an industry that treats youth as its currency. The glossies – we're in an age where glossies no longer refer exclusively to magazines, but also phone screens – are dotted with faces as young as Kaia Gerber (who just turned 17 on September 3) to Kylie Jenner (21), Bella Hadid (21) and Zendaya (22). Naturally, their fervent followers on social media live, breathe and emulate the lives of their idols. While these global megastars need no introduction, Hong Kong is constantly playing a game of social media catch-up – and it's important to acknowledge our own rising digital stars of tomorrow.
In the past, we've given you our rankings of Asia's top Instagram influencers, China's top Weibo influencers and the top 100 most influential figures in fashion. This time around, we've partnered with Vfluencer, an influencer marketing platform that uses data analytics and the power of artificial intelligence to benchmark and identify the influencers with the best engagement. First, we had to define what "Gen Z" meant to us (we set the bar at 21 years old and younger) and searched high and low with Vfluencer to identify 50 individuals in Hong Kong who you should be keeping your eyes on – that is, if you aren't already.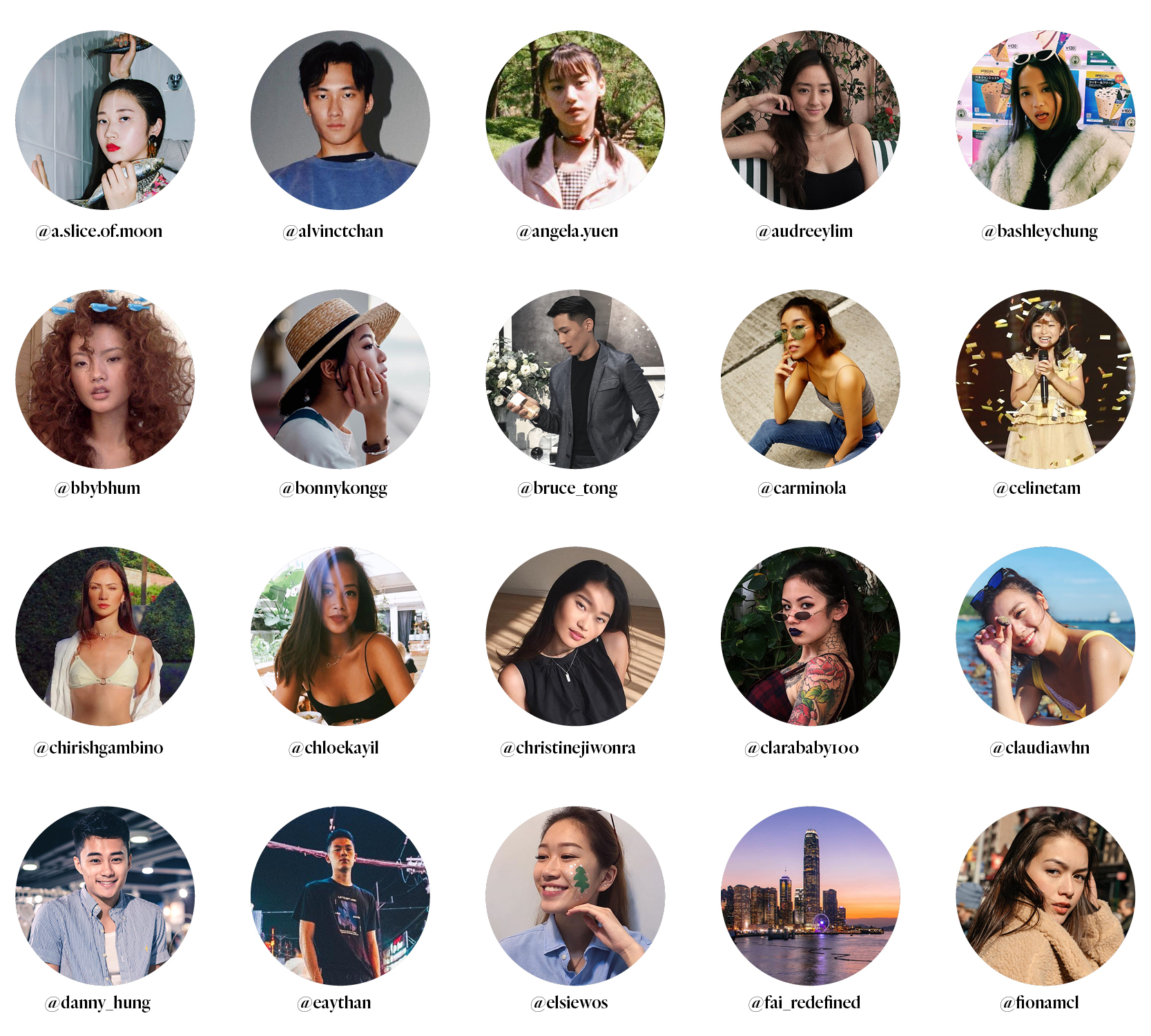 | | | | | |
| --- | --- | --- | --- | --- |
| user | followers | average likes | average comments | engagement rate |
| @a.slice.of.moon | 3,211 | 116 | 2 | 3.71 |
| @alvinctchan | 6,097 | 621 | 9 | 10.35 |
| @angela.yuen | 250,274 | 11,257 | 48 | 4.52 |
| @audreeylim | 20,192 | 1,195 | 9 | 5.97 |
| @bashleychung | 1,705 | 168 | 5 | 10.17 |
| @bbybhum | 5,130 | 473 | 8 | 9.4 |
| @bonnykongg | 9.419 | 595 | 10 | 6.43 |
| @bruce_tong | 7,283 | 375 | 4 | 5.21 |
| @carminola | 26,945 | 1,451 | 8 | 5.42 |
| @celinetam | 135,309 | 9,037 | 96 | 6.75 |
| @chirishgambino | 2,530 | 271 | 5 | 10.95 |
| @chloekayil | 10,693 | 461 | 5 | 4.37 |
| @christinejiwonra | 4,216 | 407 | 8 | 9.86 |
| @clarababy100 | 8,894 | 512 | 5 | 5.82 |
| @claudiawhn | 8,117 | 463 | 4 | 5.77 |
| @danny_hung | 16,098 | 1,204 | 11 | 7.55 |
| @eaythan | 1,591 | 257 | 8 | 16.74 |
| @elsiewos | 8,272 | 387 | 3 | 4.73 |
| @fai_redefined | 4,369 | 333 | 4 | 7.73 |
| @fionamcl | 16,779 | 815 | 9 | 4.92 |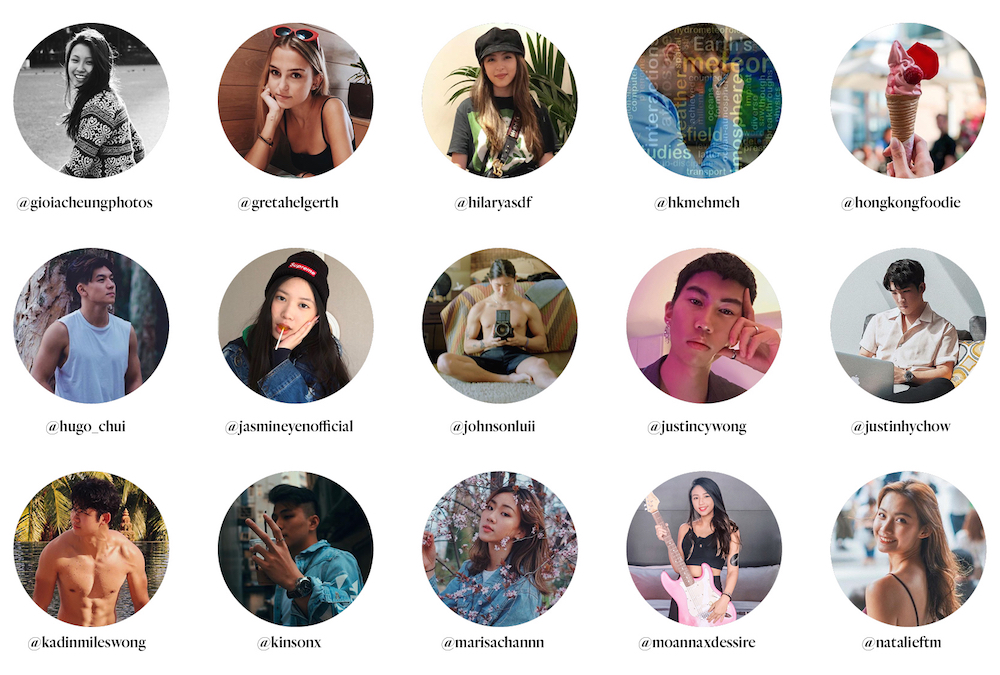 | | | | | |
| --- | --- | --- | --- | --- |
| user | followers | average likes | average comments | engagement rate |
| @gioiacheungphotos | 3,011 | 178 | 4 | 6.07 |
| @gretahelgerth | 6,473 | 825 | 9 | 12.9 |
| @hilaryasdf | 44,595 | 1,393 | 9 | 3.15 |
| @hkmehmeh | 14,920 | 1,866 | 128 | 13.37 |
| @hongkongfoodie | 15,195 | 259 | 18 | 1.83 |
| @hugo_chui | 9,610 | 961 | 8 | 10.09 |
| @jasmineyenofficial | 17,023 | 2,313 | 103 | 14.19 |
| @johnsonluii | 28,391 | 515 | 6 | 1.84 |
| @justinhychow | 2,728 | 353 | 11 | 13.39 |
| @justincywong | 13,840 | 215 | 3 | 1.58 |
| @kadinmileswong | 3,845 | 410 | 10 | 14.79 |
| @kinsonx | 1,974 | 154 | 3 | 8.01 |
| @marisachannn | 18,193 | 1,564 | 5 | 8.63 |
| @moannaxdessire | 55,850 | 739.3 | 5.7 | 1.3 |
| @natalieftm | 36,040 | 2,036 | 9 | 5.68 |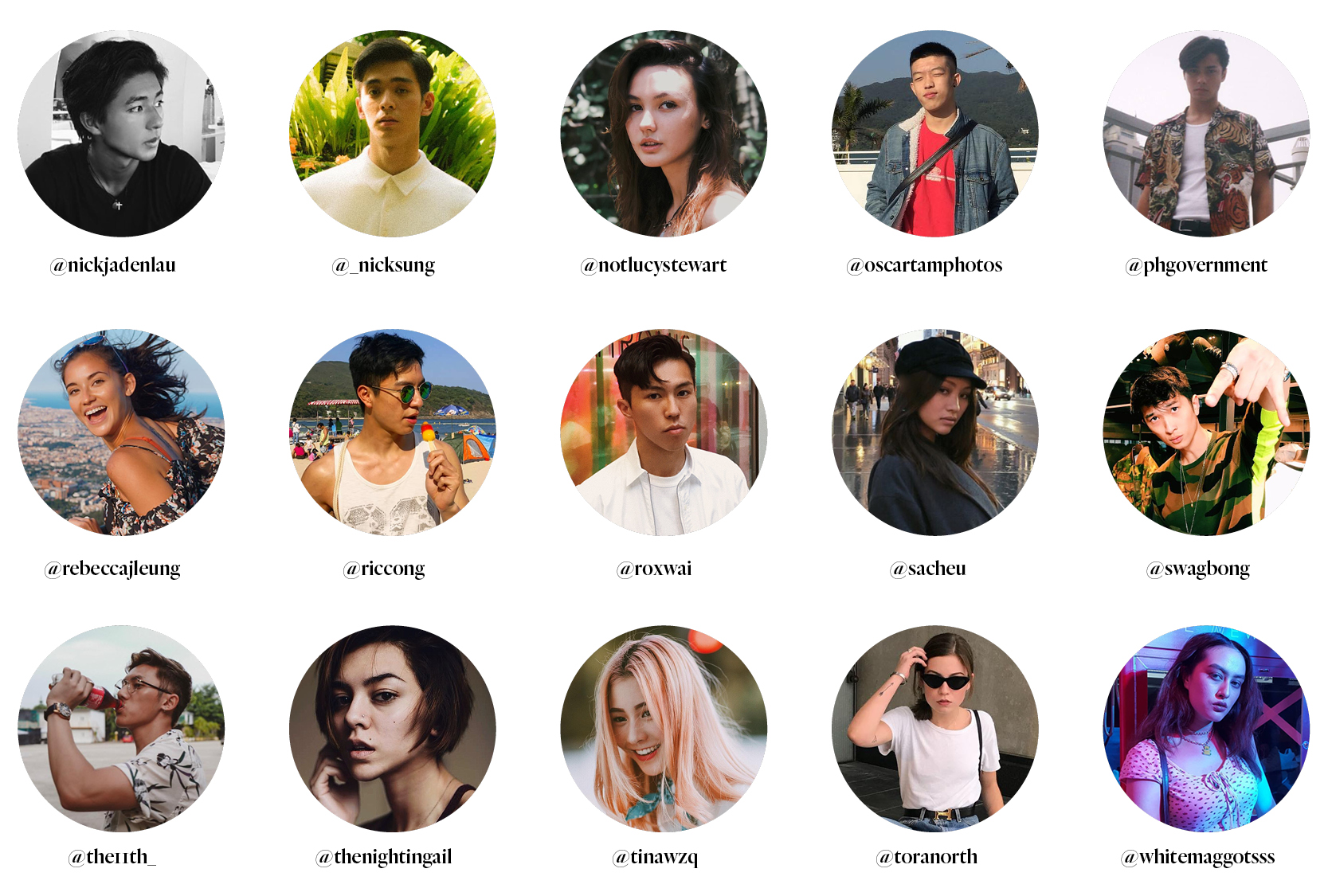 | | | | | |
| --- | --- | --- | --- | --- |
| user | followers | average likes | average comments | engagement rate |
| @nickjadenlau | 1,168 | 105 | 1 | 9.14 |
| @_nicksung | 15,868 | 1,109 | 7 | 7.04 |
| @notlucystewart | 13,047 | 1,001 | 24 | 7.86 |
| @oscartamphotos | 1,300 | 220 | 3 | 17.25 |
| @phgovernment | 1,235 | 265 | 7 | 22.06 |
| @rebeccajleung | 10,078 | 1,312 | 28 | 13.31 |
| @riccong | 34,585 | 3,307 | 24 | 9.63 |
| @sacheu | 66,136 | 9,729 | 109 | 14.88 |
| @swagbong | 10,695 | 477 | 66 | 5.08 |
| @the11th_ | 2,153 | 210 | 6 | 10.05 |
| @thenightingail | 4,977 | 259 | 16 | 5.54 |
| @tinawzq | 143,533 | 3,756 | 24 | 2.63 |
| @toranorth | 23,274 | 3,597 | 26 | 15.57 |
| @whitemaggotsss | 1,861 | 210 | 8 | 11.77 |
This feature originally appeared in the September/October 2018 print issue of #legend
Featured Influencers