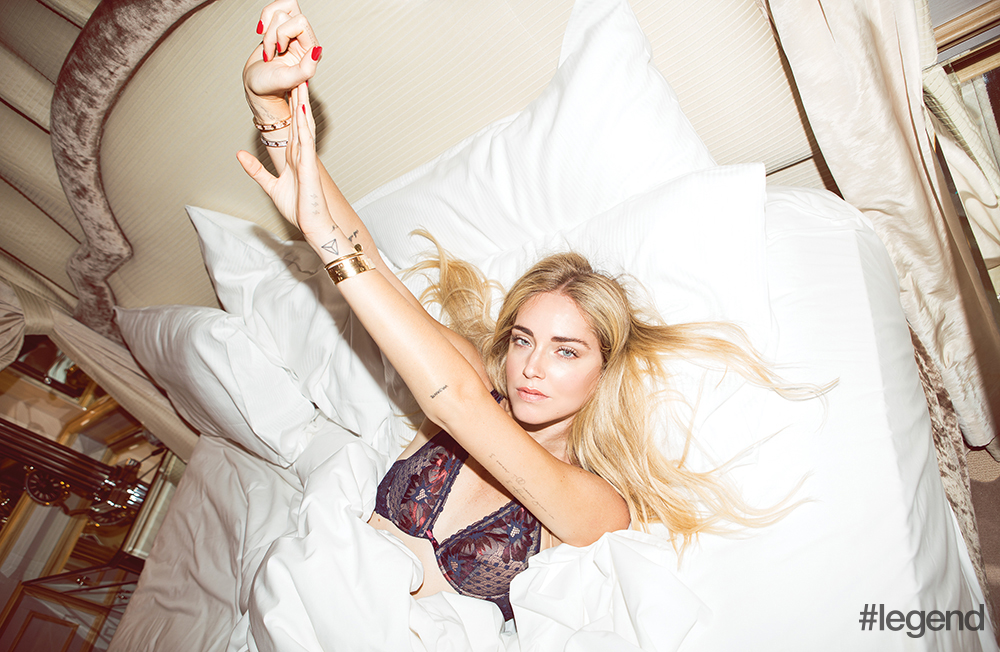 Chiara Ferragni has come a long way since she pioneered #ootd. Ferragni has emerged as a social media mogul and built a brand, turning her fashion blog into an e-mag and then into an e-shop. The Blonde Salad eventually became the focus of the first study of bloggers by Harvard University. She has lent her name to a collection of shoes and bags stocked by 250 shops in 27 global locations, including Hong Kong. Now Ferragni and Italian lingerie company Intimissimi are collaborating on the costuming for Intimissimi on Ice this October at the Arena di Verona, a Roman-era amphitheatre. From an initial US$10 outlay on her website in 2009, her net worth now stands at US$12 million.
Two years ago, you were in Forbes' 30 Under 30. What did that mean to you?
Being listed in one of the most prestigious lists was an incredible achievement. When I founded theblondesalad.com in 2009 I couldn't have imagined I could reach such a wide audience. But it was such a natural course that perfectly matched my passions: fashion, travelling and photography.
You're 30. What's your next milestone?
I have many goals. I want to continue to be satisfied and proud. This is my dream job and I want to wake up every morning happy to do it.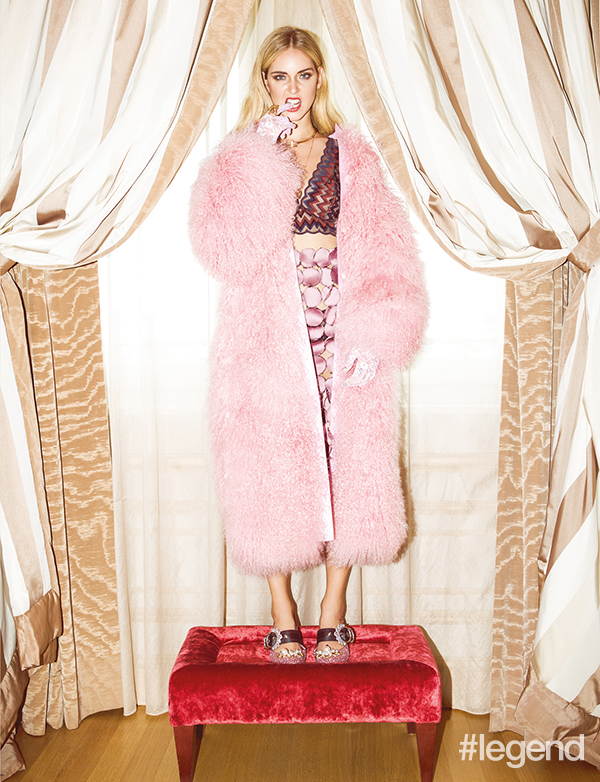 What do you think it is that makes the bond between a woman and her lingerie so sacred?
The perfect lingerie can enhance the best features of a woman's body, making her feel comfortable, and confident in her own skin. Choosing the perfect lingerie is something very personal and important.
With trends coming and going so quckly, how do you manage to incorporate trendy looks while maintaining personal style? Do you feel fashion is moving too fast and we might be losing our own sense of style?
The main difference between fashion and style is that style doesn't change and it's linked to a person, while fashion changes every season. Once you have found your personal style, you can create your outfits by mixing and matching what's in season, always trying out new trends.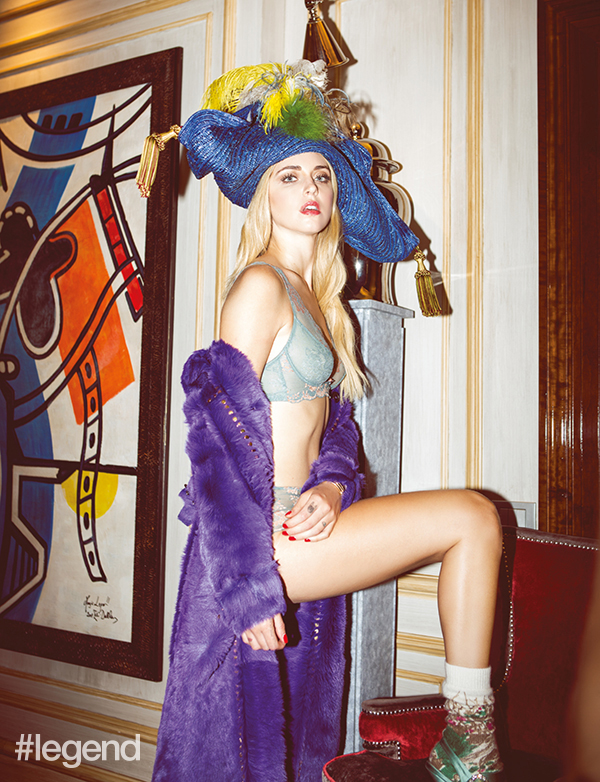 Can you share some secret advice to look as goodas you do, health-wise and style-wise?
Health-wise, it's to keep 30 minutes every day for yourself. You can meditate, go for a walk, take a long shower or have a facial mask, but save some time just for yourself and review how your day went and what you achieved. Style-wise, when I am deciding what to wear for any kind of occasion – if it's just a lunch with my friends, a family gathering or a special night – my aim is always to feel comfortable in what I am wearing. If I love the outfit, I'll feel beautiful, and my mood will be energetic and focused on having the best time ever.
What's one fashion item you can't live without?
A great statement bag: it can completely change your outfit.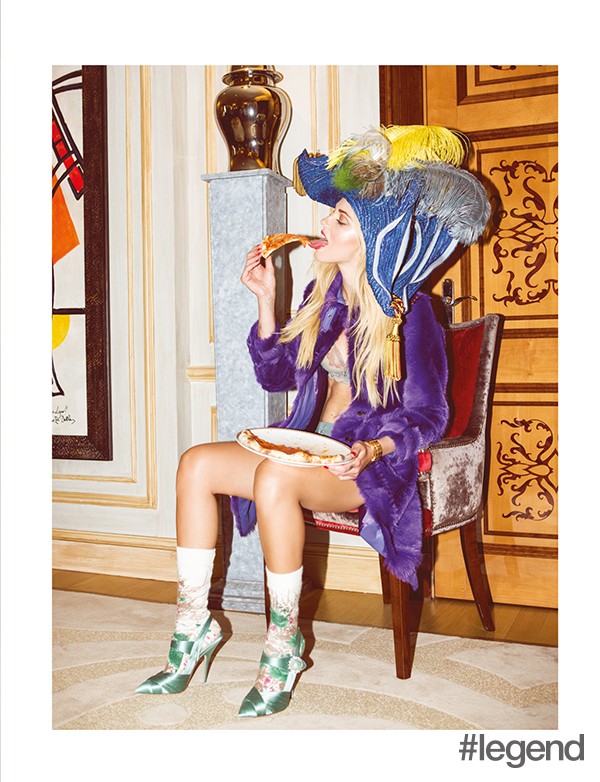 What would you never be seen wearing?
There's nothing that I wouldn't wear. I love experimenting with new trends.
Since you assumed your persona of The Blonde Salad, what was the moment you were proudest of, in terms of your career?
When Harvard dedicated a study case to The Blonde Salad, back in 2015, and again this year. It's incredible to believe what the TBS crew and I have achieved has become a benchmark for others.
You have the Chiara Ferragni Collection, a successful label with a line of shoes, bags, iPhone cases and clothing, and you have collaborated with some well-known names such as Levi's. What's next for you?
My next big step is being the costume designer for the Intimissimi on Ice event this autumn. I'm working on the ideas, the sketches and the outfits that the ice skaters are going to wear during the show. It's a lot of work but it's worth it.
How did the collaboration with Intimissimi come about?
I've been attending the Intimissimi on Ice show for the past two years, but only as part of the audience. This year, they wanted me to be an active member, and I accepted. I don't have any experience as a costume designer but that's why I accepted. I love new challenges and this was an amazing opportunity.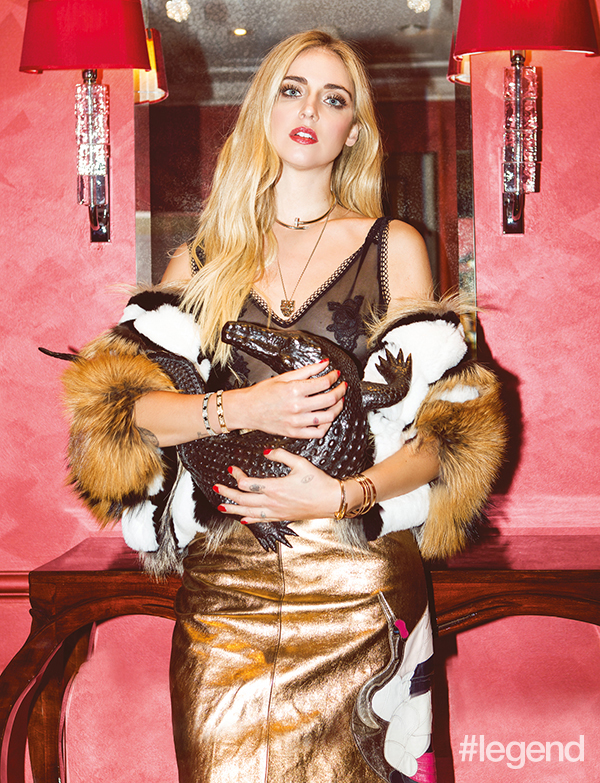 Have you done ice skating before?
Yes, when I was small, with my sisters. We loved ice skating and skating in general.
Talk us through the collection you designed. What inspirations and references did you draw on?
I took inspiration from today's fashion, and a lot from nineties glamour – like Versace's golden years with Linda Evangelista, Naomi Campbell and Claudia Schiffer. The theme and title of the event is A Legend of Beauty. We are celebrating women with a strong personality from the Greek period, like Aphrodite, Athena and Daphne but with a contemporary twist.
Do these designs reflect your personal style in any way?
When I dress, I want to enhance my best features. Therefore every costume we created is an ode to the woman's body.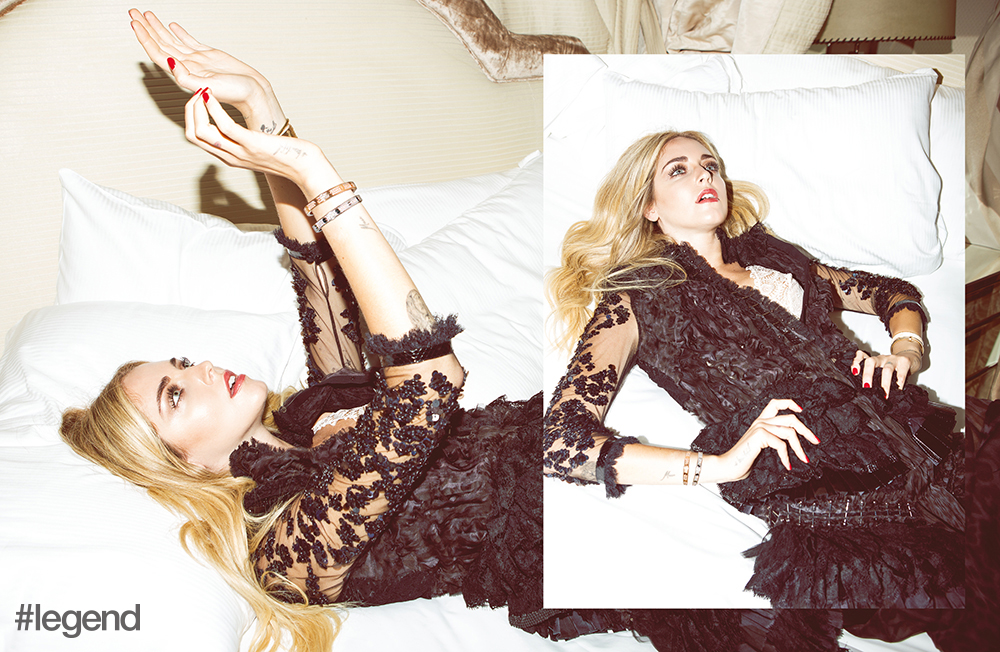 What was most important for you in terms of designing these costumes?
That they are not only historically correct but also sensual and feminine.
Do you have a favourite designer, alive or dead?
One of my favourite designers was Coco Chanel. She not only made amazing clothes but she also actually created an ideal that changed people's perspective of women: independent, feminine and confident.
When did you realise you were interested in fashion and fashion design?
Since I was small, I've had a huge passion for fashion. When my sister and I played, we tried on our mother's clothes. I started collecting pieces as I grew up. Fashion design is a passion that I discovered later, when I created the Chiara Ferragni Collection line. I worked with a team of designers to create the new collection. It was a very natural next step for me.
Did you learn anything new during this experience? Would you be up for designing for them again?
I love the creative process behind each costume. I love to search for images and inspiration. It's like discovering new stories and details every day. The best part is to find the perfect outfit for each character, by choosing the texture, length and colour. It's an amazing experience that I would try again.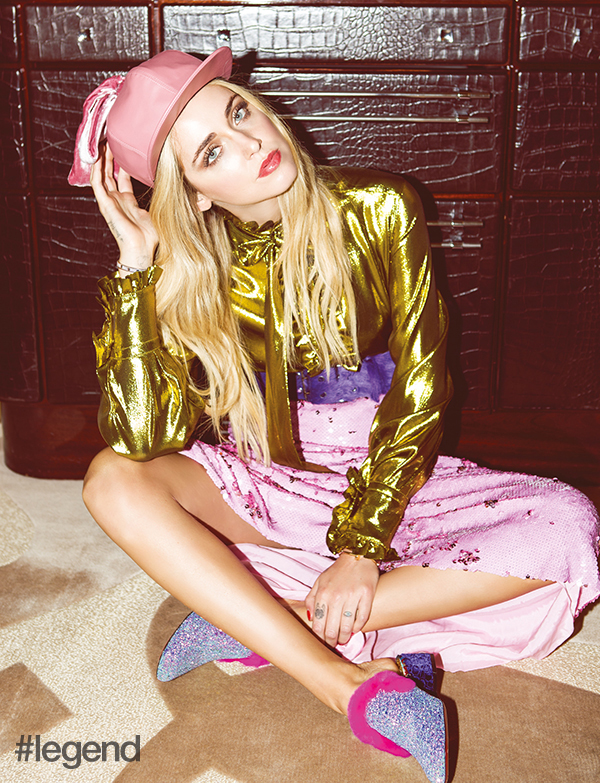 What were the difficulties in designing costumes for the ice, which isn't your conventional runway?
Because the event is taking place in the beautiful Arena di Verona, the costumes must have standout details in order to be seen even from the last rows in the audience. That's something that I am not used to. The fashion shows that I attend during fashion weeks are only made up of one or two rows. But this time we are talking of more than 50 rows.
Will you be making a debut on the ice during the show? I'm sure we'd all be thrilled.
I can't tell you right now. But you'll see me sharing all my moments behind the scenes.
Can we expect to see a full-on high fashion line from you anytime soon?
I am not planning to expand my line anytime soon.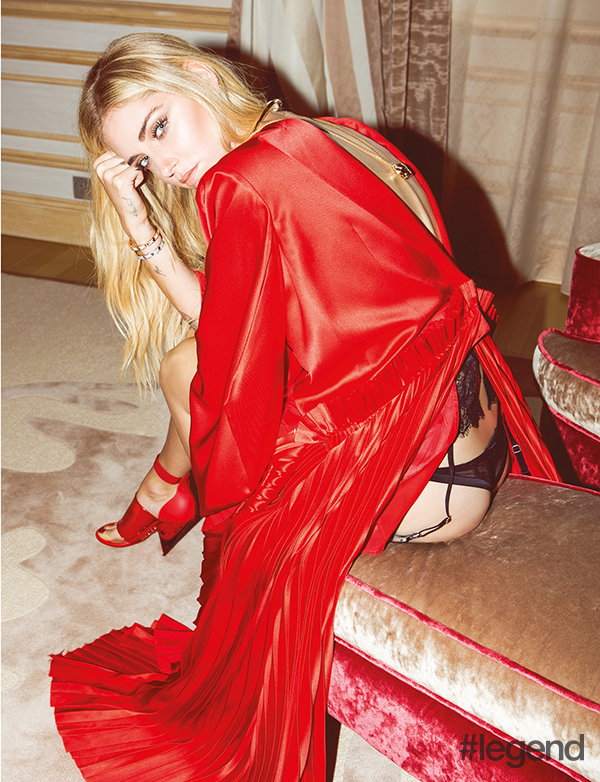 Do you think there is any gap in the fashion market that you'd like to see filled?
The fashion market is slowly giving more attention to different kinds of body and I'm happy to see that curvy models and celebrities are being treated like skinny models.
What would you like to see change in fashion? Is it a certain trend or attitude or consumer behaviour?
I think that the fashion industry needs to embrace diversity even more. It is such a creative environment that we have to be the first to embrace all kinds of people.
There are countless influencers cultivated by social media platforms such as Instagram. Do you think there is an over-saturation of influencers at the moment?
I think that everyone can be an influencer. It depends on what you are looking for. I love to use Instagram as a source of inspiration and I choose carefully who to follow, so that my Instagram feed is always curated.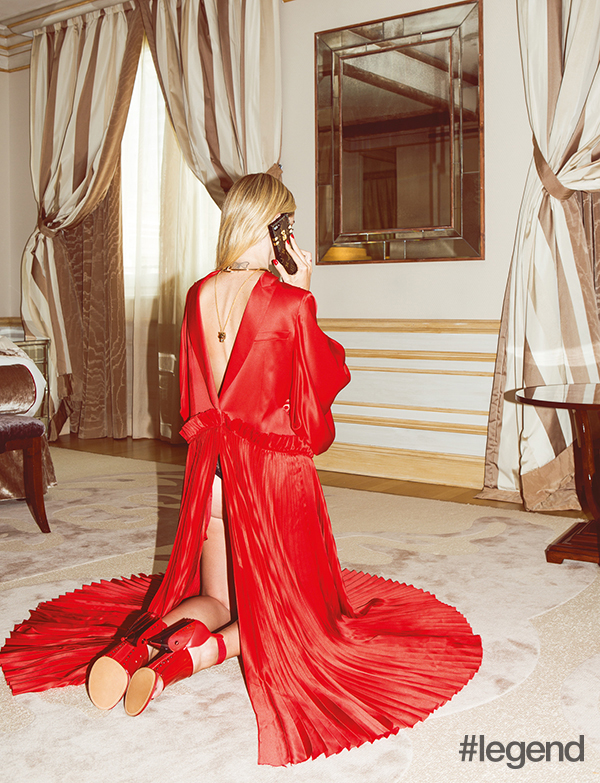 What's your strongest advice to somebody who looks up to you and dreams of becoming as successful as you one day?
To always believe in yourself, and not be scared to do something different. At the beginning I was one of the first people to share my daily outfits on social media. Now everyone does it.
Is there anything you wish you had more time for?
I wish I had more time to spend with my friends and family but over the years I've learned to find a balance between work and my personal life.
What do you imagine the future to be like in 20 years? What do you imagine yourself doing?
I think that a lot of things will have changed in 20 years. Technology has changed our habits and lifestyle dramatically, and I think that there will be even more changes in 20 years. I hope I'll be doing my same work, using new tools and trying out new experiences.
Photography / Emanuele Sironi
Styling / Kieran Ho
Location / Hotel Principe di Savoia, Milan
Hair and make-up / Manuele Mameli
Photography Assistant / Pierluigi Villa
Styling Assistant / Valerio Ceccarini
This article was originally published in the July 2017 issue of #legend.