Cara Delevigne talks about not labelling herself and finding love with Ashley Benson
September 18, 2019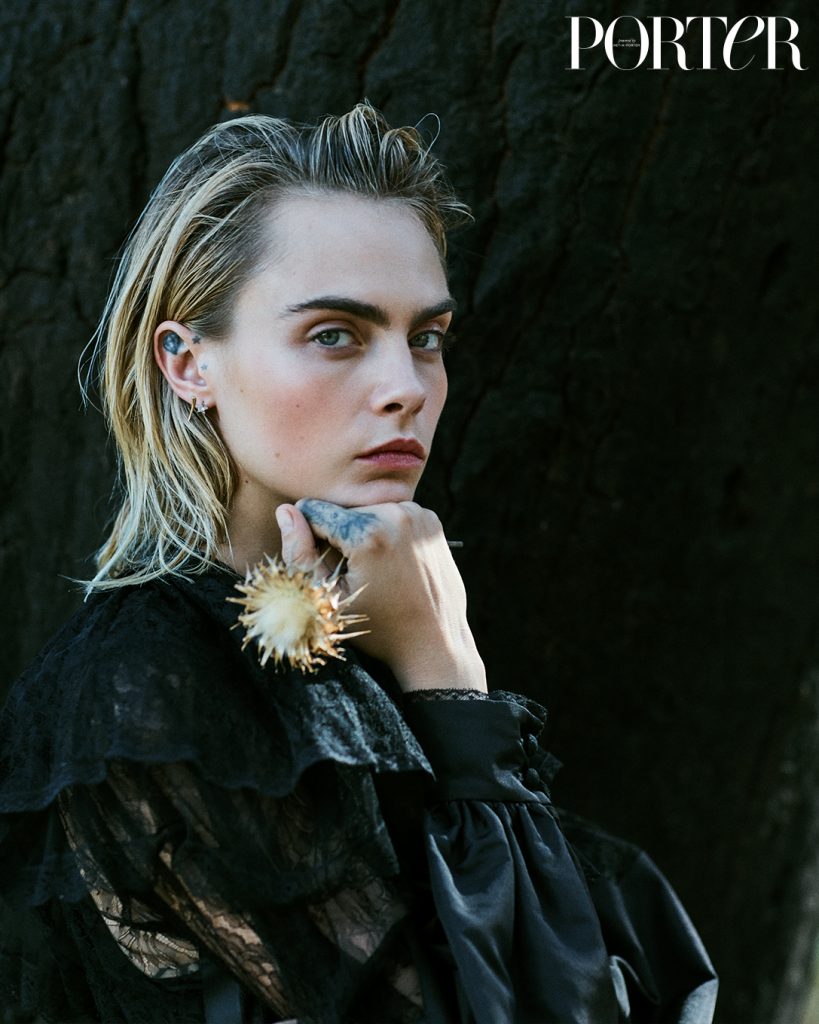 Actor and model Cara Delevingne talks to NET-A-PORTER's digital title Porter, about finding love with actor Ashley Benson, the ill-advised counsel that Harvey Weinstein once gave her, and why she doesn't need to define her sexuality: "I f****** hate it. The labels for everything bum me out. I hate to label myself. I've been to so many dinners where people are like, 'So, what are you? L, G, B, T, Q?' I'm like, 'Guys, really? This is what we're talking about?' I change every day," says Delevingne.
Following her lead role in 2015's murder-mystery Paper Towns and supporting parts in Suicide Squad and Tulip Fever, Delevingne's latest role is in Amazon's Carnival Row, in which she plays magical fairy Vignette Stonemoss. The show, while fantastical, has pertinent issues to raise about immigration, outsider status, and who you're allowed to love. Talking about what attracted her to the character, she says: "[Vignette] has lost so much, but she never plays the victim. She still has compassion and forgiveness for people who've hurt her. We can all learn something from her. I would have done anything to play her."
The 27-year-old British star has been dating American actor Ashley Benson for over a year, having met on the set of 2018 movie Her Smell. Talking about why their relationship is different to any she's previously experienced, Delevingne says: "I'd never truly let anyone in before, for fear of them leaving. I never really trusted people, or felt worthy of it, and I always pushed them away. She's the first person that has said: 'You can't push me away. I'm going to be nice to you, I love you. I'm just like, wait, so all I have to do is just let you be nice to me? Why have I never done that before?" she tells Porter.
In the interview, Delevingne also reflects on her schoolgirl crushes and other past relationships: "I loved men from when I was very young. I fell in love with my sports teacher at five. He married my other sports teacher, and I cried for weeks." Discussing her experiences with men, she adds: "I had a boyfriend for four years and then he left, and I got with his best friend. But continuously, over and over again, I was hurt by men. Not that that's why I became gay."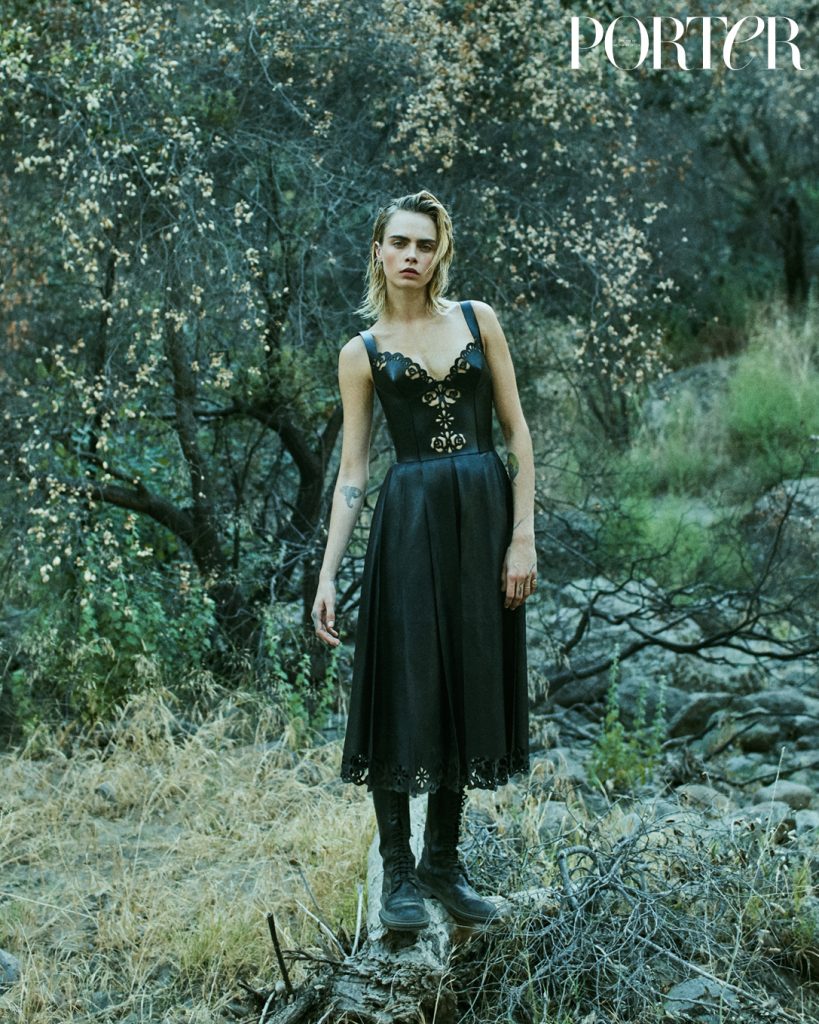 But while she speaks openly about her relationships now, Delevingne reveals that she closely guarded her sexuality in the early days of her acting career, for fear that it may impact on opportunities: "In the beginning, I don't think it helped." Reflecting on some 'sage' advice instilled upon her by disgraced Harvey Weinstein, she says: "One of the first things Harvey Weinstein ever said to me was, 'You will never make it in this industry as a gay woman – get a beard. When I'd just started to audition for films, he was naming people [women] that I'm friends with – famous people – and asking, 'Have you slept with this person?' I just thought: this is insane."
For Porter's shoot, Delevingne was photographed by Sonia Szóstak and styled by Helen Broadfoot. The shoot – shot on location at Century Lake in Malibu Creek State Park, California – captures a moody yet romantic feel, with Delevingne wearing pieces by Valentino, Alexander McQueen, Prada, Simone Rocha and more. All items can be purchased straight from the shoot via the NET-A-PORTER app and website.
Interview highlights:
Cara Delevingne on not defining herself by labels: "I f****** hate it. The labels for everything bum me out. I hate to label myself."
Delevingne on her fluid sexuality: "I've been to so many dinners where people are like, 'So, what are you? L, G, B, T, Q?' I'm like, 'Guys, really? This is what we're talking about?' I change every day."
Delevingne on her relationship with Ashley Benson and finally letting someone in: "I'd never truly let anyone in before, for fear of them leaving. I never really trusted people, or felt worthy of it, and I always pushed them away. She's the first person that has said: 'You can't push me away. I'm going to be nice to you, I love you. I'm just like, wait, so all I have to do is just let you be nice to me? Why have I never done that before? Okay."
Delevingne on making her long-distance relationship with Ashley Benson work: "Long-distance relationships are always tough. We make it work though. We have to. And it definitely makes me a better, happier person."
Delevingne on taking antidepressants as a teenager: "[They] saved my life for sure. I think they should be used for initial help but not be completely relied on – my mum can't survive without meds now. It's just putting a plaster over a gaping wound, because usually it has something to do with trauma, something that someone isn't dealing with."
Delevingne on her past relationships with men: "I loved men from when I was very young. I fell in love with my sports teacher at five. He married my other sports teacher, and I cried for weeks. I had a boyfriend for four years and then he left, and I got with his best friend. But continuously, over and over again, I was hurt by men. Not that that's why I became gay,"
Delevingne on one of the first things that Harvey Weinstein ever said to her: "One of the first things Harvey Weinstein ever said to me was, 'You will never make it in this industry as a gay woman – get a beard. When I'd just started to audition for films, he was naming people [women] that I'm friends with – famous people – and asking, 'Have you slept with this person?' I just thought: this is insane."
Delevingne on men silencing women's voices: "I had to wear a corset every day, and you lose your voice. I wonder, in the past, did men just sit round thinking, 'What we can do? A muzzle? Is that a bit obvious? Okay, we'll just wrap something round their waists so they can't breathe or speak.'"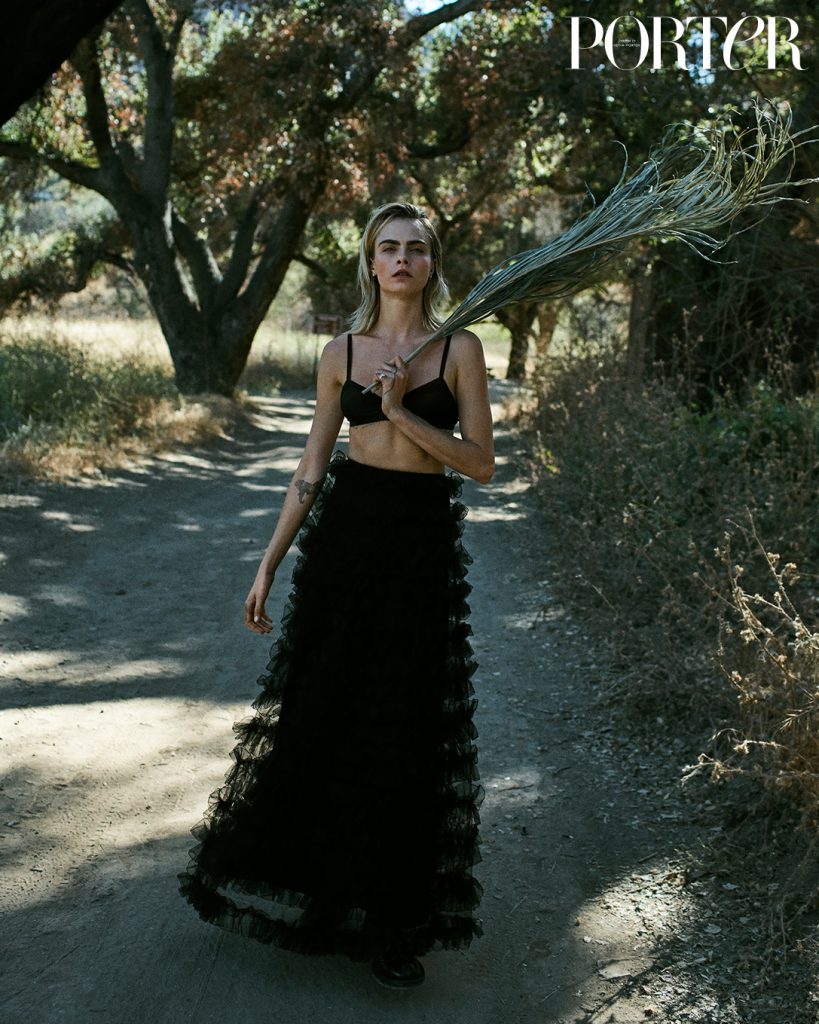 Delevingne on authority: "I've spent my life making people unhappy and I feel like it's gone quite well. Well, not making people unhappy. But not doing what people wanted me to do. I have such a problem with authority… [But] if I do want to do something, I chuck myself in headfirst. And sometimes I can't see what's on the bottom."
Delevingne on ruffling people's feathers: "What I said about making people unhappy, it's more like ruffling people's feathers. People spend too much time combing their feathers. They're meant to be ruffled."
Delevingne on modelling and self-worth: "As a model, I didn't really have any self-identity or self-worth. I was just like, 'Supermodel? That's what they look like, feminine, okay, I can do that. But it was a struggle. I was taking so much from myself and giving it to everyone, but I wasn't making a difference, and I wasn't giving anything back."
Delevingne on losing control during her Carnival Row audition: "I don't remember what happened, but at some point I just broke down. I find it quite hard to be vulnerable anyway, but I just kind of lost it. I don't know if it was anger or sadness or despair or grief, but something came flowing out of me. I've never got to that place before. I just remember looking up and nobody was saying anything. I was like, 'Oh God. F***.' I was so worried everyone was going to be, like, 'Well, that was embarrassing.' Nightmare."
Delevingne on her character Vignette Stonemoss in Carnival Row: "[Vignette] <has> lost so much, but she never plays the victim. She still has compassion and forgiveness for people who've hurt her. We can all learn something from her. I would have done anything to play her."
Delevingne on working hard: "I'm not winging it. I work f****** hard and I love what I do. But I didn't know I was a creative person until I was allowed to be."
To see the full interview, head to Porter or download the NET-A-PORTER app for iPhone, iPad and Android