Cover story: Britain's next It list of the mod squad of Burberry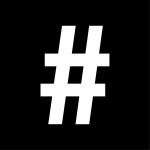 By: #legend
June 1, 2016
Burberry has a dynamism that is unique. A brand that has long been known for its timeless and classically British aesthetic, Burberry is also a brand that is shaking up fashion like few others can – or are prepared to do. The way the brand speaks to consumers has grown decidedly edgier and more contemporary. There's an urgency to bring catwalk fashion to the consumer that has never before been seen in the rag trade. Perhaps most disruptive of all is Burberry's rejection of the fashion schedule. These examples are a further indication of the brand's astuteness and the products of a strategy to stay relevant. The entire brand would appear to be on the move to the left, rejecting the conventional and embracing what's next.
Since the end of the first decade of this century, under the command of chief creative and chief executive officer Christopher Bailey, Burberry has become known for its ability to spot the most exciting new British talent, from models to actors to musicians. Each season, their launches are regarded as uncannily accurate predictors of who will become the next big thing. It's no fluke, given the track record. Look back to spring/summer2012 when Burberry selected actor Eddie Redmayne and model Cara Delevingne as the pivot for the new collection. One happens to be a newly minted Oscar winner. The other is one of the highest paid models on the planet at age 23.
Burberry launches stars and helps create their legend. To use Delevingne as an example, folklore has it that Burberry presented her with the first opportunity to earn money from modelling, after she was spotted by Bailey while working part-time in the office of fashion website ASOS. Bailey subsequently cast her in the company's spring/summer 2011 campaign.
Five years later and perhaps the one constant at this dynamic brand are the mechanics behind the launch of the spring/summer line. Bailey and team have picked a bunch of relatively young and unknown British up-and- comers. Photographed by Mario Testino, the high-wattage campaign was infinitely cool. The taker of images for the British Royal Family, Kate Moss, Kors, Klein, Valentino and Versace – and countless others across a 40-plus year career – tinkered with the formula ever so slightly by producing visuals that show more than just a little skin. The world's eye has now turned to these rising stars of the British modelling scene.
Perhaps the most recognisable model of the lot is Ruth Bell, who rocks a buzz-cut. A recent face of both Alexander McQueen and Saint Laurent, she poses alongside her twin sister, May, both wrapped in the label's signature woven scarves. Included in the line-up is Ella Richards who boasts Keith Richards as her granddad, and Dylan Brosnan, a heartthrob in the making, carrying genes from his famous father and former Mr Bond, Pierce Brosnan. The other new talents who round out the cast are Eliza Fairbanks, Liam Gardner, Sol Goss, Ben Gregory, Misha Hart, Louie Johnson, Hayett Belarbi McCarthy and Bella Yentob. Taken as a collective, these monikers mean very little to the wider public at the moment. The likelihood is they will be household names by the time the year is up.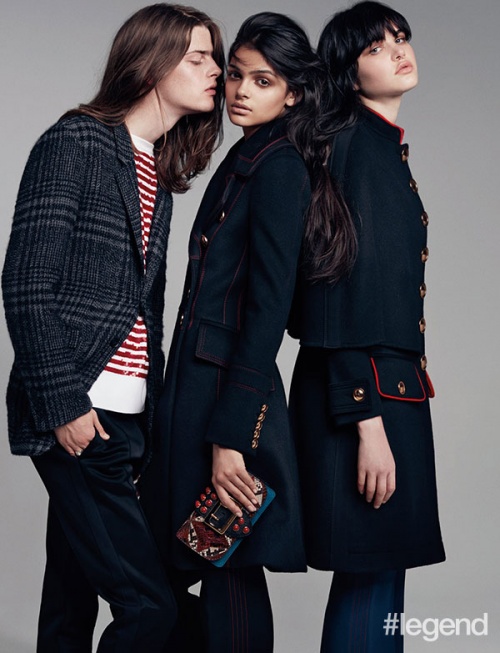 The images will help propel each of these names forward. Testino has captured a classic brand with an edge. The models are seen posing in the iconic trench, a tartan scarf and little else. There is also the dishevelled bedhead look and piercings that seem to herald a new era for Burberry's evolution. The campaign consists of 40 images that will gradually be released in print, online, on billboards and over social media channels throughout summer.
At an exclusive shoot and interview for #legend, Fairbanks, Hart, Gregory and Johnson tell us what they think and feel about their careers and what it means to be associated with an iconic brand.
With her delicate Anglo-Indian features, large eyes and flowing hair, Fairbanks exudes an angelic air, while Hart intrigues with her dark and sultry looks that bear a passing resemblance to a young Angelina Jolie. The lads, meanwhile, boast unassuming boy-next-door looks and an equally nonchalant air.
Let's see what this quartet gets up to next.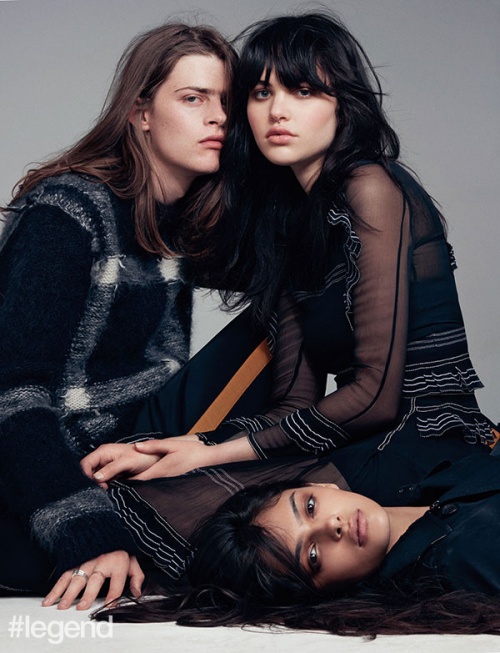 Each of you has modelled only for a short time. Describe the journey.
Eliza Fairbanks: Incredible. When I started modelling I had so much fun attending test shoots. Now I love the buzz of running around London for castings and meeting interesting people.
Misha Hart: I honestly can't believe how much I've experienced over the last two years.
Louie Johnson: Surreal, I've travelled to so many places and met a lot of cool people.
Did you always want to be a model?
EF: I have to admit, when I was younger I always wanted to be a singer. I would sing everywhere I went. I still do. But as I grew older, my role models became models, not singers and from there I started to aspire to be a model, and shortly after that I was scouted.
Ben Gregory: I always wanted to be a musician. The modelling came as an extension to that, but I'm definitely enjoying it.
MH: The idea of modelling wasn't really on my radar while growing up, it's something I'd never thought about until the opportunity was there.
How were you discovered?
EF: Fate. One Saturday I begged my family to take me shopping to the nearest shopping centre. After much reluctance, they gave in. Not long after arriving, my current agent, Jen, came running over to us. She was out of breath. It all started from there.
MH: I was scouted by No.15 Model Scouts and they introduced me to my agency, Viva London. It all took off from there.
LJ: I was scouted by Premier Models at a music festival.
What has lived up to expectations? What surprised you?
EF: Most girls have imagined what it's like to be a supermodel on set. In my experience, it's just as I pictured it; the loud music getting everyone in the mood, the photographer giving directions.
MH: Honestly, I didn't have any expectations to begin with. I could never have predicted things would have turned out the way they have.
LJ: It's not a world I was aware of before, so it's been a completely new experience. What's surprised me is how nice people are within the industry.
Tell us about your experience on the Burberry shoot.
EF: It was no doubt the best experience of my life. I was the baby of the shoot and it took me a while to overcome my shyness, but once I did it was so much fun. The fact that I got to work with Christopher Bailey and Mario Testino still excites me to this day.
MH: Being part of such a real, exciting campaign for a brand as iconic as Burberry is surreal. I had an incredible experience shooting with Bailey and Testino. Seeing the end result all over the world is brilliant.
LJ: It was so much fun. Getting to work with Bailey was a highlight I will never forget.
BG: Bailey was keen to let our individual styles come across in the campaign. I was able to choose my own jewellery and was free to do as I liked on set.
Do you enjoy doing shows or magazine shoots more?
EF: I enjoy shooting more. Saying that, there's nothing like the feeling of coming back through the curtain after walking a fashion show and just wanting to do it all over again.
BG: I've never walked a show before but I attended Burberry's autumn/winter 2016 menswear show as a guest and it was awesome. Benjamin Clementine played and I'm a huge fan of his. I always have a good time at magazine shoots though.
MH: I love the atmosphere and intensity of shows and I like the creativity of shooting. Both.
LJ: I enjoy the thrill of doing shows but also love seeing the outcome of a shoot, seeing myself in magazines is still surreal.
What is the toughest thing about working in fashion?
EF: I'd say the toughest thing about working in the industry is the tiredness, no job comes without its challenges, even modelling.
LJ: Being away from home.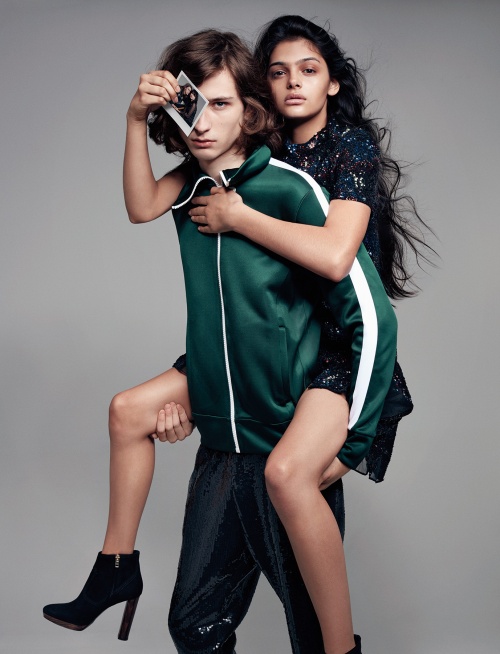 What do you enjoy most about your job?
EF: When I look at my images and look back on what I've achieved, I love being able to provide for my sister and myself. The feeling I can make a good life for my family is very humbling.
BG: As a model, I've had a great time working with some incredible photographers, such as Testino and Eric Michael Roy. I thoroughly enjoy meeting such inspiring creatives. As a musician, recording our album with Jim (Abbiss – Arctic Monkeys, Adele) was one of my all-time highlights. A frenzied show is always memorable, too.
MH: I've had the opportunity to visit countries I'd only ever imagined going to before, and I've been lucky enough to actually spend time living in these cities and truly experiencing them. It has really shaped me.
LJ: Getting to travel spontaneously and making friends.
What has been your most memorable modelling experience?
BG: Being cast by Bailey to star in a Burberry campaign. MH: I spent some time in the Sahara Desert. That was unforgettable.
How has social media influenced your career so far?
EF: I try to show my true self on social media because I want people to like me for who I am. Hopefully one day I'll be a role model to younger girls and I want them to know its okay to be themselves, it's okay to be different.
BG: Social media has become pretty significant in the music industry. It's an easy way to keep people engaged with what you're up to: new music, tour dates, for example. Things like the Burberry Acoustic video we recorded have also increased our following.
MH: I'm unsure how much it has influenced my career so far. I like to think that people work with me because they see something they like in my character.
If you hadn't become a model, what would you be doing now?
BG: I'd still be a musician.
MH: Creating, making music and living life.
LJ: Probably undertaking an apprenticeship.
What did you want to be when you were young?
MH: A rock star. And a lollipop lady, but only when it was raining.
LJ: A boxer.
How keen were you on fashion before you became a model?
EF: I've always loved fashion; my whole family know this about me. I've always been very picky about my fashion choices.
LJ: Being a boy from Liverpool I wasn't really that aware of high fashion but I did always like certain designers.
Has your sense of style changed since?
EF: I like to dress a bit smarter now.
MH: Not at all.
LJ: Not hugely, although it has made me more aware of what I wear.
What is the most bizarre outfit you have had to wear?
MH: I did a local fashion show when I was much younger. One of the dresses could have been an inflatable dinghy.
LJ: A T-shirt made out of paper.
What do you normally wear on a regular day?
EF: Jeans. I love them.
BG: Jeans, Converse and a flannel shirt.
MH: I like playing around with masculinity and femininity. My staples are satin shirts, leather and tailoring.
LJ: A tracksuit.
Aside from modelling, what are your passions?
EF: I'm creative, and I like drawing and making things including collages. I'm also an ambassador for breast cancer awareness. My mum passed away from the illness so I feel strongly about raising awareness and money for the cause.
BG: I am part of a progressive alternative band. Recently Zane Lowe compared us to Pavement, which was a huge compliment. We've been together for five or six years, since we were at school. I mainly play the guitar and sing, but did some other bits on the record like keys and melodica.
MH: I enjoy making music.
LJ: I like going to music festivals and love house music.
Ben, do music and modelling fulfil you in different ways?
BG: Definitely. With modelling, it's amazing when people like Bailey, who have spent so many years developing their brand, want to associate your face with it. There's a big sense of fulfilment in that. With music, you're offering the world a view into your art and your consciousness, which I find much more terrifying. If someone complains about my eyebrows, I can get over it, but to read people lambasting my music is far more troubling.
What are the best tips anyone has given you for posing in front of the camera?
EF: Testino told me to always slightly part my lips, I will never forget that. When people tell me to do the opposite, in the back of my mind I think, that's not what the world's best photographer said.
LJ: Keep your chin down.
MH: There's no one rule that applies to everything. The most important thing is to listen to the people you're working with on the day and try to understand their creative vision.
BG: Chin down.
How have your family and friends reacted to your modelling career?
EF: My friends and family are very proud of me. I really appreciate their support and they understand why I can't see them as much as I would like to.
MH: They're happy if I'm happy.
What is the most surprising thing about you that people don't know about?
LJ: I'm obsessed with my two dogs, they're like my babies.
BG: I'm a turtle expert.
Who are your modelling idols?
EF: I'd have to say Cara Delevingne. She is just so unbelievably beautiful and has come so far at such a young age.
BG: Cara Delevingne.
LJ: I don't particularly idolise one particular model.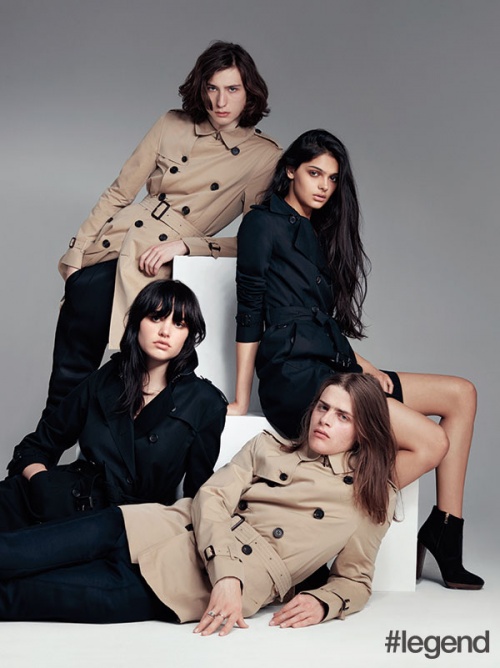 What's your motto for living?
EF: "Everything happens for a reason" is something I say at least once a day.
BG: You must never go in the sea.
MH: Live life on your own terms.
LJ: Don't worry about people's opinions, do what makes you happy.
Who is your legend?
BG: Elliott Smith; the man crafted the perfect song time and time and time again.
MH: PJ Harvey.
LJ: Mum.
EF: Mum, hands down. No celebrity or role model can beat my mum. She was the strongest woman that I have known.
Photography / Eric Michael Roy
Creative Direction and Styling / Paris Libby
Styling Assistant / Gaby Gower
Make-up / Gina Kane at Caren Agency, using Burberry Beauty
Hair / Massimo Gamba at Caren Agency
Videography / John Kenney
Photography Assistant / Robert Bowler and Jamie Phelps
Models / Eliza Fairbanks, Ben Gregory, Misha Hart and Louie Johnson
Fashion / Burberry
Location / Shoreditch Studios, London