Andreas Kronthaler, the man behind Vivienne Westwood's aesthetic, on its future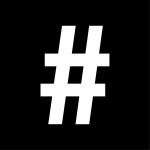 By: Kieran Ho
January 24, 2019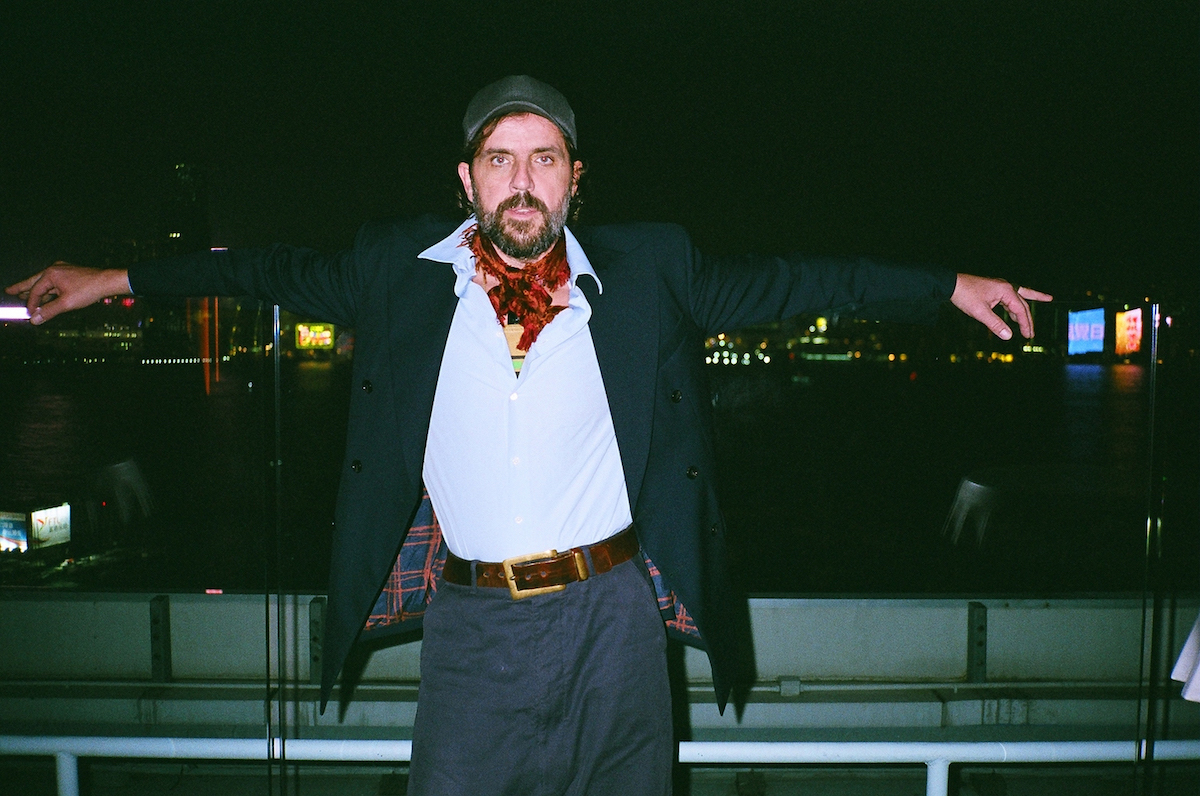 For anybody with the slightest interest in fashion, the name Vivienne Westwood certainly conjures up some feelings. What defines Vivienne Westwood to you? Is it the orb motif with the saturn ring, representing the past (the orb) with the future (the ring)? Is it the Union Jack flag draped into dress? The woman's flaming red locks back in her younger days? Or perhaps the taffeta wedding dress Carrie Bradshaw wore in the Sex and the City movie 10 years ago?
For me, the first memory of Vivienne Westwood was during my high-school years when I saw someone on the streets dressed in all-red tartan with some serious hardware on his fingers. From his metallic hand, one ring stood out to me the most – the design was like the shell of an armadillo and sections of metal hinged together to form a flexible sheath that covered the whole finger. It was Vivienne Westwood's armour ring.
But I digress. The point I want to make is that no matter what your background is, chances are one way or another you've heard of the museum-worthy name. But how much do you know about Andreas Kronthaler – the creative director, design partner and husband of Dame Vivienne Westwood?
Remaining relatively low-profile, Kronthaler has silently been designing and largely influencing the Vivienne Westwood aesthetic for more than 25 years – one could say he's the brand's unsung hero. One look at him is all you need to understand the influence he has on the independently owned Vivienne Westwood brand. From his blazer with the ridiculously oversized lapels to the drop-crotch trousers, and right down to his tan leather shoes with the squiggle print, topped off with a pop of red in the sock department – he's the quintessence of everything the fashion house stands for.
The duo met in the late '80s, when Kronthaler was studying fashion in his native Austria and Westwood came in to teach at the Vienna School of Applied Arts. She was impressed with the young man's series of Renaissance-inspired dresses that could be worn an infinite number of ways with the addition of a belt… sound familiar? In 1989, Westwood swooped him up and invited him to work with her in London, where his collection of dresses was developed into the final looks for Westwood's collection in the same season. Just four years later, the two became husband and wife, and subsequently one of British fashion's most unconventional, but game-changing couple.
After being silently at the helm for a quarter of a decade, the autumn/winter 2016 collection brought the name Andreas Kronthaler to public attention when the one of the brand's lines, previously called Gold Label, was renamed Andreas Kronthaler for Vivienne Westwood. The aesthetic of the line remained unchanged, but it was more of an acknowledgement of his impact on the Gold Label collection over the past 25 years.
I put your name into Google and the first thing that popped up was actually a 66-year-old Olympian from Austria. Is that you? I'm not sure if you're an Olympic athlete or not, but you certainly don't look 66!
I get asked that question quite a bit, but it definitely isn't me. It's just a bit of a strange coincidence, because my name is a rather rare one, even in Austria.
What are you looking after at the Vivienne Westwood brand right now?
At the moment, what I'm doing is looking after Andreas Kronthaler for Vivienne Westwood. I used to look after all the lines, but we have separated them a bit two years ago, when we simplified the lines. With that, we decided to have Andreas Kronthaler for Vivienne Westwood and then have just Vivienne Westwood . I think it made things more concentrated in the house, and as long as it's an attractive collection with interesting products and pieces, that's all that matters.
So do you work together with Vivienne on all the designs or do you work independently depending on the label?
It depends on the circumstances and how we both manage our time. I mean, we live together and always see each other. So everything we do, we bounce off each other. It's usually very casual and informal. I mean, we've worked together for nearly 30 years. Sometimes you don't need words anymore; you just know what the other person thinks or wants.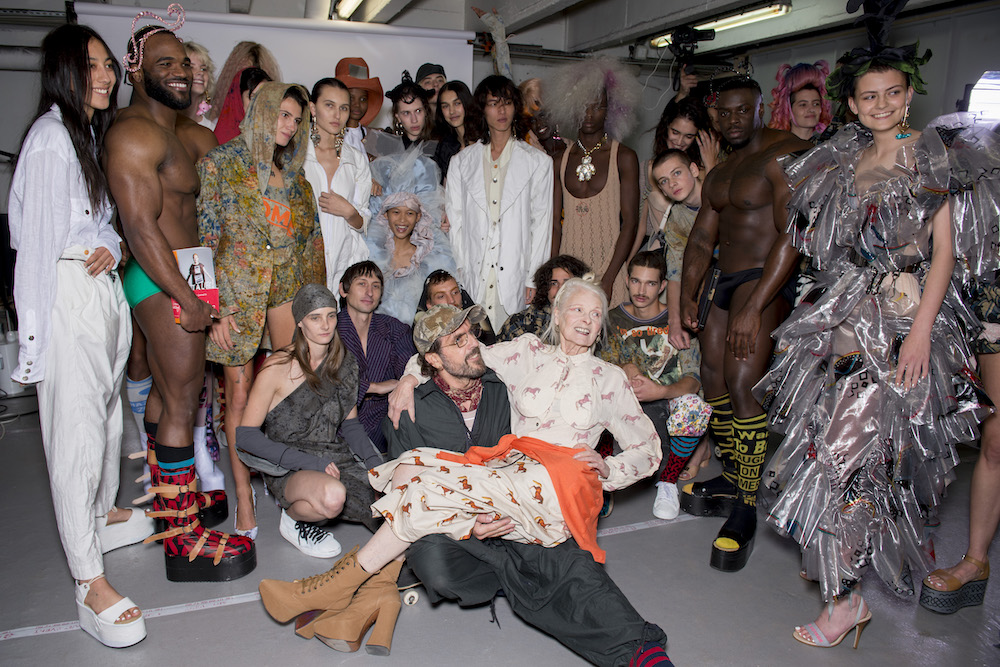 What's your history, now that we know you're not an Olympian? How did you get to where you are now?
Vivienne used to be my teacher when I studied art in Vienna. A year after teaching me, she asked if I would come to London and help her on a collection. Of course I did, because it was a dream come true for me. I let myself fall into the real world right away and I decided to stop going to school.
Tell us a bit about your involvement with the Vivienne Westwood brand. For example, are you involved with the designing of the accessories at the label?
Of course I am. This has always been very important to me. I prefer jewellery more than clothes, if I could choose. It's a very pleasant project because it gives joy to people. It's something people can connect with and the price isn't too outrageous.
It's been quite a while since you started at Vivienne Westwood. How have things changed over the years, because you've seen it through all these times?
I don't know if it has changed. It seems to have changed for somebody on the outside. The spirit to me is the same as it was when I first got involved 30 years ago. I think it has a lot to do with Vivienne herself. Of course she's older now, but the energy is still the same.
Is there an ideal Vivienne Westwood man or woman in your mind? Do you have a muse when you're designing?
I always get asked this but I don't really have one. The only thing I would say is that it's somebody who has got a certain braveness towards life. I think I have also always liked people who are free-spirited risk takers; someone who isn't conservative.
Recently, Beyoncé was seen wearing a Vivienne Westwood bodysuit, correct? How do you feel about dressing celebrities?
Some designers are ambivalent about that. It's a big pleasure because they are people who are bigger than life and they enhance what you do. It's a joy to see our designs on people, or in this case, even to see her perform in it. It's very satisfying.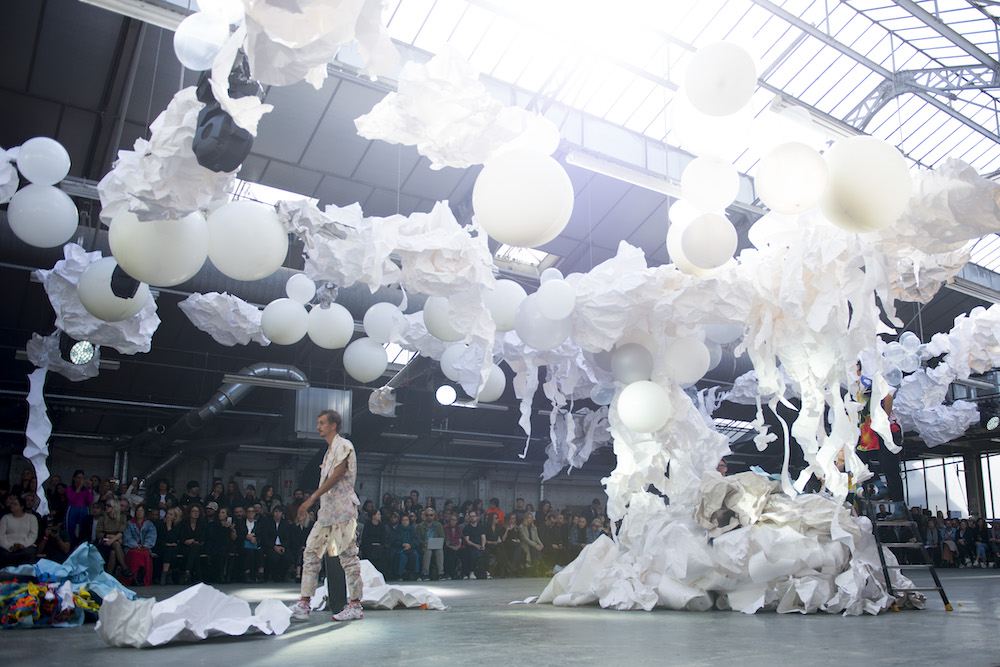 Do you think someone like Beyoncé transforms the design when she wears a piece?
Yeah, when you work with celebrities, there are certain limitations because they have to perform in it. But these limitations are exciting because they challenge you, and sometimes you have to adjust designs or certain things towards their needs and style. It's a very nice side job of the whole business to be dressing celebrities.
Someone like Kate Moss comes to mind when we think about Vivienne Westwood. It's such a long-running relationship.
Yeah, we've worked with her from the absolute beginning when she started out as a model. We actually just worked with her the other day. She's a really lovely girl.
You're also starting a brand-new collection. Could you talk me through the business? How does that all come together?
There is always a collection before and there is always something that you haven't had time to finish, and that's always what you start off with. That usually gives you a good base for the new collection. Anything can trigger your imagination and it's something very instinctive that you react to because you feel that it's right or you think that's what is needed.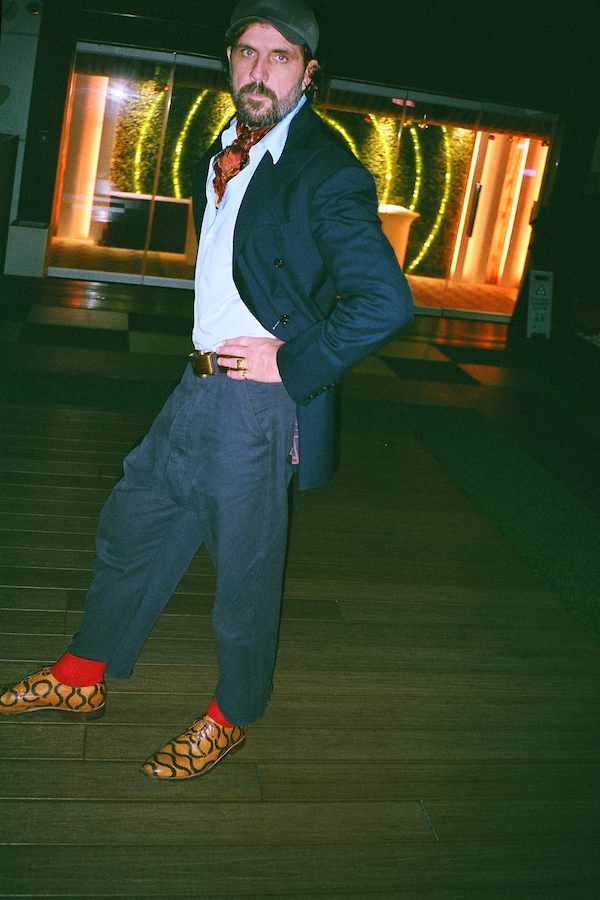 What about fashion makes you the happiest? I mean, something has to be driving you to keep doing this for so many years…
I like working with people and that's what you do with fashion. I love being surrounded with different types of people, especially young people. The highlight of every season is always doing the castings for the shows and meeting people. I really enjoy it very much. It's like playing with your dolls again, dressing them up and getting to know them. It's the human side of it all that keeps me going.
Where's your favourite place in the world?
I love to be in bed – my own bed, particularly.
You've been at Vivienne Westwood for 30 years now. What do you see over the next 30 years for the brand?
That's a good question. I think the next 30 years could be the 30 years where you really establish a house that's here forever.
I think you've already done that. If you work hard, I think that's what should happen.
This feature originally appeared in the January/February 2019 print issue of #legend