And it was all yellow, as the Coldplay song goes. At least it was in Milan Fashion Week when Onitsuka Tiger presented its Spring/Summer 2024 Yellow Collection
With a theme entitled "Personal Layered", the collection sees plenty of layers, asymmetries, gathers, cutouts, and the use of margins. The resulting silhouettes are flowing and modern, yet sophisticated and elegant.
Under the direction of creative director Andrea Pompilio, layering is done through cocoon silhouette outerwear and coats that remain lightweight. But underneath, the tops, shirts, polo shirts, Bermuda shorts, and wide trousers create asymmetrical layers.
Onitsuka Tiger's menswear uses tailoring that is "soft but rigorous". This translates to items that cover but don't hide the details of fabric layers and textures. For women, we are seeing a lot of floral prints as expected for the season. But it features lots of details consistent with the collection's theme, such as transparencies, asymmetries, and innovative cutouts that subtly showcase the body. Material wise, we note a healthy dose of double-faced cotton fabric that is structured but not stiff, as well as see-through nylon knit.
Everything is connected by Onitsuka Tiger's iconic Tiger Yellow, found in some of the looks, footwear, and bags. Other colours used in this collection's palette are black, cement grey and sage green, which contrast with the bright floral prints.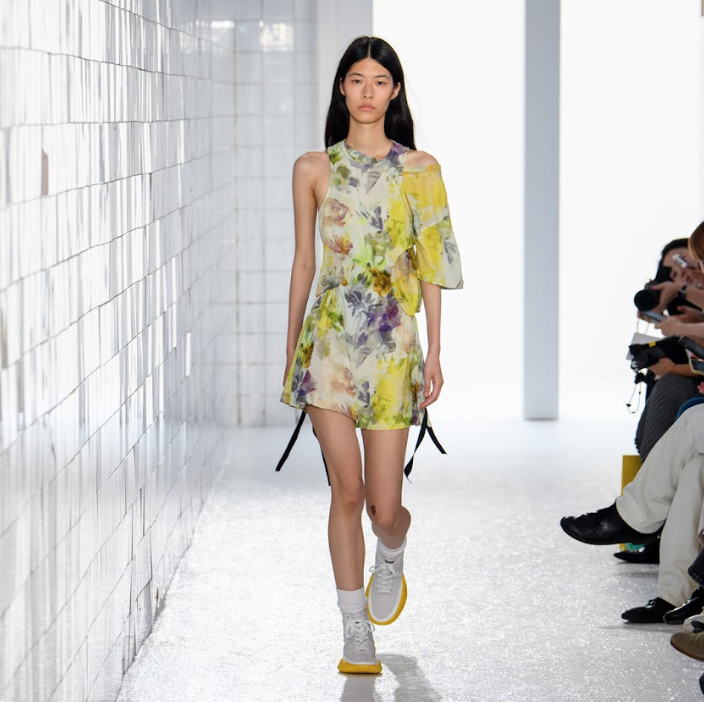 Speaking of the floral print, it was created in collaboration with Japanese textile graphic brand nowartt. Inspired by the four elements that make up all things – earth, water, fire, and wind – the textile graphics were completed through collaboration to spread the message of comfort of harmony with nature.
The sneakers in this collection feature new designs with different heights, be it slip-ons, high-cuts, or ankle boots. Each have coated canvas uppers and contrasting bold yellow on the front of the sole. There are also leather boots in yellow and black, along with nude laced platform sandals that can be tied at the ankles in Nappa leather or velvet. To carry everything, there is a lightweight nylon mega shopping bag that comes in the iconic Onitsuka Tiger house colour.
Those paying a visit to Tokyo should drop by the concept store for the Yellow Collection in Ginza, which opened in August 2023. The store contrasts the signature Tiger Yellow with the rough concrete used for the interior, which rightfully sums up the contrasting and layered looks in this collection.