Max Mara: Hyoyeon and Anson Lo help launch the Teddy Ten Pop-up Store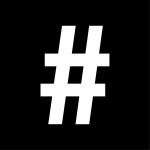 By: David Ho
September 29, 2023
Max Mara's iconic Teddy Bear Coat turned 10 and a 'Teddy Ten Pop-up Store' was launched in Harbour City. Celebrity guests Hyoyeon and Anson Lo came out to celebrate with the Italian fashion brand
There was great excitement in the air as people packed the atrium in Harbour City for Max Mara's recent event, the launch of its 'Teddy Ten Pop-up Store'. The crowds were hoping for a glimpse of celebrity guests – Hyoyeon of K-pop group Girls' Generation and Anson Lo of Canto pop boyband Mirror – that had come to celebrate with the Italian fashion brand.
Both stars wowed the onlookers by rocking the classic Max Mara Teddy Bear Coat. They were both presented with limited edition teddy bear key charms from Max Mara. During her chat with #legend, Hyoyeon told us about her preference for light jackets and shirts given the recent change in the season.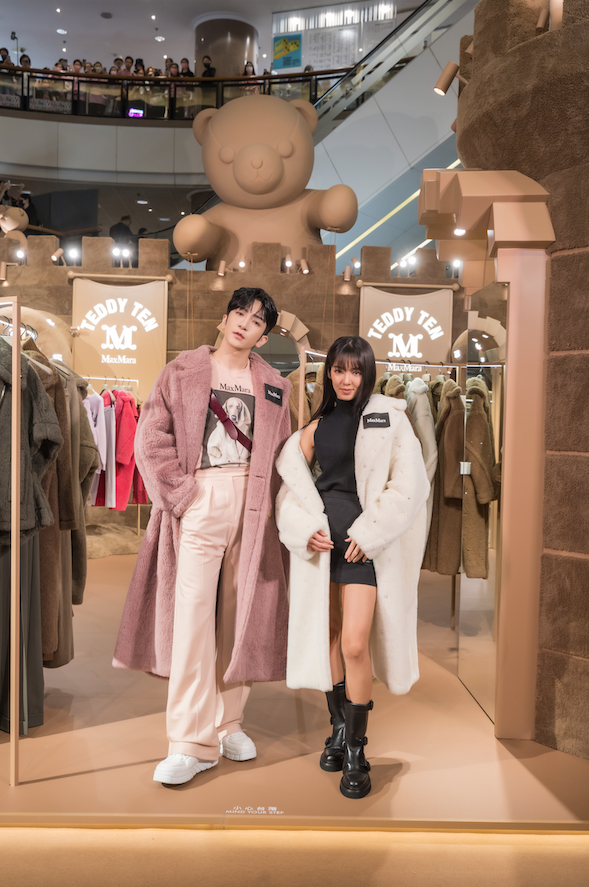 The pop-up store itself was no less spectacular than then stars it attracted. When visitors walk through its entrance, the pop-up is transformed into an enchanting castle with fluffy trees, illuminated by glowing ornaments. A teddy bear stands guard over the castle, while another 1.6m tall teddy beckons guest with open arms for a cute photo op and a loving hug. Even Hyoyeon and Lo were spotted taking selfies with the teddy on-site.
For those looking to pick up the Teddy Bear Icon Coat for their winter wardrobe, Max Mara now offers an expanded range of options. Besides the classic camel, white, and black color choices, the signature coat is now available in baby pink, sage green and lilac. In addition, the 101801 icon coat has been updated with the teddy fabric in antique pink and deep brown. For the coat's 10th anniversary, Max Mara is also offering mini Teddy Bear Coats for girls aged 5 to 12 for the perfect fashion matching moment for parents and their mini-me.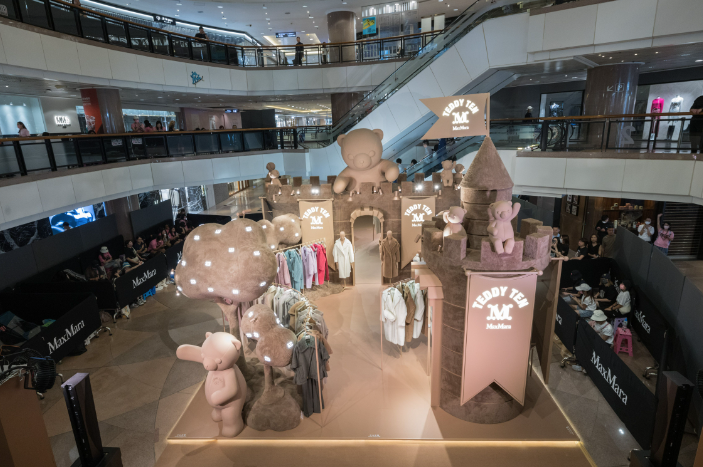 Max Mara's creative director Ian Griffiths is the person responsible for rediscovering the rich 'Teddy Bear' coats that the brand made in the 80's using plush long pile fabrics in noble fibres, which were originally developed in German mills for making high end children's toys. He found that not only were those fabrics no longer made, but the mills had all closed down and much of the know-how had been lost to time.
So, the Max Mara team worked with an Italian supplier to redevelop the technology to produce a unique faux fur of pure camel hair on a base of silk. The resulting Teddy Bear Icon Coa that was launched in 2013 has found favour with many, with celebrities like Julia Roberts and Kim Kardashian being fans.
The exclusive pop-up store at Harbour City is only there for a limited time so check it out while you can.
What: Max Mara Harbour City 'Teddy Ten Pop Up Store'
Where: Atrium II, Gateway Arcade, Harbour City, 3-27 Canton Road, Tsim Sha Tsui
When: Now until October 10, 2023. Open everyday from 10am to 10pm
Also see: Max Mara Collaborates With Chinese Artist Liu Wei for a Capsule Collection