Ashley Graham on her podcast 'Pretty Big Deal' and the body-positivity movement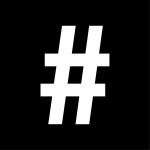 By: #legend
April 26, 2021
Model, podcaster and entrepreneur Ashley Graham talks to PORTER about her plans for the fourth season of her 'Pretty Big Deal' Podcast, becoming a mother, and the role she continues to play in the body-positivity movement, leveraging her interviews, brand partnerships and considerable online audience to champion the acceptance of all body types and sizes: "I don't post myself half-naked to get the likes. I post myself half-naked so that someone who's 10 years younger than me knows that that side butt, that hip dip – that's not abnormal to have."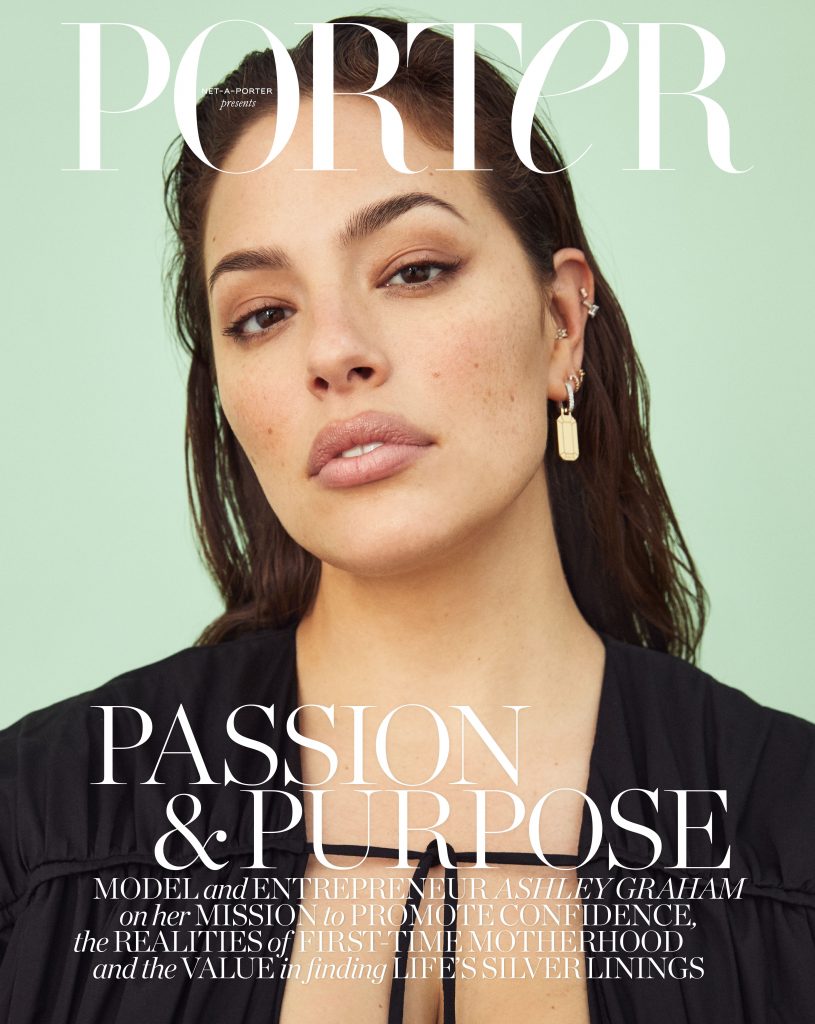 During lockdown, Graham joined Gen Z on TikTok and was heartened to discover a new legion of young people continuing the body-positivity messaging: "It's so nice to know that the next generation is taking care of themselves and having these constant conversations. So, I get on as the granny, like, 'Hey, everybody! We've been having these conversations for quite some tiiiiiime.'"
Graham feels that the discourse around body inclusivity and positivity has progressed immensely and notes: "It's not just the models and the influencers – the whole [fashion] industry is talking about it. And if you're just talking about it but you're not doing anything about it, you're getting called out."
However, Graham feels that there is still a long way to go until we reach her ultimate goal: "The point [women] don't have to explain our bodies at all."
Graham feels conflicted about the way that rampant image retouching on social media is contributing to body dysmorphia, while remaining grateful for what platforms like Instagram have given her: "A voice to be able to say what is beautiful and what is okay. I wish that when I was younger, there had been someone as outspoken as I was, who was as fearless with their cellulite and back fat, so I could know that this was normal; this was what a body looks like."
After welcoming her first child, Isaac, in January 2020, Graham and her husband made the decision to drive back to Nebraska when the pandemic hit, staying for six months: "I got to have great one-on-one time with my mom and my husband. Also, my mom has a boyfriend now and I was able to get to know him in a big way. There were a lot of silver linings, for sure."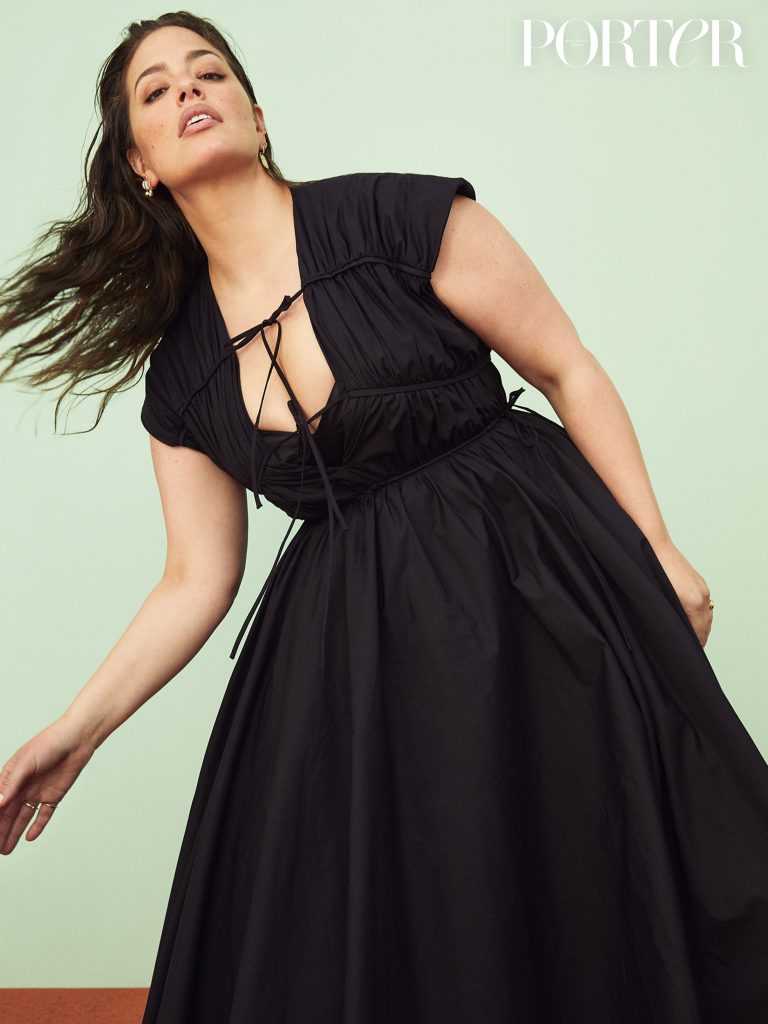 Motherhood, she admits, has challenged her to reach a new level of peace with herself: "That was a big deal. In the beginning, I was like, an alien is taking over my body and I am getting larger and larger by the moment. Then this alien popped out and I was like, "Oh my God, I love you'. And you just don't care. But then Covid hit, and all the gyms shut down, and I'm living with my mom, eating cinnamon rolls every day. People will tell you this lie when you get pregnant, which is that the weight falls off when you breastfeed. But it's a lie! I've had to go through a different body journey, post-pregnancy – just understanding her and being okay with her."
Graham insists that the pandemic has helped her to slow down: "I mean, having a baby and then a pandemic, boom, smacks you in the face! It's like, okay, time to take a breather."
Graham admits being a mother has changed everything: "I've had a lot more calmness and peace in my life since he got here because it's like, why sweat the small stuff?"
Graham feels she has unlocked a level of calmness that was previously unknown, even to her: "I've always kind of lived bravely and fearlessly, but through my homebirth and raising him in this pandemic, it's like, oh yeah, I guess I am pretty fearless. It just feels good."
After such a life-changing year, Graham speaks of her hopes for the new world that is taking shape as we speak: "Well, I really learned the value of family and community through this whole thing. I'm so grateful for that. That's something that I really want to take into my career and continue to expand upon."
This translates into Graham's plans for the forth season of her podcast, Pretty Big Deal, and what she hopes it will turn into: "A larger community based around confidence, because I think [a lack of] confidence is plaguing the world in a big way. Not just with women, but with men, too."
Graham speaks of the atmosphere in New York, her long-time home, as it emerges from a long lockdown winter: "It's calmer than usual, but there's also a hopeful energy here. You can feel the lightness coming back."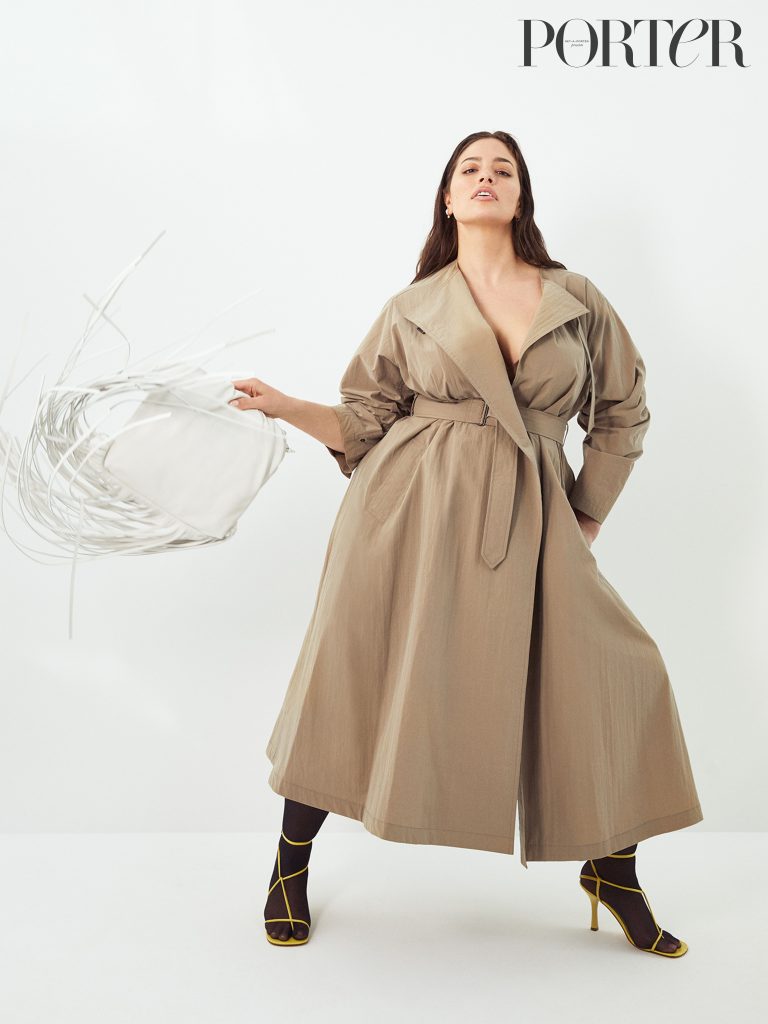 For PORTER's shoot, Ashley Graham was photographed by Yelena Yemchuk and styled by Natasha Royt, wearing Tove, Ulla Johnson, Brock Collection, Isabel Marant and more. All items can be purchased straight from the shoot via the NET-A-PORTER app, available on Android as well as iPhone and iPad, and through net-a-porter.com.
You can also listen to episode six of NET-A-PORTER's Incredible Women podcast, Changemakers, featuring Ashley Graham. Host Alice Casely-Hayford, NET-A-PORTER's Content Director, talks to Ashley Graham about motherhood, motivation and what she's doing to continue changing minds in the fashion industry. Available to listen via Apple Podcasts, Spotify, Google Podcasts, and many more.
Interview highlights:
Ashley Graham on her intentions on social media: "I don't post myself half-naked to get the likes. I post myself half-naked so that someone who's ten years younger than me knows that that side butt, that hip dip – that's not abnormal to have."
Ashley Graham on Gen Z continuing the body-posivity messaging: "It's so nice to know that the next generation is taking care of themselves and having these constant conversations. So, I get on as the granny, like, 'Hey, everybody! We've been having these conversations for quite some tiiiiiime.'"
Ashley Graham on the progress made around body inclusivity and positivity: "It's not just the models and the influencers – the whole [fashion] industry is talking about it. And if you're just talking about it but you're not doing anything about it, you're getting called out."
Ashley Graham on her ultimate goal for body-positivity: "The point [women] don't have to explain our bodies at all."
Ashley Graham on being grateful for the platform that social media has given her: "A voice to be able to say what is beautiful and what is okay. I wish that when I was younger, there had been someone as outspoken as I was, who was as fearless with their cellulite and back fat, so I could know that this was normal; this was what a body looks like."
Ashley Graham on spending lockdown and her maternity leave in Nebraska with family: "I got to have great one-on-one time with my mom and my husband. Also, my mom has a boyfriend now and I was able to get to know him in a big way. There were a lot of silver linings, for sure."
Ashley Graham on reaching a new level of peace through motherhood: "That was a big deal. In the beginning, I was like, an alien is taking over my body and I am getting larger and larger by the moment. Then this alien popped out and I was like, 'Oh my God, I love you'. And you just don't care. But then Covid hit, and all the gyms shut down, and I'm living with my mom, eating cinnamon rolls every day. People will tell you this lie when you get pregnant, which is that the weight falls off when you breastfeed. But it's a lie! I've had to go through a different body journey, post-pregnancy – just understanding her and being okay with her."
Ashley Graham on how the pandemic helped her to slow down: "I mean, having a baby and then a pandemic, boom, smacks you in the face! It's like, OK, time to take a breather."
Ashley Graham on how becoming a mother changed everything: "I've had a lot more calmness and peace in my life since he got here because it's like, why sweat the small stuff?"
Ashley Graham on unlocking a new level of calmness: "I've always kind of lived bravely and fearlessly, but through my homebirth and raising him in this pandemic, it's like, oh yeah, I guess I am pretty fearless. It just feels good."
Ashley Graham on her hopes for the new world that is taking shape: "I really learned the value of family and community through this whole thing. I'm so grateful for that. That's something that I really want to take into my career and continue to expand upon."
Ashley Graham on what she hopes her podcast, Pretty Big Deal, will turn into: "A larger community based around confidence, because I think [a lack of] confidence is plaguing the world in a big way. Not just with women, but with men, too."
Ashley Graham on the atmosphere in New York: "It's calmer than usual, but there's also a hopeful energy here. You can feel the lightness coming back."
To see the full interview with Ashley Graham read Porter at net-a-porter.com or download the NET-A-PORTER app for iPhone, iPad and Android.