Star-studded chef line-up creates gingerbread cookie fiesta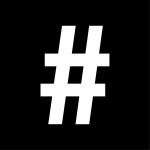 By: Hill Choi Lee
December 3, 2021
Treat yourself and your nearest and dearest the sweetest merry Christmas with a selection of gingerbread machinations from some of Hong Kong's top chefs under the banner of "Gingerbread for Good at Joyce" with Cookie Smiles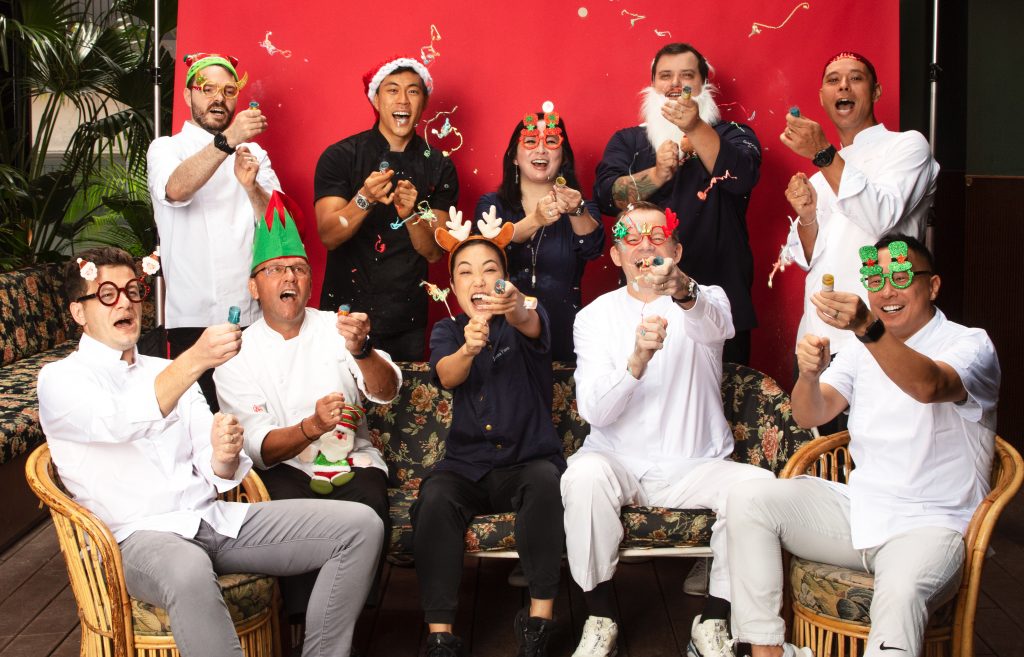 Cookie smiles is a Hong Kong social enterprise launched last year by Complete Deelite co-founder Agnes Chin and philanthropist and entrepreneur Jo Soo-Tang with a mission to support the disadvantaged with "the greatest comfort food of all time – the cookie".
At the same time, the "Gingerbread for Good at Joyce" initiative sees some of Hong Kong's top chefs delight the public with their own spin on gingerbread creations to raise funds for ImpactHK and a number of other local charity organisations.
The collaborative partnership with Joyce is a two-fold initiative to raise funds whilst also creating opportunities for a team of apprentice bakers, says a representative from the luxury fashion retailer: "Cookie Smiles shares our appreciation of creative endeavours and this project allows Joyce to share our values of creativity, craftsmanship and care."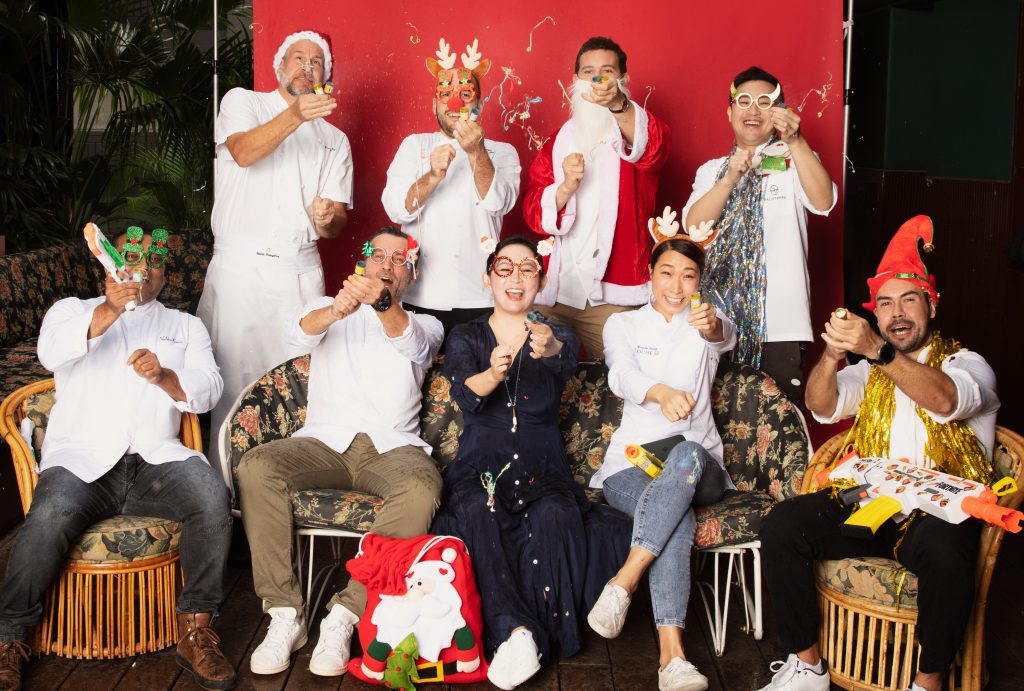 The star-studded chef line-up includes local legends like Richard Ekkebus and Uwe Opocensky as well as up-and-comers Wil Fang and Christopher Ho, all coming together to give back to the community.
"We look forward to seeing how the culinary experts take on the challenge of putting their twist on the gingerbread man biscuit," says the Joyce representative. "A classic reimagined with new expression is something we celebrate often at Joyce, and we relish the chance to add some heartfelt gravitas behind that concept."
All proceeds from the pop-up event will go to ImpactHK, which helps those experiencing homelessness, and provide support for Shine Skills Centre, which offers skills training for people with disabilities.
Grumpy Mojo by Ando
Cooked up by: Agustin Balbi and pastry chef Joanna Yuen
The cookie: A gingerbread spiced up with maple syrup, creating a very distinctive flavour. Keeping a traditional shape, it is layered with a thin coat of chocolate.
There was no hesitation when the Ando team was approached by Cookie Smiles to help raise funds for people in need. "We get so much support and love from everyone that when it's our time, we want to be able to give back," says Agustin Balbi. With the help of Ando's pastry chef Joanna Yuen, the team came up with something truly special.
"Christmas is homecoming to me," Yuen says. "It's all about family gathering and feeling the love, so it's time to fill that love tank inside of us and make [others] feel that as well." Balbi's New Year's resolution consists of helping "improve in all aspects of life, of being a little better than last year and hopefully to keep making people happy through delicious food cooked from the heart." He also wishes "to keep creating an environment where my team are able to develop their individual skills and grow as professionals to pursue their dreams."
Drink to go with it: hot chocolate
W Christmas Touch by W Hong Kong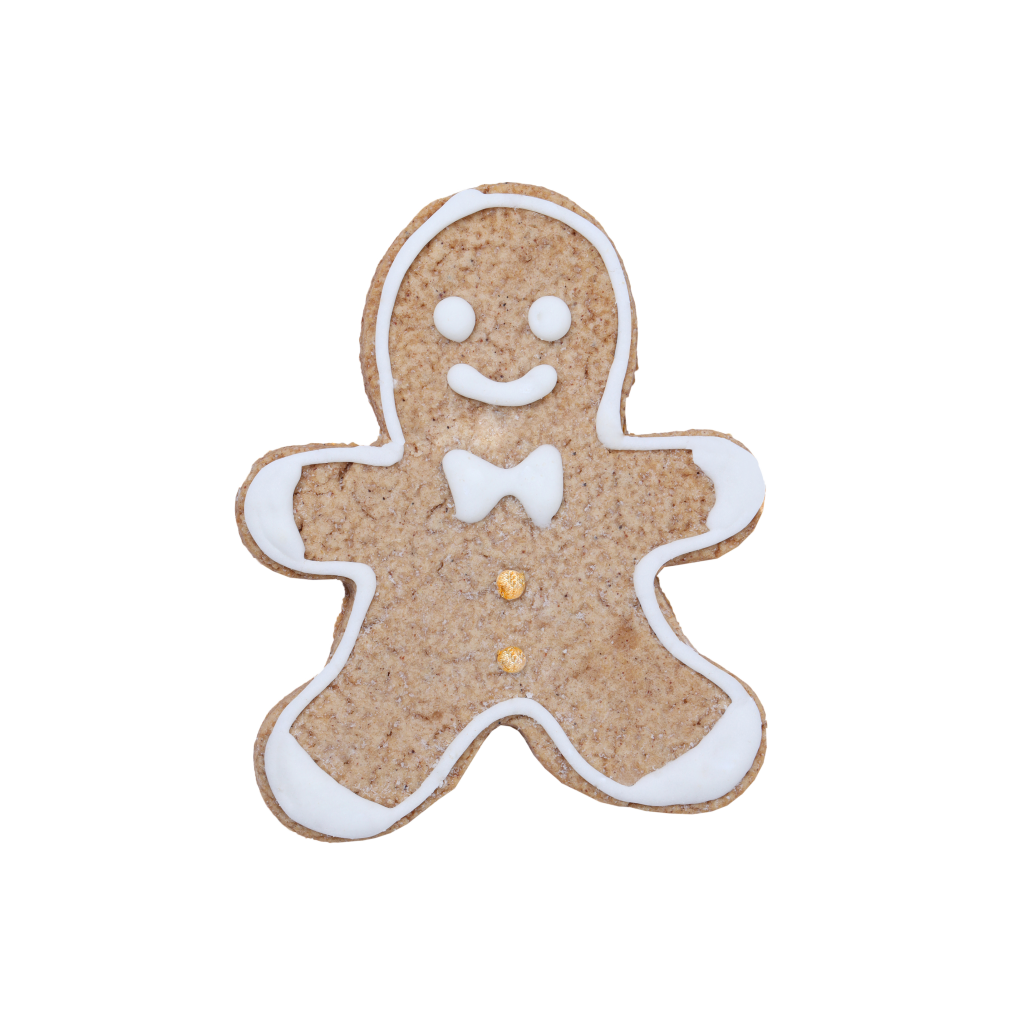 Cooked up by: executive pastry chef Baptiste Villefranque
The cookie: The highlight of this gingerbread is the pinch of salt in the mix that elevates all the other flavours. The chef also uses the usual ginger cookie spices but keeps the cookies crunchy by adjusting the classic recipe
Less is more. It's certainly an approach that serves W Hong Kong's Baptiste Villefranque very well. His ingredient of choice to give his gingerbread creation an extra oomph is simple: salt. But not any ordinary kind. "The salt I use is one from the south of France," he explains. "The difference is when you take one bite, you want to go for a second bite." And why not? It's the holidays, after all.
Drinks to go with it: green tea or glühwein (mulled wine)
Baijiu Five-Spice Gingerbread Men by Ho La Ho Sik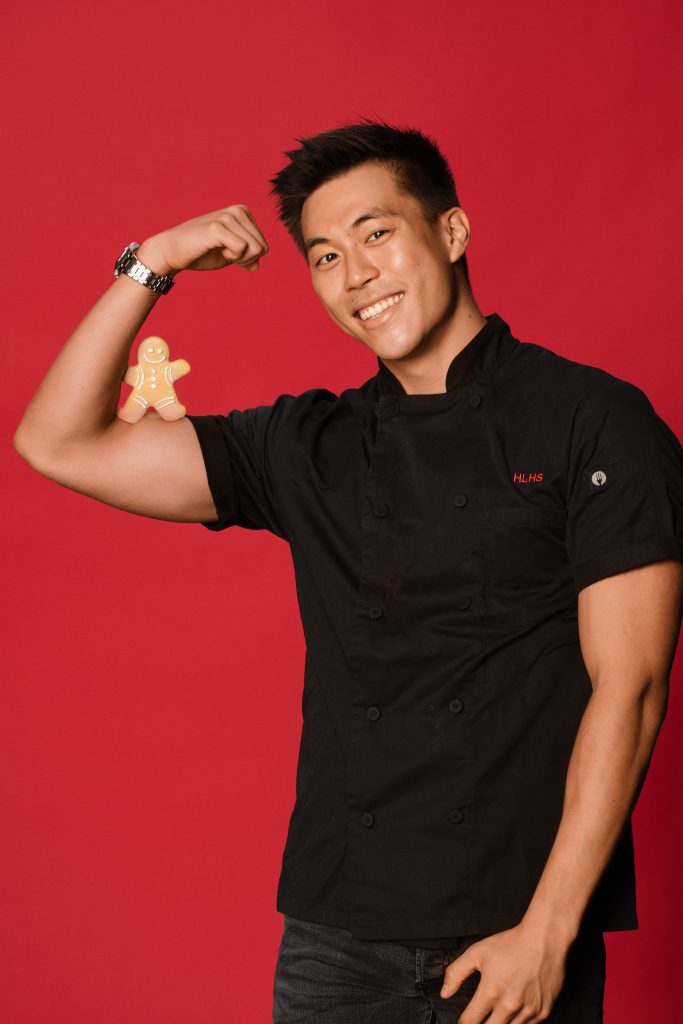 Cooked up by: private chef Christopher Ho
The cookie: This gingerbread takes inspiration from Chinese culture and ingredients. The baijiu – its alcohol is cooked off so it's child- friendly – and honey work together to provide additional layers of flavour to the classic gingerbread and five spice combination. Sweetness predominantly still comes from golden syrup, which many know as the syrup poured over Hong Kong-style French toast at local cha chan tengs. The decoration of the gingerbread men is also kept deliberately rustic, with designs suggested by children.
If you're keen to find a gingerbread cookie unlike any other on the list, give chef Ho's baijiu-infused version a try. Ho's unorthodox start into F&B contributes to the creativity he brings to his cooking (or baking in this instance).
"I was never professionally trained in cooking – everything I learnt was [from sources found] online. I started cooking more and more, then through that, I started working with different chefs and that got me started in this industry." Though the gingerbread cookie is a Western concoction, Ho has managed to infuse enough Asian characteristics in its flavour profile for this project. A must-try.
Drink to go with it: baijiu (for adults)
Gingerbread Nutcracker by Island Shangri-La (Shangri-La Group)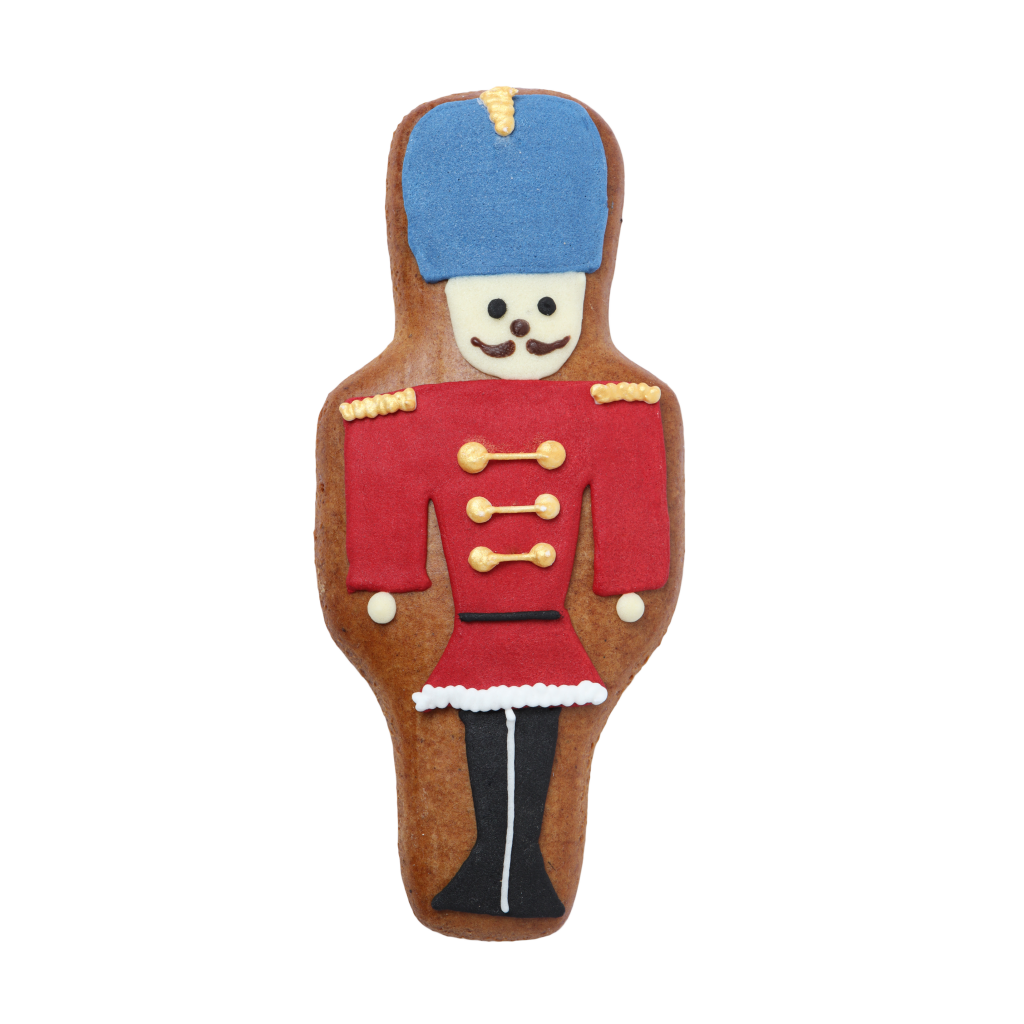 Cooked up by: executive chef Uwe Opocensky and executive pastry chef Julien Gourmelon
The cookie: A traditional gingerbread cookie elevated with sumptuous chocolate that appeals to children as well as adults.
Island Shangri-La has taken on the Nutcracker theme throughout the hotel this holiday season. It's only fitting, then, that chefs Opocensky and Gourmelon took inspiration from this and created the Gingerbread Nutcracker. "Christmas is very much a history of children celebrating," says Opocensky. "Adults still feel nostalgic about it and participate in it." As a result, the chef duo has created something that appeals to both young and old.
Drinks to go with it: most hot beverages will go well with it, from coffee and tea to mulled wine; however, a glass of milk is another good accompaniment.
Mo Salty Caramel Man by Mandarin Oriental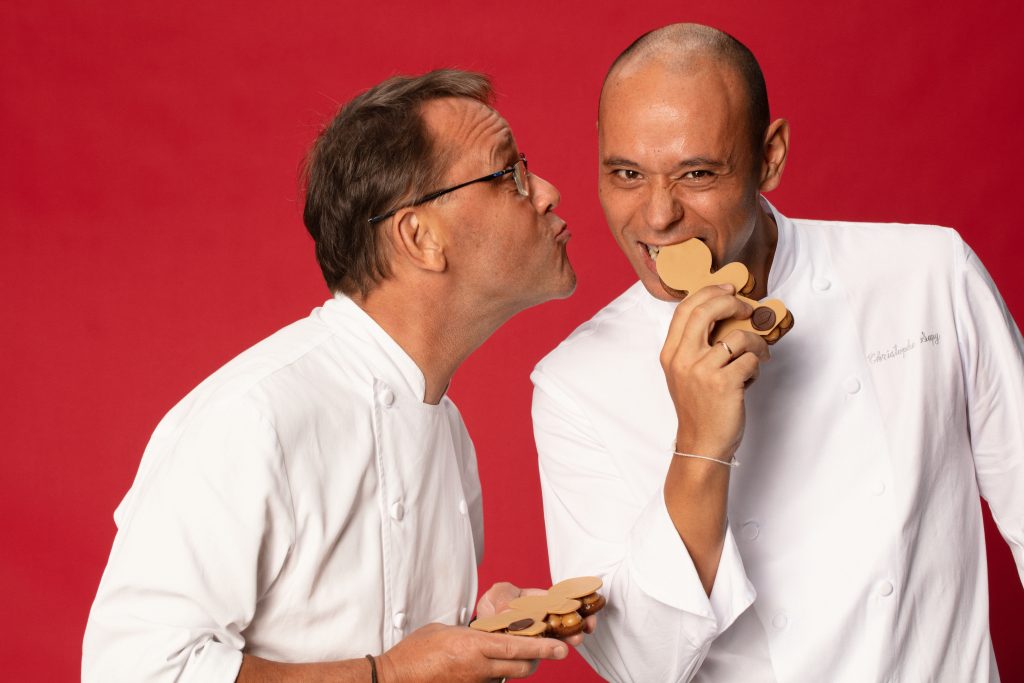 Cooked up by: executive chef Robin Zavou and executive pastry chef Christophe Sapy
The cookie: "Our vision of the finished gingerbread cookies is traditional in taste with a modern visual touch," says Sapy. "I wanted to make a gingerbread cookie from a time-honoured classic recipe, from my days as an apprentice pastry chef, and so this perfect combination of buttery sweetness and spice is particularly resonant. I also created a creamy ganache made of dolce chocolate and salted butter caramel – another classic based on the caramels au beurre sale made with the famous fleur de sel salted butter from Brittany. It's an irresistible flavour combination and my way of reworking this decadent handmade Breton caramel candy into a ganache, whilst staying true to the gingerbread theme."
As chefs in one of the city's busiest hotels, Robin Zavou and Christophe Sapy know a thing or two about prioritising. And dedicating time to a good cause is always part of the plan. "The hotel normally picks a charity for the year for Christmas," says Zavou. "We came up with this one [Cookie Smiles] and it's just a great cause for us."
It also gets them out of the hotel. "We're busy enough but it's also good to have a bit of fun as well." Which, Zavou adds, is great creatively for the team. Adults especially will enjoy this particular biscuit.
Drinks to go with it: Coffee or hot chocolate
Happy & Festive Gingerbread Man by The Mira Hong Kong
Cooked up by: culinary director Sheldon Fonseca
The cookie: The team came up with a 70% chocolate dough base gingerbread and then topped it with a classic gingerbread decorated in a very festive Christmas fashion. The biscuit is made with a blend of the chef's own gingerbread spice bringing aroma and fragrance to the sweetness.
"We're in a very privileged position," says The Mira Hong Kong chef Sheldon Fonseca in an iteration of "with great power comes great responsibility'" When Fonseca and his team started designing their gingerbread profile, he shared frankly that they wanted to shape the biscuit into a star. "Hong Kong has gone through some very difficult times in terms of economic circumstances and we wanted to make sure that [the gingerbread cookie] brings some kind of joy and happiness. We want to keep the festive spirit as well."
Drink to go with it: hot chocolate
The Big Boy by The Landmark Mandarin Oriental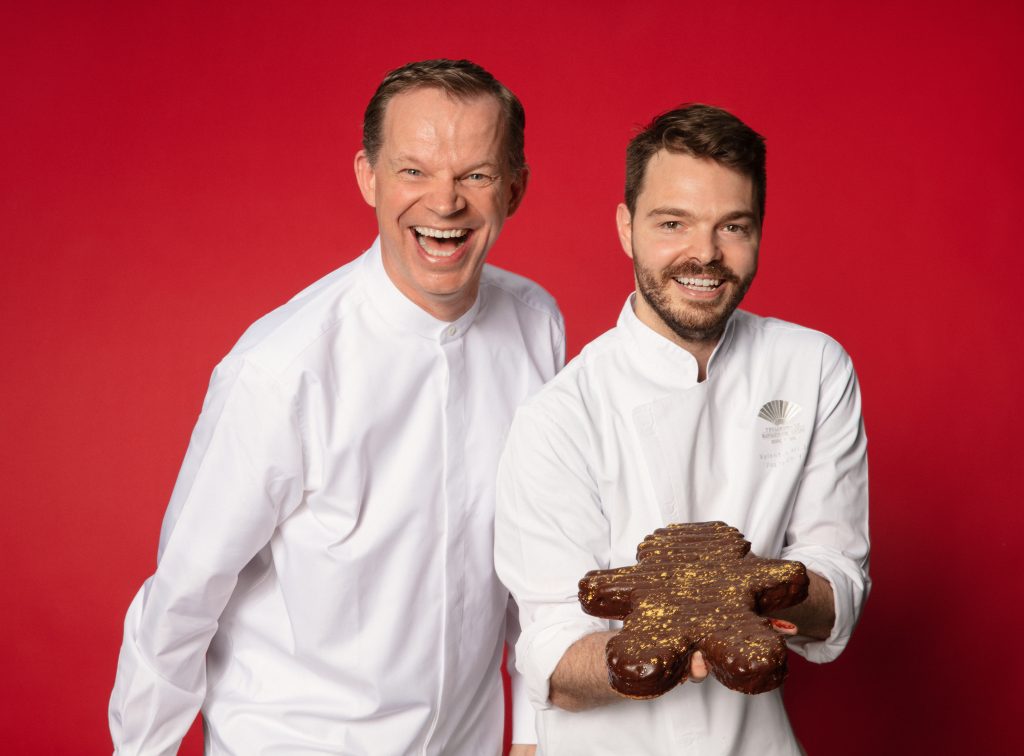 Cooked up by: director of culinary operations and food and beverage Richard Ekkebus, and pastry chef Valentin Mille
The cookie: A 1kg "extra extra large" (40cm tall) gingerbread man covered with homemade Japanese mikan jam and decorated with a Dark Weiss Mahoe 70% chocolate glaze and gold sparkles.
One of Hong Kong's most popular hotels, the Landmark Mandarin Oriental is the culinary home of the esteemed Richard Ekkebus and pastry chef extraordinaire Valentin Mille. The idea behind their "extra extra large" gingerbread cookie was all about sharing.
"I feel it's the most appropriate time of the year to re-emphasise that we are not alone," says Ekkebus. "We need to make sure that we look after those who are less fortunate. The very nature of hospitality is to bring people together through fabulous food. Businesses that are connected to their communities are places where loyal customers and loyal team members are. It's a recipe for a sustainable and successful business."
Drink to go with it: mulled wine
Delichoc! by Louise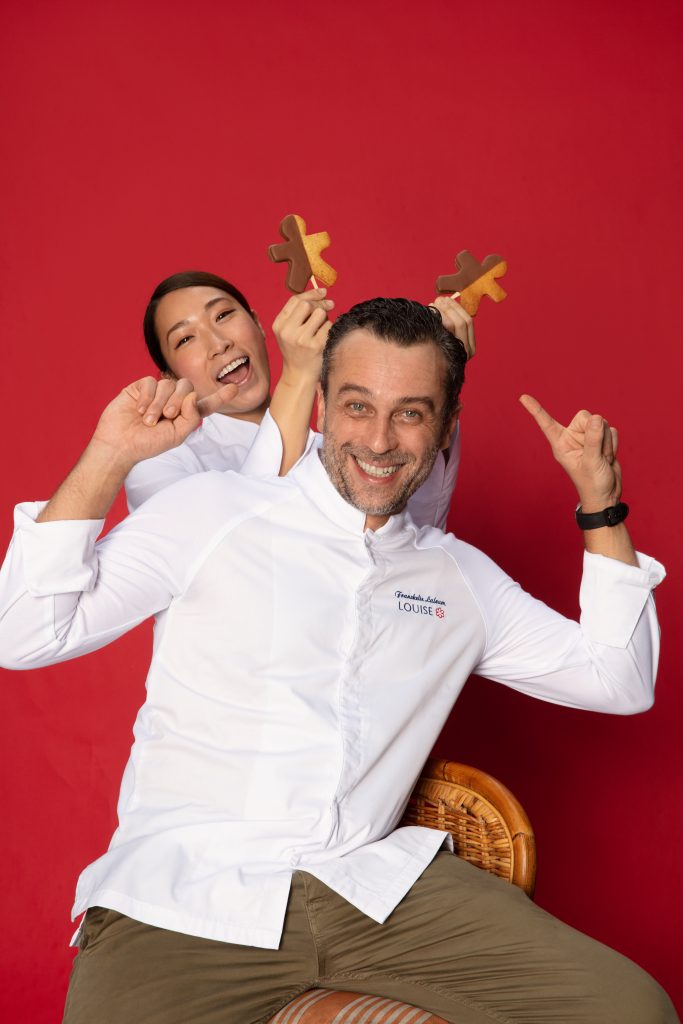 Cooked up by: executive chef Franckelie Laloum and pastry sous-chef Natalie Leung
The cookie: A double cookie stuffed with a chocolate ganache slightly infused with orange and half coated with milk chocolate, reminiscent of cookies eaten in 1980s France. A tribute to jaffa cakes and chocolate oranges.
A Michelin-acclaimed traditional French restaurant, Louise has reimagined the gingerbread cookie filled with playful joy. At the helm of this reimagining is executive chef Franckelie Laloum and pastry sous-chef Natalie Leung. The sentiment of once again gathering among friends and family is strong in chef Laloum's and sous-chef Leung's recipe. Having spent the last three years away from his family in France, a place where you are more likely to get the gingerbread loaf than the cookie, Laloum conjures up a biscuit that would delight children of all ages. No secret ingredient is used, he says; rather, they filled the middle of the cookie with a chocolate ganache with hints of orange zest to make that really nice Christmas flavour.
Drinks to go with it: anything you fancy – from coffee and tea to hot chocolate and glühwein (mulled wine)
Snowy Gingerbread Man by Cassio
Cooked up by: chef Salvador Benedicto
The cookie: A tasty blend of unusual ingredients such as coconut, almond, chocolate and the most characteristic of them all: rose water.
Salvador Benedicto is the chef at Cassio, located at LKF Tower. A native of Barcelona, Benedicto tries to steer away from tradition in his gingerbread concoction, using ingredients such as coconut, almond, chocolate and a touch of rose water. "In Spain, we don't make this kind of cookie," he says. "But we use ingredients such as cinnamon, coconut oil and hazelnut a lot, so I try to combine two traditions by making a gingerbread with Spanish ingredients.
"It's a good opportunity to collaborate with society and help in some way people who are not having a good time, even more now during Covid-19 times," says Benedicto, whose family still lives in Barcelona.
Drinks to go with it: coffee and hot chocolate
Red Velvet Ginger Bread by Cookie DPT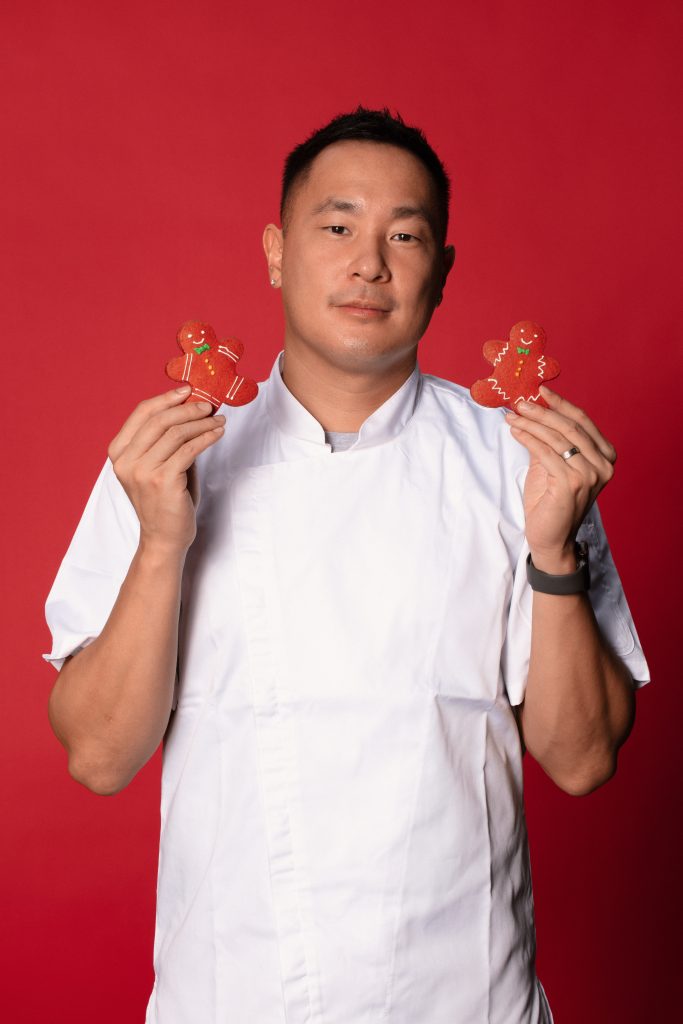 Cooked up by: chef Wil Fang
The cookie: Red Velvet is one of Cookie DPT's most popular flavours. The interesting thing about it is that it's not as traditional and its red colouring makes it more than how it tastes but also how it looks. The red velvet has a nice smooth texture to it. In the end, Fang has created a spiced Red Velvet that gets a bit closer to the gingerbread flavour profile.
Cards on the table, Wil Fang is not a chef by trade. The founder of Cookie Department (Cookie DPT) has no formal culinary training but his company, which sells cookies as if they were hotcakes, has become very popular
since its launch in 2017.
"All the cookies are my recipe, but that's just really from growing up in the States, and baking cookies is very natural for us back home," he says.
Drinks to go with it: Coffee or hot chocolate. Red velvet has a nice chocolatey base, Fang explains, so having hot cocoa with the cookie intensifies the flavour while a coffee can create a gingerbread latte kind of flavour.
Mr Terra by Salisterra at the Upper House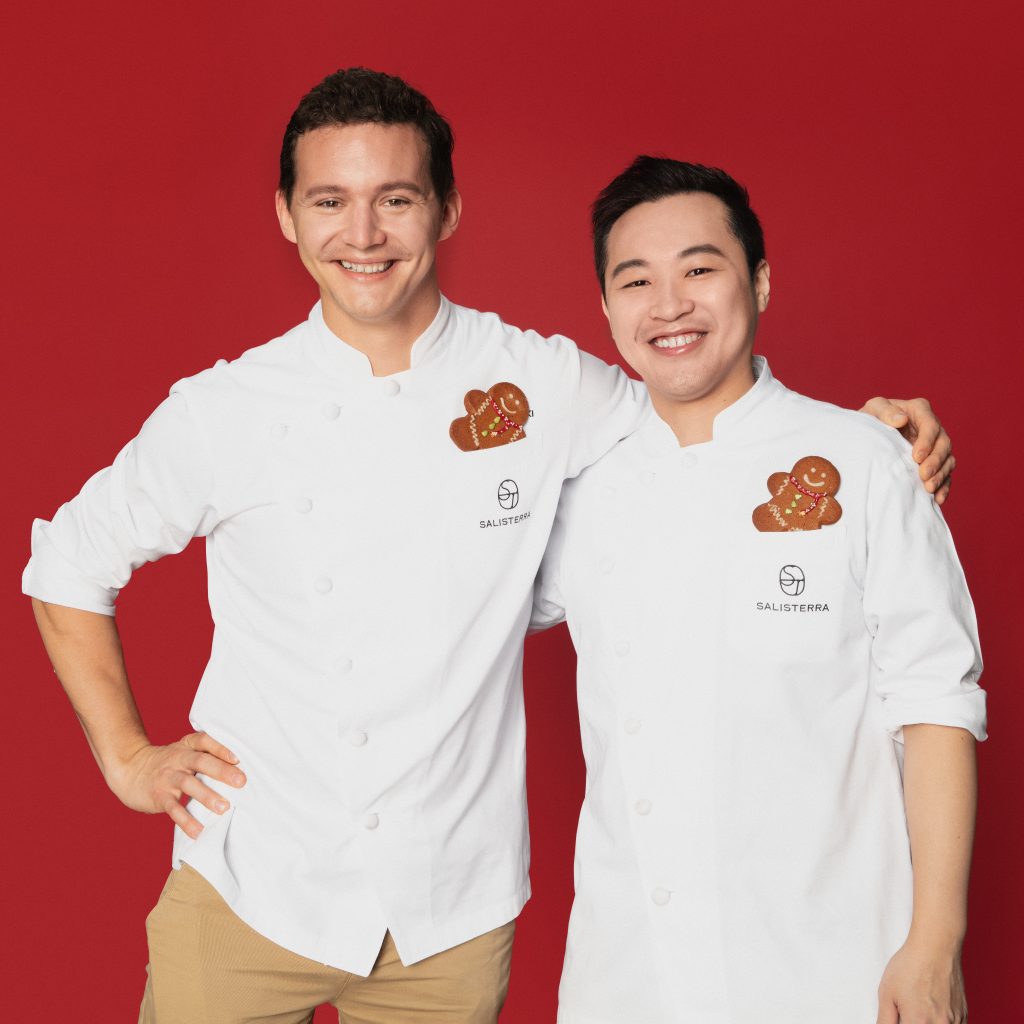 Cooked up by: chef de cuisine Chris Czerwinski and sous-chef Chan Chun Fai
The cookie: "Rosemary is a really beautiful Christmas-y flavour and smell," Czerwinski explains. "Salisterra means 'salt of the earth' – so we use molasses, salt and rosemary. It's this kind of combination of salted caramel [we're looking for]".
Salisterra chef Czerwinski and his team aren't strangers to collaborating with charitable causes in Hong Kong, having worked with the Hong Kong Down Syndrome Association in providing work experiences for those afflicted by the condition. This Christmas, the chef took the lead with the rosemary flavour to make the gingerbread man. But to say that this cookie is a team effort is to put it mildly – the biscuit went through rigorous testing by staff in the kitchen and front of house before passing with flying colours.
Drink to go with it: brandy (for adults)
Mr Classic by The Continental at The Upper House
Cooked up by: executive chef Graham Long
The cookie: a traditional gingerbread creation made perfect with dark brown sugar, treacle, ginger and cinnamon, and decorated with icing sugar combined with pasteurised egg white.
True to The Continental's spirit, new executive chef Graham Long finds inspiration in European fare served at the restaurant. "It's all about classic flavours," he says. "I didn't want to stray from the traditional recipe – you can't beat a classic. It's for adults and children alike to enjoy." Hailing from the United Kingdom, Long has worked with some of
the world's most renowned culinary names at Michelin-starred restaurants. Now in Hong Kong, he is resolute in discovering more about Asian culture and cuisine.
Drinks to go with it: "I'm British so I love a good strong tea with my gingerbread man but that's the beauty of the classic – it goes with everything well," Long says.
Gingerbread for Good at Joyce will run from December 6 to 23 at the Joyce boutique in New World Tower, Central.
Also see: Celebrate this Christmas with these 7 indulgent holiday hampers