6 best spots for Sichuan hot pot in Hong Kong
December 10, 2020
As the temperatures continue to drop in Hong Kong, there is no better time go for Sichuan hot pot. So if you're craving that 'mala' mouth-numbing and oddly-satisfying burning sensation, look no further than our tried-and-tested recommendations.
*Note: Restaurants may not be operating fully due to Covid-19 regulations; please check with each restaurant for the latest updates.
The Drunken Pot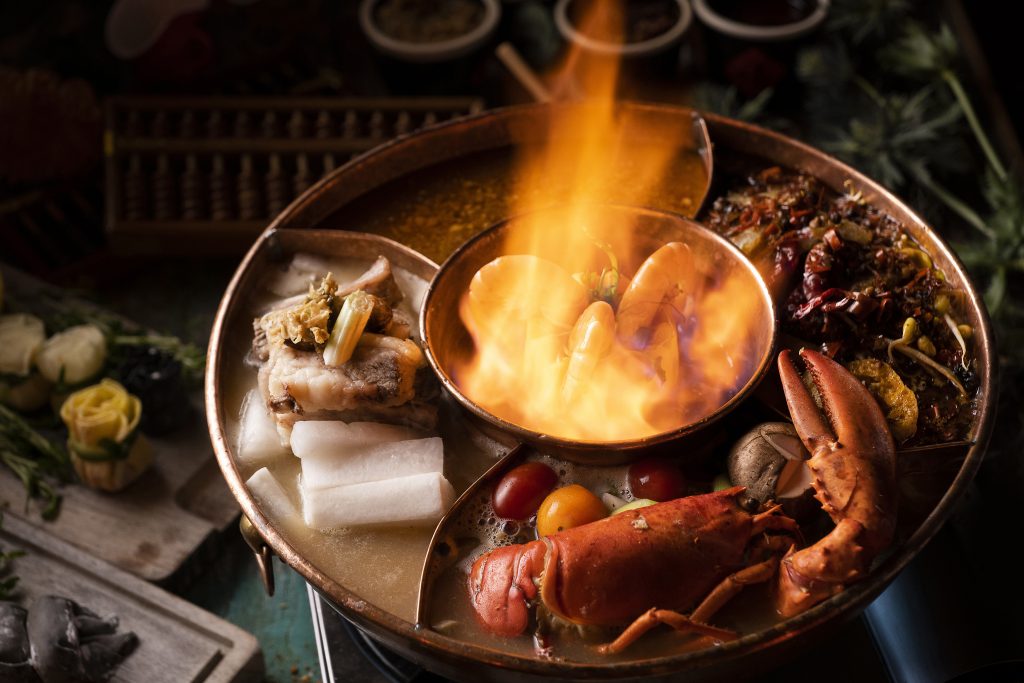 One of the trendiest hot pot spots in town, The Drunken Pot has made a name for itself by reimagining traditional hot pot with creative presentations of its eclectic selection of broths and ingredients. Bursting with energy against the backdrop of street art walls, both the Causeway Bay and Tsim Sha Tsui locations pride themselves in their soup bases, most notably the signature 5-in-one 'Drunken Pot' featuring a hollowed-out whole papaya in soup in the middle encircled by tomato lobster soup, beef brisket in clear broth, Sichuan numbing spicy soup and Teochew-style satay soup.
When served to the table and flambéed with sake, the papaya takes centre stage with a theatrical effect. The best items to go with the spicy soup base include the new homemade deep-fried bean curd roll in "Your Favourite Mala" flavour, which can be enjoyed on its own or dipped in the broth to soak up the essence of every soup base.
27/F, Vpoint, Tang Lung St,Causeway Bay, +852 2321 9038; Restaurant 1, 2/F, Observatory Road 8, Tsim Sha Tsui, Hong Kong, +852 2321 9038, thedrunkenpot.com
Hot Pot Land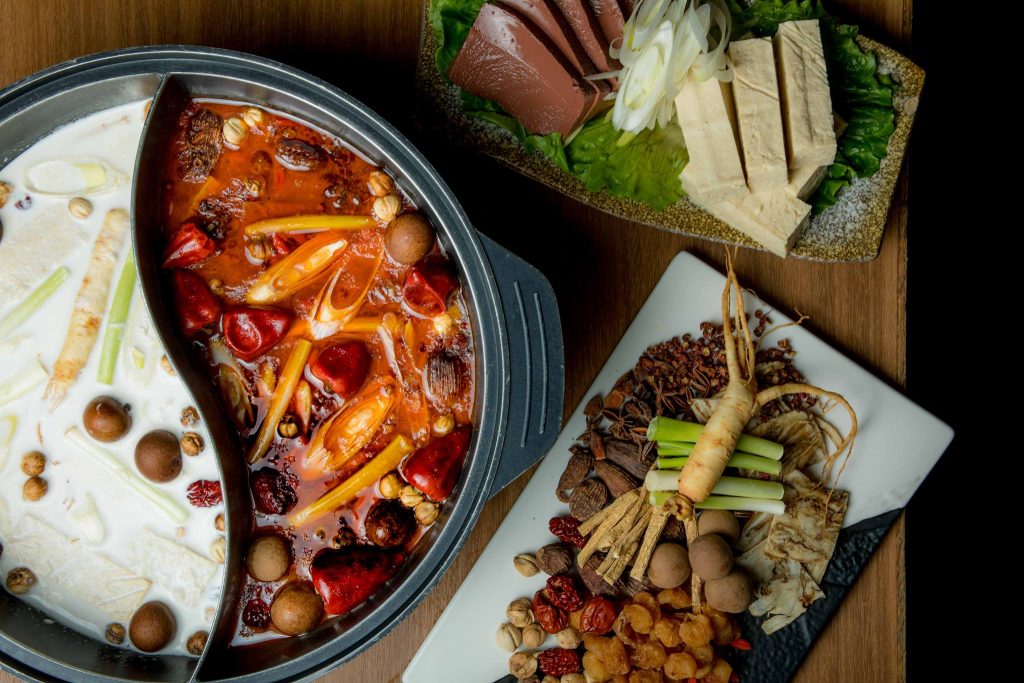 It's no secret that the Taiwanese-style hot pot restaurant has become a mainstay in Hong Kong's hot pot scene. With three branches in Mong Kok, Central and the Western district, Hot Pot Land is best known for its homemade Taiwanese broth which includes the signature Numbingly Spicy soup base made with an "ancestral recipe". The most popular items feature Taiwanese favourites such as duck blood and deep-fried bean curd roll. Sharing the pot with someone who doesn't fancy spicy? The nourishing Royal White soup made of chicken soup, pork bone soup, milk, ginseng and bean curd makes for the perfect option for a 2-in-1 soup base combo to counteract the spiciness.
Multiple locations, facebook.com/hotpotland
San Xi Lou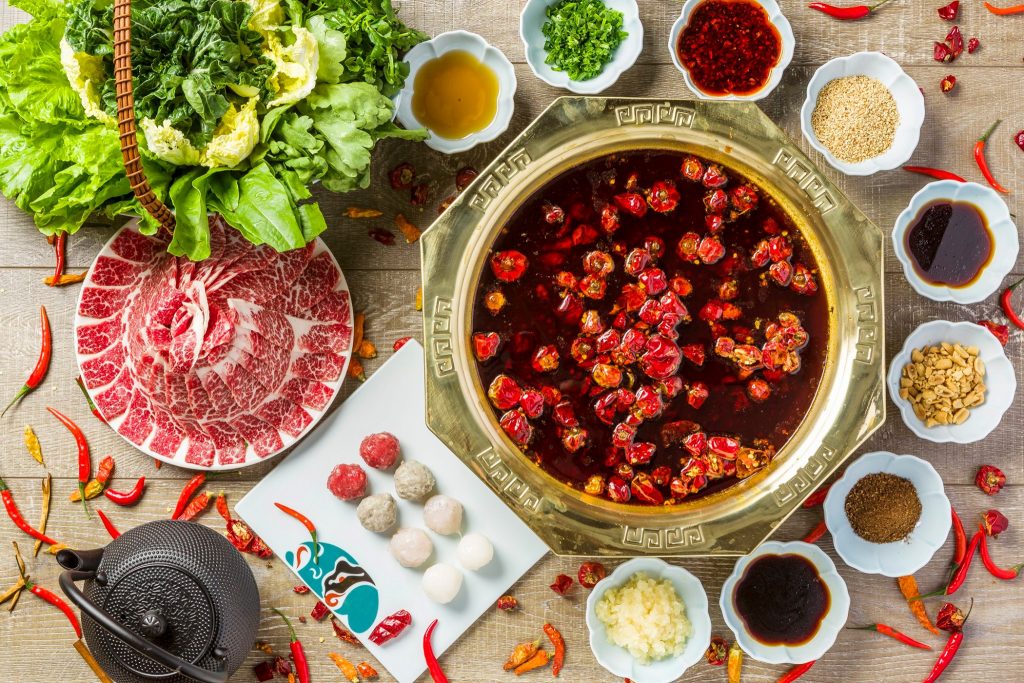 Having pleased Hong Kong's most discerning taste buds for over a decade, San Xi Lou Mid-Levels is synonymous to authentic, quality Sichuan food and hot pot. For spice food lovers, the classic Sichuan Mala broth is not to be missed, while those who are keen to try something new can opt for the spicy pumpkin broth and spicy bandit broth available at the Causeway Bay location. And if you're in the mood to get in on the action, spice it up with some of the popular Sichuan dishes such as Sichuan-style stewed fish and spicy saliva chicken.
San Xi Lou, Shop 1102, 11/F, Food Forum, Times Square, 1 Matheson Street, Causeway Bay, Hong Kong, +852 2111 9952; 22/F Coda Plaza, 51 Garden Road, Central, Hong Kong, +852 2838 8811, facebook.com/sanxilou
Dong Lai Shun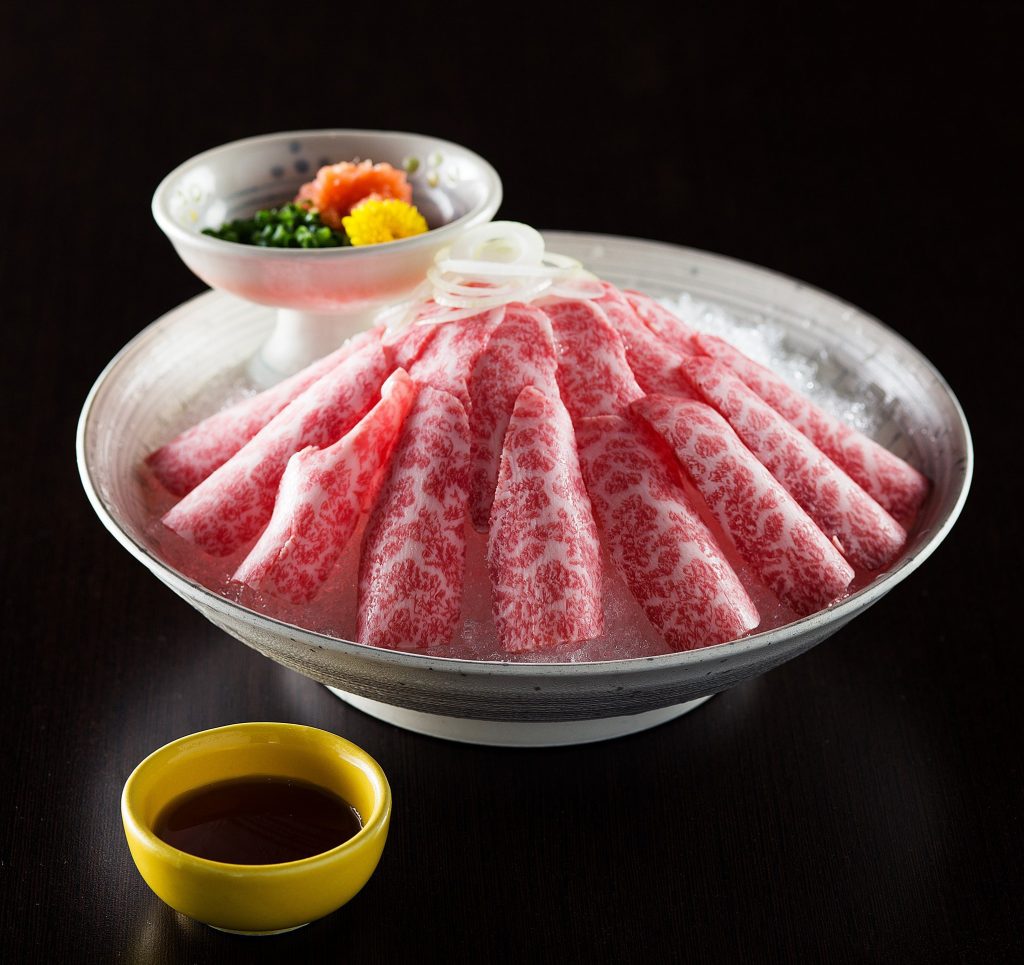 Helmed from Beijing, Dong Lai Shun may be best known for Beijing and Huaiyang cuisine, especially the famous "Shuan Yang Rou" (Mongolian mutton hot pot), but its menu has been given a facelift to showcase more Sichuan offerings. With an excellent location at the basement of The Royal Garden in Tsim Sha Tsui, the restaurant offers authentic Sichuan spicy hot pot soup base which is best enjoyed with fresh paper-thin slices of Mongolian black-head mutton and premium beef, along with handmade meatballs and dumpling specialities.
Basement 2, The Royal Garden, 69 Mody Road, Tsim Sha Tsui East, Kowloon, Hong Kong, +852 2733 2020, rghk.com.hk/dining/dong-lai-shun
Megan's Kitchen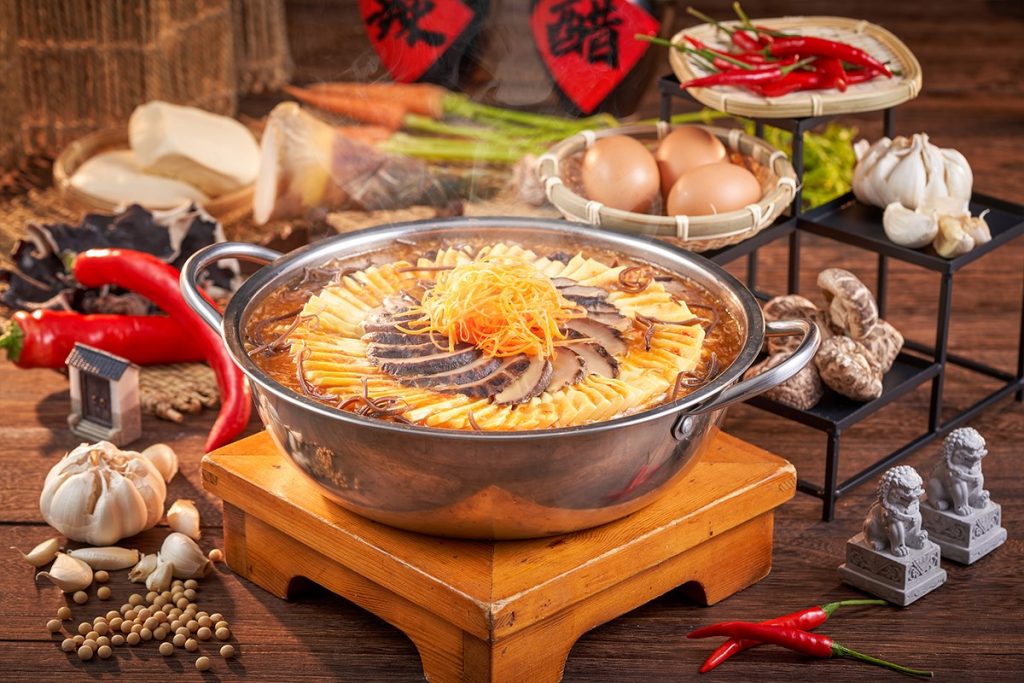 If there is in fact a Megan behind the kitchen here, we'd like to thank her. This hot pot haven is particularly famous for their ingenious soup bases and their healthy high-quality selection of ingredients. Their spicy Sichuan tofu soup never disappoints, but with the option to select up to three soup bases, definitely dip into some of their unique homemade signatures (read: Tom Yum Cappucino and Lobster Borsch).
Megan's Kitchen's vast array of menu items are just as colourful and impressive as their soups – premium seafood offerings not to be found elsewhere and a vast array of imported meats fill the pages. If it's your first time here, the rainbow cuttlefish balls and the recently added Beyond Meat and Omnipork dumplings are a must-try, even if you're not sticking to a vegan diet.
5/F, Lucky Centre, 165-171 Wanchai Road, Wan Chai, Hong Kong, meganskitchen.com
Budaoweng Hotpot Cuisine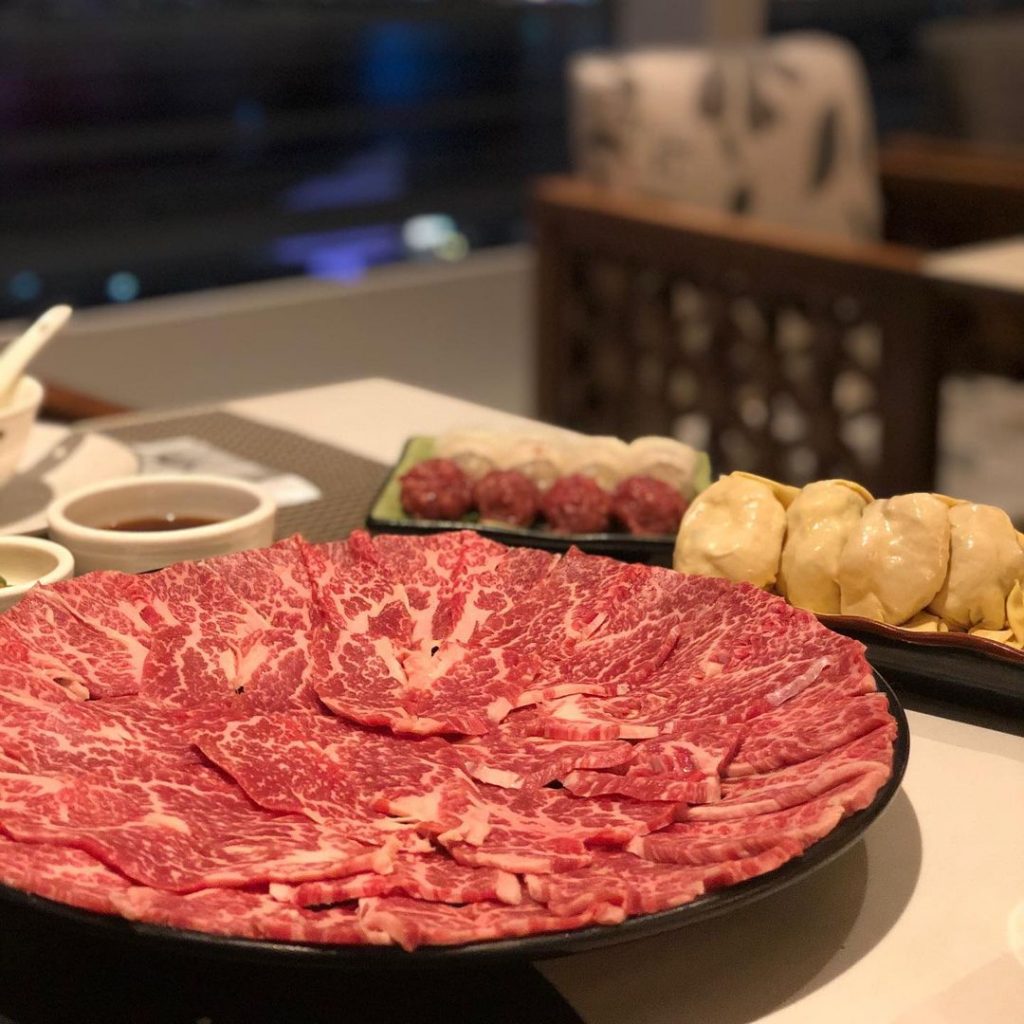 Offering stunning views of the Victoria Harbour as a complimentary side to their hot pot, Budaoweng is a strong local favourite. This Chinese and Japanese-style hotpot restaurant boasts an authentic yet refreshing lineup of flavours. Quench your thirst for spice with their Spicy Edible Frog soup base and while the immaculately marbled Wagyu will do good for most of us, make sure to order a plate (or two) of their Giant Housemade dumplings.
23/F, iSQUARE, 63 Nathan Road, Tsim Sha Tsui, facebook.com/bdwhk
See also: #legendeats: The best dishes we ate in November
Assisted by: Alyanna Payos