One of Hong Kong's mouthwatering dessert happenings is back on the menu. Crème Brûlée Festival by French pâtisserie, Paul Lafayet, returns over a three-day period from 7 to 9 June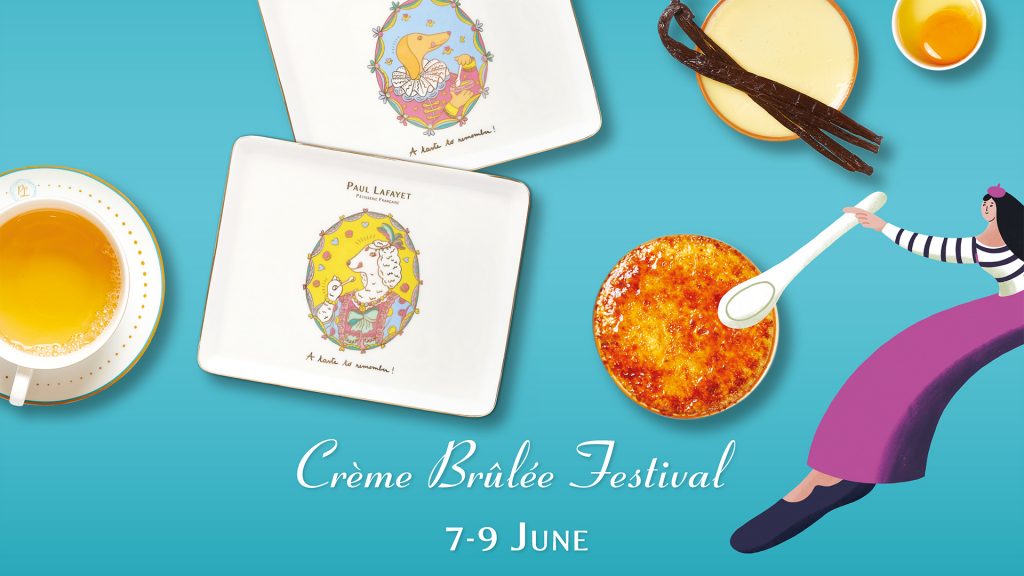 This promotional event by one of the most recognisable confectioners in town allows foodies to satiate their sweet tooth urges. Paul Lafayet's crème brûlée has been the house's signature treat. During the festival period, they are launching an exclusive "Price for One, Enjoyment for Two" offer.
Customers can purchase a set of 10 vouchers at HK$250 (originally priced at HK$500) at Paul Lafayet boutiques and their online store. Each voucher allows the redemption of one piece of signature crème brûlée.
As per tradition, the patisserie introduces an exclusive collectable gift every year. This time around, they collaborated with French artist Emilie Sarnel in creating a thoughtfully designed Fine Porcelain Dessert Plate.
Inspired by the English portrait paintings of dogs, two royal dog characters – Lord Vanilla (a teckel or a type of dachshund) and Lady Pistache (a poodle) are tasting the crème brûlée to celebrate the festival. One plate will be offered upon purchase of four sets of vouchers, while the entire collection of two plates will be offered upon purchase of eight sets of vouchers.
Furthermore, keep your eyes peeled for Hong Kong's beloved and iconic tramcars from 20 May to 16 June. Three of these tramcars will be featured in the Paul Lafayet turquoise colour with vivid French-style illustrations and images of crème brûlée.