#legendeats: Mooncakes for Mid-Autumn Festival 2023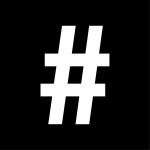 By: Stephenie Gee
August 31, 2023
Mid-Autumn Festival is just around the corner and what is this annual celebration without its cornerstone: mooncakes? From traditional to contemporary, we compile a list of the most indulgent choices available around the city
The Witty Moon by Rosewood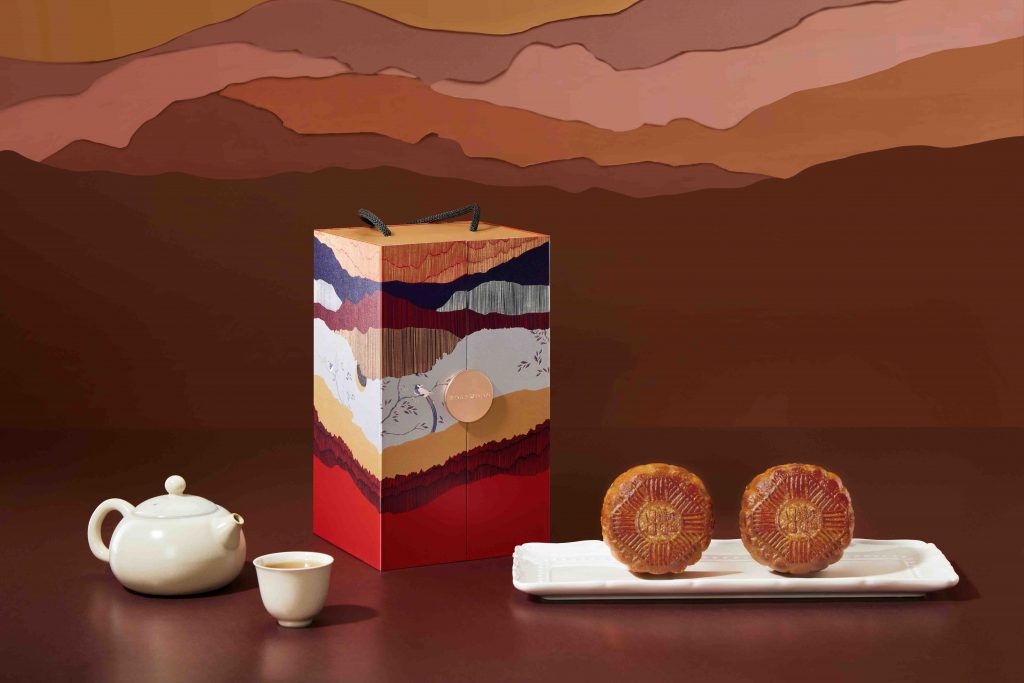 Rosewood Hong Kong presents "The Witty Moon" mooncake collection for the Mid-Autumn Festival. Crafted by Executive Chef Li Chi-Wai, these delicate mooncakes are packaged in eco-friendly boxes adorned with contemporary designs that showcase a serene moonlit landscape. The collection offers a variety of flavours, including Traditional White Lotus Seed Paste with Double Egg Yolks, Traditional Yellow Lotus Seed Paste with Olive Seeds and Double Egg Yolks, The Legacy House Mini Egg Custard Mooncakes, and Mini Assorted Flavour Mooncakes. In addition, a special limited-edition gift box includes a porcelain tray and a selection of exquisite mooncakes.
To celebrate the first anniversary of the Hong Kong Palace Museum, Rosewood Hong Kong collaborated with Hong Kong Palace Museum to create an innovative mooncake gift box celebrating traditional and contemporary Chinese art and culture. The eco-friendly collection includes Traditional White Lotus Seed Paste with Double Egg Yolks (2 pieces) and The Legacy House Mini Egg Custard mooncakes (4 pieces).
Order here
One Harbour Road Collection, Full Moon, and Bright Moon by Grand Hyatt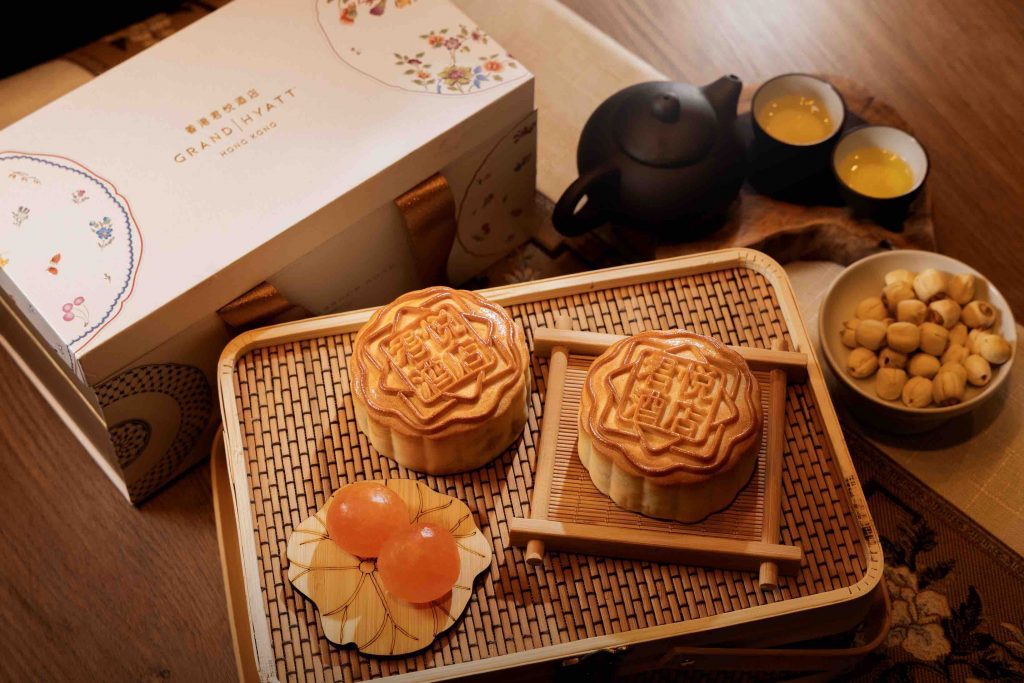 Grand Hyatt Hong Kong is delighted to present its exquisite mooncake collection for the Mid-Autumn Festival. The collection focuses on sharing memorable flavours with family and loved ones through their One Harbour Road Collection Box, Full Moon Box, and Bright Moon Box, featuring elegant packaging and creative flavours.
Highlights include the One Harbour Road Collection Box with three distinctive flavours of egg custard mooncakes, the Full Moon Box with authentic white lotus seed paste and salted egg yolks, and the Bright Moon Box with well-balanced egg custard. For a more deluxe option, the Grand Hamper includes a Full Moon Mooncake Box, along with a bottle of Pol Roger Brut Réserve Champagne, a bottle of Château Luchey-Halde, Pessac Leognan red wine, One Harbour Road's renowned homemade X.O. chilli sauce, South African abalones, Chocolatier's assorted chocolates, bespoke tea from Tealeaves, caramelised walnuts, fried cashew nuts and seasonal fruits.
For those seeking a lighter gift, indulge in the exquisite Grand Moment. This delightful hamper includes a bottle of Delamotte Brut NV Champagne, three egg custard mooncakes and a jar of One Harbour Road's signature homemade X.O. chili sauce.
Order here
Assorted Signature Mooncakes by Four Seasons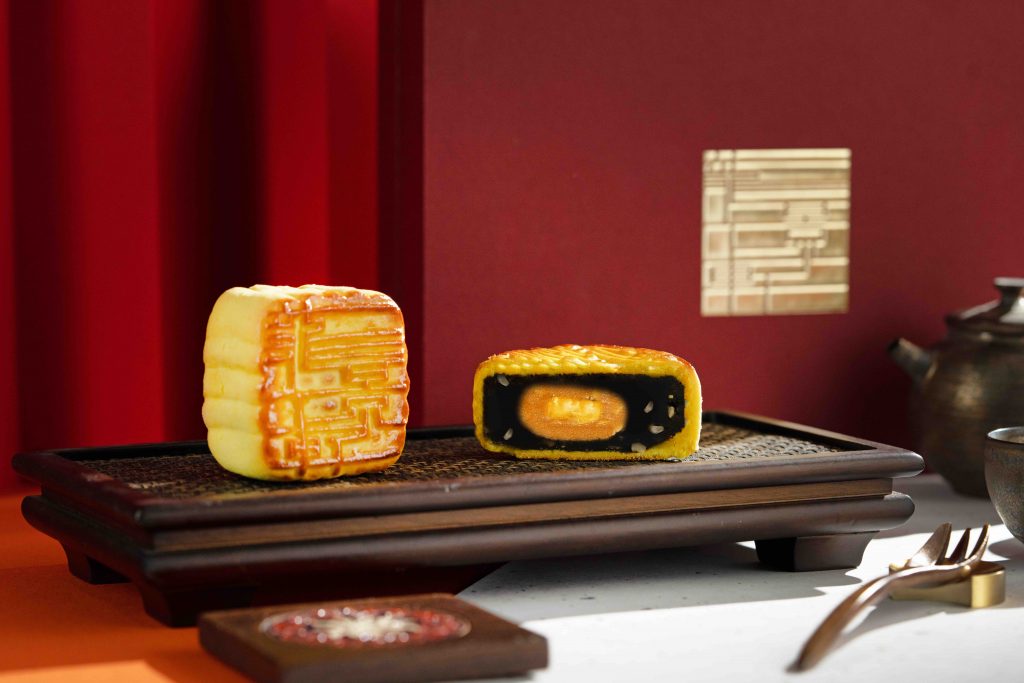 To mark this year's Mid-Autumn Festival, experience a blend of contemporary mooncake flavours from Four Seasons Hotel Hong Kong. The mooncakes embody a new innovative twist to the traditional flavours, introducing captivating flavours like the White Lotus Seed Paste Mooncakes with Wuyi Rare Orchid, Hazelnuts, and Salted Egg Yolk. Infused with hand-picked Wuyi Rare Orchid oolong tea, the fillings perfectly harmonise with the lusciousness of traditional mooncakes. Delighting the palate further are finely crushed hazelnuts, while a reduction in sugar content in the white lotus paste ensures guilt-free indulgence without compromising on taste.
For the ultimate indulgence, the Assorted Signature Mooncakes box allows guests to enjoy all three exquisite flavours of White Lotus Seed Paste Mooncakes with Salted Egg Yolk and Black Truffle, Preserved Eggs and Pickled Ginger Mooncakes, and Cream Custard Mooncake with Toasted Pine Nuts. To enhance the experience, a complementary addition awaits – vintage 2008 mellow pu'erh tea cake sourced from a family-owned tea farm in Yunnan province, enriching the flavours to new heights.
Order here
Mooncake hampers by Mandarin Oriental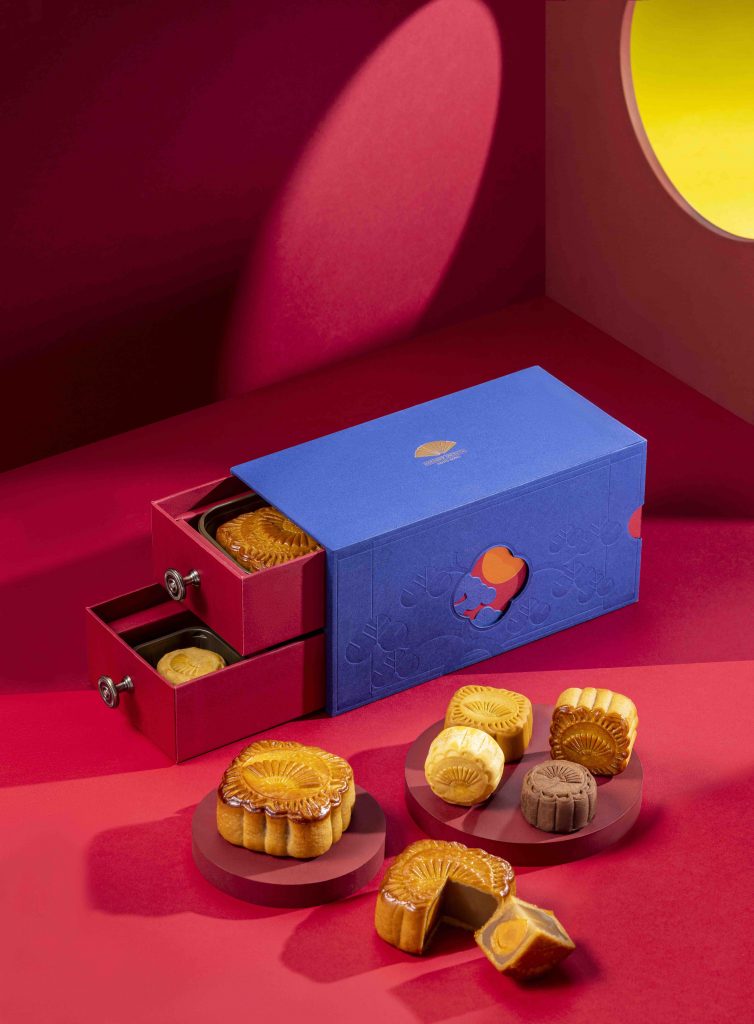 Experience the richness of the Mid-Autumn Festival with The Mandarin Cake Shop at the Mandarin Oriental, Hong Kong. They are offering a wide selection of traditional and specialty mooncakes, crafted only with the finest ingredients for you and your loved ones to enjoy during the Mid-Autumn season. Choose from classic flavours such as Golden or White Lotus with Two Yolks and Mini Egg Custard, or explore their innovative flavours of Chocolate Lava and Red Bean Paste with Dried Tangerine Peel.
The Mandarin Cake Shop also provides a series of Mandarin gift hampers that include their signature delicacies. The gift hampers consist of the Mandarin Deluxe Mooncake 3-tier Hamper, Mandarin Deluxe Mooncake 1-tier Hamper, and the Mandarin Mooncake Gift Box. The ideal gift set for friends and families is the Mandarin Mooncake Gift Box, which includes all the essentials for the Mid-Autumn festival – a bottle of Chateau Roques de Jean Lice, Bordeaux, France, Mini White Lotus Mooncake with Yolk, Oolong Tea, Candied Ginger chocolate and Mandarin Oriental Homemade X.O. Sauce (priced at HK$2,588).
Order here
The Mooncake Bento by The Landmark Mandarin Oriental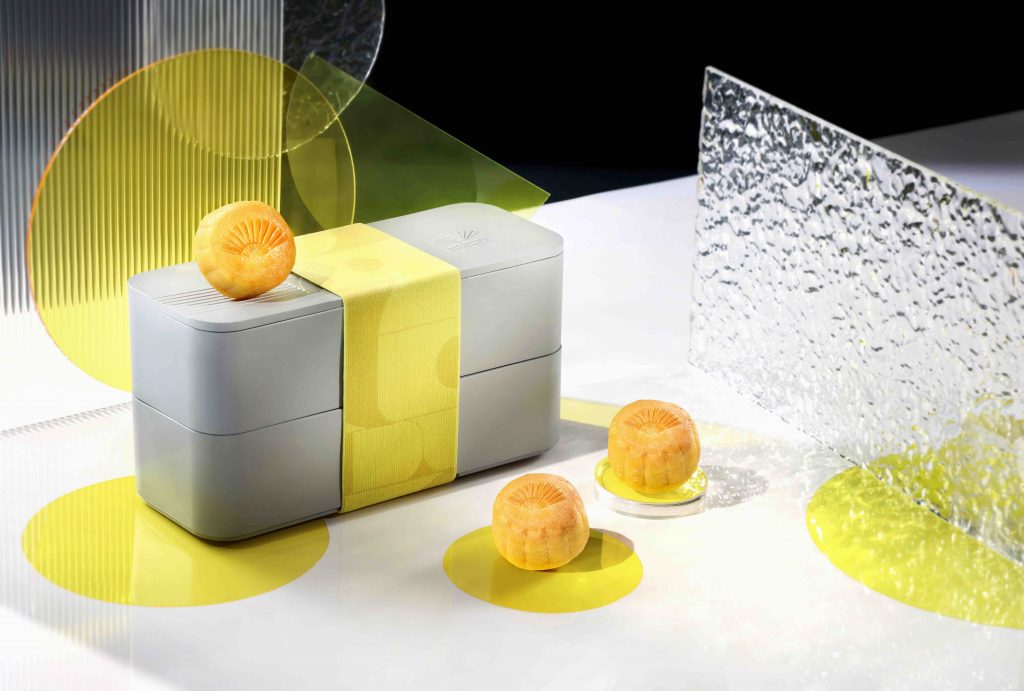 As the moon shines during the Mid-Autumn festivities, the Landmark Mandarin Oriental, Hong Kong invites guests to celebrate the harmonious season with two sustainable and delicious mooncake options: the Mooncake Bento and Amber x Esca Vegetarian Mooncake Gift Box.
The Mooncake Bento by LMO features a meticulously crafted double-decker bento box made of corn-fiber materials, containing six individually packed mini egg custard mooncakes. The neon-yellow wrapper band showcases symbolic elements of the traditional and modern Mid-Autumn Festival, incorporating minimalistic rabbit illustrations that add a contemporary touch. For those seeking vegetarian options, the limited edition Amber x Esca Vegetarian Mooncakes are a delightful choice. Crafted together with Esca, a Hong Kong sustainable food business, the vegetarian mooncakes offer a selection of flavours, including the Pumpkin Kabocha with Pumpkin Seed, and the luscious combination of AN Soy, Conspiracy Chocolate Dak Lak Cocoa and almonds. These gourmet mooncakes are presented in a luxurious gift box crafted from FSC paper, adding an elegant touch to the festive celebrations.
Order here
Egg custard mooncakes by The Ritz-Carlton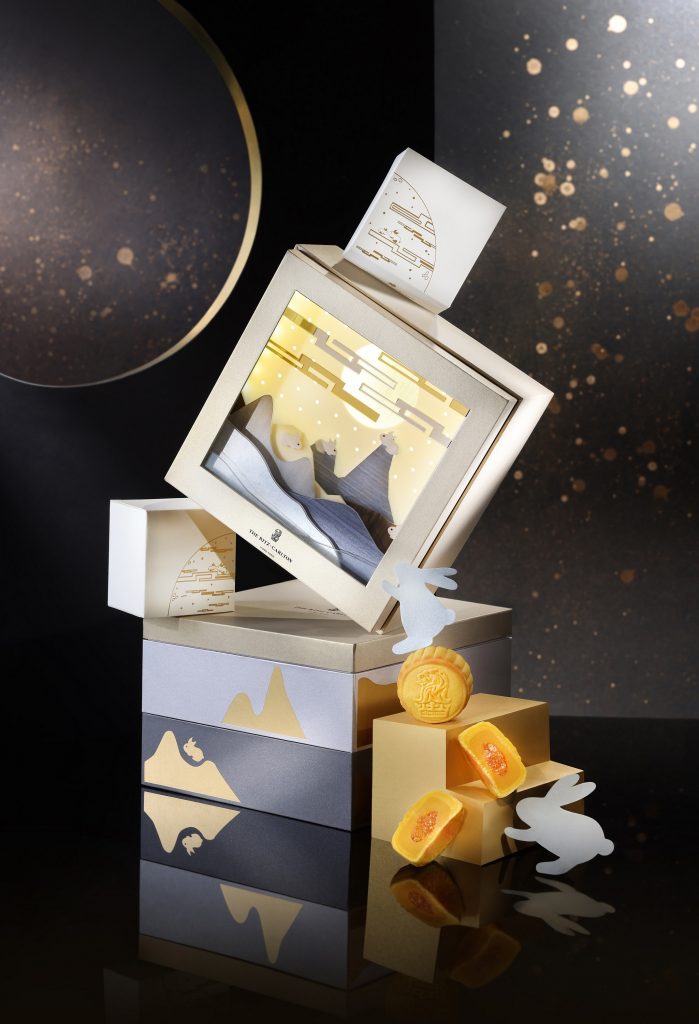 Experience the time-honoured mooncake delicacies offered by The Ritz-Carlton, Hong Kong to celebrate the Mid-Autumn festival, which symbolises reunion, blessings and good fortune. The four enticing mooncake sets, each crafted with exceptional attention to detail and flavour consist of the "Luna Serenity" Mini Egg Custard Mooncake Set; Hong Kong X M+'s Exclusive Madame Song Inspired Lava Egg Custard with Kumquat Mooncake set; Tin Lung Heen Limited Edition House-made Mini Egg Custard Mooncakes with Selected Premium Tea Gift Set; and the Premium Bird's Nest Egg Custard Mooncake Set.
Prepare to be captivated as The Ritz-Carlton collaborates for the first time with M+ museum, unveiling the Exclusive Madame Song inspired Lava Egg Custard with Kumquat Mooncake Set to celebrate the opening of the museum's new special exhibition. Adorned with a specially created butterfly pattern, the box opens to reveal a captivating pop-up display depicting a classic folk story using traditional Chinese shadow play technique. The set includes eight mini lava egg custard mooncakes infused with kumquat, perfect for creating cherished moments with your loved ones (priced at HKD$548).
By popular demand, The Ritz-Calrton, Hong Kong reintroduces the exquisite Premium Bird's Nest Egg Custard Mooncake Set. Elegantly designed with a golden façade, these luxurious mooncakes come in a three-tiered gift box to signify Mid-Autumn blessings with the top tier featuring jade rabbits and a glowing full moon illuminated by LED lights. With only 200 boxes available, each set is priced at HKD$798.
Order here
Classic recipe mooncakes by St. Regis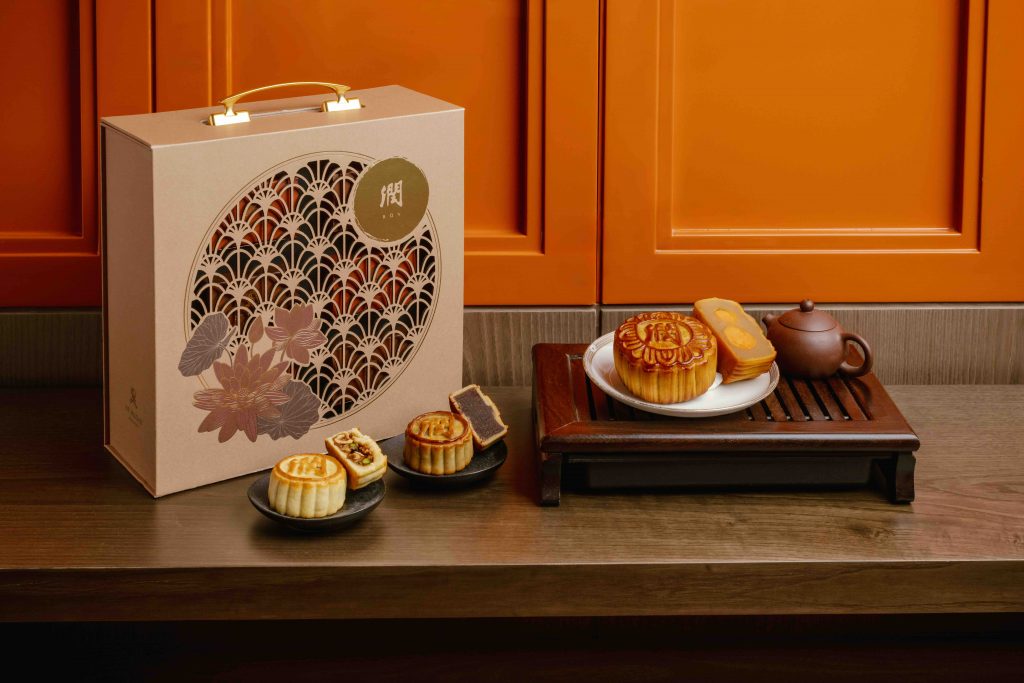 Rùn, the esteemed Chinese restaurant ded by the Executive Chinese Chef Hung Chi-Kwong at The St.Regis Hong Kong, has unveiled an extraordinary collection of meticulously crafted mooncakes for the upcoming Mid-Autumn Festival.
The classic White Lotus Seed Paste Mooncake with Double Egg Yolks embodies the essence of the Mid-Autumn Festival, showcasing its timeless appeal. Crafted with the finest lotus seed paste and golden salted egg yolks, this delectable creation is designed to captivate the senses. Adding a contemporary twist to the collection, Chef Hung Chi-Kwong presents the Mini Red Bean Paste Mooncake with Mandarin Peels, artfully combining savoury red bean paste with fragrant mandarin peels. Lastly, the Mini Assorted Caramel Nuts Mooncake offers a unique and indulgent experience, blending the luscious flavours of caramel with a premium selection of nuts, including pistachios, almonds, walnuts, hazelnuts, and dried raisins.
Order here
Deluxe mooncakes by The Peninsula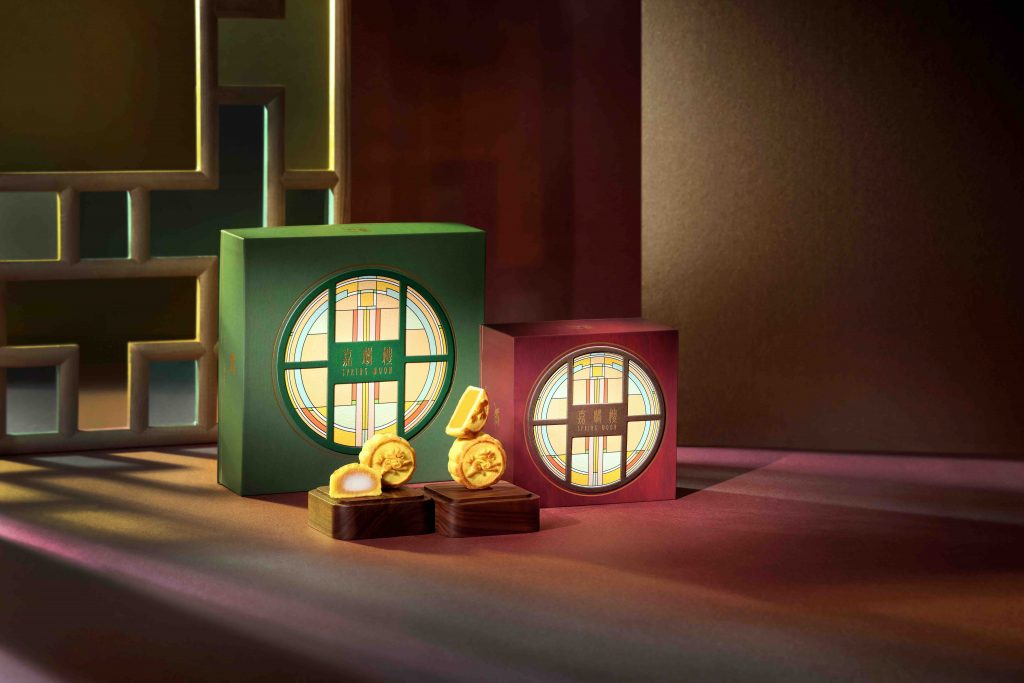 Celebrate the Mid-Autumn Festival with the renowned chefs at The Peninsula Hong Kong's Spring Moon restaurant. For almost 40 years, the Michelin-starred chefs have been crafting exquisite Mini Egg Custard Mooncakes, considered the finest in Hong Kong. This year they offer two epicurean mooncake varieties. The legendary Mini Egg Custard Mooncakes, offered since 1986, feature light and flaky golden pastry filled with velvety egg custard. These sought-after treats come in a box of eight mooncakes, priced at HK$638. In addition to the classic flavour, the limited-edition Sesame Paste Mochi Mooncake introduced last year is brought back once again, showcasing the rich sesame, peanut, and lotus-seed paste encased in delicate pastry and pillowy mochi. A box contains six mooncakes and is priced at HK$688.
For a more lavish festival gift the Spring Moon's Mid-Autumn Festival Deluxe Gourmet Hamper is available at HK$3,888. It includes indulgent treats such as Mini Egg Custard Mooncakes, 30-head Middle Eastern dried abalone, 18-head fish maw, Hokkaido conpoy, Shiitake mushrooms, caramelised sesame walnuts, Yunnan aged Pu Er and the restaurants legendary XO Chilli Sauce.
Order here
Heritage mooncakes by Regent Hong Kong
Two-Michelin star Lai Ching Heen brings back its beloved egg custard mooncakes homemade by executive chef Lau Yiu Fai and head chef Cheng Man Sang in limited quantities with a heritage recipe. Regent offers an exquisite collection of mini egg custard mooncakes handcrafted with edible gold leaf flakes melded into a smooth and creamy mixture. The Lai Ching Heen mini egg custard mooncakes sell at HKD$688 with six pieces per box and are artfully presented in a bespoke gift-box resembling a jade jewellery chest with drawers.
At the same time, this heritage restaurant introduces a new creation of mini assorted flavour mooncakes in salute to the homecoming Regent. This curated collection comes in a sleek teal gift-box. The mini mooncake collection is crafted with premium ingredients and distinctive flavours including White Lotus Seed Paste with Yolk, Red Bean Paste with Mandarin Peel, Green tea Custard and Earl Grey Tea Custard (HKD$428 per box with two pieces per flavour).
Order here
Shangri-La Group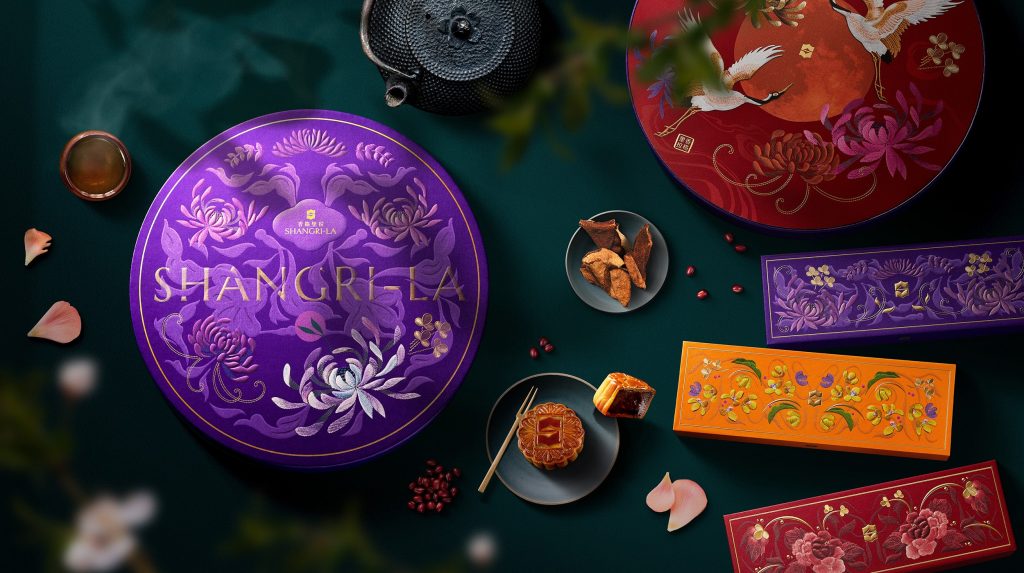 Shangri-La Group ushers in the Mid-Autumn festival and wishes you joyful moments of togetherness with a variety of classic and contemporary mooncake flavours.
Presenting over 30 mooncake varieties, Island Shangri-La's mooncake collection – curated by the acclaimed Michelin-starred team of chefs at Summer Palace – includes the signature Summer Palace Red Bean Paste with Rare 80-Year Dried Tangerine Peel Collector's Gift Box (eight pieces for HKD1,328), Summer Palace Seven-Star Mooncakes (eight pieces for HKD1,128) and the Shangri-La Group Signature Mooncake Series (nine pieces for HKD788), which skilfully fuses the citrusy flavour of 50-year aged mandarin peel into velvety red bean paste, enriched with either rose, yuzu or osmanthus. Chocolate lovers are in for a treat with their all-new Summer Palace Premium Molten Lava Custard Mooncakes Duo (eight pieces for HKD$518). And for those keen to give back, the Heep Hong Charity Hamper (HKD$2,488) complete with mini custard mooncakes, chocolate, organic balsamic vinegar and more gourmet treats, donates a portion of its proceeds to the Heep Hong Society to support less fortunate children.
Across the harbour, Kowloon Shangri-La's Shang Palace presents the Shang Palace Signature Mooncakes Quartet (12 pieces for HKD$638), which features their four most popular flavours; Shang Palace 50-year Aged Mandarin Peel and Red Bean Paste Mooncakes with Mandarin Pu Er Tea Gift Box (eight pieces and four tea lumps for HKD$1,588); as well as a series of new flavours like a Durian Snow Skin duo (six pieces for HKD$528), Mango, Cheese and Passionfruit Snow Skin Mooncakes (eight pieces for HKD$528); and Mini Naruto Kintoki Mooncakes with Red Bean (eight pieces for HKD$428).
Next door, Kerry Hotel offers the chic and classic Hung Tong Double Egg Yolks with White Lotus Seed Paste Mooncakes (four pieces for HKD$458), Hung Tong Mini Egg Custard Mooncakes (eight pieces for HKD£388), and Hung Tong Mini Mooncakes Trio (six pieces for HKD$408) with Arabica coffee, New Zealand Manuka honey and pomelo pineapple flavours.
Order here
Degustation by The Peninsula Boutique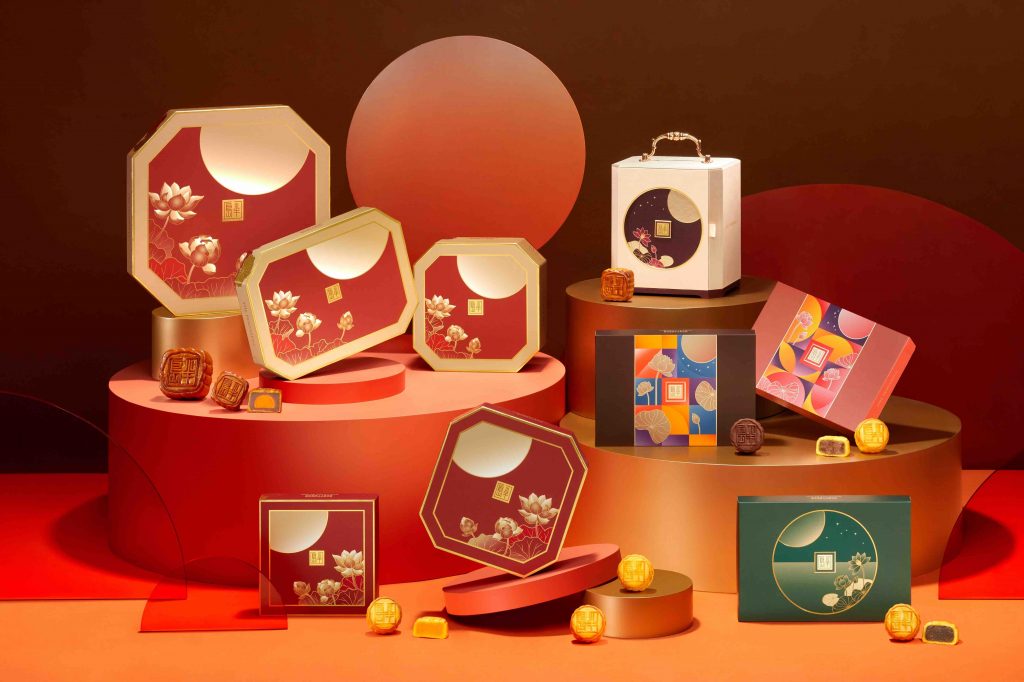 Immerse yourself in the timeless tradition of Mid-Autumn Festival with The Peninsula's iconic Mini Egg Custard Mooncakes, along with new contemporary flavours to satisfy every palate during the festivities.
Every year The Peninsula develops innovative recipes that pay homage to tradition, but appeals to customers' evolving palates. Making their debut this year, indulge in the legendary egg custard mooncakes with luscious chocolate and toffee that will satisfy anyone's sweet tooth. For a more refreshing palate, savour the egg custard mooncakes with assorted fruits for a delightful twist. True gourmands will revel in the interplay of flavours and textures found in the Star Chef Mooncakes by Michelin-starred Chef Tang Chi Keung. For this ultimate experience, the Mooncake Degustation gift Box showcases the tasteful variety of flavours, while also serving as a decorative lantern.
Order here
Durian mooncakes by Conrad Hong Kong
Conrad Hong Kong embraces the essence of the Mid-Autumn Festival by launching four distinct mooncake box sets catering to a variety of palates, making it perfect for celebrating with loved ones. In addition to the classic White Lotus Seed Paste with Egg Yolk Mooncakes, Mini Creamed Egg Yolk Mooncakes and the Grand Assorted Mooncakes featuring five flavours, Golden Leaf's chef Tony Wan Chung-Yiu introduces the limited-edition Mini Musang King Durian Mooncakes, known for their captivating aroma.
The mooncakes come in jewellery-inspired packaging resembling a polished ruby, with an embossed pattern and a metallic leaf-shaped lock. Inside one will find smaller square boxes that can be reused for decoration or storage. Amongst the four mooncake boxes, the Mini Musang King Durian Mooncakes are a new addition to the collection, offering guests the pure flavour of the renowned "king of fruits." Encased in a gilded cookie crust, these mooncakes feature a velvety puree made from authentic Malaysian musang king durian, complemented by egg custard.
To commemorate the Mid-Autumn Festival, Conrad Hong Kong is also offering four special gift hampers. Each of them features five wines and prestigious food items, including fish maw, fried shiitake mushroom, Golden Lead XO sauce and Chinese walnut cookies.
Order here
Modern and classic offerings by The Upper House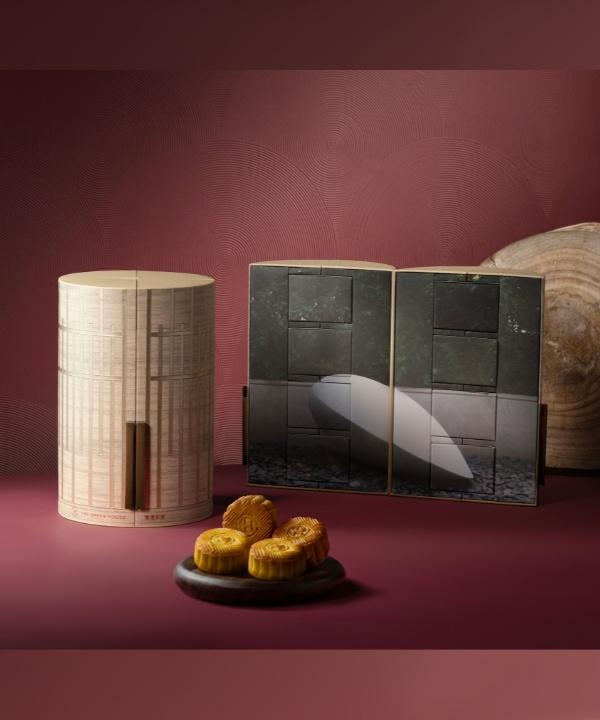 This year, The Upper House offers a mooncake box set that perfectly blurs the line between modern and classic. Crafted like a work of art, the set features eight mini mooncakes in a mix of four flavours: Maltitol Low Sugar White Lotus Seed Paste Mooncake with Yolk; Vegan Mooncake with Nuts and Figs; Earl Grey Tea Custard Mooncake; and Coffee and Salted Caramel Custard Mooncake. Because that isn't enough, each mooncake set purchase comes with a HK$200 Salisterra dining voucher for you to gather with the people you love most.
For something a little more elaborate, there's also The House Collective mooncake set, which features four one-of-a-kind designs and are available as a full set, for the first time. As part of the House's ongoing commitment to our community, 10% of the profits will be donated to a local homeless charity.
Order here
Traditional mooncakes by Sheraton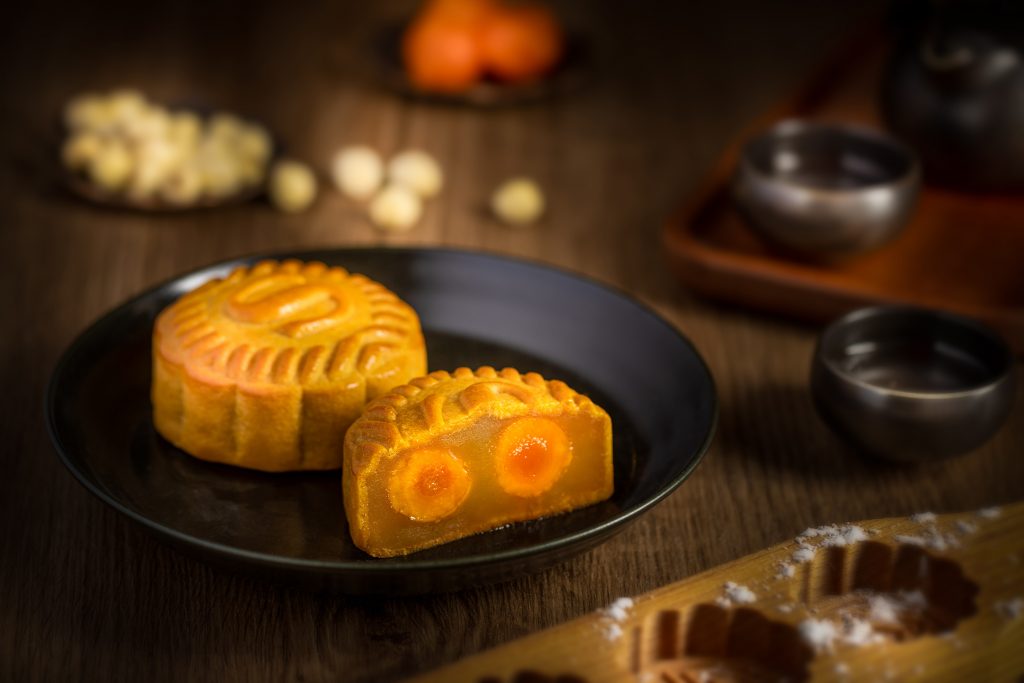 Time-honoured like the hotel itself, Sheraton presents their rendition of the traditional mooncakes, allowing your heartwarming reunion to be as complete as the full moon. The mini delectables feature salty egg yolks and creamy custard enveloped by golden buttery crust. Alternatively, the White Lotus Seed Paste Mooncake doubles the egg yolks for extra aroma, engulfed within the silky lotus seed paste, both focusing on the unique and well-loved aroma of egg yolks. Their new gift box design alludes to the radiating Luna, symbolising reunion. The subtle element of luxury highlighted by the hotel's signature cedar brown and champagne gold embossed hotel logo, embellished with Chinese-styled clouds, marks the hamper as a gift of sophistication.
Order here
The Langham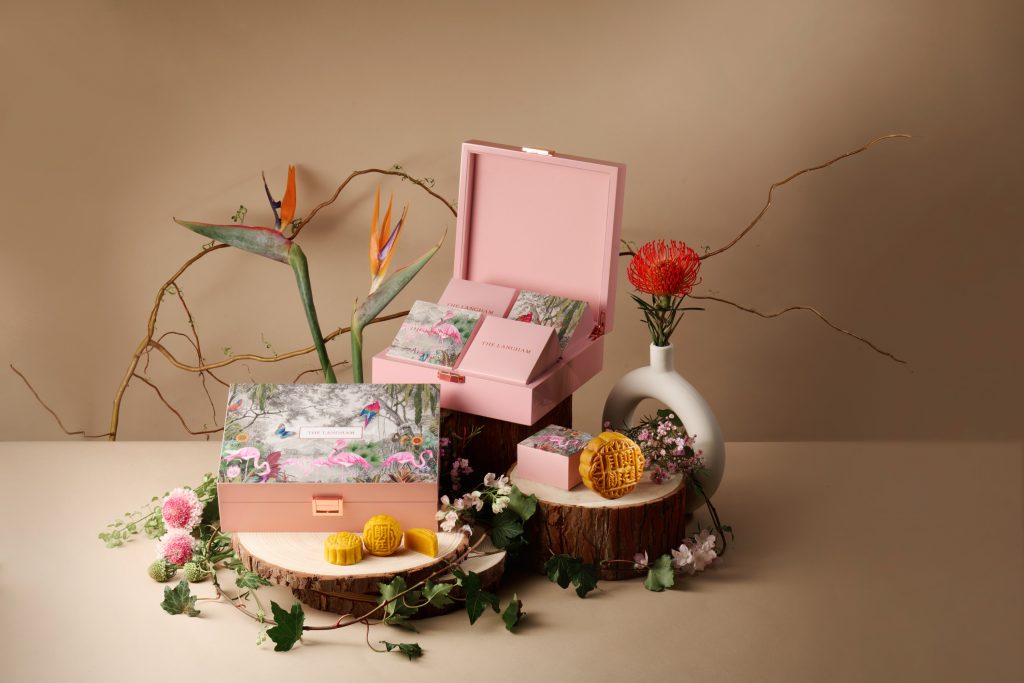 As the radiant full moon calls upon the occasion for reunion, what's better than gathering around with friends and family, sharing a table of scrumptious dishes and mooncakes. T'ang Court at The Langham has decided to stick with the well-loved classics this festive season, focusing on excelling in the meticulous craftsmanship and recreating the traditional scene of reunion. With three Michelin stars in their pocket, they have introduced their take on the ubiquitous Mini Egg Custard Mooncake and the White Lotus Seed Paste Mooncake with fragrant double egg yolks that young and old on the table are sure to fight for regardless. The luscious dessert is boxed up in an exquisitely appointed wooden jewellery box covered in an oriental, nature-themed design, a traditional and sustainable gift to share with your loved ones.
Order here
Egg waffles x mooncakes by Hyatt Centric Victoria Harbour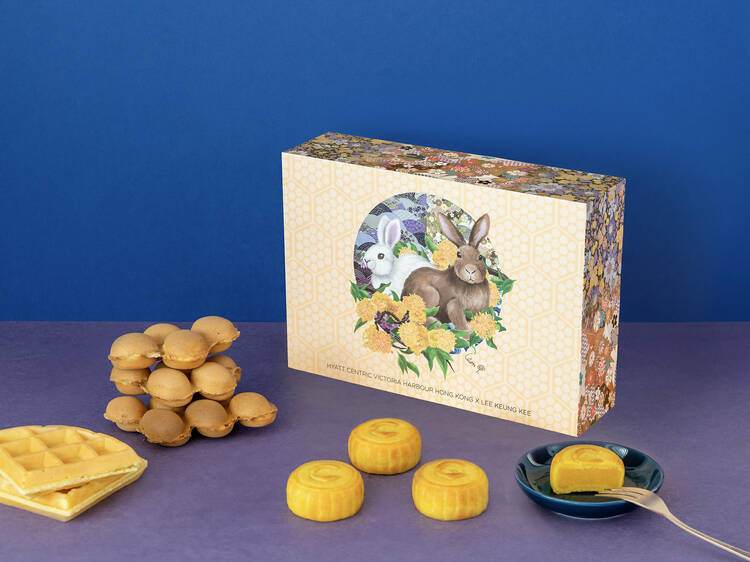 Egg waffles and chequered waffles rank top on Hong Kong's most-sought after street food as representatives of the city's exclusive flavours. Hyatt Centric Victoria Harbour Hong Kong has incorporated the irresistible richness of eggs and the classic gustatory chemistry between peanut butter and condensed milk into this year's mooncakes. Partnering with Michelin-recommended Lee Keung Kee Egg Waffles who has been famed at North Point for decades, the limited-edition delectables filled with egg waffle custard paste are paired with peanut butter and condensed milk sachets to replicate the authentic experience. They have also invited local artist Leon Lollipop to spice up the packaging design, transforming this gift box into a storyteller of the city's communities.
Order here
Limited edition mooncakes by Ān Soy x Esca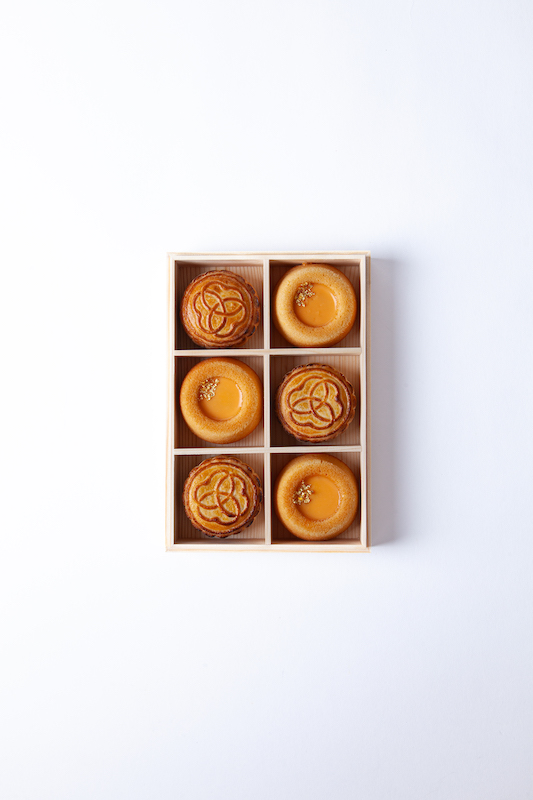 Experience a new and contemporary approach to soy products as Ān Soy collaborates with Esca to create their first limited-edition mooncakes, offering guests an elegant, soy-inspired and vegetarian gifting option. Combining Chinese tradition with Japanese technology, each pastry box contains three oozing black sesame mooncakes made with Ān soy milk and three fragrant Osmanthus salted egg soy milk financiers from Esca. Presented in an eco-friendly wooden box, the Ān x Esca mooncakes reflect a shared commitment to sustainability.
An early bird pricing of HK$488 is available until August 30, and the full price of HK$498 applies from August 31 onwards for the six-piece pastry box.
Order here
The Merchants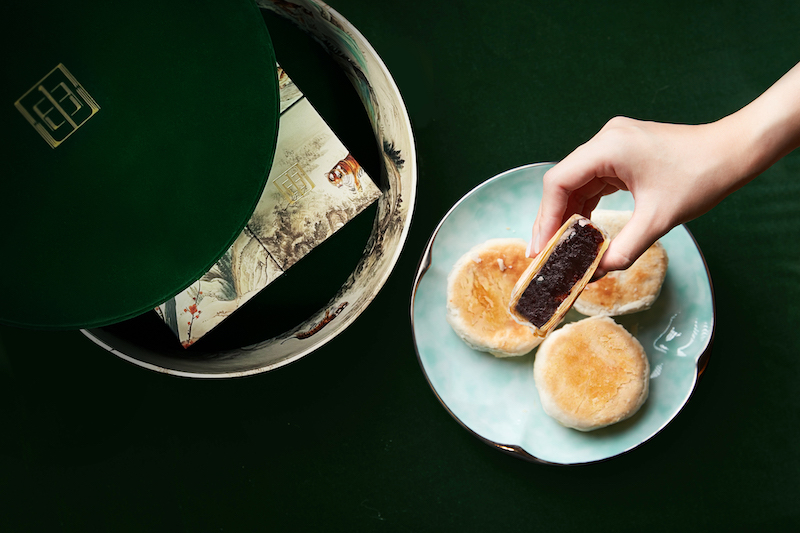 The Merchants at Forty-Five is celebrating its first Mid-Autumn festival by paying homage to traditional Suzhou-style mooncakes. Expertly crafted by executive chef Chen Tian Long, these mooncakes come in flavours of smooth and sweet red bean; soft and fragrant red date; five-kernels and black sesame powder "salt and pepper"; and classic lotus seed paste with salted egg yolk; each encased in a multi-layered, flakey and crumbly crust that resembles pastry.
Share the beloved tradition of Mid-Autumn gifting with either the Signature Mooncakes Set (four pieces for HKD$480); the Savoury Mooncakes Set (four pieces for HKD$520), featuring two flavours including Xiān Ròu Yuèbǐng and Jinhua ham from Zhejiang province; and the Prestige Mooncakes Set (eight pieces for HKD$1,880), which is presented within an intricate hand-embroidered cherrywood box designed by Victoria Tang-Owen and includes two pieces each of the four sweet-flavoured mooncakes.
Order here
Delicate mooncakes and poon choi by Man Ho Chinese Restaurant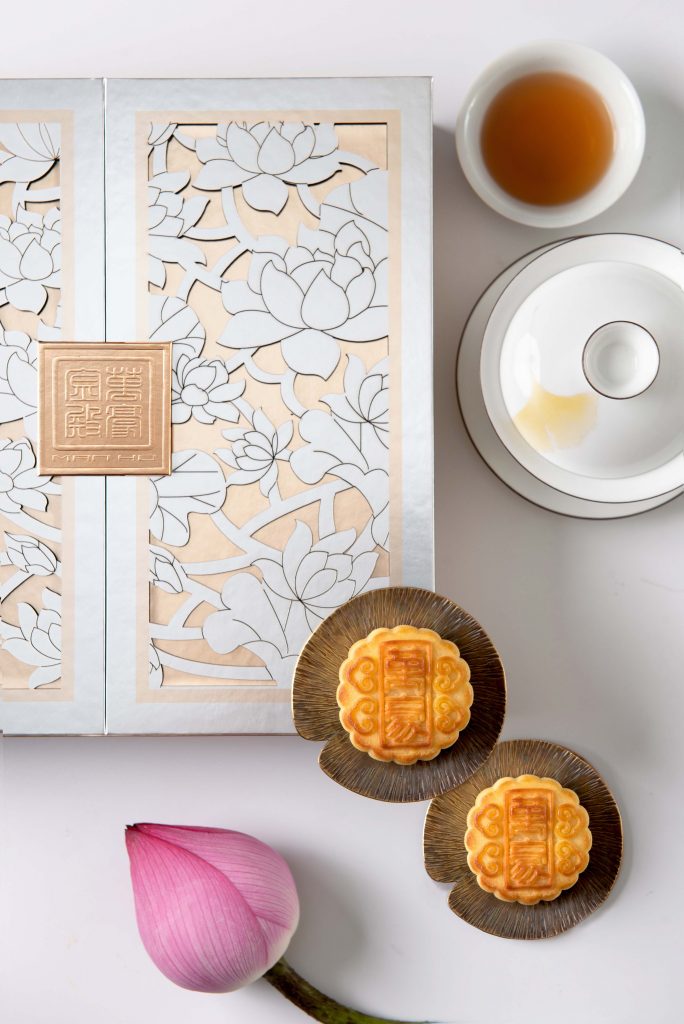 With a modern take on traditional Cantonese cuisine, Man Ho Chinese Restaurant at JW Marriott is no stranger to blending classic and contemporary flavours together. Individually packed and presented in an elegant champagne gold and silver gift box, their White Lotus Seed Paste Mooncakes with Ginger and Double Egg Yolks (four pieces for HKD$498) blends fragrant ginger juice together with velvety lotus seed paste, while the Mini Egg Custard Mooncakes (six pieces for HKD$488) is baked to golden-brown perfection. Inspired by the joyous spirit of the Festival, the 8″ Royal Supreme Mooncake with White Lotus Seed Paste, Ginger and 8 Egg Yolks (HKD$888 per piece) is the perfect treat for six to ten people to share.
But if you're seeking something more novel, try the new Mini Mooncakes with Dried Tangerine Peel and Red Bean, or the returning favourite from last year, Mini Mooncakes with Red Dates and Rose (six pieces for HKD$488). To round off the restaurant's Mid-Autumn repertoire, a scrumptious takeaway poon choi crafted by the restaurant's culinary team led by executive Chinese chef Jayson Tang features a total of 18 lavish ingredients – like Australian sea cucumber, 33-head South African dried abalone, fish maw, tea-smoked local Ping Yuen chicken and shrimp mousse stuffed in morel mushrooms – layered and bathed in a rich and umami homemade braised abalone sauce.
Order here
Premium hampers and limited-edition lantern gift box by Duddell's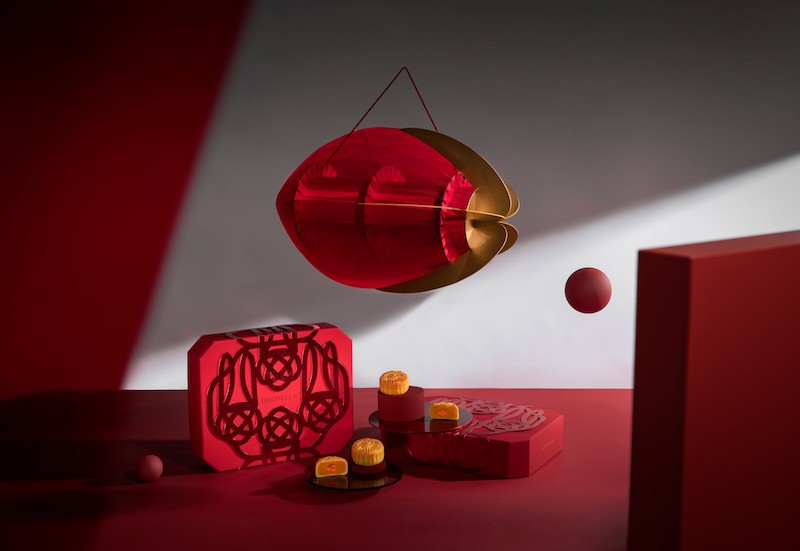 Nestled in the vibrant heart of Central, Duddell's is once again redefining Cantonese culinary traditions with its annual mooncake gift box and hamper series, featuring their signature Lava Cream Egg Custard Mooncakes. The mooncakes are presented in three styles of gift boxes: the Signature Gift Box, Limited Edition LED Lantern Gift Box, and Duddell's Mid-Autumn Premium Gift Hamper.
The Duddell's Mid-Autumn Premium Gift Hamper offers a luxurious assortment of hand-selected gourmet treats, including a box of Duddell's signature lava cream custard mooncakes (six pieces), braised South African five-heads abalone with Duddell's abalone sauce (five pieces), Royal Cristal Caviar (30 grams), homemade walnut cookies, Duddell's signature X.O. sauce, garlic salt cashew nuts and mushroom cashew nuts, a bottle of R'de Ruinart Reims Champagne, and Fook Ming Tong's Fuding white tea discs (24 pieces).
The award-winning Hong Kong-British sparkling tea brand, Saicho, has partnered with Duddell's to bring a contemporary twist to the classic hot tea and mooncake combination. The delectable gift box (six mooncakes and two 200ml bottles of sparkling tea for HKD$498) pairs the restaurant's signature Lava Cream Egg Custard Mooncakes with Saicho's aromatic sparkling tea. The crisp, refreshing bubbles of the tea cut through the richness of the mooncake, while its delicate floral and fruity notes complement the sweetness of the egg custard filling.
Order here
Order the Saicho and Duddell's Mooncake Pairing Gift Box exclusively here
Suzhou-style mooncakes by Hong Kong Cuisine 1983
Hong Kong Cuisine 1983 is thrilled to unveil its collection of meticulously hand-crafted mooncakes, an exquisite tribute to the timeless tradition of Suzhou-style mooncakes. Chef Silas and his team have curated a selection of six flavours symbolising unity and prosperity that pay homage to time-honoured flavours, while providing a sense of newness for the younger generation. Encased in an elegant gift box, the six flavours include Red Bean Paste with Nuts, White Lotus Seed Paste with Yolk, Premium Mixed Nuts, Yunnan Ham with Mixed Nuts, Red Bean Paste with Yolk, and Purple Sweet Potato Paste with Yolk.
This collection pays homage to the ancient craft of Suzhou-style mooncakes, known for their layered flaky pastry, generous fillings and exquisite taste. The delicate art of filling ensures a thin base, a smooth and thick texture on top, and a plump appearance, resulting in mooncakes that boast layers and a delightful crispy texture. Each box contains one piece of each flavour, allowing you to savour these delectable treats and experience the evolution of Hong Kong's culinary culture through Chef Silas' dedication to preserving authentic mooncake craftsmanship.
Order at 2893 3788
Festive mooncakes by China Tang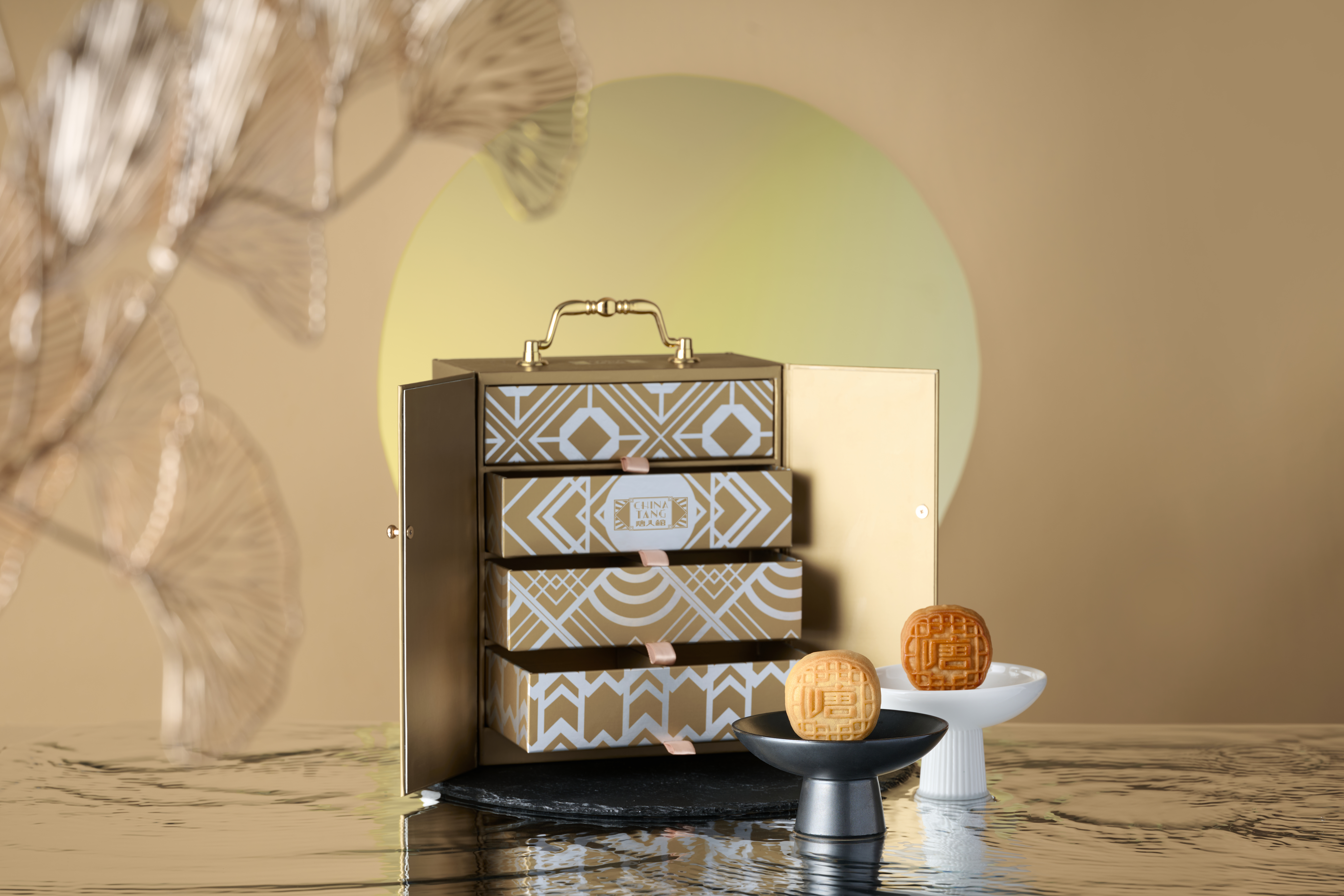 Those with a traditional palate are sure to adore China Tang's three new mooncake giftboxes this year: Mini Lava Bird's Nest Egg Custard Mooncake (eight for HKD$438), Authentic White Lotus Seed Paste with Egg Yolk Mooncake (four for HKD$438) , and The Deluxe Mooncake Giftbox. Featuring delicious bite-sized lava bird's nest egg custard and white lotus seed paste with egg yolk mooncakes encased in an exquisite gift box that pays homage to the decorative mirrors at China Tang and symbolises the presence of the full moon, The Deluxe Mooncake Giftbox makes for the perfect gift this season.
Order here
Yat Tung Heen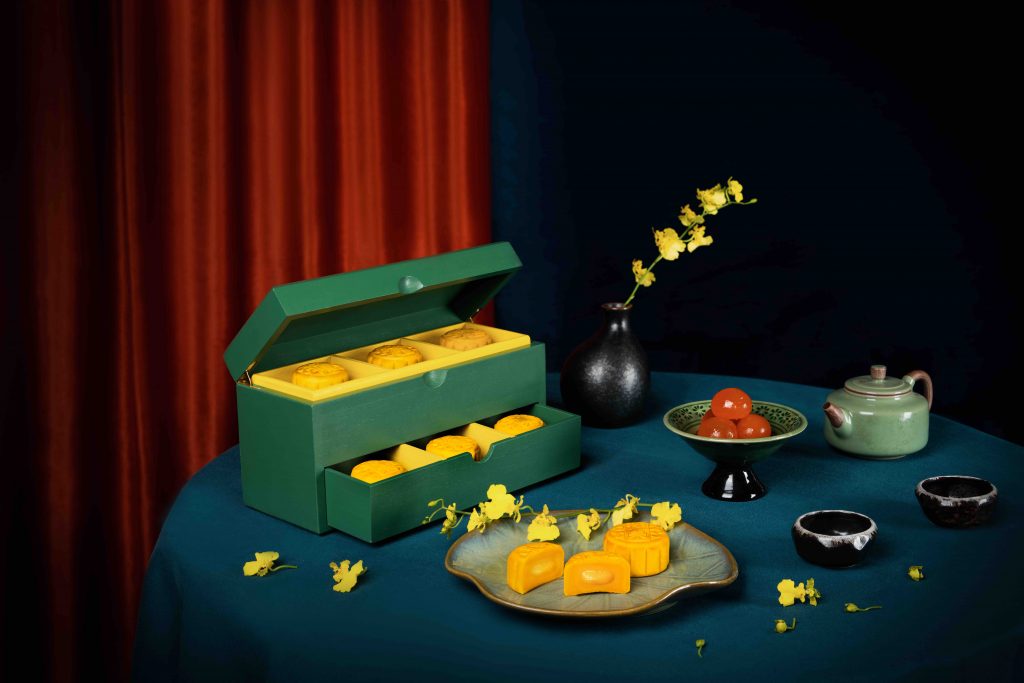 Presentation is key when it comes to annual mooncake gifting, and Yat Tung Heen's is certainly a top-notch keepsake. Their timber box can be converted into a presentable double-layer storage box, with a flexible design featuring a vertically opened top layer, pull-out bottom compartments and removable or adjustable wooden dividers within.
The one-Michelin-starred Eaton has put out a Deluxe Mini Mooncake Assortment Gift Set consisting three rich flavours: Mini Red Bean Paste with Mandarin Peel Mooncake, an unexpected yet ineffably scrumptious combination; alongside crowd-favourites such as the buttery Mini Lava Egg Custard Mooncake and aromatic Mini Lava Egg Custard White Lotus Seed Paste Mooncake.
Order here
Chinese cuisine-inspired mooncakes by Ming Court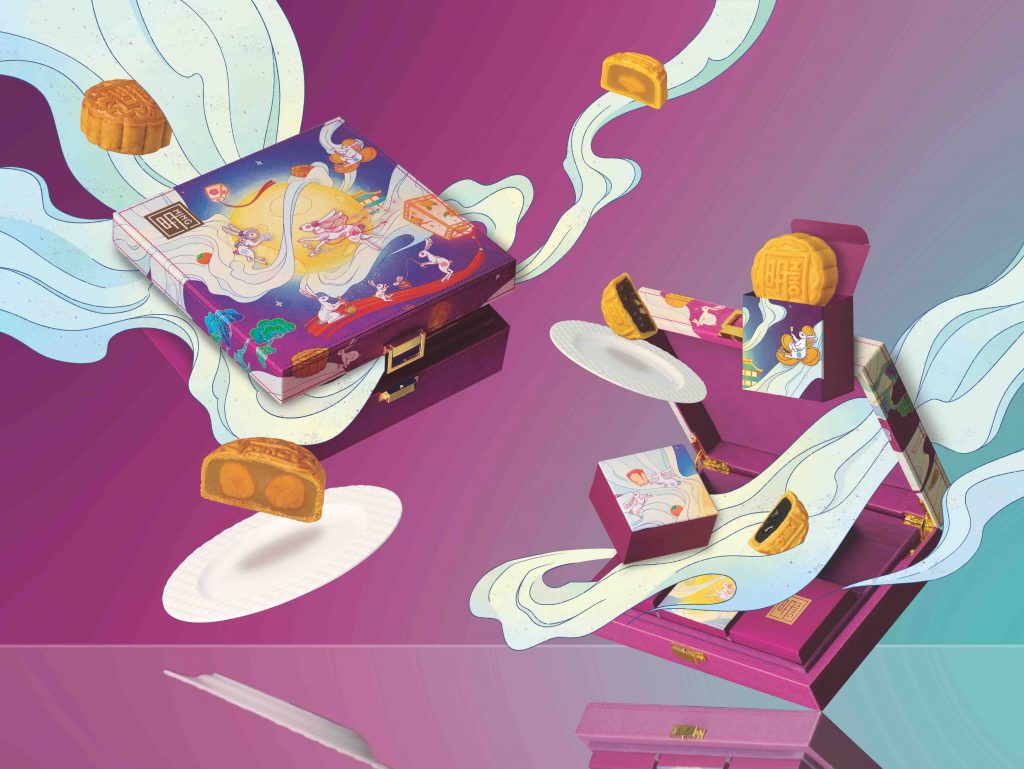 Jazz up your palate this festival as you savour unusual ingredients awaiting within mooncakes. Aside from traditional options, Ming Court has created three additional flavours for their Deluxe Mini Mooncake Assortment to satisfy those who crave excitement, displaying creamy molten fillings of sesame, velvety egg custard paired with traditional white lotus seed paste, and finally, sweet red bean paste with bitter mandarin peel. Their range of gift sets offer more than mooncakes, containing Ming Court's homemade XO Sauce, abalone casserole, Chef's Soy Sauce Chicken, seafood delicacy clay pot, Supreme Barbequed Pork Loin and more, in preparation for a memorable scene of family gathering.
Order here
Peace and harmony by Ho Lee Fook
The Ho Lee Fook Mooncake Collection pays homage to the Mid-Autumn Festival celebrations in the city. Crafted by chef ArChan Chan and chef Winson Yip, the mooncakes embody the values of family reunion, peace and harmony. Priced at HK$388 per box, the set of four mooncakes stays true to the restaurant's ethos of simplicity and attention to detail. Each mooncake is handcrafted and features a tender square pastry filled with a light custard and salted egg yolk – the beloved traditional flavour of Hong Kong.
Order here
Contemporary Chinese mooncakes by Mott 32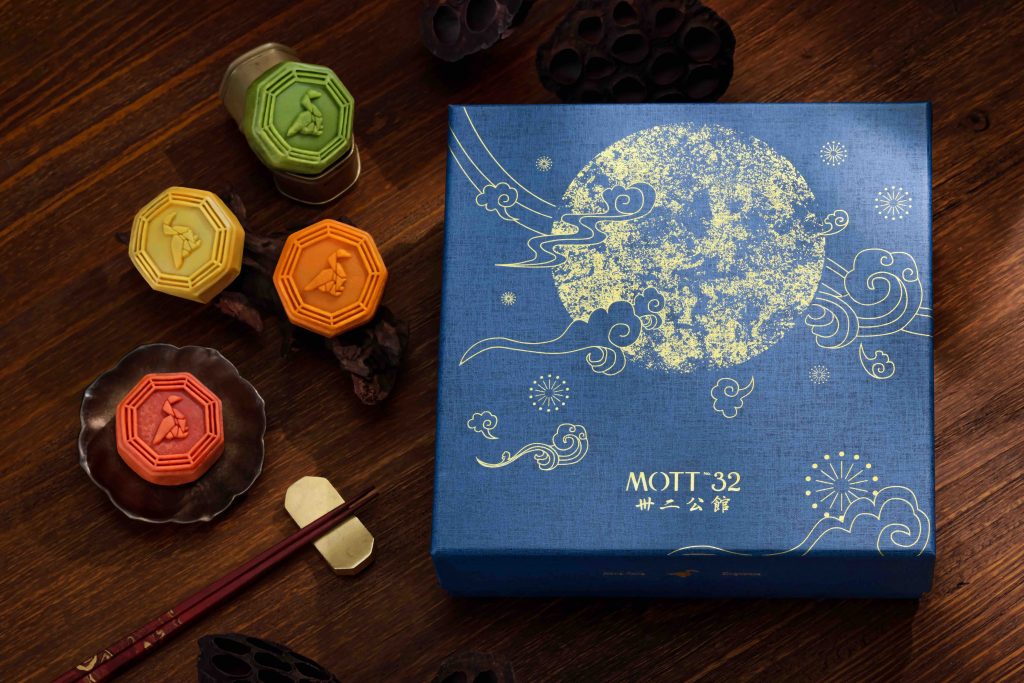 Contemporary Chinese restaurant Mott 32 has pulled out all the stops in time for the Mid-Autumn Festival with four nature-inspired limited-edition flavours, each elegantly presented in a premium blue box with distinctive gold embroidery and a matching carrier bag. Matcha Forest, inspired by Mott 32's signature Bamboo Green Forest dessert, complements matcha with yuzu, adding a touch of acidity to cut through the sweetness. The Mango-Coconut puts a new spin on the famous Cantonese mochi, while the Chrysanthemum-Red Date captures the spirit of a sweet life. If you're looking for more of a kick, turn to their Yuzu-Umeshu, which pairs bourbon and gin with plumy and tangy yuzu for a citrus-forward flavour.
Order here
Chocolate mooncakes by Venchi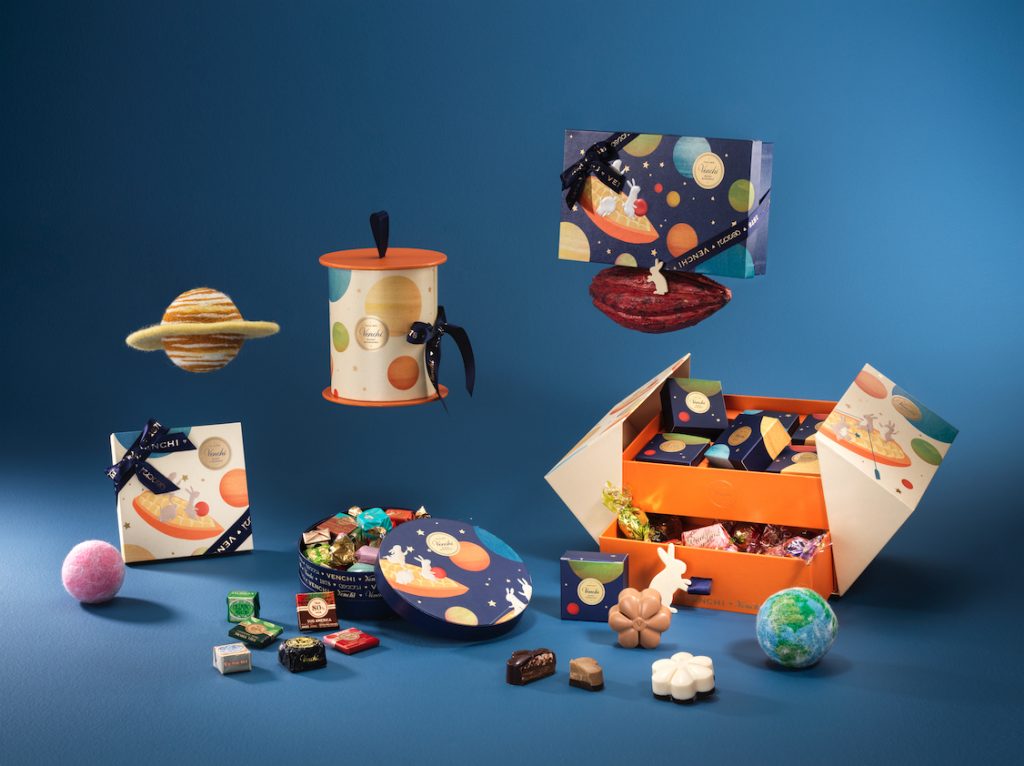 A far cry from the run-of-the-mill mooncake sets, the Italian chocolatier has concocted enchanting flower-shaped chocolate ones this season, appealing to less traditional cravings. The Caramel Swirl Mooncake consists of fragrant dark almond chocolate filling glazed with liquid caramel brulee, all encased within white caramel chocolate shell. The Lemon Vanilla Tea Mooncake combines white chocolate with almond paste, black tea, vanilla and zesty lemon, finished with a layer of 60 percent dark chocolate beneath.
The Coconut & Dark Chocolate Mooncake features a harmony of 60 percent dark chocolate with coconut-infused white chocolate, as the sweetness of the tropical fruit creates a captivating contrast with the luscious dark components. Lastly, the Smoky Rose Tea Mooncake amazes with a complexity of flavours, achieved with the smokiness of chocolate from Papua Nuova Guinea, hints of black tea and rose essence, crunchy almonds and refreshing raspberry grains.
Order here
Three different gift sets by Matchali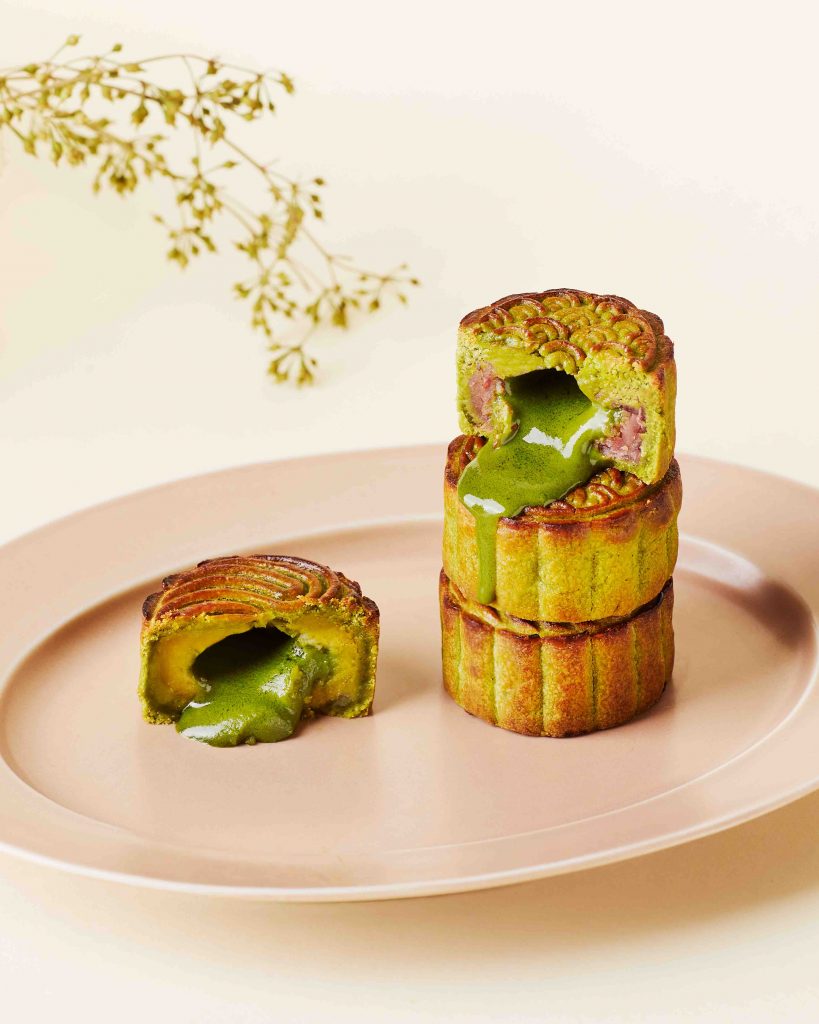 Matchali has made sure that this year tea aficionados will have something worth celebrating with their custard lava Matcha Almond and Matcha Red Bean mooncakes. The perfect gift for the health-conscious, these mooncakes are handcrafted in collaboration with esca, jam-packed with healthy goodness, free from added preservatives and prepared vegetarian friendly. Looking for something a little more elaborate, Matchali also offers three gift sets: the Tranquility Mooncake Set (HK$660), which includes the Matcha Almond and Matcha Red Bean mooncakes (four pcs/box) with Japanese ceremonial-grade matcha and hojicha; the Harmony Mooncake Set (HK$880); and the Full Moon Set (HK$820), complete with the two mooncakes (four pcs/box), hojicha or matcha, alongside a Chawan (tea bowl), a Chashaku (tea scoop), and a Chasen (tea whisk).
Order here
Tea-infused mooncakes by Fortnum & Mason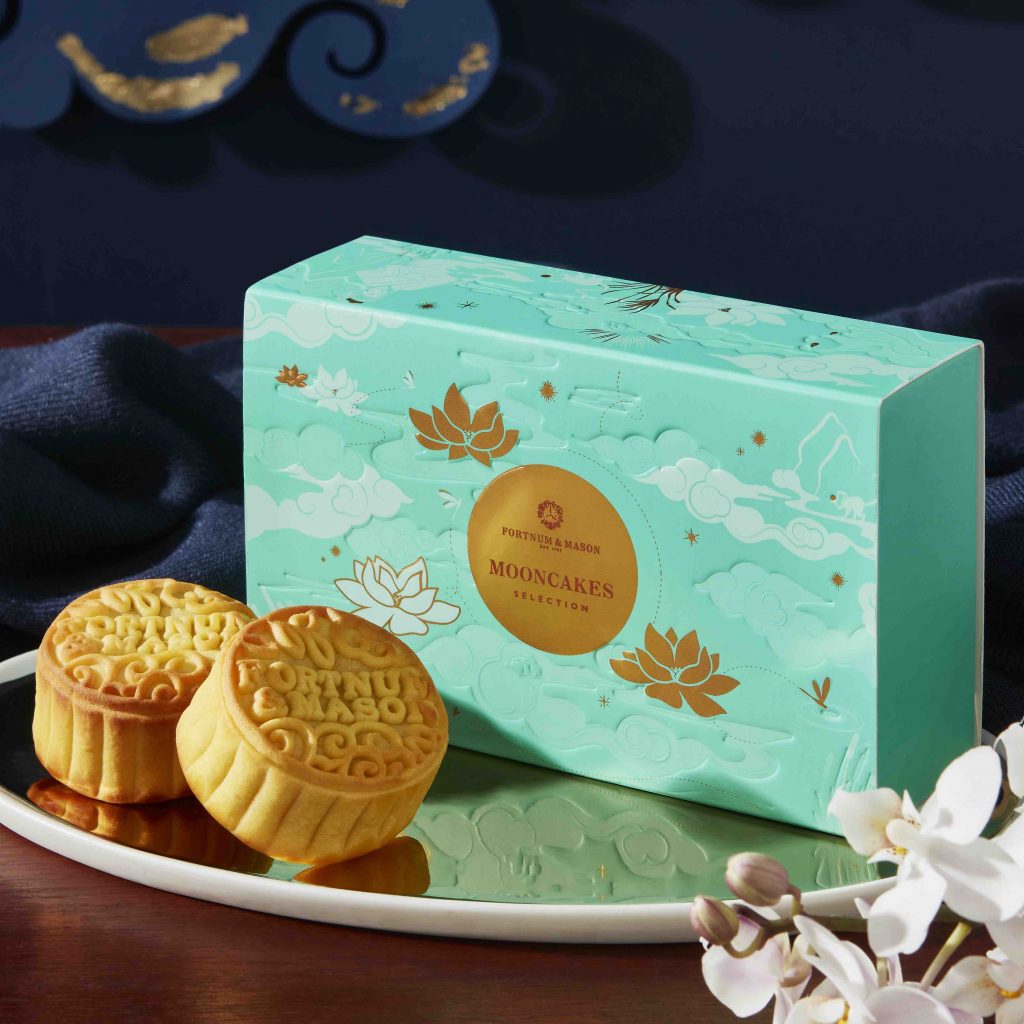 For a revolutionary western twist, swap Mid-Autumn food traditions with Fortnum & Mason's premium tea collection and a feast of contemporary tea-flavoured mooncakes. Festive indulgence from their Mooncake & Tea Pairing Gift Box contain custard and flavours from their most renowned tea blends – the zesty bergamot-laced Earl Grey Classic and the luxurious malty Royal Blend. The mini tin of tea complemented by a pair of lotus-inspired teacups is a match-made-in-heaven to elevate the entire festive celebration.
Their selection of tea bags includes their all-time-favourites to provide a full-range teatime experience – Royal Blend, Breakfast Blend, Afternoon Blend, Queen Anne Blend, Earl Grey Classic and Smoky Earl Grey. Their alcohol-free Sparkling Tea, an organic blend of eight brews that display notes of tropical fruits lemongrass, water mint, and Darjeeling and jasmine, as well as their high-quality champagnes (Blanc de Blancs Champagne and Blanc de Noirs Extra Brut Champagne) are adventurous options to break tradition.
Where: Shop 022, 18 Salisbury Road, Tsim Sha Tsui
Mooncakes with a French twist by Paul Lafayet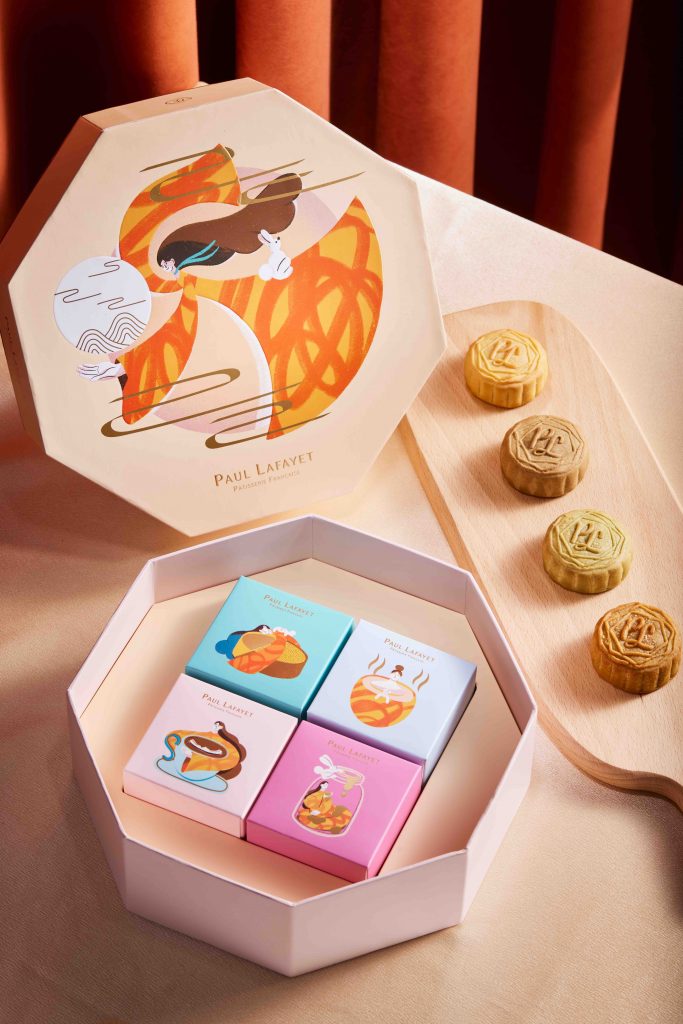 Paul Lafayet presents another French culinary take on the Chinese Mid-Autumn must-haves. Showcasing unparalleled creativity, their four newly-crafted flavours of custard mooncakes include Crème Brûlée, with a mouth-watering scent of vanilla beans; the Genmaicha, produced with a fascinating combination of tea and rice essence with antioxidant properties; Earl Grey Tea; and Manuka Honey, a naturally sweet bite with nourishing effects. In collaboration with a team of local designers named Carrot Salmon, an exquisite gift box decorated with fun and youthful interpretations of the mythical Chang'e and Jade Rabbit has been produced, making the remarkably joyful collection a gift to remember.
Order here
Vegan mooncakes by The Cakery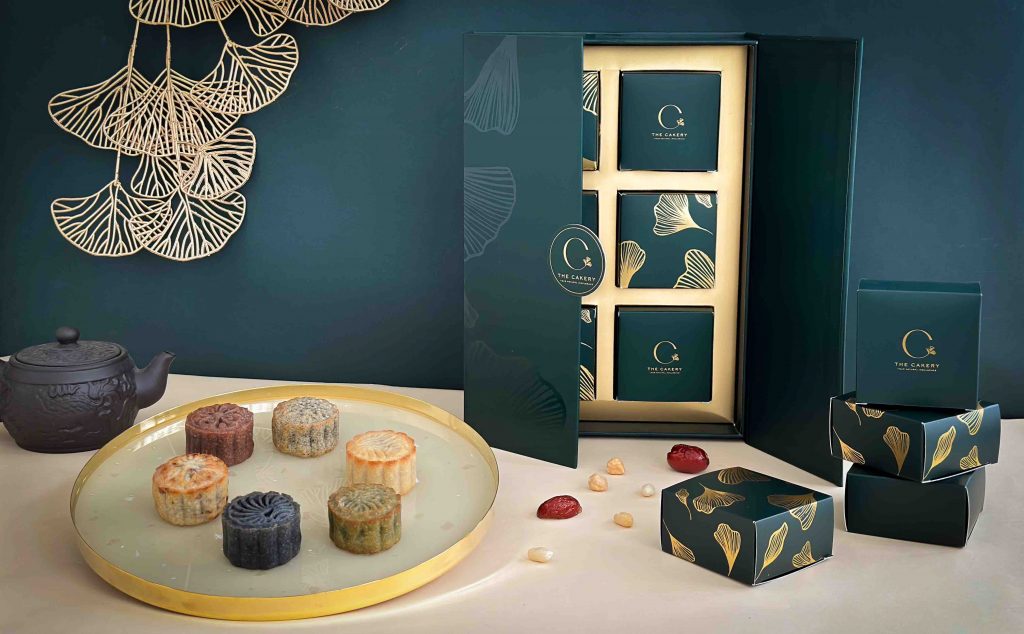 The Cakery presents a delightful selection of Vegan Mochi and Lava Mini Mooncakes to celebrate the Mid-Autumn festival, all crafted using the finest natural ingredients and presented in an elegant dark teal recyclable box with gold accents.
Priced at HK$428, the set features six new vegan flavours, including Matcha Mochi, which captures the essence of popular Asian flavours; Earl Grey Black Sugar Mochi, featuring brown sugar mochi infused with smoky Earl Grey tea; Black Sesame Lava; Red Date Mochi, combing chew mochi with jujube-filled white bean paste; Chocolate Hazelnut Lava; and Coconut Peanut Lava.
For an additional treat, the Palmier Gift Box presents vegan flavours of Chocolate and Salted Caramel. Whereas gift sets like the Over The Moon Hamper and the Joy of Togetherness Hamper offer a variety of delectable treats including mini mooncakes, an Assorted Palmier Box, an Oriental Cookie Box, Chocolate Granola, and a bottle of Organic Red Wine. In addition, the Joy Together Hamper includes all the aforementioned delicacies, as well as a Sweet Trio Cookie Box, Poppin' Raisins and a bottle of Organic White Wine. Lastly, perfect for any cookie lovers, The Prosperity Hamper features a Palmier Gift Box, an Oriental Cookie Box, a Sweet Trio Cookie Box, with a bottle of Organic Red Wine.
Order here
Royal mooncakes by Dalloyau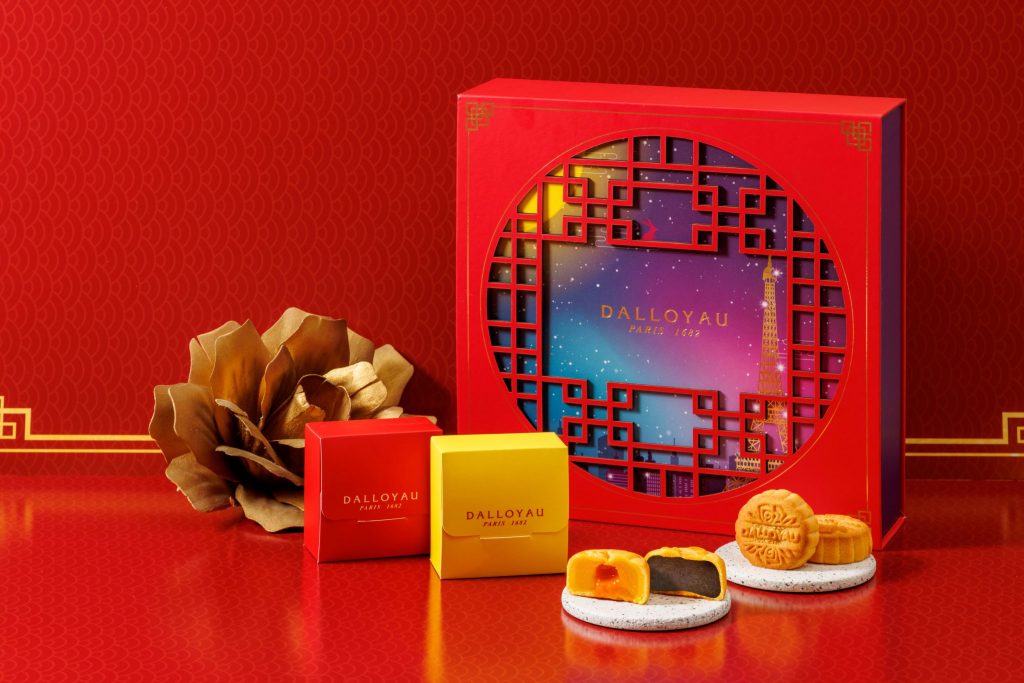 Employed by the Palace of Versailles royal court since the late 17th century, Dalloyau has created a collection of Paris Moon mooncakes and gift sets derived from its French heritage for the festive occasion. Chocolate lovers are blessed this Mid-Autumn, with their attempt in bridging the best of both worlds. Their French version of the egg custard mooncakes are either infused with 80 percent Valrhona Chocolate Egg Custard or contain velvety lava custard, erupting once sliced open. For its presentation, an illustration of Paris at night seen through an oriental hollow-carved window frame in bright red symbolises the merging of east and west culinary culture. Festive hampers containing various handmade French treats and gourmet bites are also available if you're looking for delectables to set off the main desserts.
Order here
Johnnie Walker Blue Label x Lei Garden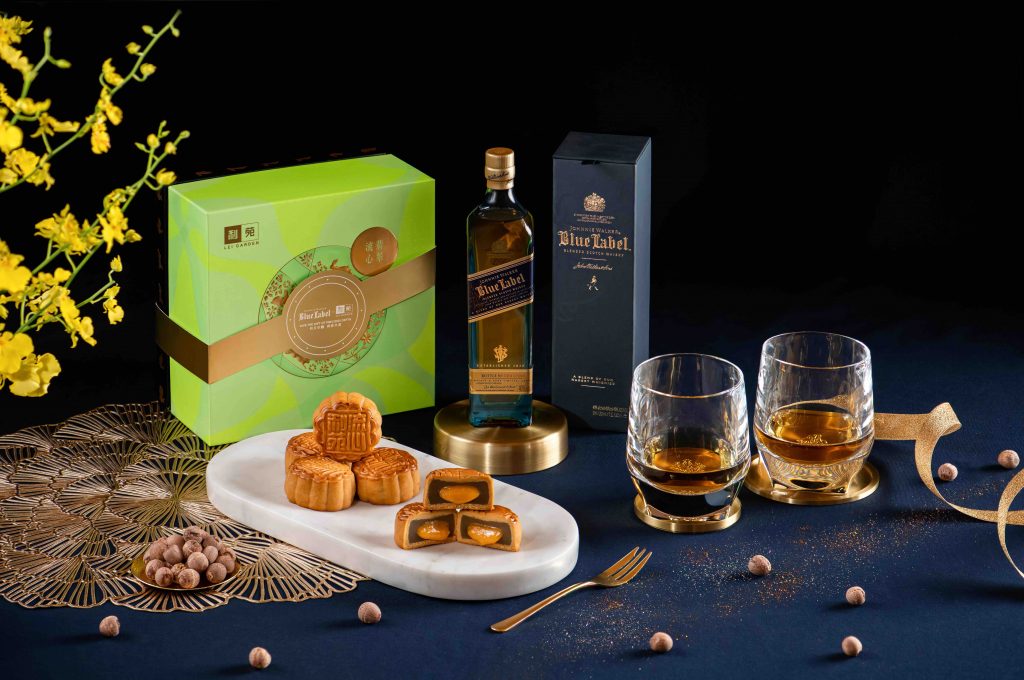 Johnnie Walker has teamed up with Lei Garden to present an exclusive Mooncake Gift Set showcasing the Michelin-starred restaurant's exquisite homemade Mini Lava Spirulina Lotus Seed Paste Mooncake. Combining the smoothness of Johnnie Walker Blue Label with the refreshing spirulina lotus paste and aromatic lava egg yolk, this luxurious collaboration offers a unique taste experience to be shared with loved ones during the Mid-Autumn Festival. Priced at HK$688, the Johnnie Walker Blue Label x Lei Garden Limited-Edition Mooncake Gift Set includes a bottle of Johnnie Walker Blue Label (20cl) and an 8-piece box of Lei Garden's Mini Lava Spirulina Lotus Seed Paste Mooncake.
Where: Any Lei Garden store