#legendeats: The best dishes we ate in October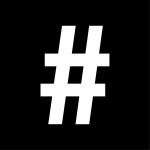 By: Austin Miao
November 3, 2020
Whether you're looking for a quick bite during lunch hour or a formal dinner with family and friends, we've got you covered in our monthly #legendeats round-up of Hong Kong's tastiest dishes.
La Rambla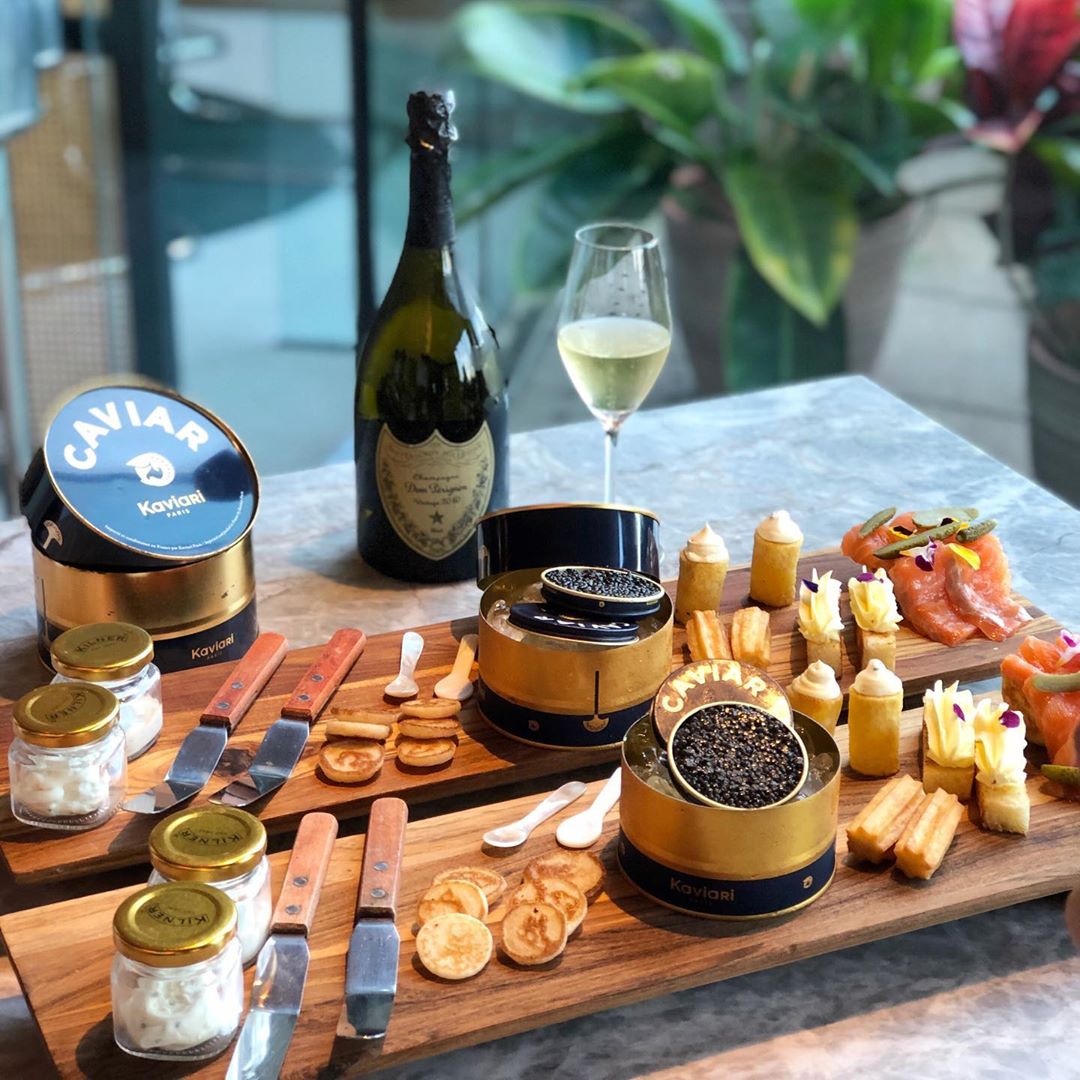 Caviar is the name of the game when it comes to La Rambla's new Las Perlas afternoon tea set. A collaboration with Kaviari caviar to enhance the Spanish delights created by Executive Chef Ferran Tadeo, the sets include savoury snacks like smoked salmon bao with pickles, homemade brioche bread with french butter, patatas with cream cheese and chives, as well as sweets like La Rambla's signature churros with salted cream.
There are two sets for you to choose from: the HK$800+10% set includes 30g of Baeri Caviar dubbed Kaviari. If you don't want to splurge but still want to enjoy a different kind of caviar, opt for the salmon roe or ikura which is priced at HK$480+10% for two. –Austin Miao (AM), Digital Marketing Manager
La Rambla, 3071-73 Level 3, IFC Mall, 8 Finance Street, Central, +852 2661 1161, larambla.hk
888Fatfatfat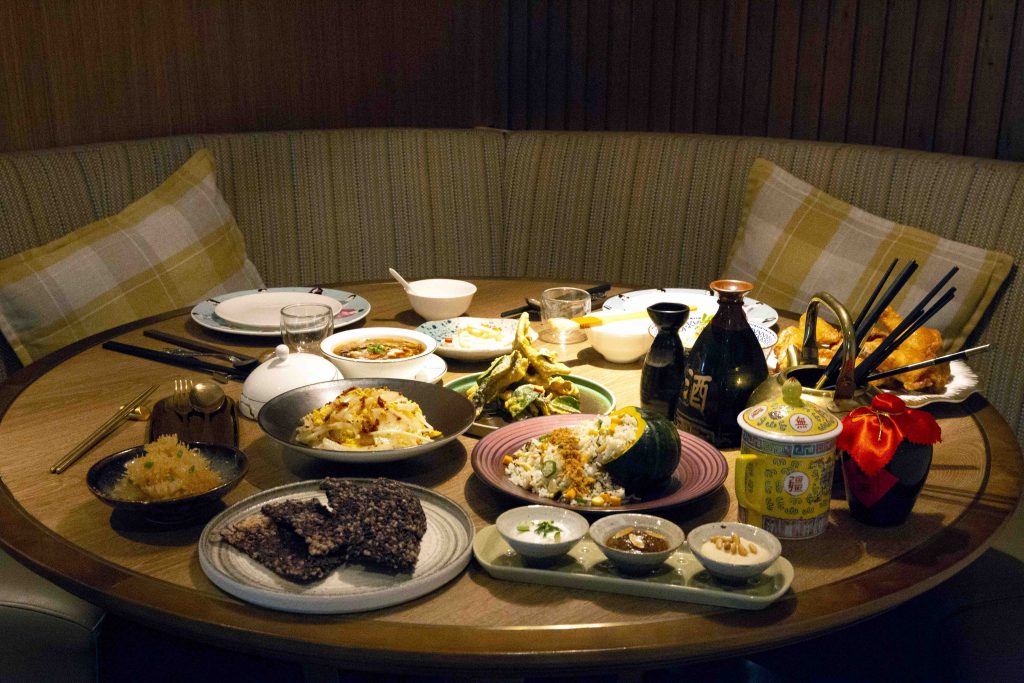 A new pop-up speakeasy restaurant in Central, 888FatFatFat offers an experiential dining experience full of surprises. Named after the auspicious number eight and the Cantonese word 'fat'(發), both of which are homonyms for "wealth", the restaurant runs from now till 5 December.
Inspired by the ancient Chinese myth of Mount Penglai, a hidden island where the eight immortals gather for a ceremonial feast, the pop-up is discreetly tucked away inside another restaurant. 888Fatfatfat features one of the longest dining tables in Hong Kong, where diners can share pan-Chinese dishes crafted and curated by veteran chef Wong Hon Keung, alongside Peggy Chan, chef and founder of Grassroots Initiatives, to offer an inclusive menu that caters to meat-lovers and vegans alike.
Our favourite dish was the plant-based Xinjiang "lamb" skewers made from Lion's Mane Mushroom, giant razor clams with black garlic and vermicelli, Henan 8 Immortal's chicken, and the vegan-friendly Peking 'duck' wraps where cured jackfruit is used to replace shredded duck meat.
Apart from à-la-carte selections, guest can also opt for the "888 Experience" (HK$888+10% per head), which includes a Baijiu tasting flight or two cocktails of your choice. The restaurant also serves a special "888 Noodle Bar Menu" for lunch starting at HK$138. –Elky Siu (ES)
888FatFatFat is open to public from now until 5 December, book online here
Shop 401, 4/F, One Exchange Square, Hong Kong (Enter via Shanghai Garden Restaurant), @888Fatfatfat
Dough by Design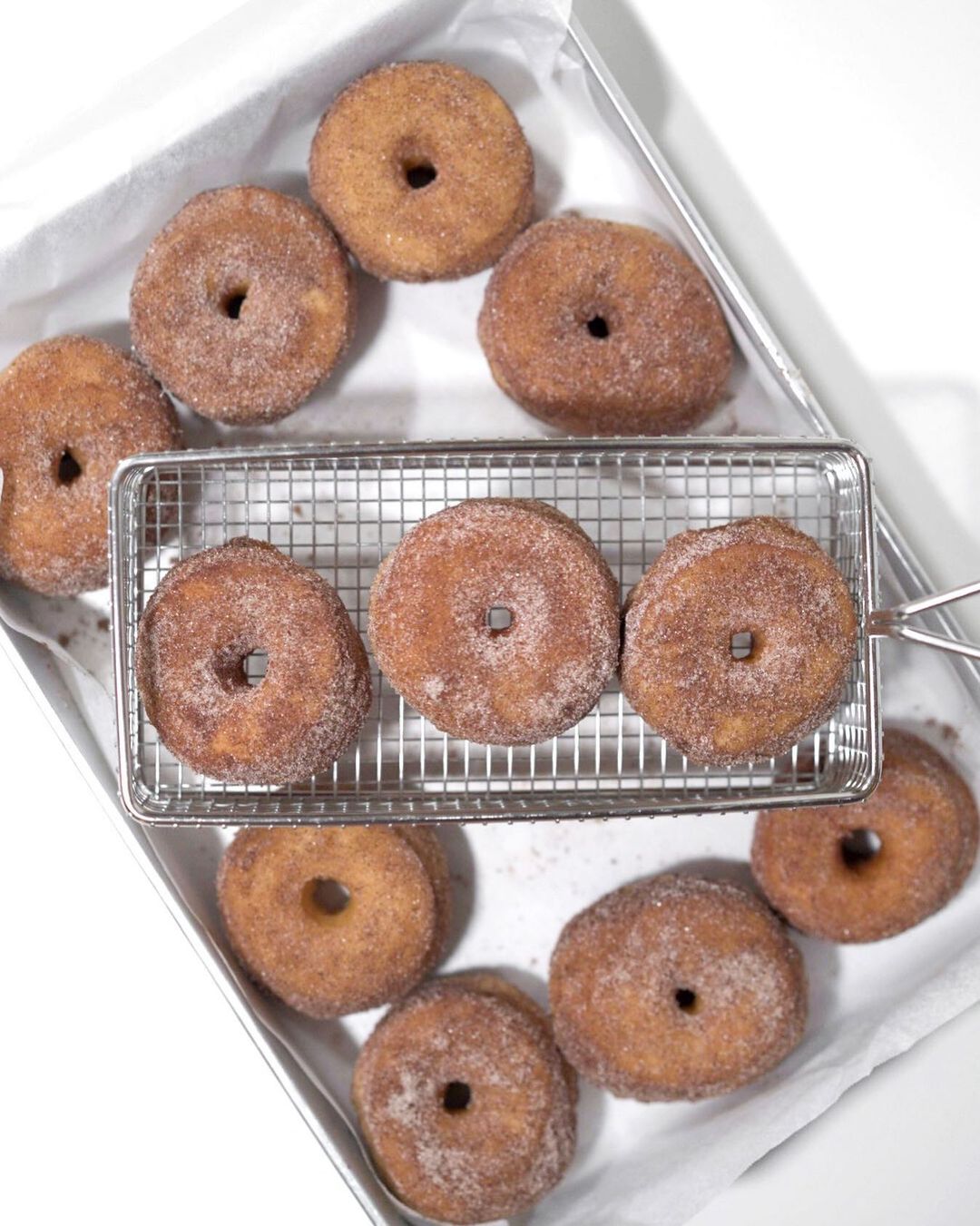 Fresh on the scene is Dough by Design, where each donut is hand-crafted and made fresh on the day. Currently, Dough by Design creates three seasonal flavours. We tried 'The Classics' which included one original glazed, one sugar-coated doughnut (pictured above), and one chocolate-covered doughnut. As a donut-loving Canadian, I had yet to find a donut that I really enjoyed… until now. Warm up the donuts in the oven to get the full experience. A box of three donuts is priced at HK$120 and is available through pre-order basis and pick-up only. –AM
Zuma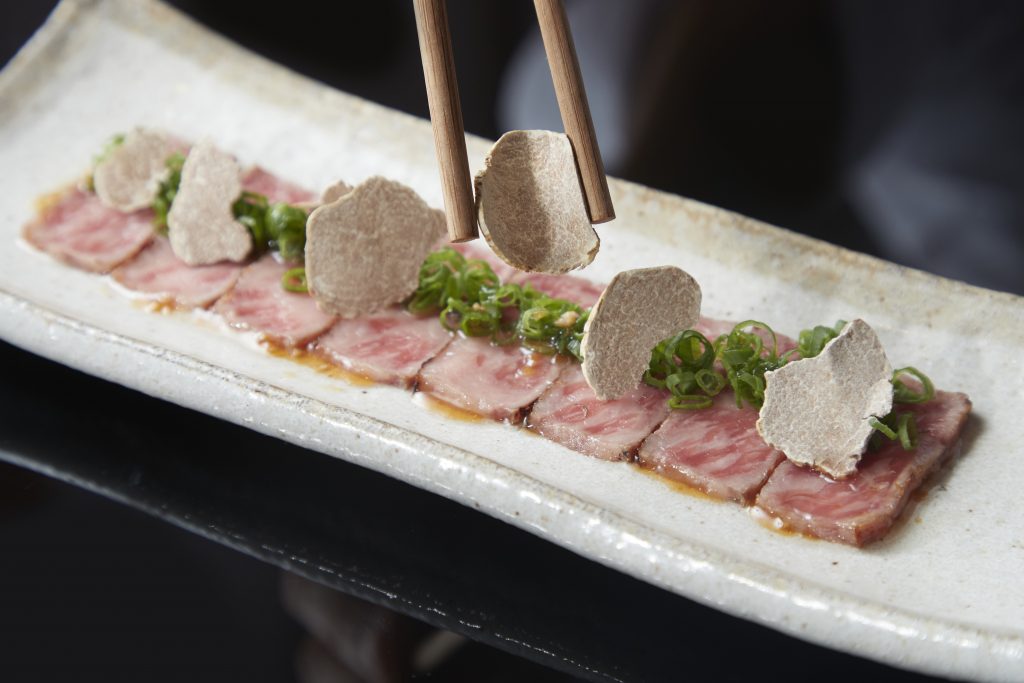 As the temperature drops, Zuma is offering a cool alfresco drinking experience until December by transforming its fifth-floor terrace into a pop-up bar that resembles Southern France. In collaboration with French artisanal gin Citadelle, as well as Zuma's new bar manager Lorenzo Coppola, the pop-up bar features a series of cocktails that encapsulate the essence of French and Japanese flavours, from the Ringo Sour that blends French gin with Japanese plum wine, to Tropézienne Fizz that takes inspiration from Tarte tropézienne, a classic French dessert consisting of brioche and cream.
Pair your drinks with Zuma's signature dishes including the Japanese wagyu tataki with truffle ponzu, salmon and tuna tartare with rice crackers, spicy beef tenderloin with sesame, red chili and sweet soy, and the jet-fresh sashimi platter. –ES
From now until the end of December, Zuma Hong Kong's pop-up terrace bar opens from 5pm
Level 5&6 Landmark Atrium, 15 Queen's Road Central, Central, +852 3657 6388, zumarestaurant.com
Rubia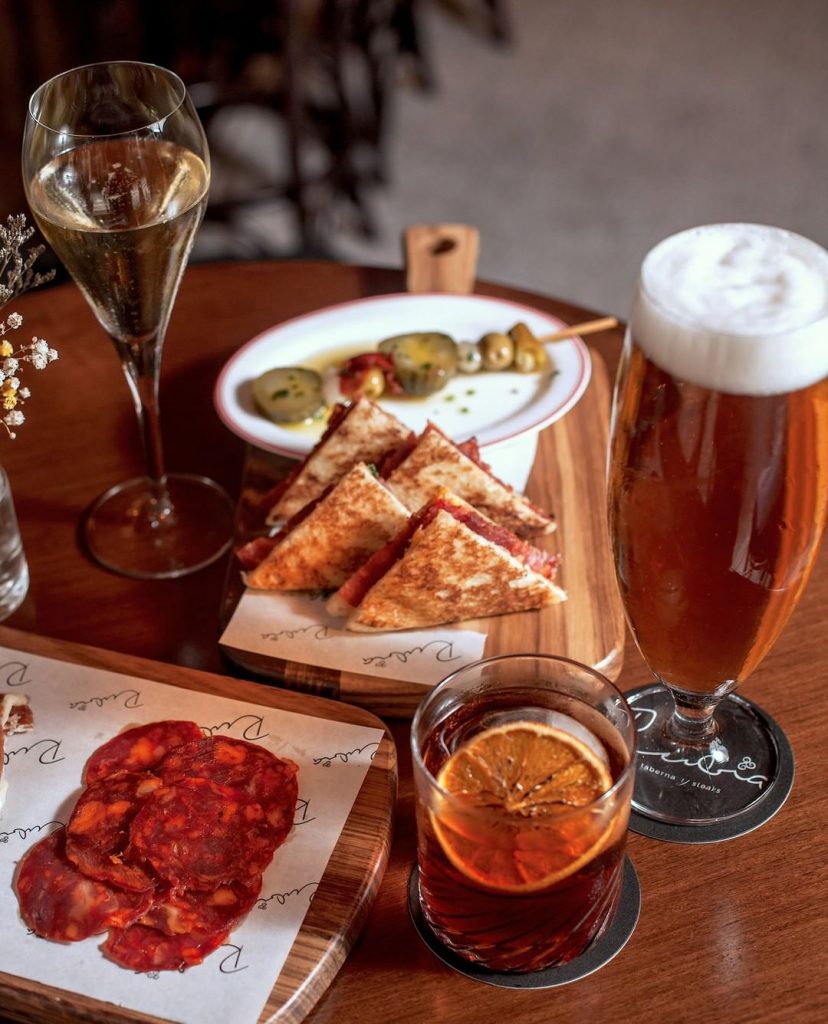 Owned by Epicurean Group, Rubia is a relatively new Spanish restaurant in Hong Kong helmed by Spanish chef Edgar Sanuy Barahona. With a double-floor layout and decor that transported us to Spain, it's the perfect place to dine out if you're missing out on travel.
For our first time at Rubia, we were welcomed to the main floor where we enjoyed hancrafted cocktails with a selection of light bites including padrón peppers, steak tartare, bone marrow, as well as the ajillo prawns lazy omelete and ibérico chorizo croquettes. For drinks, we recommend the Colada Rubia, which is made with freshly squeezed pineapple, Kraken Black Spiced Rum, Tio Pepe Sherry and Domaine de Canton ginger liqueur. It's not as sweet as it sounds and very refreshing after a long day of work. If you're not a fan of cocktails, Rubia has the draught Estrella Galicia lager, which is a light and refreshing malt premium beer. —AM
Rubia, UG/F to 1/F, C Wisdom Centre 35 and, 37 Hollywood Rd, Central, +852 2889 1199, rubia.hk
Yakinikumafia Hong Kong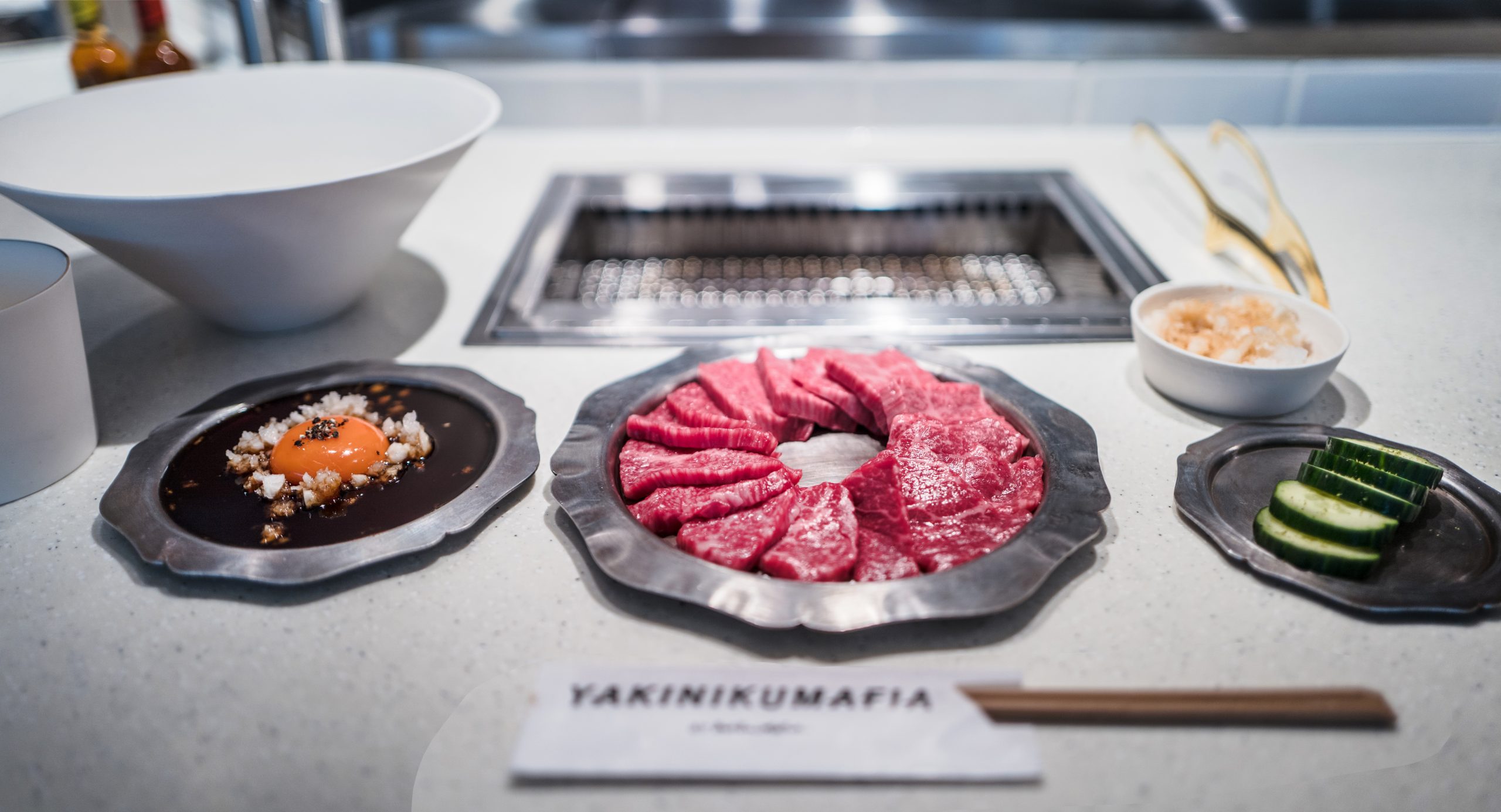 Yakinikumafia Hong Kong is the restaurant's first international outlet outside of Japan, where the Wagyu beef is imported daily from Japan and hand-cut using special techniques in order to minimise waste from the cow. At Yakinikumafia, the beef is categorised into three "FML" cuts (no, it's not what you think). "FML" stands for "fatty (otoro), medium fatty (chutoro), and lean (akami). For every cut of meat that arrives, the knowledgeable staff is there to describe exactly what you're eating.
We opted for the Omakase set and it did not disappoint. It started off with a bowl of Wagyu bone broth, followed by six rare and special cuts of beef. A highlight was the Wagyu Keema Curry rice made with ground Ozaki, spices (including cumin, turmeric, cinnamon, garam malasa and cardamom), carrot, tomato, sansho pepper, WAGYUSCO Red for a distinctive "mala" kick, and it's served over Koshihikari rice with a Japanese egg yolk. Don't forget to order one of the Shari cocktails to go with your meal and make your reservation well in advance. –AM
Yakinikumafia, Hollywood Centre, Shop 202, 2/F, 233 Hollywood Rd, Sheung Wan, +852 3105 1250, yakinikumafia.hk
Caprice Bar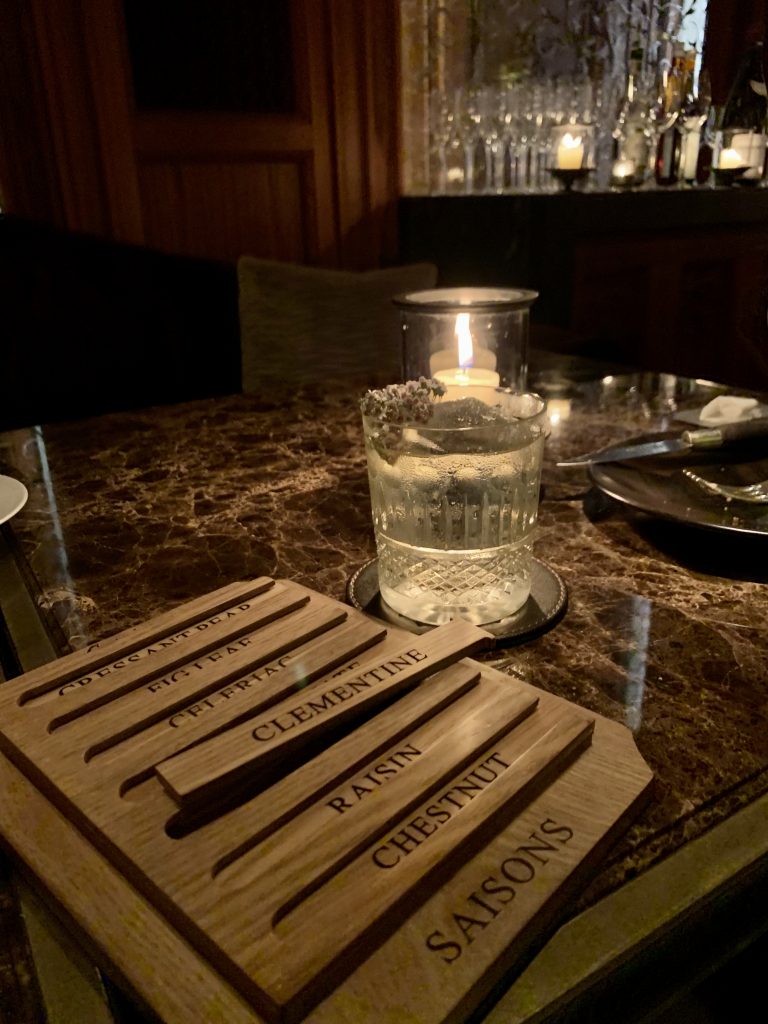 Caprice Bar at the Four Seasons Hong Kong has released a new cocktail menu "saisons" for winter, with seven drinks that feature ingredients of the season (including pear, fig leaf, celeriac, clementine, pomegranate, raisin and chestnut). Meaning "seasons" in French, the new menu pays tribute to the connecting three-Michelin-starred Caprice Restaurant, by adding a French flair with its base spirits, fruits, and techniques applied to showcase the new flavours.
Our favourite was the Clementine (pictured above), a zesty concoction of clementine juice mixed with cognac and gin, perfectly balanced with a touch of cassia bark and aged honey from Château d'Yquem winery. The award-winning culinary team from Caprice Restaurant also introduced a decadent menu of snacks to go with the drinks – from freshly imported French cheeses to Wagyu beef burgers with comté beaufort, reblochon cheese, culatello ham, wild mushroom and pan-fried foie gras – all served with a side of mesmerising harbour views. –ES
Caprice Bar, 6/F, Four Seasons Hotel Hong Kong, 8 Finance Street, Central, fourseasons.com
Elephant Grounds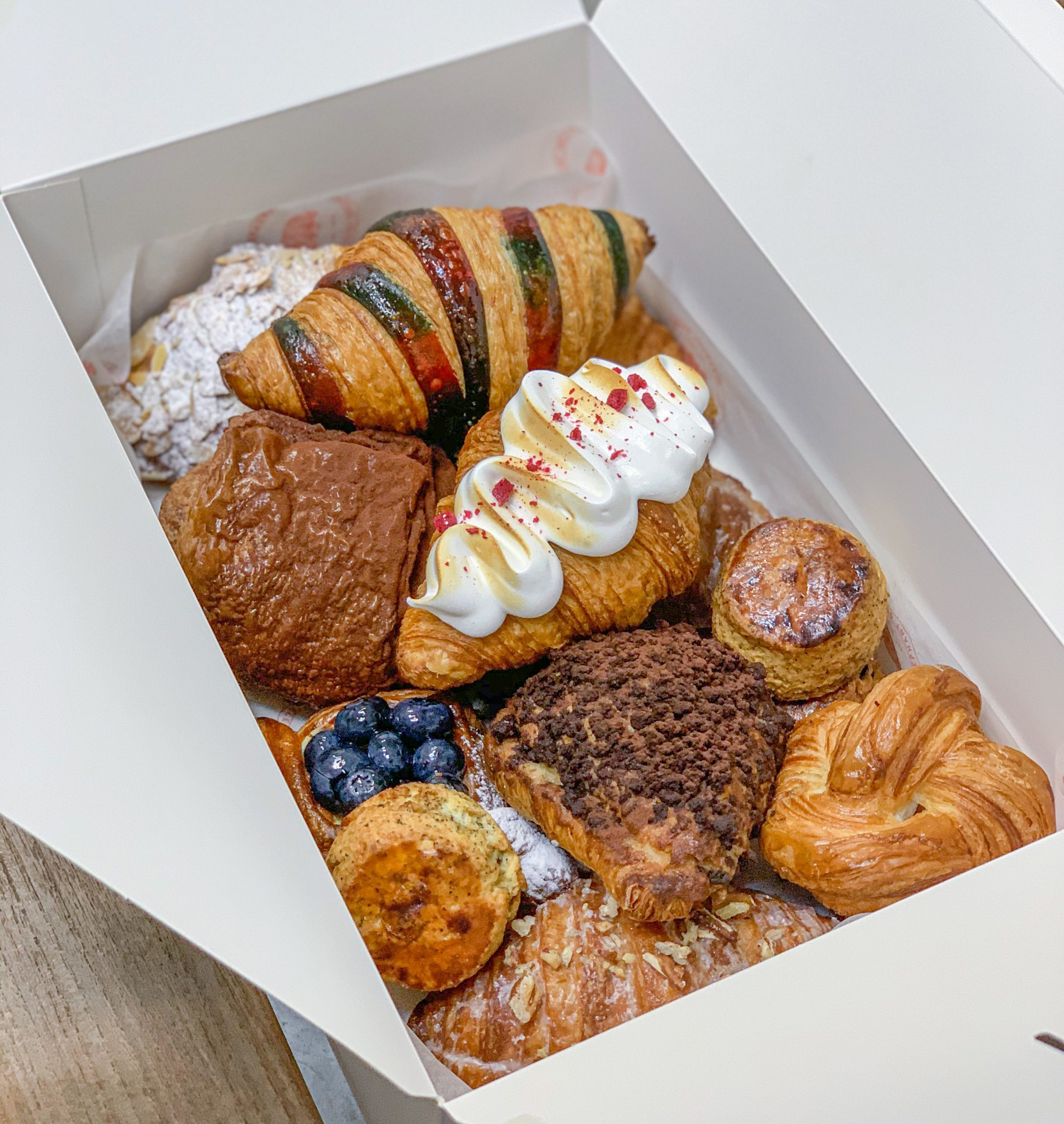 Elephant Grounds recently opened their flagship store on Hollywood Road in Sheung Wan, along with a new artisanal bakery with scrumptious pastries. Former Joël Robuchon pastry chef, Eane Wong, heads the bakery using only the finest ingredients such as flour from Yokohama and butter from Normandy. Don't miss the Japanese influenced treats like the Pistachio Cruffin and Banoffee Croissant.
EG has also updated their app, so users can now pre-order any of their baked goods in advance and specify the pick-up time to ensure availability and freshness. Whether you're looking for breakfast, afternoon tea, or snack, Elephant Grounds has plenty of options for you to choose from.
Elephant Grounds, G/F, Hollywood Centre, 233 Hollywood Rd, Sheung Wan, +852 3580 0554, elephantgrounds.com
The Drunken Pot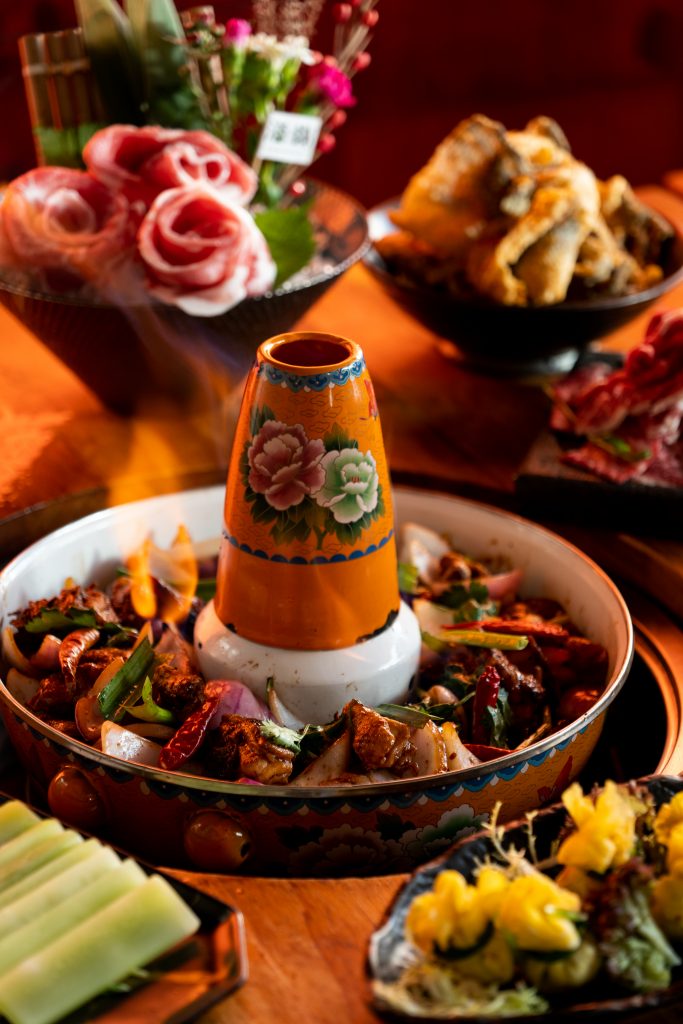 Autumn in Hong Kong heralds the arrival of crisp hot pot weather. To elevate the hot pot experience, The Drunken Pot introduces two new chicken pots into its menu, where diners can first indulge in stir-fried chicken with flavourful sauces and spices, before continuing with the next round: traditional hot pot where you cook raw hot pot ingredients in the bubbling broth. Our favourites are its premium sliced Angus beef short ribs with divine marbling, as well as the deep-fried bean curd roll topped with cheese and minced beef. –ES
27/F, V Point, 18 Tang Lung Street, Causeway Bay, Hong Kong, +852 2323 7098, thedrunkenpot.com
Duddell's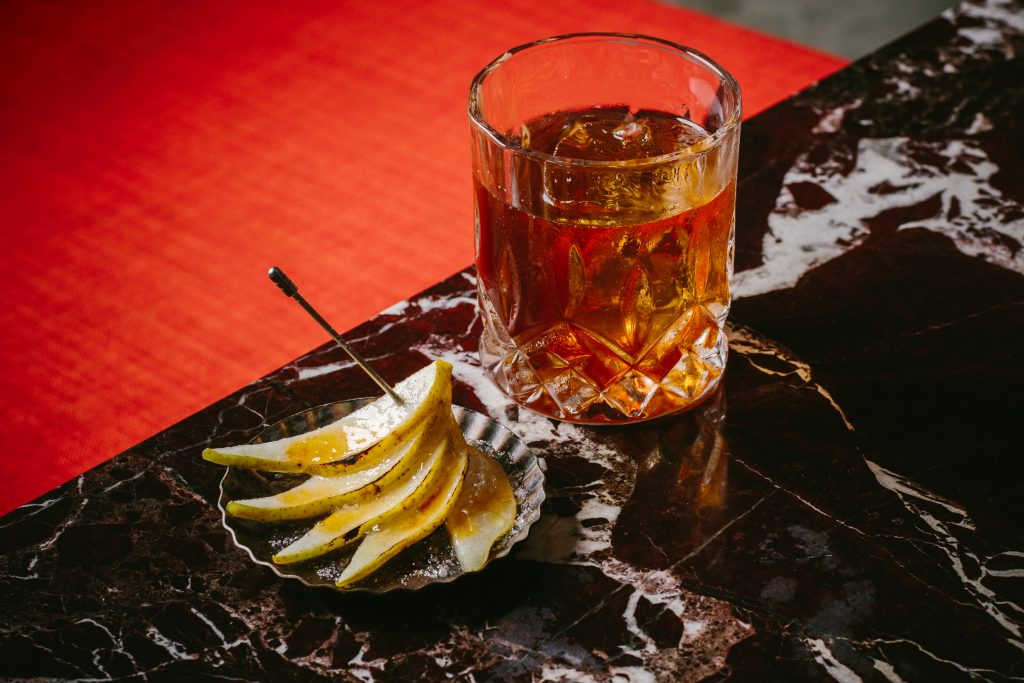 We all know that Duddell's serves up some scrumptious dim sum, but did you know that their cocktail game was also on point? The JIA Group-owned restaurant recently appointed leading mixologist Mario Calderone as their New Salon Manager. With more than 10 years of experience under his belt, Calderone has introduced a new cocktail menu where he re-imagines classic cocktails in the signature pre-Prohibition style, infusing fresh homemade ingredients and flavour inspirations from all over the world.
Served alongside the dim sum was the Berry Smash Duddell's Sour, Hemingway Crusta, Oolong Blazer, Perfectioned (pictured above), La Fee Absinthe, and the Pernod Absinthe. If you're looking for a warmer cocktail, opt for the Perfectioned made of pear-infused Hennessy VSOP, Capovilla, pear distillate, AppleJack stirred with homemade spiced syrup and bitter and topped off with caramelised pears.
Duddell's, 1 Duddell St, Central, +852 2525 9191, duddells.co
Crêpe Delicious (Urban Café)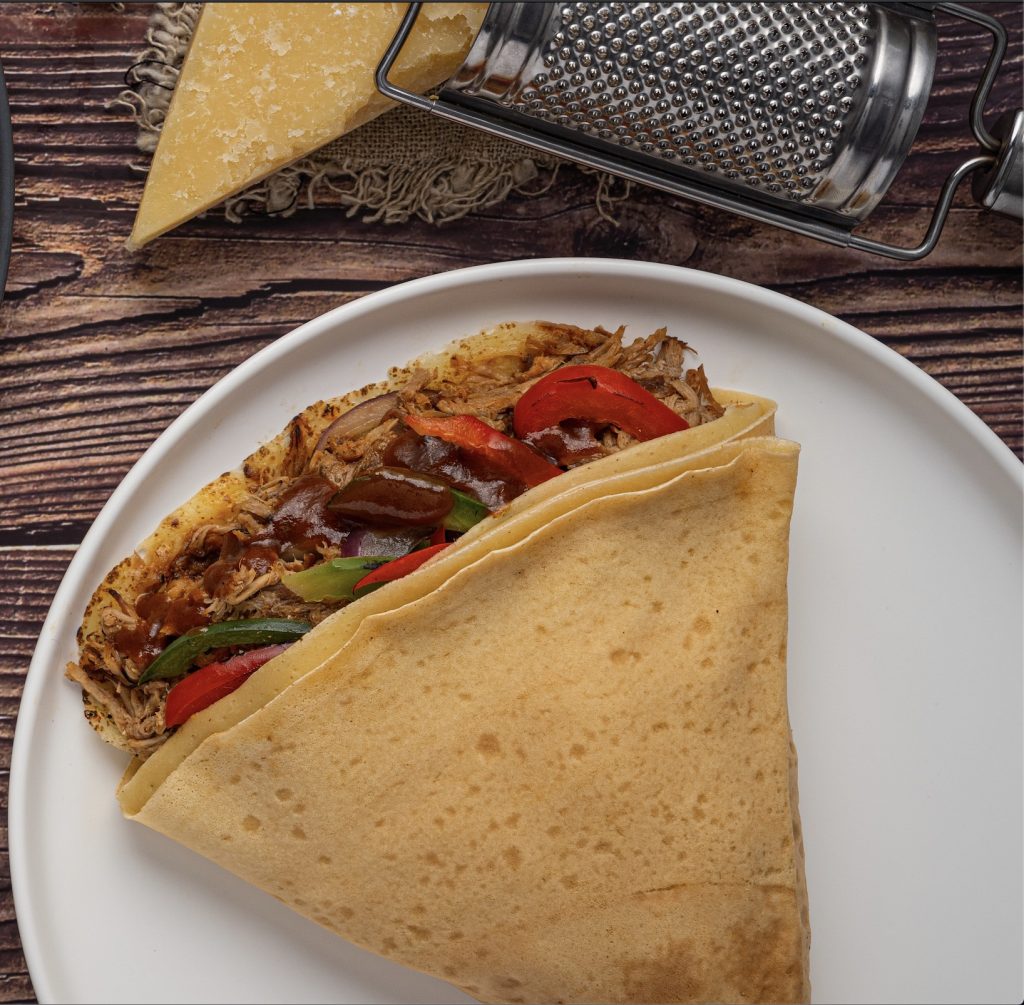 Sweet and savoury crêpes, hand-crafted gelato and puff pizza? We're in. With a presence in Canada, USA, UK, the Middle East, India and Thailand, Crêpe Delicious has opened its second Hong Kong branch at Wanchai's Lee Tung Avenue. We dropped by its new location to sample the new menu, including the Big Feast (pictured above), a hearty savoury crêpe with braised BBQ pulled pork, butter lettuce and red onion, Chorizo Supreme Puff Pizza, which is exclusive to its Hong Kong outlets, and the newly created Gelato Shakes, which are the indulgent variations of the signature gelato recipe. The latter offers a whopping 20 flavours, all of which are handcrafted daily. –ES
Shop G26 & F26A, Lee Tung Avenue, 200 Queen's Road East, Wanchai, Hong Kong, +852 2617 7880, facebook.com/CrepeDeliciousHK/
See also: #legendeats: The best dishes we ate in September
Sushiyoshi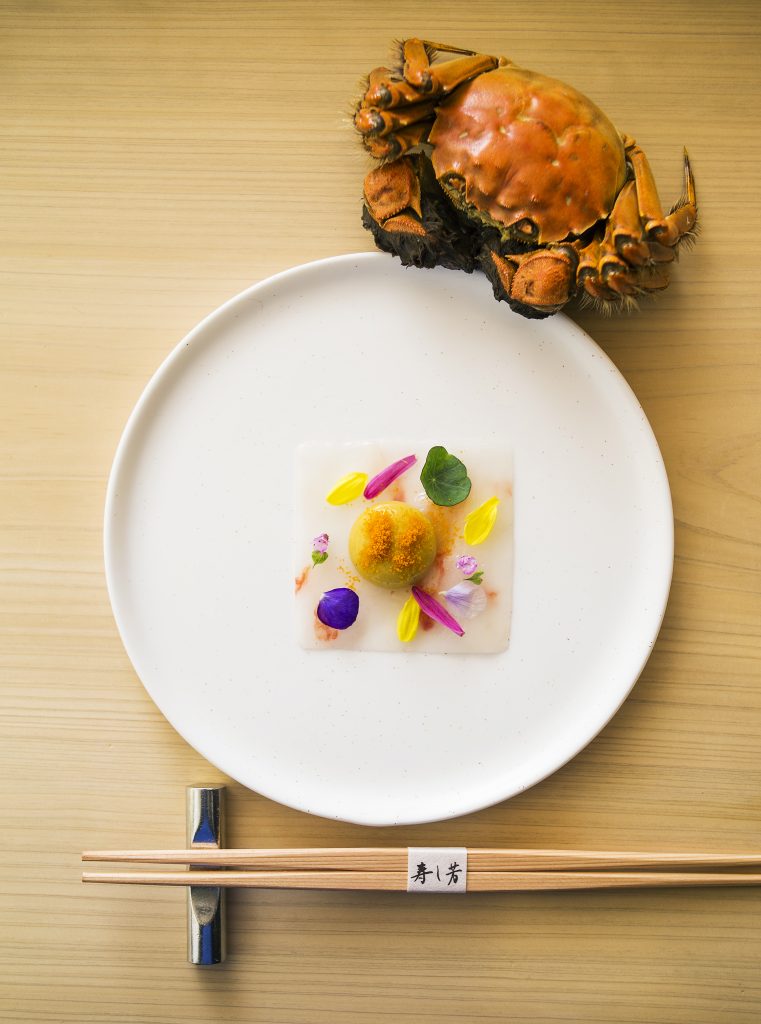 As the first overseas restaurant of Chef Hiroki's two-Michelin Star namesake in Osaka, Japan, Sushiyoshi Hong Kong is dedicated to bringing guests on a culinary journey like no other. This fall, chef-owner Hiroki and Chef Sugawara present a 20-course Omakase menu featuring the seafood of the season, hairy crab.
The menu showcases the finest, specially-selected hairy crab from Jiangsu province, alongside other seasonal ingredients like uni, bluefin tuna, salmon roe and so much more. Some of our favourite dishes from the menu include the hairy crab ravioli with white truffle, Sanma sushi, the signature toro maki roll, slow-cooked lobster with hairy crab roe and last but not least, the hairy crab roe sushi.
For fans of hairy crab, this stellar omakase menu at Sushiyoshi is not to be missed. Available from now until mid-December, each set is offered at HK$2,980 per person; advance reservations are required.
Sushiyoshi, 1/F, The Otto Hotel, No. 8 Cameron Road, Tsim Sha Tsui, Kowloon, Hong Kong, +852 2657 0280, facebook.com/sushiyoshihk