Agora's founder on Spanish cuisine in Hong Kong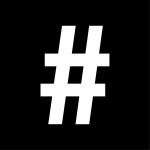 By: Stephenie Gee
August 25, 2023
Just over a year after opening contemporary Spanish fine-dining restaurant Agora, chef-founder Antonio Oviedo talks to Stephenie Gee about his vision of Spanish cuisine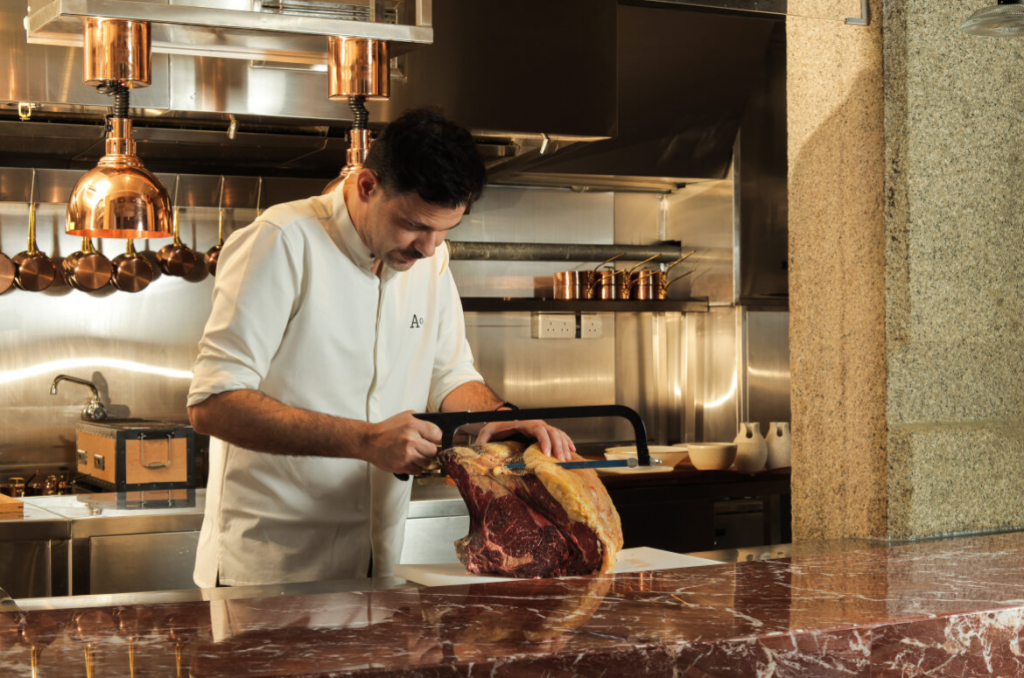 When Antonio Oviedo was a young boy growing up in Fuenlabrada, the family kitchen was his playground. While his siblings were out and about doing as they pleased, he would be propped up on a stool next to his mother helping to prepare food for the family, during which he learned the ins and outs of farming and rural traditions like food preservation, olive oil production, winemaking and foraging.
Over the years, Oviedo traded time in the kitchen for time with friends and, like all teenagers, had his impish moments. As punishment, his father demanded he help out at a chef friend's banquet kitchen during the weekends. It wasn't long before he graduated from washing dishes and stocking the storeroom to learning the fundamentals of cooking and precise, old-school techniques.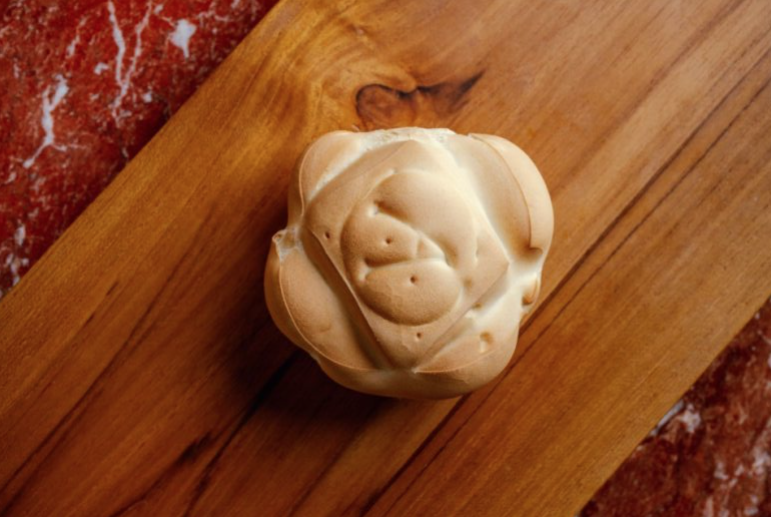 This was 25 years ago, and he's never left the kitchen since. Following culinary school, Oviedo worked his way up the kitchen ladder in the casual eateries of Madrid before landing a stage in Michelin-starred venues including the one-star El Chaflan and Oscar Velasco's two-star Santceloni. Eager to level up on his game, he would stay long past his shift to help out in the pastry section. The hard work paid off when he was appointed head pastry chef of Fernando Arellano's two-star Zaranda, where he oversaw bread production, chocolate works and boulangerie, all while assisting other cooking stations.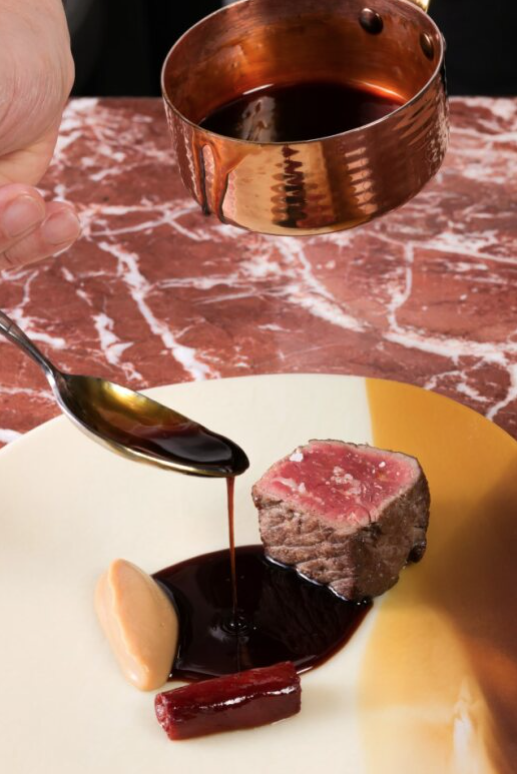 A brief, star-studded stint in Singapore later, Oviedo took over the helm of the ever-hip 22 Ships in Wan Chai before joining hands once again with Hong Kong-based hospitality firm JIA Group to bring his new, unique vision of fine Spanish gastronomy to the city. Residing in Central, the intimate 24-seater Agora is a dialogue between the old and the new right down to the name, which translates from ancient Latin to the "centre of life" where ideas converge, and from old Spanish, "now", alluding to Oviedo's ever-evolving interpretation of his native cuisine.
"In my opinion, the best way to cook is by preserving traditions and cooking like our ancestors did," he says. "This might mean preparing stews, sauces and other dishes in the same way that our mothers and grandmothers used to, often using embers to create primal flavours such as charcoal, or slow cooking a traditional stew for several days to extract its purest essence. This method of cooking evokes a sense of nostalgia and home for me, as it connects me to my roots and the culinary traditions of my culture."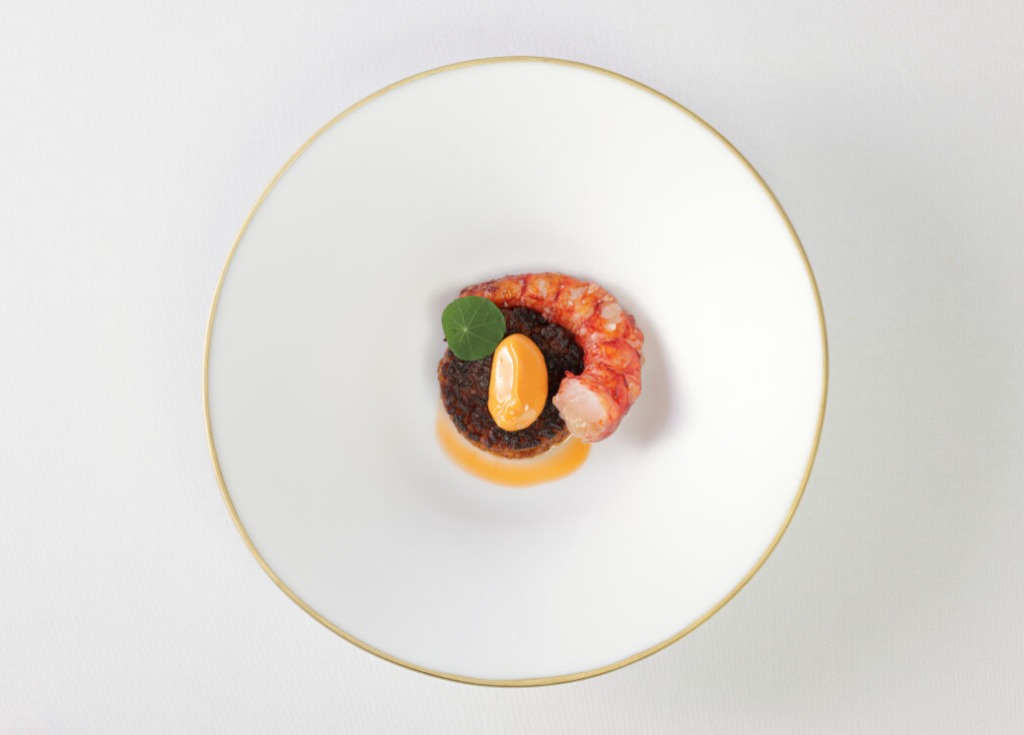 There are other ties, too. For one, Oviedo's menu is a mélange of seafood and farm produce because Spain's varied geography spans hilly highlands, fertile lowlands, plateaus and contrasting coastal regions of sandy beaches and rugged cliffs, giving rise to a diverse culinary culture. "In general, Spanish cuisine is well-balanced, featuring
a variety of Mediterranean seasonal vegetables and legumes, with a focus on fish and seafood. However, during the colder months, red meat and Ibérico pork, as well as cold cuts such as Jamón Ibérico, are also common."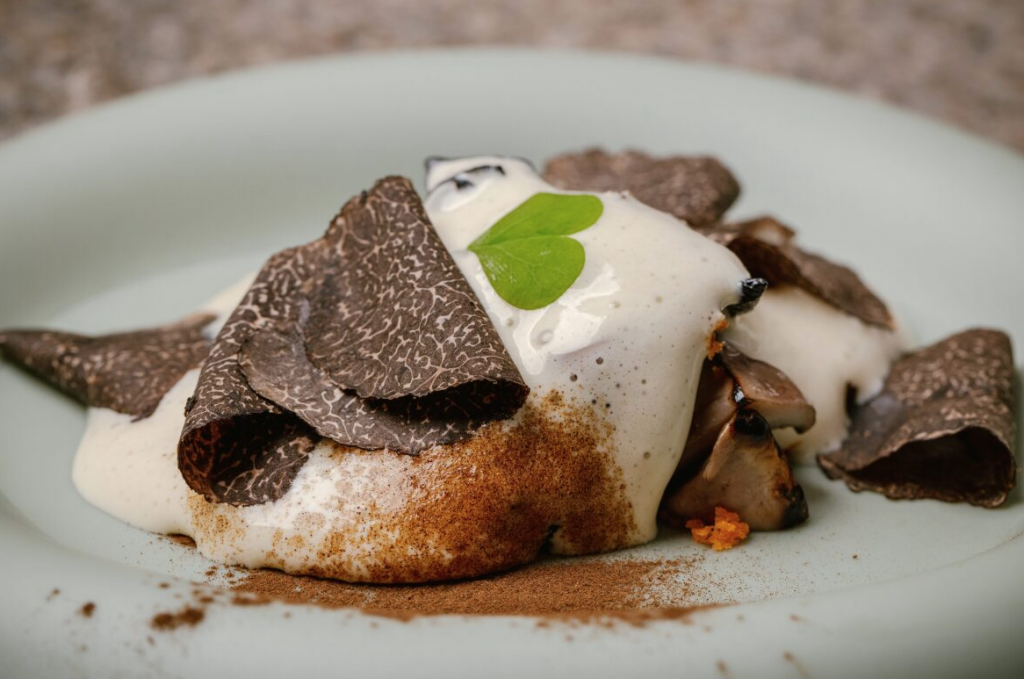 Bread is another fundamental aspect of Spain's culinary culture – a symbol, even, some might argue – so naturally every dining experience at Agora begins with a freshly-baked serving of candeal bread – the same bread Oviedo would eat growing up. Each clover-shaped loaf, with its thin golden crust and dense silky white crumb, is crowned with a letter "A" – a nod to the tradition whereby families left their own distinctive mark on their loaves so as to make identifying them in the communal bakery easier – and served with century-old extra- virgin olive oil from Málaga.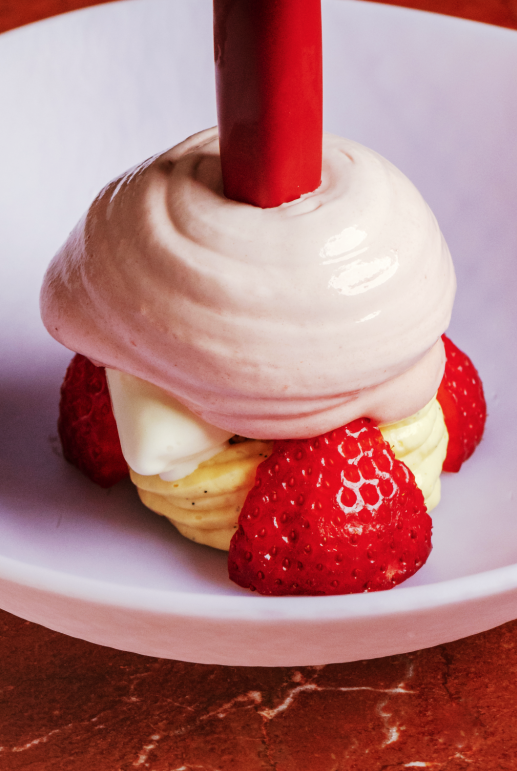 But this is not a nostalgic throwback to the way things used to be – these references, in Oviedo's execution, get redrawn in the present. "Modern touches are sometimes hidden within the techniques used, while at other times they are seen in the minimalistic plating. Regardless, they are always integrated in an organic way into the dishes. My aim is to create a contemporary approach to ancient recipes that have been made for thousands of years. And through this approach, we are able to preserve the essence of traditional Spanish cuisine while also incorporating new and innovative techniques and ideas," he says.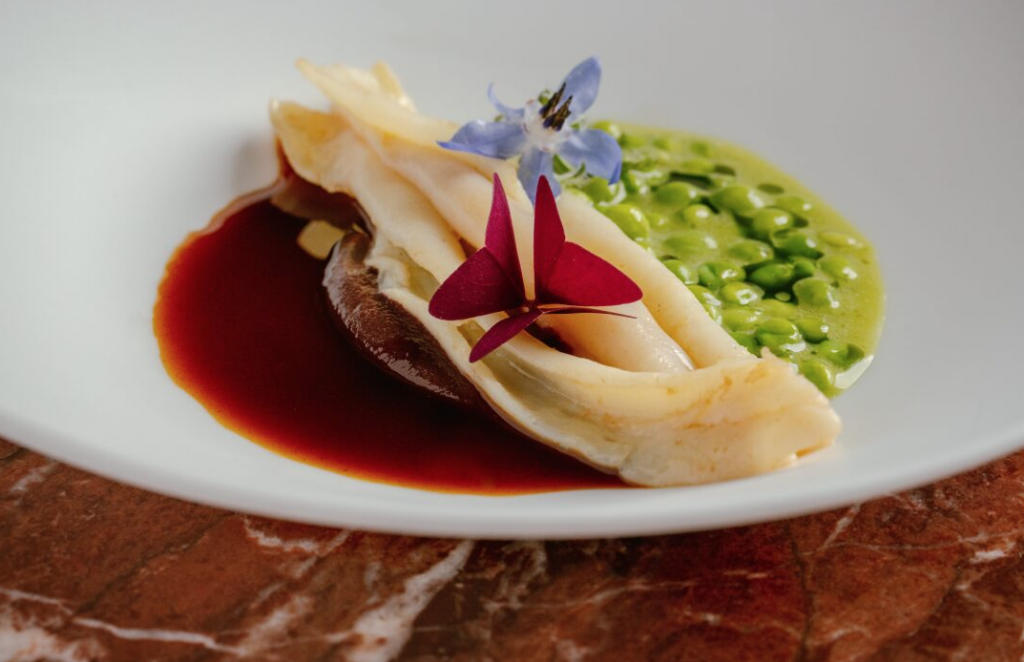 Cue the bacalao al pil pil. Oviedo's mother would begin making this most enigmatic of Basque dishes by cooking olive oil, sliced garlic, chillies, dry choricero peppers, as well as hydrated and preserved roasted peppers in a traditional terracotta pot. Then, she would add salted cod – which had been soaked overnight – to the pot and bring it to a simmer on low heat to preserve the flaky texture and collagen of the fish, which is whisked together with olive oil to create the pil pil sauce. Oviedo's version is quite the opposite, taking a more minimalistic approach, all while keeping the same great flavours and essence: featuring equally premium bacalao from Spain, his pil pil sauce is comprised of a bouillon of cod bones and skin, spiced up with choricero peppers before being emulsified with garlic olive oil, and enriched with a mousseline of smoked piquillo peppers and roasted garlic.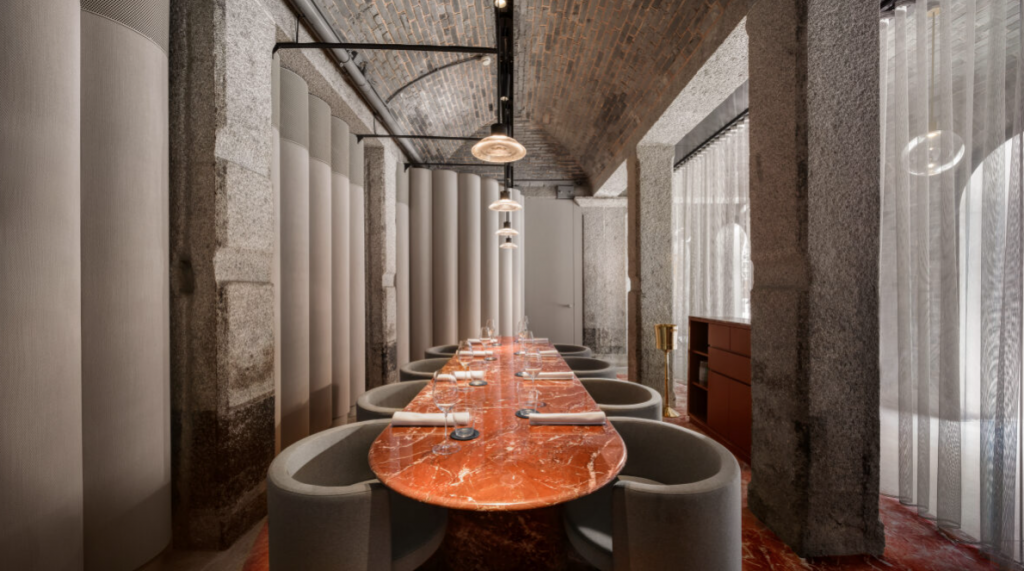 "In my cooking, I prefer to use precise and simple techniques to allow the quality of the product to shine through," he explains of his philosophy. "I believe in starting with traditional recipes that are part of my personal journey and memories. From there, my cuisine is driven by the use of fresh, seasonal products and I strive to create dishes where the main product is the protagonist, with the goal of highlighting its natural flavours and qualities."
Exemplary of this is the dish migas, a recent favourite of Oviedo's. Spanish for "breadcrumbs", migas is a traditional
breakfast dish first introduced by shepherds travelling long distances with their cattle. It's made with stale leftover bread soaked in water with, generally, a bit of garlic, paprika and olive oil. Just recently at Agora, this dish of humble origins enjoyed an upgrade while keeping to that same sense of warmth and wholesomeness with Ibérico pork chorizo, Australian winter truffle and the elite white asparagus.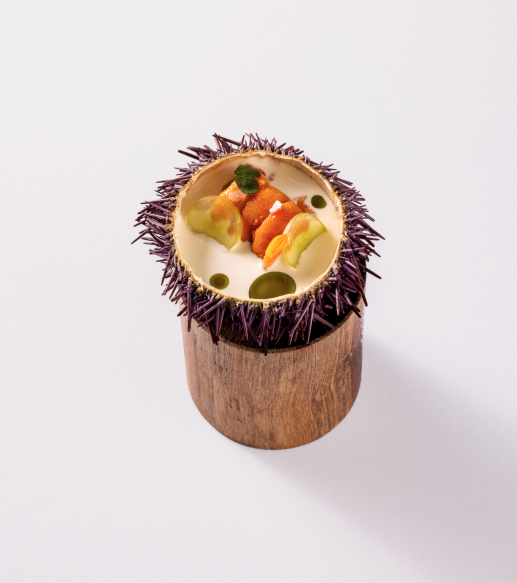 Signature menu items are also updated seasonally, it seems, to shine a light on lesser-known native Spanish ingredients. In one version of Agora's signature mar y muntanya – a Catalan recipe where "sea and mountain" flavours come together – carabinero takes centre stage, while in another, the insides of espardenya sea cucumber and morcilla (pig's blood sausage). Then there are delicacies like percebes, or goose neck barnacles, a rare crustacean from Galicia on the northwest coast of Spain; garum, an ancient Roman condiment made from fermented fish; and in the colder months, chirimoya, a winter fruit that thrives in the subtropical climates on the coast of Granada; that pepper the menu.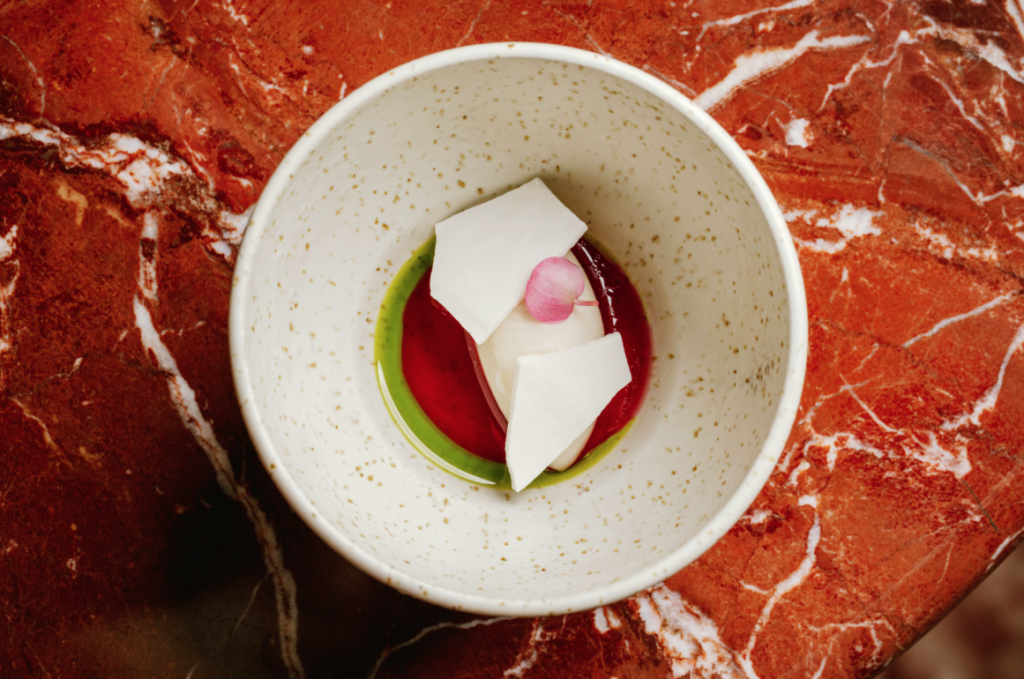 What you won't find here, however, are any of the typical Spanish crowd-favourites like tapas, paella and churros. "I don't believe it's necessarily a mistake, but rather a lack of knowledge," says Oviedo of misconceptions about Spanish cuisine in Hong Kong. "Many Spanish restaurants tend to offer the same typical dishes. However, Spanish regional cuisine is incredibly diverse, with even small, isolated villages having unique dishes that have been passed down through generations. As a result, people are often surprised when I prepare a specific dish from a particular region or use a premium ingredient from Spain that is not commonly found in other restaurants."
But all that hasn't stopped customers from embracing him. Since Agora's opening just over a year ago, Oviedo has fostered a roster of regulars who frequent the restaurant – and sitting at the top of the Laundry Steps of Tai Kwun, it's not the easiest of locations. "I would like to showcase the rich gastronomic culture of Spain, which draws on its beautiful seasonal products and the influences of various Mediterranean civilisations such as the Phoenicians, Romans and Arabs," he says. "My cuisine is based on classic Spanish dishes, reinterpreted in a contemporary way, drawing on my memories and experience. I hope that my clients will enjoy my food as a journey through Spain, exploring its diverse culinary traditions and flavours." Judging by the smiles they leave with, that certainly seems to be the case.
Also see: Where to eat with a group with mixed dietary preferences