15 breezy rooftop bars in Hong Kong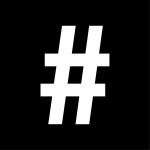 By: Ilana Jacobs
July 27, 2021
In a city as busy as Hong Kong, there's always some reason to go out, whether it be a celebratory dinner, toasting to close a deal, or partying to blow off some steam. Thanks to the city's high-rise filled skyline, going out doesn't have to mean being inside. Here's our guide to rooftop bars in Hong Kong for every occasion:
Popinjays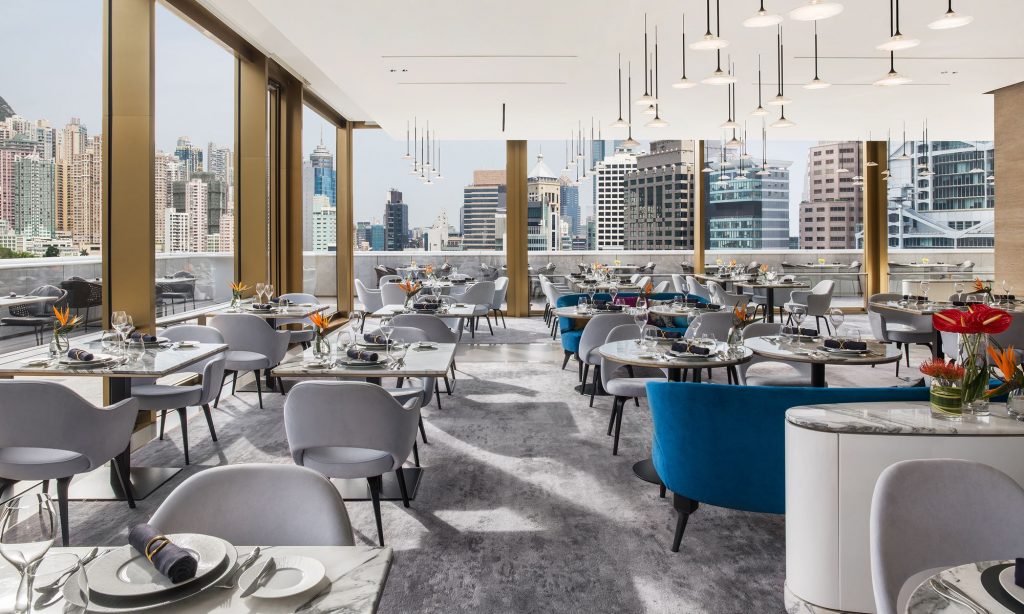 The Murray's rooftop bar offers an extravagant selection of European dishes. Situated on the 26th floor of the hotel, the outdoor terrace spans a massive 420-square-metres. After dinner visit the cockatoos that gave the restaurant its name at the Hong Kong Zoological and Botanical Gardens across the street.
Popinjays, 22 Cotton Tree Dr, Central, Hong Kong, +852 3141 8888
Eyebar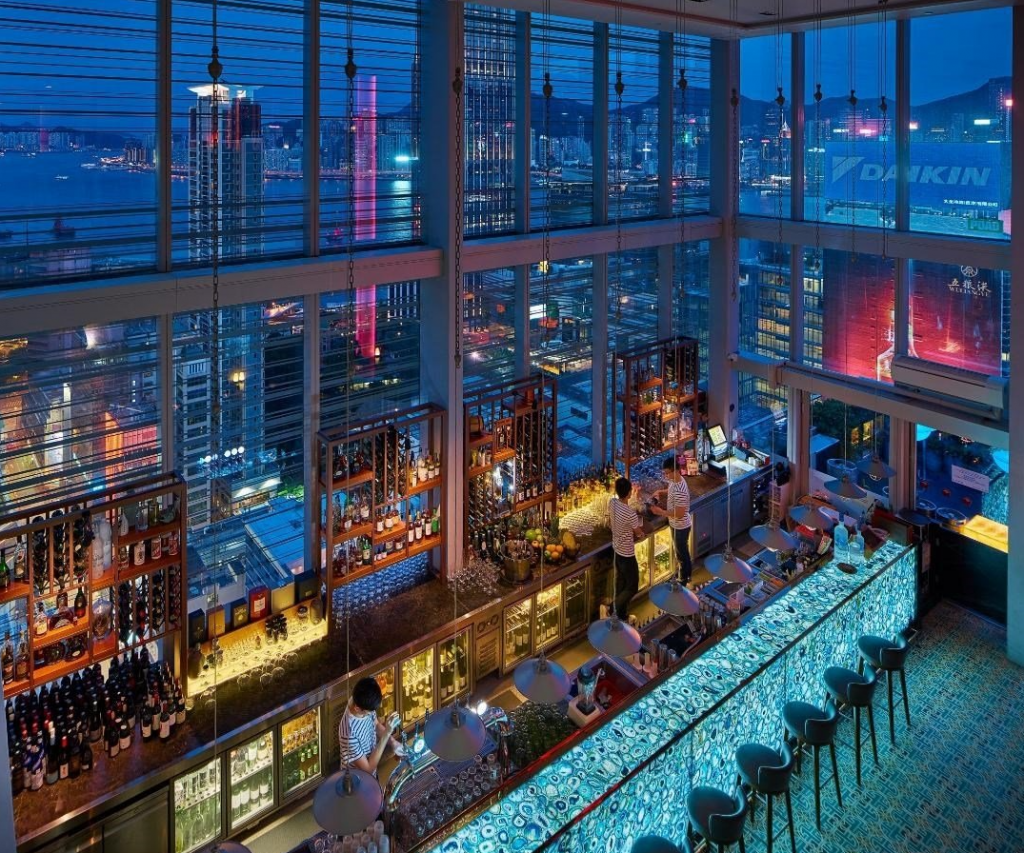 Sit next to the edge the terrace, looking 30 floors below. Or, retreat to the indoor lounge for a more secure cocktail. The iSquare building's contemporary bar offers a wide array of craft-beers, exoctic cocktails, and Asian-inspired bites. Head over before 8:00pm to get a front row seat to A Symphony of Lights.
Eyebar, 63 Nathan Rd, Tsim Sha Tsui, Hong Kong, +852 2487 3988
SKYE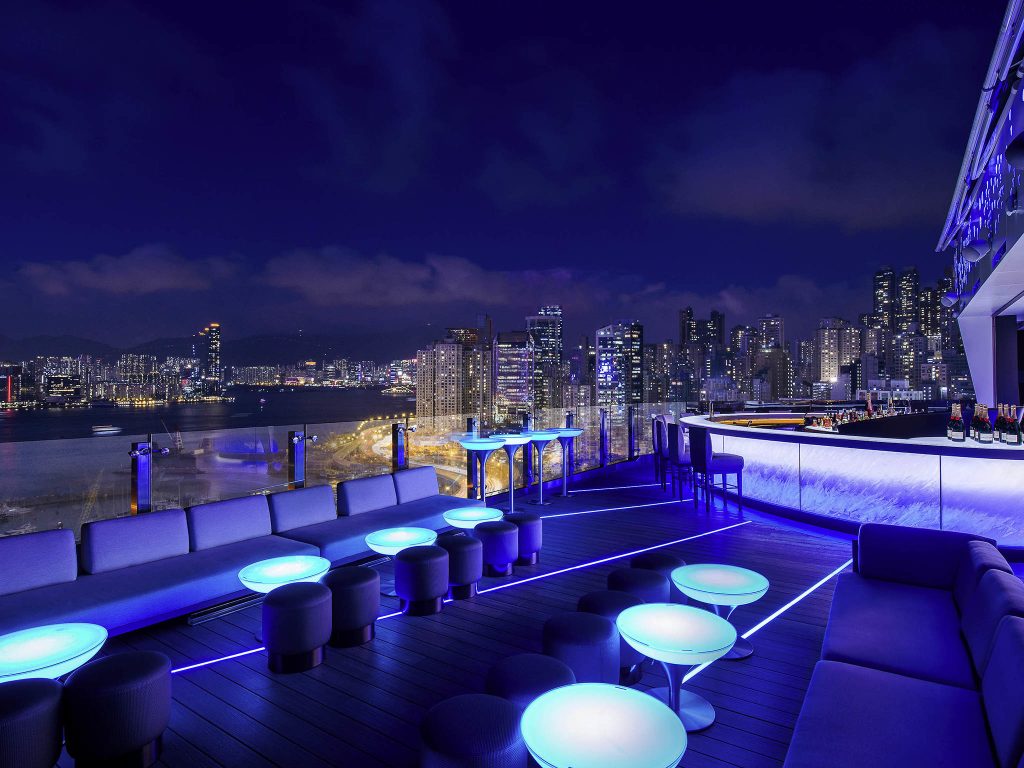 The 5-star hotel also houses a futuristic experience in the form of its rooftop bar. Set on the 27th floor, wait in an all-white reception room before entering the sci-fi bar complete with glowing blue furniture and award-winning cuisine.
SKYE, 310 Gloucester Rd, Causeway Bay, Hong Kong, +852 2839 3327
Above by Komune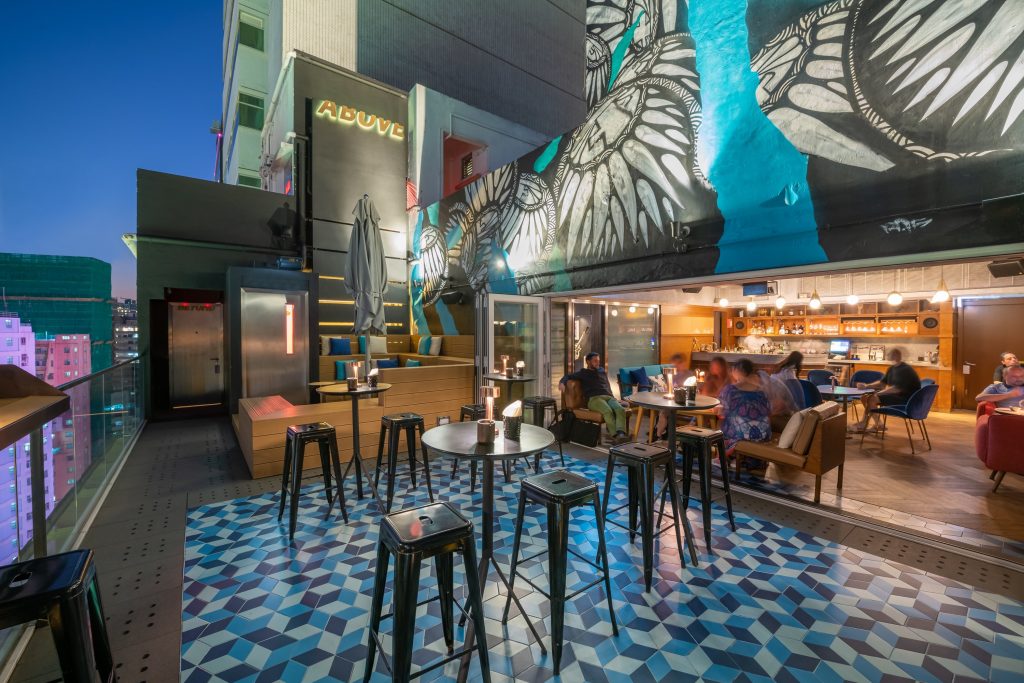 Looking for a mix of mountain views and mediteranean cuisine? Look no further than Ovolo Southside's Above. Perfect for morning brunch or an afternoon bite, this cheery restaurant and alfresco bar is worth the train ride to Wong Chuk Hang.
Note: Temporarily closed due to government restrictions, but keep your eyes out in the coming months for updates
Above by Komune, Ovolo Southside, 64 Wong Chuk Hang Rd, Hong Kong, +852 3460 8159
Wooloomooloo Steakhouse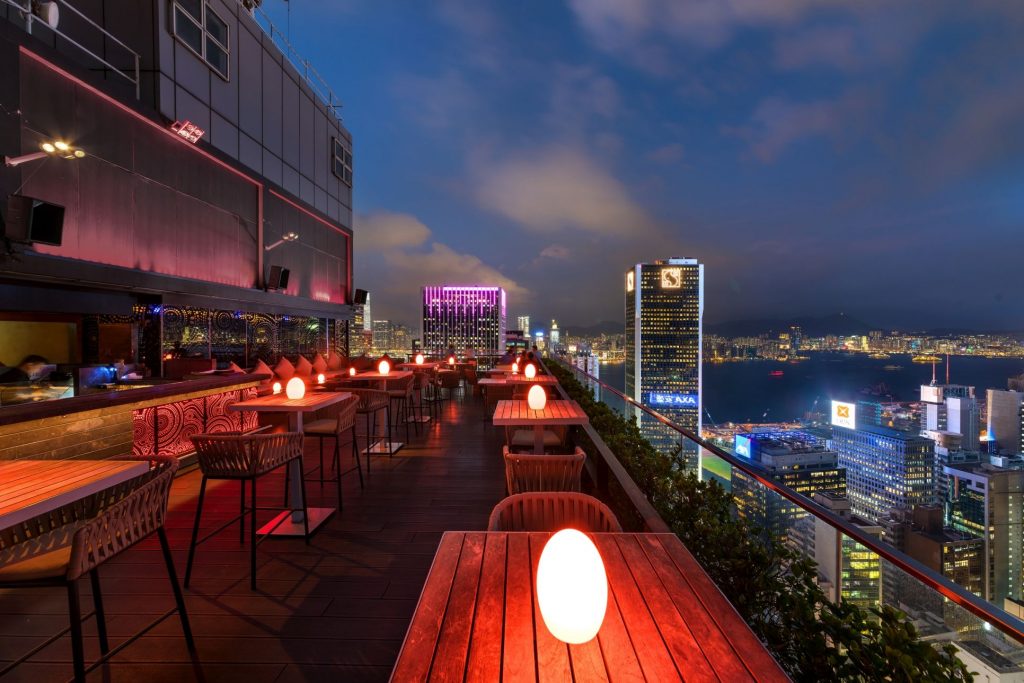 Impress out-of-town guests in Wan Chai with the iconic Wooloomooloo. The elegant restaurant one floor below is famous for its expertly prepared steaks and exquisite wine pairings. Up top the cocktail bar offers fantastic views and a nightly DJ.
Wooloomooloo Steakhouse, 31/F & Rooftop The Hennessy 256 Hennessy Road entrance on 213, Johnston Rd, Wan Chai, Hong Kong, +852 2893 6960
Sugar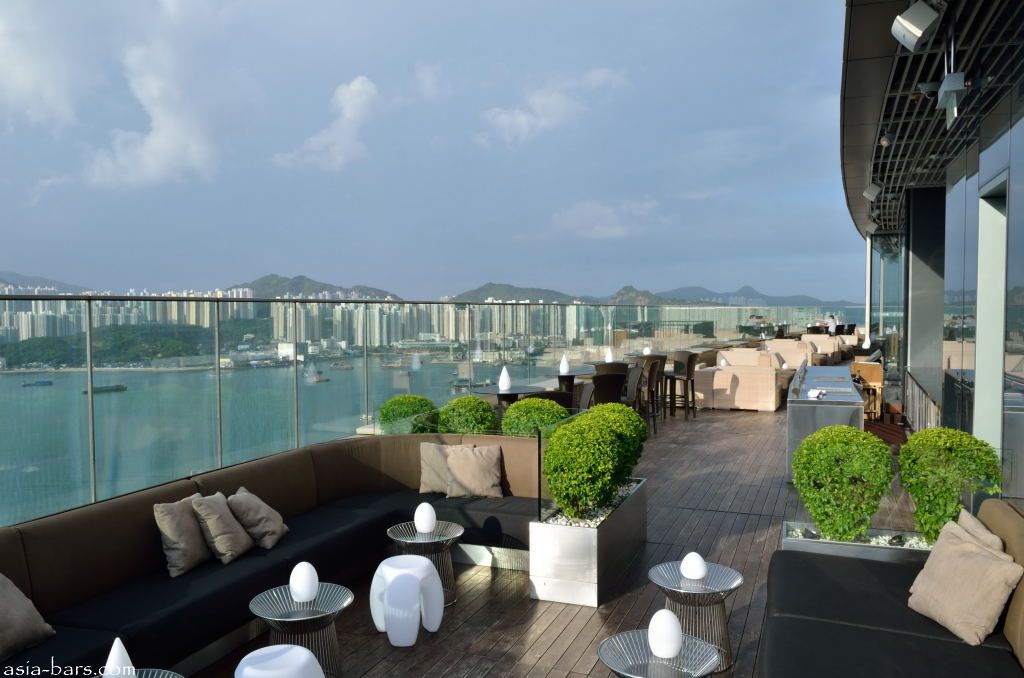 Need to close a deal with business partners or relax with co-workers after a long day? Sugar is a popular choice for the business crowd, providing the perfect balance of class, quality, and comfort. Choose between the bar, deck, and lounge areas for a spectrum of professional to casual atmospheres.
Sugar, 32/F, 29 Tai Koo Shing Rd, Quarry Bay, Hong Kong, +852 3968 3738
Piqniq by Le Comptoir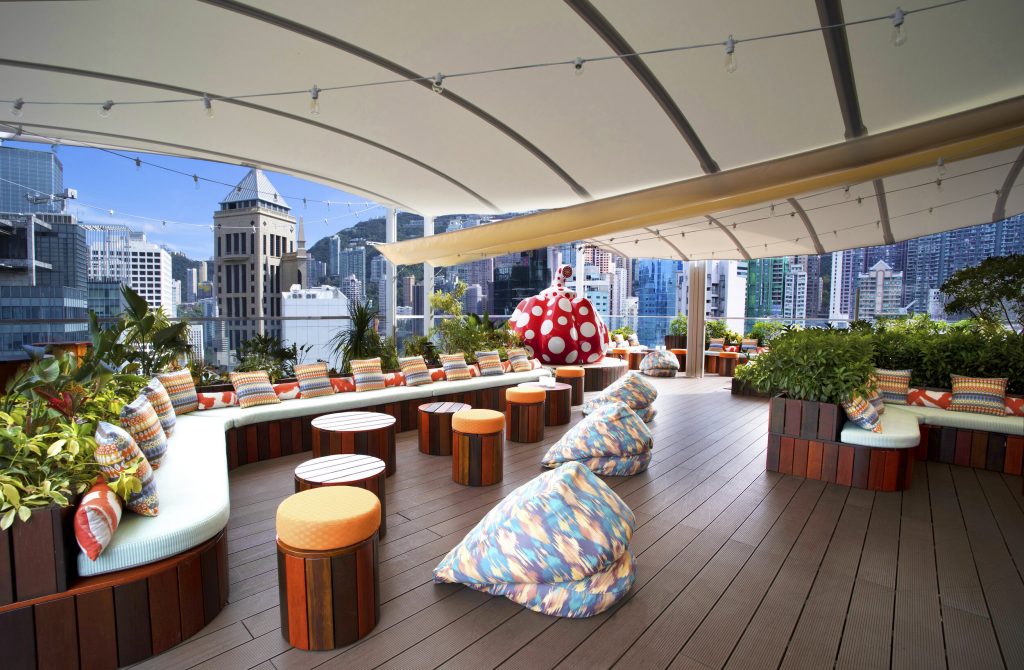 This Alice-In-Wonderland-esque rooftop bar adds a shot of whimsy to your day, with beanbags, fairy lights, and Yayoi Kasuma's giant polka-dot pumpkin. The restaurant lives up to its name, delivering dishes to your table in artsy 'piqniq' baskets. Spend a late brunch on the cheery terrace enjoying a wide selection of drinks.
Piqniq by Le Comptoir, R/F (Rooftop) H Queen's, 80 Queen's Road Central, Central, Hong Kong, +852 5200 1683
Cruise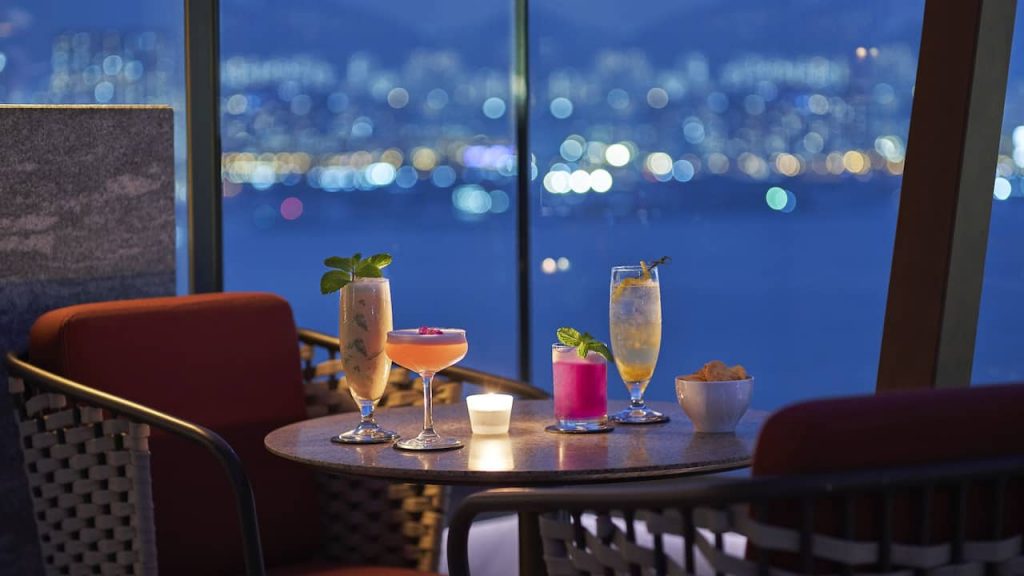 For a modern trendy feel, try this oasis in North Point. Located on the 23rd floor of Hyatt Centric, Cruise offers incredible views, as well as South East and Northern Asian cuisine. The rooftop bar also offers a tempting list of signature Asian-inspired cocktails.
Cruise, 23/F, West Tower, Hyatt Centric Victoria Harbour Hong Kong, 1 North Point Estate Ln, North Point, Hong Kong, +852 3896 9898
Ozone at Ritz Carlton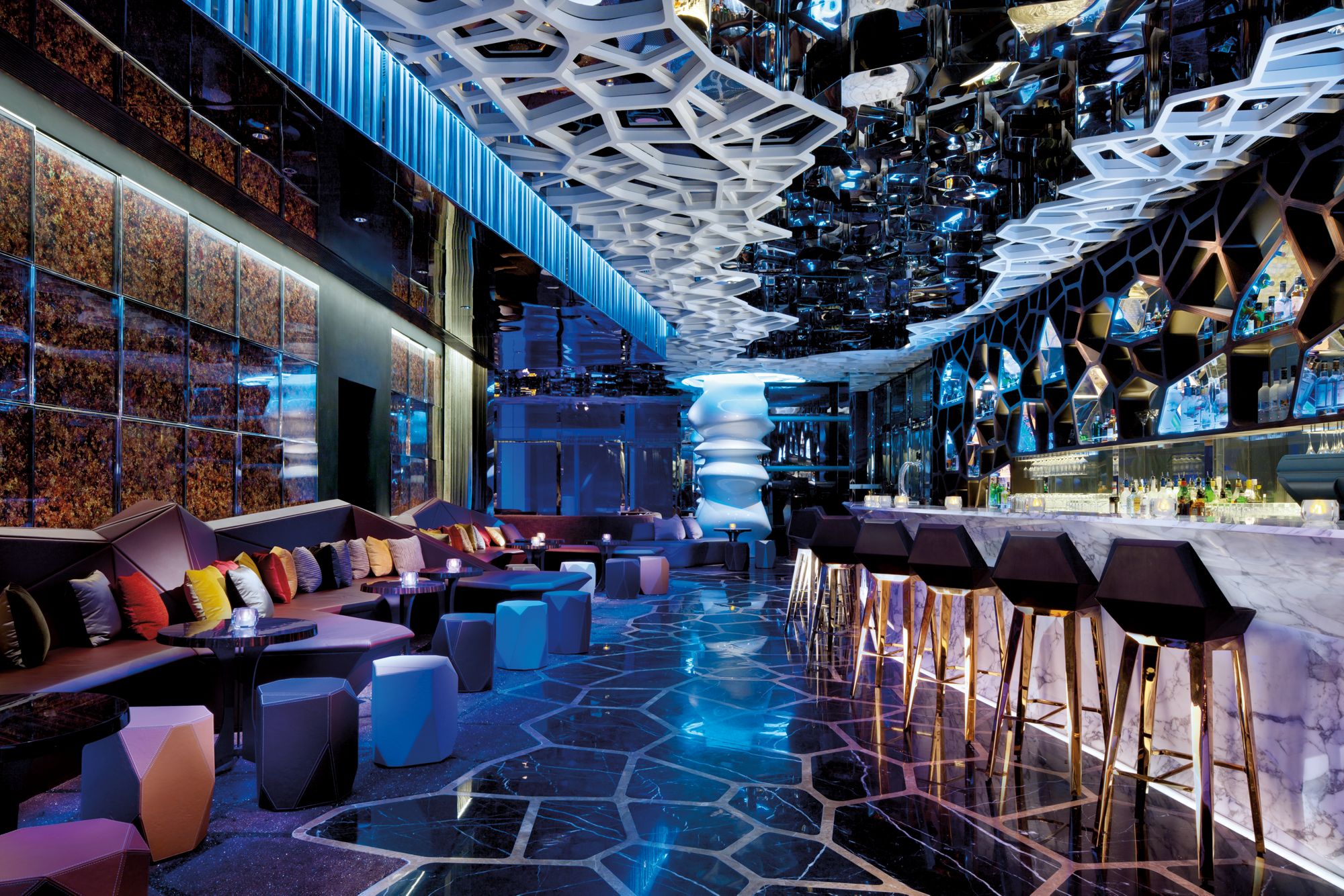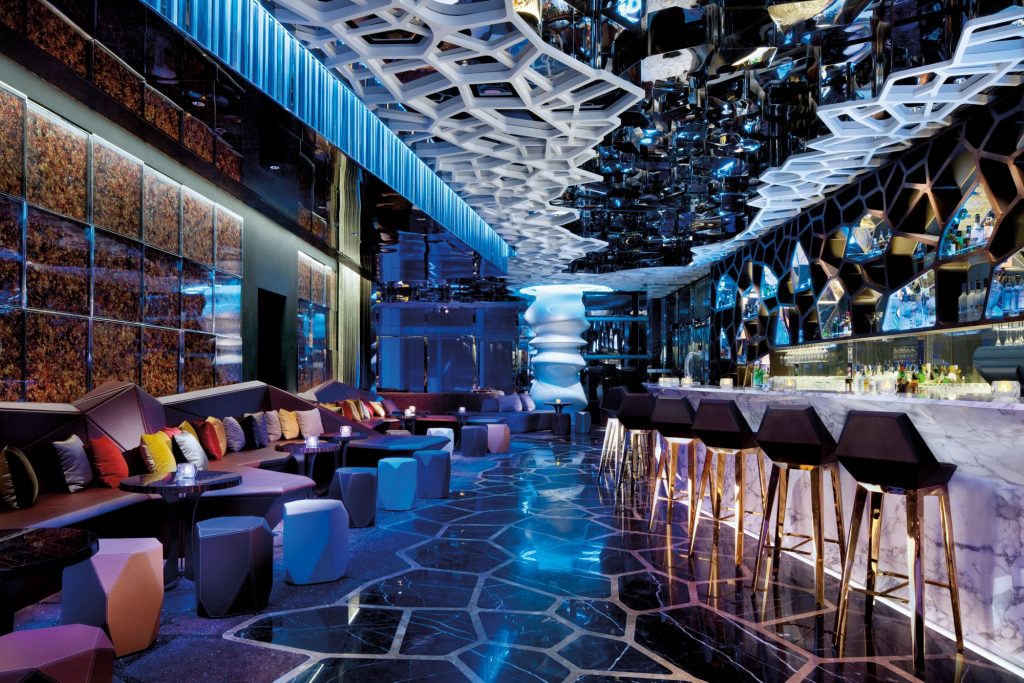 Give into your tourist-y side at the world's highest bar. Soaring 118 floors up, this rooftop bar is worth the elevator ride. The large indoor, avant-garde bar is surrounded by a thin outdoor terrace where you can take in the view of Victoria Harbour and the city 480-metres below.
Ozone at Ritz Carlton, International Commerce Centre (ICC), 1 Austin Rd W, West Kowloon, Hong Kong, +852 2263 2263
Lounge Hakuba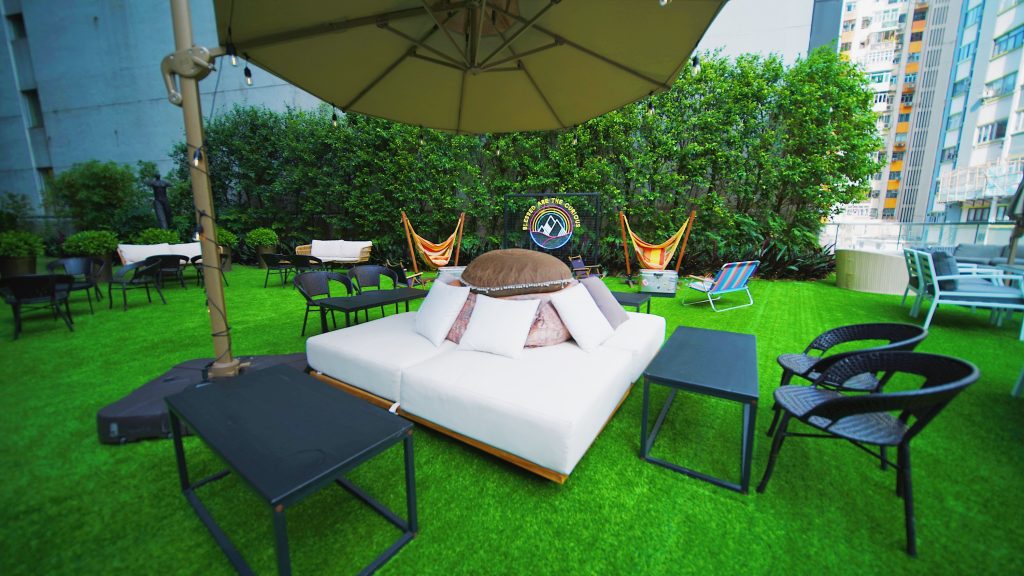 Tap into your wilderness spirit without sacrificing comfort at this Alps-inspired bar in Causeway Bay. Named after a popular winter sports village in Japan, Hakuba looks like its very own ski resort, from the wooden paneling inside to the camping spread al fresco, complete with grass-carpeting. With a menu full of cozy cocktails, we recommend the Rest Coffee Gin or Breakfast In The Alps. 
Lounge Hakuba, Tower 535, 535 Jaffe Rd, Causeway Bay, Hong Kong, +852 2111 1707
Terrible Baby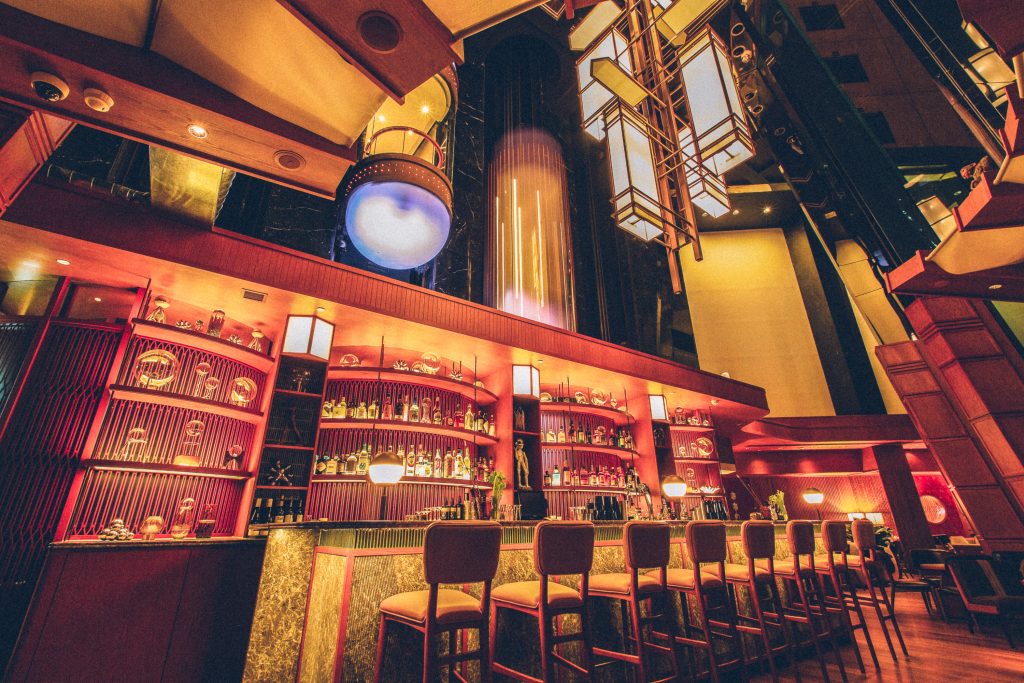 Unconventional is the most fitting word to describe Terrible Baby's style. The unique bar, housed in the center of Hong Kong's Jordan neighborhood, offers a wide variety of rosés and gins, but it is best known for its live music. Keep an eye out for new events hosted by Terrible Baby, because they are sure to entertain. Though, even if you go on a night without live music, you can just spin your own tracks at their outdoor music room.
Terrible Baby, 4/F, Eaton HK, 380 Nathan Rd, Jordan, Hong Kong, +852 2710 1866
ICHU Terraza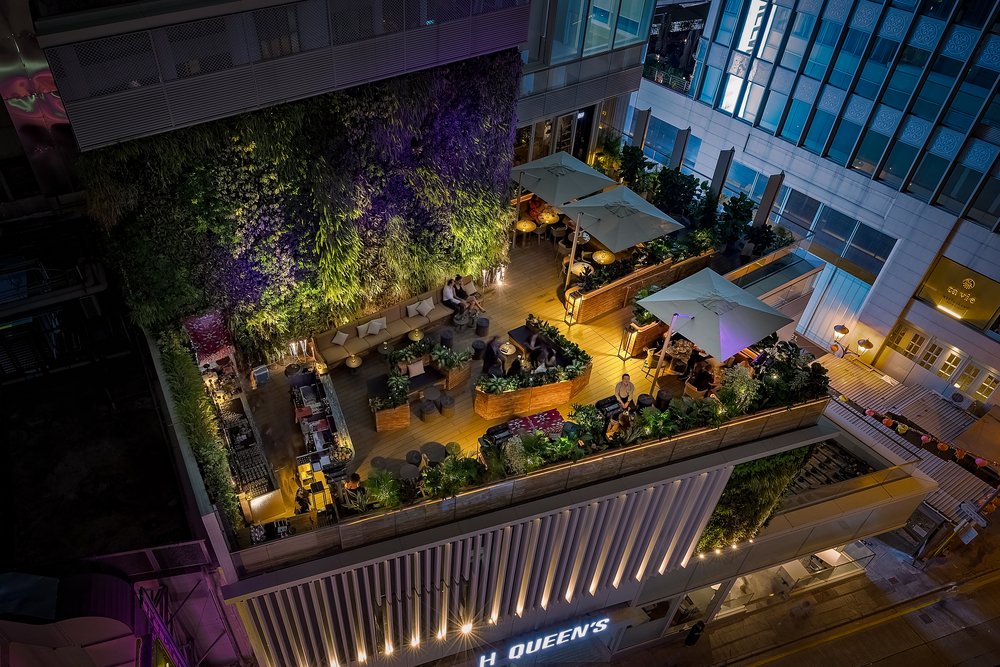 ICHU's bistro will transport you to a dense Peruvian jungle with its food and its decor. Covered in South American foliage, the restaurant uses local ingredients to create contemporary takes on traditional Peruvian dishes. The terraza bar encloses you in a warm, intimate atmosphere to escape from the city and enjoy signature cocktails prepared by their award-winning mixologist.
ICHU Terraza Peru, 3/F, ICHU PERU, 80 Queen's Road Central, Central H Queens Building, Central, Hong Kong, +852 2477 7717
Sevva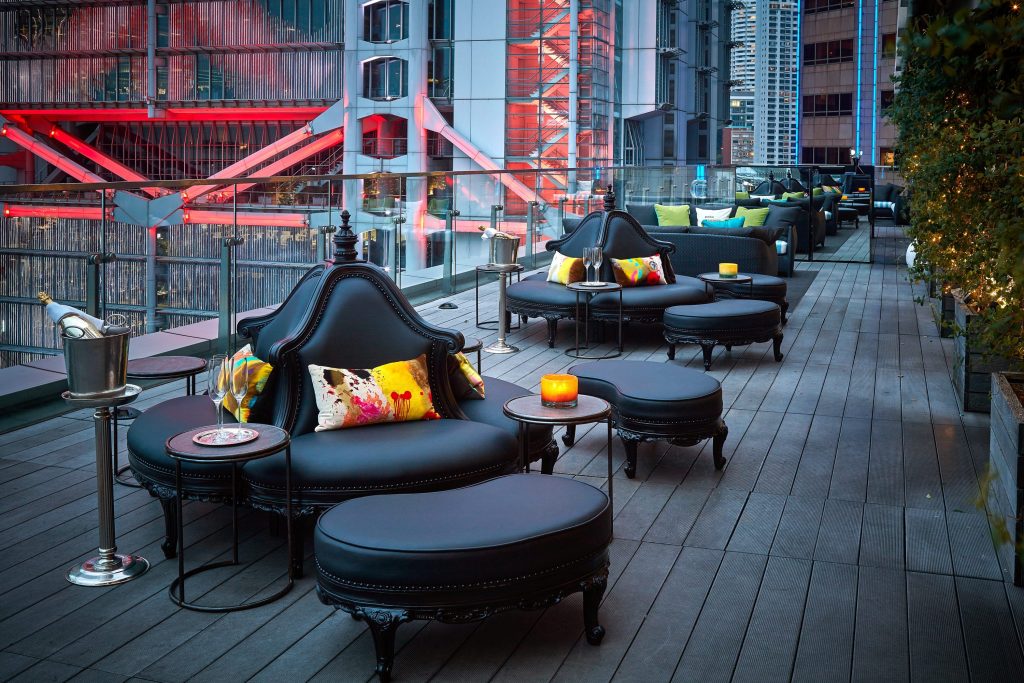 Feel like you are in a photo shoot at this fashionable and posh rooftop bar. Perched on the 25th floor of the Prince building, the restaurant offers European and Asian cuisine in a smooth, cool setting. To feel ultra-chic stay for a curated selection at Sevva Signature Afternoon Tea.
Sevva, 25/F, Landmark Prince's, 10 Chater Rd, Central, Hong Kong, +852 2537 1388
Aqua Spirit Hong Kong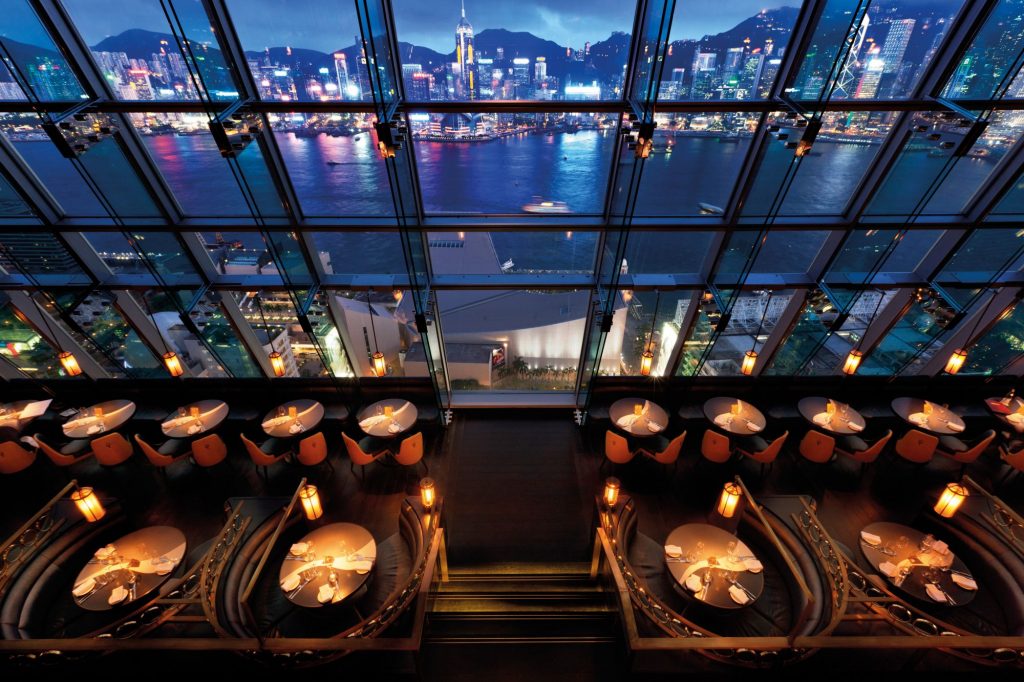 Mix it up at One Peking building's classic restaurant, with your choice of Western or Japanese style seating. Sample a selection of Italian and Japanese dishes while staring out at Victoria Harbour through floor to ceiling windows. Once you're done eating, walk up a flight to the Aqua's 30th floor penthouse-inspired lounge, to enjoy signature cocktails.
Aqua Spirit, One Peking, 29+30F, Peking Rd, Tsim Sha Tsui, Hong Kong, +852 3427 2288
ALTO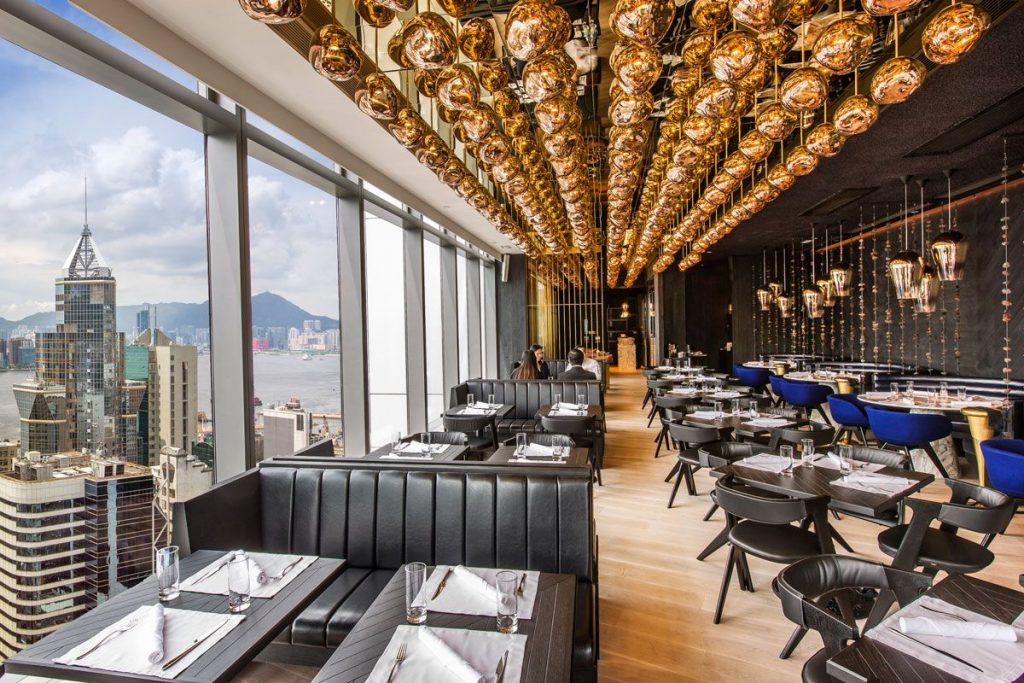 If you are getting a bit peckish late at night, you have to stop by this bar and restaurant on the 31st floor of V Point Tower. A popular destination for food bloggers, ALTO is famous for its delicate and delicious desserts. Treat your sweet tooth on the terrace, and don't forget to pair it with any number of their signature cocktails.
ALTO, 31/F, V Point, 18 Tang Lung St, Causeway Bay, Hong Kong, +852 2603 7181
See also: 10 best Hong Kong swimming pools to visit this summer