How teenagers are leading the global fight against climate change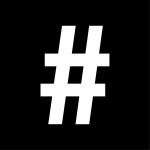 By: #legend
November 29, 2019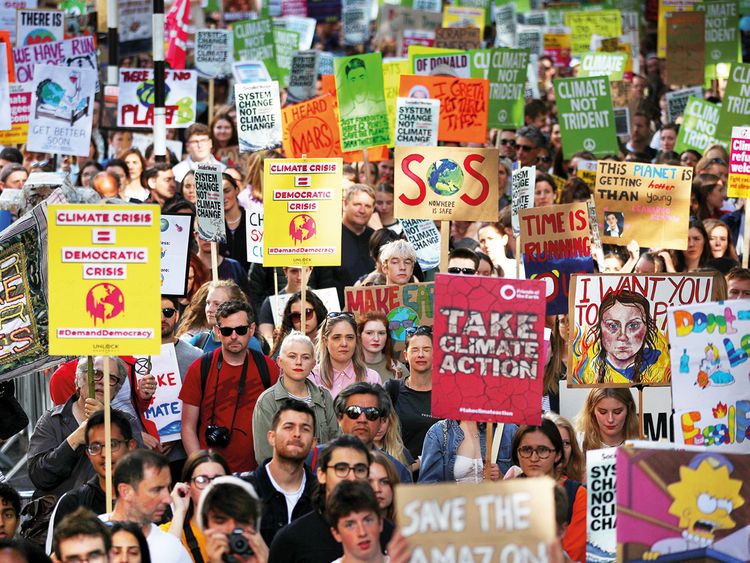 As teenagers are becoming the undisputed leaders of the fight against climate change, we've decided to celebrate the golden era of youth activism by profiling some prominent activists who are making waves as the leaders of today – and tomorrow.
By Marta Colombo
As societies become increasingly polarised all over the world, people are taking to the streets and social media to show and spread their dissent like never before. From peaceful marches to protests and campaigns, activism has become an integral part of what it means to be a citizen of today. In particular, teenagers have been increasingly taking matters into their own hands by becoming activist leaders in various fields. From gun control to LGBTQ+ rights and, most recently, climate change, we are arguably living in the golden era of youth activism. Teenagers have unprecedented access to countless resources to spread their messages across different platforms and bring people together, both virtually and physically.
"We are going to be the kids you read about in textbooks. Not because we're going to be another statistic about mass shooting in America, but because we are going to be the last mass shooting. Just like Tinker v Des Moines, we are going to change the law. And it's going to be due to the tireless effort of the school board, the faculty members, the family members and, most of all, the students." So said US activist Emma González said during an anti-gun rally in February 2018, three days after theshooting at her school, Marjory Stoneman Douglas High School in Parkland, Florida, that left 17 people dead. González went on to become a leader in the anti-gun movement across the US; at age 18, she and four of her classmates who survived the shooting were included on Time magazine's list of the 100 most influential pioneers of 2018.
Just like many other teenagers across the world, González is redefining what it means to be an activist, and is proving that teenagers and young adults don't need the approval or the help of adults or political elites to make waves and generate change. Crucially, the problems that we face today are more likely to affect them than anyone else who holds a position of power.
One of the areas where teenagers are proving to be leaders is on the topic of climate change. An issue that transcends borders and governments, its global resonance is enormous as one of the defining issues of our time – and so is the role of young people leading the fight to protect our planet and fight the climate emergency.
In September at the UN Climate Action Summit, 16-year-old climate activist Greta Thunberg made world headlines when she delivered a powerful and poignant statement that resonated with many teenagers and adults alike. After the speech, it was also announced that she and other young activists were suing Brazil, France, Germany, Turkey and Argentina – five of the planet's most significant carbon-polluting countries – for failing to take actions to reduce their emissions and for failing to protect their rights as children. The group proved once and for all that the fight against climate change is led by those who will live to see the consequences – and who won't shy away from criticising institutions and challenging their lack of action.
Greta Thunberg
By Marta Colombo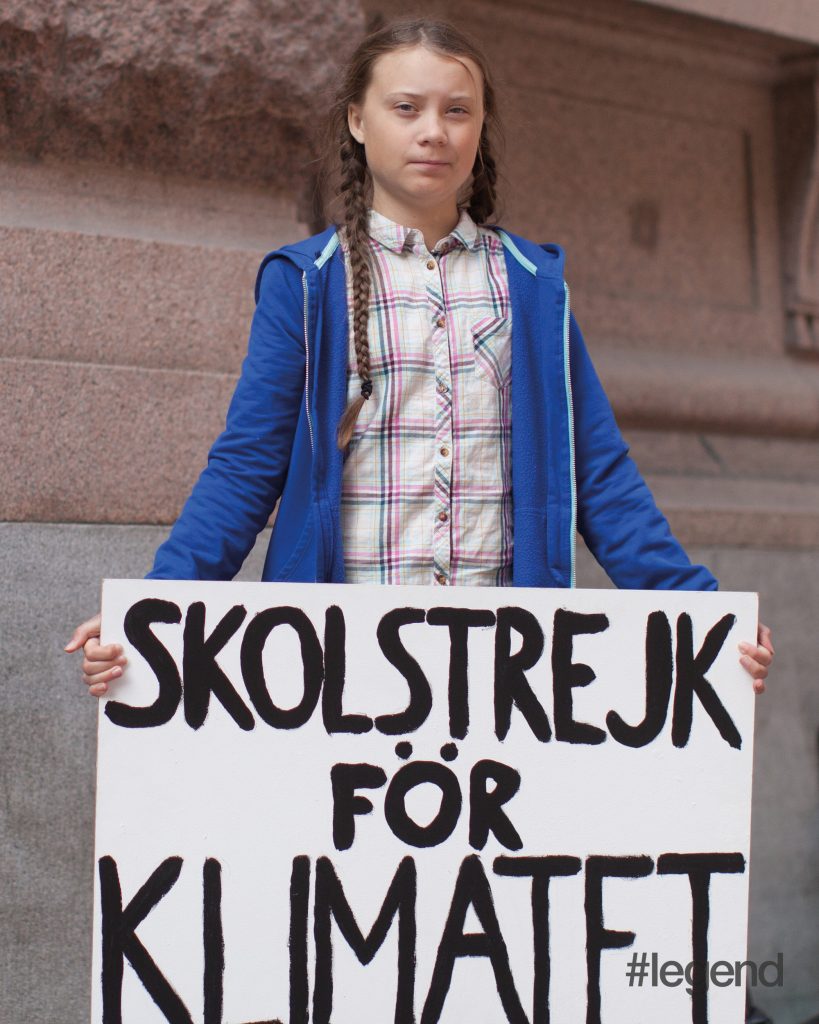 "This is all wrong. I shouldn't be standing here. I should be back in school on the other side of the ocean. Yet you all come to me for hope? How dare you! You have stolen my dreams and my childhood with your empty words. And yet I'm one of the lucky ones. People are suffering. People are dying. Entire ecosystems are collapsing. We are in the beginning of a mass extinction. And all you can talk about is money and fairy tales of eternal economic growth. How dare you!" Those were the powerful opening remarks of Greta Thunberg's statement of the 2019 UN Climate Action Summit.
Thunberg was the catalyst for the #FridaysForFuture movement, which sees young students going on strike all over Europe to protest institutions' inaction towards the pressing issues facing our planet. When I first saw footage of then-15-year-old Thunberg sitting in front of the Swedish parliament every day for three weeks in August 2018 and how viral it went, I knew that a new generation of European activism was being born. In Europe, teenagers have always been quite politically active when it comes to joining peaceful marches organised by established NGOs or movements, such as the anti-Brexit rallies throughout the UK. However, for the first time, a teenager was at the very centre of the movement – and through the power of technology, she called her contemporaries to action.
Thunberg continued striking until the Swedish government eventually aligned its policies with the guidelines of the Paris Agreement. Since then, the movement has spread all over the world, with strikes happening in numerous major cities and local branches administered by young activists. On March 15, 2019, #FridaysForFuture planned it first global strike.

What made Thunberg an instant leader is the fact that she brought to the international stage an issue that isn't often discussed in politics by making it accessible to her contemporaries; that has the power to bring young people together regardless of nationality, race and location. Thanks to a couple of hashtags and the power of social media, teenagers started feeling empowered and began to educate themselves on the challenges our planet is facing. In a 2019 Vice documentary about her extraordinary commitment, Thunberg cited the Parkland students as her main inspiration. For many, Thunberg herself is now the inspiration behind their decision to skip school and take to the squares and streets of their cities.
Thunberg is also a symbol of unconditional commitment. When she attended the UN Climate Action Summit, she reached the headquarters of the United Nations in New York City by boat, as she decided not to fly to reduce CO2 emissions and the environmental impact from global aviation. When she appears on talk shows, she makes it clear that her one and only mission is to save the planet. Remarkably, she has spoken of having Asperger's as an "advantage" to her fight, as it makes her much more direct. After Thunberg spoke to the UK Parliament in April 2019, the country became the first in the world to declare a climate change emergency and thanks to her efforts, she has been nominated for the Nobel Peace Prize.
The "Greta Effect" – Thunberg's power to inspire young activists to demand that politicians are made accountable for their world – has created, in just a little longer than one year, a powerful movement that's gaining momentum globally. Most importantly, it's showing us all that young people can and will take control of their future by changing a present that they didn't create. (by Marta Colombo)
The students of Climate Action Hong Kong
By Claudia Lee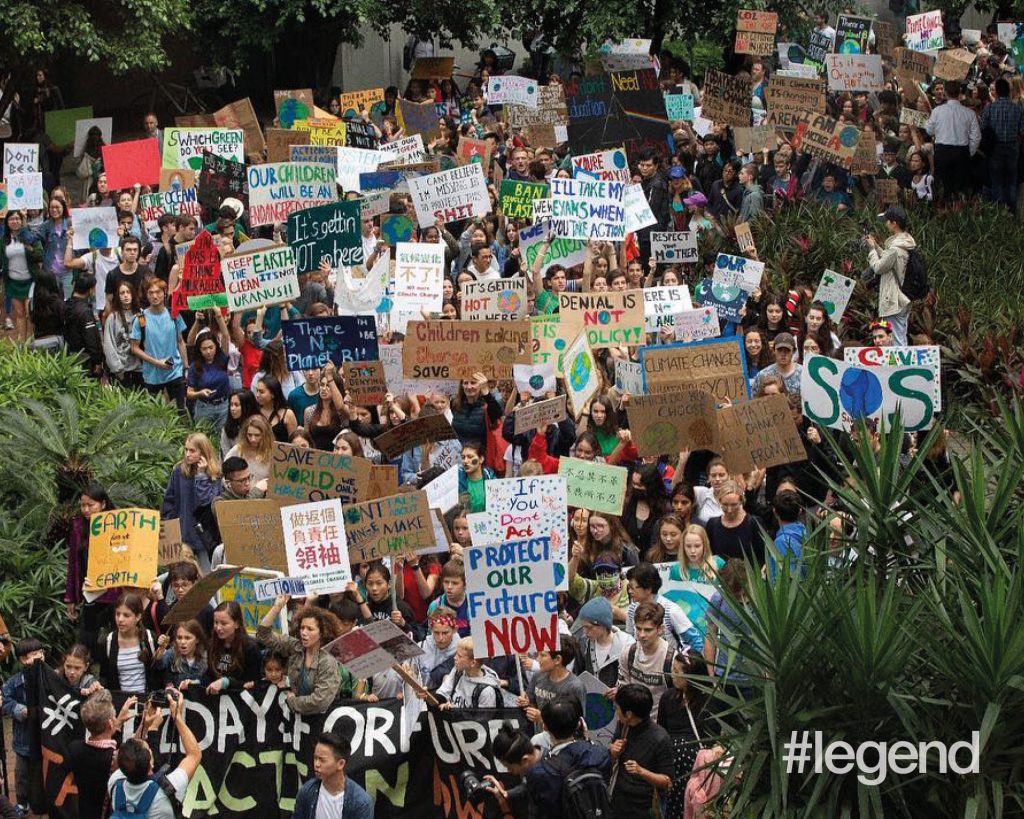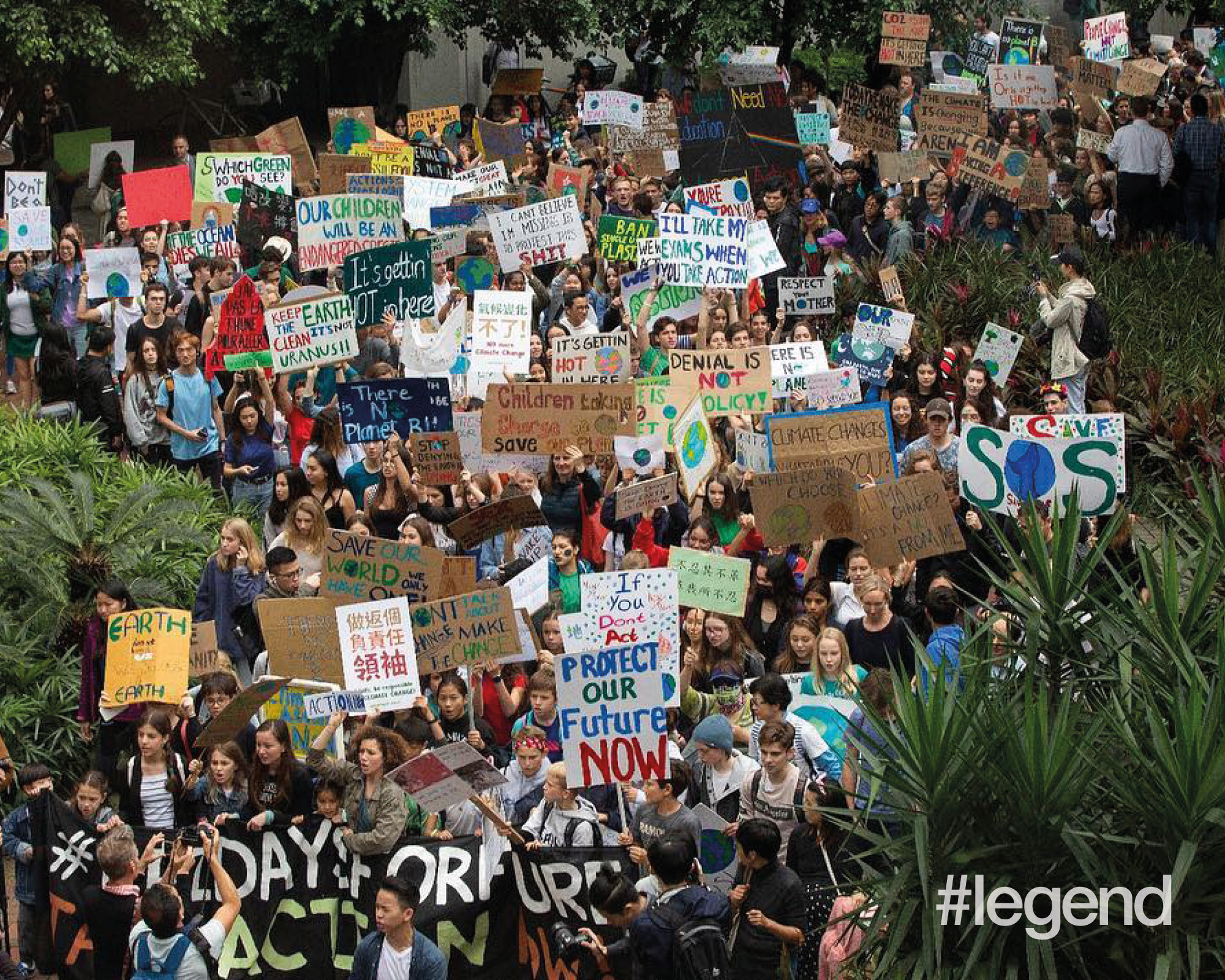 Following in the footsteps of Greta Thunberg, Climate Action Hong Kong (CAHK) is a student-led organisation set up to demonstrate the Hong Kong government's inaction towards the climate crisis. After moving overseas for university, the original young founders – Zara Campion, Emily Tarr and Elisa Hirn – have passed the baton on to the current core team: Ewan Windebank, Haruka Cheung and Themis Kung.
Set up in March this year, CAHK aims to push the government to take concrete actions to prevent climate change. The organisation led its first climate strike in Hong Kong on March 15, joining hands with global students in voicing their concerns for the lack of climate action by local governments. In May, CAHK organised another strike, this time to raise awareness for the "three demands" stated in its position paper, "Global Strike for Future". The three demands included the addition of a youth representative to the Steering Committee on Climate Change in Hong Kong, increasing Hong Kong's reliance on renewable energy to at least 3 to 4 per cent by 2030, and creating a department within the Environment Bureau specifically focused on climate change action.
As of now, only 1 per cent of Hong Kong's energy is generated from renewable energy. "Hong Kong clearly has the capacity to double our current renewable sources," says Kung. To draw attention to this, the team initiated a campaign on Instagram, urging followers to write the hashtag #morethan1% on their wrists to demand the use of more renewable energy sources in Hong Kong. "Social media was a vital aspect in spreading awareness of the detrimental effects of climate change, especially in a place like Hong Kong, where most people are connected through social media," explains Cheung. "Social media is what helped CAHK garner enough attention to hold the global school strikes."
On top of speaking engagements and arranging for its next climate strike, the team has met with local stakeholders, including Legco members such as Ted Hui; the team is also scheduled to speak with Executive Council member Regina Ip later in November. After getting a better understanding of local politicians' attitudes towards climate change, the team intends to push for a more aggressive action agenda. Windebank believes that "the Hong Kong government has the resources and ability to make Hong Kong greener, but this has been put on a back burner due to their bias towards the financial, tourism and political sectors of Hong Kong."
When asked why CAHK opted to advocate for climate action amongst many social issues, the trio was in agreement that climate change is an imminent problem that both the Hong Kong government and the majority of citizens have ignored. Part of the reason for the inaction relates to privilege, they say; living in a technologically advanced, developed country, Hongkongers don't tend to experience the direct impact of climate change. This is why it is important to draw their attention to climate change's already grave impact.
CAHK is currently applying for NGO status and is hoping to raise funds to realise the next step of its climate action movement in Hong Kong.
Isra Hirsi
By Liana Chaplain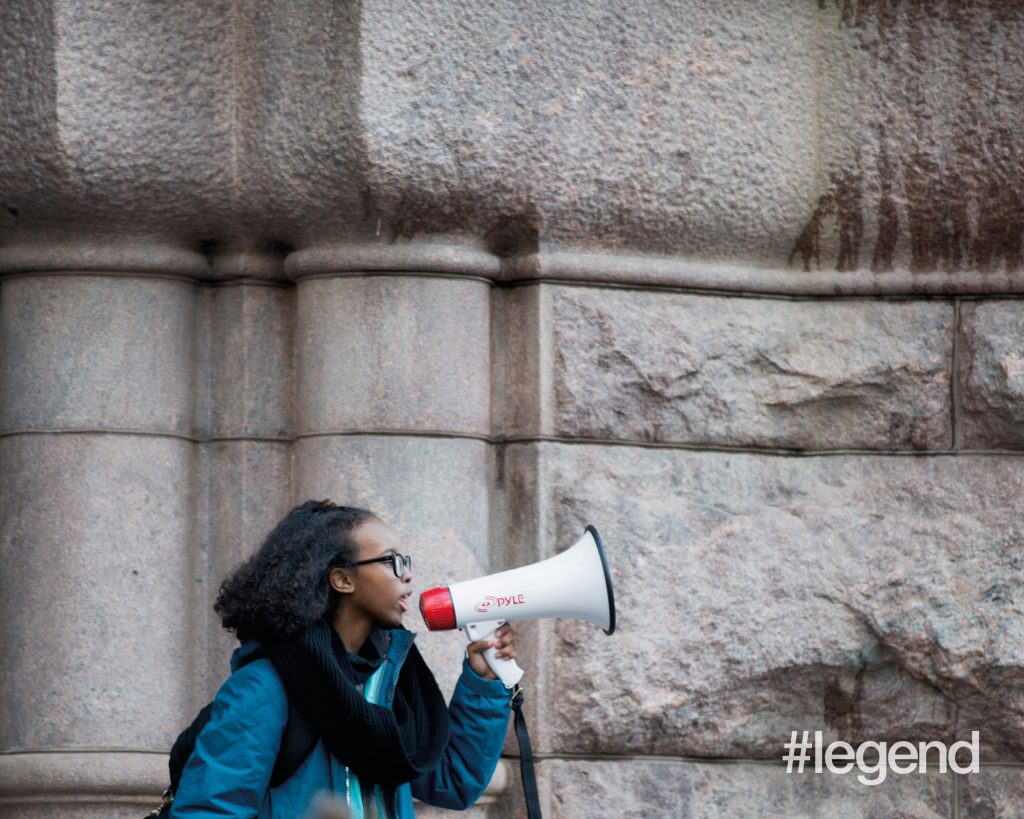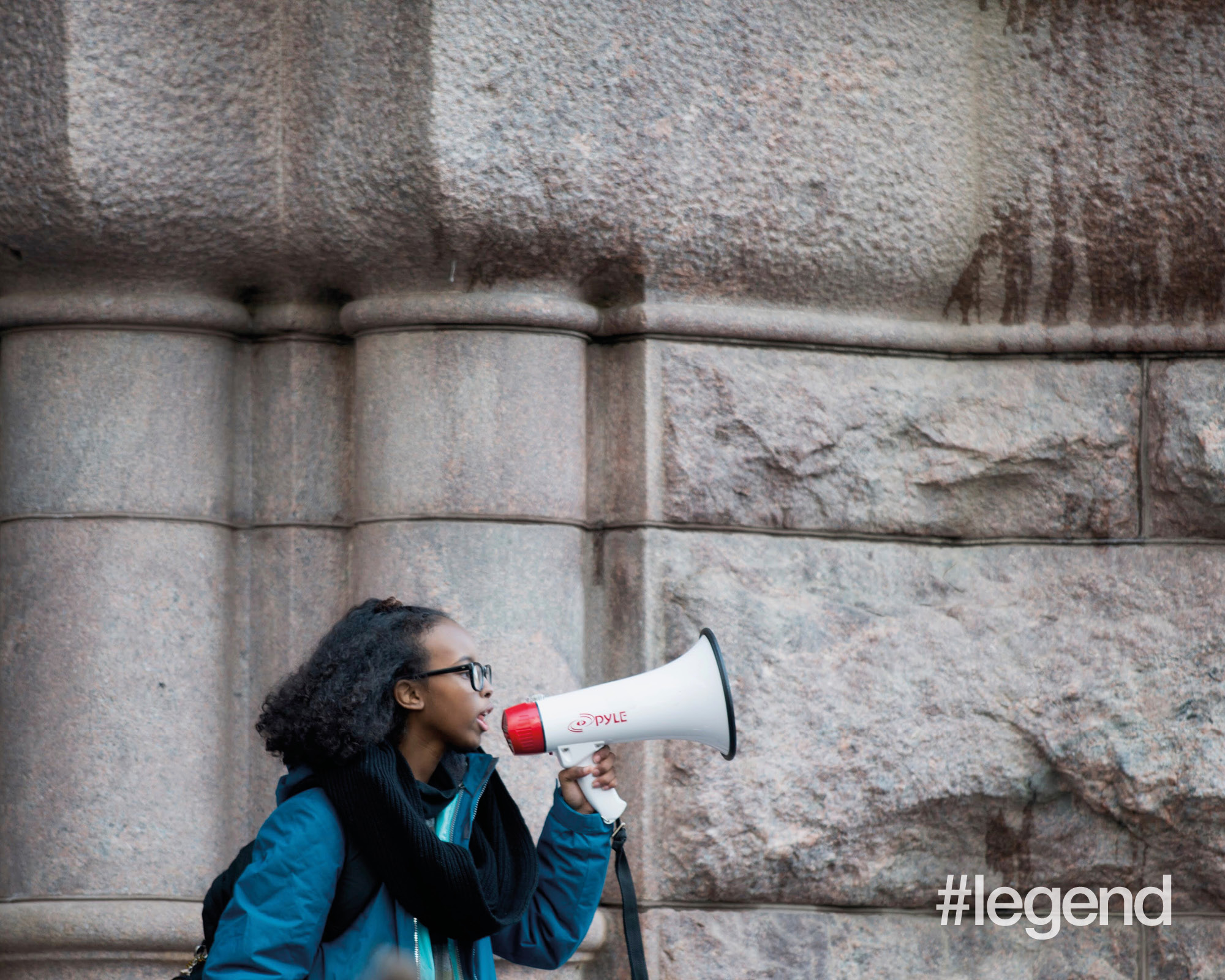 Isra Hirsi is a 16-year-old high school studentin the US and one of the determined leaders of the global youth movement for environmental justice. Inspired by Swedish activistGreta Thunberg's #FridaysForFuture, Hirsi co-founded the US division of the Youth Climate Strike and is currently the executive director of the organisation.
Hirsi began her climate change advocacy journey a couple years ago when she joined her school's environmental club. She's since helped organise hundreds of strikes across the US, joined outspoken politicians such as 2020 presidential candidate Bernie Sanders and Green New Deal superstar Alexandria Ocasio-Cortez in climate crisis conversations, and been named one of Teen Vogue's 21 Under 21 for 2019. She's also been shot for cool, sustainable brand Teva, thereby successfully convincing me that white sandals with black socks are absolutely the next big thing.
This powerful young woman may be a more recognisable face than others as an activist and a US Congresswoman's daughter (her mother is Ilhan Omar), but she's one of the countless students around the world today pushing for their governments, media and adults to address young people's voices. Here in Hong Kong and elsewhere, adolescents are forced to grow up way too fast. Their maturity and perspective is impressive, temporarily disrupting social order for long-term social gains and sacrificing their youth to demand a better future. We forget that Hirsi, who comes off as eloquent, mature and put-together, is a teenager who comes home from school to the responsibilities of a full-time, paid adult. It's "really, really stressful," she says, referring to her everyday workload of conference calls, emails, and endless texts and Slack messages (via Greenpeace).
Earlier this year, Hirsi's mother, Ilhan Omar, made history as she and Rashida Tlaib became the first Muslim women elected to the US Congress. Hirsi's identity as a black Muslim and the child of immigrants pushes her to also fight for diversity and inclusion within the environmental justice movement. She's adamant about lifting up leaders from marginalised communities and acknowledging the work of indigenous activists, knowing that they are those most affected by and vocal about climate change, but receive the least mainstream representation.
Hirsi's environmental work has everything to do with politics, race, and social issues. They're inherently intertwined. Because China and the US are the world's biggest polluters, the ways they choose to respond to climate change will unfairly impact the rest of us. Though we're small, it's essential that we continue to put pressure not only on powerful countries but also on our own government to make a change. In our small, subtropical city, every Hongkonger has already begun to feel the effects of unsafe pollution and temperature levels. But as climate change worsens, the disparity between the rich and the poor will also widen. Wealthy foreign passport holders may choose to move to less affected areas, but Hong Kong's blue-collar workers and domestic helpers may have to continue to do manual work on the hottest and most polluted days.
Luckily, we have leaders like Hirsi, who are inspiring a global chain of events and momentum for change. She believes that the movement isn't one person, but "all of us". Global climate strikers and Hong Kong youth alike are, thankfully, anything but apathetic, showing compassion for the ground they stand on and the communities they are part of, and displaying a fiery passion for the future we will be living in.