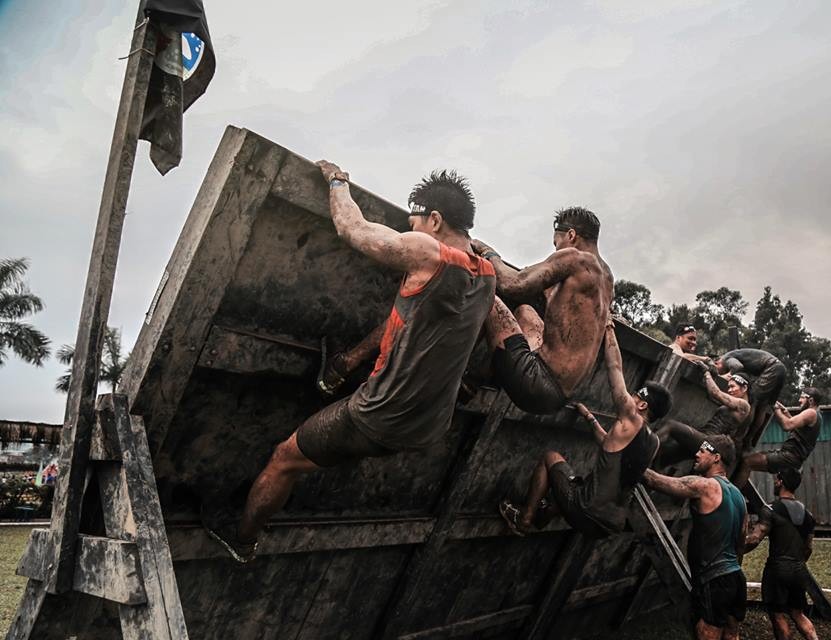 Returning for its second year, Spartan Race is coming back to Hong Kong on Saturday, November 4—only this time with a new Super Race spanning over 8-10 miles with 24-29 obstacles. Sure, we've all run (read: walked) the occasional 5K for charity and whatnot, but if you've never done a rope climb or crawled under barbed wire, you best start training.
Don't get us wrong, it's going to be a lot of fun but to conquer (or even just to survive) this gritty obstacle-style race, you're going to have sweat, train and race like a Spartan.
With less than two weeks left, we spoke to Tricia Yap, Hong Kong-based MMA fighter and director of fitness at Goji Studios, to show us some last-minute moves to get you ready for the race:
Chin Ups
The move: Using a mixed grip, grasp the bar and pull yourself up until your chest almost touches it. Switch hands and repeat from the other side. Try three sets with 5-8 reps.
Why you need it: "This is a basic move, which will help you build up strength in your core, shoulders and arms for all those burpees and mud crawls."
The Farmer Walk
The move: Start with a moderate to heavy weight. Keeping your shoulders back, back straight and arms straight, walk as far as you can and repeat.
Why you need it: "During the Spartan Race, you basically pick up a lot of things and run around. It's quite similar to a Strongman workout but with lighter implements and a lot more cardio. You can use kettlebells for this or even two suitcases in each hand and just run like you're late for your plane."
Read: Fitness guru Hannah Bronfman on booty Workouts and dealing with negativity
Turkish Get-Ups
The move: Lay on the ground and press the kettlebell overhead with one arm. Now bend the knee on the side of the body that's holding the kettlebell and roll up onto your opposite arm starting from the elbow to your hand. Lift your hips, keep you other leg straight and sweep into a lunge before standing up and looking forward. Step back into the lunge, lower your hips to the floor and follow with your torso. Repeat with the next side.
Why you need it: "The Turkish Get-Up is a great move to get you used to moving with and under heavy weights—perfect for the types of obstacles you'll encounter at Spartan Race. It also helps to improve your balance."
Bulgarian Bag Walking Lunges
The move: Start with your feet parallel, hip-distance apart. Place a Bulgarian bag or sandbag over one shoulder and lunge—making sure your back knee goes straight down and your front knee doesn't pass over your toes. Do 10 reps for each side for three sets.
Why you need it: "Bulgarian bags are crescent-shaped bags, which you can pop on your shoulder. It's kind of like the sandbags you have to run around with at the race and will also help you prepare for any uneven terrain as well as the glutes and legs for uphill sprints. The sandbags are actually more circular whereas the Bulgarian bags are larger and more awkward so it's a good one to practise with. Don't have one at the gym? Try doing it with a 12 kilo bag of rice instead."
Deadmills
The move: Find a steep hill or head to the gym and put the treadmill on the highest incline. Then run as fast as you can for as long as you can. Even if you do this as a tabata interval workout (20 seconds on, 10 seconds off), you'll be completely toasted after eight rounds.
Why you need it: "This is like a hill sprint and will prepare you for all the running and climbs you'll have to do during the race. It's a really good way to get your heart going and to build endurance. Start with this as a warm-up or to finish off."
Goji Studios have a programme dedicated to whipping you into shape for the Spartan Race every Wednesday at 7:30PM and Saturday at 10:30AM, priced at HK$100 per session for members and HK$150 per session for non-members at their studios in Causeway Bay, Central, Kowloon Bay, Mong Kok, Tsim Sha Tsui and Whampoa. 
Serious about becoming a Spartan? Sign up for some one-on-one personal training starting at HK$650 per session.