Meet Anisha Thai: Model, dancer and African-Asian influencer in Hong Kong
October 8, 2020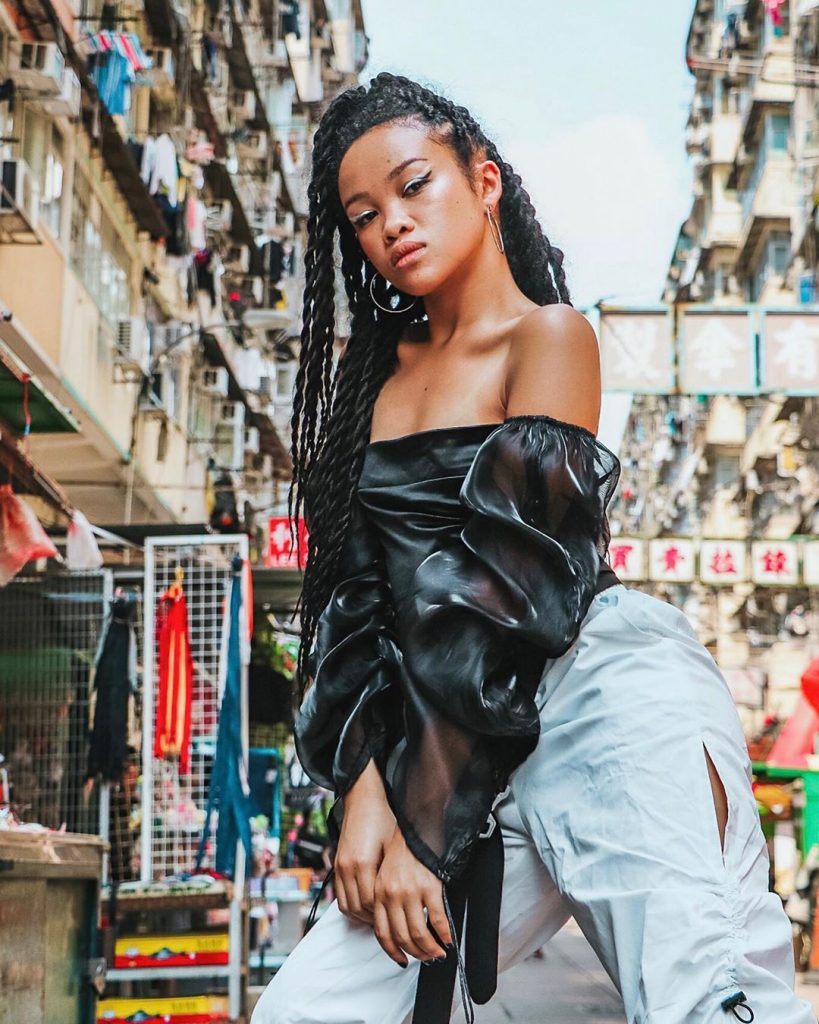 Living in a foreign land as a mixed-race woman can be tough as it is, but doing so while striving to create a better future for people of all ethnicities – no matter where they are in the world – makes it all the more challenging. However, the ever talented multi-hyphenate, Anisha Thai, is doing all that and more with what she does best: dancing and modelling. Half-Vietnamese and half-Comoran, Thai was born and raised in Paris and is now based in Hong Kong as a dancer, model and influencer. She's also an ambassador for racial diversity and African culture in Asia – teaching online and offline afrodance classes as well as modeling under Harmony HK, a refugee-curated social enterprise that advocates for diversity and inclusion.
Having amassed 27.9k followers on Instagram and 4.81K subscribers on YouTube in just a year, Thai has created numerous afrodance videos that have gone viral on different social media platforms. We talked to the multi-talented influencer on being an African-Asian in Hong Kong, bridging cultural gaps through dance, and how she's turning her uniqueness into a superpower.
Photo: @gc.visual
Styling: @a_lili_of_faith
Make up: @xtinemux
You've lived in Paris, London and South Africa before coming to Hong Kong. As a mixed-race woman, how different is life for you in these cities?
In Paris and London, there are big ethnic groups – Black, Asian, Arabic, etc. so racially speaking, it's easier to feel accepted or to find a place amongst one of those groups. In South Africa and Hong Kong, it's a bit difficult to feel like I belong to any ethnic group or have a clear racial identity. It has to do with the colonial history that's still very recent for both cities.
Racism is clearly omnipresent in countries like South Africa and the United States. While it also exists in Asian countries like Hong Kong, it is expressed in a more subtle and less violent way.
What first brought you to Hong Kong?
Work! I found an internship and landed my first job in Hong Kong. I always wanted to work in an environment that I wasn't familiar with because it keeps my brain stimulated. When you're constantly in an adventure, you have to keep learning and adapting.
When did you start your dance journey?
I started dancing when I was five years old. I've always wanted to be on stage or in front of the camera, and I still remember the first time I watched Michael Jackson and Beyonce perform. Impacting people through music and dance is like a superpower to me. I see it as the ultimate way to inspire.
What do you enjoy most about being a dancer?
It's a unique way to connect with music. It's as if the music resonates with the body and you can't help but just go with the flow. When it comes to performing, it's essentially playing a character and exploring the infinite possibilities with your body. I feel strong and confident when dancing in front of others – it's very uplifting, and more so if you can have an impact on the audience.
What is it like to be an African-Asian influencer, model and dancer in Hong Kong?
It is particularly hard as a model, as there aren't a lot of Blasian (aka. Black Asian) people in Hong Kong and most brands don't feel the need to represent that type of mix. I have to admit that I've always felt that Eurasians are always "invited to the table" while Blasians are left behind. However, this has already been changed in a lot of cities, and I'm confident that the time will come in Asia.
My mission is to open a door for Blasian kids in the dancing and modelling industry in Hong Kong. I want them to feel accepted, embrace their unique identities and to know that they are beautiful and special.
How did you start your modelling career?
I started a year ago – first by collaborating with photographers who approached me on Instagram. Most recently, I've joined Harmony HK Model Agency and have started to do more commercial modelling.
How does it feel to model under Harmony HK as opposed to other agencies?
The biggest difference is that I feel like I belong to a family. The agency pays attention to each model and gives us plenty of opportunities. I also love the fact that the agency organises shoots for us so that we can build our portfolios. I also share the same vision with the agency – diversity. We are fighting together to bring more ethnic minorities talents under the spotlight, to ultimately push racial boundaries and change mindsets.
What are your thoughts on diversity in Hong Kong's modelling and dance industry?
Hong Kong isn't the worst place in terms of representation, but we can do better and we have to do better. I hear too many stories from my model friends – some of whom were rejected for the size of their butt, others for the colour of their skin. Also, the fact that there are make-up artists who don't have shade-inclusive foundations for some models is shocking.
Have you ever faced challenges in your career because of your mixed ethnicity?
One time, I replied to a Facebook post looking for an Asian model in Hong Kong, but the response I got was that I "didn't know how to read" and that he was looking for an "Asian model." When I told him that I was Asian, he immediately said that I was too tanned and looked African. I thought that was quite rude and insensitive, and that people should understand that Asian doesn't necessarily mean being light-skinned.
What is the single most important change that needs to be made in Hong Kong for ethnic minorities within the next five years?
To treat ethnic minorities the same way as others.
You're also an afrodance teacher. Tell us more about that.
Afrodance covers traditional African dance, as well as the new and more commercial African dance that we call Afrobeats, which is also the name of the music genre.
I started Afrodance 1.5 years ago as a way to reconnect with my African roots in Asia after leaving South Africa. There is just not enough exposure to black culture in Hong Kong. With no festivals, parties, clubs, or exhibitions and just a few African restaurants in town, my way of sharing African culture is through dancing.
Who is your #legend and why?
Rihanna. She's not just an entrepreneur, philanthropist, artist and model… she is basically anything that she wants to be. To me, she's proof that anything is possible. She's the ultimate queen to me – strong, confident and unbreakable.
Finally, any advice for young people from minority ethnic backgrounds in HK?
Embrace your uniqueness and turn it into your superpower!
See also: Out and proud: Zelos Wong Hoi-yat on love, life and the LGBTQ community in Hong Kong
Featured Influencers