Shaken, Stirred, Classic or Dirty: Our Guide to Hong Kongs Ultimate Martini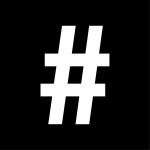 By: #legend
November 21, 2016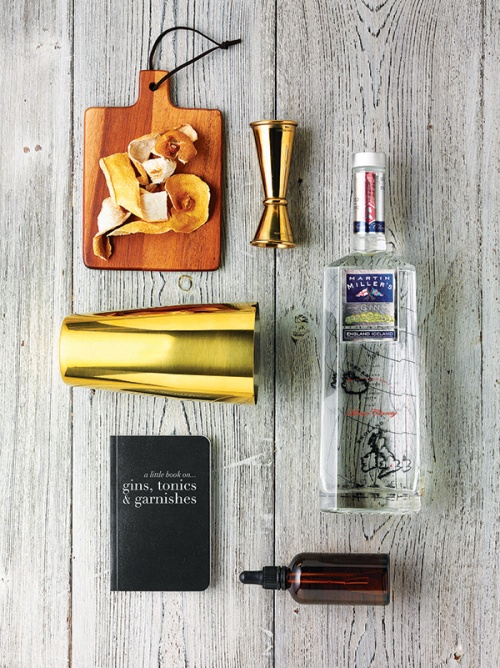 Blame it on Bond. After Agent 007 ordered a vodka martini, the whole world followed and sales of the drink skyrocketed. Order a martini today and your bartender will often ask, "Gin or vodka?" Vodka has fewer calories than other spirits, and its flavour is neutral, hence its suitability in cocktails. Shaking a martini with ice, meanwhile, dilutes the taste of the alcohol in the drink. Perfectionists use a special stirrer instead so the ice doesn't break, combining a good gin's botanicals with the sweetness of the vermouth. A splash of olive brine and a meaty green olive make another favourite, the dirty martini. Whether you drink traditional martinis or prefer Bond's version, these destinations are sure to satisfy your craving. Their creations are dangerously delicious. Consider yourself warned.
Flavour Packed: 8½ Otto e Mezzo Bombana
"James Bond preferred a shaken martini so he could drink more and get drunk slowly while his female companions got drunk faster off stirred martinis," explains 8½ Otto e Mezzo Bombana bar manager Devender Kumar. For classic martinis, Kumar prefers botanical gins such as Tanqueray No. Ten, Hernö Juniper or Sipsmith to vodka, and he gently stirs his ingredients to preserve their delicate flavours. For dirty martinis, Gin Mare, a Spanish gin distilled with basil, thyme and rosemary, is used to complement the olive brine and Italian olives in the drink. If you can't decide between gin and vodka, order a Vesper martini, invented by Bond himself. It's shaken with both gin and vodka, and contains Lillet Blanc, a French aperitif wine. There's also the decadent 8½ Caviar Martini. This HK$588 cocktail is made with Beluga Gold Line vodka, and comes with 10 grams of Italian Oscietra caviar.
Getting Dirty: Captain's Bar and M Bar
"Roosevelt drank a lot one night with Stalin. The next day he was hung-over, so Stalin offered him some Russian vodka with pickled olives, and that was the birth of the dirty martini," says Agung Prabowo, martini maker extraordinaire and beverage manager of the Mandarin Oriental, Hong Kong. Prabowo prefers vodka to gin in making the classic drink. "Why mix olives with gin when it's so botanical?" he says. "Vodka, on the other hand, is neutral." For classic dry martinis, however, he uses Bulldog gin, a high-end bespoke spirit that you wont find on too many liquor store shelves. It is juniper-forward and citrusy, with notes of grapefruit and vanilla.
For the adventurous drinker, Prabowo serves a martini at M Bar that contains Anty Gin, a HK$4,000-a-bottle gin distilled with 6,000 red ants, which is made by Noma's Nordic Food Lab exclusively for Mandarin Oriental hotels. The citrusy concoction is finished with a few drops of truffle oil and an edible ant, for HK$1,250 a glass.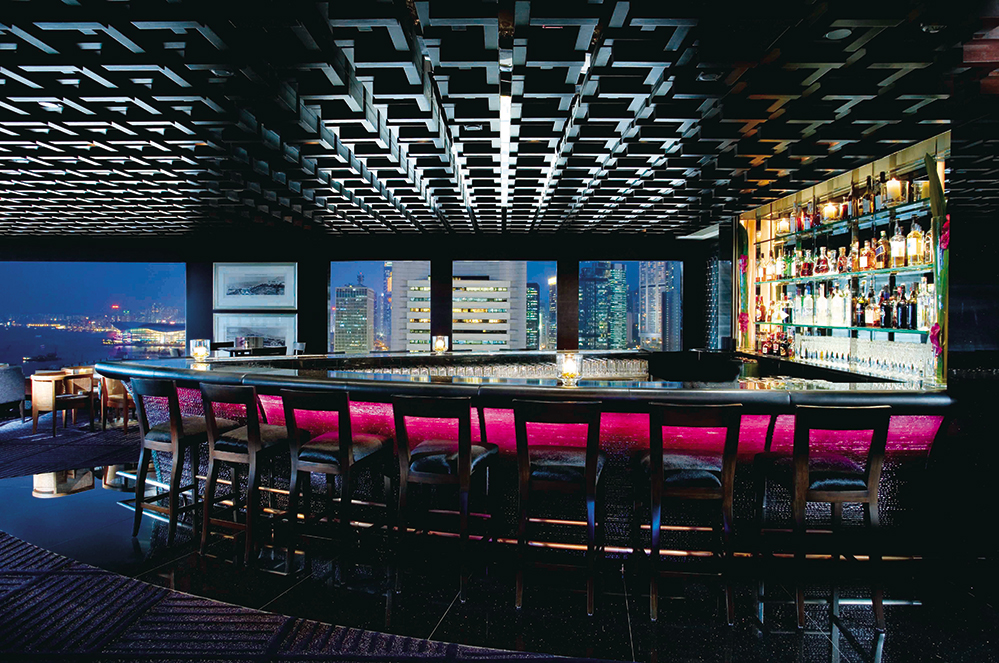 The Italian Job: Carbone
While you are waiting to devour Mario's meatballs and rigatoni in spicy vodka sauce, why not order a dirty martini? Head bartender Gerry Olino uses Ketel One vodka and olive brine in his version, shaking and straining the mix twice before topping with a big green olive from Cerignola in southern Italy. If you're no fan of olives, try the Gibson, a Carbone favourite. This drink is made by gently stirring together Tanqueray and rosemary-infused vermouth. The drink is served in a chilled martini glass, and garnished with a pickled pearl onion and sprig of rosemary.
Smooth Moves: Bar Butler
"The Italian Bacardi-Martini company created the martini. It was a promotional cocktail incorporating popular sweet vermouth," says Masayuki Uchida, mixologist and owner of Bar Butler, a charming Japanese cocktail bar. Uchida is not a fan of strong alcoholic drinks and so uses Martin Miller's Gin for his favourite martini. Its soft, smooth and citrusy notes marry well with aromatic Mancino vermouth. Orange bitters, lemon peel and an olive are the garnish. For serious gin drinkers, Uchida makes an extra-dry martini with Tanqueray and Tanqueray No. Ten. Asked if he prefers to shake or stir, Uchida says air is introduced when martinis are shaken, diluting the taste. Stirring maintains the cocktail's taste and body.
Drive Thru: Mercedes Me
Smack in the middle of Central, close to Lan Kwai Fong, Mercedes me is the perfect place for after-work drinks before a night out in town. While dining next to a Mercedes C43 cabriolet may not be your thing, drinking near one should not be a problem, especially when your dirty martini, made by head mixologist Prajol Grun, packs a punch. Executive chef Edgar Sanuy uses olives from Spain, which are then bathed in minced garlic and red pepper flakes, giving the martini a mild kick and making it perfect for those who love all things spicy.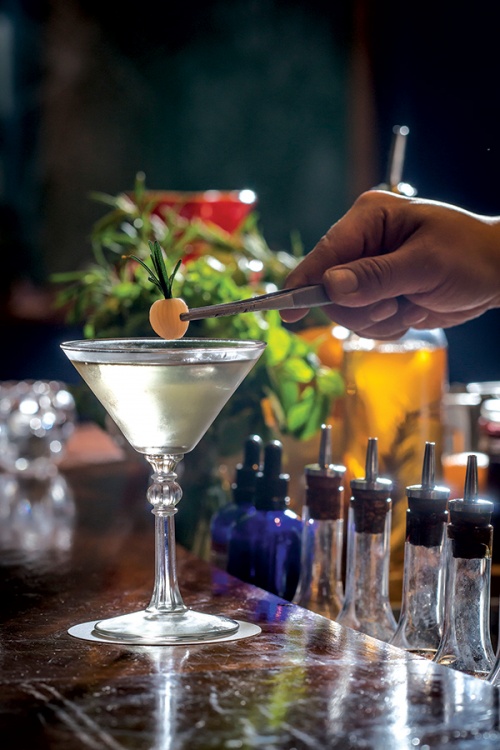 Big in Japan: Mizunara The Library
"In Japan, we like to use Beefeater gin that has a 47 per cent alcohol content to make martinis, because of its rich flavour. In Hong Kong, people prefer lighter-tasting martinis that are not too strong. Therefore Beefeater gin in Hong Kong is actually 7 per cent less than in Japan. As a result, the martinis taste different, even though the brand of the gin is the same," says bartender-in-chief Masahiko Endo. He prepares #legend's dirty martini and serves it in a beautiful handmade glass from Japan. Apart from Tanqueray, he uses Boodles British Gin and Dolin vermouth. For dirty martinis, Endo matches a light gin, such as Beefeater, with a light vermouth, try Dolin, adding olive brine and French green olives.
Paris Can Wait: Belon
This chic little French restaurant in Elgin Street may be known best for its delicious neo-Parisian fare, but its Vesper martini is not to be missed. Mixologist Nando Imamura prepares the kind of Vesper that 007 would approve of – shaken – using Tanqueray and Ketel One with Lillet Blanc. He finishes this elegant drink with a twist of lemon. It goes divinely with Belon's house-made comte gougères and fresh oysters. If you prefer your martinis with something sweet, sit at the bar and enjoy a Vesper with a slice of Belon's signature mille-feuille, Provence fig tart or Palet d'Or.
Must Have: Lobster Bar and Grill
Head bartender Balazs Molnar may only be 26, but his well-balanced and dangerously pleasurable cocktails say otherwise. "I don't like the oil in olive brine and I wash the olives before soaking them in a little bit of salted water," he says. "To make a dirty martini, I like to puree the green olives with a hand blender and stir in No. 3 London Dry Gin that we keep in the freezer. After straining, this lends a natural, light green colour to the martini and you can really taste the olives." Molnar has done away with nuts at the bar and replaced them with gourmet popcorn in French cheese, Mexican chilli and Brazilian barbecue flavours, along with paprika crisps and mixed olives. He will soon introduce a martini made with a new, precious type of vodka containing caviar in capsules.