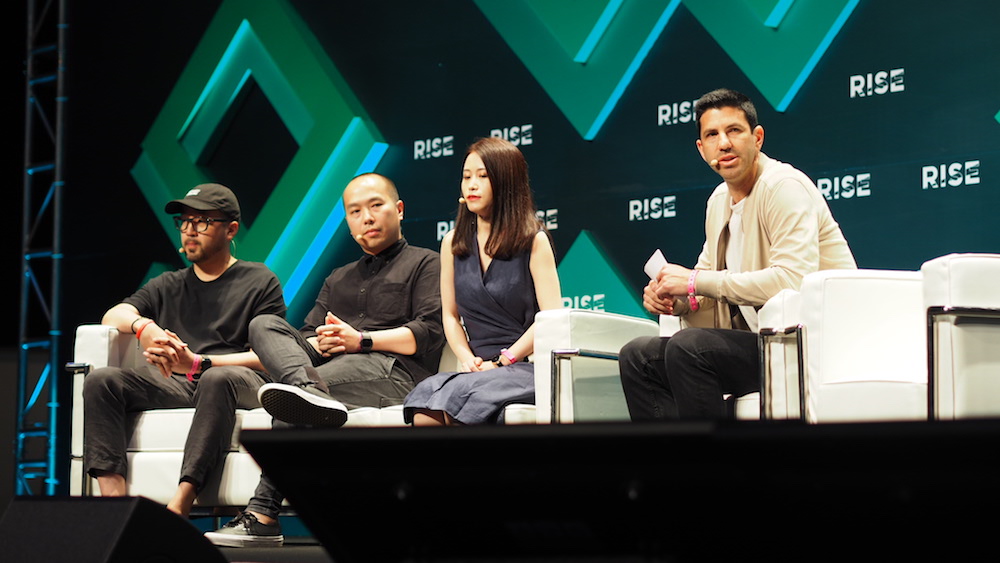 Thanks to the internet and social media, almost everyone is equipped with the tools to become an influencer overnight – but that's just it, how do you become more than just an overnight sensation? Much like celebrities, digital influencers and talent also go in and out of style and yet there are a select few who have managed to continue to ride the wave.
Co-founder of media platform and creative production company 88rising, who represent and manage the likes of Rich Brian and Higher Brothers, Jaeson Ma and 9GAG's Ray Chan alongside internet sensation Ms Yeah (whose videos of herself cooking in the office using office supplies such as an electric iron and garment steamer have consistently gone viral) discuss what it really takes to have lasting influence in the digital world at this year's RISE conference.
Young people are your target market and they respond to authenticity
Jaeson Ma: "There wasn't truly a platform that was representing Asia stars and talent in a culturally correct way. What I mean by that was it comes down to authenticity, it comes down to creativity and it comes down to originality. If you look at a story like Rich Brian. He was 16 years olds, home-schooled in Jakarta and taught himself English watching Wu-Tang videos on Youtube ... He really became a part of the Internet culture and when he came out with his video. He's just a normal kid but he's a prodigy and genius. He's not trying to be hard, he's not trying to be a gangster rapper or a trap rapper, he's just doing Rich, just doing Brian."
What's the difference between an actual influencer and digital 'one-hit wonder'?
Ray Chan: "There are two types of viral content - one is where you didn't know you made something good until after you share it and then you become a star. So basically you're lucky. The other type is like Rich Brian or Ms Yeah, they are creators. They create stuff for a living. These are rare examples. For random success, it's usually really hard to replicate and they try to squeeze every penny out of their original success so it doesn't work [...] For creators, usually they are really talented and they learn, improve and talk to their fans. That explains why someone can stay for a longer time and some don't. Of course, you can just look at it as creativity but it's really whether you can learn, improve and breakthrough your existing audience to grow more."
Competing with others isn't enough
Jaeson Ma: "Consistency is super important. You have to just keep giving [the audience] what they want ... Ryan Higa has been at it for 10 years and he's got about 30 million followers on Youtube but he has a connection with his fans. The fans really believe that they were a part of his journey and part of his success. And he's constantly talking to them, like they're his friends. But I think, also, as I look at someone like Ryan Higa as an example, there's a self-competition evolution [...] For him his competition isn't everyone else who is trying to be like him but he focuses on evolving himself. His content gets more premium, he has better ideas and he's doing bigger projects [like] feature film."
Ray Chan: "I totally agree with that because fans and followers are f*cking troublesome. You change something right? Then they hate it – 'hey why did you change it?' Then you don't change it and they feel like it's the same old shit.
There's a reason why influencers target Gen Z
Ray Chan: "One thing that we can see is that usually artists who can global, they usually reach teenagers and the younger generation because old people are stubborn. They don't change that much. You think you're very innovative but when you're past 30 or 40 … you don't have the new tricks. But you can see that most of the artists who can really break the barrier are the young ones. [...] I think we are just riding on the train instead of the ones who are getting it going."
The secret to successful influencer marketing
Jaeson Ma: "You see the dollars are beginning to concentrate on digital but the question is how do you actually monetise that? Well, one, they want reach, they want to be able to reach their brands to their audiences. So what do they naturally gravitate towards? Talent [and] influencers. So if I'm an oil brand or milk brand, I'm going to be talking to Ms Yeah because I want to get her 15 million on Weibo drinking my milk, right? But it's just not her as a talent that has social following. What's the actual curated, premium content that you can actually create as a narration that works for that brand?
So to give you a quick example, I was working with Oglivy for one of our investors, WPP in Shanghai. They introduced me to Sprite and when I met with the head of Sprite, I said in America I drink 7UP over Sprite because I see rappers like Jay Z 'obeying their thirst'. When I'm in China, I see old mums, grandmothers and kids drinking sprite and I'm like I wanna drink sprite in China 'cause it seems cool. [For Sprite I saw] an opportunity for the brand to cultivate culture in a strategic and smart and authentic way. With Masiwei, what you see in China, is the moment rap got big in china, all the brands just became culture vultures. McDonalds was making a rap video but it's not even a rap video – it looks like a 1986 commercial with my mum with you know, Kris Wu.
So what I said to him, was like, why don't we give you a creative pitch and do your Chinese New Year television campaign? We're also going to give you a music video and an original song. So we literally pitched them Masiwei from higher brothers, we had an original song, we had a TVC and a music video that launched on December 25 a month before Chinese New Year. When we finished the whole entire package – what would normally take four agencies to do the creative, sourcing talent, production and media buys – we did it A-Z just through 88rising and when we actually launched it, out of a score of a 100, it became the highest scoring Sprite commercial in China."