Rescue Dogs of Hong Kong: Meet the artist painting pet portraits for charity
December 17, 2020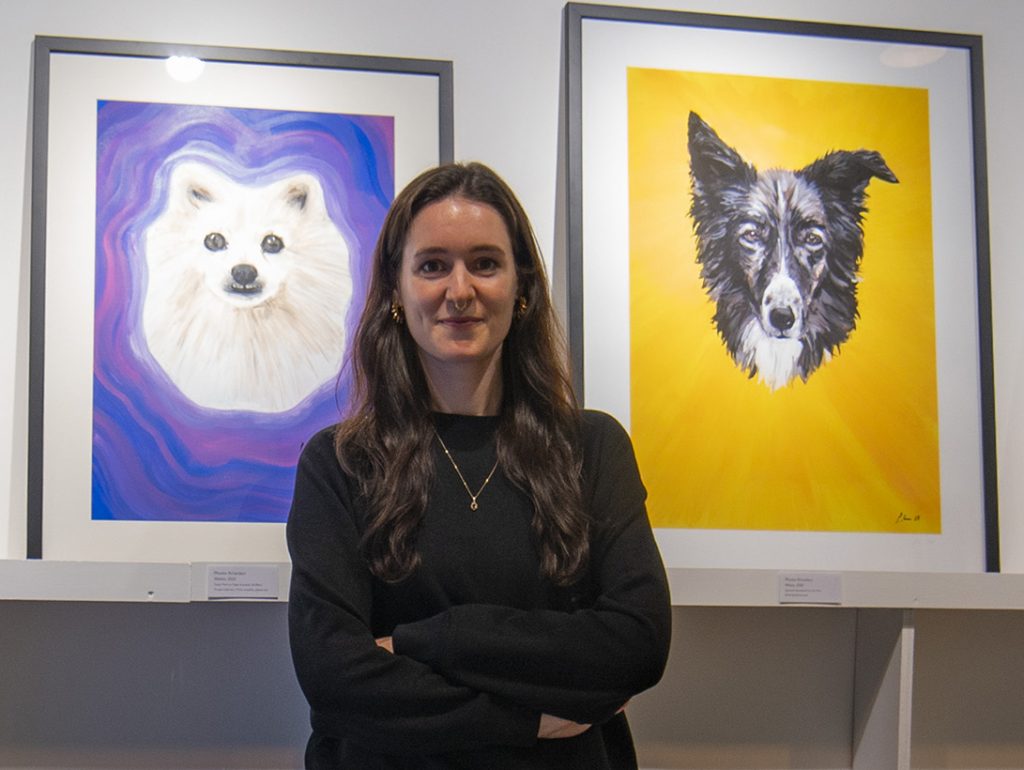 At the beginning of the year, Phoebe Richardson was working as a creative designer for a global beauty brand in Hong Kong, flying between Shanghai and Hong Kong to shoot big-budget advertisements that would then be plastered across cities in Asia. Fast-forward to December 2020, and Phoebe is now an artist, living on Lamma Island with her adopted dog, Mishka, and holding her first solo exhibition, Rescue Dogs of Hong Kong at Spirits in Need (SIN).
Shortly after she handed in her resignation to pursue painting full-time, Phoebe signed up to become a foster parent at Lifelong Animal Protection (LAP), a registered charity dedicated to rescuing and rehoming abused animals. There, she came across a dyed, shaved and frightened Pomeranian who had been used for breeding – hungry, untrusting and her ears riddled with mites. That's when Phoebe decided to skip fostering and adopted her right on the spot.
Today, Phoebe is putting her talents where they can help the most. In her solo exhibition, Rescue Dogs of Hong Kong, she has created vibrant pet portraits of cherished pets, each surrounded in a halo of bright colour. With 50% of all artwork and commission sales going towards LAP, the exhibition hopes to raise awareness and funds for abused animals while encouraging others to adopt, not shop.
We had a chat with Phoebe to learn more about her background in painting and Rescue Dogs of Hong Kong: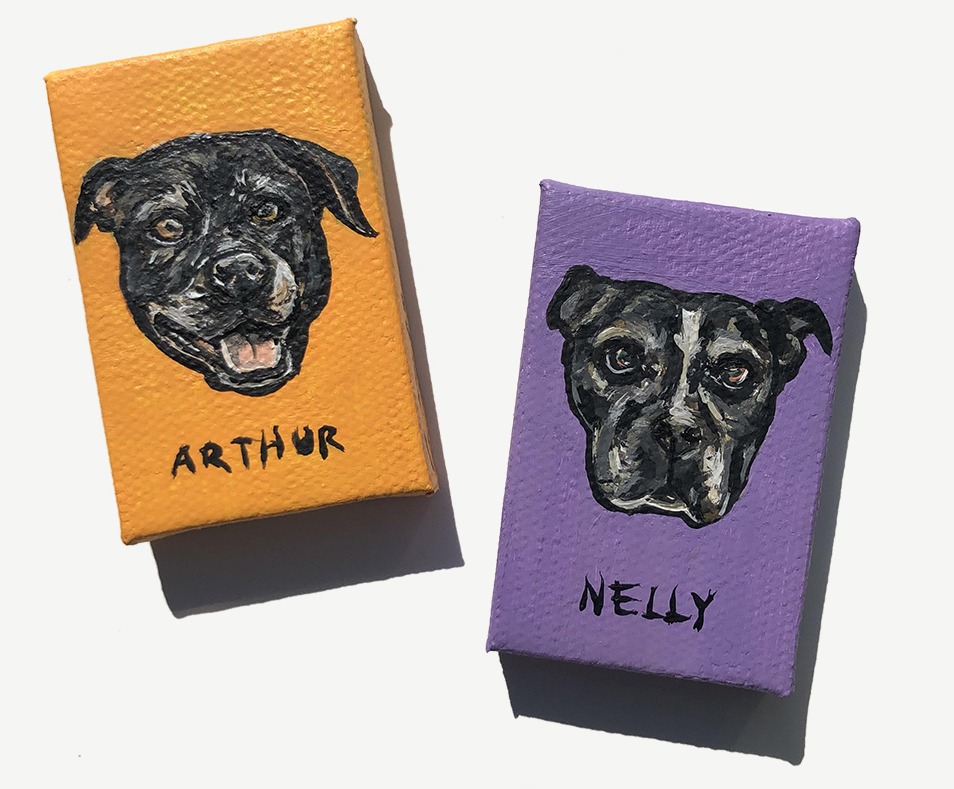 What inspired you to start painting animals?
After painting nudes, I decided to paint Mishka [the Pomeranian], who is so complex, intelligent but scared. I loved capturing her essence so I started painting more LAP rescues from their Facebook page – any dog that looked like they had a story to tell. I love trying to define each dog's personality, character and soul. For example, there's Nico, a senior pug who was rescued after 10 years. He's pretty grumpy so he reminds me of an old relative you love to have around, even though they're always sighing in a corner and grumbling about something. With regards to composition, I love the beaming, floating head approach. They're like cosmic iconography, watching over us with an important message.
How did you first get involved with SIN and LAP, and what triggered the creation of the Rescue Dogs of Hong Kong exhibition?
I met Maggie (SIN founder) five years ago when I first came to HK, as we were both working for a big fashion retailer and she ran the much-needed wellness centre. Her yoga classes, gong baths and generally calm soul were like medicine to me. After she moved to London for her PHD, we lost touch for several years but a serendipitous moment reconnected us several months ago. Coincidentally, we had both adopted dogs from LAP.
Rescuing Mishka was the best thing I've ever done, and watching her learn and change over time makes my heart ache. I can't imagine a world where she hadn't been rescued – enduring the cruel treatment, beatings and life in a cage, day-in, day-out. Something that always gets to me is thinking about my first three years in Hong Kong. I experienced so much – new friends, culture, food, travel, work, parties – but all that time, my little dog was in a cage, enduring torture. This is why I created the Rescue Dogs of Hong Kong series to give back to LAP.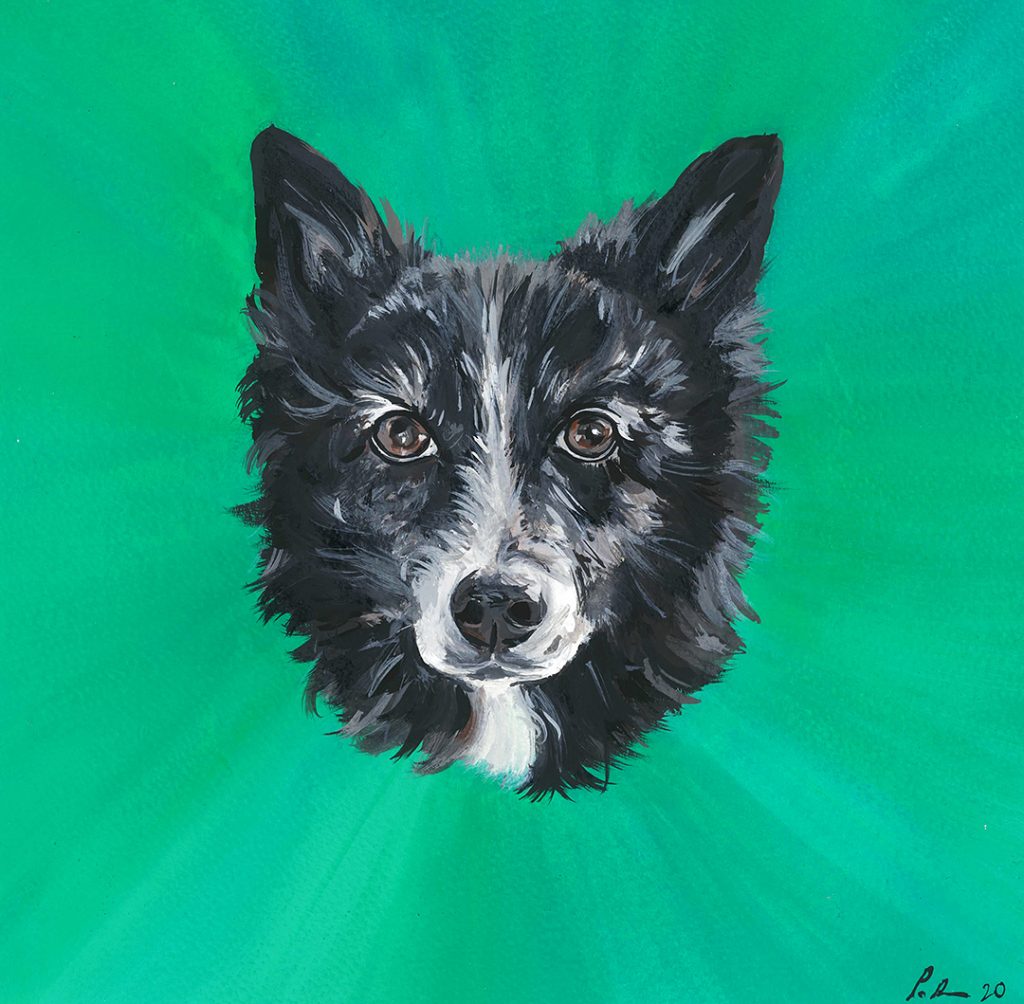 How did you start your career as an artist and how did you develop your painting style?
I kind of wriggled around in the beginning of my career. In 2009, I designed a collection of anatomical fine bone china that started me on a trajectory of bone-related commissions and collaborations. Financially, I needed a stable job so I worked my way through a career in fashion via digital and creative design. Eleven years later I finally started painting full time with a 2020 key goal of helping animals. After being a designer for so many years, it's hard to realise what your natural style is. I've been so used to adapting to client needs that finding what is true to me has taken some time. I'm currently exploring the beauty of humans and our place on the planet. Life drawing sketches with charcoal helped with this, and I soon began to add bold colours to the sketches and developed from there.
What do your pets bring to your family?
Pets bring us unconditional love, humour and company. I really can't express how much my life has improved with each animal I adopted. I started with Puffin the lovebird, then Honeybadger (Puffin's partner), and finally Mishka the Pomeranian! Each animal has their own personality, preferences and mannerisms. They genuinely make me laugh every day.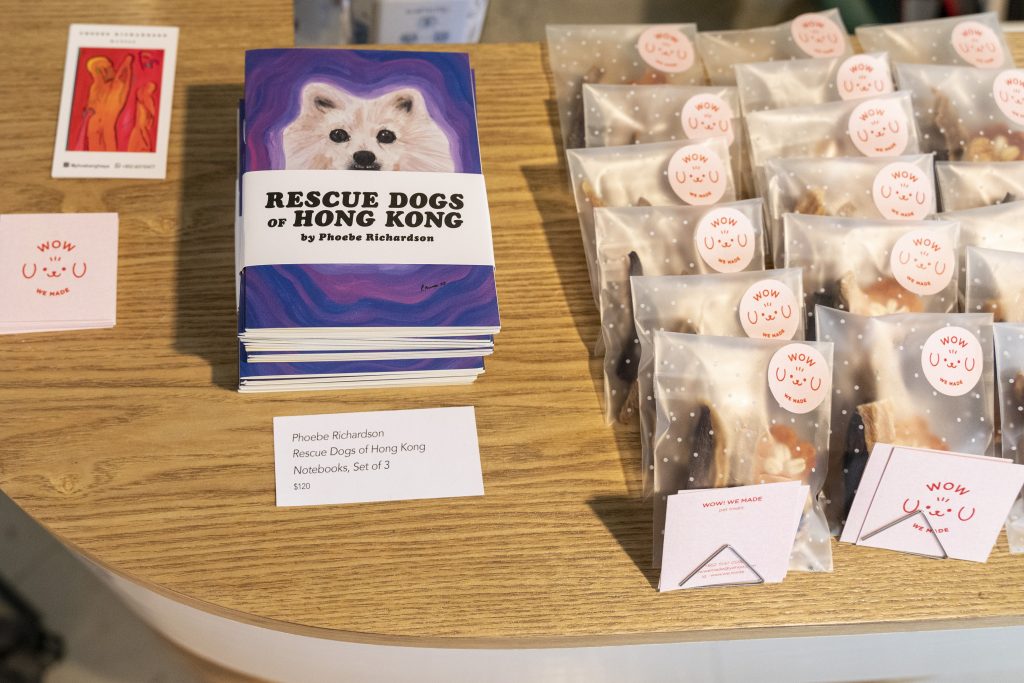 What do you think are the main challenges faced by animals/animal rescue charities in Hong Kong?
I think just the sheer amount of animals constantly entering the system of abuse. I won't go deeper into it but there probably needs to be some harsher laws put in place, and a look at the education and opportunities of the abusers. Thankfully, there are a lot of charities full of incredible people, but the root of the problem still desperately needs looking at.
Other than coming to your exhibition, how can people be encouraged to adopt, not shop?
I think it's about education. Once you know what's going on, it's hard to make the wrong choices and an exhibition like this reminds pet owners that they have another option. If people really want to shop, they need to carefully research, meet the puppy's parents, understand their history, how often they've been bred etc. to make sure they aren't promoting the cycle of abuse.
Rescue Dogs of Hong Kong is running from now until 28 December at 24 Aberdeen St, Central, Hong Kong (due to COVID regulations, RSVP is required)
Check out Richardson's Instagram for more adorable pet paintings and more!